NCF Nation:

Debrale Smiley
October, 26, 2012
10/26/12
3:00
PM ET
Florida State is No. 15 in the country and No. 2 in the ACC in rushing offense with 389.14 yards per game. The Seminoles' offense took a hit this week, though, when leading rusher
Chris Thompson
suffered a season-ending injury. Thompson's 7.5 yards per carry will be tough to replace, but there is no shortage of talent at the position. In the past two games, sophomore
Devonta Freeman
has led FSU with a combined 140 yards on 18 carries. Freeman's two fourth-quarter touchdown runs sealed the win against the Hurricanes last week. I spoke with Freeman on Thursday to get his take on the situation heading into Saturday's game against Duke. Here are the highlights of our conversation:
[+] Enlarge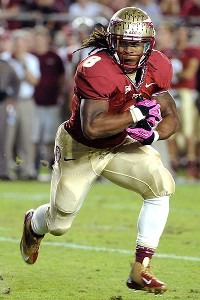 Melina Vastola/US PresswireFlorida State RB Devonta Freeman has made an immediate impact in place of injured star Chris Thompson.
Tell me about what happened from your perspective in the game when Chris went down.
Devonta Freeman:
Basically when Chris went down, I knew one of us had to step up. Actually, I wanted to be the guy to step up. I was just preparing myself when I wasn't playing. When he went down I knew this could be my opportunity so I couldn't take it for granted. I had to go out there and make something happen. I tried my best to contribute.
How has Chris responded? I'm sure it's been devastating for him, but how has he been in terms of being a part of the team as a leader and trying to help you guys?
DF:
He's a strong kid. He's been through a lot. He just continues to grow and learn. He's not complaining or nothing like that. He just knows that's God doing his job. All he's doing is praying knowing God has a plan for him at the end of the day.
How much pressure are you feeling now that he's out to step up and be the guy?
DF:
There's no pressure, nothing like that. Once upon a time I was the guy, I was a starting running back. I've played in a lot of big games, so these games, every game I play I just think of it as a regular game. I don't look at it as, 'Oh I need to prepare different than any other game.' I just look at it as the same game. No pressure.
What's it been like this week without Chris practicing?
DF:
When somebody goes down like that, you've just gotta move on. When we're on the field, we have to focus on our jobs and stuff. When we're off the field, we've got to try to encourage him the best way we can. It's been a little awkward he hasn't been out there, but we know our part. We know what we've gotta do. We know what time it is. We just have to contribute.
Have you and [James] Wilder [Jr.] been splitting reps with the first team? How has that been working?
DF:
Yes, actually we've all been rotating.
Lonnie Pryor
has been getting in there at running back,
Debrale Smiley
has been getting in at running back. All of us have been rotating. Me and Wilder have been splitting the carries. We'll get, like, two plays apiece with the ones. I'll even get two plays with the twos, he'll get two plays with the twos.
The running game has been so much better than it was a year ago. What's the biggest difference?
DF:
The biggest difference is the offensive line and the coaches. They've prepared them for this year in getting them where they need to be. They've been so dedicated to the team this year. They knew last year we were struggling in running so they went harder this summer. They'd be here early in the morning, every day, like 6 in the morning. They were here before everybody. And the running backs, we knew we had to make better reads, better cuts. We just got more patient and all of us got better.
Do you guys feel like you can keep it up without Chris in the lineup?
DF:
Yeah, of course. We can keep it up without him. We wish the best for him, wish he was healthy, but we'll try our best to average some good yards per game.
Are you taking these guys seriously, or is Duke still Duke to you?
DF:
I take them seriously. They put on one pants leg at a time, just like us. Anything could happen. Every team we play, I treat them like they're the No. 1 team in the nation. We've got to give it our all. We're not taking nothing for granted.
What have they done that leads you to believe they're better this year?
DF:
They're bigger, faster stronger. They look more technically sound. They're throwing the ball better, they're running the ball better and tackling. They're big up front, they have some great athletes on their team.
Is it hard for you guys to not look back at the NC State game and wonder what could have been?
DF:
I mean, we always look back at it and say, 'shoulda, coulda, woulda,' but it's something we had to learn from and move on from. Life is about learning and moving on. We just feel like we can't lose no more games.
September, 1, 2012
9/01/12
10:26
PM ET
TALLAHASSEE, Fla. -- No. 7 Florida State opened the season
with a 69-3 victory
over Murray State on Saturday behind three touchdowns from fullback
Lonnie Pryor
and a standout defensive performance by defensive end
Bjoern Werner
.


It was over when:
James Wilder Jr. wrapped up Florida State's first drive of the second half with a 9-yard touchdown, putting the Seminoles up 35-3. The Racers managed to hold their own in the first half despite the score, but Wilder's run capped a dominant five-play, 72-yard drive in which FSU fully exerted itself.
Game ball goes to:
Werner. With fellow defensive end
Brandon Jenkins
out with a foot injury for the majority of the game, Werner had a field day against the overmatched Murray State offensive line. The junior defensive end racked up four sacks, five tackles for loss and forced a fumble on the Murray State 2-yard line that set up a touchdown.
Stat of the game:
7. That's the number of rushing touchdowns for Florida State's offense Saturday, the most in any game for the Seminoles since 1992. Pryor scored three times and Wilder and
Debrale Smiley
each chipped in with two. Florida State averaged nearly 7 yards per carry, with a total of 285 rushing yards.
Turning point:
EJ Manuel
hit
Kenny Shaw
for a 6-yard touchdown just before the end of the first half. Murray State had hung tough early, and Shaw's bobble of what appeared to be an easy catch earlier in the half that turned into an interception was the most glaring of several FSU mental gaffes. But that last drive of the half, a five-play, 58-yard march, ended with Shaw gaining some retribution and the Seminoles reasserting themselves against an inferior opponent.
Unsung hero:
Pryor. Well, it's not that Pryor flew under the radar Saturday. He scored three touchdowns, topping his total for the 2011 season. But Pryor, a senior, has spent his career blocking out of the backfield and doing FSU's dirty work on offense, so the moment in the sun -- all three of them -- was a nice way to start his final season with the Seminoles.
What it means:
Odds are the thumping of an FCS opponent won't tell us much about Florida State's ability to meet the immense preseason expectations, but Jimbo Fisher should be pleased that his offensive line delivered an impressive push, the running game was able to move the ball well and the defense looked every bit as stout as the preseason hype touted. Things won't get much tougher next week against Savannah State, but thus far FSU looks the part of a contender, even if the test wasn't overly tough.
June, 8, 2010
6/08/10
11:00
AM ET
Florida State fans can rest assured their quarterback situation is in good hands. After all, how many other teams could lose their starter and have the backup earn MVP honors in a Gator Bowl win?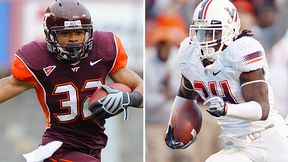 US PresswireVirginia Tech has the luxury of two 1,000-yard rushers in the same backfield.
E.J. Manuel
proved
Christian Ponder
isn't irreplaceable last season, and that's a good thing for a program vying to win the Atlantic Division title in the first season under Jimbo Fisher. When it comes to the offense, there isn't much Florida State is missing, but the Seminoles are just one of several teams in the ACC prepared to replace key players if need be.
The deepest position throughout the ACC appears to be at running back, where numerous programs have to figure out how to divvy up the carries this fall. Clemson, Florida State, Georgia Tech, Maryland, Miami, North Carolina, Wake Forest and Virginia Tech are all at least two deep at the position -- at least. The Hokies are fortunate enough to have two former backups turned 1,000-yard rushers in
Darren Evans
and
Ryan Williams
, both of whom got their opportunities at the expense of an injured teammate.
At Florida State, running back
Chris Thompson
passed
Jermaine Thomas
on the unofficial post-spring depth chart, but there's also
Lonnie Pryor
,
Tavares Pressley
,
Ty Jones
and junior-college transfer Debrale Smiley, who is a fullback/tailback like Pryor. Both Florida State and Boston College return at least four starters each on their offensive lines, which immediately helps the depth there.
Miami has four returning receivers who had at least 200 yards receiving a year ago, and Duke had so much depth at receiver that it was able to move one of its top four pass-catchers --
Johnny Williams
-- to cornerback this past spring.
Miami is also stocked on the defensive line, where the defensive ends go about three-deep on each side. The same can be said at Clemson, which returns three starters on the defensive line, and can also depend upon DE Andre Branch (38 tackles, 7.5 for loss) and DE Malliciah Goodman (26 tackles, 6.0 for loss).
Maryland returns all three of its starting linebackers and their backups. At Boston College, defensive coordinator Bill McGovern's scheme utilizes a lot of players, which helps continue the strong defensive tradition there because the players are always prepared. Reserves from 2009 such as CB Donnie Fletcher (51 tackles), DE Brad Newman (45 tackles), LB Dominick LeGrande (36 tackles), LB Anthony DiSanzo (28 tackles) and CB Isaac Johnson (27 tackles) all saw significant playing time.
No team in the ACC, though, is as loaded on defense as North Carolina, which returns nine starters. They have combined for 234career starts -- the most of any team in the ACC, with S Deunta Williams and CB Kendric Burney making 38 starts each. The challenge for Butch Davis this fall will be getting the backups some playing time in preparation for 2011.
The goal of course for all coaches is to use their backups when they want to -- not when they have to.
February, 15, 2010
2/15/10
10:00
AM ET
Here's a breakdown of three issues facing each program heading into the spring:
BOSTON COLLEGE
Spring practice starts:
March 18
Spring game
: April 24
What to watch:

• How linebacker Mark Herzlich progresses. Herzlich, who was diagnosed with Ewing's Sarcoma cancer last May, has been going through winter conditioning with his teammates, and he plans on participating in spring drills. How quickly he regains his form will be worth watching, as he and sophomore Luke Kuechly could give the Eagles one of the most formidable linebacking corps.
• The quarterback battle. After one season,
Dave Shinskie
has the most experience on the roster, but he'll get some competition from
Josh Bordner
and
Chase Rettig
, two early enrollees. There were times last season when Shinskie looked like the future of the position and there were others when he looked like any other freshman.
• Defensive linemen. For the second straight year, BC is looking for some stability up front. The Eagles have to replace left tackle Austin Giles and defensive end Jim Ramella. They return Kaleb Ramsey, Giles' backup, and Brad Newman, Ramella's reserve, but some young faces are likely to be seen in the rotation.
CLEMSON
Spring practice starts:
March 7
Spring game:
April 10
What to watch:

• Life without
C.J. Spiller
officially begins. The backs behind him had a pretty good year, so there's no need for full panic mode.
Jamie Harper
and
Andre Ellington
actually combined for a higher yards per carry average (6.1 to 5.6 yards). Clemson will also be looking to replace Spiller's lost kickoff return yardage. The Tigers had a 13-yard advantage in average starting field position, as their start was their own 37-yard line compared to opponents' 24-yard line. Ellington is a candidate in the return game.
• Kyle Parker's batting average. No, really. How well Parker does this spring with the baseball team will help determine whether he remains Clemson's quarterback or turns to the MLB draft. He didn't have a great 2009 season, but he was still the fastest player to 25 home runs in school history. It remains to be seen this spring if he'll become a high enough draft choice to give up college football.
• Secondary shuffling. It seems like eons ago since Crezdon Butler and Chris Chancellor weren't the Tigers' starting corners, as Butler started 40 straight games and Chancellor started 42. Butler finished his career second in school history in interception return yards. Now it's time for a new duo. Will Marcus Gilchrist move to corner, which he's capable of doing? Might Rashard Hall move to safety with DeAndre McDaniel?
DUKE
Spring practice starts
: Feb. 14
Spring game:
March 27
What to watch:

• Quarterback competition. Somebody has to take over for the graduated
Thaddeus Lewis
, but his backup –
Sean Renfree
– will miss the spring with a torn ACL. Redshirt freshman
Sean Schroeder
should be heavily in the mix to be the starter, pending Renfree's recovery.
• Defensive line makeover. It's wide open. Charlie Hatcher is entrenched at nose guard, but it's really anyone's game. The staff might move redshirt senior Wesley Oglesby, who played the majority of his career at defensive end, inside. Other options are defensive tackle Sydney Sarmiento, a redshirt freshman, and Curtis Hazelton, who played sparingly last season.
•
Johnny Williams
' move from wide receiver to cornerback. He had 31 catches in 2009 – the fourth-best on the team. Now they need his help in the defensive backfield. Duke will lose starter Leon Wright and his 10 career interceptions, and the pass defense, which allowed 215.75 yards per game, could use a boost.
FLORIDA STATE
Spring practice starts
: March 16
Spring game
: April 10
What to watch:

• Christian Ponder's return from shoulder surgery. Ponder is expected to practice this spring, though it could be on a limited basis, at least early. He's ahead of schedule, but the coaches won't subject him to any risks now. Yes,
E.J. Manuel
is talented and played well at the end of the season, but make no mistake – Ponder is FSU's starter and a potential Heisman Trophy candidate.
• The defense under first-year coordinator Mark Stoops. His secondary, in particular, will be interesting to watch, as will how quickly he can help the front seven generate a pass rush and plug the middle. Stoops has been a secondary coach, and the Noles lost three starters there. The fourth, Ochuko Jenije, could be pushed to retain his job.
• New faces, new opportunities. In addition to the fab freshmen who are coming in, FSU has a handful of unfamiliar players already on the roster who played sparingly or not at all. We'll see how they fit in this spring. RS-So DT Anthony McCloud and RS-So RB Debrale Smiley are both junior college transfers and former teammates. Physically, freshman linebacker
Jeff Luc
is already a man, but how quickly can he mature on the field? Two young wide receivers worth watching are
Rodney Smith
and
Willie Haulstead
.
GEORGIA TECH
Spring practice starts:
March 29
Spring game:
April 24
What to watch:

• The defensive transformation. The Jackets will switch from the 4-3 to the 3-4 under first-year coordinator Al Groh. In addition to learning the new scheme, the staff has to figure out who goes where. Linebackers might play defensive end and vice versa, safeties might play outside linebacker. It's anyone's guess as to how this team lines up in the spring.
• The replacements. From Georgia Tech's coaching staff to the new faces who will be tasked with filling in for the Fab Four --
Jonathan Dwyer
, Derrick Morgan, Morgan Burnett and
Demaryius Thomas
-- the Jackets will need some "Hello My Name Is" tags this spring.
• The offensive line. Three offensive linemen redshirted who could start, and Georgia Tech might need them to, especially if guard Joseph Gilbert decides to transfer to pursue his MBA. The Jackets lose two starters on the offensive line, and Gilbert, who graduates this spring, would be a third if he leaves. Center Sean Bedford and tackle Austin Barrick return as seniors.
MARYLAND
Spring practice starts
: March 23
Spring game
: April 24
What to watch:

• The quarterback competition.
Chris Turner
has graduated, leaving
Jamarr Robinson
the top option going into the spring, but he has limited experience. The staff liked what he did when Turner was injured, but
Danny O'Brien
, Miami (Ohio) transfer Clay Belton and
C.J. Brown
will all be given an opportunity. Look for O'Brien to start the spring at No. 2 on the depth chart.
• Cornerback: Cameron Chism is the only returning starter in the secondary, but right now the staff has fewer concerns about the safeties. Maryland will have to find some bodies at corner, and Dexter McDougle, who redshirted as a true freshman last year, is one option. Michael Carter and Trenton Hughes, who was the third corner last year, are also among a handful of candidates.
• The offensive line. Losing Bruce Campbell to the NFL hurt, but the Terps also lost starter Phil Costa. Justin Gilbert, a redshirt sophomore, could inherit Campbell's job. And there's always Mr. Versatility -- Paul Pinegar. He has helped the Terps at both tackle spots and left guard, and this spring he'll likely be given a shot at center.
MIAMI
Spring practice starts
: Feb. 23
Spring game:
March 27 (tentative)
What to watch:

• Tight end/offensive line:
Jimmy Graham
is gone, and the Canes don't return any tight ends with any experience other than
Richard Gordon
, who was injured the majority of last season. Miami signed four tight ends in this recruiting class, but none of them were early enrollees. Miami has to replace three starters up front, including both tackles and the center.
• How the two young quarterbacks perform: The health of
Jacory Harris
was precious last year, as he had nobody behind him with any experience after the transfers of Taylor Cook and
Cannon Smith
. The depth has improved a bit with
A.J. Highsmith
, who played sparingly last year, and
Stephen Morris
, one of the early enrollees.
• Upgrade on the d-line? Progress up front began with the hire of Rick Petri as defensive line coach, and it's up to Petri to help the Canes become better pass rushers. Miami will depend upon its two mainstays -- Allen Bailey and Josh Holmes. The right end position was a group effort last year, and Miami has to replace Joe Joseph and Eric Moncur.
NORTH CAROLINA
Spring practice starts:
March 15
Spring game:
April 10
What to watch:

• Quarterback
T.J. Yates
. It's his job to lose, and the coaching staff still has confidence in him, but
Bryn Renner
is waiting in the wings, and
Braden Hanson
will also be given an opportunity. The staff is looking for the offense to improve its passing efficiency and cut down on turnovers.
• The offensive line. It was a patchwork effort in 2009, thanks to injuries and inexperience, and will be a major key in how much UNC improves offensively this year. The Heels have to replace two starters, and Jonathan Cooper is likely to move from guard to center, and right guard Alan Pelc will miss spring drills while recovering from shoulder surgery.
• Defensive line tweaks. There aren't many questions on a defense that should be one of the best in the country, but somebody has to replace Cam Thomas and defensive end E.J. Wilson. Tydreke Powell is the frontrunner to take over at defensive tackle and Quinton Coples at defensive end. Both were backups last year at their respective positions.
NC STATE
Spring practice starts
: March 9
Spring game:
April 17
What to watch:

• Backup quarterback
Mike Glennon
.
Russell Wilson
is the starter, but he's going to be playing baseball all spring. Keep an eye on his backup to see if Glennon can make it any more of a competition in Wilson's absence.
• Chris Ward at punter. No, it's not usually, the highlight of the spring, but in this case, it's necessary. Ward is it -- he's their only option right now, and it's a position the Pack struggled with last year. Ward was expected to be the starter last season, but he was inconsistent. He's definitely got the talent to be the guy.
• The recovery of linebacker Nate Irving. After being severely injured in a one-car crash last summer, Irving is hopeful he can go through spring drills. He has been lifting with the team and running with the sports medicine staff, but it's still uncertain how limited his contact will be.
VIRGINIA
Spring practice starts:
March 15
Spring game:
April 10
What to watch:

• Quarterback competition.
Marc Verica
is the only one with any experience, and first-year offensive coordinator/quarterbacks coach Bill Lazor hasn't been in Charlottesville long enough to evaluate any of the candidates. That's what the spring is for, and true freshman
Michael Strauss
is the lone incoming quarterback on campus, so he'll have a head start on the playbook. Of the four quarterbacks Virginia signed in this year's class, Strauss is the only one listed as a true quarterback. The Cavs also have
Ross Metheny
, who redshirted last year, and
Riko Smalls
, who redshirted in '08 and was No. 2 on the depth chart when Verica was out with a concussion.
• Coaching transition. First-year coach Mike London has hired almost an entirely new staff, and they'll bring changes in philosophy and scheme. London has said he wants to get the defense back to the traditional 4-3, and revert to the tradition of featuring the tight ends, offensive linemen and running backs.
• Running back. The Cavs will have the help up front, but they need to replace their four leading rushers in
Mikell Simpson
,
Rashawn Jackson
,
Vic Hall
and
Jameel Sewell
. The staff will look at true freshman
Kevin Parks
, but also have
Torrey Mack
and
Dominique Wallace
, who had just seemed to be coming on at Southern Miss when he was injured and missed the rest of the season.
VIRGINIA TECH
Spring practice starts:
March 31
Spring game:
April 24
What to watch:

• Revamped defensive line. The Hokies have to replace three of four starters up front. The only defensive ends with significant playing time are Chris Drager, who the staff wanted to move back to tight end, and Steven Friday. Redshirt freshmen will be given a chance – Duan Perez-Means, Tyrel Wilson, James Gayle and J.R. Collins – but they've never played. Isaiah Hamlette is the only other end who's played and that was a skinny minute. At defensive tackle, Antoine Hopkins will be the frontrunner to replace Cordarrow Thompson.
• Darren Evans' comeback. Evans, the team's leading rusher in 2008, is working his way back from a season-ending ACL injury, and one of the biggest questions in Blacksburg is how the staff will divide the carries in such a talented backfield that includes
Ryan Williams
. With two returning 1,000-yard rushers, will
David Wilson
decide to redshirt? The spring will help him in that decision.
• The evolution of
Tyrod Taylor
. He's going to be a senior, and with so many questions on defense heading into the season, the offense will be leading the way. This should be a breakout year for Taylor, who by now should have mastered the offense and should consistently be a passing threat to compliment his running abilities.
WAKE FOREST
Spring practice starts:
March 16
Spring game:
April 17
What to watch:

• The quarterback competition. It's the most glaring hole the Deacs have to fill this spring, as they're tasked with replacing the winningest quarterback in school history,
Riley Skinner
, and his backup,
Ryan McManus
. Redshirt sophomores
Ted Stachitas
and
Skylar Jones
, and sophomore
Brendan Cross
, will compete with rookie
Tanner Price
for the top spot.
• Offensive line. The Deacs will take a huge hit here, as seven players in the two-deep depth chart were redshirt seniors, including all four tackles. Three starters have to be replaced.
• The interior defensive line. Nose guard Boo Robinson and John Russell have graduated, and Russell's backup, Michael Lockett, was also a redshirt senior. The Deacs are in good shape at the ends, but will need some help inside.
February, 4, 2010
2/04/10
1:30
PM ET
Florida State fans couldn't have asked for much more from Jimbo Fisher in his first signing day as the Seminoles' head coach.
He and his staff lured in eight players from the ESPNU 150 list. They recruited two five-star players and nine four-star players. They closed on two of the best players in the country on signing day, and finished Wednesday with
the No. 6 recruiting class
in the country and the best in the ACC, according to Scouts Inc.
Not bad for a first go-around.
"Maybe we can move from 6 to 1," Fisher said of the national rankings. "We're not very far away from that."
That's thanks in large part to the commitments of five-star linebacker
Jeff Luc
and five-star corner
Lamarcus Joyner
.
"We may look back on Luc and Joyner and say they started the whole thing," said Fisher. "They understand the importance of what they did."
They were only a fraction of the signing day success, though. Most importantly, Florida State addressed its needs defensively, where the Seminoles have struggled most. FSU signed 24 players, including 14 on the defensive side. FSU added five defensive linemen, five linebackers and four cornerbacks to a group that will be under the direction of first-year coordinator Mark Stoops and a new scheme. Offensively, the Seminoles focused on replenishing the receiving corps and did so with five signees, as well as two tight ends.
Four players -- Luc, defensive tackle
Anthony McCloud
, running back
Debrale Smiley
and quarterback
Clint Trickett
-- have been enrolled in school since the start of the semester.
Florida State gave its class a boost on signing day with the addition of outside linebacker
Christian Jones
and wide receiver
Christian Green
, two in-state members of the ESPNU 150 who are ranked among the top 10 at their respective positions.
It was an impressive effort, considering the recent retirement of one of college football's best closers, Bobby Bowden, and the fact that five new assistants have been in their offices for less than a month.
"We've put so much on recruiting, which is true," Fisher said, "but now we've got to develop the players."