NCF Nation:

Deion Sanders
August, 6, 2014
Aug 6
2:00
PM ET
Grab a pencil and a notepad. There will be a short test.
Five questions. Open answer. And no cheating. Ready? OK, who is the best linebacker in college football history? How about defensive tackle? Defensive end? Cornerback? Safety?
Time's up. (I told you it was short.) Take a look at your list, and chances are the Big Ten boasts the most selections. Realistically, it's the only conference that can stake a claim at each position. No other conference can say the same -- especially without repeating teams.
Don't believe me? Let's take a look through the answer key of the NCAA's best ever, and in honor of The Season -- which looked at the
greatest individual season from a player at every FBS school
-- we will take a look at the top season by a player at each position:
[+] Enlarge

AP PhotoFormer Minnesota Golden Gophers great Bronislaw "Bronko" Nagurski.
The Big Ten hasn't dominated every decade with the top defensive players. But it does have a richer history and deeper tradition on its side, one that started more than a century ago when Michigan's Adolph Schulz
dropped back from the defensive line
and gave birth to the idea of a "roving center," or linebacker. It has continued with countless Hall of Fame nominations, a conference-high four
No. 1 overall defensive NFL draft picks
and some of the best defensive names to ever play the game.
This isn't just one man's opinion. More than half of the starting defense on Sports Illustrated's All-Century Team --
six of 11 players
-- consisted of Big Ten athletes and no, that's not including Nebraska's Glover. The Walter Camp Foundation's All-Century Team also featured
a Big Ten player at every defensive position
. Even ABC's list of the "25 Greatest Players in College Football" had
more defensive players from the Big Ten
than any other conference.
When it comes to quantity, maybe other conferences have the Big Ten beat on defense. But when it comes to quality and history? The Big Ten is still tops.
August, 5, 2014
Aug 5
3:00
PM ET
By
ESPN.com staff
| ESPN.com
ESPN.com on Monday debuted its picks for the
greatest seasons of all time at all 128 FBS schools
. Among the ACC's best, probably the most difficult single-season representative to pick was
Florida State
's. Each of the four guys listed below had eye-popping numbers that could justifiably make his top season the best in FSU history. Read our cases for Charlie Ward, Chris Weinke,
Jameis Winston
and Deion Sanders, then tell us what you think by voting in the poll to the right and on Twitter using #TheSeason.

Charlie Ward (QB, 1990–1994)
Ward played football? Relax, #FSUTwitter, I'm kidding. But for a New York kid who was raised on those '90s Knicks teams, I was always amazed whenever I heard that this guy who was a starting point guard on one of the NBA's better teams had, in fact, won college football's most coveted individual honor several years earlier.
Looking back, though, it is no surprise, and it is difficult to argue that anyone had a better season in a Florida State uniform than Ward did in 1993. He won the school's first Heisman Trophy and its first national title, which also helped lift his head coach, the legendary Bobby Bowden, to rarefied air. Ward was a mobile quarterback before it became fashionable, and he frustrated opposing defensive coordinators to no end. At a modest 6-foot-2, 190 pounds, Ward completed 69.5 percent of his passes in '93, better than both Jameis Winston (66.9, 2013) and Chris Weinke (61.7, 2000). His 3,032 passing yards were significantly lower than his contemporaries (4,057 for Winston; 4,167 for Weinke), but they came in one fewer game, and he made up for it with 339 rushing yards and four scores on the ground. (And by making better decisions -- he had just four interceptions in 1993, six fewer than Winston and seven fewer than Weinke.)
Then, of course, there is the gauntlet of a schedule the Seminoles faced in '93: No. 3 Miami, at No. 2 Notre Dame, at No. 7 Florida, No. 2 Nebraska ... in addition to three other ranked opponents. Sure, the Seminoles fell short of perfection, losing in South Bend in the so-called "Game of the Century," but that was hardly Ward's fault, as he executed a furious rally and finished with 297 yards passing with three touchdowns and one pick. Winston faced five ranked teams last season. Weinke faced four in 2000, losing to two of them.
-- Matt Fortuna
Chris Weinke (QB, 1997-2000)
It's funny to think that if baseball had not lured Weinke away from FSU out of high school, he would've been part of the same depth chart as Ward in the early 1990s. Instead, the Seminoles got two all-time greats eight years apart. It wasn't until Weinke was 25 years old that he finally enrolled at Florida State in 1997, but he quickly made up for lost time.
In three years as Florida State's starting quarterback, Weinke lost just three games, led the Seminoles to three straight national championship appearances, and led the ACC in passing yards three times and touchdowns twice. In 2000, Weinke followed in Ward's footsteps by winning the Heisman Trophy. During Winston's Heisman run last season, he topped 343 yards in three games. Weikne averaged that number for the entire season in 2000.
Weinke brings both thrilling highs along with a longer-lasting career than the other candidates in this debate, which sets him apart. He certainly wasn't as athletic as Ward, wasn't as flashy as Sanders and he didn't have the same NFL-caliber talent as Winston, but he was the architect of FSU's offense for the most successful three-year stretch in the program's history, which makes him as important a player as any who has taken the field in Tallahassee.
-- David M. Hale
Jameis Winston (QB, 2013-present)
Two long balls -- one over a frat house and one that went for a touchdown in the spring game -- precipitated Winston's legendary status before taking his first career snap, but his 2013 season cemented it. Nobody was quite sure what to expect out of the redshirt freshman entering his first season as the starter, but all involved were acutely aware of the exceedingly high expectations already placed on the former No. 1 high school quarterback. Florida State had arguably the country's most talented roster and had a schedule that could set it up for a national championship bid, but did the Seminoles have the quarterback to get them to Pasadena?
It did not take long for Winston to emphatically quell any concerns, putting together a nearly flawless game at Pittsburgh in his first career start. His entire rookie season could be described as flawless, too. His 40 passing touchdowns set a school record as well as a national freshman record, and his 4,057 yards were also tops among freshman passers in NCAA history. He orchestrated an offense that was the most prolific in NCAA history, despite leaving most games well before the fourth quarter. And when his team needed him most, Winston rose to the occasion, lifting Florida State out of an 18-point deficit in the national championship game. When Florida State began its final drive trailing Auburn 31-27 with 1:19 left, Winston completed six of his seven passes on the drive, the last culminating in the game-winning touchdown with 13 seconds left.
As you can see, there is no mention of Ward, Weinke or Prime in my argument. Winston's case speaks for itself. Negative recruiting not necessary.
-- Jared Shanker
Deion Sanders (DB, 1985-1988)
Sure, Ward and Winston are impressive as two-sport athletes. But they have nothing on Sanders, who played and excelled at three sports -- making him one of the best overall athletes in NCAA history.
The 1988 season turned out to be his finest. Sanders ran a 10.26 in the 100 meters with the Florida State track team; the Yankees drafted him to play baseball; he won the Thorpe Award as the best cornerback in the nation
and
led the country in punt return average.
Incredible, yes. But let us focus on his greatest football season. Sanders set the gold standard as one of the finest cover cornerbacks in football history. So good that he won consensus All-America honors. So good that teams rarely threw his way. When they did, they paid dearly.
Look to his final collegiate game, the '89 Sugar Bowl against Auburn. On the very last play of his Florida State career, Sanders came up with an interception in the end zone to seal the victory. Afterward, he said, "There is no quarterback who can pick on me."
Sanders spoke the truth, and forever revolutionized the position he played. Aspiring cornerbacks dream of becoming the next Deion Sanders. Quarterbacks are supposed to lead, but a lanky defensive back took over Florida State as the face of the program in 1988. His flair, flamboyance and swagger only added to his "Neon Deion" persona. Sanders always talked a big game. But he always backed it up.
We can debate where Ward and Weinke and Winston rate among all-time collegiate quarterbacks. There is no such debate with Sanders. He is the best who ever played his position, and the 1988 season only added to his legend.
--Andrea Adelson
December, 5, 2011
12/05/11
9:11
PM ET
My Heisman Trophy ballot has changed every week for the last couple of months.
I'm not surprised there are more than three players going to the trophy presentation.
Five players were invited to New York for Saturday night's Heisman Trophy presentation -- quarterbacks
Andrew Luck
of Stanford and
Robert Griffin III
of Baylor, tailbacks
Montee Ball
of Wisconsin and
Trent Richardson
of Alabama and cornerback Tyrann Mathieu of LSU.
It's a shame the Heisman Trust didn't have room for three more quarterbacks because Houston's
Case Keenum
, USC's
Matt Barkley
and Boise State's
Kellen Moore
were just as deserving.
With five finalists going to New York, it figures to be one of the closer votes in recent Heisman Trophy history.
The closest vote in Heisman Trophy history came just two years ago, when Alabama tailback Mark Ingram edged Stanford's Toby Gerhart by only 28 points. Ingram received 227 first-place votes, Gerhart got 222 and Texas quarterback Colt McCoy, the second runner-up, received 203.
Given the number of finalists and their geographical regions, we could have another really close finish on Saturday night.
Luck, the runner-up to Auburn's Cam Newton last season, entered the 2011 season as the Heisman Trophy favorite. His performance didn't slip much this season, as he completed 70 percent of his passes for 3,170 yards with 35 touchdowns and nine interceptions.
I still feel Luck might be the most valuable player on any team in the country. Without him, there's no way the Cardinal is ranked No. 4 in the country and playing No. 3 Oklahoma State in the Tostitos Fiesta Bowl. Luck has done more with less, as Stanford lacks the game-changing playmakers that other teams have.
But Luck might still be the second-best quarterback in New York. Griffin, who is widely known as RG3, completed 72.4 percent of his passes for 3,998 yards with 36 touchdowns and six interceptions. He also ran for 644 yards with nine touchdowns.
Without him, the Bears wouldn't have beaten TCU, Oklahoma and Texas. Griffin's one drawback: He had a late interception that sealed the Bears' fate in a 36-35 loss at Kansas State on Oct. 1 and threw two picks in a 59-24 loss at Oklahoma State on Oct. 29. But with everything else RG3 has done this season, it's easy to give him a mulligan for the miscues.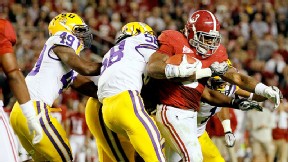 Kevin C. Cox/Getty ImagesRunning back Trent Richardson has been at his best in Alabama's biggest games.
I still believe Richardson is the best player in the country. He looked like the best player on the field in No. 2 Alabama's 9-6 loss in overtime to No. 1 LSU on Nov. 5. He had 89 rushing yards and 80 receiving yards in a game where every yard mattered. He finished the season with 1,583 yards with 20 touchdown runs and three touchdown catches. He's also Mr. Dependable, not losing a fumble in his past 520 touches and only once in 614 career touches.
Ball has been a scoring machine for the No. 10 Badgers this season, running for 1,759 yards with 32 touchdown runs and six touchdown receptions. His 38 total touchdowns are one shy of matching former Oklahoma State running back Barry Sanders' NCAA single-season record of 39 set in 11 games in 1988. Ball's production helped lead the Badgers to a Jan. 2 date against Oregon in the Rose Bowl Game presented by VIZIO.
Mathieu fell off my ballot after he was suspended from playing in the Tigers' 45-10 victory over Auburn on Oct. 22 for smoking synthetic marijuana. But his big plays helped the Tigers overcome deficits in each of their last two victories, over Arkansas and Georgia in the SEC championship game.
Mathieu -- aka the "Honey Badger" -- is the best player on the top-ranked team. He leads the Tigers with 70 tackles and has forced six fumbles and recovered five. He also is the most dynamic punt returner I've seen since Florida State's Deion Sanders. Mathieu has scored four touchdowns -- two on fumble returns and two on punt returns.
To penalize Mathieu for one foolish mistake wouldn't have been right. After all, Newton was briefly ruled ineligible at Auburn last season and 2010 Heisman Trophy finalist
LaMichael James
of Oregon was suspended from playing in last season's opener.
May, 17, 2011
5/17/11
12:53
PM ET
Regarded as the best defensive back and overall athlete in Florida State history, former cornerback Deion Sanders (1985-88) will join former Miami defensive tackle Russell Maryland in this year's FBS College Football Hall of Fame class.

Sanders wowed fans with his acrobatic interceptions, and he was one of the nation's most electric punt returners. He won the 1988 Jim Thorpe Award, given to the nation's top defensive back, and finished his career with 14 interceptions -- a number that ranked second all-time at FSU when he left in 1988. That didn't include three picks he had in bowl games. During his junior and senior seasons, Florida State was 11-1 with a pair of New Year's Day bowl wins. In 1988, he ranked among the top 10 nationally with five interceptions in nine games. That year, he was also the nation's top punt returner with 15.2 yards per return. He also set the career record for punt return yardage when he left with 1,429. Sanders ranks third on the FSU career interceptions list and still holds seven school records for interceptions and punt returns.

Sanders was one of the most athletic players the program has seen, as he was a three-sport star in football, baseball and track and was eventually a seven-time Pro Bowl selection and also started in centerfield for the Atlanta Braves and Cincinnati Reds. He was the fifth pick in the 1989 NFL draft by the Atlanta Falcons, won two Super Bowls with San Francisco and Dallas, and also played in the World Series with Atlanta. Sanders had his jersey retired in 1995.
May, 17, 2011
5/17/11
12:52
PM ET
Former Miami defensive tackle Russell Maryland earned the nickname "The Conscience," because he was a graduate student in psychology and once said he hated to give people wrong advice and make bad decisions.

One of the best decisions Maryland ever made was turning down what likely would have been a lucrative professional contract to return for his senior season at Miami in 1990. That year, he had 96 tackles, 10.5 sacks, seven tackles for loss, 19 quarterback pressures, five forced fumbles and two pass breakups. He became the first Miami player to win the coveted Outland Trophy as the nation's top interior lineman. And now, he is one of two former ACC players -- along with Florida State defensive back Deion Sanders -- to be inducted into the 2011 FBS College Football Hall of Fame Class.

One of Maryland's most memorable performances came against Texas in the 1991 Cotton Bowl, when Maryland had three sacks and nine tackles in UM's 46-3 win. He helped the Hurricanes win two national titles, and is a member of Miami's Athletic Hall of Fame. He finished his Miami career with 279 tackles, 25 tackles for loss and 20.5 sacks. He was the first player chosen in the NFL draft by the Dallas Cowboys and was part of three Super Bowl championships.
April, 26, 2011
4/26/11
11:00
AM ET
Mike Gundy has been through this before.
After a 9-4 season in 2008, Oklahoma State brought back quarterback Zac Robinson and receiver Dez Bryant, one of the nation's best. The team also had an All-America running back coming off a 1,500-yard season.
The Cowboys opened the season at No. 8 and rose to the top five after a season-opening victory over Georgia in one of the most anticipated season openers in school history.
[+] Enlarge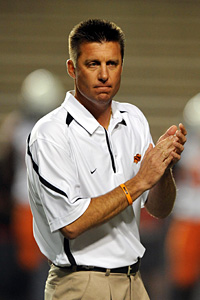 Chuck Cook/US PresswireCoach Mike Gundy hopes the experiences from the 2009 season will help his players stay focused despite the hype around the program.
Oklahoma State's opener isn't quite as attractive this year, but the build-up to the season?
"Very similar," Gundy said.
Oklahoma State won a school-record 11 games in 2010 and returns one of the nation's best quarterbacks,
Brandon Weeden
.
Justin Blackmon
exceeded anything Bryant ever did, leading the nation with 20 receiving touchdowns. He also had 1,782 yards on 111 catches to win the Biletnikoff Award.
Hunter is gone, but in his place, a capable duo with loads of potential in
Jeremy Smith
and
Joseph Randle
.
In a
recent preseason poll by "College Football Live,"
the Cowboys rolled in at No. 8.
"We're so well-received across the country right now and hopefully, the experience we had in the summer prior to 2009 will help our players understand the importance of staying focused and getting ready for a good season," Gundy said.
But back in 2009, after the win over Georgia, the Cowboys' lofty hopes of a title crumbled with a series of setbacks. First, they suffered a loss to Houston the following week. An ankle injury slowed Hunter, and forced senior Keith Toston to fill his role. The NCAA suspended Bryant for the remainder of the season after three games for lying about his relationship with Deion Sanders.
Late in the year, a shoulder injury to Robinson contributed to the Cowboys getting shut out in a loss to Oklahoma and scoring just seven points in a Cotton Bowl loss to Ole Miss.
Two years later, they're trying to avoid the problems that arose during that 9-4 season in 2009, and apply the lessons learned.
"It takes a lot to maintain. They've worked extremely hard to raise the level to where they're at now, but they have to stay focused and have a great offseason," Gundy said. "There's so many distractions out there nowadays, and it's important to avoid distractions and take care of everything that's important off the field as well as on the field."
Last year, the Cowboys were picked to finish fifth in the Big 12 South after losing Robinson, Bryant and four offensive linemen, but with the hype of this offseason, things will be different this fall.
"We're not going to have the opportunity to sneak up on anybody," Gundy said. "People are obviously aware of who we are, and so we have to go back and earn our stripes each summer and prepare for kicking it off in September."
April, 13, 2011
4/13/11
1:30
PM ET
STILLWATER, Okla. -- I hope you've all enjoyed our coverage from my visit to Oklahoma State this spring. We'll have some more from Oklahoma in the next week or so, but here's what you've missed from OSU if you're not my most faithful reader.
Of course, that's not all. Here's a few more things that didn't fit in any of our previous coverage.
Based on what we saw from him last year
, I came to Stillwater with the tentative belief that sophomore cornerback Justin Gilbert could be the fastest player in the Big 12 next season.
He's close, but might not even be the fastest Cowboy, according to
Justin Blackmon
. Look out for
Isaiah Anderson
, a 5-foot-10, 175-pound junior receiver.
"Isaiah might be able to beat him. I'd put my money on Isaiah."
[+] Enlarge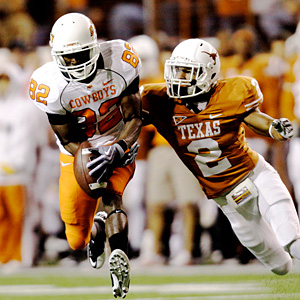 AP Photo/Eric GayA race between Oklahoma State speedsters Isaiah Anderson, above, and Justin Gilbert, not pictured, would be worth watching.
As a sophomore in 2010, Anderson caught 12 passes for 216 yards, but he's impressed Blackmon this spring. A race between the two hasn't gone down, but hey, Cowboys: There's time after practice. Make it happen and get back to me.
A race has already happened at least once. Running back
Jeremy Smith
lined up for a sprint against receiver
Hubert Anyiam
this summer. No shocker here. Anyiam took it home.
"I think Hubert is pretty up there when he's at full strength, but I'd like to see Isaiah and Gilbert race," Weeden said. "[Anderson] was the Texas state sprint champion."
Gilbert?
"He's definitely one of the quickest, he's just so smooth," he said.
I'll eagerly await the results of that run-off. Gilbert's been one of the standouts of spring camp, impressing just about everyone. Blackmon was reserved about taking credit for that development in making Gilbert cover him every day, but it definitely can't hurt.
"I just go out there and compete. He does the same thing. I'll let him know when he does something good and it's just on and on," he said. "He's probably the most improved, the guy to look out for most next year."
Weeden and the OC selection
I was curious as to how much say either of the two stars had in coach Mike Gundy selecting Todd Monken as his offensive coordinator. The short answer: Some, but not a ton. Weeden spoke with Monken for about 45 minutes during the interview process, and after the conversation, the quarterback hung up and called Gundy right away to offer his endorsement.
"He was pretty intense," Weeden said.
Monken did most of the talking, while Weeden soaked it up.
"He was excited about the opportunity and wanted to give me a feel for the type of person he was," Weeden said. "We talked a little bit X's and O's but more just shooting the bull. I felt good about it."
Blackmon and Monken didn't have any contact until Monken had been hired. They first met during an offseason workout.
Early in the process, Gundy showed Weeden a long list of a few candidates, providing some brief background on each.
"I met with him probably 6-7 times about the whole process," Weeden said. "He'd say, here's the guys I'm thinking."
Eventually, Gundy narrowed it down to two or three candidates and told Weeden to research them and tell him what he thought.
"Not that my say would have had any matter; he was going to hire who he wanted, but I think he just wanted me to be sure that we weren't going to change anything for one, and it was going to be a guy I was going to be dealing with," Weeden said. "He wanted to hire a quarterback coach, not a guy who would go and coach receivers. I think that had more to do with [why and how often we met] more than anything."
I don't entirely agree that Weeden's say had no impact, but it's got to feel nice to even have as much say as Weeden did. I highly, highly doubt that Gundy would have hired a coach that Weeden didn't feel comfortable with or didn't feel fit the culture of the program.
Granted, I also imagine Weeden and Gundy had a similar picture of what they wanted in a new hire as well.
On the lockout
Weeden and Blackmon had big decisions to make, but even as players needing information pretty badly, they didn't know much more than the rest of us did when it came to the NFL lockout looming over the end of the season.
"All I heard was that nobody knew what was going to happen," Blackmon said.
The lockout is well past the 30-day mark now, but neither player has spent much time tracking when it will end.
"I'm not following it at all," Weeden said. "Whatever is on SportsCenter, if they say anything."
Anyiam back on track
Anyiam led the team in receiving in 2009, when Dez Bryant missed the final 10 games of the season after lying to NCAA investigators about his relationship with Deion Sanders.
Anyiam looked poised for a big year last year, but tried to play through an ankle injury. His situation was similar to the one
Kendall Hunter
played through in 2009, and instead of Anyiam, Blackmon emerged as the go-to receiver for the Cowboys.
This spring, though, Anyiam is back on track. Blackmon agreed that Anyiam could be a player who hauls in 60-70 receptions next season.
"I think so," he said. "His confidence is back and I think he's full speed."
Blackmon emerged early on
Oklahoma State's practices are almost entirely closed, but Missouri's spring and fall camps are both open. As such, it was obvious pretty early that
T.J. Moe
, who caught two passes as a freshman in 2009, would be a much bigger part of the offense in 2010. He led the team with 92 catches and 1,045 yards.
Was the same true for Blackmon, who had just 20 catches as a freshman but finished with 111 last year in his Biletnikoff Award-winning season?
"On certain days, probably," he said.
Weeden wasn't buying it.
"I disagree. Blackmon's always been that guy that practices harder than any other guy, even now," he said. "I'm not saying the other guys don't practice hard, but he's always balls to the wall. Once we knew Dez wasn't coming back, we knew somebody had to step up, and Hubert was hurt."
Blackmon and Weeden developed an early connection
Weeden seemed to trust Blackmon enough last year to throw the ball up in plenty of situations you don't see balls being thrown often.
We had a busted play one time [against Louisiana-Lafayette], and every other receiver was on a screen. I saw him throw his hand up and I was like, 'Well, let's see what happens,' Weeden said. "I figured either he's going to catch it or nobody's going to catch it."
Blackmon hauled it on for a 37-yard touchdown in the middle of three defensive backs, his second score of the game.
Weeden said that play cemented his trust, but when did Blackmon know?
"For me, it was that play," Blackmon said.
"And every play on the goal line," Weeden added.
November, 10, 2010
11/10/10
9:00
AM ET
All the pieces were in place.
Zac Robinson
was the senior franchise quarterback who would eventually leave as the program's all-time leader in total offense.
Kendall Hunter
was the running back coming off the All-American season and ready to run past his 1,555 yards as a sophomore. Receiver Dez Bryant was the playmaker like no other, one that would eventually leave as a first-round pick in the NFL Draft.
Best of all, they'd be operating behind an experienced offensive line headlined by a four-year starter protecting Robinson's blind side, Russell Okung, who eventually was selected sixth in the NFL Draft.
The next in a line of triplets at Oklahoma State that have included greats like Barry Sanders, Rashaun Woods and Mike Gundy looked ready to compete for a Big 12 title -- maybe more.
But Hunter suffered an ankle injury early on and didn't look like the same back until the season's final game. Bryant was suspended for the season after the third game for lying to NCAA officials about a visit with Deion Sanders. Robinson suffered a shoulder injury and wasn't himself in a shutout loss to Oklahoma to close the regular season, when a win would have sent the Cowboys to a BCS bowl.
They settled for 2nd in the South, the highest finish ever for the program, and an appearance in the Cotton Bowl.
[+] Enlarge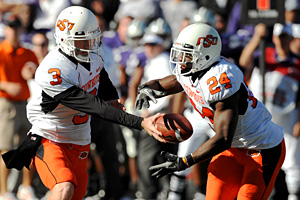 John Rieger/US PresswireBrandon Weeden and Kendall Hunter have given the Cowboys a shot at the Big 12 South title.
This year, a new group of unsuspecting triplets have emerged.
Brandon Weeden
, a 27-year-old first-time starter, leads the Big 12 in passing yards, completion percentage, touchdowns (his 26 are tied for No. 1 nationally) and passer rating. Hunter is better than ever as a senior, leading the Big 12 in rushing and ranking third nationally.
And
Justin Blackmon
, a sophomore with 20 career catches that no one outside the Big 12 had ever heard of before the season, has emerged as the favorite for the Biletnikoff Award and a possible Heisman finalist. He leads the nation in receiving yards per game by a wide margin, and is tied for the most touchdowns with 15.
Together, they have the No. 10 Cowboys (8-1) on top of the Big 12 South and in position to reach the Big 12 title game for the first time ever. With a win at Texas on Saturday, Oklahoma State would come home from Austin as winners for the first time in 11 tries since 1944.
"This is what you play for. Every game gets bigger as you go and this one is a big one," Weeden said.
Even an offensive line with four new starters has become a strength.
"I thought we had a pretty good product to work with," said new offensive coordinator Dana Holgorsen. "You never know how kids are going to develop, but that's why you get out there and practice every day and put guys in a position to improve."
The hype surrounding the team wasn't there when the season began, but attention on the Cowboys -- picked fifth in the Big 12 South in the preseason -- has grown as the wins have piled up.
"It's only a factor if you start to listen to it," Gundy said. "I've said this for four or five weeks now. If you start to think you're a pretty good player and that your team is better than they really are, you just need to look around the country every Saturday and you will see teams get knocked off. I'm a firm believer in that. We have some good players who have made a lot of good plays this year. And we have a good football team. But we're not beyond practicing well and keeping the right frame of mind in order to win our football game."
May, 12, 2010
5/12/10
12:00
PM ET
Two rounds are in the books and four teams are left in ESPN.com's playoff to determine
college football's best NFL pipeline
.
Clemson, Oklahoma State, Nebraska, Florida, Tennessee, Michigan, Arizona State and Penn State were eliminated in Round 2.
Georgia, Notre Dame, UCLA and Ohio State were pushed aside in Round 1.
Only Florida State, Pittsburgh, Miami and the University of Southern California are left.
Based on recent history, it's a surprise the Panthers are still standing.
Next to college football's teams of the 1980s (Miami), 1990s (FSU) and 2000s (USC), the Panthers stick out as much as Lane Kiffin sitting at a table of Hall of Fame coaches.
But here's a brief history lesson to bring you up to speed on Pittsburgh football:
In the early 1980s, there probably wasn't a better NFL factory than the Steel City's university. Quarterback
Dan Marino
played there, along with fellow Pro Football Hall of Famers Russ Grimm and
Rickey Jackson
.
Who can forget Pitt's stellar offensive linemen like
Mark May
, Jimbo Covert,
Ruben Brown
and
Bill Fralic
or its menacing defensive linemen such as Hugh Green,
Chris Doleman
and
Sean Gilbert
? Former NFL running backs
Curtis Martin
and Craig "Iron Head" Heyward played for the Panthers. More recently,
Arizona Cardinals
receiver
Larry Fitzgerald
and cornerback
Darrelle Revis
starred at Pitt.
But if the survey were based on the last 10 to 15 years -- instead of the last three decades -- the Panthers wouldn't have a seat at the front table.
FSU, Miami and USC are far and away college football's best NFL factories during the last two decades.
The Hurricanes blessed us with alumni who won five NFL Most Valuable Player awards and made 100 Pro Bowl appearances. An alumni game at "The U." would include a defense led by safety
Ed Reed
, linebacker
Ray Lewis
, and defensive linemen
Warren Sapp
and
Cortez Kennedy
. Try scoring against that unit.
The Miami offense would include quarterback
Jim Kelly
, tailbacks
Edgerrin James
and
Clinton Portis
, receiver
Michael Irvin
, tight end
Jeremy Shockey
, and tackle
Bryant McKinnie
.
Only USC can match that kind of star power. Four of the former Trojans drafted by NFL teams since 1979 are already in the Pro Football Hall of Fame: safety
Ronnie Lott
, tailback
Marcus Allen
, and offensive linemen Anthony Munoz and
Bruce Matthews
.
It's probably only a matter of time before former Trojans
Junior Seau
joins his fellow USC alumni in Canton, Ohio.
Florida State, which won 10 games or more every season from 1987-2000 and won national championships in 1993 and '99, produced NFL stars such as
Deion Sanders
,
Derrick Brooks
,
Walter Jones
and
Warrick Dunn
.
But many of FSU's best players during the 1980s and '90s never found as much success in the NFL.
Brad Johnson
, the only former Noles quarterback to have sustained success in the NFL, didn't even start during his senior season at FSU. Quarterbacks like
Peter Tom Willis
, Danny McManus,
Danny Kanell
and
Casey Weldon
had a cup of coffee in the NFL, but not much more.
What was the biggest surprise in the first round? No. 12 seed Ohio State over No. 5 seed Tennessee.
Ohio State's lineup of
Orlando Pace
,
Cris Carter
,
Chris Spielman
,
Eddie George
and
Robert Smith
is as good as anybody's, but Tennessee's roster of NFL talent is arguably just as solid.
Besides, who doesn't know the Buckeyes are going to lose to an SEC team every time?
November, 5, 2009
11/05/09
2:34
PM ET
Posted by ESPN.com's Tim Griffin
The
NCAA's denial
of
Dez Bryant
's final appeal to play this season wasn't unexpected.
When Bryant was suspended by the NCAA for lying about his association with Deion Sanders, I thought his chances of ever playing again with Oklahoma State were nil.
Bryant's crime actually was much less than LeGarrette Blount's or Rhett Bomar's or some of the other notorious cases in recent years. But Bryant lied, and the NCAA takes a pretty dim view on that.
The Cowboys missed Bryant for the first time all season last week in their loss to Texas. He likely would have been OSU's most consistent offensive weapon against the Longhorns, both as a receiver and a kick returner.
I'm not saying that OSU would have won that game, but the margin would have been closer if he had played. Bryant would have caught the touchdown pass that
Hubert Anyiam
dropped early in the game. He likely wouldn't have fumbled like Anyiam did later in the game. And he would have provided another weapon that would have made Texas alter its defensive schemes.
OSU has two more upcoming games in which Bryant would have been handy -- tough ones against Texas Tech and Oklahoma.
So the difference between having Bryant all season and not having him will end up being challenging for a BCS bowl versus playing in a good one at the end of the season.
For Mike Gundy and his program, that gap is a huge one.
October, 28, 2009
10/28/09
12:09
PM ET
Posted by ESPN.com's Tim Griffin
In some quarters, his image remains framed by his celebrated postgame outburst more than two years ago.
| | |
| --- | --- |
| | |
| | Tim Heitman/US PRESSWIRE |
| | Mike Gundy has the Cowboys at 6-1 despite being forced to replace some of his top playmakers. |
But Mike Gundy, now 42, has moved way past the popular perception of that tirade to become the best coach in the Big 12 to this point of the season.
His Oklahoma State team entered the season with more expectations than at any time in the program's recent history. Those hopes only grew after the team's victory over Georgia in the season opener boosted them to No. 5 in the nation.
But even after a loss to Houston in the following game that turned on two tipped passes, Gundy has persevered over a unique set of challenges unlike any he has ever faced during his coaching tenure.
The Cowboys have overcome the loss of
Kendall Hunter
, the 2008 Big 12 leading rusher who hasn't played since Sept. 12 because of an ankle injury.
Dez Bryant
, the program's preseason All-American candidate at wide receiver and punt returner, played in only three games before he was ruled ineligible over his dalliance with former NFL standout Deion Sanders.
The Cowboys learned Tuesday that Bryant won't return this season, just adding another obstacle to challenging for their first Big 12 South title.
"We hope that our plan and our scheme is far enough along that we can have some variation [in players]," Gundy told reporters. "The thing you always worry about as a coach is, 'Is your plan for the week good enough and then can your players step up and make some plays?'
The Cowboys have done just that since the loss of Bryant and Hunter, two of their top three playmakers.
Keith Toston
has emerged as a consistent producer in Hunter's featured back role, producing 606 rushing yards to rank fourth in the conference.
Bryant caught a higher percentage of his team's completions than any receiver in the conference last season. But in his absence
Hubert Anyiam
has become the featured receiver, leading the team with 25 receptions. Seven other players have caught at least eight passes this season as the Cowboys have become more balanced without Bryant.
Quarterback
Zac Robinson
has been the constant, keeping the team together despite all of the turmoil and personnel losses.
But Robinson admits that the notion of playing so well without Bryant and Hunter would have been a little stunning to him if he had considered it before the season started.
"I would have thought you were crazy," Robinson said. "With some of the guys who are stepping up and producing for us, some started as third-string players. It's been great to see them step up. At the beginning of the year, who would have thought they would have done this? But it's a tribute to their hard work."
Those personnel losses are only a start. Gundy kicked off wide receiver
Damian Davis
and
Jeremy Broadway
for breaking team rules. He also suspended fellow wide receiver Bo Bowling indefinitely this spring while he faces charges of possessing marijuana and anabolic steroids.
Projected starting tight end
Jamal Mosley
left the team just before the start of the season amid a police investigation that has yet to produce any results.
And Gundy's defense has been wracked with injuries. Cornerback Perrish Cox and defensive end Jeremiah Price both have missed substantial time this season.
"At some point, you'd like to not talk about adversity and talk about the future, but that's become a topic," Gundy said.
Gundy's perseverance has caught the attention of Texas coach Mack Brown.
"I really admire Mike and their staff for what they've done," Brown said. "They just move forward. They don't talk about it. Anyiam has got 19 receptions the last two games, so he has stepped in for Dez.
"Keith Toston was an alternating back anyway, and he's done a great job for Kendall Hunter. I think Mike and that staff have done one of the great coaching jobs this year in the country."
The Cowboys are now 6-1 and 3-0 in the Big 12 South, a half-game behind the Longhorns. They are 14th in the latest BCS poll and have all of their goals still in front of them.
Gundy credits his team for its resiliency.
"When you have as many off-the-field distractions and injuries or things come up that we have this year, you have to have leaders other than the coaches," Gundy said. "That's just the chemistry of your team and they enjoy being around each other and enjoy practicing. So no matter what happens, they'll buy in and go play hard."
March, 4, 2009
3/04/09
11:20
AM ET
Posted by ESPN.com's Heather Dinich
The 2009 College Football Hall of Fame ballot was released on Tuesday, and the ACC has nine candidates from seven different schools. The newest members will be announced live on ESPNEWS at a noon press conference in New York City on April 30 and inducted at The National Football Foundation's Annual Awards Dinner on Dec. 8, 2009, at the Waldorf-Astoria hotel in New York City. They will be officially enshrined at the Hall of Fame in South Bend, Ind., in the summer of 2010.
Here are the representatives from the ACC, along with the full release, which includes short bios about each one:
Dennis Byrd -- North Carolina State, defensive tackle (1964-67)
Marco Coleman -- Georgia Tech, linebacker (1989-91)
Gary Collins -- Maryland, wide receiver (1958-61)
Clarkston Hines -- Duke, wide receiver (1986-89)
Russell Maryland -- Miami, defensive tackle (1986-90)
Deion Sanders -- Florida State, defensive back (1985-88)
Pat Swilling -- Georgia Tech, defensive end (1982-85)
Lawrence Taylor -- North Carolina, linebacker (1977-80)
Gino Torretta -- Miami, quarterback (1989-92)
November, 19, 2008
11/19/08
12:50
PM ET
Posted by ESPN.com's Tim Griffin
Leave it to Texas to upstage excitement for the biggest Big 12 game of the season with their own announcement. But Will Muschamp's hiring as the coach-in-waiting behind Mack Brown was that big of a story.
Here are some links from around the Big 12 in a busy 24-hour news cycle.