NCF Nation:

DeMarco Sampson
April, 27, 2011
4/27/11
12:00
PM ET
December, 23, 2010
12/23/10
9:45
AM ET
You saw my preview and prediction. Now here are three keys for San Diego State and Navy in the S.D. County Credit Union Poinsettia Bowl.

San Diego State (8-4)
1. Establish Ronnie Hillman
. As we mentioned earlier, he has had a dynamic season, winning Mountain West Freshman of the Year honors and drawing comparisons to former Aztecs great Marshall Faulk. Though
Ryan Lindley
is capable of leading this offense, everything works so much better when the running game is established. In three of four losses this season, Hillman was held to fewer than 100 yards. He is going to take on even greater importance with the soggy state of the field, parts of which were flooded by torrential rains.
2. Remember Air Force
. Defensive coordinator Rocky Long had an effective scheme to slow down Air Force, which runs a similar version of the triple option. The safeties came up and crowded the box, and though the Falcons got their yards on the ground, San Diego State played assignment sound and had a good day tackling. One difference here is Dobbs, who has been a better passer than
Tim Jefferson
. Watch for linebacker Miles Burris, a first-team all-MWC selection. He led the team with 74 total tackles, and the league with 9.5 sacks and 19 tackles for loss.
3. Keep jitters down
. This is the first bowl appearance for San Diego State since 1998, so naturally there could be some nerves to start. None of the players have been in a game of this magnitude before, but it should help they will be playing in a familiar spot.

Navy (9-3)
1. Big games from Ricky Dobbs and Alexander Teich
. Air Force lost to San Diego State, but was able to rack up 312 yards on the ground in its version of the triple-option. Dobbs can pass the ball, but he and Teich are the primary forces that make this offense go. You figure San Diego State will try to load up the box, but Navy is used to seeing that look and is effective at breaking tackles or making surprises with some downfield passes.
2. No big plays
. Navy has been good at limiting big plays through the air this season, and that is going to have to continue against a big-play team in San Diego State. Brown has a 90-yard touchdown reception this season; Sampson has a 71-yarder;
Brandon Sullivan
has a 57-yarder. On the ground, three running backs have touchdown runs of 44-plus yards: Hillman (93),
Walter Kazee
(46) and
Davon Brown
(43). San Diego State has made 71 plays this season that have gone for 20-plus yards. The Midshipmen simply cannot afford to give up the big play consistently.
3. Stay disciplined
. Navy is the least-penalized team in the nation, and also is one of the best teams at hanging on to the football. Playing yet another clean game is going to be absolutely key in this one. The defensive backs have to be especially careful to not commit careless pass interference penalties when trying to slow down Sampson and Brown.
December, 23, 2010
12/23/10
9:00
AM ET
Quick: Who will be the home team in the S.D. County Credit Union Poinsettia Bowl? San Diego State, playing in its home stadium, or Navy, playing in the shadow of a large naval base? Either way, this crowd is going to set a record for the biggest in the game's history. Unfortunately, the teams are going to be playing on quite a soggy field after heavy rains left parts of Qualcomm Stadium under water. Crews were working furiously to
pump the water off the field to get it ready for tonight.
Here is a quick preview.


WHO TO WATCH:
Navy QB
Ricky Dobbs
. There are so many great players to watch in this game, but Dobbs is the heart and soul of the Navy offense. As he improved his play and got healthy as the season went on, Navy played better. The Aztecs have had problems stopping the run at times during the season, but they were effective in a win earlier this season over Air Force, which employs a similar-style triple-option offense. Dobbs needs 140 yards rushing to become just the seventh quarterback in NCAA history to rush for 1,000 yards and pass for 1,000 yards in a season twice in a career.
WHAT TO WATCH:
San Diego State running back
Ronnie Hillman
against the Navy defensive front. Hillman has emerged as a future star in his freshman season, running for 1,304 yards to become the first runner to surpass 1,000 rushing yards at the school since 2003. The Aztecs' offensive line has a size advantage on Navy, and that should open up some running lanes for Hillman. If that happens, play-action will open up for
Ryan Lindley
to find
DeMarco Sampson
and
Vincent Brown
. Tight end
Gavin Escobar
is a threat as well. Navy's secondary has been sound because it hasn't given up many big plays, but the Midshipmen haven't been challenged this season the way they will be against Sampson and Brown. Hillman could take on greater importance if it rains and the field is sloppy.
WHY WATCH:
There are compelling storylines all around. San Diego State is in its first bowl game since 1998. Navy is going for back-to-back 10-win seasons for the first time in program history. You have a pro-style offense against a triple-option offense, and two great head coaches in Brady Hoke and Ken Niumatalolo. Hoke has already had his name thrown around for some job openings. Though he got a raise and contract extension, Hoke has been mentioned in connection to Michigan, should that job come open.
PREDICTION:
San Diego State 28, Navy 27. I think the Aztecs are going to be able to effectively use the play-action to win, with big games from Hillman, Sampson and Brown.
December, 7, 2010
12/07/10
8:30
AM ET

Before the season started, the Aztecs were picked to finish sixth in the Mountain West. But there were signs that this could be a turnaround season. First, coach Brady Hoke has built winners. Second, he had good assistants in Rocky Long and Al Borges. Third, their players had another year in their system. Fourth, they had some very solid players returning on offense.
Ryan Lindley
,
DeMarco Sampson
and
Vincent Brown
were good in the passing game, but the weakness in 2009 was an inability to run the ball. Insert freshman
Ronnie Hillman
and voila! Those troubles vanished. Hillman set the league freshman rushing record with 1,304 yards and 14 touchdowns en route to Mountain West Freshman of the Year Honors. Lindley threw for over 3,000 yards, and Sampson and Brown each had 1,000 yards. The defense made strides, too, especially linebacker Miles Burris, who had 74 tackles and 9.5 sacks this season. Hoke won the league's coach of the year honors and just received a contract extension after several schools showed an interest in hiring him away. San Diego State posted its best season since 1996 and is headed to a bowl game for the first time since 1998. Now consistency has to be established. With a coach like Hoke leading the way, that seems inevitable.
Offensive MVP: RB Ronnie Hillman.
You definitely can make an argument for Lindley, who had the best season of his career. But the biggest difference in this offense was its ability to run the football. Last season, San Diego State ranked No. 116 in the country in rush offense, averaging 2.9 yards a carry. This year, the Aztecs averaged 4.8 yards a carry, and Hillman is the biggest reason why.
Defensive MVP: LB Miles Burris.
He was the lone returning linebacker returning from last season, along with the team's leading tackler, and made even bigger strides this season. He ranks first in the league in sacks and tackles for loss (19) -- both career highs.
Turning point:
After a 24-21 loss to BYU, San Diego State faced a ranked Air Force team at home. They held on to win the closing seconds to win 27-25 -- their first win over a ranked team in 14 seasons.
What's next:
San Diego State plays Navy in the S.D. County Credit Union Poinsettia Bowl before going about the task of replacing Sampson and Brown.
December, 6, 2010
12/06/10
12:53
AM ET
San Diego State Aztecs (8-4) vs. Navy Midshipmen (9-3)
Dec. 23, 8 p.m. (ESPN)


There is plenty of local interest in this game, and there should be plenty of national interest, too. The Aztecs are making their first bowl appearance since 1998, while Navy is making its eighth straight bowl appearance. San Diego State gets to stay at home in Qualcomm Stadium, while there is a huge Naval base in San Diego that is sure to get plenty of fans in the seats for the Midshipmen.
San Diego State finally has the balance on offense coach Brady Hoke has wanted since he took over last season.
Ryan Lindley
has thrown for 3,554 yards with 26 touchdowns and 14 interceptions. San Diego State also has one of the best receiving duos in the country in
DeMarco Sampson
and
Vincent Brown
. They each have over 1,000 yards and have combined for 17 touchdowns. Meanwhile, Mountain West freshman of the year
Ronnie Hillman
broke the conference record for rushing yards by a freshmen with 1,304 yards and 14 touchdowns.
Navy has had struggles against the pass this season, so that is going to be one of the biggest keys going into the game. As for the Midshipmen, their triple option is running much better now than it was at the beginning of the season. Quarterback
Ricky Dobbs
was pressing early on because of high preseason expectations, and fought through ankle and groin injuries.
Alexander Teich
has stepped up in the run game with Vince Murray slowed down because of injury. Navy has won three straight with the all-important game against Army this Saturday.
November, 25, 2010
11/25/10
9:00
AM ET
Happy Thanksgiving to all! Hope you get to spend today with lots of food, family and football -- it will be a great treat to see whether Texas can pull the upset and become bowl-eligible tonight against Texas A&M.
What are you thankful for today? Here is my list:
Passionate college football fans
, who are all to eager to tell you that you are either 1) The smartest person alive or 2) The dumbest person who ever lived and should be scrubbing toilets rather than talking college football. I love you all!
Boise State and TCU.
Haters can hate all they want, but we are seeing something this season that may never happen again. This is history in the making, the possibility that a non-AQ makes it into the national championship game. With Boise State and TCU set to be in the same conference in 2011, Utah leaving for the Pac-12 and the implosion of the WAC, this could very well be the last time we see two undefeated non-AQ teams jockeying for position in a national championship race.
The Pistol offense.
It's nice to see Nevada coach Chris Ault get all the pub he has gotten for his innovative offense this season. Not only have countless stories been done on him, but several teams throughout college football are now running some version of it, from UCLA to Alabama to Stanford.
Great coaching jobs.
Look across the non-AQs and you will find plenty -- TCU coach Gary Patterson and Boise State coach Chris Petersen go without saying. Here are a few others:
Miami (Ohio) coach Mike Haywood -- Took a 1-11 team to an 8-4 record and a share of the East Division title.
Ohio coach Frank Solich -- Overcame the loss of three star players to lead his team to a share of the MAC East.
Northern Illinois coach Jerry Kill -- On the verge of a 10-win season for the Huskies.
FIU coach Mario Cristobal -- Has his never-been-bowling Panthers one win away from a Sun Belt title.
UCF coach George O'Leary -- Has his team one win from the C-USA title game with a freshman quarterback and an outstanding defense.
BYU coach Bronco Mendenhall -- His team is bowl-eligible after starting the season 1-4.
Great players.
You know the headliners. Here are some of the most unheralded from the non-AQs: Western Kentucky RB
Bobby Rainey
, who has carried the ball a whopping 313 times this season and ranks No. 4 in the country in rushing, averaging 135 yards a game. North Texas back
Lance Dunbar
is right behind him in the Sun Belt.
Dominique Davis
of East Carolina,
Bryant Moniz
of Hawaii,
Alex Carder
of Western Michigan and
Corey Robinson
of Troy all rank in the top 10 in the nation in passing.
Great WR duos, too:
Titus Young
and
Austin Pettis
at Boise State;
Greg Salas
and
Kealoha Pilares
at Hawaii;
Vincent Brown
and
DeMarco Sampson
at San Diego State;
Juan Nunez
and
Jordan White
at Western Michigan.
Defensively, it's hard not to like Jamon Hughes of Memphis, Bobby Wagner of Utah State, Dwayne Woods of Bowling Green, Vinny Curry and Mario Harvey of Marshall, Archie Donald and Danny Molls of Toledo, the entire TCU and Boise State defenses, Josh McNary of Army and Wyatt Middleton of Navy. Three of the best special-teamers in the nation are from non-AQs too:
Shaky Smithson
of Utah,
Jeremy Kerley
of TCU and Darius Johnson of Tulsa.
Happy eating, everyone!
November, 1, 2010
11/01/10
4:49
PM ET
Here are the non-AQ players of the week, as selected by each conference:
Conference USA
Offense:
UAB running back
Pat Shed
, UCF running back
Ronnie Weaver
. Shed ran for a career-best 176 yards and a pair of touchdowns in a
50-49
double overtime win against Southern Miss. He finished with 235 all-purpose yards as the Blazers posted their first win in Roberts Stadium. Weaver ran for a career-high 180 yards on 30 carries with two touchdowns in a
49-35
win against East Carolina.
Defense:
Tulsa linebacker Shawn Jackson. His interception with 37 second left in the first half gave Tulsa the momentum in its
28-27
win against Notre Dame. He also had six tackles, a sack and two quarterback hurries.
Special teams:
Tulsa punt returner
Damaris Johnson
. Had a 59-yard punt return for a touchdown, the second of his career in the win. He is 25 yards shy of tying the Conference USA all-time kickoff return record.
MAC
East Division
Offense:
Miami receiver
Nick Harwell
. Had eight receptions for 97 yards and two touchdowns in a
21-9
win at Buffalo.
Defense:
Bowling Green defensive tackle Chris Jones. Had six tackles, five tackles for loss, three and a half sacks and recovered a fumble in a
17-14
win at Central Michigan.
Special Teams:
Kent State punter Matt Rinehart. Averaged 52 yards on four punts as the Flashes posted a 43-yard net in a
33-14
win against Ball State.
West Division
Offense:
Western Michigan receiver
Jordan White
. Had a career-high 14 receptions for a career-high 180 yards and one touchdown in a
28-21
loss to Northern Illinois.
Defense:
Northern Illinois defensive end Jake Coffman. He had four tackles and the game-saving interception on Western Michigan's final offensive play to seal the win.
Special Teams:
Toledo punter Vince Penza. Averaged 40.6 yards on five punts in the Rockets'
42-7
win at Eastern Michigan.
Mountain West
Offense:
San Diego State receiver
DeMarco Sampson
. Had seven receptions for 175 yards and two touchdowns in a
48-38
win against Wyoming. He has three straight 100-yard games.
Defense:
Utah safety Brian Blechen. Had a career-high nine tackles, an interception and a fumble recovery in a
28-23
win at Air Force.
Special teams:
San Diego State punter Brian Stahovich. Kicked the longest punt in San Diego State history at 89 yards in the second half against Wyoming. It was his only punt of the day.
Sun Belt
Offense:
North Texas running back
Lance Dunbar
. Ran for a season-high 215 yards and three touchdowns in a
33-6
win at Western Kentucky. The 215 yards was the most by any player in the Sun Belt this season and the third-highest rushing total in the nation this week.
Defense:
ULM Darius Prelow. Had six tackles and an interception in a
28-14
upset win against Troy. The defense held Troy to its lowest point total in a Sun Belt game since 2006.
Co-Special Teams:
Louisiana kicker Brett Baer, North Texas kicker Zach Olen. Baer made a field goal and four extra-point attempts, and had two perfectly placed onside kicks in a loss at Ohio. Olen made two field goals, including a 48-yarder, the longest by a North Texas kicker since 2005.
WAC
Offense:
Hawaii quarterback
Bryant Moniz
. Went 27-of-38 for 326 yards and three touchdowns in a
45-10
win against Idaho. He also rushed seven times for 43 yards and another score. Moniz is the first quarterback in the nation to reach 3,000 yards this season (3,247).
Defense:
Hawaii S Mana Silva. Had nine tackles (six solo), including one for a loss of 13 yards, and intercepted a pass in the win against Idaho.
Special teams:
New Mexico State kicker Tyler Stampler. Went 3-for-3 on field goal attempts in a
29-27
win against San Jose State. He made a 42-yard field goal as time expired in the first half and then added a 25- and a career-long 43-yarder in the fourth quarter of a tight game.
October, 31, 2010
10/31/10
12:43
AM ET
Several late games involving the non-AQs are still ongoing but it is time to give out a few helmet stickers to the players who have already had big days:
North Texas RB Lance Dunbar.
Ran for a season-high 215 yards on 30 carries and three touchdowns in a
33-6
win over Western Kentucky. The game marked the debut of interim head coach Mike Canales, who took over for the fired Todd Dodge a little more than a week ago. Dunbar helped give the Mean Green their second win of the season, and first since beating FAU on Sept. 25.
Northern Illinois QB Chandler Harnish.
Led Northern Illinois on a game-winning, 79-yard, seven-play drive with less than five minutes left in the game to give the Huskies a
28-21
win at Western Michigan. Harnish threw a 21-yard touchdown pass to
Willie Clark
with 3:42 to play and led his team to its sixth straight victory, its longest winning streak since 2004. Harnish had three total touchdowns in the game. Western Michigan WR
Jordan White
had a career-high 14 catches for a career-high 180 yards in the loss.
SMU QB Kyle Padron.
Threw for 354 yards and was the key in a
31-17
comeback win over Tulane. His 82 yard touchdown pass to
Aldrick Robinson
broke a fourth-quarter tie. He also scored on a 3-yard touchdown run to close out the win. Robinson finished with 182 yards.
San Diego State WRs DeMarco Sampson and Vincent Brown.
The two combined for 12 catches for 319 yards and two touchdowns in a
48-38
win over Wyoming. Each had more than 100 yards, and the two touchdowns belonged to Sampson. It was the first time since Sept. 27, 2008 that San Diego State had two receivers have more than 100 yards in the same game. San Diego State is bowl eligible for the first time since 1998.
ULM defense.
The WarHawks beat Troy
28-14
, holding the Trojans to their lowest point total in a Sun Belt Conference game since 2006 and breaking their 13-game league win streak. ULM held Troy to just 285 yards, and
Jerrel Jernigan
had just 92 all-purpose yards. He entered the game averaging 178.3 ypg.
New Mexico State WR Taveon Rogers.
Talk about a game winner. Rogers caught an 8-yard touchdown with no time left to give New Mexico State a
29-27
win over San Jose State. Rogers was making his first start of the season and had 90 yards and two touchdowns.
September, 29, 2010
9/29/10
4:15
PM ET
Their recent history is sad string of Ls, interrupted every now and again with a W.
But today, San Diego State is not much into history. Not with an energized team, an energized coach, and an energized start to the season. At 3-1, the Aztecs are off to their best start since 1996 and one of the surprise teams of this young season.
If you look even closer, they are 52 seconds and a 68-yard touchdown pass away from being 4-0 after a heartbreaking last-minute loss to Missouri.
"It's been a while since we've enjoyed any degree of success," offensive coordinator Al Borges said. "We're confident, but we're still very, very realistic about where we are and where we have to go."
Indeed, when Brady Hoke took over the Aztecs a season ago, he inherited a 2-10 team that was among the worst in the Mountain West. He knew he had to instill discipline, a tougher work ethic and mentality, and make strides in the weight room before he would begin to see results.
[+] Enlarge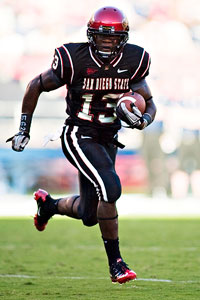 Derrick Tuskan/Icon SMIRunning back Ronnie Hillman's play has been a big reason San Diego State is off to a 3-1 start.
Positive steps were made last season, in which the Aztecs went 4-8. But much of what happened in the offseason set the stage for 2010. First, 16 starters returned, giving his team much more experience and another year in the offense and defense. Second, his team hit the strength and conditioning room hard.
Quarterback
Ryan Lindley
, for one, added between 15 and 20 pounds of muscle, to help him withstand the grind of taking hits throughout the course of the season. Third, he knew he was getting prized running back
Ronnie Hillman
, who was forced to leave the team before the start of last season after his SAT scores were questioned. He retook the test, re-enrolled in the spring, and has become an immediate factor.
San Diego State struggled to run the ball over the last several seasons, ranking near the bottom in the country in rushing offense. This season, the Aztecs are 25th nationally, averaging 213.5 yards a game.
Hillman has eight rushing touchdowns, equaling the entire output the Aztecs had on the ground in 2009. Through four games, the team has 13 total touchdowns and 854 yards behind Hillman,
Walter Kazee
and
Davon Brown
. Last season, San Diego State rushed for 940 yards. Total.
When asked about living up to some of the high expectations fans have of him, Hillman said, "You can't really go out there and think about what everybody thinks about you. You just have to play. I'm not looking at what everybody wants me to be or what everybody thinks I am."
The ability to run has helped Lindley and set up the play-action pass nicely. Already this season, Lindley is 74-of-136 for 1,174 yards with six touchdowns and two interceptions.
DeMarco Sampson
and
Vincent Brown
have proven to be his go-to targets, and both have touchdown receptions this season of 70-plus yards.
"So much of what we do is predicated on running the football," Borges said. "Sometimes we start the game off throwing to soften the defense to run football. Sometimes we run ball to soften the defense to throw the ball. It makes such a difference if you can effectively attack the defense. A year ago, we didn't pose a lot of threat with the run game so the play-action wasn't as effective."
The improvement is not all on the offense. The Aztecs are giving up 13.8 points a game, ranking 12
th
in the country. That is down 17 points from last season. Total defense ranks 27
th
, giving up an average of 296 yards a game, nearly 100 yards less than last season.
But of course, there are eight more games left to play, including a tough test at BYU on Oct. 9 following a bye this week. The last time the Aztecs made a bowl game was 1998, when they finished the season 7-5. Success has not come frequently here. They have made just five bowl appearances all time.
"I'm confident we'll stay focused," Lindley said. "With the way our leadership is, we're not going to stray from the path. We know what this season is about, going to a bowl game and winning a Mountain West Conference championship. You have to be better than you were a day before."
August, 31, 2010
8/31/10
1:53
PM ET