NCF Nation:

Demarcus Dobbs
August, 3, 2010
8/03/10
12:32
PM ET
One practice is in the books this preseason for Georgia redshirt freshman quarterback
Aaron Murray
, and it's fair to say that he's pumped about the possibilities with this offense.
Some of his veteran teammates might be even more so, including the guys on defense. They're equally pumped about Murray's ability to lead this team.
"The thing about Aaron is that he looks like he belongs out there in everything he does, and that's the way he plays," Georgia senior defensive end Demarcus Dobbs said. "He's been doing it all summer. He's been the guy who calls 11 on 11s, calls team meetings, and he's stepped up and done it on the field, too.
[+] Enlarge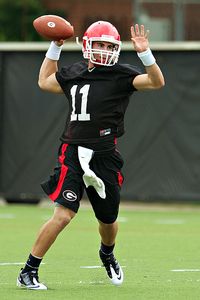 Dale Zanine/US PresswireAaron Murray's teammates are confident in his ability to lead the Bulldogs.
"He's young and some guys have been here longer than he has, but sometimes you have to put your ego down and let the younger guy take the reins and support him when he's ready, and Aaron is definitely ready. He hasn't tried to be overbearing. He's just done things in a way that guys treat him as a leader."
That starts with using the people around him and not trying to be a hero, as Georgia coach Mark Richt is fond of saying.
"I have an unbelievable line in front of me and great receivers and running backs around me," Murray said. "All I have to do is make the passes I do every day in practice and carry that over into games. I have tremendous athletes around me, and I know they're going to make plays. I can throw a 10-yard comeback, and they're going to turn it into a 30-yard gain.
"People keep asking about the pressure of being a first-year starter in this league, and there will be. That's just the way it is, but you don't really feel it when you're surrounded by tremendous athletes."
The other thing that helps Murray is that he's been around the program going on two full years now. He graduated high school early and has gone through two spring practices. This is his second preseason camp.
Granted, he'll be seeing SEC defenses live for the first time, but his grasp of the Bulldogs' playbook will be much more advanced than most freshman first-year starters in this league.
Murray said he "feels great" about 85 to 90 percent of the playbook and is still learning.
"It's a big playbook and I don't know that you ever really master the whole thing. I'm sure we'll go with the plays I'm most comfortable with and lean on those," Murray said. "But I'm going to continue to become more familiar with everything in there because I'll be taking more reps than I ever have."
Murray experimented with a glove on his throwing hand in the spring and wore it some in the offseason, but the glove is off now that preseason camp has started. He started using it initially when it was still cold back in February and the ball was harder to grip.
"I stuck with it into May and even into June some," Murray said. "But in the end, I just felt more comfortable without it."
While all eyes will surely be on Murray to see if he can indeed lead this football team into championship contention in his first year as a starter, he said the gauge he will pay most attention to is how hard this team works.
"My goal has always been to lead by example and work harder than anybody else," Murray said. "We've done that as a team. Everyone has bought in, and everyone is on the same page. Our work ethic has been there all summer, and I think a tremendous camp will slingshot us right into the season."
September, 5, 2009
9/05/09
11:35
AM ET

Posted by ESPN.com's Mark Schlabach
It's finally here, and here are 10 things I can't wait to see on the opening Saturday of the 2009 college football season:
1. Can Alabama's rebuilt offensive line protect quarterback Greg McElroy and open enough holes for the running game?
The Crimson Tide looked pretty bad without left tackle Andre Smith against Utah in the Sugar Bowl, and now the All-American is gone for good. Guard Mike Johnson tells me James Carpenter, a JUCO transfer from Augusta, Ga., is going to be pretty good at left tackle. Replacing center Antoine Caldwell is equally important.
2. Can Virginia Tech quarterback Tyrod Taylor throw it better than last year?
If the Hokies are going to live up to their lofty preseason billing -- and win me a 12-pack of adult beverages from ESPN.com ACC blogger Heather Dinich -- than Taylor has to become a more complete quarterback. It will be tough against Bama's stout defense.
3. Will Georgia's defense handle Oklahoma State's three-headed monster?
Bulldogs defensive coordinator Willie Martinez told me yesterday that he feels pretty good about his defense. Defensive end Demarcus Dobbs and Roderick Battle had good preseason camps, according to Martinez, and they'll have to get pressure on OSU quarterback
Zac Robinson
. But Martinez believes the key to stopping OSU's high-octane attack is containing
Kendall Hunter
to take away the play-action pass.
4. How will Joe Cox play against OSU?
The senior waited three seasons for Matthew Stafford to leave and his time is finally here. Cox has been battling flu-like symptoms for a few days, and didn't fly with his teammates to Stillwater, Okla. He arrived at OSU late Friday night and is said to be feeling much better.
5. Will Michigan be any better?
Surely, the Wolverines won't be any worse after going 3-9 in coach Rich Rodriguez's first season in Ann Arbor. Western Michigan is going to be a tough opener -- maybe a lot tougher than most people believe -- and the Wolverines have to find some confidence early in the season. Rodriguez will play three quarterbacks --
Tate Forcier
,
Nick Sheridan
and freshman
Denard Robinson
.
6. Is Notre Dame a legitimate BCS contender?
Believe it or not, we'll find out a lot about the Fighting Irish in today's opener against Nevada. Wolf Pack quarterback
Colin Kaepernick
is very, very good and his ability to scramble and run will present challenges to Notre Dame's defense. I really want to see if the Fighting Irish can run the ball better than they have the last couple of seasons.
7. How good are the new quarterbacks?
Matt Barkley
, the first freshman to start at quarterback for USC, should have his way against San Jose State. Will
Blaine Gabbert
fill Chase Daniel's enormous shoes at Missouri? The Tigers' new quarterback faces a stiff test today against Illinois. Cox and Alabama's McElroy won't be the only new quarterbacks in the spotlight.
8. Will there be any upsets in Week 1?
How about Western Michigan over Michigan? Central Michigan over Arizona? Ohio over Connecticut? Louisiana Tech over Auburn? I'm sure there will be a couple of surprising results.
9. How good will Oklahoma's offensive line be against BYU?
The Sooners have to replace four starters on the line, including All-America guard Duke Robinson. Protecting reigning Heisman Trophy winner
Sam Bradford
might not be as easy without them. Converted tight end
Brody Eldridge
moves to center, and LSU transfer Jarvis Jones takes over at guard. Bradford will need some new targets, too, with Manny Johnson and Juaquin Iglesias moving on. He'll miss tight end
Jermaine Gresham
, who is out for at least a week with a knee injury.
10. How will Auburn and Tennessee look under new leaders?
The Tigers might get a stiff test from Louisiana Tech, so they'll need a good game from quarterback
Chris Todd
, who was a surprising choice to run Gus Mahlzahn's offense. The Volunteers will probably be pretty vanilla against overmatched Western Kentucky, but they need to get better quickly. The Vols play at defending BCS national champion Florida in two weeks.
Enjoy the games.
March, 24, 2009
3/24/09
10:37
AM ET
Posted by ESPN.com's Chris Low
ATHENS, Ga. -- Blink for just a millisecond in the SEC, and you risk being cast off into football oblivion.
That said, wasn't it just yesterday that Mark Richt was the fresh-faced newbie of the league, a Bobby Bowden protégé from Florida State, who was about to endear himself to Georgia fans forever with his signature "hobnail boot" victory over Tennessee?
| | |
| --- | --- |
| | |
| | Al Messerschmidt/Getty Images |
| | Georgia coach Mark Richt is feeling confident heading into the 2009 season. |
The truth is that was eight years ago, and there have been 17 head coaching changes in the SEC since Richt took over at Georgia in 2001. He enters next season as the longest-tenured head coach in the league at the same school.
With Phillip Fulmer and Tommy Tuberville being pushed out following last season, Richt suddenly finds himself as the dean of a conference that chews up and spits out head coaches.
"It changes fast, and you have to be willing to change with it," said Richt, who's been the hallmark of consistency at Georgia.
He's won 10 or more games in six of his eight seasons, and the Bulldogs have finished in the top 10 in the polls five of the past seven seasons. Richt is also one of only six head coaches who has won 80 or more NCAA Division I football games in his first eight seasons, joining the likes of Pete Carroll, Bob Stoops, Urban Meyer, Barry Switzer, George Woodruff and Amos Alonzo Stagg.
Along the way, Richt has won two SEC championships and six bowl games, including two wins in BCS bowls.

About the only thing he hasn't done is beat Florida consistently or win a national title.
Richt is committed to doing both, but he's not consumed by either.
"My goal is to watch these guys become men and develop into the best possible football player they can be," Richt said. "My goal is to get a team to reach its full potential on a yearly basis and come out of here better men than when they showed up.
"We absolutely want to win a national championship. We have the goal set to do that. But the national championship goal is one you really don't control. You can control winning the East and control winning the SEC and then hope two other cats on the other side of the country didn't go undefeated.
"We've won 82 games in eight years, (tied with LSU) for the most of anybody in the league. We've either won or shared the East four out of eight years. So we've done a nice job. But because of the national championship, if you haven't won that, then people say, 'You haven't done it yet.'"
November, 9, 2008
11/09/08
2:13
PM ET
Posted by ESPN.com's Chris Low
Now that we know for sure that Alabama and Florida will play in the SEC Championship Game on Dec. 6, let's reward the primetime performers from this past weekend with some helmet stickers:

Rashad Johnson, safety, Alabama: How about Johnson's running skills? On his 54-yard interception return for a touchdown, he showed speed, vision and acceleration. It was his second interception return for a touchdown in as many weeks. Johnson tied a school record with three interceptions against LSU. All three were pivotal plays in the game, too. His first one set up the Tide's first touchdown. He scored the Tide's second touchdown, and his third one ended LSU's possession in overtime.
Tim Tebow, quarterback, Florida: For the second straight week, the Gators' junior quarterback accounted for five touchdowns. Tebow almost made it look too easy against Vanderbilt with three touchdown passes and two touchdown runs. In each of his last three games, he's had two touchdown runs and two touchdown passes. Sounds like Heisman Trophy stuff to me.
Kenny McKinley, receiver, South Carolina: He's fought back from a frustrating hamstring injury earlier this season to solidify his position as one of the Gamecocks' greatest receivers ever. McKinley had seven catches for 130 yards and a touchdown in South Carolina's 34-21 win over Arkansas. In doing so, he passed Sterling Sharpe as South Carolina's career receiving leader.
Demarcus Dobbs, defensive end, Georgia: These aren't the best of times for the Georgia defense, but Dobbs came through during crunch time for the Bulldogs. He intercepted Kentucky quarterback Randall Cobb's screen pass with 46 seconds to play after the Wildcats had driven to the Bulldogs' 13-yard line.
Julio Jones, receiver, Alabama: You can watch football a long time and not see a freshman as good and physically ready to play as Jones. He's oozing talent, but works feverishly on his game. There's not a tougher cover one-on-one in the SEC. Jones finished with seven catches for a season-high 128 yards in the win over LSU and set up the game-winning touchdown in overtime with a nifty 24-yard grab where he showed freakish body control to pull in the ball and then drag the defender to the 1.