NCF Nation:

DeMarcus Walker
January, 17, 2014
Jan 17
9:30
AM ET
In 1984, Florida State hired Mickey Andrews as its defensive coordinator. For the next 26 seasons, he held the same role, only leaving after Bobby Bowden stepped aside as head coach following the 2009 season.
Four seasons later, Jimbo Fisher is about to hire his third defensive coordinator, and that's a major concern for Florida State fans not used to such routine turnover. Jeremy Pruitt jumped for a job at Georgia just eight days after winning a national championship in his one and only season with the Seminoles. It leaves FSU in search of a new coordinator just weeks before signing day, and it leaves the Seminoles' defense in a state of flux after Pruitt was so influential in revamping the scheme just a year ago.
But while the timing is certainly not ideal for Florida State, the loss isn't necessarily devastating.
1. The move isn't unprecedented
During the BCS era, five coordinators departed their schools immediately after winning a national championship. Granted, all left for better gigs (either the NFL or a head-coaching job), but in each case, the team didn't suffer a dramatic decline after they waved goodbye.
While coordinators are crucial in running the daily routine of practice, the head coach is usually the one setting the philosophical tone, and the players generally determine how good it all looks on the field.
It's distinctly possible Florida State can't repeat its defensive dominance in 2014, but it's far more likely that any decline will be due to the losses of
Timmy Jernigan
,
Telvin Smith
and
Lamarcus Joyner
-- not Pruitt.
2. Pruitt didn't "turn around" FSU's defense
This notion has been bandied about a bit since Pruitt left for Georgia, but it's not entirely accurate.
Yes, Pruitt completely revamped the defensive scheme at Florida State, shifting heavily toward a 3-4 set and bringing a more aggressive approach that moved the onus from the front four under Mark Stoops to a dominant secondary in 2013. The results were stellar, and Pruitt certainly deserves some credit for the marked uptick in takeaways, but his job was hardly about rebuilding a unit from scratch.
Pruitt inherited a very good defensive unit from Stoops. So good, of course, that it landed Stoops a head-coaching job in the SEC (yes, Kentucky… but it's still the SEC). Pruitt did an excellent job of covering for the losses of several key veterans from 2012 (Bjoern Werner and Tank Carradine), but he also had the luxury of a veteran-laden unit that had already accomplished a lot at the college level.
3. Pruitt wasn't a star in 2012
Fans are rightfully concerned about losing a rising star in the coaching ranks who had enjoyed so much success this season, but it's worth remembering that Pruitt wasn't exactly a slam-dunk hire when Fisher brought him on board.
Stoops' departure after the 2012 regular season was widely anticipated. He'd become a hot commodity. The search for his replacement was followed closely, but few of the pundits prognosticating a hire had Pruitt on their radar. At the time, Pruitt was an assistant on a national-championship team, but he'd had just three years of sideline experience under his belt, he'd never been a coordinator at the college level, and he was coaching Nick Saban's position group. The concern at the time was that he was simply a product of Saban's genius, not a burgeoning star.
Of course, Pruitt proved those doubters wrong in 2013, but the point is worth remembering: Fisher saw his potential long before everyone else did. There's little reason to think FSU's head coach can't pry another rising star from the ranks of anonymity this time.
4. It wasn't about the money
Yes, Pruitt is getting a nice raise at Georgia, but that's not why he left. He admitted during his press conference in Athens that he didn't give Florida State a chance to counter, and whatever his reasons for leaving -- and we're not interested in speculating until Fisher or Pruitt or someone else associated with FSU wants to talk on the record -- it's worth remembering that FSU is in a far better position financially today than it was when it hired Pruitt last year.
Would Florida State have matched Georgia's offer? It's impossible to say for sure now, but there's every indication the school would have. [
Ed. note: FSU associate AD Monk Bonasorte confirmed Thursday that FSU was prepared to match UGA's offer.
] Fisher inked his new deal (even when deep-pocketed Texas was on the prowl) to stay, and he made bumps in salary for his assistants a key part of those negotiations. Fisher's tenure has been built on understanding the importance of the support staff around him, and he's made great strides to ensure the resources are there for Florida State to be competitive on the national stage -- both on the field and with the checkbook. Oh, and a national championship doesn't hurt either.
5. Recruiting may be the key
Where Florida State should be concerned is in the area of recruiting. Not only is Pruitt's departure coming at a tenuous time on the recruiting trail (signing day is Feb. 5), but he was also a key salesman for the Seminoles during his 13 months on the job.
Pruitt came on board full-time after last year's national championship game and still helped FSU close on
Jalen Ramsey
,
Nate Andrews
and
DeMarcus Walker
-- three players who were only tangentially on FSU's radar beforehand. He's also adept at recruiting the state of Alabama, a crucial battleground for FSU that took a big hit after Dameyune Craig departed for Auburn following the 2012 season.
Both Pruitt and Craig had exceptional relationships with high school coaches and players in Alabama, and that may be the toughest thing for Fisher to replace. Pruitt's replacement will have his work cut out for him replacing several departing stars, but that work begins with finishing strong before signing day.
September, 25, 2013
9/25/13
1:00
PM ET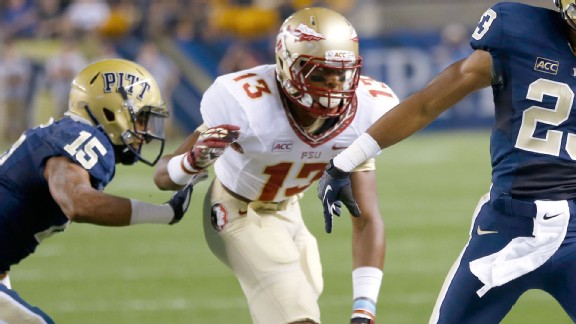 AP Photo/Keith SrakocicFreshman cornerback Jalen Ramsey jumped right in to a starting spot, beating out veterans Nick Waisome and Ronald Darby in the process.
TALLAHASSEE, Fla. -- Throughout the 68-yard dash,
Telvin Smith
never looked back. Seconds earlier, he'd stepped in front of a pass from Bethune-Cookman quarterback
Quentin Williams
, and a path cleared ahead of him as he charged to the end zone.
It was only after Smith crossed the goal line that he realized he wasn't alone. Two steps behind him was fellow linebacker
Matthew Thomas
, who'd kept pace with Smith step for step throughout the return.
"I turned around and he's standing right next to me," Smith said. "That's what the coaches and myself love about him."
That was hardly the only highlight of the game for Thomas, who dropped Bethune's quarterback in the backfield twice in a span of five plays in the third quarter. In a game in which Jimbo Fisher criticized his defense for ceding too much ground to an overmatched opponent, Thomas stood out.
That's been a theme of the early season for Florida State's defense. It's a unit in transition, having lost a bevy of veterans to the NFL draft and its coordinator to Kentucky. Changes have come at nearly every turn, and the youngest Seminoles are taking advantage.
"They're stepping up," Smith said. "The best man is going to play, and right now, they're proving themselves to be the best man. The young guys are coming. They're on our toes."
It's not just Thomas making an impact.
Jalen Ramsey
become the first FSU cornerback to start as a true freshman since Deion Sanders, then delivered the Seminoles' first interception of the season against Pittsburgh. He's sixth on the team so far with 12 tackles, including one sack.
Demarcus Walker got a start in the opener, too, and he's seen consistent work on the defensive line ever since.
Chris Casher
, a redshirt freshman, racked up 10 tackles -- including two for a loss -- against Bethune-Cookman and was named FSU's defensive player of the week. Second-year players
P.J. Williams
and
Mario Edwards Jr
. are now established starters, and a handful of other youngsters are getting regular reps on defense, too.
Fisher was so pleased with the work of his young defensive backs that he felt comfortable flipping veteran
Karlos Williams
from safety to tailback. Casher, Thomas and sophomore
Eddie Goldman
have helped pick up the slack for FSU's pass rush after its top three defensive ends all left for the NFL. Overall, nearly half of Florida State's tackles this season have come from defenders with zero previous starting experience.
"The platform is even because new [defensive coordinator], new philosophy, and you have to learn it," cornerback
Lamarcus Joyner
said. "Experience on the football field, those young guys haven't had it, but with their talent level and where they're coming in, it's good to see them playing and be able to play fast."
Of course, it's easy enough to chalk up the early success for the freshmen and sophomores to the lack of quality competition on the field, but Fisher said this isn't a passing fad. Florida State's schedule gets markedly tougher in October, and rather than shuffling the young defenders to the sidelines for the big games, he wants to ensure they're ready to play when it counts.
"Ability is never the issue," Fisher said. "It's about technique and assignments and getting playing time to be able to relax on the field and do what you do, taking it from the practice field to the game field. You see that more and more, you feel more comfortable. We're going to keep developing all those guys."
Ramsey already appears to have a starting job locked up moving forward, beating out junior
Nick Waisome
, who started all 14 games last season, and
Ronald Darby
, a freshman All-American in 2012. Fisher raved about Ramsey's combination of speed and physicality, but said it's the freshman's football acumen that has set him apart.
Thomas is a bit more of a work in progress. He's flashed potential, but he's spent much of his first few months on campus simply soaking in all he can about how to do his job.
"He's observing a lot of stuff," Smith said. "He's taking it in, and he's going to erupt when he gets the chance."
Fisher sees it coming, too.
Since arriving on campus in June, Thomas has already packed on nearly 25 pounds to his frame, but it hasn't slowed him down.
"He's gotten faster," Fisher gushed.
Walker and Casher are following a similar path, too, though they've had longer to learn the ropes.
Casher has been sidelined for the better part of the past two years -- first because of an eligibility issue his senior year in high school, then because of a knee injury that cost him nearly all of 2012. Walker arrived this spring to get a jump start on his college career, but an issue with the NCAA Clearinghouse meant he didn't practice with the team at all.
The down time might have been a blessing, however, as both were eager to learn.
"They came in with their eyes open and their notepad ready, listening to the older guys," Smith said.
That's been a trademark of the Class of 2013 in particular. When Joyner arrived in 2010, Florida State was in the midst of a culture change in the locker room that took a while to take hold. The latest batch of freshmen, however, look right at home from Day 1.
"Those guys are coming in here with the same talent level that guys took two to three years to develop," Joyner said.
That's exactly what Fisher wants to see. He doesn't promise playing time to his recruits, he said, but he offers opportunity. This latest crop of Seminoles was prepared when that opportunity arrived.
"When you get here, you get an opportunity, and if you're the best player, you're going to play," Fisher said. "A play don't care who makes it, and there isn't an age limit on being a good player."
September, 25, 2013
9/25/13
10:30
AM ET
Wake Forest coach Jim Grobe is a throwback, and he's never been eager to play his freshmen too early. In his career at the helm of the Demon Deacons, just 22 true freshmen have seen action. And yet, in 2013, Grobe has already played 11 more.
It's a sign of the times that true freshmen are making an instant impact, and that's been particularly true in the ACC. And while virtually every program has seen some results from its Class of 2013 already, these five classes have produced the most through four weeks.
[+] Enlarge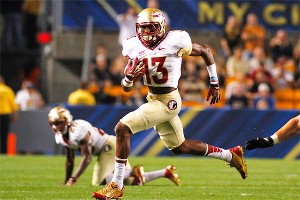 Justin K. Aller/Getty ImagesIn FSU's season opener, Jalen Ramsey became the Noles' first true freshman cornerback to start a game since Deion Sanders in 1986.
1. Pittsburgh:
According to ESPN's rankings, Pitt had the 41st-ranked recruiting class last season, but few programs have gotten more production from their freshmen right off the bat than the Panthers. Pitt has played 12 true freshmen already this season, including two of the nation's best. Tailback
James Conner
ranks second in the ACC in rushing, and receiver
Tyler Boyd
has been electric, ranking fifth in the nation in all-purpose yards. Including receiver
Scott Orndoff
and kicker
Chris Blewitt
, freshmen have accounted for 70 percent of Pittsburgh's scoring this season.
2. Virginia Tech:
The Hokies opened the season with two freshman defensive backs aiming to shut down the two-time defending champions. It was a major question mark, but
Brandon Facyson
and
Kendall Fuller
answered emphatically. Facyson has three interceptions and four passes defended so far, while Fuller has racked up 12 tackles, seven defended passes, six pass breakups and an interception. With the two freshmen starting all four games, Virginia Tech's passing defense ranks sixth in the nation.
3. NC State:
Without starting quarterback
Brandon Mitchell
, the Wolfpack have had to find offense wherever they can, and two true freshmen have answered the call. Tailback
Matt Dayes
has racked up 143 yards on 37 carries so far, scoring three touchdowns. Meanwhile, receiver
Marquez Valdes-Scantling
ranks in the top 15 in the ACC in receiving yards, yards per reception and yards per game.
4. Florida State:
Jalen Ramsey
became the first Florida State cornerback to earn a starting assignment as a true freshman since Deion Sanders in the opener, and he didn't disappoint, picking off Pitt QB
Tom Savage
for the Seminoles' first takeaway of the season. Ramsey ranks sixth on the team with 12 tackles, and he's recorded one of FSU's six sacks. Defensive end
DeMarcus Walker
earned a start, too, and
Matthew Thomas
has two tackles for loss. In all, 13 freshmen have seen the field for FSU.
5. Miami:
The Hurricanes have yet to see significant contributions from a number of members of their 15th-ranked recruiting class, but the early results from
Gus Edwards
,
Alex Figueroa
and
Stacy Coley
have offered a glimpse of what's to come. Edwards has carried just 18 times, but he's scored on three of those runs, and his 7.3 yards-per-carry average ranks fourth in the ACC. Coley has just five catches, but one went for a touchdown, and Figueroa has eight tackles and a sack for a particularly tough Miami linebacking corps.
September, 4, 2013
9/04/13
1:00
PM ET
All spring and all summer, Florida State promised we would see a new-look defense come Week 1.
Well, the Noles delivered on those promises against Pittsburgh. Florida State defensive coordinator Jeremy Pruitt showed off new blitz packages designed for his athletic linebackers and cornerbacks in a 41-13 win over the Panthers on Monday night, allowing guys like linebacker
Telvin Smith
and cornerback
Lamarcus Joyner
to take on even bigger roles on the defense.
Smith was all over the field, making one punishing hit after another. He finished second on the team with eight tackles -- including two for loss. Joyner led the team with nine tackles and a team-high two sacks.
That is not a misprint. A defensive back led the Noles in sacks.
Rewind to last season: not one defensive back got a sack. Of the 36 total sacks the Noles notched in 2012, defensive linemen made 33 of them.
"Oh that was something that coach Pruitt emphasized on this offseason," Joyner said. "He said I was too much of a player with explosion not to come off the edge and try to make those kind of plays. That's what this defense expects me to do. I was pretty successful with some of the guys doing their job allowing me to come off free."
The philosophy -- at least in Week 1 anyway -- was in stark contrast to last season, when the Seminoles rode the strength of their defensive front behind Bjoern Werner and Tank Carradine. Florida State did not generate much of a pass rush against the Panthers from its defensive front, relying instead on the blitz packages to get after Pitt quarterback
Tom Savage
.
Considering the players Florida State has to replace up front, that does not come as a complete shock. Still, it was different.
"I love this defense," Smith said. "A lot of times I'm uncovered and guards can come hit me but I feel like I have an advantage with being quick and being fast. I'm trying to be more aggressive also. It's just a transition to this defense."
With transition comes rocky patches, too. Pitt marched down the field on the opening drive, and found early success with its running backs rushing to the outside. But coach Jimbo Fisher praised his defense for not buckling.
On Pitt's second possession, true freshman
Jalen Ramsey
came up with a huge interception to help swing the momentum back to the Noles. Florida State scored off the turnover.
Terrence Brooks
also got an interception that the Noles turned into a score just before halftime.
Fans are sure to see more of Ramsey, who joined defensive end
DeMarcus Walker
as the two true freshmen starters on defense. Joyner said Ramsey was a little rattled to start.
"He was very nervous at the beginning of the game and I told him, 'Hey it's just like high school. You go against
Kelvin Benjamin
,
Rashad Greene
, two NFL receivers every day,
Kenny Shaw
. If you can do it against those guys, you can do it out here,'" Joyner said. "He took a deep breath and there was an interception the next drive."
There is no question this defense remains a work in progress. Players said they felt comfortable in the scheme, but still believed they were doing too much thinking during the game as they get used to their new roles. Joyner says it is essential to get some technique and leverage issues squared away during practice this week.
All of that should get better over time. Still, Florida State did hold Pitt to under 300 yards total offense and only gave up 13 points.
"I thought we did pretty good but there's still a lot more room for improvement," Brooks said. "We messed up on some little things, they were able to get some plays out of that but just with more practice and reps, film study we'll be fine."
Could they be another Top 10 group by the time the season ends?
"We've got the same players that did it last year so we definitely have that mentality," Smith said. "We set that standard last year and we're going to try and do it again this year."