NCF Nation:

Demonte McAllister
May, 17, 2013
May 17
3:03
PM ET
TALLAHASSEE, Fla. -- By any significant measure, the difference between
Timmy Jernigan
's role as a reserve the past two seasons and the starting job that awaits him in 2013 shouldn't be a major overhaul.
Jernigan was already on the field for a majority of snaps throughout most games, and his impact on the defensive line already included more tackles than any other FSU interior lineman in 2012. Still, there's something about hearing his name announced before each game and knowing he's officially secured the job of starter on a unit that's been among the best in the nation in recent years that Jernigan relishes.
"I've been waiting a long time," he said. "So I'm really excited about it."
Jernigan's enthusiasm isn't entirely inflated either. Sure, his playing time isn't likely to shift dramatically, and he's already proven he's capable of handling a sizable role on the defense. But what's truly different for the junior defensive tackle in 2013 isn't about reps or tackles but about his place in the hierarchy of the defense.
For the past two seasons, FSU's line has been the foundation of its defensive scheme. The unit has helped the Seminoles finish in the top three in the nation stopping the run in both 2011 and 2012, and last month, it sent five players on to the NFL, including all of last year's starters.
That, of course, means a massive overhaul for the unit, but thanks to Jernigan's presence -- along with potential breakout stars like
Mario Edwards Jr.
and
Eddie Goldman
-- the expectations haven't dipped much. And that's a burden Jernigan hadn't been asked to carry before.
"I feel like it's my D-line now," Jernigan said. "I'm trying to be a leader."
[+] Enlarge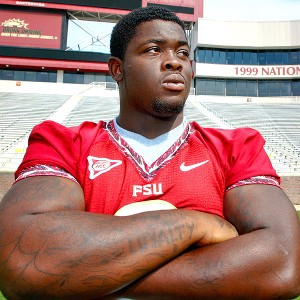 AP Photo/Phil SearsAs a sophomore, Timmy Jernigan led all FSU defensive tackles in tackles last season.
When it comes to production, there's little reason to question Jernigan's ability to handle a bigger share of the spotlight. As a reserve the past two seasons, he's racked up 76 tackles, including 14 for a loss, and four sacks. Despite playing behind Anthony McCloud and Everett Dawkins -- both in NFL camps now -- Jernigan established himself as a star, and he's already currying attention as a potential first-round selection in next year's draft.
That attention is nice, he admits, but his bigger role in 2013 isn't about burnishing his resume for the next level.
"It inspired me to work even harder toward what I want," Jernigan said. "I'm not really worried about the NFL or anything like that because there's so much more I feel like I have to do here in Tallahassee. I'll worry about that when it's time."
What Jernigan needs to do this season isn't simply a repeat of past performance either.
Jimbo Fisher has been quick to shrug off concerns about the massive changes on the defensive line, noting that Jernigan and
Demonte McAllister
were already FSU's most productive tackles, but it's hard to ignore the notion that life gets more difficult without established talent surrounding them.
That means Jernigan has to pick up the slack as the centerpiece of the line and help bring along the younger talent alongside him.
Before an ankle injury sidelined him midway through the spring, Jernigan was taking reps alongside a bevy of potential partners on the line, from veterans like
Jacobbi McDaniel
and
Giorgio Newberry
to youngsters like Edwards and Goldman. The rotations, he expects, will continue well into the fall, but he admits it's hard not to be impressed by the potential of some of the young guns.
"I like what they're doing because they're asking questions, they're very humble," Jernigan said. "They understand we have all the talent in the world up front but the biggest thing is we've got to get everything going. Those guys are going to be just fine. It's just a matter of understanding what you're doing. Not understanding slows you down, but those guys are going to be just fine."
Of course, Jernigan is dealing with a bit of a learning curve, too. While his position group was spared in the overhaul of FSU's coaching staff this offseason, the new, aggressive schemes being implemented by defensive coordinator Jeremy Pruitt have added some wrinkles to what had been a relatively straightforward approach.
But like the move from reserve to starter, Jernigan sees the changes as an opportunity to impress.
"That's what I like," Jernigan said. "I like to get off the ball and attack blockers rather than absorb them. It's going to be a positive. I'm very excited about it."
April, 2, 2013
Apr 2
2:00
PM ET
TALLAHASSEE, Fla. -- Florida State defensive end
Giorgio Newberry
walked into the room, cradling his black playbook, and sat down on a folding chair.
By the looks of it, the book should have made a monstrous thud when he went to put it down. Newberry placed the book gently on the floor, though, and laughed when he was innocuously asked, "So that playbook is bigger than your old one, huh?"
The new book, a huge three-ringed binder stuffed full, features more blitzes, and some new assignments for players used to the old way of doing things. While the Seminoles will remain a 4-3 base defense, they are going to be using all of their players in different ways.
That means a guy like Newberry -- all 6-foot-6 inches and 273 pounds of him -- will be dropping back into pass coverage on occasion as he transitions to play the jack position, an end/linebacker mashup.
And no, Newberry has never actually covered anybody in the pass game before.
"It's pretty fun actually, getting an opportunity to run in space, show my athleticism off," Newberry said recently. "I have the speed for a big guy. I have a lot of range. I'm pretty long and tall so that should help me, too. I'll still be rushing sometimes but it's almost like I'll be rushing, dropping, rushing dropping even though I'll be rushing still."
Newberry is not the only defensive lineman in the spotlight this spring. They all are, as questions persist about how the Seminoles are going to look up front with starters
Bjoern Werner
, Tank Carradine,
Everett Dawkins
and
Anthony McCloud
gone. The good news is a wealth of experienced players return.
Coach Jimbo Fisher consulted his stat sheet to prove it. He starts with tackles
Timmy Jernigan
and
Demonte McAllister
, who were more productive than Dawkins and McCloud. End Mario Edwards Jr.
started at the end of the season
; Newberry has game experience;
Jacobbi McDaniel
is back;
Eddie Goldman
has been "coming on like wildfire"; and expectations are high for
Chris Casher
.
"They still have to prove it, but from we still feel very comfortable that we can be very physical and very dominating up front. Very strong," Fisher said.
To that end, players like Newberry and Jernigan are preparing themselves for breakout seasons in this new defensive style that first-year coordinator Jeremy Pruitt brought with him from Alabama.
"This," Newberry says, "is a killer defense."
How good can it be once everybody learns the entire system?
"Our defense is going to be just as good as last year, if not better," Newberry said. "Because we have a new system, people are younger and we have more people."
Jernigan chimed in later with his own take: "As far as stats go, I feel like this will be my biggest year. I feel like I'm going to have a very good year this year.
"I've been preparing, I've been working very hard in the weight room, in the classroom making sure I have no extra stress. Then the style of the defense, we're a little more aggressive up front and that's the way I like to play. I like the physicality, I like to get off the ball, hurry up and get my hands on the blockers. I think that's going to help, we're going to be attacking a lot more."
Attacking from all over the field, in fact. Florida State has a deep history and tradition to uphold defensively, especially after ranking No. 2 in the nation in defense last year. The only team ahead was Alabama, and now the Noles have the Tide's former defensive coordinator.
Fisher, however, wanted to be sure to emphasize the Noles are keeping much of what they did in the past in place, even though it seems they may be radically changing. Alabama does run a 3-4 base. Florida State will not. Simply put: There will be a few new twists -- OK a lot more twists -- in the playbook, sorta like sprucing up the garden for spring.
"We're a 4-3 team," he said. "If you go back and look last year, we were about 25 percent 3-4 last year. If you go back and watch Alabama's film, there's only about 8-to-10 3-4 snaps a game. They might not have been as much 3-4 as we were a year ago. Believe that or not. You may stand a guy up to create a mismatch, we did that with Bjoern and Tank and Brandon (Jenkins) all the time. We were a bunch of 3-4. Perception's not always reality."
That may end up being the perfect description for this defensive line in 2013.
TOP 25 SCOREBOARD
Saturday, 12/21
Monday, 12/23
Tuesday, 12/24
Thursday, 12/26
Friday, 12/27
Saturday, 12/28
Monday, 12/30
Tuesday, 12/31
Wednesday, 1/1
Thursday, 1/2
Friday, 1/3
Saturday, 1/4
Sunday, 1/5
Monday, 1/6