June, 4, 2013
6/04/13
2:30
PM ET
Big Ten bloggers Adam Rittenberg and Brian Bennett will occasionally give their takes on a burning question facing the league. We'll both have strong opinions, but not necessarily the same view. We'll let you decide which blogger is right.
Colleague Ivan Maisel today writes about
the Pac-12's pipeline of sending head coaches to the NFL
and notes how the Big Ten has lost just one coach to the NFL (Indiana's Sam Wyche to the Indianapolis Colts) since 1948.
Today's Take Two topic
is this: Why hasn't the Big Ten sent more coaches straight to the next level, and when will the drought end?
Take 1: Adam Rittenberg
[+] Enlarge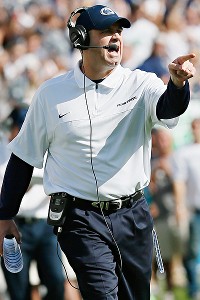 Rob Carr/Getty ImagesBill O'Brien's ties to the New England Patriots should make him an intriguing option as a future NFL head coach.
It's a bit baffling why the Big Ten hasn't sent more coaches directly to the NFL. You can talk about the conference's recent struggles, but the Big Ten still produces a lot of great NFL players and has coaches who have worked in the NFL and who are respected by key decision-makers with those teams.
The Big Ten has featured coaches who had been NFL head coaches (remember Lou Holtz, who coached the New York Jets in 1976, coming to Minnesota in 1984?), a head coach who came to the Big Ten from a USFL top job (George Perles from the Philadelphia Stars to Michigan State) and coaches who left Big Ten teams for other jobs but eventually became NFL head coaches (former Northwestern boss Denny Green, former Illinois boss Mike White, former Michigan boss Gary Moeller). Most Big Ten teams have run pro-style offenses and defenses during the years, and while more squads are going to the spread offense, it wouldn't be a huge transition for most coaches to go to the NFL. I think the tendency for Big Ten coaches to stay at their jobs for longer terms has contributed to the lack of direct NFL departures. Many Big Ten coaches looked at those jobs as destinations rather than springboards to the NFL.
I expect the Big Ten's NFL coach drought to end fairly soon. Kirk Ferentz's name has come up for years as an NFL candidate, and while he has remained loyal to Iowa, you have to wonder whether he'll eventually make that leap, if the opportunity is still there. Although Ferentz's stock has dropped a bit in recent years, he's still held in high regard in NFL circles. The other obvious name is Penn State's Bill O'Brien, who talked with several NFL teams about jobs after his first season with the Lions. Although O'Brien seems relatively happy at Penn State despite the challenges there, few would be surprised if he eventually moves onto the NFL, given his love for that league and his experience with the Patriots. He might not move in the next year or two, but I could see him guiding Penn State through the sanctions and then making the jump. Will the NFL court other Big Ten coaches? I don't see Urban Meyer as an NFL coach, but his success can't be overlooked. I can't see Brady Hoke leaving Michigan, although he might be a good fit in the NFL. Bo Pelini has some NFL experience, but I see him more as a pro coordinator than a pro head coach. I'm still watching Ferentz and O'Brien, and I'd expect one to make the jump sometime in the next 3-5 years.
Take 2: Brian Bennett
Yes, it's surprising that the Big Ten hasn't sent more coaches straight to the NFL, although the track record of college head coaches making smooth transitions into the NFL is spotty at best. For every Jimmy Johnson and Jim Harbaugh, there is a Nick Saban (who, by the way, went from Michigan State to LSU to the Miami Dolphins), and a Steve Spurrier. Time will tell if guys like Chip Kelly and Greg Schiano are ultimately judged as success stories at the next level. Still, you would think more Big Ten coaches would have been more attractive to the NFL, given the league's history of pro-style schemes and, let's face it, conservative play calling that thankfully is starting to erode in the pros.
Adam hit on what I think is the key point: the destination job factor. Think about the top coach in the Big Ten in the past 15 years: Jim Tressel. Wouldn't the Vest have fit right alongside a coach like Tom Coughlin in the NFL? Yet Ohio State was Tressel's dream job, and a place where he built his own fiefdom before it all collapsed. Even though the NFL can pay more, calling the shots at a major college program offers much better job security. I also think back on the story of Joe Paterno and how he was reportedly offered more than triple his Penn State salary to take over the Pittsburgh Steelers in 1969. Of course, he said no and stayed in State College for the rest of his life.
The same can probably be said for Hoke and Northwestern's Pat Fitzgerald, both of whom I think would make strong NFL head coaches. Yet neither seemingly has any desire to ever go anywhere else but their current job. Ferentz is no dummy. Why risk getting fired by taking over an NFL team -- one that probably wasn't very good, or else it wouldn't be in the market for a new coach -- when you have the cushiest contract in college sports? I wonder about Meyer. On the one hand, he has no pro experience. On the other hand, he's incredibly smart and competitive, and perhaps he'll one day view the NFL lifestyle as preferable to the nonstop recruiting demand of college, especially if he can add another national title or two. I feel like Pelini would jump to the NFL if a team wanted him, but I'm not sure how marketable he is as a pro head coach right now. I believe Mark Dantonio would succeed at the next level, but he seems like a college guy through and through.
O'Brien remains the obvious pick to break the drought. There's no question he's the most pro-ready coach in the Big Ten. The NCAA sanctions and constant distractions at Penn State have to wear on him, but you'd also think he'd want to taste the fruits of his labor once the Nittany Lions are eligible for a bowl again. Yet if the 61-year-old Bill Belichick decides to hang it up in the near future, the New England Patriots would have to take a hard look at O'Brien as his successor. If guys like Kelly and Schiano start to win big, the NFL might start looking toward even more college head coaches, including those in the Big Ten.
August, 11, 2011
8/11/11
11:00
AM ET
A quick look at the two new coaches in the Pac-12: Colorado's Jon Embree and Stanford's David Shaw.
Embree and Shaw share some similarities. Both are first-time head coaches. Both played for the program they now coach. Both coached in the NFL. Both say they want to retire in their present job instead of climbing the coaching ladder. And, yes, both are black, the fourth and fifth black head football coaches in conference -- Pac-8 to Pac-10 to Pac-12 -- history.
Here's a quick look at the new guys.

Jon Embree, Colorado
Replaces?
Dan Hawkins, who never posted a winning season in five years in Boulder.
Where was Embree last year
? He was the tight ends coach for the Washington Redskins.
What's he bring to the table that's different
? Embree is a hardnosed old school coach -- Hawkins was decidedly new school -- who is from the area and played for Colorado under the revered Bill McCartney. He's spent 10 of his 18 seasons in coaching at Colorado, working from 1993-2002 as a Buffs assistant under three different head coaches: Bill McCartney (1993-94), Rick Neuheisel (1995-98) and Gary Barnett (1999-2002). He has repeatedly said that Colorado is his dream job, not a stepping stone. His singular focus is restoring a program that was once a national power.
What else
? Embree, 45, is the first black head football coach at Colorado and the fourth black head coach in Pac-12 history (Stanford's Dennis Green (1989-91), Stanford's Tyrone Willingham (1995-2001), UCLA's Karl Dorrell (2003-07) and Willingham at Washington (2004-08). Shaw became the fifth in January)... Embree earned a communications degree from Colorado in 1988... He was a member of McCartney's first recruiting class... In 1984, he earned first-team All-Big 8 honors and set school single-season records for receptions (51) and receiving yards (680)... He was a sixth-round selection by the Los Angeles Rams in 1987. He played two seasons with the Rams before suffering a career-ending elbow injury in 1989 while a member of the Seattle Seahawks... His original plan after the NFL was to get into TV news, but he took a job as a volunteer assistant with McCartney and was immediately bitten by the coaching bug... He is married to the former Natalyn Grubb and they have three children, a daughter and two sons. Eldest son Taylor, is a receiver at UCLA, while Connor is a receiver at UNLV.

David Shaw, Stanford
Replaces
: Jim Harbaugh, who rebuilt the program into a national power before being hired away by the San Francisco 49ers.
Where was Shaw last year
: He was Stanford's offensive coordinator.
What's he bring to the table that's different
: Where Harbaugh was boisterous, often eccentric and sometimes prickly, Shaw is mellow, polished and accommodating. That said, he's repeatedly insisted that doesn't mean the competitive fire doesn't burn just as hot. He certainly knows Stanford. His father coached there and he's a 1984 graduate. He returned to Stanford in 2007 when Harbaugh arrived -- they were together at San Diego -- so he's seen the Cardinal renaissance firsthand. And, just like Embree, he says that Stanford is his destination job and that he's not looking to move on or up in the coaching profession.
What else
? Shaw is the fifth Stanford alum to become head football coach, joining Charles Fickert (1901), Carl Clemans (1902), Chuck Taylor (1951-57) and Paul Wiggin (1980-83)... He was a member of Stanford's 1991 Aloha Bowl team coached by Dennis Green that finished 8-4. He was also on the Cardinal's 1992 Blockbuster Bowl-winning squad coached by Bill Walsh that went 10-3. He finished his Stanford career with 57 receptions for 664 yards and five touchdowns... He started his coaching career in 1995 at Western Washington. He's also coached for the Philadelphia Eagles, Oakland Raiders and Baltimore Ravens... He's coached quarterbacks, receivers and running backs in his career... Shaw's offense ranked ninth in the nation in scoring last fall (40.3 ppg) and it amassed a school-record 6,142 yards, averaging a notably balanced 213.8 on the ground and 258.7 yards through the air... His father, Willie, had two separate coaching stints at Stanford (1974-76; 1989-91) during his 33-year coaching career, which was mostly spent in the NFL... His bachelor's degree from Stanford is in sociology... He was born in San Diego. He and his wife Kori have three children, Keegan, Carter and Gavin.
May, 29, 2009
5/29/09
11:24
AM ET
Posted by ESPN.com's Adam Rittenberg
Big Ten commissioner Jim Delany has called league expansion a "back burner issue" more than once in recent weeks.
Well, here's one for the conference to put on the front burner.
The hiring rate of minorities to head coach and coordinator positions remains well below what it should be in college football, and it's reflected in the Big Ten.
The league has one minority head coach -- Michigan's Rich Rodriguez is Hispanic -- and only two minority coordinators in Michigan offensive coordinator Calvin Magee and Michigan State offensive coordinator Don Treadwell.
The league had six coordinator changes during the offseason, including the departure of Illinois offensive coordinator Mike Locksley, who became one of six black head coaches in the sport when he took over at New Mexico. But none of the vacancies was filled with a minority candidate.
The Big Ten has had only three black head coaches and only one, Michigan State's Bobby Williams, since 1991. Northwestern had consecutive black head coaches from 1981-91 in Dennis Green and Francis Peay.
Before Michigan hired Rodriguez, the Big Ten had only one other minority head coach in the last two decades -- Wisconsin's Barry Alvarez, one of the most successful coaches in recent league history.
"It's not more of a concern today than it was a year ago or two years ago, but it's a constant focus," Iowa athletic director Gary Barta said of minority coach hiring. "We want diversity on our campus from the president's office to the faculty, including the athletic department. And the only way you get that is through purposeful recruitment. It's not just who applies. It's who you're looking at and who you're developing through your ranks."