NCF Nation:

Denzel Devall
August, 30, 2014
Aug 30
9:04
PM ET
ATLANTA -- We got a little bit of a shootout inside the Georgia Dome on Saturday, but No. 2 Alabama prevailed with a
33-23 win
over West Virginia in the Chick-fil-A Kickoff. Season openers can be tricky -- and sometimes ugly -- and Alabama, which is a favorite to make the College Football Playoff, had a relatively up-and-down performance in the ATL, but will head back to Tuscaloosa 1-0.
New starting quarterback
Blake Sims
had some rough moments against West Virginia, but regrouped well and made some big plays throughout the game with his arm and legs. Finding All-SEC receiver
Amari Cooper
was smart (12 catches for 130 yards), but handing the ball off to his running backs really paid off, especially when he gave the rock to
Derrick Henry
halfway through the third quarter.
1. Hustling Henry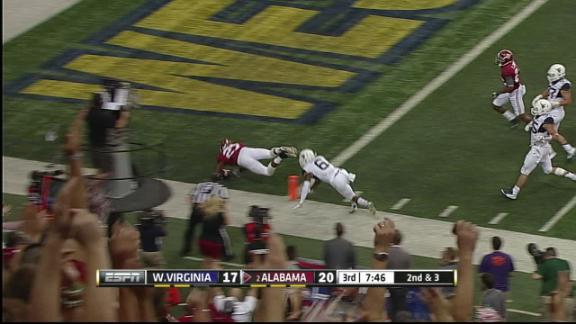 Let's face it, the third quarter of this game started off a little stale. After seeing 37 points and 500 yards of offense in the first half, we got a failed fourth-down attempt and a missed field goal. Then, things started clicking for the Crimson Tide on their second drive. With Alabama moving at will against the Mountaineers' defense, Sims handed the ball off to the super sophomore, who immediately cut to his left. As a hole opened up, Henry put on the jets and flew through both lines before pushing off one last defender and leaping into the end zone to put Alabama up 27-17 with 7:44 remaining in the third quarter. Alabama only managed two more field goals after Henry's score. It proved to be the biggest score of the game for the Crimson Tide, as they fought off a valiant comeback effort from the Mountaineers.
Henry:
"It was the outside zone play and the tight end made the block and I just read it. I hit the hole and [went] right into the end zone."
Defensive lineman Jonathan Allen:
"It gave us more energy and more focus because once we make a big play, we want to capitalize on it and try to keep that momentum going. It really got the momentum in our favor when Derrick scored."
Right tackle Austin Shepherd:
"I think we were going 'Speed Ball' or something and we were just trying to wear West Virginia down so we were just going fast. I guess the hole opened and he got out there and made it work. We were just trying to attack and we did. ... We were trying to punish them, man. Every chance you got, drive them into the ground, get in their hand and they'll start thinking about it and finally they'll wear down."
2. Slippery snap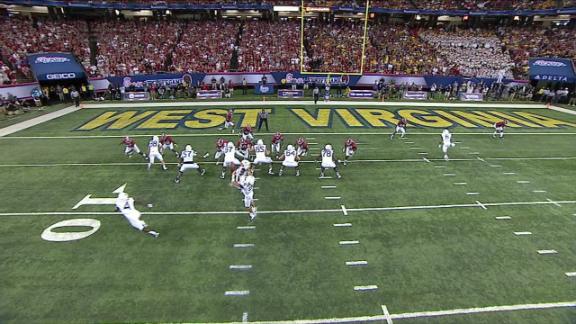 Henry's play didn't officially put the game away for Alabama, but a bad snap from West Virginia center
Tyler Orlosky
severely hurt the Mountaineers' chances of pulling of a major upset Saturday. With Alabama clinging to a 30-20 lead with 14:25 remaining in the fourth quarter, the Mountaineers closed in on what should have been another touchdown drive. Quarterback
Clint Trickett
had already marched his offense down to Alabama's 5-yard line and after two tough incomplete passes that took two touchdowns off the board, Trickett lined up in the shotgun, only to have Orlosky send the snap soaring over his head and outstretched arms. The ball hit the ground and rolled a bit before Trickett landed on it 19 yards behind the line of scrimmage. The play took the Mountaineers out of touchdown range and forced them to kick a field goal. West Virginia coach Dana Holgorsen could barely stand to look at the field after Trickett collapsed on the ball. It swallowed up all the momentum the Mountaineers had and clearly sapped some of the offense's energy. Only a couple plays later, West Virginia got the ball back by way of a Sims interception, but went three plays and punted.
Linebacker Denzel Devall:
"We just use things like that to keep boosting us up. No matter how bad things may seem or go, we just keep fighting. That's the main thing. Once we saw that happen, we just knew we were doing something good [next]."
April, 17, 2014
Apr 17
10:15
AM ET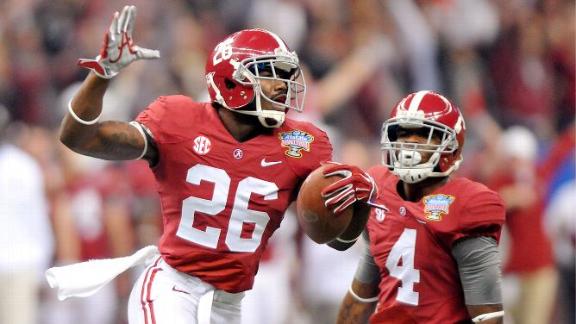 TUSCALOOSA, Ala. -- It didn't take long for the sickening feeling to seep out of
Landon Collins
' stomach and circulate through his body.
On the way back to Tuscaloosa after Alabama's humbling 45-31 loss to Oklahoma in the Allstate Sugar Bowl, the junior safety replayed the nauseating moments from a game in which the Crimson Tide, which entered the contest with the SEC's top-ranked defense, surrendered 429 yards of offense, nearly 6 yards per play, 348 passing yards and four passing touchdowns.
Collins called the performance by the defense "disgraceful" to Alabama football.
"We weren't the defense that we always used to be," Collins told ESPN.com in early April. "That's what we're working on this spring."
[+] Enlarge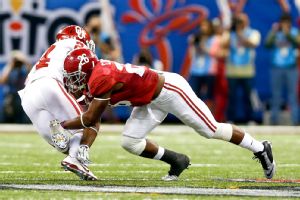 Derick E. Hingle/USA TODAY SportsAfter a less-than-stellar performance in its bowl loss to Oklahoma, Landon Collins expects Alabama's defense to play with a chip on its shoulder in 2014.
If Alabama is going to make it back to the national championship, Collins said the defense has to improve. During Alabama's two-year BCS title run (2011-12), the Tide finished first nationally in total and scoring defense in both seasons. Last season, Alabama finished in the top five in both categories, but that final game serves as a harsh reminder of the defense's flaws.
Associating Alabama's defense with anything less than elite feels awkward, but that's all you can say about Bama's bowl performance. Players were tired and run down against Oklahoma's hurry-up offense. This spring, Tide defenders saw red, as coaches constantly reminded them of that bowl performance. That led to tougher conditioning routines and more intense player interaction on and off the field, Collins said.
Looking back at the bowl game has been tough for players, but they know that it's a performance they never want to see again.
"It wasn't the way we play," linebacker
Trey DePriest
said. "We don't get that many points put up on us. That's way more than what our goal is -- 13 points or less. It didn't seem like us. We were ready, we just didn't go out and leave it on the field like it was our last game. It's definitely been a driving force."
But things won't be easier in 2014, not with a younger defensive look and the loss of leaders -- and producers -- like C.J. Mosley and Ha Ha Clinton-Dix. Collins and DePriest, picked to replace those two, now head a defense that will be playing angry in 2014 after losing five starters from last season's team.
Can guys like
Nick Perry
,
Denzel Devall
,
Xzavier Dickson
, A'Shawn Robinson and
Jarrick Williams
expand their roles? Can some of the youngsters like
Tony Brown
and
Laurence "Hootie" Jones
step up? And don't forget about the much-anticipated arrival of defensive end
Da'Shawn Hand
.
There's no shortage of talent, and this defense might even have a little more athleticism sprinkled around, but we all know talent can only go so far, even with the best teams.
For now, attitudes seem to be flowing in the right direction, DePriest said, but there's no getting around the fact that this entire defense has to grow up in the coming months to replace some valuable leaders.
"It's some big shoes to fill, definitely," Collins said. "A lot of us looked up to those guys. Without that leadership, we have to just step in and take over because we need that on the field constantly, and [we need it] off the field because without that, this program could go in a different direction that it doesn't need to."
There's a certain pride that this defense holds that it lost in that bowl game.
Or was it something that slowly trickled out before the Tide even got to Bourbon Street?
Alabama had holes in its defense all last fall, but found ways of patching them as the season went on. Alabama surrendered a school-record 628 yards in a 49-42 win over Texas A&M, allowed Zach Mettenberger to throw for 241 yards in the win over LSU and watched Auburn rush for 296 yards in that heartbreaking loss on the Plains.
Hundreds of other teams would kill for Alabama's 2013 defense, but it didn't live up to the standards this program holds so dear.
For Collins, the secondary is key. While Alabama ranked near the top nationally against the pass, there were times when the secondary surrendered too many big plays. Injuries contributed to some of the secondary's issues, but the last line of defense never truly looked settled last season.
Collins said the secondary put too much pressure on itself to live up to the enormous preseason hype after back-to-back BCS titles and wasn't always prepared for games.
"Our downfall was our secondary last year," Collins said. "We got picked apart because of that."
"If you watch our film of practice, you can see how hard we work every day. You can tell how hard we're working to establish our secondary to be dominant again."
Spring practice can only take a team so far, and Alabama defenders know that. They have that chip, they have that anger, but it's about carrying that feeling over to the season and performing.
The good thing for the defense is that it has a constant reminder in the bowl game that still fuels this unit.
"That just fires it up, because we know what type of defense we are," Collins said. "We already know what we are capable of. Just to hear that we got picked apart by an offense that shouldn't have been on the field with us, that's a disgrace to Alabama defense. We need to pick it up from that standpoint."
August, 15, 2013
8/15/13
8:00
AM ET
A year ago, things were much different for
Johnny Manziel
and college football as a whole. The country hadn't yet figured out who he was. And neither had he. Johnny Football hadn't yet been born.
The breathtaking plays, the otherworldly athleticism, the Sharpie-saturated scandal -- none of it had begun to devour College Station midway through fall camp in 2012. We were still wondering how Texas A&M would adjust to the SEC, not the other way around.
It felt like the league had finally caught its breath from Cam Newton's unexpected romp through the conference when Manziel came along, first winning the Aggies' starting quarterback job and then the Heisman Trophy. His ascension was as swift as it was unpredictable. He didn't look the part of a superstar, but he could sure play it. At 6-foot in stilettos, Manziel was a ballroom dancer on the football field, only no one else could figure out the steps.
Can anyone catch on to his act this year? No one knows.
Can anyone duplicate his success? Maybe.
With that in mind, here's a look at some sleeper candidates to pull off a Manziel-like rise from a no-name commodity to a player on the tip of everyone's tongue:
[+] Enlarge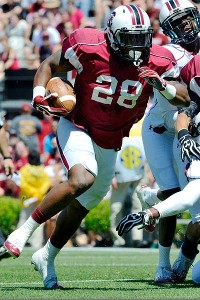 Curtis Wilson/USA TODAY SportsAfter averaging 5.3 yards a carry in spot duty last season, and with a huge line in front of him, Gamecocks running back Mike Davis is poised for a big year.
Mike Davis, RB, South Carolina:
Steve Spurrier put it best when he went on the ESPN airwaves and told the "First Take" desk, "You don't know much about Mike Davis, but watch him play this year." The 5-foot-9, 215-pound sophomore filled in admirably for Marcus Lattimore when he went down, rushing for 5.3 yards per carry. With a mammoth offensive line -- the smallest of the projected starters coming in at 314 pounds -- South Carolina has to feel good about Davis' potential.
Jordan Jenkins, LB, Georgia:
Jarvis Jones and Alec Ogletree got all the attention, but Jenkins was a quiet force on the Georgia defense as a freshman last season. At 6-3 and 246 pounds and with the speed of a safety, Jenkins aims to improve on his five sacks and set his sights on the school's single-season sack record of 14.5 that Jones set a year ago. If he reaches that goal and Georgia is in the SEC championship game again, Bulldogs fans will know who to thank.
Brandon Williams, RB, Texas A&M:
Watch the Aggies long enough this season and your attention will inevitably be turned in two directions: to Manziel and his speedy tailback. Williams, a transfer from Oklahoma, hasn't won the starting job just yet, but give him time. With his burst, he'll be a threat to score every time he touches the football.
Tre'Davious White, DB, LSU:
He's just a true freshman, but White is the type of cornerback LSU has become known for. Big, athletic and physical, he has the upside of former Tigers great Morris Claiborne. And like Claiborne, White came out of Shreveport, La., and knows a thing or two about playing with an edge.
Denzel Devall, LB, Alabama:
Alabama has been something like Linebacker U in recent years, with Rolando McClain, Dont'a Hightower and Courtney Upshaw starring at the position. And though
C.J. Mosley
certainly fits the bill of an All-American talent, he's not as physically imposing as his predecessors. Devall is. At a solid 6-2 and 250 pounds, Devall has the size and the talent to be a force at linebacker for the Tide this season.
Nick Marshall or Jeremy Johnson, QBs, Auburn:
It's down to either Marshall or Johnson, and whomever Auburn ends up with will have the talent to make plays in Gus Malzahn's offense. Johnson has an NFL arm, according to the new coach. Marshall brings more of a running flair to his game, a former Georgia cornerback who went the junior college route to end up on The Plains. Both are raw, but with some polishing they could be playmakers in the SEC.
Matt Jones, RB, Florida:
If Will Muschamp's revitalization of power football really is complete in Gainesville, then Jones will be looked on as the final piece to the puzzle. A bowling ball of a runner, Jones brings a north-south style of play to a Gators backfield that has too long gone sideline to sideline. Up to 226 pounds after backing up Mike Gillislee last year, Jones has the size to shoulder the load and a coaching staff willing to let him do it.
Joshua Dobbs, QB, Tennesee:
He may be a year off, but Dobbs is the type of quarterback who could revitalize the Tennessee fan base with his ability to make big plays with his arm and his feet. Though a true freshman, he has a leg up on his competition in that he's not a typical pro-style passer recruited by coaches from bygone eras. First-year coach Butch Jones is looking for a fresh start at Tennessee, and he could be tempted to dive in head-first with Dobbs, who has the size and athleticism that's perfect for his up-tempo scheme.
December, 28, 2012
12/28/12
9:00
AM ET
Alabama center
Barrett Jones
still
isn't practicing
for the second-ranked Crimson Tide, as he continues to recover from the sprained foot he suffered in the first quarter of the SEC championship game against Georgia on Dec. 1.
Jones
Jones was in a black non-contact jersey during Alabama's practice Thursday. Nick Saban is hoping to get at least five practices out of Jones next week, but said that the Rimington Award winner is day-to-day with his injury.
While Jones' injury appears to be a little more serious than first thought, keeping him off the field against Notre Dame will be close to impossible. If he can play three quarters on one leg against Georgia, he'll be able to play with a bad foot against the Irish.
Saban also said that defensive lineman
Denzel Devall
spent some time on the treadmill along with Jones on Thursday. Devall has a sprained knee.
"It's day-to-day because they both need to continue to make progress to be able to come back and play," he said.