November, 10, 2012
11/10/12
11:23
AM ET
SYRACUSE, N.Y. -- Hello from the Carrier Dome, where most everybody expects No. 9 Louisville to face a tough challenge from Syracuse.
One of the big themes this week has been how much better Syracuse has played at home -- going 3-1 in the Dome this season. Its only loss here was in the opener against Northwestern, a heartbreaking 42-41 decision that was decided in the closing minutes.
But here is another point to remember: Louisville has done well on the road this season, going 3-0 away from home. More than that, the Cardinals have won six straight regular-season road games dating to last season. Now, none of that is to say the Cardinals are going to have a cakewalk. Those who have paid close attention know Louisville has had its share of road drama this season, needing second-half comebacks to beat Southern Miss and Pitt.
In fact, Louisville has fallen behind in all three of its road games this season, getting outscored 52-43 in the first half. But pay particular attention to the third quarter: Louisville has shut out its opposition 31-0 in that period in its three road games. For some of its warts, this Louisville team is one that simply never quits.
You can definitely bet Syracuse will not be intimidated facing one of the top-ranked teams in the nation. Back in Week 2, the Orange took No. 2 USC down to the wire, playing with the Trojans for three quarters before ultimately losing 42-29. I mentioned the loss to No. 24 Northwestern. And they also hung with then-No. 20 Rutgers a few weeks ago, before losing 23-15.
Plus, there is plenty on the line for the Orange. A win allows them to keep their bowl hopes alive. If they lose, they would need to beat both Missouri and Temple to become bowl-eligible. This is also senior day, so that could be an extra source of motivation.
Ryan Nassib
has had huge games in the Dome, and this is his final performance at home, along with starters
Zack Chibane
,
Siriki Diabate
,
Alec Lemon
,
Deon Goggins
,
Marcus Sales
,
Brandon Sharpe
and
Shamarko Thomas
.
August, 9, 2012
8/09/12
9:00
AM ET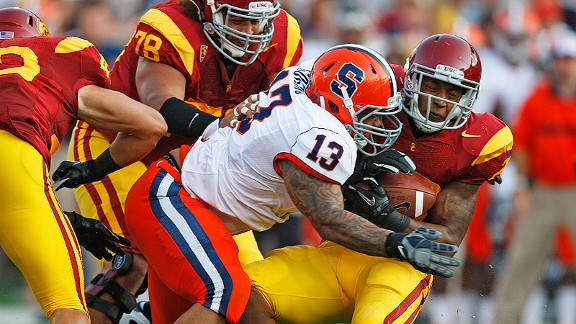 Cal Sport Media/AP ImagesSyracuse's Deon Goggins is excited about his move to defensive end this season.
The clothing line happened on a whim, really.
The football? Well, the football would have to wait.
You see,
Deon Goggins
knew he was never really done with football. Not after giving up the sport his last two years of high school. Not after going into business as a bona fide T-shirt designer, his unique Ch@mps logo the product of some fiddling around on the computer with friends one night. Not after nearly completing a deal to get his clothes on trendy Melrose Avenue in Los Angeles.
Doing art, being a designer, that was fun. But it was not football.
So four years after giving up the sport, Goggins decided to give it the ol' college try. Er, junior college try.
Now here he is, the product of hard work, discipline, perseverance, dedication -- and some pretty outstanding role models along the way -- set to make a major impact on the Syracuse defensive line this year.
Goggins moves from tackle, where he started 12 games last year, to end -- his more natural position, and one the Orange are desperate to fill with the departures of Chandler Jones and Mikhail Marinovich.
[+] Enlarge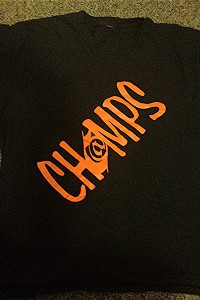 Photo courtesy of Deon Goggins Syracuse defensive end Deon Goggins spent two years after high school designing T-shirts like these before deciding he wanted to give football another try.
"I'm really excited playing on the edge now, because I really get to use my speed and my strength and I have space," Goggins said in a recent phone interview. "I think the group as a whole is going to be great. It's going to be a big surprise for the world to see."
You can say the same about Goggins. A natural running back, Goggins had great speed for his size. But he took football for granted and got lazy with his schoolwork. In order to focus on his grades, he did not play football as a junior or a senior.
Goggins preferred expressing himself through artwork, a skill at which he excelled. His group of friends called themselves "Champs." One night, they were sitting around his computer coming up with different logos, and the Ch@mps design stuck.
At first, he had T-shirts printed up for himself and his friends. But eventually, he borrowed money from his family, got a patent for his logo and spent the next two years designing and producing shirts.
But football was never out of his mind. Not when so many of his friends had gone off to play and came home each summer to nag him about getting back into the game.
One player in particular got to him. Monte Parson, the older brother of a friend, looked him over one day and said, "You need to play football." Parson had attended L.A. Harbor College before getting a scholarship to Cal.
"I thank God every day for my older sister," Goggins said. "She asked me, 'Do you really want to go back and play ball?' I said I did. So she took up another job and put me through junior college."
Thanks to connections Parson had, Goggins ended up at L.A. Harbor College in 2008. When coach Andrew Alvillar took one look at Goggins, he sent him to play defensive line -- a position he had never once played.
At 280 pounds, Goggins was extremely athletic, and it was easy to see that he had Division I potential, even though he spent so much time away from the game.
July, 5, 2011
7/05/11
4:00
PM ET
We continue our look at team position rankings today, and start up with the defense. First up are the guys in the trenches, the defensive line. This has got to be one of the strongest positions from team to team in the Big East. Four different teams could probably make an argument for the No. 1 spot. There are lots of standout defensive ends and tackles in the league, but I also am judging experience, returning starters and depth here.
[+] Enlarge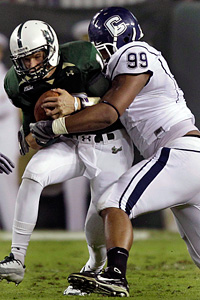 AP Photo/Chris O'MearaUConn's Kendall Reyes' had 2.5 sacks and nine tackles for loss last season.
1. Connecticut.
The Huskies have good players and depth this season, and get the nod as the top line in the league. Defensive end Jesse Joseph and defensive tackle Kendall Reyes return. Reyes turned down a shot at the NFL for one more season, and is the only first-team Big East selection on the defensive line returning to his team. Both Reyes and Joseph are defensive player of the year candidates. Five players return who started seven or more games last season, giving the Huskies plenty of experience along the line.
2. Pittsburgh.
The Panthers lose defensive player of the year Jabaal Sheard and are switching to the 3-4. But they do have another candidate for that award in Brandon Lindsey. We have to count him half here, though, because he is transitioning to the new hybrid defensive end/linebacker position. Still, the Panthers have solid players in Chas Alecxih and Myles Caragein on the line, along with depth in Aaron Donald, Tyrone Ezell, Kaynin Mosley-Smith and Bryan Murphy. Even without Sheard, this is one of the strongest lines in the league.
3. West Virginia.
You have got to love the tandem of Julian Miller and Bruce Irvin, who combined for 23 sacks last season. They are the best returning tandem in the league. But they are ranked here for a few reasons. First, how does Irvin transition from spot player to full-time starter? Will he be as effective as last season, when he led the league with 14 sacks? How does Miller transition to defensive tackle? Losing noseguard Chris Neild is a huge blow, too. Josh Taylor is penciled in to start, depending on what happens with Jorge Wright. Junior college transfer Shaq Rowell will be in the mix, too, with high expectations.
4. USF.
The Bulls might be losing three starters, including Terrell McClain and Craig Marshall, but this unit has the potential to be even better than the group in 2010. Hopes are high for Ryne Giddins to step in at defensive end and be an immediate difference-maker. Cory Grissom and Keith McCaskill are veterans inside, but if there is one question mark here it is depth at tackle. True freshman Elkino Watson could make a big impact.
5. Louisville.
Three starters return, and there is potential for this group to be very productive. Defensive end Greg Scruggs is in line for a breakout season. Eight linemen have starting experience, so there is depth, though there is youth here. Players like BJ Butler, Brandon Dunn and Roy Philon have a chance to take big-time leaps, but this unit is still relatively unproven compared the ones ranked ahead.
6. Syracuse.
No question the Orange have excellent defensive ends in Chandler Jones and Mikhail Marinovich. But the Orange lose their starters on the inside. Deon Goggins and Cory Boatman are penciled in to start at tackle but they are undersized. So are some of the other players who will rotate in. The line as a whole is pretty undersized when you think about it, and a big reason why Syracuse is ranked here.
7. Cincinnati.
The Bearcats were solid against the run last season but struggled to get a consistent pass rush. They hope to remedy that now that Walter Stewart has moved to defensive end. Last season, the Bearcats lacked depth but that is no longer the case in 2011. The top eight players in the rotation return, and there is nice size in the middle -- especially with defensive tackle Derek Wolfe returning. Still, the Bearcats have a lot to prove this season.
8. Rutgers.
Aside from nose tackle Scott Vallone, there are some questions on this defensive line, which has to show significant improvement over a unit that was so-so in 2010. Rutgers was one of the worst teams in the nation in sacks last season, with just 17. Manny Abreu moves from linebacker. How does that transition go? Justin Francis had a nice spring at end. Does that continue in 2011? Will Michigan transfer Anthony La Lota have an impact next to Vallone? There is a lot of inexperience along the entire line.
Previous rankings