College Football Nation:

Deonte Welch
September, 10, 2012
9/10/12
4:30
PM ET
USF receiver
Sterling Griffin
has every right to curse the football gods after a rotten string of bad luck has ended his season prematurely.
Again.
[+] Enlarge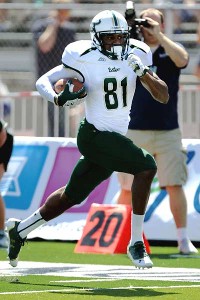 Cathleen Allison/AP PhotoSouth Florida's Andre Davis scores on a 51-yard reception against Nevada on Sept. 8.
But Griffin is not the type to throw pity parties.
His season may be over
, but it is just beginning for his teammates, who were back out on the practice field Monday preparing for their Big East opener against Rutgers -- some 30 hours after landing home from Nevada.
So Griffin stood on the sideline on crutches, serving as a de facto coach, doing whatever he needed to do to get his fellow receivers ready to face the best secondary in the Big East.
"I feel real bad for him, as hard as he's worked to get back from an ankle injury and now to deal with an ACL injury," quarterback
B.J. Daniels
said in a phone interview Monday. "He's a very determined guy. Even today on the practice field, on his crutches, knowing he's out for the season, he was still out there for us, still a vocal leader."
Griffin has not been able to catch a break injury-wise since he arrived in Tampa. He redshirted in 2010 because of a broken ankle. Last season started with tremendous promise, as he had 493 yards through the first seven games of the season to rank No. 4 in the league in receiving yards per game and receptions per game. But he broke his foot against Cincinnati and missed four games, returning in time for the finale against West Virginia.
His return this season, though, was highly anticipated. For one, he is the veteran of this group. For another, some very young players got an opportunity to play last season in his absence. They would be another year older, and USF would have one of the deepest receiver groups in the Big East.
Now we get to see how truly deep this group is without its leader.
All eyes turn
to
Andre Davis
, one of the youngsters who benefited the most with Griffin on the sideline a year ago. You saw his amazing potential on full display in the riveting come-from-behind win over Nevada.
Davis set a school record with 191 yards -- the most of any FBS player in Week 2 -- and his 56-yard touchdown reception with 38 seconds to go made the difference in the game. Davis and Griffin play the same receiver position, so watch out for more games like this to come.
"This second game he really came into his own and unfortunately with Sterling down with the injury he had to step up," Daniels said. He had to play more plays, and he did a good job."
Davis already has shown his ability to stretch the field, and so has
Chris Dunkley
, another player USF will have to rely on with Griffin out.
Derrick Hopkins
,
Terrence Mitchell
and
D'Vario Montgomery
have speed in spades as well. Add in
Deonte Welch
and
Victor Marc
, and there are plenty of options.
The big question is whether USF can continue to build on its impressive pass game performance against Nevada, which came after Griffin got hurt. Consider last season, USF had only one completion that went over 50 yards in an FBS game. Against Nevada, USF had three 50-yard touchdown passes. Getting much bigger plays from the receivers has been a huge point of emphasis this offseason.
"Last year, we made a big jump offensively in our numbers but to add the deep ball to our arsenal now and be consistent with it gives us an opportunity to stretch the defense and it makes it a lot easier for us," Daniels said. "Teams have to cover the entire field, horizontal and vertical. As long as I give them the opportunity to go get the ball and keep it in bounds, with the type of speed and athleticism they have, more than likely they'll come down with it."
The opportunities certainly will be there for them, with their leader watching from the sideline.
February, 9, 2012
2/09/12
4:00
PM ET
It is time to evaluate the receiver position in the Big East. For the postseason rankings, I am going to include tight ends as well. Before the season started, I did them separately, but it makes more sense to do them together.
This is a position group that has a clear-cut 1-2. To me, the rest are pretty interchangeable, as no other group really stood out to me this season.
1. West Virginia.
Slam dunk to have the Mountaineers on top, given the way
Tavon Austin
and
Stedman Bailey
performed this season. Each had 1,000-yard seasons -- the first time in school history two players hit that mark. Bailey led the Big East with 12 receiving touchdowns, and was No. 1 in receiving yards per game. Austin was third in receiving yards per game and second in receptions per game. Add in
Ivan McCartney
, also ranked among the top-10 receivers in the Big East and that says it all.
Preseason ranking: No. 2.
[+] Enlarge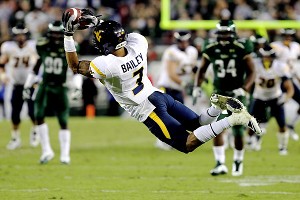 Kim Klement/US PRESSWIREWest Virginia's Stedman Bailey led the Big East in touchdowns and yards receiving per game.
2. Rutgers.
Mohamed Sanu
had an unbelievable season for Rutgers with a school and Big East record 115 receptions. He dominated at receiver, leading the league in receptions per game and finishing second in receiving yards per game. That domination meant his teammates did not get as many opportunities --
Brandon Coleman
only had 17 receptions;
Mark Harrison
14,
Quron Pratt
had 32. But when you have an unstoppable force like Sanu, you keep going to him.
Preseason ranking: No. 1.
3. Syracuse.
When you think of the Orange, you don't necessarily think of high-profile receivers. But
Alec Lemon
and
Nick Provo
teamed to have outstanding seasons this year. Both posted career years, Provo made the Big East first team and Lemon made the second team. The two combined for 119 catches and 13 touchdowns. Depth wasn't great, but the performance of Lemon and Provo make up for that and vaults Syracuse here.
Preseason ranking: No. 5.
4. Cincinnati.
I thought the Bearcats receivers had a down year.
D.J. Woods
didn't really live up to his potential, and
Anthony McClung
led the team with 683 yards. That is the fewest yards for the team's leading receiver since 2006. What really sticks out: when
Zach Collaros
got hurt, the receivers as a whole never really stepped up the way they should have to help
Munchie Legaux
.
Preseason ranking: No. 3.
5. Louisville.
The Cardinals did get much better play out of their receivers, and were helped with the impact freshman
DeVante Parker
and
Eli Rogers
made. They didn't have anybody with eye-popping numbers, but they did have consistent enough performances out of this group.
Preseason ranking: 7.
6. USF.
The Bulls were really hurt by injuries at this position, and never really had a go-to guy emerge.
Sterling Griffin
was en route to a good season before he got hurt;
A.J. Love
got hurt as well. That left the position in the hands of many young, inexperienced guys. I thought
Deonte Welch
really had a nice second half. He was their best receiver when Griffin was out.
Preseason ranking: 6.
7. UConn.
Considering the way the Huskies struggled in the pass game,
Kashif Moore
,
Isiah Moore
and
Ryan Griffin
all put together solid seasons for UConn. Both Moores ranked in the top 10 in the Big East in receiving, and Griffin was the second-best tight end behind
Nick Provo
. Depth was lacking at the position -- as only five players caught double-digit passes, and only three are true wide receivers.
Preseason ranking: 8
.
8. Pitt.
The Panthers got their tight ends and running backs involved heavily in the pass game, probably because there was depth lacking at the actual receiver position.
Devin Street
put together a solid season, with 754 yards receiving, and
Mike Shanahan
was decent. But otherwise, big plays were lacking. Passing game woes obviously had an impact.
Preseason ranking: 4.
December, 16, 2011
12/16/11
9:00
AM ET
Earlier this week, I listed a few of my
top freshmen in the Big East
. Now I present my Big East All-Freshman team. True freshmen and redshirt freshmen are included. Some positions were much easier to fill than others. Here is my team:
Offense
QB:
Teddy Bridgewater
, Louisville
RB:
Lyle McCombs
, UConn
RB:
Dustin Garrison
, West Virginia
WR:
Michaelee Harris
, Louisville
WR:
Deonte Welch
, USF
WR:
DeVante Parker
, Louisville
OL: Kaleb Johnson, Rutgers
OL: Quinterrius Eatmon, USF
OL: Jake Smith, Louisville
OL: John Miller, Louisville
OL: Eric Lefeld, Cincinnati
Defense
DL: B.J. Dubose, Louisville
DL: Elkino Watson, USF
DL: Jamaine Brooks, Louisville
LB: Yawin Smallwood, UConn
LB: Dyshawn Davis, Syracuse
LB: Todd Thomas, Pitt
LB: Jewone Snow, West Virginia
DB: Ty-Meer Brown, UConn
DB: Calvin Pryor, Louisville
DB:
Andrew Johnson
, Louisville
DB:
Byron Jones
, UConn
Specialists
K: Tony Miliano, Cincinnati
P: Jonathan Fisher, Syracuse
KR:
Jeremiah Kobena
, Syracuse
The toughest choices for me were at running back and receiver. I went back and forth between Garrison and Rutgers redshirt freshman
Jawan Jamison
. Their yardage and touchdown totals are virtually identical, but Garrison has a much better yards per carry average and was a more explosive player this season. Receiver was probably the toughest because of the three freshmen receivers for Louisville. I had
Eli Rogers
on this list at various points, but went with Parker because of his six touchdown receptions.
You also see only three down linemen. There were simply not many impact freshmen defensive linemen in the league this year. The same goes for cornerback (which is why I went with three safeties) and tight end. Those were the three weakest positions for freshmen in the league. Receiver, running back and linebacker were the strongest.
November, 25, 2011
11/25/11
2:32
PM ET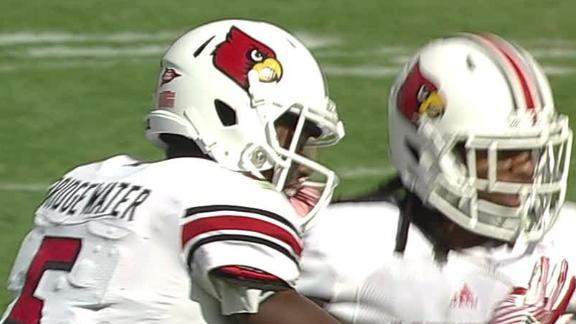 What an incredible turnaround for Louisville: from a 2-4 start to Big East champions.
The Cardinals clinched at least a share of the league title after a
34-24
win against USF -- its first ever victory at Raymond James Stadium. Their hopes of clinching a BCS berth also remain alive. All they need is for Pitt to lose, and Cincinnati to lose at least once in the next two weeks. The Panthers play West Virginia tonight; Cincinnati is at Syracuse on Saturday.


Louisville took control in the fourth quarter, when a series of USF mistakes led to its unraveling. The Bulls, playing without starting quarterback
B.J. Daniels
, led 17-3 at one point in the second quarter, and took a 24-20 lead into the fourth. The Cardinals decided to go for it on fourth-and-inches from the USF 13, and a great second effort from
Dominique Brown
allowed them to get the first down.
Teddy Bridgewater
threw an 11-yard touchdown pass to
DeVante Parker
, who was wide open in the end zone because of a miscommunication in the secondary.
Louisville took a 27-24 lead, then added to it after USF freshman receiver Andre Davis fumbled at the USF 17. Brown rushed for a 9-yard touchdown for the final score. The Bulls really struggled to move the ball in the fourth quarter. Its only score of the second half came on a trick play, when
Demetris Murray
threw a 37-yard touchdown pass to
Deonte Welch
.
The Cardinals (7-5, 5-2) still need help to make the BCS, but this still has been a remarkable season when you consider all the adversity this team had to overcome -- from its tough start, to having a young team that has had trouble focusing at times this season, to the scary neck injury suffered by Anthony Conner.
Bridgewater is all but assured of winning Big East freshman of the year honors after another solid performance, throwing three touchdown passes on the day. Louisville converted 9 of its 18 third-down opportunities. USF: 4-of-15.
Bobby Eveld
struggled with Daniels on the sideline, going 20-of-35 for 210 yards with a touchdown an interception. The problem in the second half was an inability to sustain drives, the same problem that plagued the Bulls last week.
Now USF (5-6, 1-5) needs to beat West Virginia next week in order to keep its string of seven straight bowl seasons alive. The Bulls have blown second-half leads in four of their games this season.
October, 25, 2011
10/25/11
10:30
AM ET
What already was a young group of USF receivers just got younger with the news that
Sterling Griffin
will miss six to eight weeks with a fracture in his ankle.
Griffin was hurt in a loss to Cincinnati, and coach Skip Holtz feared the worst Monday during the Big East coaches call. That timetable means Griffin most likely will miss the rest of the season and would be available should the Bulls (4-3) make a bowl game. It really is a tough blow for the Bulls and Griffin, having a career year after missing all of last season with an injury to the same ankle.
Just a redshirt sophomore, Griffin was the veteran in the group of receivers USF has relied on most this season. He leads the team with 40 receptions for 493 yards, with two touchdowns, and ranks No. 4 in the Big East in receptions and yards per game. It is obvious how much he has become the go-to receiver on this team.
Victor Marc
is second on the team with just 18 receptions.
But several young players stepped up against the Bearcats and are going to be asked to do much more with Griffin out.
Redshirt freshman
Deonte Welch
set a career-high with 130 yards receiving on five receptions, and was able to get open and rip off big chunks of yards. True freshman
Andre Davis
had a career-high 60 yards on four catches, and his 10-yard touchdown reception with 1:27 left in the game put the Bulls up 34-30 before Cincinnati came back for the win.
True freshman
Ruben Gonzalez
also has made some contributions this season.
"It's going to be hard -- to lose a sophomore like that would be a blow, because he's really been playing well," Holtz said Monday, before knowing the full extent of Griffin's injury. "It's kind of forced guys like Andre Davis, Deonte Welch, Ruben Gonzalez to grow up, forced them to mature and grow up. ... To see the way a couple of the young guys are stepping up is really exciting. I would absolutely hate it for Sterling for everything he's been through. He's come back so strong and he's such a great young man. He's worked so hard to be here and has made such a huge impact on this team this season, it would be difficult to lose him. It definitely looks like that's going to be the case, at least for a couple weeks. Somebody's going to have to step up."
USF is off this week before playing at Rutgers on Nov. 5.
October, 24, 2011
10/24/11
1:00
PM ET
Let us take a look at the good and the bad from Week 8:
[+] Enlarge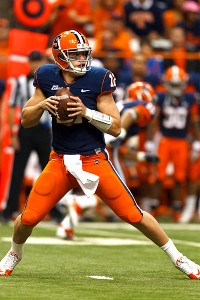 Jason O. Watson/US PresswireRyan Nassib threw four touchdown passes in Syracuse's win over West Virginia.
The good:
Syracuse had one of its best performances in recent memory in its 49-23 upset win over then-No. 15 West Virginia on Friday night. The Mountaineers were the highest-ranked team Syracuse had beaten since a 50-42 triple-overtime win over No. 8 Virginia Tech in 2002. The win was also the first over West Virginia at home since 2001. The 49 points were a series high as well, beating its previous high of 45 points in 1960. Nine different receivers caught passes in the game -- including three tight ends -- and
Antwon Bailey
has reached 100 yards rushing in four straight games. ... Louisville got a much-needed 16-14 win over Rutgers, snapping a four-game losing streak in conference home openers. Chris Philpott made a 52-yard field goal to tie a school record, and is one of just two FBS kickers this season to kick a 50-yard field goal in back-to-back games. The Cardinals had their first 100-yard rusher of the season and a season-high 183 yards on the ground. Louisville also had its first third-quarter touchdown of the season when
Teddy Bridgewater
threw an 18-yard score to
Michaelee Harris
. Louisville recorded three interceptions in a game for the second time since it joined the Big East in 2005. ... Cincinnati is not in the BCS standings, but ranked No. 23 in the coaches' poll. The Bearcats are 20-8-1 as a ranked team. In two straight games, they have rallied from a second-half deficit to win. Against USF, they rallied from two second-half deficits to post the victory. After winning four games last season, they are now bowl eligible for the fifth time in the past six years.
The bad:
West Virginia fans cannot possibly want to relive the loss to the Orange. There was nothing good about it. The Mountaineers gave up their most points ever to the Orange, and their two losses this season have each been by 26 points. The Mountaineers went into the game having allowed seven total sacks. They gave up four to the Orange. Meanwhile, the run game continues to be an area of concern. West Virginia failed to reach 100 yards on the ground for the fifth time in seven games this season, getting just 70 as the game got out of hand. Despite the loss, West Virginia remained ranked in the BCS standings at No. 25, but clearly the defeat was another hit for the Big East. Two non-AQs are ranked higher than the league, and the Big East is the only AQ league with just one team in the standings. ... Rutgers had its four-game winning streak snapped and it was yet another close call. All three of Rutgers' road games have been decided by three points or fewer (Syracuse is the lone win).
Gary Nova
lost his first game as a starting quarterback since eighth grade, but coach Greg Schiano is sticking with him as the starter. Kicker San San Te missed two field goals against Louisville. He has made just 12 of 20 field goals this season. ... USF has lost its three conference games in a variety of ways: starting with a blowout and ending with a heartbreaker. Mistakes have doomed USF in all three. It is now minus-4 in turnover margin in those three games. Penalties have hurt, and coach Skip Holtz was questioned over his clock management on a goal-line situation at the end of the second quarter.
Notable
Stedman Bailey, WR, West Virginia.
Bailey had seven catches for 130 yards and has five straight games with at least 100 receiving yards.
Zach Collaros, QB, Cincinnati.
Collaros threw for 389 yards and three touchdowns over USF. He became only the second quarterback in school history, along with Gino Guidugli, to throw for 5,000 yards and 50 touchdowns in his career.
B.J. Daniels, QB, USF.
Daniels threw for 409 yards in a loss to Cincinnati, a career high and school record for passing yards in a game.
Ryan Nassib, QB, Syracuse.
Nassib passed Troy Nunes and Don McPherson and now ranks fourth all-time in completions at Syracuse with 386. Nassib accounted for five touchdowns (four passing, one rushing) to move into sixth on the school career list for most touchdowns (40).
Mohamed Sanu, WR, Rutgers.
Sanu had 10 catches for 128 yards and a touchdown against Louisville. Sanu has had back-to-back games with at least 10 receptions and 100 receiving yards.
Geno Smith, QB. West Virginia.
Smith threw for 338 yards and two touchdowns to moved into sixth place on the school career passing list (5,664 yards). Smith is tied with Chad Johnston and current WVU athletics director Oliver Luck for fourth in career touchdown passes (43) at the school.
Deonte Welch, WR, USF.
Welch had a career-high 130 yards receiving on five catches against Cincinnati. He went into the game with six catches for 83 yards in six career games.
Week 9 schedule

UConn at Pitt, 8 p.m., Wednesday, ESPN
Syracuse at Louisville, noon, Saturday, Big East Network
West Virginia at Rutgers, 3:30 p.m., Saturday, ABC
October, 22, 2011
10/22/11
1:56
PM ET
TAMPA, Fla. -- Cincinnati and USF are
tied at 10
at halftime in what can only be described as a mistake-filled first half by both teams.


Consider:
USF ended the half with a bit of a clock-management blunder that wasted a chance for a third-and-goal. On second-and-goal at the 2, the Bulls snapped the ball with 28 seconds left in the half. B.J. Daniels ran for no gain. But it took a while for him to be extricated from the pile. Then the Bulls appeared to be confused and waited until 3 seconds remained on the clock to call timeout. Maikon Bonani hit the 20-yard field goal, but fans booed the team on the way to the locker room.
The Bulls had two opportunities from inside the Cincinnati 5 in the first half, but came away with just a field goal. On the other chance, they botched the snap on the field-goal attempt.
Daniels had yet another fumble, this one early in the game. He has four turnovers in two games.
Cincinnati quarterback Zach Collaros has thrown two pretty bad interceptions. The first was in the end zone; the second led to the game-tying field goal, when he inexplicably decided to flip the ball to a sea of green shirts after being chased way, way outside the pocket.
The Bearcats had a missed field goal of their own on the opening drive of the game, when Tony Miliano went wide left from 33 yards.
So you see the game has not been played well on either side. Collaros is not having the greatest game, and USF is really doing a nice job of slowing down
Isaiah Pead
, who only has 34 yards rushing with a long of 9. Both defensive fronts are doing an excellent job getting pressure -- that is a big reason why Collaros has struggled. Neither team is running the ball well, either. Cincinnati has held the No. 1 rushing team in the league to 42 total yards on the ground.
USF receiver
Deonte Welch
has more than 100 yards in the first half, and the Bulls have been able to move the ball at times. They just keep getting in their own way.
June, 28, 2011
6/28/11
8:23
PM ET
We continue our team position rankings today with receiver. This is an area of great potential for plenty of teams around the league, especially with some of the high-octane offenses that we are going to see. Only three teams return their leading receiver from last season. The overriding theme seems to be this: there is a lot of talent, but much of it is unproven. So how are these receivers going to step up?
To make these rankings, I considered returning starters, accolades for returning starters, depth and potential.
[+] Enlarge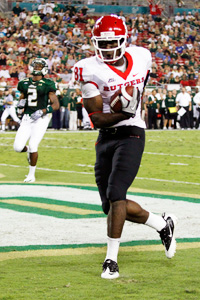 AP Photo/Mike CarlsonMark Harrison caught 44 passes for 829 yards and 9 touchdowns last season.
1. Rutgers.
The Scarlet Knights have proven talent and depth at this position, putting them at the top spot in these rankings. When healthy,
Mark Harrison
and
Mohamed Sanu
form one of the top 1-2 punches in the entire league. Add in
Brandon Coleman
, who had an outstanding spring, along with Tim Wright returning from injury and the top four looks as solid as it gets. Let's not forget incoming speedsters Miles Shuler and Tejay Johnson, who have the potential to play as well.
2. West Virginia.
The Mountaineers have
Tavon Austin
,
Stedman Bailey
and a whole bunch of questions at the position. But with the new offense Dana Holgorsen is bringing in, other receivers have a chance to be more effective. Austin is about as close as you can come to a surefire first-team All-Big East player.
Ryan Nehlen
had a nice spring and could be the surprise of the season. So could
Tyler Urban
, a converted tight end. How will
Brad Starks
do after shoulder surgery? Will
Ivan McCartney
live up to his potential? There is talent here and great potential if everybody lives up to expectations.
3. Cincinnati.
The Bearcats are stocked with talent, but many of these skill players have got to gain experience and fast with
Armon Binns
,
Marcus Barnett
,
Vidal Hazelton
and
Ben Guidugli
gone.
D.J. Woods
is expected to be a first-team All-Big East selection. But beyond he and
Anthony McClung
, you have got young guys -- junior college transfers
Kenbrell Thompkins
and Damon Julian, redshirt freshman Dyjuan Lewis, freshmen Shaq Washington, Chris Moore, Alex Chisum and Max Morrison. Thompkins showed great promise in the spring.
4. Pittsburgh.
The Panthers lose their leading receiver in Jon Baldwin, but the duo of
Mike Shanahan
and
Devin Street
could each be 1,000-yard receivers. Behind them, though, there are some questions and inexperience. Junior
Cameron Saddler
is going to have to step up. Redshirt freshmen
Salath Williams
,
Drew Carswell
, junior college transfer Josh Brinson and true freshman Justin Jackson are all young but have a chance to be big contributors. Pitt also is waiting to hear whether UNC transfer
Brendon Felder
will have his petition for immediate eligibility granted.
5. Syracuse.
The Orange have plenty of solid returning receivers in
Van Chew
,
Marcus Sales
and
Alec Lemon
but what this team is really lacking is big-play potential. In five games last season, Syracuse failed to complete a pass that went longer than 30 yards. In fact,
Ryan Nassib
averaged 6.5 yards per pass attempt. A healthy
Jarrod West
could help those numbers improve.
Dorian Graham
has to work on his hands, too.
6. USF.
The Bulls lose leading receiver
Dontavia Bogan
, but they return injured players
Sterling Griffin
and
A.J. Love
to the mix, which is going to be huge.
Lindsey Lamar
and
Evan Landi
also return, along with
Terrence Mitchell
,
Joel Miller
and
Faron Hornes
.
Deonte Welch
had a nice spring game and is listed as a backup behind Landi. True freshman Andre Davis has the potential to contribute as well. The Bulls have plenty of depth here but there are still some questions about this group, especially with Griffin and Love coming off injuries.
7. Louisville.
The Cardinals lose their top two receivers, and have got to figure out a way to make big plays and stretch the field with a young group.
Josh Bellamy
appears to be the go-to man headed into 2011, and much is going to be expected of
Andrell Smith
and
Michaelee Harris
. Both are coming off injuries and were unable to practice in the spring. True freshmen are most likely going to be relied upon, giving Eli Rogers and DeVante Parker and opportunity to play.
8. Connecticut.
A playmaker has got to emerge from this group to help out whoever is going to be playing quarterback. The Huskies lost leading receiver
Mike Smith
because of academics.
Kashif Moore
,
Ryan Griffin
and
Isiah Moore
return but UConn is going to need some of its redshirt freshmen like
Geremy Davis
and
Tebucky Jones
Jr. to step up. The Huskies are not preparing to run the spread, so the potential for a 1,000-yard receiver in this group is low.
Previous rankings: