March, 27, 2014
3/27/14
9:30
AM ET
COLLEGE STATION, Texas -- Will it be the pro day to end all pro days? The buildup certainly lends itself to such hyperbole.
There will be live national coverage, on television
and the web
. There will be countless hours of analysis on the airwaves in the aftermath -- and there already has been in the lead up to the event. Political figures, past and present, will be in the house.
Johnny Manziel
even
got to spend time with a former president on Wednesday
. Later in the day, Manziel's visit with Jon Gruden for Gruden's QB Camp will air on ESPN (
you can get a sneak peek here
). It's, as one NFL coach called it, "Johnny Day."
[+] Enlarge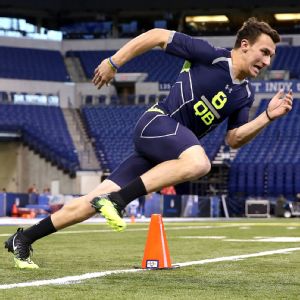 AP Photo/Ben LiebenbergAfter participating in several drills at the NFL combine, Johnny Manziel will throw for NFL scouts at his pro day.
In case you were unaware (if you follow college football or the NFL draft closely, it's hard not to be aware), Johnny Football's biggest job interview to date takes place at 11 a.m. at Texas A&M's McFerrin Athletic Center.
At the NFL scouting combine last month, Manziel did almost everything except throw for the 32 teams on hand. Thursday, he will finally display the fruits of the intensive labor he has put into his right arm (as well as his footwork, accuracy, arm strength and mental capabilities) over the last 10 weeks.
In mid-January, less than a week after officially declaring for early entry into the NFL draft, Manziel headed west for San Diego, the city that would become his training ground to prepare for the combine and pro day. Working with his personal quarterback coach, George Whitfield Jr., Manziel went to work in what they dubbed "Dime City," hoping to prove to the NFL, and specifically the Houston Texans, that the 2012 Heisman Trophy winner is worth the No. 1 overall pick.
"I want them to say absolutely, without a doubt, with 100 percent certainty, that I'm who they want," Manziel told the Houston Chronicle and Fort Worth Star-Telegram in February. "I want everybody from the janitor at Reliant Stadium to the front-office executive assistant all the way up to [owner] Bob McNair to say, 'This kid is 100 percent, can't miss. This is who we want being the face of our program. We want the Texas kid staying in Texas and leading the Texans.'"
Thursday, personnel from the Texans and almost every other NFL team will be present. Texans
general manager Rick Smith, head coach Bill O'Brien and quarterbacks coach George Godsey will be there
watching closely.
Cleveland Browns general manager Ray Farmer will not be
, but there won't be a shortage of pro personnel. NFL.com's Gil Brandt put the over/under on NFL folks at 125.
Manziel won't be the only one they are there to see, either. Receiver
Mike Evans
-- who like Manziel, did not work out at Texas A&M's first pro day on March 5 -- will also perform for the scouts on hand. A projected first-round pick, Evans has the opportunity to add to his already storybook career, one that includes him going from high school basketball star with no varsity football experience to one of the best receivers in college football.
Because Manziel is expected to be taken early and not every team needs a quarterback, there will be as many -- perhaps more -- eyes on Evans. Projected initially to be a mid-first round pick, some felt his performance at the combine last month might have given off a good enough impression to help Evans work his way into the top 10. Either way, there are plenty of teams that feel they might have a shot to take him.
At 6-foot-5 and 231 pounds, with a 37-inch vertical and a 40-yard dash time of 4.53 seconds, Evans has the physical tools coaches desire and was extremely productive in the SEC despite having only four years of football experience.
Joining the two projected first-rounders in the pro day performance will be their Texas A&M teammates, running back
Ben Malena
, receivers
Travis Labhart
and
Derel Walker
and tight end
Nehemiah Hicks
. Whitfield has been in town with the group this week working with them on the pro day script.
Texas A&M defensive back
Toney Hurd Jr
., who had to sit out the Aggies' March 5 pro day while awaiting medical clearance from offseason surgery, also plans to perform for scouts.
But the nation's attention will be on Manziel. He's a polarizing figure in this draft, just like he has been throughout his college career, for many reasons: his height (5-11 3/4), his scrambling ability, his tendency to orchestrate seemingly impossible plays and the headlines he has made, particularly off the field. The predictions and opinions about his future run the gamut, from those who feel he will excel at the next level to those who believe he will be a bust. Can he make all the throws? He has the opportunity to answer those questions now.
His accomplishments at Texas A&M are well-documented, but what kind of impression will he leave for his future employers? Most of his life, Manziel has been at his best when the lights have been brightest. A coach who knows him better than most expects that to be the case once again.
"I'm not going to be shocked when he does well," Texas A&M coach Kevin Sumlin said. "Some other people may but it won't shock me at all when he does well."
March, 25, 2014
3/25/14
4:00
PM ET
COLLEGE STATION, Texas -- As Texas A&M began its ninth practice of spring football on Monday,
Johnny Manziel
briefly roamed the sideline before hitting the turf for a pre-workout stretch.
Earlier that morning, the Heisman Trophy-winning quarterback was in Kevin Sumlin's office, catching up with his former head coach.
And in the afternoon, prior to his workout, he made headlines across the Internet
with this viral video
of him displaying his athleticism with a multitude of dunks.
Yes, it was just like old times in Aggieland for Manziel.
The difference this time is, he wasn't suiting up for practice with the Aggies. Instead, he was utilizing the facilities where he launched his memorable college career to prepare for the latest "most important day" of his young career, his pro day workout in front of NFL personnel on Thursday.
Though he has spent most of his time since January in San Diego, working with private quarterback coach George Whitfield and Aggies teammate
Mike Evans
(who will also perform on Thursday), Manziel is finding respite in the place he spent the last three years.
"It was kind of startling to open the door and see him there," Sumlin said of seeing Manziel in his office first thing Monday morning. "Obviously, he feels at home."
Manziel and Sumlin caught up briefly and the quarterback inquired on the team's practice times so he could schedule his workouts with Whitfield and a host of familiar A&M teammates like Evans,
Travis Labhart
,
Derel Walker
and
Ben Malena
.
Sumlin made sure to mention Manziel's television commercial debut, a McDonald's spot featuring LeBron James.
"We just talked about pro day, we talked about a lot of things," Sumlin said. "I haven't seen him since the first week of spring football, before spring break. I congratulated him on his commercial (laughs). We just talked about a couple things and asked him how he was doing. He wanted to know what time we were practicing and whether we were indoors or outdoors because he was going to come in and throw a little bit beforehand and come out and watch practice. Just regular stuff."
For the strength of the pack is the wolf, and the strength of the wolf is the pack... #Aggies #prodayprep @JManziel2 pic.twitter.com/JxwOxID4hi

— George Whitfield Jr. (@georgewhitfield) March 25, 2014
On Thursday, both Manziel and Aggieland will be the center of attention as he throws for NFL personnel who will be on hand. Evans -- who like Manziel is projected to be a first-round pick -- will also get a chance to shine since he didn't work out in the Aggies' first pro day on March 5. The pair's aforementioned workout partners will also be a part of the pro day script and will have the opportunity to prove their worth to those on hand.
Manziel workout Thur starts at 11a. He'll have WRs Travis Labhart, Derel Walker & Mike Evans + RB Ben Malena w him. O/U for NFL folks: 125

— Gil Brandt (@Gil_Brandt) March 25, 2014
There will be plenty of eyes on Manziel in particular, including those of the Houston Texans, who hold the No. 1 pick in the draft.
"I'm happy for him now," Sumlin said. "This will be a big day for him. The exposure, the bright lights, the video, the brand -- that carries worldwide and that's a big deal for everybody concerned."
October, 3, 2013
10/03/13
1:00
PM ET
COLLEGE STATION, Texas -- Before the season, and even in the first week or two, little of the national conversation surrounding
Johnny Manziel
had to do with his on-field exploits.
The talk centered on his offseason. Or the NCAA investigation into an autograph controversy in which he was involved. Or hand gestures he made to opponents and a flag he drew for unsportsmanlike conduct against Rice.
[+] Enlarge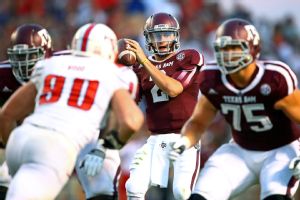 Mark J. Rebilas/USA TODAY SportsImproved pocket presence has helped Johnny Manziel improve his passing efficiency.
In recent weeks, Manziel hasn't done much talking publicly with the media, but instead mostly allowed his play to do the talking. And it has spoken well for him.
Through five games, Manziel is No. 1 in the SEC in completions (140), passing yards (1,489), passing touchdowns (14) and completion percentage (71.4 percent). His touchdown-to-interception ratio (14-to-4) is excellent, as is his yards per attempt (10.6). And yes, he can still run the football.
In leading the Aggies to a 4-1 record, it'd be hard to ask for much more from Manziel.
"[I've seen] more confidence, more excitement," Texas A&M right tackle
Cedric Ogbuehi
said. "He's gotten a lot better since last year. He trusts his arm more, so that's good. You can tell he's a great overall player."
Manziel's on-field play has been good enough to keep him in the thick of the Heisman Trophy discussion, despite the fact that Texas A&M lost to Alabama on Sept. 14. Manziel threw for 464 yards and ran for 98 against the Crimson Tide. It also didn't hurt that wiedout
Mike Evans
had a career day and has been one of the nation's best receivers all season.
But this is not a carbon copy of the 2012 edition of Manziel. He has shown more patience in the pocket, leading to fewer scrambles, without taking away his effectiveness as a runner.
Through the first five games last season, Manziel carried the ball 72 times and had double-digit carries in four of the contests. This year through five games, he has just 48 carries and has 10 or more carries in a game just twice so far.
His yards-per-carry average is similar (6.88 through five games last season, 6.54 so far this season), but he has been perhaps just as effective or more so carrying the football. Manziel has significantly improved on third-down rushes, with 70 percent of his third-down carries resulting in first downs. Last season through five games, only 45.5 percent of his third-down carries wound up as conversions.
He has also reduced the number of rushes that result in zero or negative yardage. Only seven carries (14.6 percent) have netted that type of result this year, compared to 21 carries (29.2 percent) that went for zero or negative yards in his first five games last year.
"I think he's done a better job of seeing the field and not bailing right away as he did a year ago," head coach Kevin Sumlin said. "And when he ran, he's used pretty good judgment in getting out of bounds and sliding, which he didn't do last year, which we begged him to slide. He's probably slid more in the first five games than he slid all of last year, which is another sign of growing up. He's protecting the football and not being reckless."
Manziel's progress is a result of his work, improved maturity and a better understanding in his second year operating the Aggies offense.
"He's more comfortable with what's going on. He's repped it so many times, he knows where the players are going to be," quarterbacks coach Jake Spavital said. "We put an emphasis on him throughout the spring to stay more in the pocket and get to his third and fourth progressions. ... He made some great scrambles (this season). You never want to handcuff him with that, but we can help him out and be more of a threat if he can sit in that pocket longer and throw some balls downfield for completions instead of always reverting to run."
His teammates have noticed his improved patience as well.
"We watched film and this past game he was sitting back there waiting and he could have easily ran, but he was trying to find somebody to get open downfield," receiver
Derel Walker
said. "I would say he's trying to become more of a pocket quarterback to show everyone that he can do that job and still be able to scramble. That's very important."
Offensive coordinator Clarence McKinney noted that there were no designed run plays for Manziel in the game plan against Arkansas last week. But that doesn't mean he's going to refrain from running at all -- Manziel still carried the ball nine times for 59 yards.
Sumlin said Manziel has also been given more freedom to change plays at the line of scrimmage and has handled that part of it well, too.
"He's got some parameters, [but] he's been able to get us into some good plays," Sumlin said. "What it is, is keeping us out of horrendous plays, negative yardage plays. And I know he understands that a lot more this year in year two than in year one, and he should."
And even as he endured the scrutiny earlier in the year, Manziel's play remained at a high level. That's something that has impressed Spavital and just about everyone else in Aggieland.
"You've got to commend him for it," Spavital said. "I don't think anybody that has ever played the college football game has been through that much scrutiny and pressure. I think he's lived up to the expectations and he just enjoys going out there and playing."