NCF Nation:

Derrell Acrey
December, 22, 2010
12/22/10
10:30
AM ET
You saw my
preview
and prediction. Now here are three keys for No. 10 Boise State and No. 19 Utah in the MAACO Bowl Las Vegas tonight:

Boise State (11-1)
1. Stop the run
. The Broncos have uncharacteristically struggled against the run in their last two games, giving up over 200 yards on the ground against Nevada and Utah State. Both those offenses are different from the Utah offense, but the Utes do have two good runners in
Eddie Wide
and
Matt Asiata
. The Broncos have switched up their starting linebackers to help shore up the run defense, which has been hurt without Byron Hout (foot). Daron Mackey and Derrell Acrey will split time in the middle. Slowing down the run means …
2. Putting the game on Utah QB Terrance Cain's shoulders
. Yes, Cain is capable of managing a game, but you definitely want to see how he responds when the responsibility is completely on him. He has a tendency to be rushed into making mistakes, and that should be a huge part of the Broncos' game plan. Wide could prove to be a good safety valve for Cain should he feel pressured.
3. Take advantage of play-action for big plays
. The Broncos are so good at big plays because of
Kellen Moore
, who is terrific at selling play-action. Utah has given up plenty of big passing plays this season and is going to have to be on top of its game to slow down
Titus Young
and
Austin Pettis
. One of the most intriguing matchups in this game is between Pettis (6-foot-3) and Brandon Burton (6-feet). Pettis is the go-to guy in the red zone for the Broncos, the only team in the country to rank in the top 4 in total offense and total defense.

Utah (10-2)
1. Get Cain going
. The Utes are going to have to tailor what they do to Cain's strengths. One of those strengths is his ability to run. As we have seen in the last two games, the Broncos have had a hard time slowing down mobile quarterbacks. Getting him a few more designed runs would certainly help, especially considering Utah does not want to find itself in third-and-long situations. According to ESPN Stats & Information, Cain has completed only 55.6 percent of his passes on third down this season. He will be facing a Boise State defense that has held opponents to a pass efficiency rating of 80.6 on third down this season, fourth-best in the nation.
2. Ball control
. Utah has the ability to run the ball, and the more the Utes hold the ball, the longer they keep the Boise State offense off the field. Boise State showed against Nevada it could get winded late in games. That would play right into the hands of the Utes. The Utah offensive line is one of the best among the non-AQs and has the capability of slowing down what has been a terrific defensive front.
3. Shaky Smithson
. Field position is going to be critical in this game for Utah to have a chance. That is where Smithson comes in. Though teams have been kicking away from him, he still leads the nation in punt returns of 20-plus yards with 10. If the Broncos kick to him, Smithson could be a very important player to watch.
November, 19, 2010
11/19/10
12:18
PM ET
August, 17, 2010
8/17/10
10:14
AM ET
BOISE, Idaho -- The expectations are higher. The spotlight is bigger. The media attention is greater.
They really are underdogs no more.
[+] Enlarge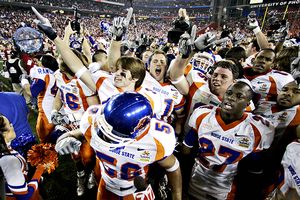 AP Photo/Matt YorkAfter an undefeated season Boise State can no longer be considered an underdog.
Yet given all the talk about Boise State going into the 2010 season, players insist they are keeping the under-the-radar mentality that has shaped this program.
"There's definitely a chip," linebacker Derrell Acrey said. "Rankings don't mean anything to us. How can they tell how far we are, we haven't played a game yet."
How does the team maintain that mentality? As coach Chris Petersen has said, Boise State still has something to prove. In the past, the Broncos had to prove they belonged in the national conversation. Now, they have to prove worthy of all the praise and expectations.
Indeed, Boise State is one of the biggest storylines going into the season. The Broncos are ranked No. 5 in the preseason coaches' poll, their highest ranking to start the year. That puts them in position to potentially be the first non-AQ team to play for a BCS national championship.
They were featured on one of the regional covers for the Sports Illustrated college football preview. All 10,000 copies in Idaho have sold out, and the magazine plans to ship another 30,000 to Boise later this week.
"I don't think much has changed except you're hearing it a little more," safety Winston Venable said. "We haven't gone about business any differently. We attack practices the same way. We look at our opponents the same way. Maybe we have a bigger target on our chest but we like that. We probably wouldn't want it any other way."
The first team to have a shot at that target is Virginia Tech on Sept. 6 at FedEx Field. That one game could determine whether the Broncos stay in the conversation for a national championship. So much so, that many observers believe the Broncos essentially have a one-game season on their hands.
Win and stay in the title hunt. Lose, and those hopes are dashed. After all, no undefeated non-AQ team has ever gotten a spot in the national title game, much less a non-AQ team with one loss. Getting into a BCS game would be tougher, too.
Boise State scoffs at that notion.
"I've never known of any school having a one-game season when it's the first game of the year against a Top 6 opponent," athletic director Gene Bleymaier said. "That's never knocked Florida or Ohio State or Alabama or 'SC or Texas out of the national championship picture.
"It's a big game and there's a lot riding on it, but we can win that game we still have 11 more we've got to play. There's a huge target on our chest and we've got a lot of tough games in there. It's going to be a long four months for anybody. It's not going to be the end of our season. Coach Pete has been excellent saying look one game either way is not going to make … you have to play all 12 games and then see what happens. We can't let one game determine our season."
Boise State is no Florida or Ohio State, and despite all the equity the Broncos have built up with their previous success, they won't get the benefit of the doubt if they lose a game at some point this season when it comes to the national championship. Naysayers may even start shouting, "Told ya so!"
The critics are out there, but so are the supporters. For Boise State, it is a matter of staying focused despite the increasing hype.
"Maybe the media's more involved but we don't get caught up in the media anyway," Venable said. "We've got one game at a time and that's the way we look at it."
August, 17, 2010
8/17/10
9:00
AM ET

Andrea Adelson talks with Boise State's Derrell Acrey.