NCF Nation:

Derrick Brown
March, 5, 2013
3/05/13
1:00
PM ET
Call them seeming contradictions if you will, but Washington begins spring practices Tuesday with two mixed messages.
Senior Keith Price is the Huskies' starting quarterback. Unless he isn't.

There is a lot of enthusiasm surrounding the Huskies' potential in 2013. And general frustration with the program.
[+] Enlarge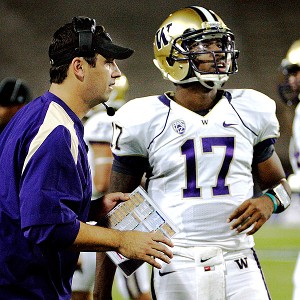 AP Photo/Wily LowCoach Steve Sarkisian says Keith Price is the Huskies' starting quarterback in 2013 -- unless he loses it to four players trying to oust him.
With 20 starters back, including a handful of seeming budding stars, the Huskies have the look of a top-25 team that could make some noise in the rugged Pac-12 North Division after three consecutive 7-win seasons, campaigns that have progressively soured fans pining for the proverbial "next step."
This, coach Steve Sarkisian acknowledges.
"I don't see why we wouldn't be in a position to compete for a division championship," he said.
Sarkisian also acknowledged the Huskies' offensive struggles in 2012. While an equal share of the blame should go to poor offensive line play, which was aggravated by injury issues, the easy guy to point the finger at is Price, whose play decidedly regressed after a strong debut season in 2011.
Price went from a darkhorse Heisman Trophy contender to eighth in the Pac-12 in passing efficiency, trailing three first-year starters and California's oft-criticized
Zach Maynard
. The Huskies averaged just 24 points per game, down nine from the 2011 season.
"We need to get our offensive numbers back to where they were two years ago," Sarkisian said.
And that starts with Price. Unless it doesn't.
"Keith Price is our starting quarterback -- the goal is to get Keith Price back to playing the way he was two years ago," Sarkisian said. "But there are four guys behind him who are going to be chomping at the bit to get an opportunity to make this thing into a competition that either is going to push Keith to be better than he's been or, ultimately, try to surpass him."
So this is Price's job. Unless... "As I've said to Keith," Sarkisian said, "we're not going to be stubborn enough that if we think another guy is playing better that guy won't get that opportunity to beat him out."
Those four guys trying to raise an eyebrow at Price's expense: Redshirt freshmen
Cyler Miles
,
Jeff Lindquist
, sophomore
Derrick Brown
and true freshman Troy Williams.
The bottom line meaning behind Sarkisian's statements is fairly straightforward: 1. He wants Price to win the job; 2. But he wants the Huskies to win as many games as possible in a critical season for him and the program; 3. He's going to play the guy who gives him the best chance for No. 2.
The quarterbacks will be working with a new position coach, Marques Tuiasosopo, whose name immediately evokes pleasant memories for Huskies fans. He quarterbacked the program to a No. 3 final ranking after the 2000 season, the Huskies' last Rose Bowl victory. A former dual-threat player, he's got an NFL pedigree, an easy-going style and a natural follow-me-to-the-gold! ability to lead. He also will allow Sarkisian to be more big-picture with the offense.
If the Huskies get the Price of 2011 -- or someone else who can produce a top-10 in the nation passing efficiency rating -- there are a lot of toys to play with, starting with RB
Bishop Sankey
, WR
Kasen Williams
and TE
Austin Seferian-Jenkins
. A young offensive line that got pushed around in 2012 should be much better, and the (eventual) return of former starters
Colin Tanigawa
and
Erik Kohler
will provide another boost.
The dramatic improvement of the defense in Year 1 under coordinator Justin Wilcox also suggests strong reasons for optimism.
Of course, the program has been glutted with optimism the past few seasons. Seven wins were a revelation in 2010. Not so much in 2012, particularly when the Huskies blew their final two games, most notably a shocking fourth-quarter collapse against Washington State, something that Cougars fans never, ever, ever bring up these days.
Sarkisian, as is his wont, can find a silver lining even there.
"I don't think that taste is going to go anywhere for awhile, which is OK," he said. "We lost two games that we should have won. The end result is we are sitting here talking about a 7-6 football team when we could have been here talking about a 9-4 football team. But I don't know if that's all bad. If we would have finished 9-4 and found a way to finish those last two games, I don't know what January or February would have been like for us as a football team. We may have still been hungry and I would like to think so and striving for more. We might have grown a bit complacent. What I do know is there is zero complacency in our locker room right now."
That lack of complacency must start with Price. He needs to regain his mojo. The same could be said for Sarkisian.
Washington will open a remodeled Husky Stadium this fall, a facility that will immediately rank among the nation's best. That will add to the anticipation of a special season, one that Huskies fans have turned purple -- appropriately -- holding their collective breath anticipating.
Said Sarkisian of Price, "We've been through a lot together and we've got one chapter left that we want to make a great ending."
February, 11, 2011
2/11/11
11:38
AM ET
Utah coach Kyle Whittingham is a details guy. Most football coaches are. But some details are new and take some getting used to.
"There are a lot of good football teams in the Pac-10," he said before catching himself. "I guess we'll call it the Pac-12 now."
Yep. Welcome.
Whittingham -- wisely, if you think about how redundant the questions would have been -- didn't talk about his Utes move into the Pac-12 this past season. But he admits it was impossible to completely block out. He called it "human nature" that he, perhaps, paid just a bit more attention to Pac-10 highlights, or checked out Pac-10 box scores with more than a casual interest.
[+] Enlarge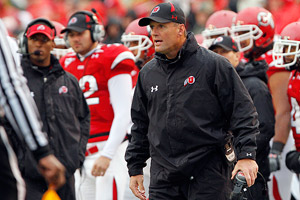 AP Photo/Jim UrquhartUtah coach Kyle Whittingham is looking forward to the challenges of playing in the Pac-12.
Further, it was an issue in recruiting. When he reached out to a prospect, he could promise more than he could in the past, starting with an affiliation with an automatic-qualifying conference. That's the bright lights, big city of college football. "Son," Whittingham can now ask a young, West Coast hot shot, "would you like to one day play in the Rose Bowl?"
A recruit in Southern California who thinks Salt Lake City is somewhere near Narnia? No problem: "Son, Utah is in the Pac-12 South Division with USC, UCLA, Arizona, Arizona State and Colorado. You'll get plenty of sunshine during the season and you'll come home for a game every year and get to see your mommy."
You cannot underestimate what a game-changer that can be in recruiting. Said Whittingham, "Without a doubt we were able to get in on several players that we would have had no chance of getting in on without the affiliation with the Pac-12."
Exhibit No. 1: Receiver
Quinton Pedroza
, the Utes' top-rated signee. The 6-foot-3, 205-pounder from Chino, Calif., switched his allegiance from Arizona State on signing day.
Of course, competing for better players in recruiting also means a higher level of competition. Utah lost a pair of committed players to other Pac-12 schools: quarterback Derrick Brown to Washington and cornerback Ryan Henderson to USC.
As Whittingham said, "Now that you're in on them, you're in on them with several other high-profile schools and the competition is just as intense."
Speaking of competition, the nine-game Pac-12 schedule figures to present an uptick in degree of difficulty for the Utes, even though the Mountain West Conference has fared well when matched with the Pac-10 in recent years. Whittingham is 4-3 against Pac-10 teams since taking over for Urban Meyer in 2005, beating California, Oregon State, UCLA and Arizona.
"The week-in and week-out level of competition is ratcheted up," Whittingham said. "There are some excellent football teams in the Mountain West Conference. ... Not to downplay or disrespect anything that's going on in the Mountain West, but we're convinced the weekly challenges will be much more difficult than they have been in years' past for us."
There is also an atypical challenge for both Utah and Colorado (and Nebraska as it heads into the Big Ten): Little to no "local knowledge."
Just about every FBS team will be familiar with the vast majority of its schedule next year. It will have first-hand knowledge about personnel, schemes, tendencies, etc., of most of its opponents because it plays a regular conference schedule annually. Utah and Colorado will not. The Utes didn't play a Pac-10 team last year, and Colorado only got blasted at California. Essentially, they will play a slate of what feels like 12 nonconference foes. So they are playing catch-up with scouting and preparation compared to the rest of the reconfigured conference.
"That does present a challenge having very little knowledge about the vast majority of the teams in the conference you're moving into," Whittingham said.
But Whittingham pointed to the hiring of offensive coordinator Norm Chow and offensive line coach Tim Davis as providing a helpful crutch. Chow, you may have heard, was UCLA's coordinator the previous three seasons, while Davis coached at USC from 2002-2004.
So Whittingham will have some help looking forward. As for looking back at the Mountain West, that's really not Whittingham's thing.
"I'm not a sentimental guy, so there's really no emotional ties or anything of that nature," he said. "I can say the Mountain West was very good for us. It was a good run."
And now it's all about the Pac-10. Er, Pac-12.