NCF Nation:

Derrick Hallman
January, 14, 2011
1/14/11
9:00
AM ET
I had a chance to sit down with UCF football coach George O'Leary and asked about some of his expectations headed into spring football. Here is a little of what he had to say:
Where do you want to see improvement from quarterback Jeff Godfrey during spring practice?
George O'Leary
: His pocket presence. He's really done a wonderful job for a true freshman, but when you look at the season and you look at how many open receivers we had, that experience of pocket presence. It doesn't always have to be a rush. Go to the second or third receiver. That's where he needs to improve and I think he will. He improved each game. Next year, he'll have all the bullets in the gun as far as the game plan so we'll have a lot more ways of attacking people.
Did he exceed your expectations?
GO
: He did. True freshman quarterbacks, for them to play at the Division I level at the level he played -- conference championship, bowl championship -- is outstanding. There's no question the talent he has is only going to get better and better as his experience improves.
What will you do at backup with Rob Calabrese coming back from a knee injury?
GO
: Right now,
Blake Bortles
will be the backup. Rob is still at quarterback but I want to look at him at receiver. He's too good an athlete not to keep on the field in some way. His leadership -- Rob is a senior and very well respected. Sometimes that area of the game is not looked at the way it should be. That was the key this past season. We had a bunch of kids that were a bunch of seniors that really showed the way on the field but showed it off the field, too. Rob is one of those kind of kids.
And Calabrese is OK with moving to receiver?
GO
: He's going to line up there and we'll also have the opportunity to use him at quarterback. The flexibility and versatility is going to help us and help Jeff and help Blake. I was very impressed with Blake Bortles this fall on the show teams. He's a strong guy who can throw. He's athletic enough to run everything we want to run so putting him at 2 gives him an opportunity to get a lot more reps and gives Rob an opportunity to work on some of the skills I hope will help the team.
What will you do at running back with Brynn Harvey coming back?
GO
: Brynn will line up behind Latavius [Murray] to start. The only thing I promise is the first snap. That depth chart will be adjusted as spring ball goes on.
With some of the losses you took on defense, do you think the offense may be ahead in the spring?
GO
: I would think right now with the people we have coming in midyear there's going to be a lot of battles on the field defensively. The secondary is pretty much intact. Linebacker corps: we have some young kids who have the size and athleticism. We have to see where they're at. Defensive line, you graduate [Bruce] Miller and
David Williams
. You've got people at that position. We have a chance to be a very solid defense, no question there. There's going to be a lot of competition in the spring, which I like. You need to keep competition. I don't think there's any positions given out because you played last year. You've got to compete for them and the kids know that. When you leave the two-deep in the spring, that's how we line up in the preseason and then you really worry about game planning and getting things done the right way. The spring is a way to make the team and also win a position.
You spoke about leadership earlier. How do you replace leaders such as Bruce Miller and Derrick Hallman?
GO
: I met with the team [Wednesday]. There are 17 seniors next year. I said there were 19 last class. They didn't just start being leaders in spring ball and preseason. They started the first day of winter workouts. I think collectively you guys have to understand there are right ways to do things and wrong ways. If you take charge of your football team from the locker room to the classroom, socially, in all facets, that's how you develop respect. You're only as good as your senior class.
Who or what are you most looking forward to seeing in the spring?
GO
: I'm anxious to see at linebacker how Ray Shipman comes along. Jose Jose is another one that's come in -- he's in school already. From a defensive standpoint, I think it's going to all come together. Offensively I just want to see the maturity of the offensive line, I want to see where is the depth chart at running back. And obviously at the receiving corps we're losing kids, but we have some talented kids coming up. JJ Worton and
Josh Reese
-- how do they fit in and where are they at as far as Division I football is concerned?
December, 31, 2010
12/31/10
6:53
PM ET
UCF beat Georgia
10-6
in the AutoZone Liberty Bowl on Friday afternoon. Here is a quick instant analysis:


How the game was won:
UCF had to overcome plenty of adversity. UCF had a kickoff return for a touchdown to open the game taken off the board because of a penalty. Freshman quarterback
Jeff Godfrey
hurt his ankle early in the game and was gimpy for the rest of it. He threw two early interceptions, and receivers dropped plenty of balls. UCF also lost linebacker Derrick Hallman to an ankle injury and running back
Ronnie Weaver
to a shoulder injury. But the UCF defense kept the Knights in the game, with two interceptions off Georgia quarterback
Aaron Murray
and a fierce pass rush -- what you come to expect from the top defense in Conference USA. The UCF offense was finally able to put a touchdown on the board in the fourth quarter. After that, the UCF offense went conservative, and gave the ball back to Georgia with 2:20 to go. The Bulldogs drove down the field, thanks to two fourth-down conversions. But Bruce Miller had a huge sack, forcing Georgia into a Hail Mary situation with no time on the clock. UCF batted it down in the end zone for its first bowl win in school history.
Turning point:
UCF finally took advantage of a long drive in the fourth quarter, going 11 plays for 65 yards to take a 10-6 lead with 9:01 to play.
Latavius Murray
scored on the 10-yard run, but the biggest key on that drive was a 10-yard third-down completion from Godfrey to
Brian Watters
. That conversion gave the Knights a first-and-goal at the 10 and set up the winning touchdown.
Stat of the game:
6. Georgia tied its season-low point total.
Player of the game:
Murray was able to run through some holes in the Georgia defense and also had the longest play of the day, an 18-yard run, in addition to the game-winning touchdown. He finished with 18 carries for 104 yards, his second 100-yard game of the season.
Unsung hero of the game:
UCF defensive coordinator Dave Huxtable. His game plan slowed down a Georgia offense that had scored 30-plus points in seven straight games. Georgia had no running lanes, and the UCF defense was relentless on Murray. Not only that, UCF completely took away the big play from the Bulldogs.
A.J. Green
may have led the team with eight receptions for 77 yards, but his longest reception of the day was only 18 yards.
What it means:
UCF not only won its first bowl game in four appearances, the Knights also won 11 games for the first time in school history and got their third ever victory over an FBS opponent. No question this has been the best season in school history, with the school's first Top 25 ranking and another Conference USA championship. Now the big question is whether UCF can use this as the next step to elevate its program. There has always been talk that UCF is a sleeping giant, and now finally UCF can proclaim it has something over the other FBS teams in the state -- more wins than they do. UCF cannot waste this season's success.
December, 30, 2010
12/30/10
1:30
PM ET
UCF has accomplished almost everything it set out to do this season.

The Knights (10-3) won a Conference USA championship. They got the first Top 25 ranking in school history. They have more wins than any other FBS program in the state.

Now comes the one thing that has forever eluded them. A bowl win.

Making it to the AutoZone Liberty Bowl against Georgia (6-6) on Friday is simply not good enough. Not when you have designs on building a respectable non-AQ program.

"I definitely think a win will validate the program," linebacker Derrick Hallman said. "People say, 'They have a lot of wins, but who have they beaten?' This will be a statement."

UCF is 0-3 in its brief bowl history. It has been playing on the FBS level since 1996, but it was not until coach George O'Leary arrived that the Knights started playing in conference championship and bowl games. The Knights have taken all the right steps, but a bowl win is the next big leap.

"The first time we went to bowls was when we got here. Getting there was what they looked at," O'Leary said. "Now you get to bowls and the whole purpose is to win."

UCF has had its share of bowl heartbreak. A quick recap:

The Knights came the closest to a win in its first ever bowl appearance in 2005, against Nevada in the Hawaii Bowl. UCF had engineered one of the greatest turnarounds in NCAA history, going from zero wins to eight. The Knights sent the game into overtime after recovering an onside kick and scoring with 55 seconds remaining. But kicker Matt Prater missed the tying extra point in overtime and UCF lost 49-48.

On the heels of its first Conference USA championship in 2007, UCF faced Mississippi State in the Liberty Bowl. But the Knights were not quite ready for prime time, turning the ball over four times, missing two field goals and managing just 86 yards passing. They went 4-of-17 on third down and lost 10-3.

Last season, UCF did not have far to go, playing Rutgers in the Beef 'O' Brady's Bowl in St. Petersburg. But once again the Knights failed to show up, mustering 35 yards on the ground and again failing on third down, converting just 4-of-15 attempts in a 45-24 loss.

But there is something different about this team. For one, it is experienced, especially on defense. UCF features 19 seniors, including 11 starters – seven on defense. The senior class has 32 wins, tied with the senior class of 1990 for the most in school history. They won the first two conference championships in school history, tied the school record for wins in a season twice (10) and have taken it upon themselves to try to make this program into an elite one.

"We want to leave this program on the right foot," Hallman said. "We were part of the first conference championship. We were part of another conference championship, and we want to be a part of the first bowl victory."

What would make a victory in this game even better is the opponent. UCF is just 2-45 against teams from automatic qualifying conferences since it moved up to FBS in 1996. The Knights came oh-so-close to beating NC State and Kansas State this season. Its last win against an AQ school was to open the 2007 against NC State.

A win over an SEC opponent would be the perfect cap to all the accomplishments the senior class has made. But it could also potentially serve as a new beginning for a program struggling to make its own name.

"Our team right now is really moving in the right direction," senior defensive end Bruce Miller said. "The next step for us is this bowl win. It's really big for us to get this one against a tradition-rich program in Georgia. Winning that game is what everyone wants to see."
December, 6, 2010
12/06/10
2:11
AM ET
Georgia Bulldogs (6-6) vs. UCF Knights (10-3)
Dec. 31, 3:30 p.m. ET (ESPN)

Georgia take by SEC blogger Chris Low:
For a while there, it looked like there was no way Georgia would keep alive its bowl streak, especially after losing four straight games for the first time in the Mark Richt era.
But the Bulldogs battled back and gained bowl eligibility on the final Saturday of the regular season with a 42-34 win over Georgia Tech, extending their bowl streak to 14 consecutive appearances.
The best part about this season for Georgia was the way redshirt freshman quarterback
Aaron Murray
played. He's passed for 2,851 yards this season, the second most ever for an SEC freshman quarterback. He's thrown 24 touchdown passes and only six interceptions and also has four touchdowns runs.
Unfortunately, Murray didn't have star receiver
A.J. Green
to throw to all season. Green was suspended by the NCAA for the first four games for selling one of his game jerseys, but he's been a favorite target ever since returning.
The Bulldogs had their ups and downs in their first year in Todd Grantham's 3-4 defense and still need to recruit to that scheme, in particular add some bigger defensive linemen. But junior outside linebacker Justin Houston certainly flourished. He's second in the SEC with 10 sacks and is a blur coming off the edge.
---

UCF take by nation blogger Andrea Adelson:
The Knights won their second Conference USA title on Saturday over SMU and hope that this win allows them to turn the corner and be taken seriously in Florida. After all, they have watched Florida, Florida State, Miami and even USF get all the headlines while they struggle for consistency.
This is actually the first season they have posted back-to-back winning campaigns since George O'Leary became coach in 2004. They have the best run defense and total defense in Conference USA and are led by defensive ends Bruce Miller and Darius Nall, and linebacker Derrick Hallman is the leader of the unit.
One point to watch -- cornerback Josh Robinson has been burned badly at times this season on the deep ball, so you can expect Georgia to take advantage with A.J. Green. Robinson did come up big against SMU because he knew the target would be on him. Well, it's going to be even bigger against the Bulldogs.
The offense is balanced, and is led by a true freshman quarterback
Jeff Godfrey
, who has been outstanding. UCF also has great depth at running back with
Latavius Murray
and
Ronnie Weaver
. The Knights need one more win to set the school record for most wins, but they are 0-3 in bowl appearances. Also, the Knights only own two wins over schools from AQ conferences -- Alabama (2000) and NC State (2007). So if they do want to be taken seriously, they need to win a game like this one.
December, 3, 2010
12/03/10
10:15
AM ET
George O'Leary became head coach at UCF because he wanted to take the challenge of turning the program around. He has had success, but he never really had consistency.
One season would be good. The next would be bad.
Until now.
[+] Enlarge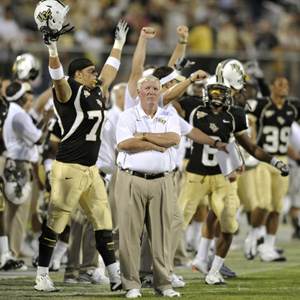 Steve Mitchell/US PresswireGeorge O'Leary's Knights have a chance to win the C-USA title for the first time since 2007.
The Knights (9-3) have posted back-to-back winning seasons for the first time since O'Leary took over in 2004. What's more, they have earned the first poll ranking in school history and host SMU (7-5) in the Conference USA title game Saturday -- their third appearance in the game since 2005.
But beyond all that, UCF has put together a better season than in-state big shots Florida and Miami. If FSU loses to Virginia Tech and the Knights win, then UCF would be the only ranked team in the polls from the state.
"The biggest thing that we fight right now is that we just don't have that 80, 100-year tradition that the other schools have where the kids may grow up being another fan of another school," O'Leary said at a news conference in Orlando this week. "That's the fight that we have to fight, but I think the one thing that really has helped us has been the stadium on campus and then the factor that when they come on campus we have great facilities from a time management standpoint."
The other fight, of course, is being outside one of the automatic qualifying conferences. Miami, Florida State, Florida and USF all have that advantage. UCF would love an opportunity to join the Big East, and has lobbied for that chance for years. Having back-to-back years of success obviously helps, and so does over $200 million in upgrades on facilities, stadiums and dorms.
The potential has always been there for UCF to rise up because of its location, and its access to top recruits. But the progress has been slow to come.
"I think it took probably a year or two longer than I would have liked, but we are getting depth in the program," O'Leary said. "That is what the key is, playmakers coming up. Most of the playmakers, when you look at the offensive line there are two guys gone out of 10 so there [are] a lot of people back. The running backs are all back and
Brynn Harvey
, who didn't play this year. The receiving corps we have some good young kids coming up, the quarterbacks are back so I think there are a lot of things to work with."
The first task, of course, is winning the conference championship, something UCF did in 2007. If the Knights win one more game, they would tie that 2007 team and the 1990 team for most wins in FBS school history with 10.
"We're not going to let this one slip away," UCF linebacker Derrick Hallman said. "I don't want my last memory of Bright House Networks Stadium to be me walking off the field with my head down and I don't want another team celebrating on my field with a championship trophy."
Beyond that, UCF will be making its fourth bowl appearance since 2005, all under O'Leary. But the Knights are 0-3, and got embarrassed by Rutgers last year in the Beef 'O'Brady's St. Petersburg Bowl. If they win C-USA, they would most likely play an SEC team in the Liberty Bowl. The next step would be getting a bowl win, and beating teams from the AQ conferences.
UCF is 2-45 against teams from those automatic qualifying conferences since it joined FBS in 1996, and is winless against in-state teams Miami, Florida and USF. The Knights lost to Florida State in 1995, the year before it moved up to the highest level.
So there is much more work to be done. But first, they must win a conference title.
November, 11, 2010
11/11/10
3:30
PM ET
ORLANDO –
Bruce Miller
got a phone call from his parents while he was eating lunch.
Derrick Hallman
started getting text messages in church. Jeff Godfrey saw it on the local news.
Good news does not take long to travel fast these days.
[+] Enlarge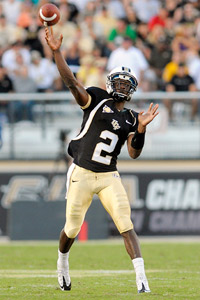 AP Photo/Phelan M. EbenhackJeff Godfrey and his Central Florida teammates are excited about their top-25 rankings in the AP and coaches' polls.
UCF had just earned the first ranking in school history – No. 25 in the AP poll and No. 23 in the coaches' poll -- and players quickly started learning about it Sunday afternoon.
"I just felt appreciated," said Miller, a defensive end who needs two more sacks to become the school career leader. "It was exciting. We've never seen that before. It was different and I know all the guys enjoyed that."
UCF has been more of a star-crossed program than a successful one throughout its history. Fans have become accustomed to inconsistency and disappointment, to being told they were just not good enough to join a big-time conference the last time the Big East expanded. The insult was made even worse when the league decided on cross-state rival USF instead.
The joke going into this season was that it was an even-numbered year, and well, UCF just has plain old bad luck on even-numbered years. The Knights have made just three bowl games in their history, losing all three. But they have followed up each bowl appearance with a losing season.
They were embarrassed 45-24 to Rutgers in the St. Petersburg Bowl last season, but players believed their veteran group would break the string of inconsistency that has plagued this program. They set a goal when the season started to host the Conference USA championship game.
With nearly the entire defense returning and most players on offense back, the goal seemed realistic. Now it is on the verge of happening. The Knights (7-2, 5-0) are the only team that is undefeated in league play headed into the final home game of the season Saturday against Southern Miss (6-3, 3-2).
If East Carolina loses to UAB tonight, UCF can clinch the East with a win against the Golden Eagles.
"We completely understand what's on the line and what we're playing for this weekend and in the weeks to come," Miller said. "We're not playing for a ranking. We're playing for our goal, which is a conference championship."
Miller anchors a unit that was one of the best in the league last season and is one of the best again this season, ranking No. 1 in total defense and scoring defense. Much of the focus this season has been on Miller, the Conference USA preseason pick for Defensive Player of the Year, so others have stepped up. That includes Darius Nall, who leads the team with 7.5 sacks. Nall has an inspirational story, having overcome cancer to return to the team last season.
But perhaps the biggest story of the season has been the emergence of Godfrey, a true freshman out of Miami. He chose UCF in part because the Knights allowed him to play quarterback. Many of the other schools that recruited him said he was too small for the position at 5-foot-11 and 182 pounds, and wanted him to play something else.
He started the season behind
Rob Calabrese
on the depth chart, but saw spot duty. Many thought it was only a matter of time before he took over. Sure enough, he became the starter in Week 3 -- though Calabrese still played some. But Godfrey has been the full-time guy since Calabrese was lost for the season with a knee injury against Marshall in Week 6.
Godfrey has gotten better each week, and is a dual threat – he can run the ball, too. He has thrown for 1,300 yards, six touchdowns and four interceptions, and rushed for 499 yards and six touchdowns. Last week in a 40-33 win against Houston, he had 399 yards of total offense and three touchdowns.
"I knew once he got settled in and got his feet beneath him, he was going to be our best player," said Hallman, second on the team in tackles. "I told him, 'You're going to be a prodigy in this program. By the end of this year, you're going to be the face of this program.' "
UCF has a bright future with Godfrey at the helm, but first this program has to start building consistency for more than a few seasons. The ranking is nice. But there is more to be done.
"We're not done yet," Godfrey said. "We want to get to our destination, and that's the conference championship."