January, 15, 2015
Jan 15
10:30
AM ET
Our world is full of overreactions. The slightest flap of a butterfly's wings has us all in a tizzy.
That's why we were so quick to jump on Texas A&M as a title contender after Week 1. That's why the SEC was thrashed after going 7-5 in bowl season. It's a never-ending cycle of instant hyperbole, and it usually comes back to haunt us.
The 2014 SEC season certainly didn't lack overreaction during an exciting year, and here are some of the major ones we got wrong:
The Magnolia State takeover
[+] Enlarge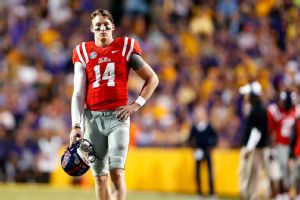 AP Photo/Jonathan BachmanA promising start for Bo Wallace and Ole Miss fell apart with consecutive losses to LSU and Auburn.
After Mississippi State and Ole Miss beat Texas A&M and Alabama, respectively, at home on the same day, the state of college football resided in the 20th state admitted to the Union. The Bulldogs thrashed A&M 48-31, and Ole Miss topped Alabama 23-17 at home and watched the Grove overflow onto the field inside Vaught-Hemmingway Stadium. The schools then tied for third in the Associated Press Poll, and Mississippi State would eventually rank No. 1 in the College Football Playoff Rankings.
All was good in Mississippi until Ole Miss lost an ugly one at LSU and a heartbreaker at home to Auburn in consecutive weeks. Two weeks later, the Bulldogs suffered their first loss of the season at Alabama. The regular season culminated with neither Mississippi team in the SEC title game after the Rebels were blown out at Arkansas 30-0, then eliminated Mississippi State from the race with a 31-17 win at home.
Bowl season erased any remnants of that magical Magnolia run, as Ole Miss was demolished 42-3 by TCU in the Chick-fil-A Peach Bowl, and Mississippi State surrendered 452 rushing yards in a 49-34 loss to Georgia Tech in the Capital One Orange Bowl.
Kenny Thrill for Heisman
After a record-setting 511-yard passing debut by
Kenny Hill
in Texas A&M's 52-28 drubbing of South Carolina
in
Columbia, we all thought we were seeing another College Station Heisman winner. And he just kept bringing us back in with more jaw-dropping performances. By the start of October, Hill had thrown for 1,745 yards and 17 touchdowns with just two interceptions. He also had a QBR that didn't dip below 91.5 at any point during the Aggies' 5-0 start, which pushed them to No. 6 in the country -- another thing that caused us to overreact.
Then the meat of the SEC season arrived, and the Thrill was gone. During three straight blowout losses, Hill turned it over seven times with just six touchdowns. After a disastrous 59-0 loss at Alabama, Hill was benched for freshman
Kyle Allen
and would never see the field again. He dealt with a suspension and decided to transfer from A&M after the season.
South Carolina's East run
We in the media picked South Carolina and Steve Spurrier to represent the SEC East in the conference championship. After opening night, that prediction imploded. Despite sporting a record-setting offense, the defense was atrocious, ranking 13th in the SEC (432.7 yards allowed per game). South Carolina surrendered 36.8 points per game in SEC play; made choking in the fourth quarter with double-digit leads an art; and finished the season 7-6 (3-5, SEC). Not exactly title-worthy.
The SEC West
The SEC West took a lot of heat for its embarrassing 2-5 bowl record. Arkansas and Texas A&M -- the only winners -- were ashamed of their division mates, and the 5-0 SEC East was left smiling after being lambasted for most of the season. Chants of "overrated" rained down around the SEC, especially after No. 1 Alabama was left out of the national title game after losing to Ohio State -- the eventual champion -- in the Allstate Sugar Bowl. All that talk of how great the West was during the season went out the window because of its bowl showing. Is the SEC still the deepest conference? Yes, but when your star attraction (the West) fails to show up against everyone else, it's hard to call it the best division ever. It's hard not to at least listen to some of those "overrated" chants. It puts a damper on such an exciting regular season from that side of the conference. And I don't buy the excuse that the division was beaten up from the regular season.
Save it. A few teams played better opponents, and others just fell flat at the worst time.
The conference certainly isn't in ruins now, but the gap between the SEC and the rest of the nation is closing.
Some early overreactions for 2015
Alabama's run of dominance is over
You never quite got the feeling that you were looking at a dominant Alabama team in 2014, and Ohio State's 42-35 College Football Playoff Semifinal win against the Crimson Tide supported those feelings. The Tide was the No. 1 team in the country, but couldn't make it to the final game. Now, Alabama loses a lot of what pushed the team to a No. 1 ranking. Only two starters -- left tackle
Cam Robinson
and center
Ryan Kelly
-- return on offense, and four very valuable defensive starters are gone, including safety
Landon Collins
and linebacker
Trey DePriest
. Plus, two defensive coaches left.
Are we seeing the demise of the Tide? Heck, no! Don't throw dirt on Nick Saban and his squad just yet. The Tide will rebuild on offense, still has some young talent to work with, and running back
Derrick Henry
might as well have been a starter last season. The defense has some work to do, yes, but if you think Saban is going to let his program leave the realm of relevance, you are greatly mistaken.
Steve Spurrier is done
From three straight 11-win seasons to a disappointing 7-6, the Head Ball Coach has seen better days. Rumors swirled about his possible retirement, but Spurrier will return in 2015, and like Saban, he is not one to just let his program fall apart. The defense will be older in 2015, and you better believe that Spurrier will be coaching with a chip on his shoulder this fall. Will the Gamecocks win the East? Not gonna put money on it, but Spurrier will make his squad much more competitive in 2015.
Will Muschamp will turn Auburn's defense around
Regardless of what you think of Will Muschamp's head-coaching job at Florida, he's an excellent defensive mind. And his hiring as Auburn's defensive coordinator has the Plains all abuzz with the thought of an SEC and playoff run with only three starters departing on the defensive side. But not so fast, Auburn fans. Can Muschamp have the same sort of success Lane Kiffin did in his first year at Alabama? Kiffin wasn't exactly working with an inept offense when he arrived. Muschamp must turn around one of the SEC's worst defensive units. I'm not saying Auburn won't challenge for the West, but let's be careful immediately crowning the Tigers this early.
Nick Chubb for Heisman
Yeah, he's the best running back returning in the SEC and should be one of the nation's best ... again ... but come on, this a quarterback award.