NCF Nation:

Derrick Locke
July, 22, 2011
7/22/11
1:00
PM ET
HOOVER, Ala. -- Gone are the offensive weapons that provided the excitement in Kentucky's 2010 offense.
Do-everything athlete Randall Cobb is gone. Quarterback
Mike Hartline
, who was second in the SEC in passing a year ago -- adios. And running back
Derrick Locke
and receiver
Chris Matthews
, who were both instrumental offensive cogs, have hit the road as well.
The cupboard isn't bare, but it's full of new, shiny objects that have yet to really get much grease on them.
Except when you look up front.
[+] Enlarge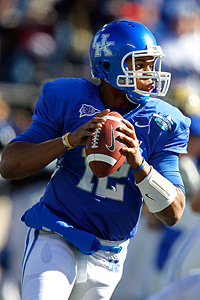 AP Photo/Butch DillMorgan Newton is looking forward to working behind a veteran offensive line.
Kentucky returns four veteran starters on the offensive line that has the makings of being one of the best in this league, accumulating more than 60 combined starts in their careers.
Senior guard Stuart Hines leads the group with 24 career starts and has enjoyed the praise he and his other fellow linemen have received this year and expects it to be the guiding force for the Wildcats' offense this fall.
"There's a lot of pride behind that. We've worked hard as a group to be where we are right now and we just want to continue to improve and continue to get better," Hines said. "It's a great starting spot to build your offense around.
"People [say] we lost a lot of guys, well we return a lot of guys on the offensive line."
Hines might be the heart and keeps the focus in the trenches, but a lot of the hype has surrounded second-year starter Larry Warford.
After playing mostly as a reserve during his freshman year, Warford burst onto the scene last season, starting 13 games and leading Kentucky's line with 43 knockdown blocks. He enters his junior year with some nice preseason accolades as well.
Hines admits that Warford was a bit lazy when he first arrived, thinking his ability alone could carry him, but now he sees a determined athlete with relentless drive on and off the field.
"He's worked his butt off to get into shape and shed a few pounds and keep his weight down," Hines said. "He's done a great job of doing of that and getting the extra stuff with Coach 'Rock' [Oliver]. It's great to see a guy that dedicated to doing what he has to do to be a good player."
Kentucky also returns junior Matt Smith at center and senior Chandler Burden, who missed spring but will return in August, at left tackle. Senior Billy Joe Murphy left spring as the starter at right tackle.
By last count, that makes three of the five up front residing in Kentucky's senior class, a welcomed realization for new quarterback
Morgan Newton
.
"Everyone knows the offensive line is a big key," Newton said. "Those guys are as good as anybody. That group, we talk about guys that work and don't really say a lot, that's that group.
"That's one of the best offensive lines in the country. Having a group like that is a great start for a special offense."
And it will have to be a great start. Along with the baby-faced Newton, the Wildcats also have a new group of young running backs to utilize. Hines said it's important for the line to make those players feel comfortable about running up the middle. They need to provide quality holes for the backs to limit the dancing around in the backfield.
Like any offensive line, this one is very close-knit. Hines said one major reason is the pride four of them take in being from the state of Kentucky. To Hines, there is something about being Kentucky bred that contributes to their on-field success.
"I guess we eat a lot of Kentucky country food or there's something in the water," he said. "I don't know what it is. A bunch of cornbread or something."
April, 14, 2011
4/14/11
9:07
AM ET
Morgan Newton
's time at Kentucky has been filled with all sorts of emotions.
The junior quarterback arrived in 2009 as one of Kentucky's top recruits, but with
Matt Hartline
pinned the starter, he took his seat behind the junior.
[+] Enlarge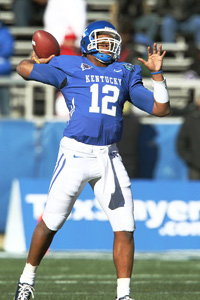 Marvin Gentry/US PresswireMorgan Newton has focused this spring on being more consistent and cutting down on mistakes.
However, a midseason knee injury to Hartline pushed Newton up the depth chart and into the starting role. He earned SEC All-Freshman honors after passing for more than 700 yards and tossing six touchdown passes.
Unfortunately for Newton, his second year wasn't as eventful as a healthy Hartline took back the reins and finished 2010 second in the SEC in passing, averaging 264.8 yards per game. Newton saw backup duty in just four games.
Fast forward to this spring and it's Newton's ship again. He entered as the starter and by all accounts he'll leave that way.
He's not bitter about his first two years on campus. In fact, he relishes the fact that he gained that much experience before officially being handed the keys to Kentucky's offense.
"It's helped a lot," Newton said. "Now, I'm just trying to learn from all my experience. Coming back and having the opportunity to lead the offense is going to be nice because I've had that experience."
But Newton didn't walk into the most glamorous situation. He doesn't have the luxury of playing alongside do-everything wide receiver
Randall Cobb
, who declared for April's NFL draft and took his nearly 1,500 yards of offensive production from last season with him.
Also missing is running back
Derrick Locke
, who more than likely would have eclipsed the 1,000-yard mark in 2010 had he not suffered a shoulder injury midseason.
He may not have those studs to work with, but he praised junior receiver
La'Rod King
for his improvement and has labeled him as his go-to guy on the field. He's also comfortable handing the ball off to Locke's apprentice, sophomore
Raymond Sanders
, who might not be as fast as Locke, but could be shiftier.
Unheralded receivers
Matt Roark
and
Brian Adams
are also making strides, Newton said.
But it all comes back to Newton. He's the quarterback. He's the leader.
Newton knows he's got the physical tools to make things happen, with his solid arm strength and threat to run, but he's working on the intangibles, like leadership.
He hasn't had to lead much, so it's a work in progress, but Newton thinks he's getting the hang of it. And when he's struggling with it, he's got former Kentucky quarterback star Andre Woodson pushing him along.
Woodson is back at Kentucky to finish his bachelor's degree in agricultural communications and is also serving as a student assistant coach.
Being around Newton is having some draw comparisons between the two. Newton sees similarities, but he also sees plenty of differences, like the amount of wins Woodson racked up in his career.
"Having Dre around makes things go that much smoother," Newton said. "He's a guy who's experienced and who's been through it and been in the league a little bit. Anything he tells me I'm going to listen to and implement into the offense and into my game."
The main thing Newton said he's tried to work on this spring is being more consistent. He's had flashes of brilliance overshadowed by glaring mistakes, which he said could cost his team this fall.
Defensive coordinator Rick Minter has paid more attention to good things Newton does because it makes his group look bad. Minter said Newton has "tremendous upside" and his ability to effectively use both his feet and arm has caused him headaches.
Minter is just hoping Newton exacts that same formula on opponents this fall.
"I trust the guys on offense are going to put Morgan in the best position possible to be successful on his own, but I do think the young man brings a lot of skills and tools to the table," Minter said.
March, 1, 2011
3/01/11
7:12
PM ET
The 2011 NFL combine has concluded, and 11 different players ran a 4.4 or faster in the 40-yard dash, according to the NFL.
Five of those players played in the SEC.
LSU cornerback
Patrick Peterson
's 4.34 was second overall to Miami cornerback
Demarcus Van Dyke
, who turned in a 4.28. Of course, Van Dyke weighs 170 pounds and Peterson 219 pounds.
Auburn running back
Mario Fannin
came out of nowhere to run a 4.38, and he did so weighing 231 pounds. One of the things holding Fannin back at Auburn was a rash of nagging injuries, and he also bounced around between different positions.
Alabama's
Julio Jones
had the fastest 40 among SEC receivers with a 4.38 and posted that time despite a fracture in his foot.
South Carolina cornerback
Chris Culliver
, who missed the final five games last season after tearing a pectoral muscle, helped himself with a 4.4. Kentucky's
Derrick Locke
also ran a 4.4, which wasn't a surprise. Locke was one of the fastest running backs in the SEC the past two seasons.
Here's a look at the fastest 40 times from this year's combine:
Miami CB Demarcus Van Dyke: 4.28
LSU CB Patrick Peterson: 4.34
Maryland RB Da'Rel Scott: 4.34
Abilene Christian WR Edmund Gates: 4.37
Belhaven WR Ricardo Lockette: 4.37
Auburn RB Mario Fannin: 4.38
Alabama WR Julio Jones: 4.38
Ohio State CB Chimdi Chekwa: 4.40
South Carolina CB Chris Culliver: 4.40
Kentucky RB Derrick Locke: 4.40
Connecticut RB Jordan Todman: 4.40
February, 28, 2011
2/28/11
11:56
AM ET
Over and above
A.J. Green
and
Julio Jones
, here's a quick snapshot of some of the highs and lows involving SEC players at the
NFL combine this past weekend
:
Auburn quarterback
Cam Newton
tested extremely well. His 10-6 broad jump tied for the best among quarterbacks, and he also ran a 4.59 in the 40-yard dash, which tied him for third fastest among quarterbacks. But in some of his passing drills, he struggled, in particular the shorter and intermediate routes. His timing was a bit off, too, and at one point, he sailed three out routes over the heads of his receivers.
Arkansas quarterback
Ryan Mallett
, along with Florida State's
Christian Ponder
, turned in the best passing performances of the day, according to Todd McShay and Kevin Weidl of ESPN's Scouts Inc. Mallett has the strongest arm of the quarterback class, and according to the Scouts Inc. crew, the ball exploded out of his hand. He also demonstrated nice touch on his passes.
Kentucky receiver
Randall Cobb
helped himself with a 4.46 in the 40, which was faster than a lot of people expected. Cobb also impressed with his route-running.
Auburn's
Mario Fannin
had the second fastest 40 time among running backs (4.38). Kentucky's
Derrick Locke
was tied for third (4.4). Fannin and Locke tied for fifth with a 37.5-inch vertical jump.
Alabama's
Mark Ingram
didn't run a particularly fast 40 time (4.63), but the three-year average for the running back position is a 4.59. Plus, Ingram fared very well in the drills with his balance and lateral agility.
Georgia outside linebacker
Justin Houston
was second among linebackers with 30 reps of 225 pounds on the bench press.
LSU's
Stevan Ridley
was fourth among running backs with a 6.78 in the 3-cone drill. Ridley ran a 4.66 in the 40.
LSU's Terrance Toliver was third among receivers with a 6.48 in the 3-cone drill.
Alabama defensive tackle
Marcell Dareus
checked in at 6-3 and 319 pounds, while Auburn defensive tackle
Nick Fairley
wasn't as tall or as big as expected. He was 6-3 and 291 pounds. He was listed at 6-5 while playing at Auburn.
Some of the other 40 times from SEC receivers were: Tennessee's
Denarius Moore
(4.45), Auburn's
Darvin Adams
(4.56), South Carolina's
Tori Gurley
(4.56) and LSU's
Terrence Toliver
(4.59).
Some of the bench-press numbers among SEC offensive linemen were: Florida's
Marcus Gilbert
(30 reps), LSU's Joseph Barksdale (29), Georgia's
Clint Boling
(28), Arkansas' DeMarcus Love (27), Alabama's
James Carpenter
(23), Mississippi State's
Derek Sherrod
(23), and Auburn's
Lee Ziemba
(20).
January, 7, 2011
1/07/11
9:00
AM ET
Kentucky is making its fifth straight bowl appearance and faces Pittsburgh on Saturday at noon ET on ESPN.
Here's a quick preview of the BBVA Compass Bowl:


WHO TO WATCH:
He's been one of the most versatile players in the SEC for the last two years, but this could be
Randall Cobb
's final game in a Kentucky uniform. He's yet to make a decision about turning pro and wants to focus solely on bringing the Wildcats a fifth straight winning season. Few players in this league have worn more hats and worn them with the success of Cobb. He leads the SEC with 2,192 all-purpose yards and scored touchdowns this season running, passing, receiving and returning a punt. If that's not enough, he's also the holder on extra points and field goals. Whatever he decides about his future, Cobb will go down as one of the finest players to ever play at Kentucky.
WHAT TO WATCH:
With senior quarterback
Mike Hartline
suspended for this game, sophomore
Morgan Newton
gets his shot to lead the team without playing any meaningful snaps this season. When everybody was healthy, the Wildcats had one of the most balanced offenses in the league. But senior running back
Derrick Locke
went down with an injury, and Hartline was able to take the passing game to another level. The offensive playmakers are in place to put up more big numbers in this game. In addition to Cobb, senior
Chris Matthews
had a big season with nine touchdown catches. It comes down to how effective Newton is throwing the ball and running the offense after watching from the sideline all season.
WHY TO WATCH:
The Hartline suspension certainly raised some eyebrows in and around the Kentucky program, but it was nothing compared to the turmoil Pittsburgh has faced. Dave Wannstedt was forced out as head coach and was replaced by former Miami (Ohio) coach Mike Haywood, who was fired 16 days later after being arrested on domestic violence charges. Defensive coordinator Phil Bennett will coach the Panthers in the bowl game. We'll find out on Saturday which team is more resilient.
PREDICTION:
Pittsburgh 30, Kentucky 24. Had Hartline not been suspended, the Wildcats would be the team to beat in this game. But Newton has thrown just seven passes all year long and will no doubt have to get accustomed to game speed. He's had more than a month to get ready. Pitt will take advantage of his lack of game action, though, and force him into some game-changing mistakes.
December, 6, 2010
12/06/10
2:22
AM ET
Pittsburgh Panthers (7-5) vs. Kentucky Wildcats (6-6)
Jan. 8, noon ET (ESPN)

Pittsburgh take by Big East blogger Brian Bennett:
If you would have told Pittsburgh before the season it would be be playing an SEC team in a bowl, the Panthers would have envisioned the Sugar Bowl, or maybe even the BCS title game. Expectations ran that high.
Playing Kentucky in something called the BBVA Compass Bowl? Never. But that's how disappointing this season has been.
Pitt was widely expected to win the Big East, and it did earn a share of the conference title. But it was one of the hollower championships you'll ever find as the Panthers finished 7-5 and spit the bit in all their crucial games (Utah, Notre Dame, Miami, UConn and West Virginia).
The offensive line was a mess early, but problems ran deeper than that. First-year starting quarterback
Tino Sunseri
had his ups and downs, reigning Big East defensive player of the year Greg Romeus barely contributed because of injuries, the linebackers looked lost, etc. But mostly, Pitt just kept making mistakes in costly situations.
Head coach Dave Wannstedt still has enough individual talent -- like running back
Dion Lewis
, receiver
Jon Baldwin
and defensive end Jabaal Sheard -- to beat just about anybody, especially a middling SEC team like Kentucky. But as a team, Pitt has been untrustworthy in big situations, and that's why Wannstedt is on the hot seat.
---

Kentucky take by SEC blogger Chris Low:
Making its fifth straight trip to a bowl game, Kentucky is in some pretty exclusive company in the SEC. The only other four schools who can say they've done that are Alabama, Florida, Georgia and LSU.
The Wildcats (6-6) had high hopes for this season and looked like they might be on the verge of breaking through after rallying from an 18-point halftime deficit to beat South Carolina at home on Oct. 16. But that wound up being their final real highlight, and they lost three of their last four SEC games, including a 25th consecutive setback to Tennessee.
The thing Kentucky did do all season was keep defenses on its toes. Senior quarterback
Mike Hartline
had his best season with 3,178 passing yards and 23 touchdowns. It hurt the Wildcats when senior running back
Derrick Locke
went down during the middle of the season with a shoulder injury. He's back now and should be completely healthy for the bowl game.
The Wildcats' top playmaker, and one of the best all-around players in the country, is junior receiver
Randall Cobb
. Cobb accounted for 16 touchdowns four different ways this season and is ranked second nationally with 2,192 all-purpose yards.
October, 14, 2010
10/14/10
9:01
AM ET
»
Predictions
:
ACC
|
Big 12
|
Big East
|
Big Ten
|
Pac-10
|
SEC
|
Non-AQ
We now dive into the second half of the season, which separates the contenders from the pretenders.
That goes for those of us trying to pick games, too.
I sort of feel the same way about my performance in the first half of the season as Alabama coach Nick Saban does about his team's performance.
I haven't proved …
Well, you get the picture. My mom might be reading, so I'll leave out the gory details.
I missed both of the upsets last week, South Carolina's 35-21 win over Alabama and LSU's 33-29 win over Florida. I was 5-2 for the week.
For the season, I'm now 39-11 (.780), which is obviously not the kind of start I'd envisioned. But as Henry Wadsworth Longfellow once wrote, "Great is the art of beginning, but greater is the art of ending."
By the way, I hear Les Miles is almost as big a fan of Longfellow as he is of Snoop Dogg.
Here are my picks for Week 7:
Auburn 31, Arkansas 27:
Both teams have to answer pressing questions. Is Auburn's secondary good enough to handle
Ryan Mallett
and that Arkansas passing game? Can Arkansas do what nobody has been able to do this season and keep
Cam Newton
in check? The Tigers get the nod because they've been clutch in the second half this season, while the Hogs haven't scored any points in the fourth quarter since the Georgia game on Sept. 18.
South Carolina 24, Kentucky 21:
This one has "Danger" written all over it for the Gamecocks, who are coming off the emotional high of taking down Alabama. Kentucky, meanwhile, is still hurting after losing on the final play last week to Auburn. The Wildcats are more than capable of pulling the upset and will take this game into the fourth quarter. But with running back
Derrick Locke
injured and not expected to play, the Wildcats will see their losing streak to the Gamecocks extend to 11 straight games.
Florida 28, Mississippi State 17:
Nobody on the outside has a better feel for Florida's program than Mississippi State coach Dan Mullen, who coached under Urban Meyer at Bowling Green, Utah and Florida. Mullen has Mississippi State's program on the rise, too, while Florida is seeking to put a halt to a two-game losing streak. It looks like the Gators will get
Jeff Demps
back for this game, which is huge. Meyer has never lost three in a row at Florida, and he's not about to start now.
Alabama 35, Ole Miss 14:
If you haven't noticed, Alabama coach Nick Saban isn't in the best of moods. He's not happy with the way his team played last week in the 35-21 loss to South Carolina, and he's not happy with the way his team prepared. The bad news for the Rebels this week is that they just happen to be in the way. It's the second of six straight games that Alabama will play against SEC teams coming off byes, but that won't be a factor in this contest.
Georgia 23, Vanderbilt 13:
The Commodores are hopeful of getting some guys back on defense, including middle linebacker Chris Marve, who underwent arthroscopic knee surgery a week ago. The Bulldogs finally broke through last week against Tennessee after losing four in a row for the first time in two decades. Georgia has a chance to go on a little run here and put a forgettable first half of the season in its rear-view mirror. A win over the Commodores will be the second step.
LSU 38, McNeese State 7:
The Tigers and Les Miles just keep bouncing right along. They're poised to go to 7-0 this week with McNeese State coming to town. The bounces have certainly gone their way this season, but give LSU credit for creating some of those bounces with hard-nosed play, resiliency and clutch performances. The defense also continues to play at a championship level, which is always a good sign in this league.
October, 6, 2010
10/06/10
11:18
AM ET
The bell is ringing, which means it's stock report time in the SEC:
Stock up
1. LSU's defense:
Yes, the Tigers are hard to watch on offense. But they're hard to play against on defense. John Chavis' unit is ranked sixth nationally in total defense and leads the SEC in that category.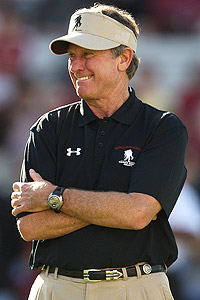 Kevin Liles/US PresswireCoach Steve Spurrier still has a great sense of humor, adding another classic one-liner this week.
2. Steve Spurrier's wit:
The Head Ball Coach isn't winning as many championships as he once did, but he hasn't lost that sharp wit. His "sometimes you can win and still be a dummy" comment Tuesday rates up there with "you can't spell Citrus without a 'U' and a 'T.' "
3. A.J. Green:
We've only seen him for one game this season, but one game was enough to re-establish the Georgia junior as the best receiver in the SEC. He made his one-handed touchdown catch last week against Colorado look easy.
4. Vick Ballard:
Don't look now, but Ballard has an SEC-leading nine touchdowns and has been Mississippi State's go-to guy around the goal line. He's also averaging 6.5 yards per rush.
Stock down
1. Les Miles:
For a guy whose team has yet to lose a football game this season, Miles is catching more heat than any coach in recent SEC history. Of course, there is that little clock thing he might want to wrap his hands around.
2. Gary Crowton:
He's LSU's offensive coordinator and certainly doesn't get a free pass in the Tigers' continued mismanagement of end-of-game situations.
3. Mark Richt:
He's the dean of SEC coaches, and right now, his seat has never been hotter. Georgia has lost four straight games, and even a coach as successful as Richt may not be able to survive a losing season.
4. Tennessee's unlucky 13:
Amid all LSU's confusion last week, Tennessee got caught up in the act and had 13 men on the field there at the end, wiping out what would have been a huge win for the Vols.
Player of the Year race: Offense
1. Cameron Newton, QB, Auburn:
Catching Newton won't be easy. He's accounted for 17 touchdowns (12 passing and five running) and just keeps making big plays.
2. Mark Ingram, RB, Alabama:
He didn't put up big rushing numbers against Florida, but still leads the SEC with 118.3 rushing yards per game and has also scored six touchdowns in three games.
3. Ryan Mallett, QB, Arkansas:
After a week off, Mallett gets a chance against Texas A&M to make amends for his three interceptions against Alabama. He's still on track for another huge season.
4. Alshon Jeffery, WR, South Carolina:
He's averaging 124.5 receiving yards per game, which leads the SEC, and is terrific after the catch.
5. Derrick Locke, RB, Kentucky:
Randall Cobb
gets a lot of the pub at Kentucky and deservedly so. But Locke leads the SEC in all-purpose yardage, is second in rushing and has also scored seven touchdowns.
Player of the Year race: Defense
1. Nick Fairley, DT, Auburn:
The Tigers' enforcer inside remains the SEC leader in sacks (5) and tackles for loss (11.5).
2. Patrick Peterson, CB, LSU:
Not many teams throw his way, which underscores his value. He typically takes away one whole side of the field.
3. Janoris Jenkins, CB, Florida:
The Gators have one of the best defensive backfields in the country, and Jenkins' ability to cover and tackle is a big reason why.
4. Mark Barron, S, Alabama:
He's the veteran back there for the Crimson Tide in the secondary and is playing like one. He had 11 tackles last week against the Gators.
5. Drake Nevis, DT, LSU:
He's been a disrupter up front all season for the Tigers and leads all SEC interior defensive linemen with 26 total tackles.
September, 23, 2010
9/23/10
9:03
AM ET
»
Predictions
:
ACC
|
Big 12
|
Big East
|
Big Ten
|
Pac-10
|
SEC
|
Non-AQ
First off, I can assure you, Arkansas fans, that I will absolutely make good on my promise after whiffing on the Arkansas-Georgia pick last week.
As we speak, a Hog Head is being secured for me there in Fayetteville. I'll cut a short video wearing it this weekend and post it on my blog.
And, no, I'm not going to call the Hogs. I couldn't do it if I wanted to. That takes talent, and my talent right now -- especially when it comes to picking games -- has suddenly started to wane.
I was 6-2 last week, also missing Vanderbilt's win over Ole Miss. For the season, I'm now 23-6 (.793). Dipping under .800 is embarrassing.
But there's still a lot of football left to be played, and they remember what you did in November and December … not September.
Now, onto my picks for Week 4:
Alabama 31, Arkansas 27:
Going against Arkansas two weeks in a row is tough. Bobby Petrino clearly has his best team in Fayetteville, and not only that, but it's a team playing with a ton of confidence. The Hogs will play much better offensively than they did a year ago against the Crimson Tide, and
Ryan Mallett
will hit some big throws. The problem will be running the ball and stopping the run. I don't think the Hogs will be able to do either good enough to win.
South Carolina 28, Auburn 24:
It's been a gut-wrenching past few days for the Gamecocks after learning that their all-time leading receiver, Kenny McKinley, committed suicide earlier this week. You never know how a team will respond from a tragedy like that. Auburn is coming off a physically draining game in overtime last week against Clemson and had enough in the tank to win that one at the end. The Tigers won't be so fortunate this time around against a South Carolina defense that will rise to the occasion with some key stops in the fourth quarter.
Georgia 23, Mississippi State 17:
It seems like Georgia keeps on facing must-win games every week, but that's what happens when you keep on losing SEC games. Mississippi State took Auburn into the fourth quarter at home two weeks ago, and this game won't be any different. It looks like Georgia will get a few players back, though, and redshirt freshman quarterback
Aaron Murray
will make the plays he didn't on the road a couple of weeks ago at South Carolina.
Florida 34, Kentucky 21:
Picking against the Gators at home is never wise. And when they've won as many games in a row as they have against the Wildcats (23), it's downright foolish. Still, this is a Florida offense that doesn't scare anybody right now, and the
Randall Cobb
-
Derrick Locke
combo for Kentucky is enough to scare anybody. That's what the Wildcats will do: Put a scare into the Gators, who will follow a familiar script and pull away in the second half.
LSU 24, West Virginia 17:
Can the Tigers continue to win with quarterback
Jordan Jefferson
throwing for an average of 114.7 yards per game? We're going to find out. Of course, as long as the defense continues to play at the level it has for the past eight quarters, the Tigers are going to have a chance against everybody they play. Corralling
Noel Devine
will be a chore. He's rushed for more than 100 yards in each of his first three games, but the Tigers are allowing just 2.2 yards per carry. Plus, there's just something about Saturday night in Tiger Stadium.
Ole Miss 27, Fresno State 21:
Consider this Ole Miss' last stand. It's now or never if the Rebels want to save this season. I'm going with now. Fresno State has to travel all the way across the country to play the game, and that's never easy. Ole Miss' defense is also past due to rise up and play the way it's capable of playing. There's still a lot of pride left in that group.
Tennessee 24, UAB 14:
This is where the Vols can't let down. They hung in there last week in the second half in a tough 31-17 loss to Florida, and now a couple of starters are out on the offensive line. The best thing Tennessee can do is put UAB away early, even though the Blazers proved last week they were capable of coming back from the dead. It won't be easy, but the Vols will find a way to close out the month with a win and then turn their attention to an October schedule that is brutal.
August, 24, 2010
8/24/10
9:01
AM ET
I'm not sure
Mike Hartline
was a popular choice in the Bluegrass.
But he was the right choice.
The senior quarterback gives Kentucky the best chance to win right now, and that's why he was
chosen as the Wildcats' starter
.
[+] Enlarge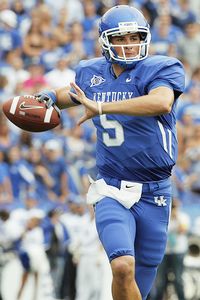 John Sommers II/Icon SMIMike Hartline threw for 802 yards and six touchdowns in six games last season.
"We feel that we have three quarterbacks that we can win with in this league," Kentucky coach Joker Phillips said. "We feel comfortable with all three of them, and that is a good problem to have. Right now, we feel that Mike Hartline gives us the best chance to win. He has been more efficient and is playing faster than the other two."
The other two were sophomore
Morgan Newton
and redshirt freshman
Ryan Mossakowski
.
And while there was a push among some fans for the Wildcats to go with a youth movement, Hartline's experience was the difference.
He's also determined to make his senior season one to remember.
A year ago, he was playing some of his best football when he went down with a knee injury against South Carolina. He tried to come back several weeks later against Vanderbilt, but didn't have enough mobility and was done for the season.
So was the Kentucky passing game, which produced just three more touchdowns in the remaining five SEC games.
For his career, Hartline has thrown 15 touchdown passes and 16 interceptions -- the kind of numbers that cause a fan base to grow restless -- but he's also 8-6 in 14 career starts.
One thing that stuck out to me this spring when I visited with Hartline was how committed he was to making good on his final season.
He's been through the ringer.
As a sophomore, he was booed by his own fans, later lost his starting job, only to return for the bowl game and lead the Wildcats to a win. And then last season, he missed all but a few plays of the final eight games with his knee injury.
"All the adversity and the injuries and speaking with my brother [Brian], who plays with the Dolphins, I understand what it takes to be an SEC quarterback, to be a senior leader," Hartline said. "This is the last time around, and I don't want to have any what-ifs, whether it ends here or continues the next couple of years. I know what kind of team we have and the group of guys we have."
He also knows this offense and knows how to manage it, which is why he'll get a chance to lead the Wildcats to a fifth straight bowl game.
It's not like he'll have to do it by himself, either, on offense. The
Derrick Locke
-
Randall Cobb
tandem is as good as it gets, and senior receiver
Chris Matthews
has a chance to be one of the more improved players in the league.
July, 21, 2010
7/21/10
2:01
PM ET
Even in the SEC where nobody ever agrees on anything, I think we can all agree on who has the best set of running backs in the league.
That said, most of the top runners from a year ago have moved on.
Here's how they rank heading into the 2010 season:
[+] Enlarge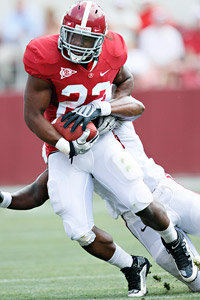 Marvin Gentry/US PresswireMark Ingram headlines the best offensive backfield in the SEC.
1. Alabama:
This is a pretty easy choice when you have the two best running backs in the league on the same team, and one of them --
Mark Ingram
-- won the Heisman Trophy last season. Here's the kicker: The "other" guy --
Trent Richardson
-- might be even more explosive. Redshirt freshman
Eddie Lacy
would be starting for a lot of teams around the country.
2. Georgia:
Washaun Ealey
was one of the more impressive freshmen in the league last season and had a brilliant November. He'll team with
Caleb King
to give the Bulldogs the kind of one-two punch that should take some of the pressure off redshirt freshman quarterback
Aaron Murray
. Senior
Shaun Chapas
is one of the better fullbacks in the country and a relentless blocker.
3. Auburn:
Even with the departure of Ben Tate, the Tigers should have one of the strongest backfields in the league.
Mario Fannin
has been waiting for his shot at tailback after moving around to different positions. The coaches think he will have a Tate-like senior season.
Onterio McCalebb
has speed and moves, while incoming freshman Michael Dyer was one of the most coveted running back prospects in the country.
4. Arkansas:
There aren't any big names … yet. But check back again this time next year. Sophomore
Ronnie Wingo Jr
. weighs 230 pounds, has track speed and is just waiting to break out.
Broderick Green
is a 245-pound bruiser who scored 12 touchdowns last season.
Dennis Johnson
is coming off a terrific spring, and
Knile Davis
is another 220-pound speedster who's run a sub-4.4 in the 40-yard dash.
5. Florida:
The problem is depth. There's not a lot of it, especially when you consider that
Chris Rainey
has moved to the slot and
Emmanuel Moody
has never been able to stay healthy.
Jeff Demps
, though, has the kind of speed that scares anybody. He's one of the best big-play threats in the league and will get even more chances this season. Look for the Gators to use a fullback more than they have in the past under Urban Meyer.
6. South Carolina:
It's unfair to brand true freshman Marcus Lattimore as the savior, and he's not claiming to be. But the South Carolina fans can't wait to see him in a Gamecocks uniform. One of the top running back prospects in the country, Lattimore possesses the speed, burst and power that all the great ones have. He also won't have to do it alone.
Kenny Miles
,
Brian Maddox
and
Jarvis Giles
give South Carolina some quality depth.
7. Kentucky:
Not only is
Derrick Locke
underrated, but he's also one of those guys who can do a little bit of everything. He's one of the top kickoff returners in the SEC and also caught 31 passes last season. A track athlete when he came to Kentucky, Locke has great speed and runs a lot bigger than his size (191 pounds). The Wildcats also like what they've seen from sophomore
Donald Russell
and redshirt freshman
Jonathan George
.
8. Vanderbilt:
When last season began, it looked like
Zac Stacy
might be Vanderbilt's candidate for SEC Freshman of the Year honors. But Stacy was slowed by an ankle injury, and
Warren Norman
set sail on a record-breaking season. He broke Herschel Walker's freshman record in the SEC for all-purpose yards. Norman and Stacy will be joined this season by redshirt freshman
Wesley Tate
, the younger brother of former Notre Dame star Golden Tate.
9. Ole Miss:
Nobody could touch Dexter McCluster, literally, once the Rebels turned him loose last season. Now comes the hard part – finding somebody to make all the plays he did a year ago. The reality is that it won't be just one person.
Brandon Bolden
is the starter. He's lost weight and was a warrior in the Rebels' offseason program. Junior
Enrique Davis
, a big-time recruit a couple of years ago, had his best spring, while
Rodney Scott
will also factor into the rotation.
10. LSU:
The Tigers' entire running game was a disappointment a year ago, and much of that was on an offensive line that simply didn't play very well. Charles Scott is gone, and the Tigers will miss him. But when given the chance last season,
Stevan Ridley
showed flashes of being a marquee SEC back. He's got a nice blend of size and speed. The Tigers could sure use a healthy
Richard Murphy
this fall, and the newcomers to watch are redshirt freshman
Michael Ford
and true freshman Spencer Ware.
11. Tennessee:
Montario Hardesty came out of the shadows to have a fabulous season a year ago and wound up going in the second round of the draft. The Vols hope
Tauren Poole
can be that guy this season. Buried on the depth chart behind Hardesty and
Bryce Brown
last season, Poole showed what he could do in the spring. Brown has since departed, but the other touted running back Lane Kiffin brought in last year,
David Oku
, will also see his role increase.
12. Mississippi State:
Anthony Dixon was the heartbeat of the Mississippi State offense last season, and replacing him won't be easy. When the spring concluded,
Robert Elliott
and junior college newcomer Vick Ballard were running a neck-and-neck battle for the starting job. Elliott is one of those guys who just needs to figure it out, because he's plenty talented. Redshirt freshman
Montrell Conner
(6-foot-2, 225 pounds) also had his moments in the spring.
December, 6, 2009
12/06/09
9:21
PM ET
Clemson (8-5) vs. Kentucky (7-5)
Dec. 27, 8:30 p.m., (ESPN)


Clemson take by ACC blogger Heather Dinich
: This is Clemson's consolation prize for finishing runner-up to Georgia Tech in the ACC championship game. Because the Gator Bowl didn't contractually have to select the loser of the title game this year, the Tigers dropped to the fifth bowl in the selection process and will face a team that finished 3-5 in the SEC East.
Needless to say, it's not exactly the grand finale the Tigers were probably hoping for.
Still, they've got to find a way to win, and they're going to have to find a way to stop the run better than they did against Georgia Tech.
Kentucky has one of the nation's worst passing offenses, but has found some answers in
Randall Cobb
and
Derrick Locke
. Cobb, who plays wide receiver and quarterback, finished the regular season second in the SEC in touchdowns, third in all-purpose yards per game, and third in punt return average. Locke leads the team in rushing and is second in the SEC in all-purpose yardage.
The Wildcats will have to find a way to slow down Clemson running back
C.J. Spiller
, who almost single-handedly beat Georgia Tech on Saturday. They rank 100th in the nation in rushing defense, allowing 183.17 yards per game. Spiller racked up 233 on Saturday.
It should be a lopsided matchup, but then again, South Carolina finished with the same record as Kentucky and the Tigers came up short in that game.
---
Kentucky take by SEC blogger Chris Low
:

This is a rematch of the 2006 game in Nashville, which Kentucky won 28-20 for its first bowl victory in 13 years. That was the start of something for the Wildcats, who will be looking for their fourth straight bowl victory.
Rich Brooks did one of his finest coaching jobs this season and deserves consideration for Coach of the Year honors in the SEC. The Wildcats had key personnel losses to injury and suspension and ended up with true freshman
Morgan Newton
starting at quarterback at the end of the season. Nonetheless, they were an overtime loss to Tennessee away from winning eight games in the regular season for the first time since 1984.
Sophomore
Randall Cobb
did a little bit of everything for Kentucky. He threw it, ran it, caught it and returned it and was second in the SEC to
Mark Ingram
with 18 touchdowns. Running back
Derrick Locke
was a nice complement to Cobb. Locke was No. 2 and Cobb No. 3 in the SEC in all-purpose yards per game.
The Wildcats' passing game was limited after Newton took over when starter
Mike Hartline
went down with a knee injury. But Brooks said there's a chance Hartline could return in time for the bowl game.
October, 15, 2009
10/15/09
8:02
AM ET

Posted by ESPN.com's Chris Low
It's pretty clear at this point that Alabama and Florida are the class of the SEC, maybe the nation.
That doesn't mean the race is over in the SEC. It's never over until it's over, but somebody is really going to have to put on the afterburners this second half of the season to prevent an Alabama-Florida rematch in the SEC championship game.
Here's a look at what to watch in the SEC in Week 7:
1. How about everybody else?
We know Alabama and Florida can play. What about everybody else? The rest of the league has been referred to as a bunch of nobodies by some. Part of that has been fostered by Ole Miss' disappointing start and the fact that LSU hasn't been able to find itself offensively. Still, it's a pretty big group of teams that has bunched up together behind Alabama and Florida. They've all had their moments, good and bad. Now let's see if they can put together a stretch of football worthy of Top 25 consideration. If Alabama beats South Carolina this Saturday, there's a chance the SEC will only have three ranked teams next week -- Florida, Alabama and LSU.
2. Hall of Fame credentials:
A pair of future Hall of Famers meet up this weekend in Tuscaloosa. Actually, South Carolina's Steve Spurrier has already been inducted into the College Football Hall of Fame as a player, but he will follow as a coach once he's retired. So will Alabama's Nick Saban. Each has defined excellence in his own innovative way. Each tried his hand in the NFL and didn't like it. Spurrier is the offensive whiz. Saban is the defensive guru. Between them, they've coached at four different SEC schools, won eight SEC championships and two national championships. In a league full of coaching heavyweights, their legacies will endure as coaches who changed the way they play football in this conference.
3. Linebacker pipeline:
When a player the caliber of Dont'a Hightower goes down at most schools, there's a pretty obvious drop-off. Not at Alabama. The Crimson Tide just keep churning out the talent. Sophomore linebacker Jerrell Harris is back this week against South Carolina after serving a six-game suspension. He's been competing for Hightower's vacated inside linebacker spot in practice along with true freshman Nico Johnson, who started there last week and played well. Saban has been looking at different combinations the past couple of weeks to make sure he gets his talent onto the field. Both Harris and Johnson would be starting for a lot of teams in this league.
4. Testing Florida's cornerbacks:
Florida cornerbacks Joe Haden and Janoris Jenkins are coming off excellent games last week at LSU. They can do it all as cornerbacks -- cover, tackle, and in a lot of cases, take away their side of the field -- allowing Florida defensive coordinator Charlie Strong all sorts of flexibility. Even though Arkansas isn't 100 percent healthy, the Hogs' receivers should provide Haden and Jenkins with their stiffest test of the season. They know how to get open, have specialized in the big play and are extremely dangerous after the catch.
5. Mallett's second chance:
Arkansas quarterback
Ryan Mallett
gets his second shot at a dominant defense. He looked rattled and confused earlier this season against Alabama and was taken out of his game. For that matter, the entire Arkansas offense was. We'll see how much he's learned when he goes up against Florida's defense on Saturday. The Gators are just as talented and just as fast and will no doubt come after Mallett, who's been red-hot ever since that Alabama game. He leads the country with 15 completions of 30 yards or longer and has thrown six touchdown passes the past two weeks.
6. Tebow a week later:
The game plan last week with Florida quarterback
Tim Tebow
was to keep him out of harm's way as much as possible and let him ease his way back into being hit again after suffering a concussion on Sept. 26. We'll see if he opens it back up a bit Saturday against an Arkansas defense that has played better these last few weeks. Tebow had 12 called runs last week against LSU and was held to 12 yards on those called rushing attempts. Through his first four games, he had 273 yards on 44 called running plays for an average of 6.2 yards per carry.
7. The Cobb and Locke Show:
While Kentucky chooses between junior
Will Fidler
and freshman
Morgan Newton
to replace injured starting quarterback
Mike Hartline
, the Wildcats' hopes the rest of the way will lie with
Randall Cobb
and
Derrick Locke
making enough plays to help out whoever's under center. They've both had excellent seasons to this point heading into Saturday's game at Auburn. Cobb is lining up just about everywhere and had yards rushing and receiving last week against South Carolina while also returning kickoffs and punts. Locke, coming off reconstructive knee surgery, has been one of the most versatile performers in the league. He leads the league in all-purpose yardage with an average of 169.6 yards per game, and Cobb is fifth with an average of 130.8 yards per game.
8. Getting back to Auburn football:
Auburn wasn't as good as it looked in those first five wins, and the Tigers weren't as bad as they looked in falling behind 34-3 last Saturday to Arkansas in their first loss of the season. The first thing they need to do is tackle better on defense and special teams, and shoring up that kickoff coverage would also be nice. It's difficult to complain with anything Auburn has done offensively this season, but this Kentucky game at home is an absolute must. The teeth of the schedule is still to come, including a trip to LSU and home game with Alabama.
9. From bad to worse:
You think it's bad now for Georgia? Let the Bulldogs lose to Vanderbilt this weekend. The unrest in Bulldog Land would reach a boiling point unlike anything we've seen during the Mark Richt era. The truth is that it may already be there. The Bulldogs need to string some wins together in the worst way, and they need to prove they're not a lost cause defensively and haven't forgotten how to run the ball on offense. Vanderbilt has been a tough out for Georgia in recent years. The Bulldogs had to scratch out a 24-14 win in Athens last season, escaped 20-17 on a last-second field goal in 2007 and lost 24-22 in 2006.
10. Regaining the faith:
If Ole Miss quarterback
Jevan Snead
doesn't start playing with more confidence in his offensive line and his receiving corps, this season could really get away from the Rebels. Likewise, it's on the Rebels' offensive line and some of the skill people around Snead to play better and help get him going. He heads into Saturday's nonconference game with UAB not even ranked in the top 10 in the SEC in passing efficiency. He's thrown nine touchdown passes and nine interceptions. It's not too late, but time is running out on Snead and the Rebels if they want to make something of this season.