NCF Nation:

Derrick Malone
December, 30, 2013
12/30/13
10:05
PM ET
SAN ANTONIO -- No. 10
Oregon beats Texas 30-7
in the Valero Alamo Bowl. A few thoughts on the game:


It was over when:
Oregon safety
Derrick Malone
picked off a
Case McCoy
pass over the middle midway through the fourth quarter, then went 39 yards for the score. The Ducks went up 30-7 on McCoy's second pick-six of the night.
Game ball goes to:
Oregon quarterback
Marcus Mariota
, who was masterful both on the ground and through the air, throwing for 253 yards and a touchdown and rushing for 133. A month off to heal a nagging knee injury did him plenty of good.
Stat of the game:
McCoy finished with 48 passing yards and no touchdowns. The two passes he completed to Oregon defenders were returned for a total of 75 yards and two touchdowns.
Unsung hero:
Oregon safety
Avery Patterson
, who gave the Ducks a 7-0 lead just 68 seconds into the game when he picked off a McCoy pass and scored on a 37-yard return. The senior added nine tackles in his final game.
Best call:
The Ducks' first score on offense came when Mariota, with
Jackson Jeffcoat
fast approaching, flipped to
Josh Huff
on a shovel pass and he found the end zone from 16 yards out. Huff finished with 104 receiving yards and a school-record 1,140 in 2013.
What Oregon learned:
If Mariota makes good on his promise to return in 2014, Oregon should once again have a preseason top-10 team and plenty of firepower to make a run at a college football playoff bid.
What Texas learned:
Nothing it didn't already know, really. Its Case McCoy-led offense can pound the rock but couldn't keep up with elite teams and capitalize on opportunities. The Longhorns couldn't give Mack Brown a satisfying sendoff. Now it's time to find his successor.
To watch the trophy presentation of the Valero Alamo Bowl,
click here
.
October, 23, 2013
10/23/13
1:00
PM ET
Oregon is terrible on fourth down. The Ducks have converted on just seven of 18 fourth-down plays this year. Their 38.9 conversion rate ranks 10th in the Pac-12, behind struggling teams like Colorado and California.
We point that out because that's about the only thing Oregon isn't doing well right now.
[+] Enlarge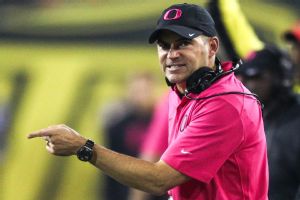 Steve Conner/Icon SMIOregon appears to have no glaring weaknesses, yet first-year coach Mark Helfrich says the Ducks can get better in every phase.
The Pac-12 keeps track of 33 statistical categories, covering offense, defense, special teams, penalties, turnovers, etc. The Ducks rank first in the conference in 11 categories, including the two most important: scoring offense and scoring defense. They rank in the top three in 18 categories. Most of the categories they are not doing well in -- time of possession, onside kicks, opponent penalties -- evoke a "neh."
Others are deceptive. Oregon ranks sixth in total defense but is No. 1 in the far more revealing stat of average yards surrendered per play, where they rank eighth in the nation at 4.46 yards. The Ducks are 10th in red-zone offense, but their touchdown percentage in the red zone -- 72.1 percent -- ranks second.
This seems like a team with few, if any, holes. So what are the Ducks' weaknesses?
"I haven't seen any," said California coach Sonny Dyke, whose Bears lost 55-16 at Oregon on Sept. 28. "They are incredibly fast. I think the difference this year is they are throwing the ball so much better. Their receivers are faster, bigger, stronger, more physical, making more plays than in the past."
In the preseason, there were three questions about Oregon: 1. How would Mark Helfrich do stepping in for Chip Kelly? 2. What would be the pecking order at running back and how would
De'Anthony Thomas
be used? 3. How would the Ducks replace the dynamic linebacking troika of Dion Jordan, Kiko Alonso and Michael Clay?
Check, check and check.
The 7-0 record, No. 2 ranking in the national polls -- No. 3 in the BCS standings -- and 40-point average margin of victory suggest that Helfrich is doing fairly well. He might be a softer touch than Kelly -- though he's not afraid to tweak a reporter or two -- but he's not taking any mercy on the field.
Running back? The bottom line is the Ducks are No. 2 in the nation in rushing with 332.4 yards per game, 17 yards better than last year's average, and they've done that with DAT missing the last four games with an injury. Backups
Byron Marshall
and true freshman
Thomas Tyner
are both averaging 6.7 yards per carry and have combined for 16 touchdowns. Marshall, a sophomore, ranks 19th in the nation with 106.6 yards rushing per game.
Linebacker?
Tony Washington
, who replaced Jordan, has nine tackles for loss and 6.5 sacks. Jordan had 10.5 tackles for loss and five sacks in 2012.
Derrick Malone
leads the Ducks in tackles with 59. And, really, the bottom line is the defensive numbers, including a run defense that ranks 22nd in the nation.
"I think [the Ducks defense is] certainly the best they've been," Dykes said. "The secondary is really, really good. They are good at linebacker and they are pretty active up front."
Of course, Dykes is a first-year Pac-12 coach who hasn't been dealing with Oregon during its rise to consistent top-five team, though he was Arizona's offensive coordinator from 2007 to 2009. If we're going to ask whether this version of Oregon might be the best yet, we need to ask someone who's seen them all.
Washington coach Steve Sarkisian, whose Huskies have lost 10 in a row to Oregon, including five defeats during his tenure, let out a big breath when asked if this was the Ducks' best team.
"Hooof," he said. "We've played some pretty good ones. I think the balance they have on offense is probably the best that they've been."
The general consensus is
Marcus Mariota
is the Ducks' best quarterback during its recent run. He might, in fact, as former Ducks All-American QB Joey Harrington
recently volunteered
, be the best in program history. Mariota brings a dangerous downfield passing game to a longstanding dominance running the ball. As for the defense, it's very good, though it remains to be seen whether it's as good as the 2010 unit or even the talented crew of 2012 that battled numerous injuries.
Still, every coach who has played the Ducks probably feels there's something he wishes he might have attacked more or tried to exploit.
"I think there is a lot of places," Washington State coach Mike Leach said. "There's always a lot of places."
Washington State lost 62-38 at Oregon last weekend, with Leach's Cougars adding two late touchdowns to make the gap less dramatic. Quarterback
Connor Halliday
set a number of Pac-12 and NCAA passing records in the game -- he completed 58 of 89 passes for 557 yards -- but also threw four interceptions, one of which Terrance Mitchell returned 51 yards for a touchdown.
"Oregon is really fast," Leach said, echoing a common theme. "As you play Oregon, everything they do -- they can reel plays in quicker. They react to everything quicker. Very explosive... Oregon hits you in the mouth when you throw one up."
Of course, speculating on Oregon's seeming lack of weaknesses and its standing among other accomplished Ducks teams is a mostly a meaningless academic exercise when five regular season games remain ahead, including a visit Saturday from No. 12 UCLA. In fact, the next five Pac-12 games (combined opponent record of 26-7) are far tougher than the first four (combined record of 12-16).
Helfrich isn't really biting, either. When asked about areas of concern, he pointed back to the preseason questions and implied the jury is still out at linebacker.
Yet his overriding conclusion sounded very Chip Kelly-ish, while also offering plenty of room to read between the lines.
"I think everything," he said. "In every phase we can get better, starting with me, everything we do."
That's either coachspeak -- we need to get better every day -- or carries a more ominous implication: No weaknesses? Best Oregon team? You haven't seen anything yet.
August, 28, 2013
8/28/13
10:00
AM ET
Across the ESPN blogosphere on Wednesday, we're looking at players/coaches/position groups with something to prove in each conference. In the Pac-12, the answers should be fairly obvious. Here are 10 from the league in no particular order.
1. Lane Kiffin
: OK, maybe this one is in particular order. USC's head coach is on the hottest seat in America after a disastrous 2012. There were embarrassments for the program on and off the field. That has led to plenty of speculation about what he needs to do to keep his job. Win 10 games? Nine? Win nine and beat UCLA or Notre Dame? Or both? This is a storyline that will no doubt carry deep into the season.
[+] Enlarge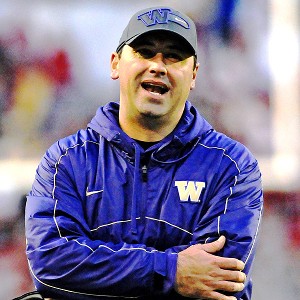 James Snook/US PresswireLane Kiffin isn't the only Pac-12 coach feeling growing pressure for a successful season.
2. Steve Sarkisian:
His seat isn't as hot as Kiffin's. But the heat index has certainly risen in the wake of another seven-win season. The Huskies have a lot of returning talent – including a quarterback with potential, a healthy offensive line, an outstanding running back and receivers (including TE), and a fairly veteran defensive core. The pieces are in place for Washington to, at the very least, get over the seven-win hump. Seven wins or fewer will be met with harsh criticism and questions about whether Sarkisian is the right guy for the job.
3. Oregon's linebackers
: This appears to be the only question mark for the Ducks, at least on paper, because they have a solid front and an outstanding secondary. Losing Michael Clay, Kiko Alonso and Dion Jordan is a big hit in terms of production, talent and leadership.
Boseko Lokombo
is a veteran presence, and
Tony Washington
,
Derrick Malone
and
Rodney Hardrick
have all been in the system for a few years. If they can match the production of their predecessors, the Ducks should be fine defensively.
4. Stanford's wide receivers:
Ty Montgomery
headlines this list. At the end of 2011, he showed explosive playmaking ability and his future looked sparkling. But injuries slowed him in 2012. With the Cardinal doing some overhauling after losing their top two tight ends, the receiver spot will likely take on more emphasis in 2013. Players such as
Devon Cajuste
,
Michael Rector
and
Kelsey Young
will need to be productive as well.
5. Paul Richardson
: The Colorado receiver missed all of last season with a knee injury and had to sit and watch his team fall apart around him. The Buffaloes went 1-11 and their coach was fired. A new coach, a new offense and a new enthusiasm in Boulder is motivating Richardson
to make up for lost time.
He is Colorado's most explosive player and knows he has the potential, and responsibility, to carry the offense. Now he just has to go out and prove he can do it.
6. Oregon State's receivers
: We know what we're getting with
Brandin Cooks
. He proved last season that he's an outstanding player. How much of that, however, was a product of the guy across the field, Markus Wheaton? With Wheaton gone, either
Richard Mullaney
or
Obum Gwacham
will have to step up as a complementary threat to Cooks -- along with
Kevin Cummings
in the slot.
7. QBs, old and new
: Not all the quarterback competitions are completed. But whoever wins the job at Arizona and USC will likely be looking over his shoulder for the bulk of the season.
Connor Wood
is back in the starting role for Colorado, true freshman
Jared Goff
gets the start for Cal, and
Sean Mannion
finally won Oregon State's job after a grueling seven-month competition with
Cody Vaz
. Nothing is set in stone at Washington State, so
Connor Halliday
will need consistent play to hold the job (we're assuming, for now, that it's Halliday). Expect these players to be under the microscope all season.
8. UCLA's running backs:
There are big shoes to fill with the departure of running back Johnathan Franklin, the school's all-time leading rusher and a Doak Walker finalist last year. Jim Mora has said that he'll likely use five backs throughout the season.
Jordon James
is the front-runner of the committee and has the best opportunity to distance himself. But expect
Paul Perkins
,
Malcolm Jones
,
Steven Manfro
and
Damien Thigpen
(health pending) to all fight for time and carries.
9. Utah's secondary
: It's not necessarily young. Just inexperienced. And in a pass-happy league, that could spell trouble. Free safety
Eric Rowe
has the most playing time among the group. Cornerback
Davion Orphey
is a juco transfer and opposite him is
Keith McGill
, a former safety and juco transfer who appeared in five games in 2011 but suffered a season-ending injury and then missed all of 2012. There is talent there. It's just mostly untested.
10. Arizona State:
Yep, the whole team. This is what you wanted, ASU fans … for the sleeping giant to be awoken. The alarm clock just went off. Now it's time to prove all the hype is worth it. A challenging schedule early -- including Wisconsin, Stanford, USC and Notre Dame in consecutive weeks -- will be a good measuring stick. Though the USC game is really the one that has South title implications. Still, the other three will go a long way toward determining how ASU is viewed nationally. Going 1-3 and beating USC wouldn't be disastrous. Going 0-4 will draw the requisite "same old ASU" criticisms.
June, 6, 2013
6/06/13
5:30
PM ET
We've looked at offensive three-headed monsters --
elite combinations of quarterback, running back and receiver
-- so now let's look at the defensive version.
That would be elite combinations of
top tacklers
, top
sack men
and top
interceptors
, as tackles, sacks and interceptions make defensive coordinators happy.
The combinations here might be stronger even than the offensive troikas. Stanford, for example, welcomes back an elite, All-America sort of player for each category. It seems to us all 12 teams have at least one player to be excited about heading into the fall.
Just two teams -- Arizona State and Utah -- only hit on one category. Arizona, Colorado and Washington join Stanford hitting all three, though Colorado's interception numbers from 2012 are so meager -- 3! -- that it's not terribly relevant. And USC's just missing was a matter of 0.4 tackles per game.
So here's how we see things stacking up.
And, again, you should feel free to be outraged by our lunkheaded bias against your team, which obviously should be ranked much higher.

1. Stanford

LB
Shayne Skov
, OLB
Trent Murphy
, S
Ed Reynolds
The skinny
: Three potential All-Americans. There is no finer troika in the nation. Not sure if anyone else is even close.

2. USC

LB
Hayes Pullard
, OLB
Morgan Breslin
, S
Dion Bailey
The skinny
: Pullard was seventh in the conference with 8.2 tackles per game, just behind safety T.J. McDonald. Breslin is transitioning from defensive end to outside linebacker, which actually seems like a better fit. And Bailey, who led the Trojans with four interceptions, is moving back to safety from linebacker.

3. UCLA

LB
Eric Kendricks
, OLB
Anthony Barr
, S
Randall Goforth
The skinny
: UCLA gets here on the power of the first two, an elite combination, with Barr a likely top-10 NFL draft pick next spring. That balances out the questions in the secondary. Goforth, a promising player, just seemed like as good a choice as any.

4. Oregon State

LB
Michael Doctor
, DE Scott Cricthon, CB
Rashaad Reynolds
The skinny
: Doctor took a big step forward last year, even if
D.J. Alexander
is a flashier player. Crichton, first-team All-Pac-12 in 2012, is trying to lead the Beavers in sacks for a third consecutive year. Reynolds had three picks last year and now becomes the Beavers' lead cornerback with Jordan Poyer off to the NFL.

5. Oregon

LB
Derrick Malone
, DE
Taylor Hart
, S
Erick Dargan
The skinny
: Malone was just thrown in there because the Ducks' linebacker situation is cloudy. Hart is a budding all-conference guy who should get his due this fall. Dargan led the Ducks with five picks, but there's an acknowledgement here also of cornerback Ekpre-Olomu, a preseason All-American, who had four.

6. Arizona State

LB
Chris Young
, DT
Will Sutton
, S
Alden Darby
The skinny
: Sutton is the big fish here, obviously. Linebacker is a question for the Sun Devils, who lost their top two tacklers. Young and Darby are returning starters, though, with Young ranking third in tackles and Darby second in interceptions in 2012.

7. Washington

LB
John Timu
, OLB
Josh Shirley
, CB
Marcus Peters
The skinny
: This is a solid but unspectacular trio, as none of the three were all-conference. But the Huskies defense, which was greatly improved in 2012, has a lot of production back. It's worth noting that defensive end
Andrew Hudson
tied Shirely for the team lead with 6.5 sacks, and linebacker
Shaq Thompson
also had three picks, like Peters.

8. Arizona

LB
Jake Fischer
, LB
Marquis Flowers
, CB
Jonathan McKnight
The skinny
: All three leaders are back, but they get marked down for the overall defensive numbers in 2012. Flowers, an underrated player, had 5.5 sacks and was tied with McKnight with three interceptions.

9. California

LB
Nick Forbes
, DE
Chris McCain
, S
Michael Lowe
The skinny
: Forbes averaged 7.1 tackles per game last year. McCain tied for the team lead in sacks with 3.5, but don't be surprised if
Todd Barr
or
Brennan Scarlett
lead the pass rush. Lowe had three picks last year to tie for the team lead, but he's listed behind
Alex Logan
on the post-spring depth chart.

10. Washington State

S
Deone Bucannon
, OLB
Logan Mayes
, LB
Cyrus Coen
The skinny
: Bucannon is an A-list guy, earning second-team All-Pac-12 honors in 2012. He led the Cougars in tackles and interceptions, so we included Coen, who was second with three picks. The gigantic void is the pass rush, which lost four-year sack leader
Travis Long
.

11. Utah

LB/S
Brian Blechen
, DE
Trevor Reilly
, S
Eric Rowe
The skinny
: These are three solid players, but there's a lot of uncertainty on the Utes defense. The Utes lost their top two sack men and their top three cornerbacks. Blechen has bounced back and forth between linebacker and safety, and neither Reilly nor Rowe were able to top the depth chart at his position this spring without an "Or" beside him.

12. Colorado

LB
Derrick Webb
, DE
Chidera Uzo-Diribe
, CB
Kenneth Crawley
The skinny
: All three leaders are back, but we're listing the promising Crawley instead of the two guys who had a single pick last year. Uzo-Diribe is legit. He has 12.5 sacks over the past two seasons, including seven last year. Big issue here, however, is how terrible the Buffs defense was last year.