NCF Nation:

Derrvin Speight
November, 19, 2010
11/19/10
9:00
AM ET
Time for a little trivia and your weekly installment of non-AQ Did you know? Thanks to the school and league sports information departments for these notes, along with ESPN Stats & Information.
San Diego State hosts Utah on Saturday. The Aztecs are 4-0 at home this season, marking the first time they have won their first four home games of a season since 1996. That season, the Aztecs posted a perfect 6-0 home record. The last time the Aztecs won four consecutive home games was during a five-game stretch from Oct. 9, 1998 to Sept. 4, 1999.
TCU has scored 454 points this season, ranking second in school history. The TCU record, set last year, is 498. The top-three point totals in TCU history have been accomplished in the past three seasons.
Colorado State's Mychal Sisson has forced six fumbles this season, and all have come in the past three games. His six forced fumbles tie the MWC single-season record and are the most by a Ram in a season since 1998 (Joey Porter, eight; Clark Haggans, seven;
Southern Miss tied a school record by clinching its 17th consecutive winning season with its victory over UCF last week, matching the mark set from 1951-67. That is the fourth-longest active streak among FBS schools behind Florida State (29), Florida (20) and Virginia Tech (18).
Tulsa has a four-game winning streak, and the Golden Hurricane have averaged 43 points and 490.5 yards of total offense during that span.
Kent State defensive tackle Roosevelt Nix is tied for seventh in the nation in forced fumbles (4), sixth in tackles for loss (17.5) and tied for 14th in sacks (8.5).
Utah State running back Derrvin Speight did not have a 100-yard rushing game in his first 31 contests, but has reached that mark in each of the past two games. The Aggies are looking for their first three-game winning streak since winning four in a row in 2001.
Nevada has won 10 straight home games. A win over New Mexico State would give the Wolf Pack their first 10-win season since it was an FCS member in 1991 (12-1). It would also be the 500th victory in program history.
Meanwhile, quarterback Colin Kaepernick needs 51 rushing yards to record his third consecutive 1,000-yard rushing season and become the first player in NCAA history with three seasons of 2,000 passing yards and 1,000 rushing yards.
Hawaii wide receiver Greg Salas needs 218 yards receiving to break Jason Rivers' career school record of 3,919. Fellow wide receiver Kealoha Pilares needs 55 receiving yards to reach 1,000 on the season.
Arkansas State quarterback Ryan Aplin broke the school records for passing touchdowns (18) and total offense (3,036) in a loss to Western Kentucky last week. He became just the fifth player in Sun Belt history to record more than 3,000 yards of total offense in a single season.
North Texas has shown improvement under interim coach Mike Canales. The Mean Green have won two of three and had more than 400 yards of total offense in all three games. They accomplished that just three times in the first seven games this season. North Texas is also plus-5 in turnover margin in those three games. In the seven games under Todd Dodge, the Mean Green was minus-6 in the turnover margin. The Mean Green have also increased their scoring average from 16.9 points a game to 30.3 points a game.
Northern Illinois has won seven straight, but the Huskies have not had a winning streak of longer than that since becoming an FBS program in 1969. The last time a Northern Illinois team won more than seven games in a row was in 1965, when Coach Howard Fletcher's Huskies put together an undefeated (9-0) regular season before losing to North Dakota in the Mineral Water Bowl.
November, 12, 2010
11/12/10
9:00
AM ET
Time for a little non-AQ Did You Know for Week 11. Thanks to the schools and conference sports information departments for the nuggets.
TCU has held seven opponents to single-digit scoring this season, including two shutouts, and is the only team in the country to do so. Iowa is second in that category, holding five opponents to fewer than 10 points through nine contests. Since 1990, the highest number of games a team has held its opponents to less than 10 points in a single season is eight (USC in 2008, Miami Hurricanes in 2002 and Kansas State in 1998).
UTEP coach Mike Price gave Arkansas coach Bobby Petrino his first coaching job as a graduate assistant in 1984 at Weber State. The two worked together again when Price became head coach at Washington State. Now they square off Saturday when the Miners travel to play the Razorbacks.
"I knew after my interview with him, which was probably his first-ever interview for a coaching position, that he was really special," Price said this week. "My son happened to be a wide receiver that year and played for coach Bobby and he says to this day, 'He's the best coach I've ever been around.' He's a special guy. He was born to be a coach."
The Mountain West Conference is home to the nation's two longest rushing plays from scrimmage this season. Wyoming's
Alvester Alexander
has the longest -- a 94-yard touchdown run at New Mexico last week, while San Diego State's
Ronnie Hillman
is second with a 93-yard touchdown run at Missouri on Sept. 18.
UTEP senior quarterback
Trevor Vittatoe
made his 46th consecutive start behind center for the Miners last week against SMU. Only Minnesota's
Adam Weber
(48) has a longer consecutive starting streak than Vittatoe, who has started every game of his UTEP career.
UAB running back
Pat Shed
has 1,426 all-purpose yards in 2010, the fourth-best single-season mark at the school. He needs just 79 yards to break the Blazer single-season record of 1,504 set by Derrick Ingram in 1994.
Louisiana Tech's
Phillip Livas
is one kick/punt return for a touchdown short of tying the NCAA record of eight set by five different players.
New Mexico State has scored just seven total points in the second quarter of games this season.
Utah State running back
Derrvin Speight
recorded the Aggies' first 100-yard rushing game of the season last week with 114 yards against New Mexico State.
Fresno State blocked two kicks last week against Louisiana Tech to increase its NCAA-high total since 2002 to 54.
Western Michigan is the only program in the nation that has two receivers with 70 receptions or more this season. Broncos senior wide receivers
Jordan White
(72 receptions, 1,057 yards, three touchdowns) and
Juan Nunez
(70 receptions, 768 yards, seven touchdowns) have been favorite targets for sophomore quarterback
Alex Carder
. The Broncos are ranked 13th in the nation in passing offense.
The MAC has seen a youth movement at quarterback. In Week 11, the MAC will see four freshmen and seven sophomore quarterbacks start. Northern Illinois junior quarterback
Chandler Harnish
and Ohio senior quarterback
Boo Jackson
are the only two veteran MAC quarterbacks.
Arkansas State has four conference wins, tied for the most since it had five in the 2005 season. The Red Wolves have scored at least 23 points in every game this season, marking the first time since 1986 that it has scored 20-plus points in nine straight games.
Louisiana has been eliminated from bowl contention, marking just the second time in the last six seasons that the team failed to become bowl eligible.
Troy failed to force a turnover in its win at North Texas last week, marking just the 17th time since 2000 that the Trojans have failed to force one. It was also just the second time Troy has recorded a victory since 2000 when failing to force a turnover. The Trojans entered the game tied for seventh in the nation this year, having forced 22 total turnovers.
April, 12, 2010
4/12/10
5:30
PM ET
One of Utah State's goals this spring was finding a replacement for running back
Robert Turbin
, who suffered a knee injury during offseason workouts.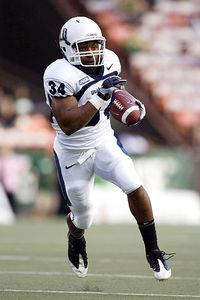 AP Photo/Marco GarciaUtah State running back Michael Smith is stepping in for the Aggies while teammate Robert Turbin is out.
Turbin could be back early in the season, but in the meantime, the Aggies have to find a suitable backup plan in case Turbin's injury keeps him on the shelf for the entire year.
Enter
Michael Smith
.
Smith, a senior, was Turbin's backup last season and accounted for 290 yards and four touchdowns on 46 carries. He was the top contender heading into the spring campaign and has continued to secure that role with just two weeks remaining in spring ball.
During Saturday's scrimmage, Smith rushed for a game-high 112 yards and touchdown and had 91 yards receiving.
"I wouldn't say I am getting comfortable," Smith said. "I am learning my plays more and understanding the offense more. I am more comfortable. I haven't won the starting spot yet. They haven't told me that I am the guy. I am looking forward to leading this team and making a major impact."
When spring ball started, Turbin said the natural go-to guy would likely be Smith. But the Aggies have three capable backs in spring practices, including
Derrvin Speight
and Kerwynn Williams.
"Michael Smith was the second-string guy last season and behind him was Derrvin Speight. Both of those guys are going to be seniors and I believe that they can both get the job done," Turbin said. "They're two very, very different running backs and I think they can make a pretty decent one-two punch combination there."
But sophomore Williams also has been making a strong impression on coaches, which will only help the Aggies if they have to go to a committee approach. Coach Gary Andersen said he anticipated having to use multiple running backs to replace all the things that Turbin could do.
"I think it will be a committee situation, I really do because our backs are very different," Andersen said in an interview in March. "The thing that Robert brought to the table was he caught the ball very well. He was a very good zone runner, he was a physical runner and he was also a tremendous pass protector. I can't say that another back we have has all of those areas where he's such a quality player, but they'll work at it."
Turbin has tried to be at every practice and every meeting, cheering his teammates on and being a player-coach. Although his injury won't let him participate in spring ball, he still feels like he's part of the action.
Turbin said he's all about the team and he wants the best running back to play, which he confesses might not be him as he continues his rehab.
"I'm telling them stuff that I learned from the coaches and telling them stuff that I've experienced as a player," Turbin said. "Being injured is tough, but I still tell myself that I have to be out there to help the young guys. I want the best for the team."
February, 25, 2010
2/25/10
10:00
AM ET
Here's a breakdown of three issues facing each program heading into the spring:

Boise State Broncos
Spring practice starts:
March 8
Spring game:
April 17
What to watch:
" All starters but Kyle Wilson return in 2010. Jerrell Gavins, who started at Wilson's outside cornerback position during the Fiesta Bowl (Wilson moved to safety) likely will slip into that starting slot.
" With so many players returning and few questions to answer, the Broncos can really start working on the 2010 season. This will also be a good time to sort out the offensive line (10 O-linemen had at least one start last year) and looking for some redshirted playmakers that could find their way into the lineup this season.
" Defensive line coach Pete Kwiatkowski steps in as the new defensive coordinator for Justin Wilcox, who went to Tennessee, but don't expect any major changes to the defense. Kwiatkowski was Wilcox's mentor and the two shared the same vision for the Broncos defense.

Fresno State Bulldogs
Spring practice starts:
March 15
Spring game:
April 16
What to watch:
" Fresno State lost three top backs in
Ryan Mathews
,
Lonyae Miller
and
Anthony Harding
and will spend the spring looking for a replacement.
Robbie Rouse
is the top returning back, but he's a smaller back than the ones the Bulldogs lost. Look for
Michael Harris
to get a chance this spring.
" With
Seyi Ajirotutu
,
Marlon Moore
and
Chastin West
gone, the Bulldogs will be looking to fill their receiver depth to help starting quarterback
Ryan Colburn
. Coach Pat Hill noted on signing day that he wants to spread things out this year and he's looking forward to some speed joining the team in the fall. In the meantime, sophomore
Rashad Evans
, redshirt freshman
A.J. Johnson
and sophomore
J.J. Stallworth
will work for playing time with
Jamel Hamler
and
Devon Wylie
.
" The defensive front, which struggled late against the running game (most notably Nevada and Wyoming), will be a focus this spring. The Bulldogs return nine starters from the bowl game, including All-WAC first team defensive end Chris Carter and linebacker Ben Jacobs.

Hawaii Warriors
Spring practice starts:
April 1
Spring game:
April 30
What to watch:
" The offensive line was a question heading into the 2009 season and will be again in 2010. The Warriors lose four senior starters, including center John Estes. Backups Kainoa LaCount, Matagisila Lefiti, Andrew Faaumu, Bronson Tiwanak, Clayton Laurel and Adrian Thomas will be among those competing for starting roles.
" Bryan Moniz finished the season as the starting quarterback and will go into spring ball as the leading candidate to start in 2010, but
Shane Austin
, who played some in 2009, will challenge for the starting role this spring. Moniz finished the season completing 57 percent of his passes for 2,396 yards, 14 touchdowns and 10 interceptions.
" The Hawaii defense struggled some last year, but should be better if star linebacker Brashton Satele receives a sixth season. The Warriors will be looking for a new right tackle as well as a couple of starting linebackers, but the defense, which improved as the season progressed, should be a pleasant surprise in 2010.

Idaho Vandals
Spring practice starts:
March 23
Spring game:
April 23
What to watch:
" The top priority this spring will be reloading the offensive line. The Vandals lost four starters on the offensive line, including All-American guard Mike Iupati. The only returner is left tackle Matt Cleveland. Guy Reynolds Jr. was Iupati's backup, and players such as Clell Hasenbank, Tevita HalaHolo and Tyron Novikoff will be competing for starting roles.
" The offense carried the team last year, especially the passing game, but starting quarterback
Nathan Enderle
will have to work out three new receivers this spring. The biggest loss is slot
Max Komar
, who made key catches all season, including in the Humanitarian Bowl win over Bowling Green.
" The Idaho defense was one of the worst in the country allowing 433.23 yards per game and 36.00 points per game. More often than not, the Vandals were trying to outscore their opponents instead of stopping them defensively. Eleven players with starting experience from last year's bowl team return; the only loss is strong safety Jeromy Jones. But with the way the defense played last season, it wouldn't be a surprise to see some of those positions open this spring.

Louisiana Tech Bulldogs
Spring practice starts:
March 17
Spring game:
April 10
What to watch:
" The loss of running back
Daniel Porter
and tight end
Dennis Morris
takes out a lot of the offense and scoring the Bulldogs had in 2009. New head coach Sonny Dykes and offensive coordinator Tony Franklin will spend the spring looking for playmakers to fit their wide-open offensive style.
" Wide receiver will be a key competition this spring for Louisiana Tech's new spread offense. Tennessee transfer
Ahmad Paige
and LSU transfer
Tim Molton
are both eligible and will join RP Stuart,
Cruz Williams
and
Phillip Livas
in the receiving corps.
" Louisiana Tech will be looking for some consistency in the punting game after Cade Glasgow struggled last year. Overall, the Bulldogs punting game averaged 32.91 yards per game, which ranked last in the WAC. The Bulldogs didn't recruit a punter, so expect some potential walk-on help.

New Mexico State Aggies
Spring practice starts:
April 5
Spring game:
May 1
What to watch:
" Second-year coach DeWayne Walker was unhappy with the team's scoring, especially in the second half of the season, which prompted him to replace his offensive coordinator and running backs coach. His main priority this spring is finding some consistency at quarterback.
Jeff Fleming
and
Trevor Walls
return and redshirt freshman
Tanner Rust
and true freshman Andrew Manley will challenge, but junior college transfer Matt Christian is the favorite to be the starter.
" The running game was the one bright spot for the offense last season with
Seth Smith
rushing for 1,016 yards, but he had just one rushing touchdown. Redshirt freshman Marquese Dunn will get a look this spring and will challenge for playing time as Walker looks for playmakers.
" Shoring up a total defense that allowed 423.62 yards per game and 31.62 points per game will be Walker's project this spring. The Aggies return some key players, but Walker said most of the help on the defensive line will come in the fall.

Nevada Wolf Pack
Spring practice starts:
March 5
Spring game:
April 3
What to watch:
" The running game is Nevada's bread and butter and it should stay that way with quarterback
Colin Kaepernick
and star running back
Vai Taua
returning. However, the Wolf Pack need to spend this spring working on depth with players such as
Lampford Mark
,
Mike Ball
and
Stefphon Jefferson
.
" The offensive line needs to replace Kenneth Ackerman and Alonzo Durham this spring in order to keep the running game effective. Center Jeff Meads and tackle Jose Acuna are the primary backups for those two spots. The Wolf Pack also will look to build offensive line depth across the board.
" The Nevada defense will spend the spring learning a slightly altered 4-3 defensive scheme under new defensive coordinator Andy Buh. The defense has been the weak link of the Wolf Pack for the past few years, so shoring that up this spring will be a high priority.

San Jose State Spartans
Spring practice starts:
March 12
Spring game:
April 22
What to watch:
" For the second consecutive season, San Jose State had trouble producing offense mostly because of inconsistent play at quarterback.
Jordan La Secla
returns as the incumbent, but junior college transfer Matt Faulkner, who enrolled in January, will challenge this spring.
" For as much as the passing offense struggled, the rushing offense was worse.
Lamon Muldrow
, who led the team with 592 yards and three touchdowns last season will be counted on in the running game, but the Spartans signed three running backs for 2010, including Forrest Hightower, who will challenge in the fall.
" Most of spring practice will be spent learning the new coaching staff and the new offensive and defensive schemes. The Spartans are transitioning from a spread offense to a more traditional style that will incorporate an H-back and a tight end. The Spartans also will move toward an attacking style defense, but will stay in a 4-3 base that will feature both man-to-man and zone coverage.

Utah State Aggies
Spring practice starts:
March 23
Spring game:
April 24
What to watch:
" The primary concern this spring will be finding running back depth after star
Robert Turbin
suffered a torn ACL during winter workouts. All eyes will be on Michael Smith,
Derrvin Speight
and Kerrwynn Williams as they try to pick up the slack.
" Second-year head coach Gary Andersen is showing his commitment to defense after shuffling several players on that side of the ball. Nathan Royster is moving from defensive tackle to end, Junior Keiaho and Devin Johnson are moving from end to linebacker, wide receiver
Cameron Sanders
has moved to defensive back and the Aggies are hoping to get some defensive contribution out of Page Clifford, a transfer from Utah.
" There should be some good competition at wide receiver this spring with
Matt Austin
returning from injury and Travis Van Leeuewen coming off a redshirt season. Mid-year signees
Xavier Martin
and Dontel Watkins also will challenge for starting roles. Utah State had a good passing offense with 246.75 yards per game from starter
Diondre Borel
.