NCF Nation:

De'Runnya Wilson
January, 14, 2015
Jan 14
4:45
PM ET
For most of the 2014 college football season, Mississippi State quarterback
Dak Prescott
made a mighty push for the Heisman Trophy. While Prescott -- who helped lead the Bulldogs to 10 wins and their highest Associated Press poll finish since 1940 (11th) -- didn't make that coveted December trip to New York City, he was still going to have a tough decision to make at season's end.
[+] Enlarge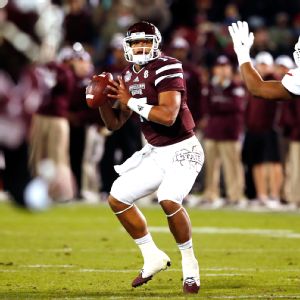 Butch Dill/Getty ImagesMississippi State QB Dak Prescott's decision to return for his senior season will allow him to fine-tune the technical areas of his game.
That decision, whether to forgo his senior year and turn pro or stay in school, was officially made Wednesday with Prescott
deciding to stick around in Starkville for another year
.
While Prescott had every reason to flirt with the NFL after a breakout season that included 3,449 passing yards with 27 touchdowns and 11 interceptions, he made a wise decision to stay. He not only gets another shot at an SEC title but he can also improve his draft status by making crucial in-game improvements during one more year of college ball.
There's no doubt that Prescott is physically ready for the NFL. The 6-foot-2, 230-pounder is an excellent dual threat (986 yards and 14 scores) who had no issue running over opponents -- big and small -- but there are technical things he must improve on before he's really ready for the big show. His decision-making and patience in the pocket have to get better when things break down around him.
He has to learn that he can't make great plays every time he has the ball. Even the great quarterbacks have to know when to take marginal losses to keep from creating bigger problems. Sometimes, Prescott lacked in that area.
There were times down the stretch when Prescott rushed through progressions and hurt his team by pressing. Eight of Prescott's 11 interceptions came in conference play, including three in Mississippi State's 25-20 loss to Alabama. In the Bulldogs' three losses, Prescott threw six touchdowns with five turnovers, and during a three-game stretch against Auburn, Kentucky and Arkansas -- all Mississippi State wins -- Prescott threw five interceptions to three touchdowns.
But another year with quarterback guru Dan Mullen should go a long way for the senior-to-be. Just think about how raw he was coming out of high school. Now he just turned down a chance to get drafted after his junior year in college. That's pretty remarkable, and Prescott still has more he can accomplish.
With Mississippi State's offense losing a few valuable pieces from the 2014 season, Prescott has a chance to prove himself in 2015 with changes coming around him. Star running back
Josh Robinson
, who finished the season ranked third in the SEC with 1,203 rushing yards, declared for the draft early, while three starters along the offensive line are gone. Top receiver
De'Runnya Wilson
is back with a solid group of youngsters, but Prescott will have his work cut out for him when it comes to keeping this offense going after last season's success.
Keeping things steady will depend on Prescott's improvements with the little things. If Prescott can engineer this offense similarly to the way he did in 2014, the Bulldogs will fight to be contenders in the SEC West again and plenty of NFL folks will be even more impressed with him.
December, 9, 2014
12/09/14
2:00
PM ET
The runs by Mississippi State and Georgia Tech to a New Year's Six bowl game have seemingly come out of nowhere. Both programs' coaches were under heavy scrutiny last season. Both programs entered 2014 as afterthoughts in their respective conferences. But the
Capital One Orange Bowl in Miami
will provide a great opportunity for one of these teams to end the season with a signature win on Dec. 31.
[+] Enlarge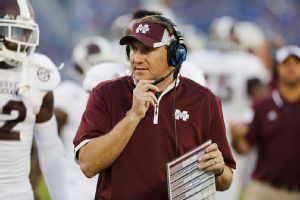 Mark Zerof/USA TODAY SportsMississippi State coach Dan Mullen's only losses this season were to ranked teams -- Bama and Ole Miss.
So who's done more with less this season? SEC reporter Greg Ostendorf and ACC reporter Matt Fortuna debate about Dan Mullen and Paul Johnson -- both of whom won league coach of the year awards in 2014.
Ostendorf says Mullen:
It's not easy to win at Mississippi State. Before this season, the program had just two 10-win seasons, and the Bulldogs have been playing football since the early 1900s. Ironically, the first time they won 10 games (1940) was the last time they played in the Orange Bowl. And now it's all come back full circle -- thanks to Mullen.
He's turned Mississippi State, a perennial doormat for other SEC teams over the years, into a legitimate contender. And to think, just last season the Bulldogs had to rally against rival Ole Miss to become bowl-eligible. If they lost that game, there's a chance Mullen might have been gone. Now he's one of the top candidates for coach of the year, and the only way he's leaving is if he takes a promotion and leaves for a bigger program.
Don't get me wrong. I like Johnson. I like that he's stuck to his offense despite the criticism over the years. But Mississippi State's offense ranks top 10 nationally in yards per game, and not one starter was ranked in the ESPN 150 recruiting rankings.
Quarterback
Dak Prescott
was a three-star recruit coming out of high school. Thanks to Mullen's tutelage, he was one of the SEC's best players this season. He threw for 2,996 yards and rushed for 939 yards and was tops in the conference with 37 total touchdowns.
The same goes for running back
Josh Robinson
, a two-star recruit in high school, and wide receiver
De'Runnya Wilson
, who was a better basketball prospect than he was a football prospect. The Bulldogs' roster is littered with players who weren't given a chance by other SEC programs, and now those same players are knocking off the league's top teams.
[+] Enlarge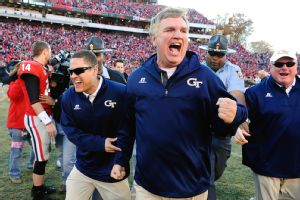 AP Photo/David TulisCoach Paul Johnson guided the No. 12 Yellow Jackets to a 10-3 overall record this season.
And that might be the difference between Mullen and Johnson. Georgia Tech had a great season and nearly took down Florida State in the ACC title game, but Mississippi State won 10 games playing in the SEC West, arguably the best conference in college football. The Bulldogs beat teams such as Auburn, LSU and Texas A&M when nobody gave them a chance.
Fortuna says Johnson:
It's not always so easy to win at Georgia Tech, either. Just ask Johnson, who
was candid last offseason in saying that the tone
in the Atlanta area surrounding his program was often too negative. Sure, the Yellow Jackets are going to their 18th straight bowl game this season, but there always seems to be a ceiling with them. Heck, in a summer poll on ESPN.com, 55 percent of voters said that "something needs to change around the program." And those fans were given two other choices in the poll, not just one.
Moreover, Johnson
lost more than a dozen non-senior players this offseason
for a variety of reasons. That, coupled with no wins over rival Georgia since a victory in Johnson's 2008 debut, made for a cloud of uncertainty around Georgia Tech entering 2014. The Jackets were picked to finish fifth in the Coastal Division in the preseason ACC media poll.
Instead, Johnson gave his critics one more shove to the side,
earning a four-year contract extension in the process
.
Mullen may not have had an ESPN 150 recruit on his offense, but he has company: Johnson did not, either. (Nor did he on defense.) All the Jackets did was finish second nationally in rushing (333.62 yards per game), a further testament to Johnson's system -- regardless of the recruiting obstacles, academic or otherwise, that may hamstring him in the crowded, fertile Atlanta area.
He brushed off the sudden departure of starting quarterback
Vad Lee
, who would've been the only ESPN 150 recruit on this roster, and helped turn a redshirt sophomore,
Justin Thomas
, into one of the most efficient signal-callers in the country. He overcame stretches without go-to backs such as
Zach Laskey
and
Charles Perkins
. His defense overcame its flaws by making big plays, forcing 27 turnovers, which was tied for 16th nationally.
As good as some of those wins by Mississippi State looked at the time, they dimmed considerably once everyone's body of work was complete: Auburn finished ranked 19th, LSU 23rd and Texas A&M unranked. Georgia Tech closed the season by beating No. 17 Clemson and by winning at No. 13 Georgia. Reigning national champion Florida State had to play arguably its most complete game of the season to finally fend off the Jackets in the ACC title game. And the Seminoles
won by just two points
.
Mississippi State, of course, was last seen losing to rival Ole Miss in the Egg Bowl, an indignity that, in the eyes of some, will cast this otherwise remarkable campaign in an entirely different light.
With both overachieving teams entering this finale off a loss, perhaps we will get a definitive answer to this question between the Bulldogs and Jackets when the dust settles on the Sun Life Stadium field, right around the time the ball drops to close 2014.
November, 14, 2014
11/14/14
11:00
AM ET
Ready for another de facto postseason play-in game?
Of course you are. It seems like they happen every week in the SEC, after all.
This Saturday we get a matchup of No. 1 Mississippi State and No. 5 Alabama. The winner, as you'll read later in this post, has the chance to solidify their College Football Playoff dreams.
To get you ready for the showdown between the Bulldogs and the Crimson Tide, here's a preview of the game:
Alabama's key to victory:
With
T.J. Yeldon
not 100 percent and Mississippi State's front seven fully capable of limiting Alabama's run game, the offense needs
Blake Sims
to step up. He can't complete fewer than 50 percent of his passes, as he did last weekend at LSU. But the good news is he'll be back home, and that makes a world of difference. The offensive line that couldn't hear anything in Death Valley should have no trouble getting the checks from their quarterback on Saturday. And even before that happens, offensive coordinator Lane Kiffin should have an easier time relaying the calls to Sims from the sideline. Sims has the highest Raw QBR in the country in Bryant-Denny Stadium. Everywhere else, he ranks 29th.
Mississippi State's key to victory:
Coach Dan Mullen runs a no-huddle style of offense, but he'll have to find a way to control the tempo of the game within that framework. He has a big, bruising running back in
Josh Robinson
, and he has a powerful running quarterback in
Dak Prescott
to match. If he's able to successfully utilize the quarterback read-option, which has given Alabama trouble in the past, then the Bulldogs can keep the chains and the clock moving. In turn, it will wear down Alabama's defense and keep Sims,
Amari Cooper
& Co. off the field so they can't attack the Bulldogs' suspect secondary.
Alabama X factor:
It's hard to call the best player on the field an X factor without playing the role of Captain Obvious, so all aboard. No one wearing crimson on Saturday will have a bigger impact on the game than safety
Landon Collins
. The future high NFL draft will be vital to stopping both facets of Prescott's game: the run and the pass. As the last line of defense, he'll be tested in both respects.
Against the pass, his role is obvious; he can't let receivers get behind him. But when State goes with the read-option, he has to take special care not to be out of place as linebackers will have to cover up both Prescott and Robinson. If one of them breaks free and Collins isn't there to clean up the mess, it could mean a touchdown.
Mississippi State X factor:
The secondary has to improve and the tandem of Prescott and Robinson must play well, but it goes beyond that for Mississippi State. For the Bulldogs to keep Alabama honest defensively, their receivers must show up, specifically
De'Runnya Wilson
and
Jameon Lewis
.
Wilson, a 6-foot-5 jump ball specialist, and Lewis, a 5-foot-9 speedster, play so well off one another, forcing opponents to defend the short, long and intermediate passing game. But neither has played particularly lately. Lewis has been out recovering from a knee injury, but Mullen says he should be 100 percent for Saturday. Wilson, meanwhile, has no obvious physical ailments but has been without a touchdown in his past three games.
Playoff impact:
Who wants to be in the College Football Playoff's top four? That's the question, really. Because if Mississippi State loses, there's a good chance the Bulldogs nosedive from No. 1. After all, you'd be looking at a team with one loss that in the past month struggled to beat unranked Kentucky and Arkansas.
Alabama, on the other hand, would be poised to move from No. 5 to as high as No. 2. The Crimson Tide would be riding a five-game winning streak that includes victories over teams that at the time they faced them ranked No. 21, No. 16 and No. 1 in the country.
November, 1, 2014
11/01/14
10:49
PM ET
STARKVILLE, Miss. -- Heavy is the head that wears the crown.
For the second consecutive game, No. 1 Mississippi State played like anything but the best team in the country, as the Bulldogs needed a fourth-quarter push, a key fourth-and-2 stop and a game-saving interception to finally beat unranked Arkansas
17-10
at home.
How the game was won:
Arkansas was bound to break. The unranked Razorbacks kept hanging around and hanging around and hanging around. Then, with an opportunity to break the logjam and go ahead by three points early in the fourth quarter, they missed a 42-yard field goal attempt. Mississippi State took over and wasted no time capitalizing on the mistake. One minute, 17 seconds later, Bulldogs quarterback
Dak Prescott
found a wide-open
Fred Ross
for an easy 69-yard touchdown. The same secondary that stifled Prescott all night and intercepted two of his passes finally buckled.
Game ball goes to:
Prescott wasn't his usual self throwing the football, and
De'Runnya Wilson
just couldn't seem to get open. So Mississippi State turned to its most consistent weapon: running back
Josh Robinson
. The powerful back became the focal point of the offense, carrying the ball 19 times for 64 yards and a touchdown. He also caught six passes for 110 yards, including a spectacular 47-yard grab you'll read about later.
What it means:
Robinson can't be the entire offense. Not if Mississippi State wants to beat Alabama in two weeks and Ole Miss to close out the regular season. You simply can't be that one-dimensional and expect to succeed in the SEC. Rather, Prescott, who has played through pain of late, must regain his Heisman Trophy form. Wilson needs to become a playmaker again, and others must step up to give the offense dimension.
Playoff implication:
It wasn't pretty, but does it matter? Not when you're one of two undefeated Power 5 teams in college football. The truth of it is that Mississippi State won't drop out of the playoff picture until it loses a game. What the Bulldogs are in danger of doing is losing seeding, however. Florida State, fresh off a come-from-behind win on the road at Louisville, could make a push for the No. 1 ranking.
Best play:
It's hard enough to tackle Robinson when he's running between the tackles. They don't call him "Bowling Ball" for nothing, after all. But the short and sturdy tailback showed a little something extra during the first quarter. Prescott threw the ball high to the 5-foot-9 Robinson, but Robinson pulled it in anyway -- with one hand.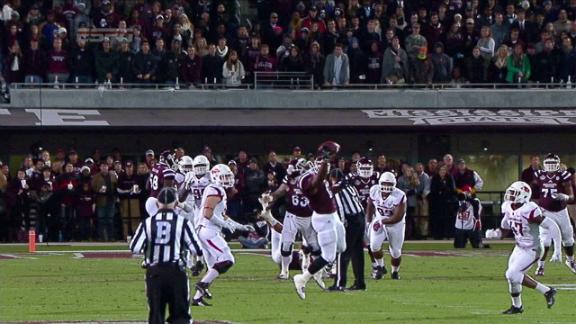 What's next:
Getting the No. 1 ranking has done something to Mississippi State, and it hasn't been good. The most troubling part hasn't been the execution, though; it's the effort. The Bulldogs got to No. 1 by playing with energy and a sense of reckless abandon. "Juice," they call it. But that enthusiasm has been lacking of late. The team with an underdog's personality has to find a way to put the chip back on its shoulder next Saturday against UT Martin. If not, the following week's trip to Alabama could spell trouble.
October, 21, 2014
10/21/14
11:00
AM ET
The Magnolia State is home to the No. 1- and No. 3-ranked teams in the country.
If you haven't found time to let that fact soak in, you should do so. It's been a crazy football season, but nothing better illustrates how upside down things have gotten than the transcendence of Mississippi State and Ole Miss.
Don't let the novelty of the rankings fool you, though. Neither program is a fluke. Their rise hasn't been due to smoke and mirrors. These are two solidly built football teams.
[+] Enlarge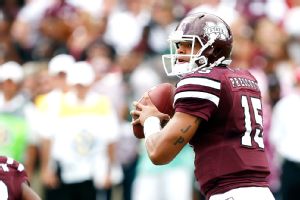 AP Photo/Rogelio V. SolisBehind QB Dak Prescott, Mississippi State's offense is something to behold in the SEC and nationally.
Which brings us to today's Take Two debate: Would you rather have Ole Miss' defense or Mississippi State's offense?
Alex Scarborough:
Five years ago, this would have been a simple answer. I would have taken Ole Miss' Landshark defense and been on my merry way.
But this isn't years past. This is a new SEC that thrives on offense.
For that reason, give me Mississippi State's offense. Give me
Dak Prescott
's mobility and arm strength. Give me
Ben Beckwith
at guard,
Josh Robinson
at tailback and
De'Runnya Wilson
at receiver. I don't care who you have, that's a hard bunch to stop. And I didn't even mention
Jameon Lewis
,
Brandon Holloway
and
Malcolm Johnson
.
The Bulldogs might not have the brand-name cache of others in the SEC, but those guys can put up points in a hurry. They lead the league in yards per game (529.7) and rank second in points per game (41.9). They're balanced, too, with 5.5 yards per rush and 9.1 yards per pass attempt. More than 23 percent of their plays go for 10 yards or more.
And they have the one thing no defense can account for: a star quarterback.
As long as they have Prescott under center, they have a chance. He wears No. 15 for a reason, and like Tim Tebow, he can will his team to victory. I won't even bother with Prescott's eye-popping statistics (you can find
a Heisman Trophy tracker
if you must know) because it's his leadership that's the most invaluable part of his game. Good luck stopping that.
Sam Khan:
I hear you, Alex. I hear you loud and clear. And honestly, it's hard for me to pick against Prescott and Mississippi State because I, too, believe in the power of a star quarterback, and nobody has been better than Prescott this season.
But Ole Miss' defense has a nickname (the Landsharks) for a reason. It's
that
good.
[+] Enlarge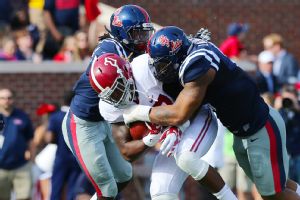 Joe Murphy/Getty ImagesThe Rebels' defense has held all seven opponents this season to 20 points or fewer.
The numbers speak for themselves. No. 1 in the nation in points allowed per game (10.6) and goal-to-go efficiency (25 percent). No. 3 nationally in yards per play (4.15) and red zone efficiency (33.3 percent). No. 5 in turnover margin (plus-10). No. 12 in third-down conversion rate (29.6 percent). I could go on, but you get the picture.
There's a reason for the old adage "defense wins championships." It's cliché and simplistic, but it's true. A team can't beat you if it can't score, and nobody's better at keeping opponents out of the end zone than the Rebels. And that scoring average should be lower, considering seven of those points are the result of an Alabama fumble return.
I'll take
Robert Nkemdiche
,
C.J. Johnson
,
Marquis Haynes
and that defensive front. I'll take the heart of a player like linebacker
D.T. Shackelford
. I'll take a secondary with players such as
Tony Conner
,
Senquez Golson
and
Cody Prewitt
. Speed, tackling, a good mix of youth and experience. Give me the Landsharks. Fins up.
Scarborough:
Yeah, yeah, yeah. But here's the question I'd pose to you: When the Egg Bowl does roll around on Nov. 29, do you think Ole Miss will be able to stop Mississippi State offensively? Would the Rebs keep the Bulldogs under, say, 28 points? Because I'm not sure they will.
Wilson, at 6-foot-5, is a matchup nightmare. Pair that size with the speedy Lewis underneath and you're talking about a headache for any secondary. And it's not like you can focus on just the passing game, either. Robinson's ability to pound between the tackles would negate Ole Miss' pass-rush and demand a safety play closer to the line of scrimmage. He and Prescott running the read-option is dangerous because neither is easy to bring down.
While I think it would be a close contest and a ton of fun to watch, I think Prescott & Co. would put up points on the Rebs. Prescott's dual-threat ability and State's balance offensively is the difference, to me.
Khan:
I do think the Rebels have what it takes to keep the Bulldogs' offense in check come Egg Bowl time. This defense is versatile enough to stop just about anything. They shut down a traditional offense, like Alabama's, save for one drive when the Crimson Tide mostly ran behind
Cam Robinson
. But that was the only touchdown the Rebels' defense yielded that day.
Against a talented spread team, like Texas A&M, the Rebels had answers there, too. The Aggies tried to run it and couldn't (1.5 yards per carry). They tried to throw it and couldn't do that either. And they put enough pressure on opposing quarterbacks to wreak havoc and force errant throws, which leads to turnovers. I think the Auburn game in a couple of weeks will be another good barometer for the Ole Miss defense.
Wilson is pretty talented. So is this guy -- you might have heard of him -- named
Amari Cooper
. When the Crimson Tide came to Oxford, he had a nice day (nine catches, 91 yards) but no touchdowns.
T.J. Yeldon
had 123 yards rushing, but again no touchdowns, and the Rebels kept
Derrick Henry
in check.
The Rebels haven't allowed more than 20 points in a game this season (that came on the road, to Texas A&M and, mind you, the final six came as time expired when the game was out of hand). I'd like their chances at keeping Mississippi State under that 28-point benchmark. When the time comes, it'll be entertaining to watch those two units go head-to-head, that's for sure.
October, 13, 2014
10/13/14
1:00
PM ET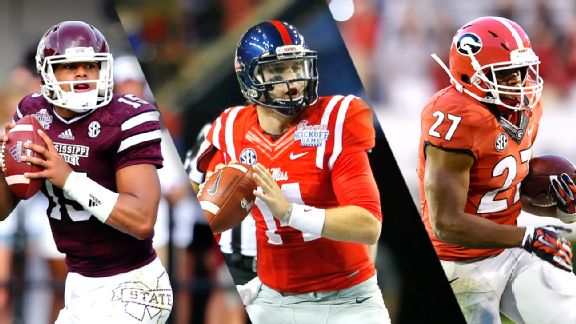 USA TODAY Sports, Icon Sportswire, USA TODAY SportsDak Prescott (MSU), Bo Wallace (Ole Miss) and Nick Chubb (Georgia) led impressive wins Saturday.
Like Hugh Freeze does with his Ole Miss team following any game, it's time to physically throw our concerns into the trash. Mississippi State, Ole Miss and Georgia are here to stay.
After all the questions heading into the weekend, we received all the validation we needed with both Mississippi schools topping ranked opponents with the pressure on -- again -- and Georgia going on the road without
Todd Gurley
and utterly embarrassing Missouri in a 34-0 win.
Following its 38-23 win against then-No. 2 Auburn, Mississippi State is now the No. 1 team in the country. Ole Miss' 35-20 spanking of then-No. 14 Texas A&M has the Rebels third. Georgia has risen to No. 10.
Let this settle in: The
Egg Bowl
could mean more than the Iron Bowl at season's end. At the moment, "Hotty Toddy" and clanging cowbells are drowning out "War Eagle" and "Roll Tide."
So much for the state of Alabama's unofficial motto of "At least we're not Mississippi."
Even after historic wins by the Mississippi schools, we weren't sure if they could get it done a second week in a row. (However, yours truly picked both to win.) And without Gurley, your Heisman favorite before his suspension, we had no clue what mental state the Dawgs would be in having to travel all the way to Columbia, Missouri, for a crucial conference game.
Well, all three told us to stay calm and carry on, proving they are still on track for special seasons. We can stop downplaying the success of the Magnolia State's best, and Georgia freshman
Nick Chubb
, who rushed for 143 yards and a touchdown against Mizzou, appears capable of carrying the load for as long as Gurley is out.
With Mizzou tanking, Florida giving LSU a victory in the Swamp, Vanderbilt long gone and South Carolina and Tennessee lagging behind, Kentucky shares the top spot with Georgia in the SEC East race. With all due respect to a much improved Wildcats team, I think we would all agree Georgia is the clear-cut favorite to win the East, with or without Gurley. The offense put trust in Chubb and quarterback
Hutson Mason
, and both delivered in the clutch. A defense that still had us on the fence played its most complete game of the season. Mizzou quarterback
Maty Mauk
was never comfortable, throwing four interceptions and getting sacked three times, and the running game mustered a paltry 50 yards.
Georgia allowed just 10 first downs and Mizzou never even made it into the red zone. It's clear the loss to Indiana wasn't an anomaly for the Tigers, and they aren't the contenders we once thought, but don't take anything away from Georgia. If you weren't impressed with Georgia, you just weren't watching. Without their best player, the Dawgs dominated, and the East is now theirs for the taking.
With the way things are going, it appears Georgia will be on a crash course to meet one of those Mississippi schools in Atlanta for the SEC championship. For the first time, Ole Miss and Mississippi State are both 3-0 in conference play.
Where do we even begin with these teams and why we can no longer take them lightly? Ole Miss became the first team to shut out Kevin Sumlin's Aggies at the half. Mississippi State became the fifth team in AP Poll history to defeat three straight top-10 teams. Ole Miss has allowed six offensive touchdowns this season, and its defense has scored four. Mississippi State has an SEC-high 47 tackles for loss and has held opponents to just six touchdowns in 19 red-zone appearances.
Mississippi State handled the No. 2 team in the country with a 15-point win, and the Rebels marched into College Station and beat an angry Aggies team in front of an SEC-record crowd of 110,633. Both teams won by 15, but let's not kid ourselves, the margins of victory could have been bigger for both teams.
You need more validation? How about the fact that Mississippi State now has the nation's second-longest winning streak at nine? How about both teams having 16 takeaways? You want clutch? Ole Miss quarterback
Bo Wallace
, who appears to have exorcised "Bad Bo," has seven total touchdowns to zero turnovers in SEC play, and Mississippi State wide receiver
De'Runnya Wilson
has a nation-leading
five
touchdown catches on third down.
Mississippi State quarterback
Dak Prescott
is a legitimate Heisman Trophy candidate, and running back
Josh Robinson
might be the SEC's toughest runner, outside of Gurley.
These teams have bite, and it's time to give them the respect they deserve. There is a ton of football left, especially with the Mississippi schools having to continue their runs through the gauntlet that is the SEC West, but this past weekend showed us these teams are for real.
The SEC is trudging through a cacophony of barks, cowbells and "Hotty Toddys," and there is just no getting around it. Deal with it.
October, 11, 2014
10/11/14
7:54
PM ET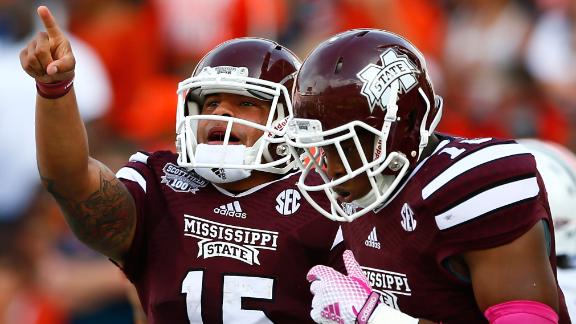 Should Mississippi State jump Florida State for the No. 1 spot in the polls? That seemed like a reasonable question Saturday after the Bulldogs'
38-23
win over defending SEC champ Auburn before a rowdy record crowd at Davis Wade Stadium.
Let's recap the Bulldogs' win:
How the game was won:
Auburn turned it over on its first two plays and Mississippi State turned both takeaways into touchdowns. After trailing 21-0 early, Auburn twice cut the deficit to eight. But State went up 31-20 on a fourth-quarter field goal and added a quick touchdown after Auburn fumbled the ensuing kickoff.
Game ball goes to: Dak Prescott.
Mississippi State's quarterback made a couple of truly bad throws, but he also made many of the biggest plays that paved the way for the Bulldogs' victory. Prescott finished 18-for-34 for 246 yards, one touchdown and two interceptions, plus 121 rushing yards and two more touchdowns on 21 attempts.
What it means:
After knocking off three straight top-10 teams -- LSU, Texas A&M and now Auburn -- State could make a legitimate case to be ranked No. 1 in the polls. At 6-0 and 3-0 in SEC play, the Bulldogs are in the driver's seat in the SEC West.
Playoff implication:
This was No. 2 against No. 3. Obviously this game had huge implications in the playoff and conference races. That's not to say that Auburn (5-1, 2-1) is out of anything yet -- there are a ton of huge SEC West games left on the schedule -- but State's in especially great shape.
What's next:
The Bulldogs get a week off before they visit Kentucky (5-1, 2-1) on Oct. 25. Auburn also has an open date next week and will host South Carolina (3-3, 2-3) on Oct. 25.
October, 8, 2014
10/08/14
12:00
PM ET
STARKVILLE, Miss. -- Geoff Collins has seen this type of receiver before. It was 2006 and he was the recruiting coordinator at Georgia Tech.
At practice and during games, he'd watch No. 21 running routes and his eyes would light up. Tall, rangy, explosive; he saw was the kind of player who would drive him nuts when he later became a defensive coordinator.
They say you can't teach size. Well, it's almost as impossible to defend it.
[+] Enlarge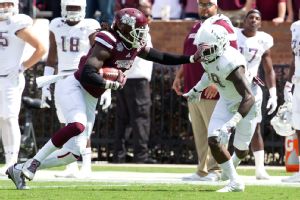 Marvin Gentry/USA TODAY SportsDe'Runnya Wilson has size that can't be taught and so much raw ability that Mississippi State coaches can't help but be excited about his potential.
No. 21 was, of course, Calvin Johnson.
The Biletnikoff winner was a once-in-a-generation receiver. At 6-foot-5 and 235 pounds, he took over games with his size and athleticism. He became the second overall pick in the 2007 draft by the Detroit Lions and then became an NFL superstar.
"I'm not putting Bear at that level," Collins said, "but you see the similarities and the natural physical ability. However far he wants to take it, he can take it."
Bear, or Bear Force One depending on who you ask, is better known as Mississippi State's
De'Runnya Wilson
. The true sophomore is tied for second in the SEC in receiving touchdowns (5) and fourth in yards per reception (17.6).
Wilson isn't Megatron yet, but if you're looking for raw talent to dream on, look no further than Mississippi State's biggest receiver, the dreadlocked target wearing No. 1. On Saturday, he'll be on the national stage again as the No. 3-ranked Bulldogs host No. 2 Auburn.
It's a somewhat obscure stat, but maybe this will paint a picture of how explosive a player Wilson can be: Of his 14 receptions, 100 percent of them have gone for a first down or touchdown. Only one other player in the country, Miami's
Phillip Dorsett
, has that same perfectly productive percentage.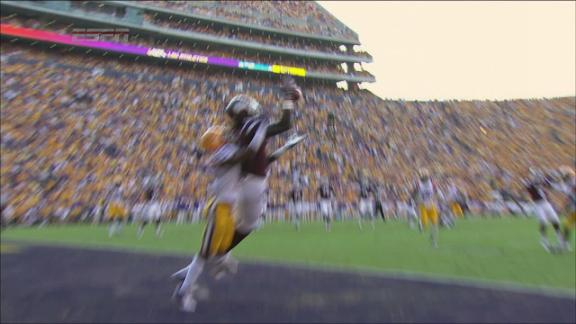 It's a shame to think all that ability might have gone to waste.
Wilson, who grew up in Birmingham, Alabama, gave up football at a young age. He didn't think he'd be able to play much in high school, so he drifted to the hardwood. There, at 6-foot-5, he could dominate at power forward, and he eventually earned the title of Mr. Basketball in the state in 2013. While Wenonah High's football team struggled to win games, the basketball team won three straight state championships with Wilson as its double-double machine.
Then, almost on a whim, Wilson decided to give football another chance.
He didn't know what he was doing. Lining up was a chore. His job was simple: go up and get the football.
And that's what he did, leading his team with seven touchdowns that year.
Collins, who recruits the Birmingham area for Mississippi State, hadn't heard of Wilson until he was sent a newspaper clipping about the fast-rising senior. He was able to get some tape of him and decided a trip to the high school was worth it.
"He had unbelievable physical gifts," he explained.
Wilson was a raw prospect but that's what Mississippi State likes to pursue.
Bernardrick McKinney
, the team's star middle linebacker, was a quarterback in high school.
Taveze Calhoun
, Mississippi State's starting cornerback, only had offers from FCS programs.
It's not a program that reaches for many four-star and five-star recruits; that's the business of the Alabamas and Floridas of the world. Instead, coach Dan Mullen asks his assistants to find him diamonds in the rough.
And boy, did Collins have one on his hands.
Billy Gonzales, Mississippi State's wide receivers coach, would later see just how far in the weeds Collins had gone to find him his next project.
"Ex-treme-ly raw," Gonzales said, drawing out every syllable.
Usually, Gonzales spends the first round of two-a-days yelling at rookies about defensive recognition and route adjustments. But with Wilson, he couldn't even start there. He didn't know what coverages were.
"That was all completely new to him, so I had to take a step back and reteach from the very beginning and set the foundation at the ground level," Gonzales said.
Wilson's response: "Coach, I'll do whatever we need to do. But you have to remember I've played only one year of football, so this is all new."
"I didn't realize he was going to be as athletic as he was," Gonzales said. "When you have a big kid coming in, you wonder if he's going to grow into a tight end. Watching him move around it was obvious he was going to be a big receiver and cause mismatches. As a position coach, those are the guys who get you excited."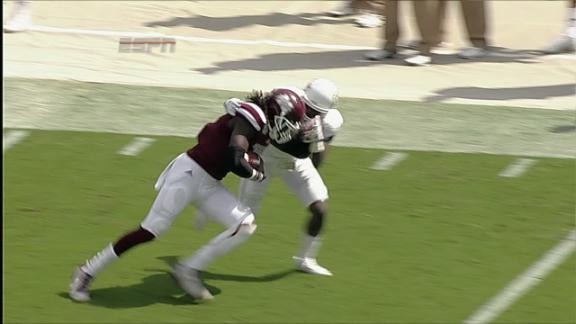 Wilson somehow knew football was the right path.
He just didn't know it until after he took his first official visit. Murray State and Utah State had offered hoops scholarships. There was even the temptation of a paycheck to play pro basketball overseas, he said.
"I had plans to play basketball, but I don't know what it was," Wilson said. "I took that football home and I really wanted to bring that back. I really wanted to be a Mississippi State Bulldog."
There was a financial incentive, too.
As a 6-foot-5 forward, Wilson was a dime a dozen. But as a 6-foot-5 receiver with a 35-inch vertical, he was something special.
Catching 26 passes as a true freshman at State showed he could play. With a little effort on the Jugs machine, running routes and studying defenses during the offfseason, he wanted to see how much further he could go.
So Wilson went to work, continuing to earn his nickname "Bear," which came from his high school coach's description of a schedule that included football, basketball and track. It was a "bear of a load," he said.
"A year ago, I never would have thought I'd be a starting receiver in the SEC," Wilson said. "It paid off. It's really hard to explain because I'm still learning the game of football."
Just how high is Wilson's ceiling?
"The sky's the limit," said Collins.
"Oh heck, we've not even come close," said Gonzales.
"He's still developing," said Mullen. "He has great ball skills and body control. His size makes him a tough matchup."
When asked who he patterns his game after, Wilson's answer shouldn't surprise you.
"Calvin Johnson," Wilson said after taking a few moments to think. "He's a monster."
October, 2, 2014
10/02/14
11:00
AM ET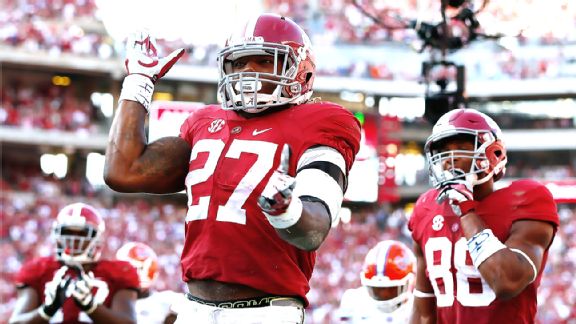 Kevin C. Cox/Getty ImagesDerrick Henry has 320 yards and two scores on 53 carries this season.
Saturday should be fun -- a full-scale clash of the SEC West titans. We're focused on three games from the nation's toughest division featuring six top-15 teams --
Alabama
-
Ole Miss
,
Auburn
-
LSU
and
Mississippi State
-
Texas A&M
. So far, our roundtables have discussed the game we'd pay to see, the team with the most to prove and the best clutch quarterback.
The West crown, a trip to Atlanta for the SEC championship game, a berth in the College Football Playoff … it all hangs in the balance on Saturday. With that in mind, here are our SEC writers' picks for the breakout players whose performances will carry the day.
Alex Scarborough:
Call him Megaquon.
Laquon Treadwell
is the star no one is talking about, and against Alabama, that's going to change. Ole Miss' sophomore receiver is the complete package: big, physical and explosive. Just look at his stat line last week: Five receptions, 123 yards, two touchdowns. Alabama's cornerbacks can't handle that.
Cyrus Jones
gives up four inches and 30 pounds to Treadwell.
Eddie Jackson
is a better matchup physically, but we don't know how his body will hold up.
Tony Brown
is on a level playing field as far as talent goes, but the true freshman lacks experience. All that adds up to a matchup nightmare for Alabama.
Greg Ostendorf:
If Alabama wants to beat Ole Miss on Saturday, it has to run the football. There, I said it. I don't care how good
Blake Sims
looked against
Florida
, this Ole Miss secondary is no joke. AJ McCarron struggled against the Rebels last year, and I can see Sims having a rough day on the road. That means it's up to
T.J. Yeldon
,
Kenyan Drake
and
Derrick Henry
to carry the load. Take your pick for breakout player -- they're all good -- but I'm going with Henry. He's averaging 6.0 yards per carry, had a big game against Florida and has a knack for ripping off long runs. The only question is do the coaches trust him? I say yes.
David Ching:
Auburn's
Cameron Artis-Payne
, Mississippi State's
Josh Robinson
and Treadwell all came to mind as I considered this question, but I'm going with LSU quarterback
Brandon Harris
. He'll get his first career start on Saturday at Auburn, which is a tall order for anybody. But this kid possesses special talent. Even if he makes some mistakes or if LSU fails to pull the upset, he's going to become a star eventually. My bet is he will validate Les Miles' decision to allow him to guide the Tigers offense by keeping Saturday's game competitive.
Jeff Barlis:
I knew I wouldn't be alone in choosing Harris. He just oozes athleticism, has an efficient delivery and poise beyond his years. Despite being a true freshman, Harris has looked worlds better than LSU's previous starter, sophomore
Anthony Jennings
. When Harris has been in the game, the LSU offense has come alive, as evidenced by his touchdown on all seven of his possessions after relieving Jennings last week. The Tigers have plenty of skilled athletes in Cam Cameron's offense. With Harris at the reins, LSU flat out has a better chance to go into Auburn and pull off the upset.
Sam Khan:
Keep an eye on Mississippi State sophomore wide receiver
De'Runnya Wilson
. He's coming off a good game at LSU (four catches, 91 yards and a touchdown) and he looks like a budding star for the Bulldogs. He had success against Texas A&M last season, catching seven passes for 75 yards and two touchdowns in the Bulldogs' 51-41 loss at Kyle Field. He's big (6-foot-5), athletic and has a large catch radius, which is perfect when Mississippi State needs to move the chains on third down or get in the end zone. He leads the team in catches of 20-plus yards this year (four), and this game looks to be a shootout, so he should have plenty of opportunities to make an impression.
Edward Aschoff:
My breakout player is Mississippi State defensive tackle
Chris Jones
. He was supposed to be an All-American this year, but he's yet to really get things going for the Bulldogs. He does have two sacks on the season, but those came against cupcakes. Texas A&M's offensive line presents a great test for the sophomore, who I think will put some nice pressure on A&M quarterback
Kenny Hill
and force him into some tough situations. It's time for him to impress us. His bulky, 6-5, 308-pound frame will clog the middle against the run, but where I see him standing out is against the pass, which is the key to stopping the Aggies' offense.
September, 15, 2014
9/15/14
10:00
AM ET
BATON ROUGE, La. -- Les Miles asked attendees at his postgame news conference Saturday whether anyone in the room was alive the last time LSU posted back-to-back shutouts at Tiger Stadium.
While some of those media members were firmly in middle age, nobody there had been alive since October 1941, a couple of months before the Pearl Harbor invasion pulled the United States into World War II, when the Tigers tied Mississippi State 0-0 and beat Rice 27-0 on consecutive weekends.
[+] Enlarge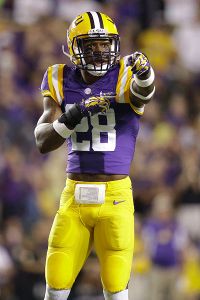 Gerald Herbert/AP PhotoCan Jalen Mills and LSU's defense shut out their third straight opponent when the Tigers take on Mississippi State in Week 4?
Junior safety
Jalen Mills
is one of the veterans on the Tigers' roster, but joked that he "wasn't even thought of" yet by his parents in 1985, the last time LSU notched consecutive shutouts of any sort, when the Tigers won 10-0 against Kentucky at home and beat Ole Miss 14-0 in Jackson, Mississippi. In fact, that piece of history came a full nine years before Mills was born.
Both of those streaks are history thanks to what Mills and the other members of LSU's defense accomplished over the past two Saturdays at Tiger Stadium, first shutting out Sam Houston State 56-0 and then taking down Louisiana-Monroe
31-0
.
"They were not getting yards," Miles said after Saturday's win against ULM. "They handed the ball off, they weren't getting yards, and [LSU's defensive backs] were covering. In short throws, they were covering. So I think the defense is playing dominant football."
Both shutouts were impressive. Even when it's an FCS squad such as Sam Houston State or a lower-division team such as ULM, preventing an opponent from scoring a single point is an accomplishment -- and in ULM's case, the Warhawks didn't even generate 100 yards of total offense (they had 93 yards, the fewest by an LSU opponent since 2007).
Now we'll see whether these achievements mean something or whether they'll become historical footnotes that in a few years will interest only those who dig stats out of old media guides.
We'll probably learn which option it's going to be over the next couple of weeks, beginning with Saturday's game against Mississippi State. LSU was supposed to dominate its past two opponents and it did. Neither of those offenses had a player like
Dak Prescott
at quarterback or weapons like
De'Runnya Wilson
,
Jameon Lewis
or
Josh Robinson
at his disposal.
Prescott (91 rushing yards per game, 232 ypg passing, 12 total touchdowns) is not a legitimate Heisman Trophy contender at this point, but that would change quickly if he runs wild next weekend and the Bulldogs improve to 4-0 in the SEC opener for both teams.
"He's a very mobile guy," Mills said. "He's at best when he is being mobile -- so [LSU's defense must] just try to contain the pocket, try to contain him, try to get the timing on him and his receivers' routes off a little bit."
Prescott and State were giving LSU fits last season until the Tigers got it together late in the third quarter and closed the game on a 31-0 run to earn a
59-26 victory
. The defense ignited that win-clinching run by forcing two turnovers and a turnover on downs in State's final three possessions -- mirroring a trend in the Tigers' recent run of defensive success.
They have been finishers. Finishing drives with third-down stops to force punts (ULM had seven three-and-outs in 12 possessions Saturday). Finishing possessions by forcing turnovers (LSU has six takeaways and two turnovers on downs since the start of the fourth quarter in the opener against Wisconsin). Finishing plays with hard hits on quarterbacks and gang tackles on opposing ball carriers.
LSU's defense needs to keep playing that way or its SEC West chances might quickly be finished.
Like some of Les Miles' best Tiger teams, this is not a team built to win shootouts against prolific offenses such as Auburn's or Texas A&M's. Last season's LSU club was more comfortable playing that style of game because of its wealth of NFL-ready skill talent, but this team seems to be cut more from the traditional LSU cloth. Challenge the opponent's manhood with a physical brand of offense. Limit risks and mistakes. Then let John Chavis' defense put away wins by overwhelming opponents with aggression and athleticism.
We're about to discover whether the Tigers have the pieces to duplicate the massive success that previous Miles teams enjoyed while abiding by that basic philosophy.
Will the interior defensive line be good enough to slow down the power running games ahead on the schedule? Will the pass rush be effective enough to force some mistakes? Are the linebackers going to be effective against high-level skill talent? It's too early to respond with a definitive "yes" to any of those questions, but aside from a rocky first half against Wisconsin, things look good for Chavis' bunch so far.
If they stifle Mississippi State's offense on Saturday the way they suffocated two overmatched nonconference opponents the past two weekends, LSU fans will have good reason to ratchet up their excitement level another few notches.
September, 6, 2014
9/06/14
8:00
AM ET
Noon ET
Florida Atlantic at No. 2 Alabama, SEC Network
This one could get ugly, as the Crimson Tide defense -- the secondary, in particular -- looks to bounce back and earn some trust from coach Nick Saban after last week's too-close-for-comfort 33-23 win over West Virginia. The Owls, who lost 55-7 in their season opener at Nebraska last week, should be just what Alabama needs in its home opener. All eyes will be on Bama's quarterbacks after Saban said he would "probably" play ballyhooed backup
Jake Coker
along with
Blake Sims
, the starter. Sims was solid as a game-manager type in Week 1, but if he slips at all, Coker could make a bid for the starting job.
No. 24 Missouri at Toledo, ESPN
Gary Pinkel was the coach at Toledo from 1991 to 2000 before taking the same position at Missouri, so he's doing his old school a solid by playing on the road this week. Toledo played at Mizzou last season and lost a competitive game 38-23, but this version of the Rockets is improved. Quarterback
Phillip Ely
, an Alabama transfer, threw for 337 yards and four touchdowns in the Rockets' season-opening 54-20 win against New Hampshire. The Tigers are just a five-point favorite in this game, according to Bovada. Missouri QB
Maty Mauk
and Co. will look to continue their big-play ways, but Toledo is one of just two teams that hasn't allowed a touchdown of 40 yards or more since the start of the 2013 season.
Arkansas State at Tennessee, SEC Network
The Vols opened some eyes with a convincing 38-7 victory in their opener against Utah State. Particularly impressive was their defense, which held Utah State and dangerous dual-threat quarterback
Chuckie Keeton
to 244 yards of total offense. The Volunteers will need a repeat performance against an Arkansas State offense that should not be overlooked. The Red Wolves have been to bowl games in each of their past three seasons and added the formidable offensive mind of coach Blake Anderson, formerly the offensive coordinator at North Carolina.
2 p.m. ET
[+] Enlarge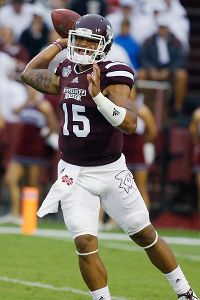 Rogelio V. Solis/Associated PressDak Prescott and Mississippi State were clicking in last week's rout of Southern Miss.
UAB at Mississippi State, ESPN3.com
MSU had a terrific opening week. We knew the defense was one of the best in the SEC, but quarterback
Dak Prescott
and the Bulldogs' offense showed a lot of bite in a 49-0 rout of Southern Miss. Prescott threw for a career-high 284 yards, and two of his four passing touchdowns went to electric athlete
De'Runnya Wilson
. Mississippi State faces another Conference USA foe this week in the Blazers, who could provide more of a test for MSU's run defense. UAB rushed for 338 yards in a 48-10 Week 1 win against Troy, including
Jordan Howard
's standout effort (179 yards and two TDs).
3:30 p.m. ET
Ohio at Kentucky, ESPNU
The Wildcats kicked the basketball offseason to the back burner last week when their fast-breaking offense captured everyone's attention in a 59-14 feel-good win against Tennessee-Martin. The 59 points were especially crowd-pleasing after Kentucky averaged just 20.5 last season. Sure, Tennessee-Martin offered little resistance, but UK quarterback
Patrick Towles
showed a command of the offense in his first start, racking up 377 yards passing. The only downer for the Cats is that former Nebraksa transfer RB
Braylon Heard
, who dazzled last week with touchdown runs of 73 and 43 yards, is doubtful with an ankle injury.
4 p.m. ET
Eastern Michigan at Florida, SEC Network
The Gators are chomping at the bit to play after last week's deluge wiped away their season opener against Idaho. And guess what? There's a 50 percent chance of thunderstorms on Saturday as well. Because this will be Florida's first game of the season, it's worth noting that UF has the nation's second-longest winning streak in season openers with 24 (behind Nebraska's 29). The Gators' defense should feast on EMU's run-heavy offense. On the other side of the ball, Florida is debuting a no-huddle spread offense that should better suit athletic dual-threat quarterback
Jeff Driskel
.
Nicholls State at Arkansas, SEC Network
The Razorbacks are riding a losing streak of epic proportions -- a school-record 10 games, dating to last season. They haven't won since Sept. 14, coach Bret Bielema's third game. Almost a year later, Arkansas has a plum chance to get off the schneid against an FCS team that will be facing an SEC foe for the first time in its history. Arkansas might have gained a measure of pride from their first-half performance at Auburn last week, but the offense generated just 61 second-half yards after piling up 267 in the first half. The defense showed it still has a long way to go, giving up 595 yards to the Tigers' offense.
4:30 p.m. ET
No. 15 Ole Miss at Vanderbilt, ESPN
Finally, a competitive game to discuss. This week's sole conference matchup pits permanent interdivision rivals who have been separated by a total of five points in their past two meetings. Ole Miss won last season but is just 1-9 in its past 10 conference openers. These teams have something in common. Vanderbilt would like to forget last week's embarrassing 37-7 loss to a Temple team that won just two games in 2013. Ole Miss would like to forget the first 3½ quarters its offense needed to get back on track against Boise State. Rebels QB
Bo Wallace
had 387 yards and four touchdowns passing last week but raised some eyebrows with three first-half interceptions.
7 p.m. ET
San Jose State at No. 5 Auburn, ESPN2
Nick Marshall
makes his first start of the season at quarterback for the Tigers. He sat the first half last week as punishment for being cited for marijuana possession in July. His understudy,
Jeremy Johnson
, impressed in Auburn's season-opening win against Arkansas and will surely see time in this one, even if it's just garbage time. The Spartans are an improving Mountain West program, but their SEC history has been flat-out ugly. They have played SEC teams four times and lost all four, giving up 113 points (while scoring just six) in their past two meetings with SEC foes.
East Carolina at No. 21 South Carolina, ESPNU
The Gamecocks heard all offseason about what a dangerous and underrated opponent they've got in Week 2. But South Carolina was humbled last week in the first national spotlight game of the young season and should have every motivation to rebound in a big way against the Pirates. After getting torched for 680 yards and 52 points by Texas A&M's offense, South Carolina has to shore up its pass defense against ECU quarterback
Shane Carden
, who threw for a school-record 4,139 yards last season and led the Pirates to 10 wins. Gamecocks QB
Dylan Thompson
and his offensive line performed well in Week 1. This one's all on the defense.
7:30 p.m. ET
Lamar at No. 9 Texas A&M, SEC Network
Who's this Lamar fella and how is he going to keep up with
Kenny Hill
? In all seriousness, the
Lamar Cardinals
are a middling FCS program based in Beaumont, Texas. This game promises to be a lopsided affair, but at least Hill likely won't have to play all four quarters. Before his record-breaking coming-out party against the Gamecocks, Hill supposedly was in a close competition for the starting job with talented true freshman
Kyle Allen
, the No. 1 rated quarterback coming out of high school last year. If Hill plays anywhere close to the level of his debut, Allen should get some quality time with A&M's voluminous weapons.
Sam Houston State at No. 12 LSU, SEC Network
Coming off a dramatic comeback win against then-No. 14 Wisconsin last week, it just doesn't seem fair for the Tigers to face an FCS opponent in Death Valley. The Bearkats are averaging more than 600 yards of offense in their first two games. But LSU has played FCS opponents six times in Les Miles' nine years and outscored them by a combined 232-64. The real intrigue here is the Tigers' QB situation. Sophomore starter
Anthony Jennings
completed less than half of his attempts last week, but freshman
Brandon Harris
looked worse in his only series.
Top Week 2 stories:
August, 29, 2013
8/29/13
9:00
AM ET
STARKVILLE, Miss. -- An iPhone App said that it was 84 degrees on Mississippi State's campus Tuesday afternoon, which could only be true if Starkville was located at the bottom of a lake. It's only a few minutes into the start of practice and you can see the players struggling with the humid, sapping conditions. Coaches shout at the medical staff to "Water the O-line!" as if the assembly of 300-pound men were a patch of wilting dandelions.
One of the team doctors takes issue with the readout. Robert Collins, a white-haired holdover from the Jackie Sherrill era, says it's at least 5-6 degrees warmer on the practice field most days, and that's not counting the radiant heat, a measurement he argues is a much more accurate gauge of how hot it actually feels. Inside the players helmets, it's a good 20 degrees warmer, he says.
[+] Enlarge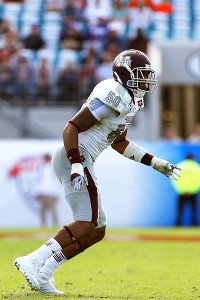 AP Photo/Don Juan MooreThe Mississippi State defensive coaches hope to see more "juice" out of Benardick McKinney and the rest of the Bulldogs defenders.
It
feels
hot watching the Bulldogs run through individual and team drills. There's no shade for onlookers and even less relief for the players trying to catch their breath. Rick Ray, the school's basketball coach, wears a oversized bucket hat to keep from burning. He's here to watch 6-foot-5 freshman wideout
De'Runnya Wilson
, who came to school this summer with intentions of playing both sports, though it looks like football will keep him from doing so.
"They're killing the sled," said Ray, craning his neck to the far side of the field where the defensive linemen are working. "You can hear it all the way over here."
A few minutes later, players break from their position groups and begin to practice live action. What happened next should have looked familiar to Ray. It wasn't basketball, but the tempo sure looked like it. All that was missing was the high pitch of sneakers screeching on hardwood floor.
Mississippi State has long been a team that likes to run the football and control the clock, but today both sides of the ball are working at a full sprint. The NASCAR offense, as coaches call it, is in full effect. There's almost no break between plays. The first series is over before there's even time to measure it by hand. Ready for the second series, the average time between the blow of the whistle and the snap clocks in at roughly 19 seconds.
Players aren't the only ones running. Coaches are, too. Defensive coordinator Geoff Collins waves his hands like a man possessed and screams at his cornerback to, "Crank your a-- up!" before he's dropped to the scout team.
Time, you see, is of the essence.
Oklahoma State and its high-octane offense await Mississippi State on Saturday. The Cowboys, who finished seventh nationally in passing a year ago, averaged one play every 20.3 seconds. Fifty-eight of their 69 offensive touchdowns came on drives that lasted 3 minutes or less. Under the direction of coach Mike Gundy, they scored 19 touchdowns in under 60 seconds, good enough for third in the country.
"Once their tempo gets started, it's like a train rolling downhill," Collins said earlier in the day, "it's kind of hard to stop it."
For more than seven months, Mississippi State has been preparing for Oklahoma State and its no-huddle offense. Collins has stressed to his players that the best way to stop it is to never let it get going in the first place. Negative plays and pass breakups, he says, put the offense at a disadvantage. Throwing off the tempo is the only real option, because once the Cowboys have a defense on its heels, it's lights out.