NCF Nation:

DeSean Jackson
December, 3, 2012
12/03/12
10:00
AM ET
It's time to once again hand out a few superlatives to wrap up the final weekend of the Big 12 season.
Best offensive performance: Geno Smith, QB, West Virginia.
Smith looked more like his early-season Heisman form in his last game at Milan Puskar Stadium, a 59-10 win over Big 12 bottom-feeder Kansas. He completed 23 of 24 passes for 407 yards and three touchdowns to lead the Mountaineers to a seventh win.
Honorable mention: Lache Seastrunk, RB, Baylor.
[+] Enlarge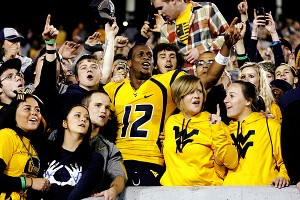 Charles LeClaire/US PRESSWIREGeno Smith's final performance at Milan Puskar Field was a reason to celebrate.
Best defensive performance: Karl Joseph, S, West Virginia
. Joseph was all over the field for West Virginia against Kansas. He made seven tackles, notched half a tackle for loss and intercepted a pass, returning it 22 yards. He also forced a fumble and broke up another pass.
Honorable mention: Kenny Vaccaro, S, Texas; Eddie Lackey, LB, Baylor.
Best team performance: Baylor.
The Bears looked dominant against an Oklahoma State team that has been beating the heck out of some good teams in the Big 12 to close the season. OSU made it interesting late, but Baylor was in control from start to finish during the 41-34 win, led by Lache Seastrunk's 178 yards on 16 carries.
Best game: Oklahoma 24, TCU 17.
This was fun from start to finish. Oklahoma let TCU in the game with an 80-yard touchdown on a busted play and an interception by
Landry Jones
to give the Frogs a touchdown on a drive that began inside the 10-yard line, but the Sooners won a third consecutive game that came down to the final play or final seconds. Amazing stuff, and the Sooners find a way yet again.
Best play: Lache Seastrunk, RB, Baylor.
Seastrunk has had cramping issues this season, and looked to suffer another one at the worst possible time -- right after clearing the Oklahoma State offense. No worries. He limped, stumbled and bumbled the last 30 yards of his 76-yard touchdown run to ice the game in the final minutes.
Honorable mention: Oklahoma's offensive line on Damien Williams' untouched, 66-yard touchdown run.
Biggest bailout: Nigel Malone, CB, Kansas State.
Malone was nearly a nominee for worst play, but an odd ruling earns him a special nod. Malone intercepted a wobbly ball to the sideline from
Case McCoy
and looked to return it for a touchdown, but pulled what's commonly known as a "DeSean Jackson," dropping the ball before he crossed the goal line. Instead of a touchback, K-State was given the ball on the half-yard line, and
Collin Klein
punched it in. Still. Mack Brown wasn't happy about the call, and I still don't think I understand why it wasn't a touchback.
Best quote: Tony Jefferson, S, Oklahoma,
on the Sooners' shared title with Kansas State. "Hey, sharing is caring."
Worst play: Blaize Foltz, G, TCU.
Trevone Boykin
would have escaped the defender, but Foltz still got flagged for a game-changing holding penalty on what might have been a game-tying touchdown in the final minute of TCU's 24-17 loss to Oklahoma. Boykin had escaped the pocket and reached the end zone to set off a celebration, but it was all for naught, and the penalty backed up TCU into a near impossible situation with the game on the line.
Best quarter: Baylor's first quarter.
The Bears scored a defensive touchdown and added another seven points on a 16-play, 98-yard drive to set the tone for the game. This would be Baylor's day against a team that Art Briles had never beaten, and had beaten Baylor six consecutive times. The Bears took control after falling behind 3-0 early and never looked back.
January, 18, 2011
1/18/11
6:55
PM ET
The SEC dominates college football, but the ACC and Pac-10
rock the NFL Pro Bowl
.
Wheeeee!
As my esteemed colleague Heather Dinich pointed out in the
ACC blog
, the ACC led all conferences for the third consecutive year with 19 players selected to play in the Pro Bowl, which will be held on Jan. 30 at Aloha Stadium in Honolulu, Hawaii. The SEC was second with 13 selections and the Pac-10 was third with 12. The Big Ten and the Big 12 had nine each.
But, of course, seeing that the Pac-10 at present has just 10 teams versus 12 for the ACC, SEC and Big 12, the numbers need to be adjusted for players per team. By that measure, the ACC is still No. 1 with 1.58 Pro Bowl players per ACC team, while the Pac-10 is second with 1.2 per team.
Here's the list of Pac-10 players in the Pro Bowl.
Marcedes Lewis
, TE, Jacksonville (UCLA)
Steven Jackson
, RB, St. Louis (Oregon State)
DeSean Jackson
, WR, Philadelphia (California)
Tony Gonzalez
, TE, Atlanta (California)
Ryan Kalil
, C, Carolina (USC)
Maurice Jones-Drew
, RB, Jaguars (UCLA)*
Haloti Ngata
, DT, Baltimore (Oregon)
Terrell Suggs
, DE, Baltimore (Arizona State)
Nnamdi Asomugha
, CB, Oakland (California)
Troy Polamalu
, S, Pittsburgh (USC)
Clay Matthews
, LB, Green Bay (USC)
Lance Briggs
, LB, Chicago (Arizona)
*Out of game due to injury
You also may have noticed that a Jets-Packers Super Bowl would mean both starting quarterbacks --
Mark Sanchez
for the Jets (USC) and
Aaron Rodgers
for the Packers (California) -- hail from the Pac-10.
January, 6, 2011
1/06/11
2:00
PM ET


1. Don't kick it to Patrick Peterson.
Just don't. LSU's return man ranks fourth nationally with over 16 yards per punt return, and has taken a pair of punts back for touchdowns already this year. He also ranks eighth nationally in kick return yardage, averaging just under 30 yards a return. If the Aggies are into giving up a game-changing return for points in what should be a low-scoring game, then by all means, punt Peterson the ball. If not, just kick it out of bounds or perfect a rugby kick. Matt Dodge of the New York Giants found out earlier this year what can happen if you give a playmaker an opportunity. Peterson is no DeSean Jackson, but he's pretty good. The Aggies better not give him a chance to prove it.
2. Don't force the ball to Jeff Fuller.
Perhaps we're a little Peterson-centric here, but throwing the ball up to Jeff Fuller and hoping the 6-foot-4, 215-pounder comes down with it works quite a bit against the majority of Big 12 corners. Here's guessing it won't against Peterson, a 6-foot-1, 222-pound cornerback who will be as physical with Fuller as any corner he's seen all year. Maybe they'll sneak in a reception -- Fuller did beat Prince Amukamara once against Nebraska for a clean 36-yard catch, his only catch of the night -- but trying to throw a jump ball will more often result in a wasted down at best and a turnover at worst. Peterson picked off four passes this year. The offensive line has to give
Ryan Tannehill
time to get the ball underneath to
Ryan Swope
and
Uzoma Nwachukwu
.
3. Don't forget Ryan Tannehill has legs.
Tannehill has played receiver for most of the past two seasons, and he can get out and run if he gets a chance. Against a stingy defense, if there's space, Tannehill should tuck it and run. The Tigers gave up 217 rushing yards to Cam Newton in a loss earlier this year. Tannehill, of course, is no Cam Newton, but the Aggies will have to scrap for yards. Tannehill may take some punishment for venturing into the next level of the defense, but he's a big guy who can take it. Mississippi State's
Chris Relf
ran seven times for 46 yards. West Virginia's
Geno Smith
didn't run much or well, finishing with just 10 yards on five carries. LSU hasn't seen a ton of mobile quarterbacks, but Relf and Newton had success. If Tannehill can follow their lead without running too much to the detriment of the passing game, it could open up plenty of other opportunities for the offense. Yards will be precious in this game, and Texas A&M needs to earn them any way it can.
January, 20, 2010
1/20/10
12:03
PM ET
Lots of extraordinary games to choose from, as well as many ways to ascribe greatness: the size of the stage, the competitiveness of the game and the overall strangeness.

And we made the executive decision not to make this a list of USC upset losses -- other than the biggest one of those.

10. Oregon 56, Arizona State 55 (2 OT), 2000: Many of you are drawing a blank, but the ones who saw this one are jumping out of their chairs and going, "Oh man. That one was nuts." Both teams scored 21 points in the fourth quarter. The teams combined for 1,228 yards, 663 of those for the Sun Devils. Ducks quarterback Joey Harrington threw six -- SIX! -- touchdown passes, including three in the fourth quarter, the last of which tied the score with 27 seconds left after the Sun Devils gave away a critical fumble. Arizona State freshman QB Jeff Krohn threw five TD passes, by the way. ASU lost the game when coach Bruce Snyder decided to fake the extra point and go for the two-point conversion in the second overtime. It failed, leaving fans in Tempe stunned.

9. Washington State 30, USC 27 (OT), 2002: Any of you Cougars fans able to muster the memory of kicker Drew Dunning's slide on his knees at Martin Stadium? Dunning sent the game into overtime with a 35-yard field goal and then made the game-winner from the same distance in a victory that was critical to the Cougars' run to the Rose Bowl. The game featured a brilliant quarterback duel between Carson Palmer and Jason Gesser -- Gesser passed for 315 yards, Palmer for 381 -- and a dominant performance from Cougars defensive tackle Rien Long, who went on to win the Outland Trophy. Between this game and the 2006 Rose Bowl, USC lost just once.

8. Oregon 44, Arizona 41 (2 OT), 2009: If Arizona had won this game, we now know the Wildcats would have played in their first Rose Bowl. The Wildcats led 24-14 early in the fourth quarter, but then the game went crazy. With red-clad Arizona fans encircling the field, Ducks quarterback Jeremiah Masoli tied the game in regulation with six seconds left with a touchdown pass to Ed Dickson. Masoli then won it in the second overtime with a 1-yard run. Masoli ran for three TDs and passed for three more.

7. Stanford 24, USC 23, 2007: Greatest upset in Pac-10 history? Maybe. Stanford was a 41-point underdog playing its backup quarterback at No. 2 USC, which had won 35 in a row at home. But Trojans quarterback John David Booty, who foolishly played -- and was allowed to play -- with an injured throwing hand, threw four interceptions, while Stanford's Tavita Pritchard led a clutch, game-winning drive, throwing a 10-yard touchdown pass to Mark Bradford on fourth-and-goal with 49 seconds remaining.

6. Oregon 37, Oregon State 33, 2009: It was the Civil War for the Roses, with the Ducks earning a berth in the Rose Bowl. While the return of Ducks running back LeGarrette Blount was significant -- he scored a critical touchdown -- the game belonged to redshirt freshman running back LaMichael James, who scored three touchdowns and rushed for 166 yards, and quarterback Jeremiah Masoli, who ran over Beavers safety Lance Mitchell to convert a fourth-and-3 play from the Beavers' 33 with 3:41 left, as Oregon ran out the final six minutes with its final drive.

5. California 31, Oregon 24, 2007: Sixth-ranked California, featuring a stellar performance from receiver DeSean Jackson, outlasted No. 11 Oregon in a game between two teams that would at one point rise to No. 2 during the season, though both ultimately crumbled. The game turned on a strange play as the Ducks were on the cusp of tying the score. With 22 seconds to go, Dennis Dixon found Cameron Colvin near the goal line, but Colvin fumbled trying to reach the ball into the end zone when he was hit by Marcus Ezeff. The loose ball went through the end zone and was ruled a touchback and possession for Cal.

4. Washington 33, Oregon State 30, 2000: It was the greatest game no one saw because of the late, West Coast kickoff at Husky Stadium. And at the time, its magnitude wasn't clear. The critical play of the back-and-forth affair happened when Washington defensive tackle Larry Tripplett caught Ken Simonton for a three-yard loss on second-and-1 from the Huskies 26-yard line with 42 seconds left. The Beavers panicked and mistakenly spiked the ball -- they had a timeout left -- and then Ryan Cesca missed a 46-yard field goal to tie. It was the Beavers' only loss of the season; they crushed Notre Dame in the Fiesta Bowl. They would have played Oklahoma for the national title if they had prevailed. And the win helped the Huskies win the Rose Bowl tiebreaker.

3. USC 23, California 17, 2004: No. 7 California had a first-and-goal on top-ranked USC's 9-yard line with under two minutes left. At that point, Cal quarterback Aaron Rodgers had completed 29 of 31 passes for 267 yards and a touchdown. But the Bears couldn't punch it in, with USC registering a sack and forcing three incompletions. It was the closest call of the season for the best team of the USC dynasty.

2. USC 34, Notre Dame 31, 2005: The infamous "Bush Push" game. No. 9 Notre Dame was about to knock off top-ranked rival USC and make Irish coach Charlie Weis a national sensation, but Matt Leinart led a drive for the ages in the waning moments as the Trojans prevailed, scoring the winning points when Leinart got a little extra help from Bush on his second effort on a quarterback sneak.

1. Texas 41, USC 38, 2006 Rose Bowl: Perhaps the great game in college football history, particularly considering that the stakes were a national title for two unbeaten teams and the field was packed with talent and future high draft choices. Vince Young almost single-handedly willed his team to the victory -- he ran for 200 yards and passed for 267 more -- and denied the Trojans a third consecutive national title. USC walked away with a laundry list of "what ifs," but the ultimate result was a 34-game winning streak coming to an end.
TOP 25 SCOREBOARD
Thursday, 12/5
Friday, 12/6
Saturday, 12/7
TOP PERFORMERS