NCF Nation:

Desmond Howard
August, 5, 2014
Aug 5
2:00
PM ET
On Monday, ESPN revealed its choices for the
greatest individual seasons in college football history
.
We voted on several of these, including the best Big Ten seasons. As you can imagine, there were some difficult calls to make, especially at schools stuffed with rich traditions and legendary players. We didn't always agree.
Our Big Ten reporting crew offers thoughts on
which decisions were the toughest
for league schools.

Brian Bennett:
There were lots of tricky calls once you narrowed it down to two candidates for a certain school. For example, does the best season at Illinois belong to Red Grange or Dick Butkus? (You try telling Butkus it was Grange). Lorenzo White or Bubba Smith at Michigan State? Archie Griffin or Eddie George at Ohio State? We had to not only compare the numbers but also take into account the different eras.
For me, the hardest decision on an individual season involved Wisconsin. The consensus ended up being Ron Dayne's 1999 season in which he won the Heisman Trophy. But you could make a robust argument that Dayne's own 1996 campaign was better, as he ran for more yards and more touchdowns and had a higher yards-per-carry average as a freshman than he did as a senior. I've always thought the comparisons between Dayne and Montee Ball's 2011 season are fascinating. One day, I believe, people will look back on Ball's '11 season and wonder how a guy who tied the NCAA record with 39 touchdowns -- while running for 1,923 yards and averaging more yards per carry than Dayne did in 1999 -- not only failed to gain traction in the Heisman race but somehow didn't claim the Doak Walker Award (a grievous error that was thankfully remedied in 2012). Throw in Alan Ameche, who won the Heisman in 1954, and Pat Richter's 1962 season, and you have enough material to create decades of debate.
Mitch Sherman:
My toughest call involved Nebraska, the school I've watched most closely for the past 20 years. Mike Rozier made the
top 16
nationally, as selected by ESPN.com writers and editors, for his 1983 Heisman campaign. Rozier's statistics earn him a clear victory among all-time Huskers in the eyes of most. But not me. I saw in 1995 what stats cannot tell us about Tommie Frazier's senior season. He rushed for 604 yards and threw for 1,362 -- pedestrian numbers compared to many on this list, though he still finished second in the Heisman voting. Sure, he was surrounded by greatness, offensively and defensively, but perhaps only Tim Tebow since that 1995 season has matched Frazier's presence and overall impact on a team. Frazier was a field general in every sense imaginable. He inspired the players alongside him in the huddle. He founds reserves of determination for the biggest games, earning recognition often among the greatest quarterbacks to play the college game. I went with Rozier because his dominance was impossible to ignore, picking against Frazier -- an act that those 13 games in 1995 taught me was most unwise.
Austin Ward:
The trump card is almost always up Archie Griffin's sleeve when it comes to debates about the greatest player in Ohio State history, but at least this once it didn't work. In a conversation about the top individual season a program has ever seen, being the only two-time Heisman Trophy winner finally wasn't a deal breaker -- and the Buckeyes have plenty of incredible performances to give Griffin a run for his money. Orlando Pace made people take notice of line play and count up pancakes, and it was tough for him to even crack the honorable-mention list. It's actually Eddie George who holds Ohio State's single-season rushing record with a staggering 1,927-yard campaign that included 24 touchdowns and a stiff-arm trophy of his own. David Boston's breakout seasons in 1997 and '98 are even more remarkable in hindsight, with the wide receiver rewriting the record books with a pair of seasons that are both nearly 300 yards better than anybody else in school history. On top of that, Ohio State has four other Heisman winners to consider along with three-time All-America Chic Harley. In the end, Griffin's seasons can't be fully measured by his statistics alone, since for starters he was sharing time in a loaded backfield. But his talent was undeniable when the football was in his hands, and even without his normal trump card Griffin still walked away a deserving winner.
Josh Moyer:
For me, I might have spent the most time waffling back and forth with Michigan. Sure, Charles Woodson's 1997 campaign was one for the ages. But could we really ignore a rich history that included Fielding Yost's point-a-minute teams and severely underrated running back Willie Heston (1904)? Or Mr. Do-Everything in Tom Harmon (1940)? Or how about a quarterback (Bennie Friedman, 1925 or 1926) and wide receiver (Bennie Oosterbaan) who helped change the face of the game? Or, if we want to get a bit more recent, how's Desmond Howard (1991) sound?
You could make a case for any of these players and, really, not be wrong. But I think the two who give Woodson the strongest push are Harmon and Heston. Harmon not only won the Heisman in 1940, but he was also the AP Male Athlete of the Year – meaning he had a better season than the likes of MLB's Hank Greenberg (41 homers, 150 RBI). It didn't hurt that Harmon could rush, pass, kick, punt and tackle. But my personal vote as the best Michigan season went to Heston. The NCAA could piece stats together from just 17 of his 36 career games and, just during that 1904 season, Heston
averaged 12.7 yards per carry
while rushing for 21 TDs. (And he was good at defense.) Knute Rockne once said
Heston was a better runner than Red Grange
. Plus, Michigan went 10-0 that season and outscored its opponents 567-22. So Michigan has a lot of quality players and great seasons -- which didn't make this an easy task -- but after a lot of thinking I personally voted for Heston in 1904. Truthfully, though, you could've gone with a half-dozen others.
September, 5, 2013
9/05/13
11:00
AM ET
The Michigan-Notre Dame rivalry dates back to 1887 when the Wolverines instructed the Irish in the rules and ways of the game. Today, it's still one of the most well-known and respected matchups in the country. But on Saturday, the two teams will meet for the last time (for the foreseeable future) in Michigan Stadium. To commemorate this event, we've counted down the top five games in the rivalry's history in the Big House.


5. 2009 | Michigan 38, No. 18 Notre Dame 34
Enter Tate Forcier. His career at Michigan was short-lived, but as a freshman he led one of the greatest come-from-behind drives against Notre Dame in Michigan Stadium. With Notre Dame forced to punt, Forcier and the Wolverines got the ball back with 2:13 left in the game, down three. The freshman led Michigan down the field and capped the drive with a 5-yard TD pass with 11 seconds left in the game. The ensuing PAT sealed the victory for Michigan.
4. 1981 | No. 11 Michigan 25, No. 1 Notre Dame 7
The Wolverines had started the season No. 1 in the country, but Wisconsin wiped the floor with them. With Notre Dame's season-opening win over LSU, the Irish came into the Big House ranked No. 1 in the nation, while the Wolverines had dropped to No. 11. But behind clutch defensive performances, which held the Irish without a second- or third-quarter first down, Michigan rolled.
3. 2011 | Michigan 35, Notre Dame 31
If we were counting down the top moments of the rivalry, this would arguably be No. 1. And there are 114,804 people to testify to that. However, as far as the game as a whole, this one was basically a snoozer until the final moments. Everyone remembers Roy Roundtree's game-winning catch from Denard Robinson with two seconds left. Or they remember the catch, one play earlier, by
Jeremy Gallon
. Those kinds of memories erase the fact that the Wolverines went into the fourth quarter down 24-7. But that final quarter -- with all the emotion and anticipating -- gets the 2011 game on the top-five list.
2. 1989 | No. 1 Notre Dame 24, No. 2 Michigan 19
Bo Schembechler's final game in this series was not a memorable one for the Wolverines, who saw Raghib Ismail return two kickoffs for touchdowns. It was the defending national champions, the No. 1-ranked Irish against No. 2 Michigan, with Irish quarterback Tony Rice attempting just two passes in the wet conditions. The Wolverines saw a 10-game unbeaten streak snapped, and the Irish became the first team to beat Schembechler three straight times.
1. 1991 | No. 2 Michigan 24, Notre Dame 14
Up three early in the fourth quarter, Desmond Howard made the first of many memorable plays in what would become a Heisman Trophy-winning season. Howard caught a 25-yard pass from Elvis Grbac on fourth-and-1, a signature moment in this rivalry's history, known to Wolverine fans simply as "The Catch." Michigan snapped a four-game losing streak to Notre Dame.
August, 31, 2012
8/31/12
3:30
PM ET
By
ESPN.com staff
| ESPN.com

Desmond Howard breaks down the game to watch in Michigan-Alabama, Boise State-Michigan State, and expectations facing Urban Meyer in his first season at Ohio State.
June, 5, 2012
6/05/12
5:22
PM ET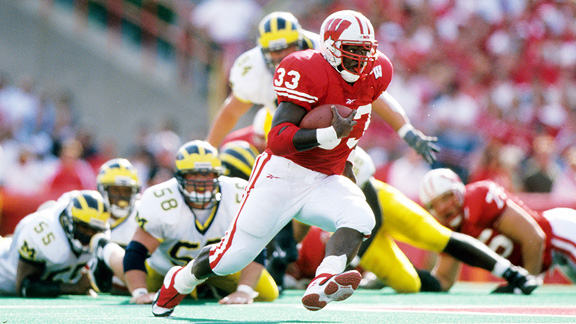 US PresswireWisconsin's Ron Dayne capped off his senior season in 1999 earning several national awards.
On Monday we revealed our list of
top five individual seasons by a Big Ten player in the past 50 years
, and as Brian Bennett explained, the choices weren't easy. We omitted several incredible individual performances, and some of you let us hear about it.
Here's a list of 10 outstanding individual seasons that just missed the cut. As a reminder, these are performances from the
past 50 seasons only
(1962-2011). Although Nebraska has played only one season as a Big Ten member, we considered Huskers' performances from the time span, as well as those by Penn State players before the 1993 season, when Penn State joined the Big Ten. Again, this is a list of outstanding individual seasons, not individual careers.
Even with this list, we're leaving out many great performances.
Here's the rundown, in alphabetical order:
Brad Banks, QB, Iowa, 2002:
Banks played only two seasons in Iowa City, but he left quite an impression in 2002. He led the nation in pass efficiency with a 157.1 rating and had 26 touchdown passes and just five interceptions, to go along with 423 rush yards and five touchdowns on 83 carries. Banks finished second for the Heisman Trophy but took home plenty of awards, including AP Player of the Year, Davey O'Brien and Big Ten MVP.
Kerry Collins, QB, Penn State, 1994:
Penn State is known for producing star running backs, but Collins broke the mold in the team's second Big Ten season with an outstanding performance. He set team records for total offense (2,660), completions (176), passing yardage (2,679), completion percentage (66.7), yards per attempt (10.15) and passing efficiency (172.86). His efficiency mark ranks third in Big Ten history. Collins won the Maxwell and O'Brien awards and finished fourth in Heisman Trophy voting. He led Penn State to an undefeated season and a Rose Bowl title.
Ron Dayne, RB, Wisconsin, 1999:
It was a tough call between Dayne's 1999 campaign and his historic freshman year in 1996, but he capped his Badgers career by sweeping the major national awards (Heisman, Walter Camp, Maxwell, Doak Walker). Dayne rumbled for 1,834 yards and 19 touchdowns, averaging 6.1 yards per carry, as Wisconsin repeated as Big Ten and Rose Bowl champions.
Eddie George, RB, Ohio State, 1995:
Like Wisconsin's Montee Ball, who made our top five list from Monday, George was a model of consistency at the running back spot. He eclipsed 100 rush yards in 11 consecutive games despite often playing sparingly in the fourth quarter, and he finished the season with 1,927 rush yards and 23 touchdowns. He edged Nebraska's Tommie Frazier for the Heisman Trophy and also won the Maxwell, Walter Camp and Doak Walker.
Desmond Howard, WR, Michigan, 1991:
He's the only Big Ten wide receiver to win the Heisman Trophy (Nebraska's Johnny Rodgers played in the Big Eight), and his
Heisman pose
after a punt return touchdown against Ohio State remains an iconic image. Howard had 62 receptions for 985 yards and 19 touchdowns that year. He averaged 27.5 yards per kick return with a touchdown, 15.7 yards per punt return with a touchdown and had 13 carries for 180 yards and two scores. He still holds the single-season record for receiving touchdowns in Big Ten games (13).
Larry Johnson, RB, Penn State, 2002:
Johnson's numbers from 2002 are simply insane, as he averaged 183.1 yards per game and 7.7 yards per carry en route to leading the nation in rushing (2,087 yards). His yards total is the second highest in Big Ten history, and he had 54 fewer attempts than Dayne in 1996. Johnson won the Walter Camp, Maxwell and Doak Walker awards and finished third in Heisman Trophy voting.
Orlando Pace, OT, Ohio State, 1996:
Offensive linemen shouldn't be excluded from a list like this, and Pace was one of the best in recent college football history. He capped his career with an outstanding senior season, finishing fourth in Heisman Trophy voting, the best total for a lineman (offense or defense) since 1980. He popularized the term "pancake block" and earned his first Outland Trophy and his second Lombardi Award that year. Pace also earned Big Ten MVP honors.
Ndamukong Suh, DT, Nebraska, 2009:
Everyone around the country learned the name and the "Suuuuuuuh!" calls from Huskers fans. Suh turned into one of the more dominant seasons by a defender in college football history, racking up 12 sacks, 24 tackles for loss, 26 quarterback hurries, 10 pass breakups, three blocked kicks, a forced fumble and an interception. Suh won several national awards (Bednarik, Rotary Lombardi, Nagurski, Outland) and finished fourth in Heisman voting.
Anthony Thompson, RB, Indiana, 1989:
Thompson capped a brilliant career with a flourish, winning the Walter Camp and Maxwell Awards in 1989 and earning his second consecutive Big Ten MVP honor. The Hoosiers star rushed for 1,793 yards and 24 touchdowns, and added 35 receptions for 201 yards. He recorded the top single-game rushing total (377 at Wisconsin) and set the Big Ten's career scoring record, which Dayne eclipsed a decade later.
Lorenzo White, RB, Michigan State, 1985:
There are several work-horse efforts that could be included in this list, but none is more impressive than White's 1985 campaign. The Walter Camp Award winner set a Big Ten record with 419 carries and became the first Big Ten ball-carrier to eclipse 2,000 yards, piling up 2,066. He also ranks second in Big Ten Conference games in both rushing yards (1,470) and rushing average (183.7 yards per game).
November, 6, 2011
11/06/11
11:10
AM ET
If you needed any more proof that Oregon's visit to Stanford is big, ESPN's College GameDay provided it by deciding to make its
first trip to the Farm
.
Oregon, ranked eighth in last week's BCS standings, is 8-1 and has won 18 conference games in a row. The Ducks lone loss came in the opener against No. 1 LSU. Stanford, ranked fourth in last week's BCS standings, is 9-0 has won 17 in a row, the nation's longest winning streak.
Yes, it's big.
This will be the fourth time this season Chris Fowler, Kirk Herbstreit, Lee Corso, Desmond Howard and Erin Andrews have been at a Pac-12 game. "GameDay" was at the season opener between Oregon and LSU, at Oregon for the Ducks' matchup with Arizona State and at USC for the Trojans game with Stanford.
October, 23, 2011
10/23/11
12:02
PM ET
ESPN's "College GameDay" is heading to LA for Stanford's visit to USC.

This will be the third time this season Chris Fowler, Kirk Herbstreit, Lee Corso, Desmond Howard and Erin Andrews have been at a Pac-12 game. "GameDay" was at the season opener between Oregon and LSU, and it was at Oregon for the Ducks' matchup with Arizona State.

This will be "GameDay's" first trip to LA since Oct. 30 of last year (Oregon at USC).
September, 10, 2011
9/10/11
8:16
PM ET
ANN ARBOR, Mich. -- An emotional few minutes early on in the Big House, as Michigan honored Desmond Howard by naming him the first player in program history to receive the designation of a "Michigan Football Legend."

Howard held back tears during a brief thank-you speech to fans. Minutes later, "God Bless America" played and the stadium scoreboards showed all of the Michigan alumni who passed in the Sept. 11 attacks 10 years ago.

Notre Dame won the toss and will kick. Get ready for some night football in Ann Arbor.
July, 15, 2011
7/15/11
11:00
AM ET
Two former Big Ten players and one former Big Ten coach will receive one of college football's highest honors this weekend.
Former Wisconsin coach Barry Alvarez, former Purdue quarterback Mark Herrmann and former Michigan wide receiver (and current ESPN colleague) Desmond Howard will be enshrined into the College Football Hall of Fame. The 2011 class will be enshrined Saturday in South Bend, Ind.
You can find out all you need to know about
the enshrinement festival here
.
Here are some recent links on
Howard
,
Herrmann
and
Alvarez
heading into the Hall.
May, 27, 2010
5/27/10
1:00
PM ET
The 2010 College Football Hall of Fame inductees class includes a Heisman Trophy winner at Michigan, a record-setting quarterback at Purdue and the man who made Wisconsin football relevant again.
Not a bad showing for the Big Ten at all.
Michigan wide receiver Desmond Howard, Purdue quarterback Mark Herrmann and former Wisconsin head coach Barry Alvarez all earned their Hall passes Thursday in New York City. They will be inducted into the Hall of Fame on Dec. 7.
There shouldn't be many gripes about these choices, as all three men are very deserving of admission to the Hall.
In case you forgot what they accomplished, here's a refresher:
BARRY ALVAREZ, head coach, Wisconsin, 1990-2005
Went 118-73-4 (.615) in 16 seasons at Wisconsin
Led the Badgers to three Big Ten championships (1993, 1998, 1999) and three Rose Bowl victories
Only Big Ten coach to win back-to-back Rose Bowls (1999, 2000); one of six coaches to win three or more Rose Bowls
National Coach of the Year in 1993; Big Ten Coach of the Year in 1993 and 1998
Went 8-3 in bowl games
Led Wisconsin to back-to-back Big Ten titles for the first time since 1896-97
DESMOND HOWARD, wide receiver, Michigan, 1989-91
Won Heisman Trophy in 1991 after leading the nation in both scoring (11.5 ppg) and kickoff returns (27.5 ypr)
Became the first wide receiver to the lead the Big Ten in scoring
Earned 640 first-place votes (85 percent) in the Heisman race and won by the second-largest margin in the award's history
Also won the Walter Camp Award and the Maxwell Award in 1991
Set or tied five NCAA records and 12 Michigan records. Still holds Michigan marks for single-season points (138) and single-season touchdowns (23)
Helped Michigan to three Big Ten championships and two Rose Bowl appearances
MARK HERRMANN, quarterback, Purdue, 1977-80
Unanimous first-team All-American and Big Ten MVP in 1980; finished fourth in Heisman Trophy balloting
Set nine NCAA records in his career, including marks for passing yards (9,188) and completions (707)
Started 45 of 47 games for Purdue and completed 772 passes for 9,946 yards and 71 touchdowns (including bowl games, which the NCAA didn't count for its statistics back then)
Earned MVP honors in three consecutive bowl games (1978 Peach, 1979 Bluebonnet and 1980 Liberty)
Still ranks fifth on the Big Ten's career passing chart
Needless to say, three very deserving choices.
Alvarez got the word last week during Big Ten spring meetings. Officials from the National Football Foundation came to Chicago to tell him in person, and did so in a gathering of all the league's coaches and athletic directors. Several folks told me it was a pretty emotional moment for Alvarez, who left the hotel carrying a College Football Hall of Fame football under his arm.
Colleague Ivan Maisel has more on
Alvarez's Hall of Fame moment
, and here's a breakdown of
all the new members
of college football's elite club.
March, 3, 2009
3/03/09
4:27
PM ET
Posted by ESPN.com's Adam Rittenberg
The National Football Foundation announced its 2009 ballot for the College Football Hall of Fame Tuesday, and the list includes 16 players from the Big Ten and two coaches who spent time in the league.
Former Michigan wide receiver Desmond Howard, the 1991 Heisman Trophy winner, leads the Big Ten contingent on the ballot, which includes 76 players and six coaches.
Ohio State, Michigan and Purdue each have three players on the list, while both Penn State and Michigan State have two players. Wisconsin, Iowa and Indiana each have one candidate.
Here's the list of Big Ten players eligible for induction, along with some information on each candidate provided by the NFF:
Otis Armstrong, Purdue, running back (1970-72) -- Named consensus All-America in 1972 after accumulating 3,315 career rushing yards, a school and Big Ten record. Named Big Ten MVP in 1972.
Dave Butz, Purdue, defensive tackle (1970-72) -- Consensus first team All-America. Finalist for the Lombardi Award in 1972 and named first team All-Conference. Named Defensive MVP of the Senior Bowl.

D.J. Dozier, Penn State, running back (1983-86) -- Named 1986 consensus first team All-America and led Penn State to perfect 12-0 season and national championship (1986). Finished eighth in 1986 Heisman voting. First Penn State running back to lead the team in rushing for four consecutive seasons.
Dave Foley, Ohio State, offensive tackle (1966-68) -- Named consensus first team All-America in 1968. Led Buckeyes to the 1968 national championship and an undefeated season. National Football Foundation National Scholar-Athlete in 1968.

Kirk Gibson, Michigan State, wide receiver (1975-78) -- Named first team All-America, led Big Ten in receiving in league play and helped the Spartans to a Big Ten co-championship and a No. 12 national ranking in 1978. Played Major League Baseball for 17 seasons and won National League MVP honors in 1988.

Curtis Greer, Michigan, defensive tackle (1976-79) -- First team All-America selection. Set school record for tackles for loss in a season (23) and career (48). Two-time first team All-Big Ten selection (1978-79). Led Wolverines to three conference championships and four bowls.
Mark Herrman, Purdue, quarterback (1977-80) -- Named unanimous first team All-America, Big Ten MVP and finished fourth in the Heisman Trophy voting in 1980. A first team All-Conference selection, he broke NCAA career records for passing yards (9,188) and completions (707).
Desmond Howard, Michigan, wide receiver (1989-91) -- Consensus first team All-America and Heisman Trophy winner in 1991. Led Wolverines to three Big Ten titles and two Rose Bowls. Led the nation in scoring (11.5 points per game) and kickoff returns (27.5 avg.) in 1991.

Tim Krumrie, Wisconsin, defensive line (1979-83) -- Named a consensus first team All-America in 1981. Led Badgers to 1981 Garden State Bowl and earned Defensive MVP honors in 1982 Independence Bowl. Three-time first team All-Conference selection, recording 444 career tackles.
Robert Lytle, Michigan, running back (1974-76) -- Named consensus first team All-America in 1976. Finished third in the 1976 Heisman Trophy voting. Named Big Ten MVP in 1976 and led Michigan to two conference championships.
Tom Nowatzke, Indiana, fullback (1961-64) -- Named first team All-America in 1964. A two-time All-Conference selection (1963-64), he led the Big Ten in rushing in 1963. Played in the East/West Shrine Game, Senior Bowl and Coaches All-American Game.

Jim Otis, Ohio State, fullback (1967-69) -- Named consensus first team All-America in 1969. Member of the 1968 national championship team. Named First Team All-Big Ten in 1969 and led the Buckeyes to two conference titles. Led the team in rushing three times.

Percy Snow, Michigan State, linebacker (1986-89) -- Unanimous First Team All-America in 1989 and Butkus Award winner. Led MSU to 1987 Big Ten title and Rose Bowl win. Ranks second all-time in career tackles (473).

Chris Spielman, Ohio State, linebacker (1984-87) -- Two-time first team All-America selection (1986-87) -- unanimous in 1987, consensus in 1986. The recipient of the 1987 Lombardi Award, he is a three-time first team all-conference selection and a member of two Big Ten title teams.

Larry Station, Iowa, linebacker (1982-85) -- Two-time first team All-America selection (1984-85) -- unanimous in 1985, consensus in 1984. A three-time first team all-conference selection, he was named team captain and MVP in 1985. Iowa's all-time leader in tackles with 492.
Curt Warner, Penn State, running back (1979-82) -- Named first team All-America in 1981 and led Penn State to 1982 national championship. Most outstanding offensive player in 1980 and 1982 Fiesta Bowls. Finished career with 11 season, 10 career, 14 bowl and 42 school records.
Howard and Dave Foley are on the ballot for the first time.
Two coaches with Big Ten ties also are on the ballot. Darryl Rogers coached Michigan State from 1976-79, going 24-18. William "Lone Star" Dietz coached Purdue in 1921, going 1-6.
The 2009 class will be announced on April 30 and inducted at the National Football Foundation's annual awards dinner on Dec. 8 in New York.