April, 23, 2014
Apr 23
11:00
AM ET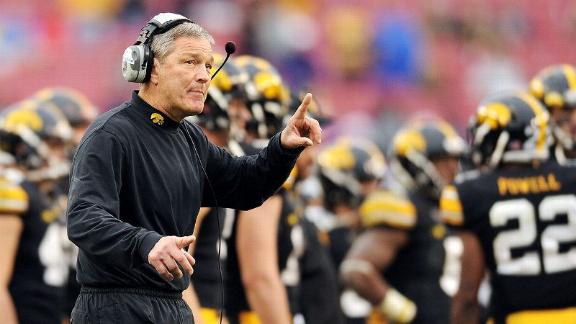 IOWA CITY, Iowa -- No Big Ten coach takes the temperature of his team in spring practice quite like Iowa's Kirk Ferentz. No Big Ten coach has lived in as many different climates.
The dean of the league's coaches knows the sunniness that surrounds teams after redemptive seasons such as the ones the Hawkeyes had in 2001, 2008 or last fall, when Iowa improved its wins total by four. He also knows the polar vortex that exists, at least outside Iowa's football complex, after poor performances like the ones the team delivered in 2007 and 2012.
Ferentz also understands how quickly the weather changes, like it often does on spring afternoons in the Midwest.
So at a recent team meeting, Ferentz detoured from the typical spring minutia -- replacing seniors, creating depth, finding leaders, building identities -- and addressed a macro item: the preseason polls.
"He said we might be ranked," running back
Jordan Canzeri
told ESPN.com, "and even if we are, no one is to keep that in their head. There were several teams that were ranked and didn't get to go to a bowl game this past year. You never want to be cocky. Even if the stats show you're good, you still want to prepare as you would with any other team, so you don't get satisfied and complacent."
Iowa likely will be ranked when the preseason polls come out. The Hawkeyes appear in some
way-too early versions
. They return eight offensive starters, including left tackle
Brandon Scherff
, a preseason All-America candidate, along with three of four starting defensive linemen from a team that flipped its regular-season record in 2013.
The quarterback uncertainty that hovered over the program last spring, when no signal-caller had taken a snap in a game, is no longer there, as junior
Jake Rudock
has established himself. An unprecedented stretch of running back maladies has subsided as Iowa returns three veteran options (
Mark Weisman
, Canzeri and
Damon Bullock
) and two promising young players (
LeShun Daniels
Jr. and
Barkley Hill
). There's
more explosiveness at wide receiver
, and the defensive line, led by senior tackles
Carl Davis
and
Louis Trinca-Pasat
, looks more like the elite units Iowa produced for most of Ferentz's tenure.
[+] Enlarge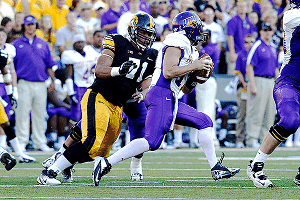 David Purdy/The Des Moines Register via USA TODAY SportsWith Carl Davis and others back, Iowa's defensive line should be the team's strongest unit.
"We are a more experienced unit, probably the most experienced unit on the team," defensive line coach Reese Morgan said.
There are enough internal reasons to indicate Iowa will take another step this season, but the biggest factors in the Hawkeyes favor are external. Their new division, the Big Ten West, lacks a clear-cut favorite or a flawless team. And their schedule is undoubtedly the most favorable in the league.
Not only does Iowa miss Michigan State, Ohio State, Michigan and Penn State from the East Division, but it hosts both Wisconsin and Nebraska. The Hawkeyes' toughest league road game should be a Nov. 8 visit to Minnesota.
"It's a pretty favorable schedule for us," wide receiver
Kevonte Martin-Manley
said, "but every week is going to be a challenge. Nothing that happened last year really matters."
Davis looks forward to visiting Big Ten newcomer Maryland, but he had hoped to play more of the league's traditional powers. The only way Iowa sees Ohio State, Michigan State or Michigan is in the Big Ten championship game.
"When the Big Ten started, those are the teams that dominated," Davis said. "You want to be able to play those teams and beat those teams. I really look forward to it.
"I definitely feel we're in contention for a Big Ten championship. Every team says it, but we're hungry."
Ferentz has seen Iowa go from good to great in 2002 and again in 2009. He also has seen the program fall short of expectations, as it did in 2006 and 2010.
The first step to building upon success, Ferentz said, is not taking it for granted. Take Iowa's group of linebackers, which loses three multiyear starters from last year's squad:
James Morris
,
Christian Kirksey
and
Anthony Hitchens
.
"If we're waiting for Morris, Kirksey and Hitchens to give us 300 tackles, that ain't gonna happen," Ferentz said. "Two years ago, we had a disappointing season. Last year was a new year and this year was the flip record-wise, but it's a new year again. This team has to form its own identity, and it starts with our experienced players. We're going to need them to play their absolute best, which is what those seniors did last year."
Iowa's linebacker reset has been a top spring storyline.
Quinton Alston
has stepped into the lead role, earning high marks from teammates and coaches.
Travis Perry
and
Reggie Spearman
, who played as a 17-year-old freshman last fall and doesn't turn 18 until August, are likely starters alongside Alston.
The biggest challenge could be replacing Kirksey, a converted safety who brought defensive back speed to outside linebacker.
"Chris had a different skill set than the guys we have out there now," defensive coordinator Phil Parker said. "It's been a long time since we had a guy who could run that fast and still have the power and explosion to play in the box, too, or at least on the tight end. We have three or four guys we're trying to look at with that position."
Other uncertainties include the cornerback spot opposite dynamic sophomore
Desmond King
, free safety and the second-string offensive line, which coordinator Greg Davis lists as the unit's biggest concern.
Iowa players understand that their margin for error remains slim.
"The determining factor is going to be winning those close games," Martin-Manley said.
Iowa won several such contests in 2009, its last truly special season. The 2014 team also could reach rarefied air, but Hawkeyes won't get caught with their heads in the clouds.
"That's what we do here; we work hard," Davis said. "That's something you get used to the longer you're in this program. The grind becomes normal, and I feel like all our hard work will be able to pay off."
October, 27, 2013
10/27/13
10:00
AM ET
Five lessons from the week that was in Big Ten football:
1. Ohio State can win with style points:
We knew the Buckeyes had it in them, but they hadn't put together a truly dominant performance in Big Ten play until Saturday night against Penn State. Ohio State produced the best first half in the Urban Meyer era, racking up 42 points, 414 yards, 20 first downs and two takeaways. Quarterback
Braxton Miller
is looking more like the guy we expected would contend for the Heisman Trophy before the season, displaying pinpoint accuracy with his passing and supplementing it with big runs. Running back
Carlos Hyde
remains a force, and the defense, while not dominant, is making enough plays in each game. Ohio State can't do anything about the league in which it plays. It can't add two or three good nonconference opponents to the schedule. But the Buckeyes can handle their business against unranked opponents and earn some style points from those who overlook them in the national championship discussion. Despite 20 straight wins, Ohio State still will need Alabama, Oregon and/or Florida State to start losing, and it also must continue to win with some flair. Saturday night marked a good step, as the Buckeyes solidified their place in the title talk. Ohio State can take another in the next two weeks against Purdue and Illinois.
[+] Enlarge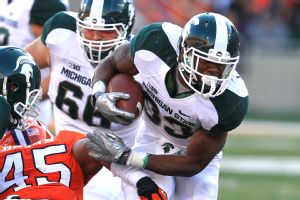 Pat Lovell/USA TODAY SportsJeremy Langford had his third consecutive 100-yard game as the Spartans stayed unbeaten in the Big Ten.
2. Michigan State has a leg up in the Legends:
There is one team left in the Legends Division that has yet to suffer a conference loss. Hint: It wears green. Michigan State overcame some sloppy early play to blow away Illinois 42-3 on Saturday. The 7-1 Spartans have unquestionably benefited from a soft early Big Ten slate (Iowa, Indiana, Purdue and Illinois). There are some challenges ahead, beginning this week against Michigan at Spartan Stadium, but the remaining schedule isn't overly taxing. Michigan State's defense turned in its usual dominant performance in Champaign, including a goal-line stuff from its own 1-yard line. As for the offense? Well, the Spartans were able to pound the ball on the ground (admittedly, that's not too hard against Illinois) for nearly 270 yards, with
Jeremy Langford
going for 104 of those plus two touchdowns.
Connor Cook
made some first-half mistakes but also delivered on some key third-down throws and finished 15-of-16 for 208 yards and three touchdowns. He set a school record for completion percentage in a game. Most importantly, the offense gained some confidence heading into Michigan week. The big game in East Lansing will go a long way toward determining which Legends team winds up in Indianapolis.
3. Minnesota is one of the best stories in the Big Ten and the nation:
How many teams could have withstood their coach taking a leave of absence in the middle of the season? The Gophers are not just surviving but thriving since Jerry Kill decided to focus on his epilepsy treatment. They followed up a win at Northwestern with Saturday's
34-23 upset of No. 25 Nebraska
, fulfilling Kill's goal of getting a breakthrough Big Ten win this season. It marked Minnesota's first win against Nebraska since 1960. Acting coach Tracy Claeys has done a great job of guiding the team, while Kill -- who sat in the coaches' booth Saturday -- continues to provide an inspirational presence. Minnesota isn't overly blessed with top-notch talent, especially in the passing game, as it completed just eight attempts versus the Huskers. But the team is starting to do the two most important things in the Big Ten: run the ball and stop the run. The Gophers are bowl eligible for the second straight year and one of the best stories in college football.


4. More uncomfortable times await Nebraska, Northwestern:
It wasn't long ago that the Nov. 2 game between Northwestern and Nebraska looked like a heavyweight showdown. Now it looks like a matchup of two desperate, flawed teams. The Huskers had been feasting on inferior competition since the UCLA loss and took a quick 10-0 lead at Minnesota. Then the wheels came off, and Nebraska's defense proved that it hasn't really gotten much better as the Gophers ran over and around the Blackshirts the rest of the day.
Taylor Martinez
was rusty, as you'd expect after a six-week layoff with a foot injury, and with the quarterback not able to run much, the offense was limited in its options. This has to qualify as one of the worst losses in the Bo Pelini era, and another week of uncomfortable questions is coming in Lincoln. Meanwhile, this is shaping up as a lost year for Northwestern, which fell to 0-4 since "GameDay" arrived in Evanston. The Wildcats got
Kain Colter
back and outrushed Iowa by nearly 100 yards but made too many mistakes in their
17-10 overtime loss
. Two fumbles in Iowa territory -- the second coming late in the game, one play after a needless penalty pushed back a drive that had reached the Iowa 30 -- proved too much to overcome. Coach Pat Fitzgerald declined to call a timeout in the final couple of minutes in regulation to give his team a chance to win it. In a very brief postgame news conference, Fitzgerald said the wind at Kinnick Stadium was going to make it tough for Northwestern to kick a field goal, but it was still an oddly conservative choice. "We suck right now," was Colter's take on an offense that has gone into hibernation. Both Nebraska and Northwestern have all kinds of issues heading into next week.
5. Don't sleep on Iowa:
The Hawkeyes are most likely going back to a bowl game this year, with five wins banked and a game remaining with Purdue. But just making the postseason might not be the limit for Iowa. Kirk Ferentz's team went toe to toe with Ohio State in Week 8 and followed it up with Saturday's win over Northwestern, a program that has given them trouble in recent years. Iowa's offense got shut down in the second half, but
Jake Rudock
made a great throw under heavy pressure to
C.J. Fiedorowicz
in overtime for the winning touchdown. The Hawkeyes' defense is playing at a high level and got standout games from linebackers
Anthony Hitchens
and
James Morris
and freshman cornerback
Desmond King
, among others. In addition, one of the best offensive lines in the league will give Iowa a chance in all of its remaining games; Wisconsin and Michigan still have to come to Kinnick Stadium, and Nebraska did not show it could stop a power running game on Saturday. Last year's 4-8 fiasco is firmly in the rearview mirror, and Iowa at the very least will be a major spoiler in the Legends race.
February, 21, 2013
2/21/13
9:00
AM ET
Iowa's
2012 recruiting class
included two Floridians in wide receiver
Greg Mabin
(Fort Lauderdale) and defensive end
Daumantas Venckus-Cucchiara
(Weston). The Hawkeyes'
most recent recruiting haul
included no players from the Sunshine State -- a first in the Kirk Ferentz era.
This is no accident.

I must have missed it from last winter, but Ferentz said he's no longer assigning an assistant coach to recruit Florida. Then Tuesday night, Iowa recruiting coordinator Eric Johnson told an I-Club gathering in Des Moines that
Florida is no longer a priority area
for the program's recruitment.
I think I just choked on some orange juice and spilled some sun screen.
We're talking about Florida, right? The state that produced four of the top six players and 22 of the top 100 players in the 2013 class, according to ESPN Recruiting? The state often grouped with Texas and California as
the nation's top recruiting hotbeds
?
Yes,
that
Florida.
All but two Big Ten teams (Iowa and Michigan) signed at least one Floridian earlier this month. Indiana and Purdue both signed five.
The Iowa coaches think the program needs to concentrate recruiting closer to campus. The (Cedar Rapids) Gazette's Marc Morehouse notes that Iowa went to St. Louis, a city that has produced recent stars like Adrian Clayborn and Marvin McNutt, for three recruits in the 2013 class. Iowa also has had recruiting success in other Midwestern cities like Chicago and Indianapolis, and signed a Detroit prospect (safety Desmond King) on Feb. 6.
There's nothing wrong with prioritizing your backyard and places where you've had success. But ignoring Florida just doesn't make a lot of sense.
Iowa did well in the Sunshine State early in Ferentz's tenure, luring players like defensive tackle Colin Cole, linebacker Abdul Hodge and wide receiver Mo Brown. Former assistant Bret Bielema was Iowa's primary recruiter in Florida and left the Hawkeyes following the 2001 season, but other Iowa assistants continued to recruit the state.
As pointed out
here
and
here
, Iowa has had many more misses than hits with Florida prospects since 2002. Several players transferred, including running backs Jeff Brinson and De'Andre Johnson. The jury is out on other Florida recruits, including quarterback
Jake Rudock
, who could start this coming season.
I'm still waiting for a good reason for Iowa to back away from Florida. Sure, Iowa has had a run of bad luck with Florida recruits. But should it stop trying? I can think of 22 reasons -- and many more from the 2013 class -- to keep investing time and money there.
Big Ten teams can't expect to compete at a national elite level by recruiting solely in the Midwest. Prioritizing states like Florida -- along with Georgia, Texas and California -- is a must for Big Ten programs.
It's great to see coaches develop talent and several Big Ten programs, including Iowa, have done that well over the years. But there's a ceiling for teams trying to win with overlooked recruits from the heartland. Too many Big Ten teams -- not just Iowa -- seem to fall into this trap. Penn State just signed its first Florida recruit (safety Neiko Robinson) in
more than a decade
. That's insane.
It still comes down to talent, and there's just more of it in the South. Big Ten teams need to compete in states like Florida. Will they get all the top players? Of course not. But with the right coaches and strategy, they can help their teams get better.
Sure, Iowa lost Bielema, who continued his Florida recruiting push as Wisconsin's head coach and will carry it on at Arkansas. Iowa lost another Florida recruiter when Rick Kaczenski left for Nebraska in 2011.
But Ferentz has had plenty of chances to hire assistants with Florida roots the past two seasons.
Iowa's staff is in an unprecedented period of flux
, and Ferentz has brought in six new assistants since the end of the 2011 season. None of them could help Iowa made inroads in Florida?
Look how Nebraska secondary coach Terry Joseph, hired last March, has helped the Huskers' recruiting efforts in the South. The same goes for new Big Ten assistants like Everett Withers at Ohio State. Wisconsin would have loved to retain assistant Charlie Partridge because of his recruiting clout in Florida.
Perhaps Iowa can build itself back into a Big Ten title contender without investing in Florida. Re-establishing itself in cities like St. Louis certainly is a good sign.
But Ohio State's coaches continue to mine the South, and
Michigan is ramping up its Southern recruiting efforts as well
.
In recruiting, you follow the talent. You flock to it. You compete for it.
You don't turn your back on it.
February, 7, 2013
2/07/13
10:00
AM ET
The fax machines are collecting dust again around the Big Ten as national signing day is in the books and all 12 classes are signed. Earlier Wednesday,
Brian Bennett
took a
look at the Leaders Division
and how teams did in filling their most pressing recruiting needs. Now it's time to take a look at the Legends Division.
IOWA

Needs filled:
Iowa's passing game needs a jolt after ranking 99th nationally last season, and the team signed five wide receivers. The Hawkeyes also were mindful that they'll lose all three starting linebackers after 2013 and flipped
Reggie Spearman
, an Illinois commit. Cornerback
Desmond King
should provide immediate help in the secondary.
Holes remaining:
Offensive line could soon be an issue as Iowa missed out on several targets in this year's class. The Hawkeyes also need some difference-makers along the defensive line and signed only two linemen in this class.
MICHIGAN

Needs filled:
The Wolverines got the running back they wanted and needed,
Derrick Green
, who could contribute immediately. They also continued to address the depth issues coach Brady Hoke inherited on both lines, adding five offensive linemen ranked in the ESPN 300. Although
Devin Gardner
solidified the quarterback spot late last season, Michigan needed to plan for the future and signed a solid signal-caller,
Shane Morris
.
Holes remaining:
There aren't many obvious weak spots, although Michigan could use a bit more help on the perimeter, especially at wide receiver. Top wideouts
Jeremy Gallon
and
Drew Dileo
depart after the 2013 season, and the depth in the secondary isn't quite where it needs to be.
MICHIGAN STATE

Needs filled:
The Spartans signed three running backs --
Gerald Holmes
,
R.J. Shelton
and
Delton Williams
-- who could compete for immediate playing time at a position with very little depth. They also brought in a likely quarterback of the future in
Damion Terry
and bolstered the linebacking corps with ESPN 300 selection
Shane Jones
and
Jon Reschke
.
Holes remaining:
Michigan State's offensive line depth still isn't where it needs to be, and the Spartans signed only one offensive lineman (
Dennis Finley
) this year. MSU signed only two defensive backs, although the coaches really like what
Darian Hicks
and
Jalyn Powell
bring to the field.
MINNESOTA

Needs filled:
The Gophers lose a lot at linebacker and filled the gaps with junior college players
Damien Wilson
and De'Vondre Campbell. They need more playmakers on offense and added some at receiver to go along with an intriguing dual-threat quarterback in
Chris Streveler
.
Holes remaining:
Minnesota loses some key defensive backs and will lose more after the 2013 season. The Gophers signed only two cornerbacks and no safeties in this class, so they could have some depth issues if current sophomores and juniors don't pan out.
NEBRASKA

Needs filled:
The Huskers continued to address their depth issues at linebacker with prospects such as
Marcus Newby
and added more depth to the offensive line with five players. They added a potential quarterback of the future in
Johnny Stanton
and continued to recruit well at all the offensive skill positions.
Holes remaining:
After missing out on several elite defensive linemen, Nebraska is still looking for disruptive players up front. Perhaps junior college arrival
Randy Gregory
fills the void. The Huskers could have used another elite secondary prospect.
NORTHWESTERN

Needs filled:
The Wildcats will need a quarterback after the 2014 season and found an absolutely perfect fit in
Matt Alviti
. They also addressed the running back spot for the second straight year. Offensive line recruiting continues to be a strength for Northwestern.
Holes remaining:
The class lacks an obvious difference-maker on defense, a unit where Northwestern improved in 2012 but still has a long way to go. Northwestern could have picked up another linebacker and another pass-rushing defensive end. Perhaps four-star prospect
Godwin Igwebuike
, listed as a running back, will contribute on the defensive side.