NCF Nation:

Desmond Morgan
September, 22, 2013
9/22/13
9:00
AM ET
Recognizing the best and the brightest from Week 4 in the Big Ten:

Iowa PR/WR Kevonte Martin-Manley and CB B.J. Lowery:
Here's one way to ring up a bunch of points: Get four combined special teams and defensive scores. Martin-Manley scored on back-to-back punt returns in the second quarter, from 83 yards and 63 yards out, and Lowery brought a pair of interceptions to the house, from 35 and 13 yards away, in the Hawkeyes' 59-3 blasting of Western Michigan.
Ohio State QB Kenny Guiton:
OK, it was only Florida A&M, which was wildly overmatched in the Horseshoe. Still, we have to acknowledge Guiton's unbelievable run as
Braxton Miller
's replacement. He set a Buckeyes' record with six touchdown passes while completing 24-of-34 passes for 215 yards in the 76-0 whitewashing. And now it's probably back to being the backup when Miller returns.
Minnesota QB Mitch Leidner:
Subbing for the injured
Philip Nelson
(hamstring), Leidner set a Gophers quarterback record with four touchdown runs in a 43-24 win over San Jose State. He piled up 151 yards on 24 rushing attempts and was virtually impossible to bring down on first contact. Leidner only completed five passes for 71 yards, but Minnesota hardly needed to throw, as its ground game dominated.
Wisconsin RBs Melvin Gordon and James White:
The Badgers' dynamic backfield duo was at it again versus Purdue. Gordon ran 16 times for 147 yards and three touchdowns, while White added 145 yards on 16 carries, as both averaged better than nine yards per attempt. White also had three catches for 49 yards in the 41-10 conference victory.
Michigan LB Desmond Morgan:
He gets a sticker for just one play, but it was a big one. Morgan picked off UConn's
Chandler Whitmer
early in the fourth quarter and returned it 29 yards to set up the tying touchdown in Michigan's 24-21 escape in East Hartford. That might go down as a season-saving play for the Wolverines.
September, 22, 2013
9/22/13
2:46
AM ET
EAST HARTFORD, Conn. -- This is Michigan.
Where it seems an acceptable explanation for why a player might be a good pass rusher or wide receiver is simply because he is a "Michigan man."
Where coach Brady Hoke praises his team for its resiliency after a 24-21 victory over UConn. It's where a team -- ranked No. 15 in the nation -- needed resiliency to put away a team that lost to Towson in Week 1.
It's where the current team is cloaked in the history of the previous 133 teams. It's where the quarterback, once shrouded in Heisman hype, is given the No. 98 to honor a 1940 Heisman winner but then ends up turning the ball over eight times the first three games he wears that uniform.
That is Michigan? Really?
"We all are trying to figure out where we're at as a team," Hoke said after his team left the field the second week in a row without really being able to celebrate the victory.
It might just be semantics, but "where they are" is not quite "who they are." It's two different statements. The latter seems to be the bigger question the Wolverines face right now. They're staring the Big Ten schedule in the face -- with a bye week to help their bruised bodies and egos -- but they still aren't sure who they are.
It's certainly not Michigan to admit that it doesn't have an identity. Especially this close to the conference schedule.
But some time after Under the Lights and during the Akron Hangover and the East Hartford Horror, Michigan was supposed to look like a complete team. And it hasn't.
Michigan, right now, is Jekyll and Hyde -- a team making highlight reel plays one down and making bad teams look dominant the next.
It has succeeded in making wins embarrassing -- something few former Michigan players would've ever thought possible.
If there is a silver lining it's that they know what they want to be. And at their best, that's what they are.
But the downfall comes in the distance between how good their good is and how bad their bad is, and that fact that it should never be this hard to find their good against subpar teams.
Playing down to the level of competition is a trait of the decent, of the mediocre.
Not of Michigan.
Michigan knows it wants to be a team that pounds the ball down defenses' throats. And against UConn, the run game showed some life. Running back
Fitzgerald Toussaint
rushed for 120 yards and two touchdowns on 24 carries.
Want to know who did better?
Towson's
Terrance West
in Week 1. He rushed for 156 yards and two touchdowns against UConn. And in week two Maryland's
C.J. Brown
rushed for 122 yards last weekend (though he only scored one TD).
Michigan wants to be a good passing team with a pocket presence and a quarterback who makes solid decisions. But Gardner threw for 97 yards and was 11-of-23 with two interceptions and no passing touchdowns.
Take a guess (or two) at who did better.
Towson's
Peter Athens
threw for 192 yards and one touchdown with just one interception and finished the day 13-of-20. Maryland's Brown finished his day against UConn with 277 passing yards and one touchdown as well as just one interception and a 15-of-28 performance.
Michigan wants to be great -- or at least better than its equivalents at Towson and Maryland.
It wants a stout defense and at times against UConn, it looked that way. But it also gave up big plays -- a rush of 16 yards, passes of 18, 19 and 26 yards. They're not deal breakers by any means. But a Michigan defense shouldn't give those up to UConn offense.
On Saturday, Michigan needed its defense to come up big and it did. The defense coming up big isn't the problem, it's the fact -- once again -- that Michigan needed it to.
After spotting UConn a 21-7 lead, the Wolverines needed to claw their way back. And late in the fourth quarter, they were finally hitting their stride.
Linebacker
Desmond Morgan
came up with a huge one-handed interception in the fourth quarter while the Wolverines were down seven.
"That was pretty spectacular," Gardner said of the play. "That's going to be replayed a long time in Michigan history."
And it will. It was full of athleticism and perfect timing. Morgan should be proud of that play and Michigan needed it. On its own, that play was beautiful.
But the surroundings of that play will spoil it for those who remember.
Because the greatest plays in Michigan football history, the ones that are replayed for a long time, aren't supposed to come against UConn.
Charles Woodson's famous interception was against Michigan State. Desmond Howard's pose came in the Ohio State game and "The Catch" came against Notre Dame. Braylon Edwards' famous grab was in a Michigan State game in triple OT.
That's when great Michigan men are made. Not in East Hartford, Conn. Not against Akron. Not when so many holes are evident.
At some point, the Wolverines will need to look complete. At some point, they need to find an identity. At some point, they need to be this "Michigan" that is preached about if they want to be relevant.
And Hoke believes they can get there, he believes they can be who they want to be.
"I know our team, we know our team," he said. "They realize the things that they need to do better and we've got to give them the tools to do those things better, that's our job and we'll do that."
That, apparently, is Michigan. At least for right now.
March, 20, 2013
3/20/13
1:27
PM ET
Michigan has suffered a huge setback early in spring practice, as the team announced Wednesday that junior linebacker
Jake Ryan
tore his ACL during Tuesday's practice.
Ryan is the team's top returning defensive player, having led the Wolverines last year with 88 tackles, 16 tackles for loss, 4.5 sacks and four forced fumbles. We named him to our
2012 All-Big Ten team
and rated him
No. 17
in our Big Ten postseason player rankings.
[+] Enlarge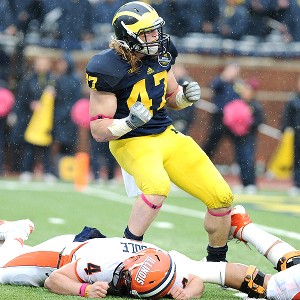 Lon Horwedel/Icon SMIJake Ryan's knee injury leaves a hole in the Michigan defense that will be difficult to fill.
Michigan officials said Ryan is out "indefinitely." If there's any bright side to this injury, it's that it happened on March 19. Typical recovery time for torn ACLs is generally said to be between six to nine months. We don't know how severe Ryan's injury is -- whether it's a complete or partial tear, for instance, or whether there's damage to other ligaments -- but if he were to meet the most optimistic side of that recovery timetable, then he could possibly still come back and play for the Wolverines by midseason. But again, that's if everything goes perfectly.
There have been success stories of athletes recovering quickly from torn ACLs. The most notable one is Minnesota running back Adrian Peterson, who led the NFL in rushing last season after suffering his ACL tear on Christmas Eve 2011.
"I know he will attack his rehabilitation just like he does everything else and will be back when he's ready," head coach Brady Hoke said in a statement.
Linebacker also looks to be Michigan's deepest position. Hoke told ESPN.com last week before Ryan's injury that "we feel a little stronger at that position" and that he expected great competition.
Desmond Morgan
, who started at weak side linebacker last year, had been working out at the middle linebacker spot to allow him and rising star James Ross to play at the same time. The Wolverines also have sophomores
Joe Bolden
and
Royce Jenkins-Stone
, senior
Mike Jones
and incoming freshmen Mike McCray II and Ben Gedeon to compete for snaps.
However, most of those guys -- with the exception of McCray -- profile more as middle or weak side linebackers, and lack the size to play the strong side spot that Ryan occupied. That puts more pressure on senior Cam Gordon -- Ryan's backup -- to play a bigger role. Gordon has appeared in 33 career games, and Hoke praised his winter workout efforts in his interview with ESPN.com last year. But Gordon has yet to show that he can be a star or a major disruptive force the way Ryan has been. Make no mistake about it: this is a big, big loss for Greg Mattison's defense.
The Wolverines have plenty of time to figure out some answers, but it remains to be seen if they can find anyone to fill the playmaking shoes of Ryan. It's the first real negative of the offseason for Michigan, which got great news when
Taylor Lewan
returned, when
Devin Gardner
got his extra year of eligibility, and of course on signing day.
Time will tell how well the team will fill in for Ryan, or whether he can return at all for 2013. But until then, the guy with the flowing golden locks and penchant for making impact plays will be sorely missed.
March, 13, 2013
3/13/13
9:00
AM ET
Michigan begins spring practice on Saturday with both some question marks and some major returning talent. Brady Hoke says of his team: "We're very young. But these guys have a lot of fight to them." There will also be a lot of fighting for starting jobs, beginning in a few days. I recently caught up with the third-year Wolverines coach for his thoughts on the approach of spring ball:
What are the main things you're looking for this spring?
Brady Hoke:
Well, you know, we've got a lot of open spaces. Some guys graduated, some guys aren't with the program anymore and we've got a lot of young guys. I think we only have 11 starters back on both sides of the ball, so there's going to be a lot of great competition, which is exciting. I think the leadership of our seniors, they've done a nice job of holding everybody accountable. But when you get out there with the pads on, it's a little different than just running around in shorts.
[+] Enlarge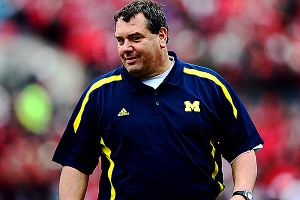 Andrew Weber/USA TODAY SportsWith only 11 returning starters, Michigan coach Brady Hoke said he's excited about the competition this spring.
Some of that competition will be on the offensive line, where you've got three open jobs on the interior. How do you see those battles right now?
BH:
Well, I think the interior of both lines, there's going to be a lot of competition. We've got to find a center, and that's between [
Jack] Miller
and [
Graham] Glasgow
, and
Joey Burzynski
will try to figure that out a little bit, too. At the guard positions,
Ben Braden
is going to move down inside and start out at the left guard, but he'll have a lot of competition because Burzynski is back and so is
Blake Bars
.
Kyle Kalis
will move into the right side, and it will be interesting again with [
Kyle] Bosch
and some of the guys who have been here a little bit. I think it will be a really good competition at all three of those inside positions.
Having
Taylor [Lewan
] back is huge. I think it's great for him and great for Michigan.
Mike Schofield
has had a really good winter. He had some real bright spots during the course of last season, and I think his development is going to be something special.
You mentioned the defensive line, where you also lost a couple of veterans. How does that shape up?
BH
: I think inside, we get
Jibreel Black
for another year and
Quinton Washington
. But once you get through that, there are a lot of young guys ...
Willie Henry
,
Ondre Pipkins
,
Ryan Glasgow
,
Richard Ash
and
Chris Wormley
are all guys who can either play the inside tackle or the strongside end. We'll find out the guys who are competitive.
Tommy Strobel
is another guy we think had a real good winter, and
Keith Heitzman
. So it's going to be fun to see them compete.
Does having so many young guys in key spots on the line make you nervous? Or do you have a lot of confidence in them because you recruited most of them?
BH:
I think it makes you nervous if you think you may have recruited the wrong guys. But we like the work ethic. We like how they've come in to learn and with a lot of enthusiasm. I think there's some competitiveness that we need to keep pushing as a program. You know, we lost five games on the road. We've played pretty well at home but we've got to do better on the road and that's a mindset, a mentality that you have to compete through everything, on every down.
Devin Gardner goes into spring practice as your starting quarterback. How has he developed as a leader?
BH:
I have been really excited about the progress he's made. I'm seeing that maturity that it takes and the leadership it takes and the competitiveness it takes to be the quarterback at Michigan. I think that's a real big part of how he's grown, and I think he's done a nice job with it. I'm liking the direction he's going, and hopefully he can just keep going and keep growing.
What about your running back position this spring, with Fitz Toussaint hurt and Derrick Green not there yet?
BH:
You know, Fitz has come along pretty well. I don't think he'll do a lot of contact or anything like that, but I think he'll be cleared for a lot more drill work. That's gone real well. We've moved [
Dennis] Norfleet
back to running back and we're going to give him an opportunity. Dennis, he's a smaller guy, but he's a very competitive, very tough young man.
Drake Johnson
is a guy we redshirted a year ago, and we really liked the way he competed in scout situations. In the bowl practices, we did some scrimmages and gave him a lot of carries, and we're very excited about what he has to offer.
Thomas Rawls
is coming back, and I think he learned a lot last year about the vision he needs to play with, and I like how he's competed through the [winter]. And
Justice Hayes
is a guy who gives you a little bit different look because of how he can get on the perimeter. He did some things in a couple of games last year, but now I think he'll have a big stage to prove himself more this spring. And he's a bigger guy now, he's 190-something pounds, so he's a little bigger.
[+] Enlarge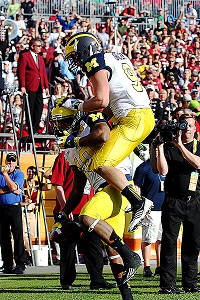 Kim Klement/USA TODAY SportsMichigan coach Brady Hoke said that he's pleased by more than just the on-field success of WRs Drew Dileo and Jeremy Gallon.
You have Jeremy Gallon back at receiver, but you lost Roy Roundtree. You sounded excited about some of the younger guys there during bowl prep. Is spring their time to step up now?
BH:
Yeah, I think so. First of all, I think the leadership with Gallon and
Drew Dileo
, they've done a really nice job being leaders at that position. They're not big guys, but they have a real spirit for the game and really do a nice job of working and leading. We have
Amara Darboh
, who played a little last year, and
Jehu Chesson
, who we redshirted a year ago. And I think
Jeremy Jackson
has had a very good winter; we're very excited about some of the progress he's made.
Joe Reynolds
is a guy who walked on here, and he's done a very nice job. And
Bo Dever
, his dad played here and he walked on. I think that during the course of the spring, we'll be in pretty good shape there. I think as we keep going, we'll keep improving at that position.
Linebacker was a strength for you last year and looks to be so again. Do you see some good competition there this spring, particularly at the weakside spot?
BH:
Yeah, I think with
Desmond Morgan
and
James Ross
, there's going to be great competition.
Joe Bolden
and
Royce Jenkins-Stone
and
Mike Jones
are all guys who are very competitive, and I think the three young guys coming in are going to be guys who will give us a lot of good competition and a lot of good depth.
Kaleb Ringer
is coming back from injury, so we'll see what he can give us. At the sam linebacker,
Jake [Ryan
] is coming back, and we really like what
Cam Gordon
has done during the winter. So I think we feel a little stronger at that position.
How do you replace what Jordan Kovacs gave you in the secondary?
BH:
I don't know if you ever replace that kind of leadership, but I really think
Thomas Gordon
, he's played a lot of football here, and it's time for him to demonstrate the leadership. And he's doing that. Because of the number of snaps and everything he's done, he's really fallen into his own a little bit.
Courtney Avery
has played a lot of football, and whether he's a corner a nickel or wherever, he's got to give us great leadership and great reps.
Blake Countess
is getting healthier; he'll do some things during the spring.
Josh Furman
, I think, has come on.
We've got to see where
Terry Richardson
is and where
Marvin Robinson
is. Both those guys have played a number of snaps. We've got
Raymon Taylor
back, who I think started every game for us last year, we're excited about his development.
Dymonte Thomas
is a guy who's going to compete, and he'll pressure some guys.
Jarrod Wilson
is another guy who played some last year for us. Ross Douglas is here early.
Jeremy Clark
is a 6-foot-4, 210-pound safety we redshirted a year ago, and it's going to be a big spring for him to make some moves.
So I think we may have more personnel back there. And even more in the fall when
Channing Stribling
gets in, and
Reon Dawson
gets in and
Jourdan Lewis
. I think it's going to add something to our secondary.
Finally, what has your message been to the team this offseason after last year's 8-5 season?
BH:
Well, our message has been, we haven't met the expectations at Michigan. That's something that as a football community… that we really feel that we have to do a much better job in all areas, from the coaching aspect of it, from learning and playing with the competitiveness we want to have, from every player at every position playing with the intensity we want to play with. It's about having a mindset and a mentality of how we want to play the game. We make no excuses, but at the same time, we know we have a lot we can do to play better football.
March, 1, 2013
3/01/13
9:00
AM ET
Spring practice has begun in the Big Ten, so let's take a look at what to expect from each Legends Division team this spring.

IOWA
Spring start:
March 27
Spring game:
April 27
What to watch:
1. Questions at quarterback:
The Hawkeyes played
James Vandenberg
for every snap last season, and now that he's gone, they have no quarterbacks on the roster with any game experience. Sophomore
Jake Rudock
has been viewed as Vandenberg's successor, but he's still a mostly unknown quantity who should get pushed in the spring by former junior college transfer
Cody Sokol
and redshirt freshman
C.J. Beathard
. Whoever wins the job will be tasked with improving an Iowa passing game that finished with a Big Ten-worst seven touchdown passes in 2012.
2. Skills competition:
While the quarterback race is vital, Iowa also needs standouts to emerge at the other skill positions to fix an offense that sputtered under first-year coordinator Greg Davis. The wideout corps, which struggled to get separation or make big plays, now is without departed senior
Keenan Davis
, who tied for the team lead with 571 receiving yards. There's a reason why Iowa signed five receivers in the 2013 class. The running back position has strength in numbers, with
Damon Bullock
,
Mark Weisman
,
Jordan Canzeri
and
Barkley Hill
all competing for carries this spring. The Hawkeyes just need to finally get some luck in the health and off-field departments at that position while hoping one player emerges as the go-to back.
3. Transition game:
Iowa long had one of the most stable staffs in the country. But coach Kirk Ferentz added three new assistants this offseason for the second straight year, giving the program some fresh voices but also causing some potential bumps in transition. The offense in particular didn't mesh well last season under Davis, who'll look for solutions this spring. Ferentz has new coaches overseeing the running backs (Chris White) and receivers (Bobby Kennedy) and a new defensive assistant who'll work with the linebackers (Jim Reid). The Hawkeyes hope they can inject some life into a program that has seen its fortunes dip the past couple of seasons, including last year's 4-8 disaster.

MICHIGAN
Spring start:
March 16
Spring game:
April 13
What to watch:
1. Devin Gardner as starter:
Denard Robinson
is gone and Gardner is the presumed Michigan starter for the first time. How he adjusts to that -- and how Michigan offensive coordinator Al Borges develops more of a pro-style offense around him -- are a major launching point for the Wolverines next season.
2. Offensive line play:
Michigan is replacing the entire interior of its offensive line and while there is a lot of young talent there, none of the potential candidates have any experience. Michigan offensive line coach Darrell Funk said he would like to have at least one of the three slots, if not two, settled by the end of spring.
3. Linebacker competition:
The deepest position on Michigan's roster also has the most competition.
Jake Ryan
at strongside linebacker is almost a given, but the middle and weak side slots are wide open. A bevy of freshmen and sophomores, along with returning starter
Desmond Morgan
, will vie for playing time in what will be a likely increased rotation in the fall.
--
Michael Rothstein, WolverineNation

MICHIGAN STATE
Spring start:
March 19
Spring game:
April 20
What to watch:
1. Still Maxwell's house?:
Senior
Andrew Maxwell
started all 13 games last season at quarterback but was pulled in favor of freshman
Connor Cook
for the deciding drive of the Buffalo Wild Wings Bowl. The Spartans will open up the competition under center, with
Tyler O'Connor
and eventually incoming freshman
Damion Terry
joining the fray. Though he has a big edge in experience, Maxwell will have to prove that he can greatly increase last season's 52.5 completion percentage to hold onto the job through the spring.
2. Replacing Bell:
Saying running back
Le'Veon Bell
was a big part of the 2012 offense is like saying Tom Hanks had substantial role in "Cast Away." Bell carried the ball 382 times last year, more than any back in the country, and gained 1,793 yards. There is no ready-made in-house replacement, as leading returning rusher
Nick Hill
had just 21 rushing attempts last year and may be too slight (5-foot-8, 190 pounds) to be an every-down back. Junior
Jeremy Langford
will move back to the backfield after seeing time at receiver. Signees
Delton Williams
,
Gerald Holmes
and
R.J. Shelton
might wind up with the job.
3. New playcaller in town:
Mark Dantonio has yet to officially announce a replacement for former offensive coordinator Dan Roushar, who recently left for an assistant's post with the NFL's New Orleans Saints. But reports are that former Ohio State offensive coordinator Jim Bollman has been tapped to lead the Spartans' offense. Can Bollman, whom Buckeyes fans criticized as being too conservative, find the solutions for what was a dreadful attack in 2012? The Spartans' defense once again enters spring ball with very few question marks. Michigan State's hopes rely heavily on how much progress it can make on the offensive side.

MINNESOTA
Spring start:
March 26
Spring game:
April 27
What to watch:
1. Defensive back end:
The Gophers lost two outstanding cornerbacks in
Michael Carter
and
Troy Stoudermire
, as well as starting linebackers
Mike Rallis
and
Keanon Cooper
. Jerry Kill has tried to address this during recruiting, adding a pair of well-regarded junior college linebackers (
De'Vondre Campbell
and
Damien Wilson
) as well as touted high school corner
Jalen Myrick
. But some holdovers from last season's roster will have to step into bigger roles this spring.
2. The full Nelson:
True freshman
Philip Nelson
took over the quarterback job midseason and now will enter practice as the starter. He showed flashes of immense potential but still has a lot of things to learn. Kill has said Nelson is no lock to start in 2013 and that he'll face legitimate competition from redshirt freshman
Mitch Leidner
and incoming freshman
Chris Streveler
. Nelson has the inside track for now but must hold onto it.
3. Receiving line:
The Gophers don't have a returning wideout who had more than 375 receiving yards last year, though
Derrick Engel
showed promise with a 100-yard day in the Meineke Car Care Bowl of Texas. You can blame some of that on the turnover and youth at quarterback. But Minnesota needs much better play at receiver to become a more balanced offense. Improvement by guys like
Devin Crawford-Tufts
and
Isaac Fruechte
this spring will help, as would some immediate contributions from recruits
Eric Carter
and
Drew Wolitarsky
.

NEBRASKA
Spring start:
March 2
Spring game:
April 6
What to watch:
1. Youth movement on defense:
The Cornhuskers lost eight starters from last season's defense and will hope that some athletic young players are ready to step in. Guys like
Charles Jackson
,
Jonathan Rose
and
Thomas Brown
will be given long looks this spring. Nebraska coaches are hopeful that what they lack in experience, they'll make up for in speed. There's no bigger key for Big Red than having its young defenders make great strides in the spring.
2. Safety issues:
The safety spot is an important one in Bo Pelini's scheme, and the Huskers lose both starters and a couple of top reserves from that position. Jackson will be given a look there, and the staff is high on
Corey Cooper
. But no starting jobs are locked down.
3. Martinez's progression:
Senior quarterback
Taylor Martinez
won't be involved in a lot of live drills, and the spring will be a time to get freshman
Tommy Armstrong
some reps. But Martinez still needs to fine-tune a few parts of his game, most notably his tendency to force throws in key spots. He made great progress last offseason through extra hours of hard work; a similar leap this spring would make Martinez one of the very best players in the country.

NORTHWESTERN
Spring start:
Feb. 27
Spring game:
April 13
What to watch:
1. The quarterback duo:
The Wildcats spent large parts of last season rotating
Kain Colter
and
Trevor Siemian
, using Siemian for more obvious passing situations. Will that continue this season? Colter needs to improve as a passer to become a better option as an every-down quarterback, and Northwestern's downfield passing game must get better. You can bet there will be a lot of eyes on Colter and Siemian this spring to see what offensive coordinator Mick McCall has planned.
2. Secondary concerns:
The news that cornerback
Nick VanHoose
won't practice this spring because of injury could be a blessing in disguise. The Wildcats' secondary struggled when he was hurt last season, so this may provide an opportunity for others to get better without him.
Jimmy Hall
and
Traveon Henry
are youngsters who should see plenty of reps this spring in the defensive backfield.
3. Offensive line makeover:
Three starters are gone from last season's offensive line, including both guards and left tackle
Patrick Ward
.
Jack Konopka
is the favorite to succeed Ward but will miss the spring with injuries, while 2012 signee
Adam DePietro
is among those who could step in at guard. Northwestern should have one of the best running games in the Big Ten in 2013 but will need its line to begin to take shape this spring.
January, 11, 2013
1/11/13
4:30
PM ET
Weekend's here! Forgot how much I liked these.
Daniel from Ypsilanti, Mich., writes:
Hey Adam, I think Lewans recent decision to continue at Michigan might have implications in Derrick Green's future commitment decision. You guys even stated that it makes a big difference in the Oline for next year. Do you think a five star RB might keep in mind the presence of a lineman like Lewan when deciding where to go? An All American lineman on an offense that would have an opening for early playing time sounds quite enticing for an RB does it not? Add to that Morris , who should be starting in the next couple years barring anything unforeseen, and it seems like the perfect fit for Green. What do you think?
Adam Rittenberg:
Daniel, I think the
Shane Morris
factor would be a lot bigger than the
Taylor Lewan
factor for a player like Green, and the biggest factor is how well Michigan is recruiting at offensive line for the coming years. You don't make a decision like this based on one lineman who will only be there for your true freshman season. Morris, meanwhile, could be Green's quarterback for multiple years, and Michigan's offensive line recruiting efforts for 2013 are among the best in the nation. Michigan has five offensive line recruits in the ESPN 300 (all among the nation's top 160), including three of the nation's top seven guards. The future of Michigan's offensive line is a greater selling point to a running back like Green than the Lewan-led line in 2013.
Matt from Omaha writes:
Adam,I have to say your final rankings for the B1G, while meaningless, struck a chord with me. All season you preached it's not about who you lost to, but who you beat. So how in the world, three teams that we beat are ranked in front of us-with virtually the same record (in Michigan's case worse), makes no sense. True, Nebraska did not acquit themselves well in the B1G title game. However, they played toe to toe with Georgia for 3 and 1/2 quarters before falling short. There is no shame in that for a team that nearly beat Alabama.
Adam Rittenberg:
Matt, you correctly acknowledge the power rankings are meaningless because they are -- especially the Jan. 8 version -- despite all the ire they generate. Now refresh my memory: when did I say the power rankings were all about who you beat and not about who you lost to? The line I've reiterated time and again about the rankings is that they're a snapshot of how a team is performing right now. It's the ultimate what-have-you-done-for-me-lately thing. That's why Nebraska sits at No. 5. The Huskers ended the season poorly. I simply can't look past the Big Ten title game flop. To me, it really invalidated a lot of what Nebraska did in the regular season. Harsh? Maybe. But Nebraska lived a fairly charmed life down the stretch in Legends Division play, surviving turnovers and benefiting from calls and injuries. It received a seemingly favorable matchup in Indy (5-loss Wisconsin) and proceeded to lay a giant egg on the big stage. While Michigan also lost its final two games, it competed a lot better against Ohio State than Nebraska did and competed better in its bowl game than Nebraska did. Nebraska's head-to-head win on Oct. 27 might as well have happened decades ago, for power rankings purposes.
Yooper from Minneapolis writes:
Hey Adam ... humor me with a way-too-early bold prediction for next year for the league's bowl record. It sure seems like most B1G teams outta see improvement next year, and even without OSU & PSU playing this year it could've easily been 4-3 had the UMs not blown games in the last minute. I'm gonna say 5-3 in bowls, and 3-1 on NYD, including a RB win...all of which sets the league up nicely to place someone in the first playoff the following year...what you got?
Adam Rittenberg:
Yooper, you're a braver man than I am, as I can't offer a sensible prediction without knowing the bowl matchups. What if the Big Ten faces a 1-loss Oregon team in the Rose Bowl? Won't be easy to win it. I do think the Big Ten has a stronger chance of sending two teams to BCS bowls next season as Ohio State once again becomes eligible. Will that hurt the league's overall bowl matchups like it has in years past? Perhaps. But if teams like Michigan State, Michigan and Nebraska make strides in 2013, the league will be set up to post a better bowl mark. It's important to remember that that Big Ten's bowl lineup is never easy, and a .500 record is a pretty good performance in most seasons. I think there's a decent chance the Big Ten improves on this year's record. How much? Without seeing the matchups, I can't go there.
Derek from Chicago writes:
I think everyone needs to chill out about how down the B1G actually is. As much as everyone likes to point at certain losses and say the B1G just can't compete on a national level, that simply isn't the case. A few consecutive years of some marquee losses is embarrassing, but the B1G isn't as far behind as people like to think in terms of competition. I am not a Wisconsin fan, but let's look at the Badgers here for a little perspective. The teams that went to the 2011 and 2012 Rose Bowls were without a doubt national championship-level teams, loaded with NFL talent, that would have competed with any team from the all-powerful SEC. This year's Rose Bowl team was mediocre at best, and only lost to a top-10 Stanford team by a touchdown. Not bad for a team that had no business being in the Rose Bowl. It's unfortunate that the B1G keeps losing these marquee national matchups, but the reality is that the B1G isn't actually down, it more just a string of bad luck that is easy to criticize. It's silly to say "the B1G just doesn't have the speed on the edges to compete Oregon," when we're just one score away from "Oregon just doesn't have the strength to compete with the B1G". (I use Oregon as an example, but feel free to insert SEC, Big 12, etc).
Adam Rittenberg:
Derek, you make some good points here, and you challenge people to put the Big Ten's bowl performance into context. It's true that the Big Ten hasn't been that far away and has been hurt by unfavorable matchups and unfortunate circumstances (Ohio State/Penn State being ineligible this year). Ultimately, a league like the Big Ten needs to win more games -- Rose Bowls, other BCS bowls and the national title game. Wins like those have a way of making criticism go away. Wisconsin should have won the Rose Bowl after the 2010 season. It had a better team than TCU but didn't play better on that day. Wisconsin had no business losing three games with last year's team, led by
Russell Wilson
. That's not just bad luck or bad circumstances. You don't get credit for competing well year after year if the marquee wins don't start coming. The Big Ten needs to start winning some of these big games again if it wants any credit nationally.
Bill from Michigan writes:
Adam - Spartan fan here. You guys do a great job but on your 5 defensive players to watch - trade S. Calhoun for
Taiwan Jones
. Nothing against Calhoun who does have a lot of potential, but Jones beat out a solid 3 yr starter (C. Norman) this year and just keeps getting better. He is my pick as a breakout performer. Will be interesting to see if either of us is right. Take care.
Adam Rittenberg:
Bill, we probably should have explained it better, but
those lists
are meant to recognize players who aren't starters but will be soon and could make a big impact in 2012. We could have included Jones, and I came away impressed with what he did this season, but he already took a big step in moving into the starting lineup. He definitely could take things to another level next season, but it might be tough because
Max Bullough
and
Denicos Allen
both are back, and both are very productive as well.
Shilique Calhoun
, meanwhile, could take a spot where there's a need after Will Gholston's departure. I think we might both be right about these two, but Jones' accomplishments certainly should be recognized this year.
Sam from Fairfax, Va., writes:
Adam, I think you missed the mark with which Michigan linebacker you chose in your "5 Defensive Players to Watch" column. Yes, Bolden should be good next year and play a decent amount of snaps, but there's a good chance that
Desmond Morgan
slides over from weak to middle linebacker this offseason. The two positions are similar enough in Michigan's defense that he should be able to pick it up fairly quickly, but he's never had good enough athleticism to really stand out at weakside linebacker. James Ross on the other hand does and is a much more natural fit for the position. I think Ross is your next star on the linebacking corps at Michigan, with Bolden needing more time to grow and getting fewer opportunities to shine.
Adam Rittenberg:
Sam, thanks for the note. You're not the only Michigan fan I've heard from who is vouching for Ross ahead of
Joe Bolden
. The Morgan move would make sense for Ross to slide in at weakside linebacker, while Bolden could be used more as a fourth 'backer. Both players are talented and Michigan looks absolutely loaded at linebacker for years to come. It'll be interesting to see whether the Wolverines identify a difference-making defensive lineman to complement their strength at linebacker.
Bob from Crown Point, Ind., writes:
Purdues of the world? That's your answer to Gino in Columbus?...c'mon Adam. Purdue is not that far removed from the strong football years under Tiller. Add in the history of Purdue basketball...both men and women's...and I think Purdue's athletic contributions to the Big Ten Conference should have been defended a bit stronger.
Adam Rittenberg:
Bob, you have to put the reference in the proper context. I was
explaining to Giro
that the Big Ten's revenue sharing model allows programs with fewer resources, like Purdue, to have the same cut as programs with many more resources, like Ohio State. It had nothing to do with how many championships won or athletic contributions. From a pure revenue/resource standpoint, Purdue is near the bottom of the Big Ten. Purdue sponsors the fewest number of varsity sports (18) of any Big Ten institution. Not a knock, just a fact. Purdue has tradition in both football and men's basketball, and the Big Ten's revenue sharing model allows programs like Purdue, Minnesota, Northwestern and Indiana to receive the revenue to compete with some of the larger athletic programs in the conference.
October, 10, 2012
10/10/12
9:00
AM ET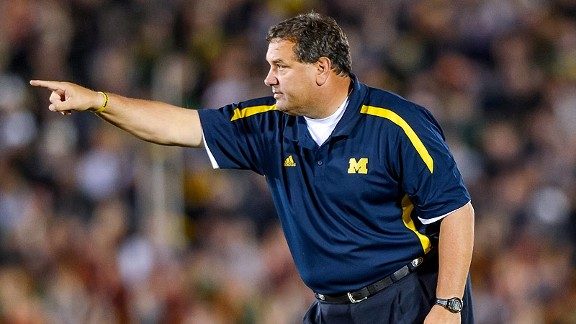 Robin Alam/Icon SMIBrady Hoke's drive to win the Big Ten title appears to be influencing his Michigan players.
Brady Hoke called Michigan's 2011 season a failure -- never mind the 11 wins and the Sugar Bowl championship -- because it did not result in a Big Ten title and a Rose Bowl appearance.
When national titles are brought up around Hoke, he typically shifts the focus back to the Big Ten race.
Whether Hoke's singular focus excites you or disappoints you, it certainly rubs off on his players. Although they weren't happy about a 2-2 start to the season, they had no trouble turning the page to the Big Ten slate last week at Purdue. And if the Wolverines' performance in West Lafayette -- a 44-13 win -- is any indication, the Big Ten will bring out the best in them this fall.
"With the nonconference season, we had one of the toughest in the nation," Michigan offensive tackle
Taylor Lewan
told ESPN.com, referring to games against No. 1 Alabama and No. 7 Notre Dame. "We took those games very seriously, but the goal's always a Big Ten championship. There's a little more fire in this team.
"We're excited about it, and every game is a Big Ten championship game."
Stifling defense and powerful offensive line play sparked Michigan in 2011, and the Wolverines appear to be reclaiming both hallmarks for the 2012 conference campaign. After struggling in just about every area against Alabama and seeing continued problems against Air Force, Michigan took a big step on defense against Notre Dame and also received better play from the offensive line as the game in South Bend went on.
Although turnovers doomed the Wolverines against the Irish, they made progress in both areas at Purdue. Michigan held a Boilers team averaging 51 points on its home field to 13 points, 213 total yards and 56 rushing yards (2.2 yards per attempt). It also controlled the line of scrimmage from the onset, holding the ball for 12:11 of the first quarter and opening the game with the program's sixth-longest drive (8:48) since 1978, a methodical 78-yard march that required 17 plays and 19 players.
Michigan's defense has surrendered only 13 points in each of its past three games, and opponents' yardage totals have dropped (259 to 239 to 213). The unit seemed to turn the corner at the same time last season, when it blanked Minnesota 58-0 in Week 5, allowing only 177 total yards. The Wolverines held six of their next seven Big Ten foes to fewer than 335 yards.
"What you're seeing is the younger guys who have been in the program for a second year, you would expect them to play up to their talent level, and that's what's happening," defensive coordinator Greg Mattison told ESPN.com. "Some of our talented young guys are starting to now become older, and play like older players."
[+] Enlarge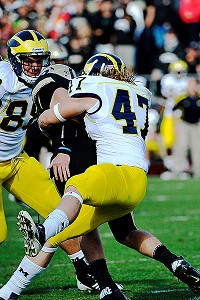 Sandra Dukes/US PresswireMichigan LB Jake Ryan continued to wow his coaches with his performance against Purdue last Saturday.
Although Mattison and his staff installed a new scheme in 2011, they had the luxury of leaning on three senior defensive linemen -- Mike Martin, Ryan Van Bergen and Will Heininger -- while working several young players into major roles. The difference this fall, according to Mattison: Seniors with a ton of starting experience are in short supply, so some of the unit's more seasoned players --
Jake Ryan
,
Desmond Morgan
,
Thomas Gordon
-- are also young.
"We're getting a lot better communication," Mattison said. "... When you're young, at an early part of the season, you're just kind of fending for yourself. You're just trying to get yourself to play. And when you get a little older in the season, whether you're a sophomore or a senior, you start feeling more comfortable. Therefore, you can do the things that are expected of you, and that is to communicate and get everybody set.
"These are guys that are now starting to feel like veterans."
Hoke singled out the linebackers as the group that has made the most strides in recent weeks. Ryan, who started 11 games last season as a redshirt freshman, has been particularly noticeable. "You can feel him on the field," Hoke said.
Ryan recorded five tackles and a pass breakup against Notre Dame and followed it with six tackles, including two for loss and a sack, against Purdue.
"The sky's the limit for Jake," Mattison said. "He has God-given talent, and he also has showed that it's very, very important to him. He's become a very good student of the game."
After Week 3,
Lewan challenged the offensive line
to "play angry, play nasty." While the group isn't quite there, in Lewan's estimation, there has been progress.
Michigan averaged 5.6 yards per rush against a talented Purdue defensive front, which failed to record a sack or a quarterback hurry against
Denard Robinson
(235 rush yards, 105 pass yards). The Wolverines' rushing attempts also are on the rise, from 30 per game in the first two weeks to 46 per game the past three weeks.
"In the Notre Dame game, it was somewhat of a change," Lewan said. "We saw we can move the line of scrimmage. We found out we have the capability to do that. It really came together at Purdue, but we have to be a better team this week than we were last week. Every week from now on is championship week because our goal is the Big Ten championship."
Lewan, who will make his 21st consecutive start Saturday against Illinois, welcomes a leadership role on the line. He shares the responsibility with fifth-year senior guard
Patrick Omameh
and fifth-year senior
Elliott Mealer
, a first-year starter at center.
"[Offensive coordinator Al] Borges put pressure on us, so did Coach Hoke, but at the end of the day, we need to put pressure on ourselves also," Lewan said. "Coach Hoke talks about it all the time. There's a standard you play at Michigan. I can throw cliché lines at you and every program says the same thing over and over, but the fact is we have the tradition to back it up. There's a tradition at Michigan, and there's a way you play."
Especially in the Big Ten season. There are still areas to improve -- Michigan needs to spark running back
Fitzgerald Toussaint
(169 rushing yards, 3.3 yards per carry) and its pass rush (five sacks in as many games, 104th nationally) -- but the team's identity is taking shape.
"You don't want to say the games leading up to the Big Ten don't count," Mattison said, "but when you come to Michigan, you come to win a championship. Now, it's on the line. Every game is on the line."
September, 22, 2012
9/22/12
6:15
PM ET
SOUTH BEND, Ind. -- I'm back at Notre Dame Stadium for the first time since 2007, gearing up for No. 18 Michigan (2-1) against the 11th-ranked Fighting Irish (3-0).


In case you've been in a cave, this series has been just a bit entertaining in recent years, thanks mostly to one man: Michigan quarterback
Denard Robinson
, who celebrates his 22nd birthday today (on Sept. 22, eerie!). The
Wolverines senior has been Notre Dame's nightmare
the past two seasons, rallying Michigan for wins and setting numerous records in the process. The Wolverines-Irish game takes place under the lights for the second consecutive year after last year's
unbelievable finish at the Big House
.
Michigan has won its past three meetings with Notre Dame -- all by four points -- and aims for its first four-game win streak in the series since 1898-1908. Although Notre Dame comes off of a big win at Michigan State, the Irish players should be locked in for this one. Notre Dame running back
Theo Riddick
said this week
the three-game slide to Michigan
is "basically tatted on us."
Robinson obviously is a huge key for Michigan, but he'll also need help from his receivers to pull off the mini upset tonight. Notre Dame's secondary is the weakness on a mostly stellar defense, and the Irish will be without starting safety
Jamoris Slaughter
, who suffered a season-ending ruptured Achilles' at Michigan State. The Spartans receivers simply couldn't attack Notre Dame; Michigan's core --
Devin Gardner
,
Roy Roundtree
,
Jeremy Gallon
,
Devin Funchess
-- must create separation. It's also a big night for Michigan's lines, which struggled mightily in the season opener against Alabama and will be tested by Notre Dame's fronts on both sides of the ball.
The Wolverines are relatively healthy for the game. Linebacker
Desmond Morgan
and running back
Stephen Hopkins
both should return from injuries this week.
I picked Notre Dame 27-20, while
Bennett forecasts
another Michigan win (28-24).
Stay tuned for more coverage throughout the night.
March, 19, 2012
3/19/12
3:30
PM ET
Michigan defensive coordinator Greg Mattison is happy to see some familiar faces this spring.
The Wolverines return seven starters and many other reserves who played roles in orchestrating one of the more impressive one-year turnarounds for a defense in recent college football history. Mattison remains grateful for their contributions.
[+] Enlarge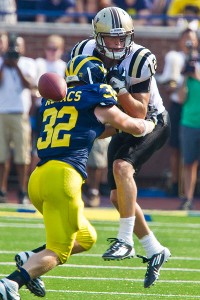 AP Photo/Tony DingSafety Jordan Kovacs is expected to be the leader of the Wolverines' defense next season.
He also guarantees them nothing for the coming season.
"Nobody has a right to any position," Mattison told ESPN.com on Monday. "It doesn't matter if you've started for three years, four years, one year. Every practice and every week is judged. We are always going to put the best football players on the field."
While this is a common refrain for coaches, who want to maintain as much competition as possible, Mattison finds himself doing more than paying lip service in spring ball, which kicked off Saturday. The scheme is no longer new. Neither are the expectations.
The learning curve for players hasn't so much been accelerated as it has been evened out. Other than three true freshmen who enrolled early and are practicing this spring -- linebackers Joe Bolden and Kaleb Ringer and safety Jarrod Wilson -- Michigan's defenders all have gone through a full year in the system.
"If a guy was a veteran, he would have picked up the new scheme at a certain rate," Mattison said. "If he was a younger guy, it would have taken him longer to pick up the scheme. Now, they've both had it, and there shouldn't be that learning factor that sometimes separates younger guys from older guys.
"Now it's who's playing the best and understanding the defense."
Mattison didn't shy away from using young players in 2011. Michigan started three freshmen -- linebackers
Jake Ryan
and
Desmond Morgan
, and cornerback
Blake Countess
-- for much of the season. Although all three earned invaluable experience playing for a successful defense, they're not assured of anything in 2012.
Consider what Mattison had to say about the linebackers, a group that returns all three starters (Morgan, Ryan, senior
Kenny Demens
).
"Those positions are not solidified in any way," said Mattison, who stressed the need for the linebackers to improve in zone coverage. "Every day, those are evaluated."
The same standard is applied for veterans like safety
Jordan Kovacs
, who many expect to become the undisputed leader of the defense.
"I was really proud of what he did a year ago," Mattison said, "but it's the same thing, and he knows it, and it's why he's such a great young man. ... He knows he has to improve. He knows that if he just goes out there and plays like he did last year, that may not be good enough."
Kovacs will provide leadership, but Michigan needs more after losing standout linemen
Mike Martin
and
Ryan Van Bergen
. Team 132 raised the bar on defense after it has sunk to historic lows.
But simply maintaining the level won't be good enough.
"That season, Team 132, is over," Mattison said. "Some of them had a big part in that, but they're 133. What are they going to be? Just because you played on that team does not mean you automatically will play on this team."
The reproving process is under way in Ann Arbor.
February, 23, 2012
2/23/12
3:30
PM ET
We continue our postseason position rankings today as we move on to the linebackers.
Not surprisingly, Linebacker U takes the top spot, though it was a very close call. Depth helped the top two teams on this list, while star power marked spots Nos. 3 through 5. After that, it's a bit of a dropoff.
Away we go ...
[+] Enlarge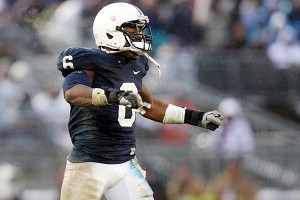 Rob Christy/US PresswireGerald Hodges led a deep group of Penn State linebackers this past season.
1. Penn State:
We thought this group could be the deepest linebacking corps in the league this past season, and that depth proved both true and invaluable when starter
Michael Mauti
went out in the fourth game of the season. Even without him, the Nittany Lions' linebackers played great, led by first team All-Big Ten performer
Gerald Hodges
, who had a breakout campaign. Nate Stupar filled in nicely for Mauti, and
Glenn Carson
was solid in his first year as a starter in the middle.
2. Michigan State:
We wondered in the preseason how the Spartans would replace stars Greg Jones and Eric Gordon. The answer: very nicely, thank you. Sophomores
Denicos Allen
and
Max Bullough
emerged as fierce playmakers, especially on the blitz, and
Chris Norman
provided steady play on the weak side. All three return in 2012 to give Penn State a run for its money as the best group in the league.
3. Wisconsin:
Mike Taylor
and
Chris Borland
were finally healthy in the same season, and what a difference that made. They were a terrific pair, combining for 293 tackles and becoming the only Big Ten duo to average more than 10 tackles per game each. Taylor in particular made great strides.
Kevin Claxton
was overshadowed a bit as the third Badgers linebacker, but that's understandable given the amount of plays Borland and Taylor made.
4. Illinois:
The emergence of Jonathan Brown (108 tackles, 19.5 for loss) as fire-breathing pass-rusher made this unit better than we projected in the preseason.
Ian Thomas
also had a good season at the position with 85 tackles, and
Trulon Henry
rounded out a strong crew before he missed time late following a shooting incident. The Illini defense stayed consistent throughout the team's struggles.
5. Nebraska:
Depth was not a strong suit for the Huskers by any means, but there was no better linebacker in the league and few better in the nation than All-American
Lavonte David
. He had 133 tackles and countless big plays.
Will Compton
came on as the season wore along to provide a good complement to David. Finding consistent play elsewhere at the position was a challenge for Nebraska.
6. Ohio State:
We pegged the Buckeyes at No. 3 in our preseason linebacker rankings, but it wasn't a vintage year for a group that struggled down the stretch drive.
Andrew Sweat
led the way with 72 tackles despite missing two games because of injury, and
Etienne Sabino
had a decent season (62 tackles, 6.5 for loss) if not the breakout season many had predicted. Freshman
Ryan Shazier
announced himself late in the year as a potential star in the making.
7. Michigan:
The Wolverines' defense surprised everyone in 2011, though the defensive line was clearly the vanguard on that side of the ball.
Kenny Demens
led the team with 94 tackles, while freshmen
Desmond Morgan
and Jake Ryan made an immediate impact as starters. This wasn't an overwhelming group, but it was one that mostly did its job.
8. Iowa:
The Hawkeyes had a hard time keeping everybody healthy and consistent, but this spot might have been the best part of their defense.
James Morris
and
Christian Kirksey
tied for the team lead with 110 tackles each, while
Tyler Nielsen
added 73 stops while battling some nagging injuries. The Iowa defense overall was disappointing, however.
9. Purdue:
Danny Hope usually knew what to expect from week to week out of his linebackers: solid, consistent play.
Joe Holland
,
Dwayne Beckford
and
Will Lucas
each had between 82 and 94 stops as the top three tacklers on the team. Lucas and Holland also recorded double-digit tackles for loss. The chief complaint here is that the Boilermakers gave up some big point totals during the season.
10. Minnesota:
The Gophers struggled up front and in the secondary, but linebacker was their most experienced and reliable defensive position, as expected. Veterans
Gary Tinsley
,
Mike Rallis
and
Keanon Cooper
played in every game, and were among the most consistent players on the team. Tinsley led the way with four sacks. Florida transfer
Brendan Beal
was expected to make an impact, but missed the season with a knee injury.
11. Northwestern:
It wasn't a very good year overall for the Wildcats' defense, and linebacker was no exception.
David Nwabuisi
ranked third on the team with 84 tackles, while
Bryce McNaul
was right behind with 76. But Northwestern's starting trio combined for just 2.5 sacks and didn't come up with enough difference-making plays throughout the season.
12. Indiana:
The good news for the Hoosiers was that
Jeff Thomas
was the best player on defense in 2011, finishing with 80 tackles, including 10.5 for loss. The bad news is that he was a senior. Besides Thomas, Indiana was forced to go young at the position, playing freshmen
Chase Hoobler
,
Mike Replogle
and
Mark Murphy
, a safety/linebacker hybrid, at times during the season. Kevin Wilson hopes the experience makes them better in '12, but this is yet another position that needs vast improvement going forward.
December, 29, 2011
12/29/11
9:00
AM ET
It didn't take long for Brady Hoke and Greg Mattison to realize that repairing Michigan's defense would take more than schematic adjustments and refurbished fundamentals.
The problems went deeper than that. They struck at the core of each player who had suffered through the darkest stretch of defensive football in Michigan history.
Hoke, the Wolverines' first-year head coach, and Mattison, the team's defensive coordinator, inherited defenders whose pride had been wounded.
[+] Enlarge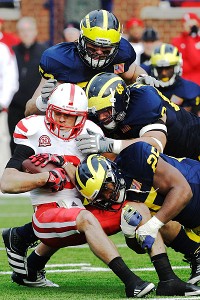 AP Photo/Carlos OsorioSeniors Ryan Van Bergen, top, and Mike Martin (68) powered Michigan's improved defense from their positions on the line.
"When we went through spring, maybe the offense does something well or
Denard [Robinson]
gets loose -- there were some runs that were big plays," Hoke told ESPN.com, "and I don't know if [defenders] didn't have the confidence or if how they practiced was different, but you could see a little bit of a self-defeating attitude."
Mattison tried to clean the slate. He didn't care about the past, so why should his players? But he soon learned that he couldn't ignore what had happened or its effects.
"All you had to do was read papers," Mattison said. "Any comments that ever talked about the Michigan defense always ended with, 'Boy, the defense was not very good.' You can sense that when people look at you, they go, 'Oh boy, they're bad.'
"You don't wish that on anybody that works hard."
Mattison and Hoke had to change attitudes on defense, but they never had to worry about players working hard. While many factors played into Michigan's renaissance on defense this season, perhaps none meant more than the players being fed up with their reputation and hungry to change it.
The result was a defense that improved from 110th nationally to 17th, the biggest one-year jump in college football. Michigan improved from 108th to seventh in points allowed.
Name a significant category -- rush defense (95th to 34th), takeaways (77th to 22nd), red zone defense (87th to fourth), third-down defense (95th to 30th), first downs allowed (107th to 16th), sacks (98th to 27th) -- and Michigan not only made strides, but dramatic ones.
The papers now describe Michigan's defense in a different light. The unit is the single biggest reason why the Wolverines won 10 games this season and returned to a BCS bowl for the first time since the 2006 season. Michigan faces Virginia Tech next Tuesday night in the Allstate Sugar Bowl.
"Nobody likes being criticized," safety Jordan Kovacs said. "But at the same time, it made us the defense that we are today."
The coaching staff also played a significant role in the transformation. Hoke and Mattison, defensive assistants at Michigan in the 1990s, knew what Wolverines defense was supposed to look like.
When Hoke hired Mattison away from the NFL's Baltimore Ravens, he didn't have to map out the defensive plan with his coordinator. The two men go way back, to their days as assistants with Western Michigan in the mid-1980s.
"Brady knew he and I thought exactly the same," Mattison said. "It all starts up front, it starts with technique, it starts with running to the football -- all the things great defenses do."
The line became the focal point. Michigan had used three-man fronts for much of the past three seasons, but Mattison restored the base 4-3 set, the one to which senior linemen like Mike Martin and Ryan Van Bergen had been recruited.
Although Hoke hired a defensive line coach in Jerry Montgomery, both Hoke and Mattison spent much of their time with the front four. Hoke even coached a position, nose guard, setting him apart from most head coaches, who either work with specialists or serve primarily as overseers.
"I'm not one of those head coaches who's going to walk around," Hoke said. "I've hired good assistants, guys who understand how we want to play. I'm smart enough to know where my strengths are. And selfishly as much as anything, I love my time with those guys, coaching defensive line."
The coaches were fortunate that the line, more than any area on defense, featured veterans such as Martin, Van Bergen and end Will Heininger, a walk-on. The three seniors had one final season to make things right, and they played with great urgency.
Michigan's line accounted for 16.5 sacks, 33.5 tackles for loss, three forced fumbles, four fumble recoveries and a safety. The Wolverines have 28 sacks through 12 games, 10 more than they had in 13 contests last season.
Michigan's improvements up front helped the rest of the unit.
"There were times last year where you're beat and they'll complete that ball," Kovacs said. "There's times this year where you're beat and you feel like, 'Oh, gosh, please don't throw it.' And the next thing you know, we've got a sack, or [the opposing quarterback] had to check it down because of our pressure from the defensive line and linebackers."
The secondary absorbed most of the criticism for Michigan's defensive woes the past three seasons. A combination of youth, injuries, attrition and flat-out poor play led to repeated breakdowns.
When Mattison arrived, Kovacs remembers him telling the defensive backs, "Keep the ball inside and in front of you. Don't give up the big play. Live to play another down and let these guys in front of you do their jobs." The DBs obliged and several players made significant contributions, including Kovacs, an effective blitzer who recorded eight tackles for loss, four sacks and two forced fumbles.
"It's different, but I can't say I don't like it," he said. "In the first game, there were a couple blitzes I came clean on, and I realized I really like to blitz."
Michigan's defensive awakening can be traced to three areas.
1. Eliminating big plays:
According to ESPN Stats & Information, Michigan's defense last season allowed 64 plays of 20 yards or longer (46 passes, 18 rushes). This season, Michigan's defense has allowed only 41 plays of 20 yards or longer (25 passes, 16 rushes). The Wolverines went from 107th nationally in allowing passes of 20 yards or longer to eighth this season.
2. Third-down defense:
Michigan ranked 95th nationally last season, allowing conversions at 43.3 percent. Five of eight Big Ten opponents converted more than half of their third downs against the Wolverines. This season, Michigan ranks 30th nationally, allowing conversions at 36.1 percent. Only one Big Ten team, Michigan State, converted half of its third-down attempts against the Wolverines.
3. Takeaways:
Last season, Michigan had 19 takeaways, which ranked 77th nationally and eighth in the Big Ten. The Wolverines matched the total in just seven games this fall and finished the regular season with 27 takeaways, tops in the Big Ten and tied for 22nd nationally. They recorded at least one takeaway in all but one game and multiple takeaways in nine contests.
"Those three things," Mattison said, "are what separate defenses."
Michigan's defense separated itself this season despite a lack of star power. The Wolverines feature no first-team All-Big Ten defenders and just one second-team selection in Martin. The starting defense includes two walk-ons (Kovacs and Heininger) and three freshmen (linebackers Jake Ryan and Desmond Morgan and cornerback Blake Countess).
But the components meshed under Mattison's leadership, and after being trashed in print and elsewhere, the Wolverines found a way to write a different conclusion to their story.
"Every man on that defense, especially the older ones, wanted to come out of Michigan being successful," Mattison said. "It's something you have to have been at Michigan to understand. You're judged by how you play when you graduate. You won't get around that. That's been forever, since Bo [Schembechler] was here.
"To see these guys buy in and work as hard as they did, and to have the success they had at times, was probably one of the most rewarding things I've ever had in my coaching career."