NCF Nation:

Desmond Scott
January, 30, 2013
1/30/13
1:00
PM ET
It is never good news when you lose your top recruiter a week before signing day, but that is the predicament Duke finds itself in today.
Receivers coach/recruiting coordinator Matt Lubick has taken a
similar job at Oregon
, leaving the Blue Devils after three seasons and most notably, a historic 2012 campaign for the passing game. Duke had the only trio of players in the nation with 60 or more catches this past season; Jamison Crowder (1,074) and Conner Vernon (1,074) became just the second duo in ACC history to post 1,000 or more receiving yards in the same season.
But there is no doubt his impact will be felt on the recruiting trail as precious days tick down. Coach David Cutcliffe said this back in December, when Lubick was honored as the 2012 wide receivers coach of the year by FootballScoop:
"Matt Lubick -- no offense to anyone I've ever worked with -- is simply the best recruiter that I've ever worked with."
Brandon P. Oliver of ESPN Recruiting Nation
expands on that

, writing:
He also had the Blue Devils in contention for some high-level recruits from around the country. His reach extended as far west as Nevada and California, as he had Duke in play for two OL recruits that had Oregon offers. Duke was the likely destination for recent Oregon commit Elijah George (Las Vegas/Arbor View) until Lubick got to Oregon and made sure that George was offered. He helped the Blue Devils land players from Northern California, Southern California, Las Vegas and Texas.
Lubick has spent the majority of his career out West, having held assistant jobs at Cal State-Northridge, San Jose State, Oregon State, Colorado State and Arizona State. Oregon is one of the best offensive teams in the country, and Lubick would like to be a head coach one day, following in the same footsteps of his father. You see why the move appealed to him.
But now Duke has to regroup. Lubick's connections out West have clearly helped the Blue Devils, and his ability to connect with his players was huge, too. Desmond Scott said late last year, "You couldn't ask for a better coach."
Cutcliffe has his work cut out for him now.
December, 26, 2012
12/26/12
10:30
AM ET
There is little doubt that the Duke receivers are one of the biggest keys for the Blue Devils headed into the Belk Bowl against Cincinnati on Thursday.
But what has turned into a position of strength was actually a huge question mark back in July, following the tragic jet ski accident that seriously injured
Blair Holliday
and also involved
Jamison Crowder
. All of a sudden, Duke had one proven player at the position in
Conner Vernon
.
More than that, though, receivers coach Matt Lubick worried about how the accident would impact Crowder, whose jet ski collided with the one Holliday was riding.
"Those two were the best of friends, and Jamison, I can't say enough about the type of person he is, and the type of family he comes from," Lubick said in a recent phone interview. "I was more worried -- not necessarily about football -- but how he was going to overcome the accident, and just being able to cope and just to get on with his life. We really didn't know, there were so many uncertainties. The comforting thing that helped the transition because it was a horrific accident, was that he was involved in saving his life. He pulled him out of the water, and making sure that he knew that.
"The biggest thing that helped that process was Blair's parents being unbelievable and taking Jamison and giving him a big hug and telling him how much that meant to him, and how important it was that he understood that and how they love him. That was huge. You could see him go from a kid who was completely broken to someone who got life put back into him."
[+] Enlarge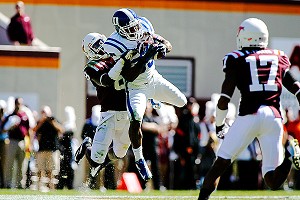 Peter Casey/USA TODAY SportsUnder coach Matt Lubick's guidance, Desmond Scott moved from RB to receiver this season and finished with 61 catches.
The accident served as a great motivation -- to work harder for Holliday, who has since had a near miraculous recovery.
"Jamison worked like a possessed person on a mission and it was easy to point out. It was obvious the way he attacked every single rep. It was something special," Lubick said. "It was an increased intensity, an increased awareness. He was a machine. He was our best effort guy, our most valuable player coming out of camp and I think a lot of what was driving him was his focus on football and competing so hard and being successful helped him block some of the negative aspects of the accident out of his head."
With Holliday recovering, Duke had to find another receiver. The Blue Devils decided to move starting running back
Desmond Scott
to the position just before camp opened, hoping his athleticism would allow him to make a smooth transition.
Scott took to the position right away, and the result surprised outside observers. To complement Vernon -- a first-team ACC selection with 75 catches for 955 yards and seven touchdowns -- Crowder had a career year with 70 catches for 1,025 yards and eight touchdowns. Scott ended up with 61 catches for 606 yards and two scores.
The result -- these three players form the only trio in the nation with more than 60 catches each. Lubick got some national recognition for his work, as he was named one of three finalists for the AFCA Assistant Coach of the Year award.
"He made it that much easier to transition from running back to receiver," Scott said. "He let me be experimental, trying things that work for me. He's very into football and the people that he coaches. You couldn't ask for a better coach."
A coach that nearly became a dentist.
Lubick, the son of legendary Colorado State coach Sonny Lubick, initially tried to stay away from coaching. His father encouraged him to seek out another profession, given all the volatility associated with this one. Matt Lubick played at Western Montana College, then transferred to Colorado State to take chemistry and physics classes he needed for his degree. He had internships at dentists offices and seemed all set to travel down that career path.
But his last year, he got burned out from school. Coaching lingered in his mind.
"I said I would take a year off and coach, and dental school would always be there," Lubick said. "Now I'm on my 15th year off."
He began working for his dad's coach, Dave Baldwin, at Cal State Northridge. His career eventually landed him on the same staff as his father for four seasons at Colorado State, followed by stops at Ole Miss and Arizona State before landing in Durham. His work this season has been among the finest of his career. Another fine day by his receivers would put an exclamation point on it all.
And you know who will be there watching in Charlotte: Holliday.
December, 14, 2012
12/14/12
2:00
PM ET
Desmond Scott
had a banner year for Duke after making the move from running back to receiver, finishing the season with 61 catches for 606 yards and two touchdowns. He also became the third player in ACC history to have over 1,000 yards rushing, receiving and on kickoffs.
I had a chance to catch up with Scott as Duke begins preparations for the Belk Bowl against Cincinnati. Here is a little of what he had to say.
You moved from running back to receiver just before the start of preseason practice. How did you make such a smooth transition?
DS:
I felt like I did it before, why can't I do it again? That's how I approached the transition and I was ready for all the challenges that faced me, and I took it on.
How would you describe the transition once you were working with the receivers?
[+] Enlarge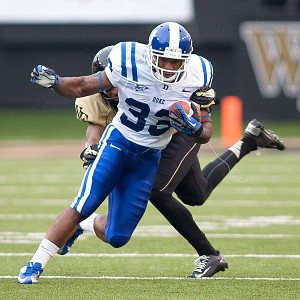 Jeremy Brevard/USA TODAY SportsDesmond Scott's 606 receiving yards helped Duke return to a bowl game.
DS:
It was fine. Jamison [Crowder] and Conner [Vernon] made it fine, telling me keep working, keep working. Catching the ball is the easiest thing to do. I just had to work on route running, reading defenses off coverages and everything else came with the territory. The coaches and Jamison and Conner made it all right, and also Sean [Renfree].
How long did it take for you to feel like you were a receiver?
DS:
After the first game. We played Stanford second, and I had I think I had an 11-catch, 83-yard game so that made it pretty comfortable. And the rest of the season came, and I had good games here and there. I just grew into the position.
How does it feel to be only one of a handful of guys to hit the 1,000-yard trifecta?
DS:
It's a blessing, That was a goal I set for myself sophomore year and regarding life, that's what I believe everyone should do. You should have goals and that was just one of my goals that I put out in front of me, and to accomplish it means the world to me. God has given me the ability to do, and I'm just using football as a platform to do other things such as teaching and reaching other kids. But those goals that you set out and attain mean the world to anybody who has goals.
What made you think as a sophomore you wanted to set that goal?
DS:
It's never been done in Duke history. I didn't know about ACC history. and to have that accolade under my name means something to me. I wanted to come into this program and help turn it around and grabbing all the accolades I can while in the process of making the program better is any athlete's dream. Why I set that goal, I don't know, just to challenge myself, make myself better and making myself better obviously the team gets better as well.
What means more, having your name in the record books or being a part of the team that got Duke back to a bowl game?
DS:
Being a part of the team that got Duke back to a bowl game. Don't get me wrong, having my name in the record books is great, but before I committed to Duke University, that's what Coach Cut and his staff and the 2009 recruits set out to do to change this program around. Just like (President) Obama can't change the world in four years, you can't change a football program in four years. It's taken awhile. It's been a work in progress since Coach Cut got here, and this 2009 class is the class that got over that hump.
Now that Duke got over the hump, is this program now going to be in a bowl game every year?
DS:
That's the plan. Like in life, once you get a taste of something and it's good to you, I'm pretty sure you're going to want to get that taste again. For those young guys, very athletic and talented young guys to get this taste at a young age, hopefully it puts it in their mind that they're going to work hard and those guys that follow them will have to follow in their footsteps to obtain a bowl game again.
You mentioned teaching, is that something you hope to do?
DS:
I actually teach kindergarten and fourth grade now at Global Scholars Academy, a charter school in Durham. The kids go to school until 6. I'm their teacher from 4 to 6 after their regular-day teacher leaves. Education is my minor so I do hope to be a high school teacher one day and hopefully a principal of a school.
Is this an internship or something you wanted to do?
DS:
This is something I wanted to do. I started the summer for us, which is still the school year for them, because charter school goes year around.
How do you manage to do that between football and school?
DS:
I feel as though life might throw you challenges as a man and if it's something you really want to do, you have to put your mind to it and do it. That's one thing Duke has taught me because I've had to balance the rigor of the Duke course and D-I athletics. Being able to balance those two has helped me be a better time manager.
What has the experience taught you about yourself?
DS:
Definitely working with kindergarten is having patience. It's not all about getting a lesson across to a kindergartner. It's a whole lot of "Don't do this, don't do that, sit down, take your feet off the chair." Working with fourth grade, they need a little bit more from you. Sometimes you have to be that brother role, father figure and teacher. Having to do all that is fun, and it makes the job enjoyable. To see a child grow is one of the most rewarding experiences ever, and to know you're a part of the reason for the child to know how to divide or know how to multiply, it's just a wonderful feeling.
November, 26, 2012
11/26/12
10:00
AM ET
Let's take a quick look back at the final week of the regular season in the ACC.
[+] Enlarge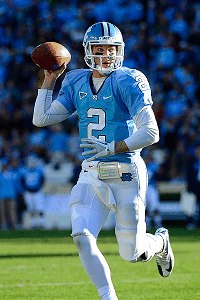 Bob Donnan/US PresswireBryn Renner had a career-high five touchdown passes in the Tar Heels' win over the Terrapins.
The good, QB-style:
North Carolina quarterback
Bryn Renner
and NC State quarterback
Mike Glennon
outdid themselves this year. Renner finished 28-for-39 for 305 yards and five touchdowns in a 45-38 win over Maryland, setting a single-season school record with 28 touchdown passes. That tops his previous mark of 26 in 2011. Glennon had three touchdown passes in a 27-10 win over Boston College, and became the first quarterback in school history to throw for 30 or more touchdowns in a season twice in his career. Philip Rivers had 34 in 2003 and Russell Wilson had 31 in 2009. Glennon had 31 in 2011 and now has 30 in 2012. Miami quarterback
Stephen Morris
finished the season with 3,415 yards of total offense, the most in the history of the program, edging out Bernie Kosar's 1984 total of 3,412.
The bad:
We'll get to the SEC/ACC matchups in a minute. First, let's take a look at what Virginia did in a 17-14 loss to Virginia Tech. The Hoos hit season lows with 217 yards of total offense and 30 yards rushing, and managed just seven first downs against a Hokies defense that went into the game without a real signature moment on the season. … Duke gave it the ol' college try in a 52-45 loss to Miami, but the Blue Devils close the season on a four-game losing streak. They beat one team with a winning record all season, and it is a BIG one -- in-state rival North Carolina. That game was the difference between bowl eligibility and sitting at home eating popcorn during the postseason.
The ugly:
I know that folks probably want to ignore the ugly 0-4 record against the SEC on Saturday, but it's hard to gloss over the facts here. The ACC was simply outclassed as Florida State lost to Florida; Georgia Tech lost to Georgia; Clemson lost to South Carolina and Wake Forest lost to Vanderbilt. The Tigers and Jackets were held to season lows for points. Florida State was gashed for 244 yards rushing, after going into the game with the No. 1 defense in the nation. Consider its previous four opponents had
combined
for 253 yards on the ground. That didn't impress Florida coach Will Muschamp, who said afterward, "We had a lot of confidence coming in here being able to run the football. We've run it well versus everybody. We've run it well versus better defenses." And Wake Forest gave up a season-high 55 points with bowl hopes on the line. Not even Florida State scored that many on the Deacs.
The news:
NC State coach Tom O'Brien and Boston College coach Frank Spaziani were fired Sunday but for different reasons. O'Brien took the Wolfpack to three straight bowl games, but he
didn't win enough
in ACC play. What BC wouldn't give for three straight bowl trips right now. The Eagles are in
much worse shape
after finishing up a 2-10 season, and Spaziani was let go for not winning enough, period.
The eligible:
Virginia Tech sweated out a very looooooooong season, but the Hokies are going to their 20th straight bowl game after their record ninth straight win over Commonwealth of Virginia. Only Florida State (31) and Florida (23) have longer bowl streaks.
The record:
The Tar Heels finished the season with 487 points, the most in school history. The previous mark was 421 in 1993. Carolina finished the year with 5,817 yards of total offense, a school record (previous was 5,256 in 1993). The Tar Heels averaged 484.4 yards, breaking the previous school record of 441.8 in 1983. … Clemson also set the school-season record for total offense with 6,220 yards on the year and one game remaining.
The record, II:
Dustin Hopkins
made two field goals in a loss to Florida, putting him into a tie with Billy Bennett of Georgia for the NCAA career record with 87 field goals made. Hopkins nailed two field goals of 50 or more yards against the Gators, becoming the first Seminole to do that since Derek Schmidt made two 51-yard field goals against Memphis in 1985. Hopkins now has nine field goals of 50 yards or more, giving him the school record for the most career field goals from that distance.
The rookies:
Maryland super freshman
Stefon Diggs
returned a kickoff 99 yards for a touchdown -- his second scoring return of the season -- to tie him with Torrey Smith (2009), Richard Jennings (1975) and Dennis Condie (1960) for the most in a season. Diggs also threw a touchdown pass and finished with eight catches for 82 yards, and ran for 20 yards. Diggs is now second on the Maryland all-time single-season all-purpose yards list with 1,896 yards. Not to be outdone, Miami freshman running back
Duke Johnson
had a career-high 176 yards rushing to bring his season total to 947, setting a program freshman rushing record. Johnson finished with 2,060 all-purpose yards on the year, the second most in school history behind Willis McGahee (2,108 yards in 2002).
The trio:
For just the second time in school history, three Duke players have topped 600 receiving yards in a season:
Conner Vernon
(955),
Jamison Crowder
(1,025) and
Desmond Scott
(606) all reached the mark in 2012. The previous trio to accomplish the feat included Vernon (746), Donovan Varner (1,047) and Austin Kelly (625) in 2009.
The quote:
"This grip right here? Whoever can pry this kung-fu grip away from this cup can have it. And I don't see that happening." -- Virginia Tech linebacker
Bruce Taylor
, clutching the Commonwealth Cup
during postgame interviews
.
October, 3, 2012
10/03/12
9:00
AM ET
Duke is ahead of Virginia Tech in the Coastal Division standings this week.
Let that sink in for a minute.
At 4-1, the program is off to its best start since 1994. Duke has won three straight heading into Saturday's game against Virginia, and it's only two wins away from being bowl eligible for the first time in almost two decades.
Nobody in Durham, though, is doing backflips just yet. Those within Duke's program know better than to celebrate in October.
"Last year we were 3-2 and proceeded to lose seven games in a row," said redshirt junior cornerback
Ross Cockrell
. "We understand how quickly the tide can change during the course of a season. We have to keep working hard and stay level-headed because we haven't reached our goals yet."
[+] Enlarge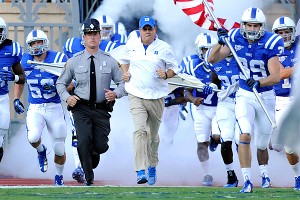 Liz Condo/US PresswireDavid Cutcliffe has led Duke to a 4-1 start.
This season, though, is already a special one by Duke's standards. Consider that it's only the third start of 4-1 or better for the program in
the past 30 years
. Duke has also opened the season with three straight home wins for the first time since 1994. Duke is -- gasp! -- favored this weekend against a Virginia team that has lost three straight.
"I will say this about this team: Regardless of the results of the rest of the games that we play, this is a very special team with tremendous character, leadership and they have just been amazing in keeping their eye on the bull's-eye," coach David Cutcliffe said. "Since all of the incidents of the summer, obviously the biggest with Blair [Holliday], the way that happened, and then so many injuries occurring -- our team looks nothing like it did at the end of spring, and I have not heard anybody here complain. I'm very proud of that. They have focused on what we have and not what we don't have. I admire the perseverance of the staff and the squad."
One of the most noticeable differences for Duke this year has been the evolution of the program's depth. At least eight starters or projected starters heading into this season have missed time with injuries, but unlike in years' past, there hasn't been as much of a drop-off in talent between the first and second string. That's a credit to the recruiting, and proof that it is improving.
The defense has also made significant strides in the second season under coordinator Jim Knowles. The players look much more comfortable in the 4-2-5 scheme, and the Blue Devils are better up front. Duke is averaging 2.8 sacks per game -- second in the ACC only to Florida State. Duke averaged 1.58 sacks a year ago. There was a three-week span (Weeks 2-4) in which Duke's run defense held three straight opponents to fewer than 100 rushing yards. That hadn't happened since 1965.
"The biggest difference is the experience we have on the team," said Cockrell, who is tied for second nationally with 11 passes defended. "We have a lot of guys who played a lot of snaps for us, especially on the D-line, and the linebackers and defensive backs. So I think we've learned to roll with the punches and the ebbs and flows of the game and we continue to fight hard throughout those."
There's also something to be said for having a fifth-year senior starting at quarterback. Quarterback
Sean Renfree
has completed at least 70 percent of his passes in all five games this season. The move of
Desmond Scott
from running back to receiver has also helped the passing game without taking anything away from the running game. Scott is averaging 6.6 receptions and 65.6 yards. Duke is averaging 114.8 rushing yards per game -- its highest average since 2005.
All of those factors have added up through the month of September.
When Duke beat Wake Forest last weekend, it snapped a 12-game losing streak to the Demon Deacons. It was a sign that the program has turned the corner under Cutcliffe in his fifth season, and Duke now knows how to come out on the winning end of close games.
"We've got a lot of guys who have been on the wrong side of those tight games for so long and we know which plays need to be made," Cockrell said. "We've seen it the last few years, a play here, a play there can turn the whole game around. This year we've been making those plays."
The key now is to make them through November.
June, 20, 2011
6/20/11
3:52
PM ET
Last week we looked at how the quarterbacks stacked up in the ACC. This week, we'll take a closer look at the running backs. Again, the position rankings by team put heavy weight on the depth of the position -– hence the
team
ranking, not individual. Just because Virginia Tech has one of the best running backs in the ACC doesn't mean that collectively, as a group, Virginia Tech is the best team in the league at the position. Florida State? Loaded. Wake Forest? Not. These are based on the best combination of talent, experience and depth.
Here's a look at how each team ranks in the position:
[+] Enlarge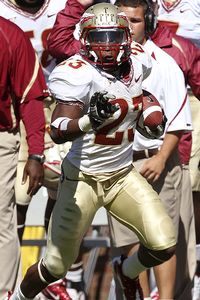 Lee Coleman/Icon SMIChris Thompson averaged 6.4 yards per carry for the Seminoles last season.
1. Florida State:
Chris Thompson
,
Ty Jones
and
Jermaine Thomas
combined for 1,862 yards, 6.1 yards per carry, and 17 touchdowns last year. Thompson had 1,000 yards combined from both rushing and receiving last year, and Thomas enters his senior season with 1,084 career yards -- the second most of any active ACC runner, behind only
Montel Harris
(3,600).
2. Boston College:
Montel Harris could break a 33-year-old ACC rushing record this fall, and his backup,
Andre Williams
, is a bigger back who has proven more than capable of shouldering the load himself. Together they're one of the best one-two combos in the league.
3. Miami
: The transfer of
Storm Johnson
hurt, but
Lamar Miller
should be one of the best in the ACC, and
Mike James
was ahead of Johnson on the depth chart. The Canes also have
Darion Hall
,
Maurice Hagens
and incoming freshman Kevin Grooms.
4. Clemson
:
Andre Ellington
will be the leader of the pack, but true freshman Mike Bellamy could also make an immediate impact, and the group runs deep with
Roderick McDowell
,
D.J. Howard
and
Demont Buice
.
5. Virginia Tech:
Had Ryan Williams and
Darren Evans
returned, this would have been one of the premier groups of running backs in the country. Instead, it will be the
David Wilson
show (and
Josh Oglesby
). Not that the Hokies will have any problem with that.
6. Maryland:
Davin Meggett
and
D.J. Adams
are a talented duo, but depth should be a concern. Meggett posted a team-high 720 rushing yards in 2010, while Adams had a freshman school-record 11 rushing touchdowns.
7. NC State:
The Wolfpack are in a much better position at running back than they were a year ago, when nobody with starting experience returned.
Mustafa Greene
,
James Washington
and
Brandon Barnes
should make NC State's running game a bigger factor this fall.
8. Georgia Tech:
Coach Paul Johnson isn't concerned about his B-back position because it's one of the deepest on the team. There isn't one superstar like in recent years, but
Richard Watson
,
Charles Perkins
and
Preston Lyons
will work together to keep the Jackets one of the top rushing teams in the country.
9. North Carolina:
The Tar Heels have to replace three tailbacks who accounted for 96 percent of their rushing last year.
Ryan Houston
is back for his sixth season of eligibility, but he is the only one who has seen significant playing time.
Giovani Bernard
,
Hunter Furr
and Travis Riley help the depth.
10. Wake Forest:
Josh Harris
could crack the 1,000-yard mark if he stays healthy, and
Brandon Pendergrass
is a capable backup. There are three true freshmen at the position, and it's one area coach Jim Grobe can't afford any injuries.
11. Virginia
:
Perry Jones
and
Kevin Parks
are talented, but the Cavaliers will miss the production of
Keith Payne
, who accounted for 14 of the team's 17 rushing touchdowns. Jones started all but one game last year, but only scored one touchdown.
12. Duke:
The Blue Devils' running game is starting to show progress, but last year it still ranked 104th in the country. Depth isn't a problem, as
Desmond Scott
,
Josh Snead
and
Juwan Thompson
should help make it a more productive group this year.
Stay tuned for the top 10 ACC running backs for 2011 ...
February, 28, 2011
2/28/11
9:00
AM ET
Attention: There was actual ACC football played on Saturday -- 75 snaps in Wallace Wade Stadium.
Duke, the first ACC team to start spring practices, had its first spring scrimmage on Saturday, and the offense was the highlight. While it should be noted that five projected defensive starters were out with injuries, this is the kind of offensive progress Duke needs to see this spring, particularly in the running game. Defensively, it was a chance for some younger players to get some significant snaps.

OFFENSIVE HIGHLIGHTS:
Quarterback
Sean Renfree
, who could be the lone returning full-time starting quarterback in the Coastal Division, accounted for three touchdowns and running back
Patrick Kurunwune
had 154 yards on eight carries. Renfree completed 7 of 13 passes for 129 yards with touchdowns of 18 yards to tight end
Cooper Helfet
and 55 yards to wideout
Brandon Braxton
. Renfree also rushed for a 3-yard touchdown. Kurunwune took off on runs of 27, 37 and 75 yards en route to averaging an impressive 19.3 yards per attempt. Fellow running backs
Desmond Scott
and
Juwan Thompson
added 50 and 41 yards on the ground, respectively.
Thompson (62 yards) and wideout
Conner Vernon
(42 yards) led all receivers with three catches each while tight end
Braxton Deaver
finished with two catches for 63 yards.
DEFENSIVE HIGHLIGHTS:
Safety Jordon Byas led the defense with two pass breakups, one caused fumble and one fumble recovery. Defensive tackle Jamal Bruce chipped in a tackle for loss while linebacker C.J. France and defensive end Nick Sink combined on one quarterback sack. Duke is missing three injured players this spring -- linebacker Kelby Brown, safety Lee Butler and defensive end Kenny Anunike -- and noseguard Charlie Hatcher and safety Matt Daniels didn't dress for the scrimmage because of minor injuries.
QUOTABLE:
"I thought we ran the ball really well today," Renfree said, according to the team's scrimmage report. "I think it has to do with being multiple, and mostly it has to do with the performance of our offensive line. They did a great job. We've got a lot of good running backs and if you get holes for them, they're dangerous. That was lot of fun to see."
November, 8, 2010
11/08/10
2:06
PM ET
Here's your weekly rewind and sneak preview in the ACC:
The good:
Backup quarterbacks. Miami couldn't have asked for much more from true freshman backup
Stephen Morris
, who guided the Canes to a 26-20 comeback win against Maryland. Morris completed 18-of-30 passes against Maryland, including the game-winning, 35-yard touchdown to
Leonard Hankerson
with 37 seconds to play. Morris threw for 286 yards, a single-game high for any UM quarterback this season, and also rushed for 13 yards.
[+] Enlarge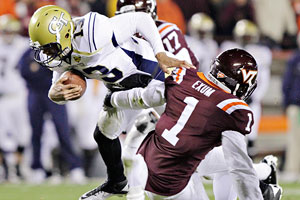 AP Photo/Steve HelberGeorgia Tech backup QB Tevin Washington played well when pressed into action against Virginia Tech.
And the effort from Georgia Tech's
Tevin Washington
after
Joshua Nesbitt
broke his right forearm was almost good enough to beat Virginia Tech. Washington will have to continue to make strides, as Nesbitt is out for the rest of the regular season and possibly a bowl game.
The bad:
Turnovers and penalties. ACC teams combined for 23 turnovers (congrats, FSU and UNC for not contributing to that total). Virginia had 11 penalties for 103 yards. Miami had 10 penalties for 100 yards. Clemson had a touchdown called back for holding.
The ugly:
The Atlantic Division. Florida State, NC State and Maryland all blew fourth-quarter leads. FSU had two missed field goals and so did Clemson, which also fumbled five times and lost three. For NC State, it was the second time in conference play the Wolfpack has lost despite leading by 10 points in the third quarter.
The quotable:
Duke running back
Desmond Scott
, on leaping into the corner of the end zone on his game-winning 35-yard touchdown run against Virginia: "I was pretty good at geometry. I knew with the angle I had on the guy, I could dive, so that's what I did." Only at Duke does geometry fit into the touchdown equation.
The manster:
Virginia Tech linebacker Bruce Taylor made a career-high 14 tackles, including a game-high two sacks, in the win against Georgia Tech. His two sacks resulted in a loss of six yards. He earned 58 points in the coaches' grading system, one of the top totals this year.
Top three games of Week 11:
Virginia Tech at North Carolina:
UNC's upset of Florida State makes this game a lot more interesting for the Coastal Division standings. The Tar Heels will have to overcome yet another setback as leading rusher
Johnny White
is out for the rest of the season with a broken collar bone. Both quarterbacks,
Tyrod Taylor
and
T.J. Yates
, have been integral to their teams' success this year.
Clemson at Florida State:
The Tigers are still alive in the Atlantic Division race, and Florida State is trying to rebound from back-to-back heartbreakers. A Clemson win would make the standings even more jumbled, as NC State and Maryland still have to play each other.
Miami at Georgia Tech:
This one has some history to it – the series is split over the past two seasons - and it's a must-win for the Canes if they hope to stay in the ACC race. It's the final road trip of the season for the Canes, but they haven't won at Georgia Tech since 2004. Miami's rushing defense is No. 7 in the ACC, allowing 150.7 yards per game. The Jackets are averaging 320.6.
October, 1, 2009
10/01/09
8:05
AM ET

Posted by ESPN.com's Heather Dinich
Last week it was the Coastal Division that highlighted the conference play. This week it's the Atlantic, with everyone in the division playing each other and no nonconference games to speak of. Two teams -- NC State and Maryland -- will be playing their first ACC games. While the Atlantic Division standings are worth watching this weekend, so are the following items:
1. Florida State in the trenches.
FSU's offensive line was humbled by South Florida last weekend, and that's putting it kindly. The defensive line should get deeper with the expected return of two defensive tackles. Justin Mincey, who has missed the first four games with a knee injury, came back in full pads Tuesday and is expected to suit up Saturday. So is defensive tackle Moses McCray, who sat out the USF game with an elbow injury. They'll face a veteran BC offensive line.
2. Dueling quarterbacks in Winston-Salem.
NC State quarterback
Russell Wilson
proved against Pitt he hasn't lost a step, and he has yet to throw an interception, but Wake Forest quarterback
Riley Skinner
is a veteran who has continuously put his team in position to win this season. Wilson has thrown four touchdown passes in each of his last three games and accumulated 413 yards of total offense in Saturday's win over Pitt. Skinner piled up a career-high 354 yards passing last Saturday in the overtime loss to Boston College.
3. Turnovers and penalties in College Park.
They're the two things that have hindered Maryland the most this month. The Terps had 10 penalties for 85 yards, two lost fumbles and three interceptions. Maryland has 13 turnovers this season which have contributed to 61 points. Coach Ralph Friedgen brought officials to practice this week to help with the penalties, and made the offense do 10 up-downs for each turnover.
4. UNC receiver Erik Highsmith.
The Tar Heels have found a receiver. Now if only they could find the rest of their offense. The true freshman accounted for 107 of the Tar Heels' 154 yards of total offense with six receptions and the lone touchdown in North Carolina's 24-7 loss at Georgia Tech. Highsmith has posted 100-yard games in each of the last two outings and has 12 catches for 220 yards in the last two weeks. The rookie made catches of 40 and 30 yards to give him four of Carolina's five pass receptions of at least 30 yards on the season.
5. Miami's pass protection.
The Canes' offensive line had done so well in the first two games at keeping quarterback
Jacory Harris
on his feet, and then he was sacked three times by Virginia Tech. Right tackle Matt Pipho could use some help. Oklahoma's defense might be the best the Canes will see all season. Pipho alone will be overmatched against defensive ends Auston English and Jeremy Beal, who have combined for 27.5 career sacks and four through three games this season.
6. Miami's defense against Oklahoma running back DeMarco Murray.
Regardless of who is starting at quarterback for the Sooners --
Sam Bradford
or
Landry Jones
-- Murray will play an integral role. Jones, who could be making his first collegiate road start, won't be asked to win the game by himself, and Murray is the best option on the Sooners' offense. Murray is just 15 yards shy of reaching 2,000 for his career and has 32 carries for 219 yards and two touchdowns this year. One thing Miami's defense couldn't do last week was stop the run.
7. Virginia's offense.
The word "tweak" isn't in Al Groh's vocabulary because he thinks it's "too cute," so that's not what he's done to the offense. Let's call it "altered," for the sake of argument. The Cavaliers relinquished some aspects of the spread offense and it resulted in 390 yards of total offense and something positive to build on heading into the bye week, despite a loss to Southern Miss. UNC coach Butch Davis said it's a "guessing game" as to what UVA will look like on Saturday.
8. Duke's injured running backs.
In order for the Blue Devils to look competitive against the Hokies, they're going to have to get their running game going, and their top three backs have been injured, including budding freshman star
Desmond Scott
, who tweaked his hamstring. Re'quan Boyette (leg) and
Jay Hollingsworth
(ankle) played sparingly or not at all against NC Central. We won't know their status updates until the injury report comes out later today.
9. Georgia Tech's defense against Mississippi State running back Anthony Dickson.
Dickson ran for 106 yards and two touchdowns last weekend against LSU. The Yellow Jackets rank second in the ACC and 30th nationally in rushing defense (106.0). Last year, Dixon ran for 94 yards on 13 carries against the Yellow Jackets.
10. Virginia Tech's secondary vs. Duke quarterback Thaddeus Lewis.
The Hokies have allowed just one touchdown pass this season -- one. Lewis has thrown five so far this season, and he completed 17-for-25 for 189 passing yards and two touchdowns last week against NC Central. It was his 15th career multi-touchdown game.