NCF Nation:

Detroit Lions
April, 19, 2011
4/19/11
1:00
PM ET
TUCSON, Ariz. -- Before we engage our topic -- Arizona quarterback
Nick Foles
-- let's pause for a moment and consider the Wildcats' NFL history at Foles' position. It will only require the briefest of pauses, however, so don't worry about your eyes glazing over.
In 1985, the Seattle Seahawks used their 10th-round selection -- the 277th overall pick in the NFL draft -- to select Arizona quarterback John Connor. Connor would later save the world from evil computers and
indestructible robots
that looked not unlike the former governor of California, so we should give him a break for not making much of a mark in the pro ranks.
In 1972, six years before the Wildcats joined the Pac-8, the Buffalo Bills used their first pick... of the 16th round (391st overall)... on Arizona quarterback Brian Linstrom. In 1962, quarterback Eddie Wilson went to the Detroit Lions with the 10th pick of the second round, 24th overall.
And so ends our history lesson entitled, "The NFL draft and Arizona Quarterbacks."
[+] Enlarge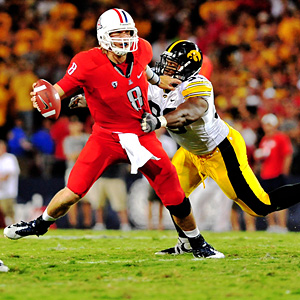 Chris Morrison/US PRESSWIRE"Nothing rattles him," offensive tackle Adam Grant said of quarterback Nick Foles following a dramatic win over Iowa. "I've seen guys with fear in their eyes on the field. He was completely calm."
If Foles were in this class, he'd probably yawn. He's not much into history, even though he could have made it for the Wildcats if he'd opted to
enter the draft instead of returning for his senior season
. Heck, he's not much into the future either because he says -- convincingly, by the way -- that he's not thinking about the NFL.
"I grew up going to college football games and I wanted to play college football. I'm in a wonderful place because I'm living my dream right now," he said. "I know there is money and fame or whatever, but I love where I'm at. I love the University of Arizona. The most important thing right now is to focus on that. I think too many people get caught up in the, 'NFL this, NFL that,' and they don't focus on where they are now, the present moment. The most precious time you have is right now in the present. I don't want to think about a year down the road."
In the present time, Foles is headed into the 2011 season -- spring practices ended over the weekend -- on the cusp of becoming the best quarterback in program history, even if he doesn't break all of Willie Tuitama's records. After all, Tuitama, a four-year starter, wasn't drafted and didn't get invited to an NFL training camp. As for those records, Foles needs 3,478 yards passing to eclipse Tuitama's career record of 9,211 yards. Considering the talent Foles has surrounding him at receiver, it's possible that he could break Tuitama's single-season passing record (3,683 yards) and even reach his career TD mark (67; Foles has 39 touchdowns in two years as a starter).
Of course, stats aren't the only thing that matters. The Wildcats split the job between Keith Smith and Ortege Jenkins in 1998, and their middling numbers were nonetheless good enough to front a 12-1 team that finished ranked No. 4 in the nation.
The Wildcats don't look at first glance like a team that could go 12-1. All five starters must be replaced on the offensive line, while the defense loses premier pass-rushing ends Brooks Reed and Ricky Elmore, both of whom figure to be drafted. Further, the Wildcats are presently riding a five-game losing streak that took the shine off a 7-1 start in the 2010 season.
For Arizona to be a factor in the Pac-12 South's first season, Foles needs to be out front posting big numbers.
"He's grown a lot each year. I think you'll see a more polished player," coach Mike Stoops said. "He's going to be an elite player at the next level if he can continue to grow."
Foles, who missed two games last season with a dislocated knee cap, said he sees plenty of room for improvement when he watches game tape. While he completed a strong 67 percent of his passes, his 2:1 TD to interceptions ratio -- 20 TDs, 10 picks -- won't blow anyone away. Foles also was streaky. He seemed to often break out of lulls while running the two-minute offense in high-pressure situations -- see clutch drives produced in wins over Iowa and California and in a heart-breaking loss to Arizona State.
So while Foles talks about improving his recognition skills, his knowledge of opposing defenses and building consistency, he also finds a less cerebral area in which to improve.
"When I just play the game and don't think as much, and let it just come to me, that's when I play my best," he said. "When I'm trying to over-analyze a play or I am thinking too much, I play mechanically and that's just not where I'm good."
Stoops and Foles have talked about another area in which Foles needs to focus: Leadership. As a quarterback who could receive All-American consideration, Foles is the centerpiece of the Wildcats. Everyone in the locker room will turn to him this fall.
"I wish at times he showed more emotion," Stoops said. "But you don't want that to be forced. That has to be natural. Nick has to pick and choose. He should know when those times are."
Said Foles, "There's a time and place to be loud and emotional but I also think it comes with knowing your teammates. The most important thing with anything you do is being natural. There will be times when I need to be vocal, but it has to come naturally. When it doesn't come naturally, it's just doesn't feel right."
In other words, leaderships is complicated. Consider: In the Wildcats 34-27 win over Iowa, Foles led by being loose and saying
just enough to make his team confident
.
"Nothing rattles him," offensive tackle Adam Grant said after that game. "I've seen guys with fear in their eyes on the field. He was completely calm."
Foles said he talked to his parents about potentially entering this spring's draft, but also said he told them in advance that he wanted to return. By returning, he almost guaranteed that -- barring injury -- he will become the greatest quarterback in school history.
Ah, but that's all history and the future and destination talk. Foles is more focused on the present, on the process.
"I'll watch film and go, 'Man, I've got a lot to work on,'" he said. "But that's exciting to me. I love working on that stuff. It's a continual process."
April, 23, 2010
4/23/10
10:08
AM ET
Here's a prediction: California defensive end Tyson Alualu is going to surprise some folks and end up a top-10 NFL draft pick.
Little late on that one, eh
?
Alualu was the first Pac-10 player drafted Thursday night -- which was projected by no one -- going 10th overall to the Jacksonville Jaguars, while Bears teammate Jahvid Best was the only other conference player selected on Day 1. Best went to the Detroit Lions with the 30th pick.
Round 2 begins today at 6 p.m. ET. Expect the second round to
include a number of Pac-10 players
, including those who slipped during recent weeks, such as USC safety Taylor Mays and UCLA defensive tackle Brian Price.
Alualu is the highest Cal selection since Andre Carter was taken seventh overall by San Francisco in 2001. He is the Bears' ninth top-10 pick in the draft's history. And his selection was rated the "
biggest reach
" of the first day by Todd McShay.
Wrote McShay, "Jacksonville used the 10th overall pick to take California DT
Tyson Alualu
, who we feel is a good player but is only the No. 35 overall on our board. Top-10 money is pretty rich for a player like Alualu, especially when pass-rushers like Derrick Morgan and
Jason Pierre-Paul
would have offered much more value at that point."
Another notable pick is the Seattle Seahawks' selection of safety Earl Thomas at No. 14. That means former USC coach Pete Carroll wanted a safety but didn't want Mays.
Ouch.
Got to admit: I thought at least one team would jump on Mays just because of his athleticism, much like it took only one team to make Tim Tebow a No. 1 pick (Denver).
Another observation: Former Oklahoma quarterback Sam Bradford going No. 1 overall is a good thing for college football. It shows players who want to come back for their senior season that even a major injury won't automatically ruin your draft prospects.
Of course, Mays right now is probably questioning his decision to return, considering he likely would have been a top-15 pick in 2009.
April, 23, 2009
4/23/09
11:18
AM ET
| | |
| --- | --- |
| | |
| | Photos by Getty Images and US PRESSWIRE |
| | Is quarterback Mark Sanchez ready to make an impact in the NFL? |
Posted by ESPN.com's Ted Miller
The last image many USC fans have of Mark Sanchez is the bizarre news conference in which Trojans coach Pete Carroll told reporters that Sanchez was wrong to enter the NFL draft a year early.
"The facts are so strong against this decision," Carroll said at the time. "After analyzing all the information, the truth is there -- he should've stayed for another year."
Carroll cited a 62-percent failure rate for quarterbacks who entered the NFL draft as underclassmen. He said that Sanchez would have made a lot more money in the 2010 draft.
He also said Sanchez was projected to go in the second round, which we all now strongly suspect isn't going to happen: Sanchez almost certainly will be picked in the top half of the first round and could even go in the top-five.
So is Sanchez ready to take the reins of an NFL offense? Is he more Ben Roethlisberger or Alex Smith, two quarterbacks of recent note -- and divergent success -- who declared for the draft after their junior seasons?
The Pac-10 blog enlisted the help of Scouts Inc., NFL draft guru Steve Muench to debate the subject.
1. How much of an impact should Mark Sanchez' experience have on the evaluation process?
Steve Muench: Experience is key when it comes to evaluating top-tier prospects such as Sanchez. Sound investments in the first round can be the difference between going to the playoffs or finishing in the bottom of your division. As a result, organizations want to compile as much information as possible in order to make the right decisions. The bigger body of work they have to break down, the better. USC head coach Pete Carroll made waves when he said he felt that Sanchez should stay in school, but the truth is Carroll offered his admittedly talented quarterback sound advice. After all, eight of the last 11 underclassmen quarterbacks taken in the first round are either failing to live up to expectations or are complete busts. Not an encouraging trend. Now obviously you can't base a decision solely on experience and Sanchez' natural ability as well as intangibles make him an early first-round value as far as I am concerned. That said, I think that Matt Stafford being a three-year starter gives him an edge over Sanchez.
Ted Miller: It should have a lot of impact -- impact in Sanchez's favor. No other quarterback in this draft has spent the past four years running a sophisticated pro-style offense playing against an NFL defense -- the unit Sanchez faced every day in practice. Let's recall that the Trojans' 2008 defense, one of the best collections of talent in the history of college football, lost three first-round picks and a fourth player taken in the second round the previous spring. Moreover, Sanchez has been in the spotlight since he was named Parade All-American Prep Player of the Year in 2004. He's shown poise and charisma under the brightest media glare in college sports and he's already demonstrated he can work a room full of reporters with the best of them. So when you talk about experience, it's not just about 16 starts. It's about the total package.
2. Where's the best fit for Sanchez -- a team that's going to give him a rookie-year test or a team that's going to let him sit the bench?
Miller: Hey, it's always great for a guy to get to be mentored for two years by a future Hall of Famer before ascending to the front of the huddle. But that's not the reality. Sanchez is an ambitious competitor. He'll want to play now. And he's up to the job. For one, Sanchez is smart. He'll know his place. He'll ingratiate himself with veterans and win their trust, knowing it doesn't happen during a single minicamp. He also takes instruction, see how he without complaint worked within the Trojans' conservative system in 2008 that leaned heavily on an impenetrable defense. Further, he's mentally and physically tough. Sanchez already has shown an ability to shake off mistakes and bounce back from poor performances, as well as an ability to play through injuries. If a coach holds up the keys to the offense and asks Sanchez if he's ready, let there be no doubt what his answer will be.
Muench: I think it's critical that Sanchez land on a team that doesn't need him to step into the starting role Day 1. He certainly has all the physical tools to contribute early on and he is a charismatic leader who I think can win the hearts and minds of the players in the huddle. But the NFL is bottom-line business. He'll have to win for his teammates to keep their faith in him and the NFL is a whole different animal when it comes to reading defenses. The speed and size of NFL defenders effectively shrinks the field and forces quarterbacks to throw into tighter spaces. Just as important, complicated blitz packages and coverages and quicker pass rushers will force him to get rid of the ball. He'll have to make sound decisions much quicker than he did at USC, even if the Trojan defense was arguably the most talented in the nation last year. He's going to need time to adjust. In addition, a team that drafts him with the intent of starting him his rookie year more than likely won't be able to put him in a position to succeed because they will have too many needs outside of quarterback.
3. In 2010, will Sanchez look back on this decision with any regrets? Would another solid year at USC have made him the No.1 overall pick in the draft regardless of what Texas' Colt McCoy and Oklahoma's Sam Bradford did?
Muench: I can't seem to find my crystal ball here but I think that Sanchez will end up with the Seattle Seahawks and play behind Matt Hasselbeck for a year, possibly two. Giving him that time to get comfortable with his new offense/teammates/coaches and adjust to the speed of the NFL game will put him in position to succeed and I think he develops into an excellent NFL quarterback in that kind of environment. However, I think he struggles if he somehow ends up on the New York Jets' roster, which seems unlikely at this point but can't be ruled out. The Jets play in a big market, they play in a tough conference and they need a starter right away. If Sanchez struggles early, the media there will most likely skewer him. Remember a couple Jets' players were quick to place blame on future Hall of Famer Brett Favre for their demise last year. How is a former Parade All-American and star USC quarterback going to handle that kind of criticism, learn the offense on the fly and get his teammates to believe in him? Again, I think Sanchez has a bright future but that's a lot to ask of anyone, certainly someone who started just 16 games in college.
Miller: Maybe, but not going No. 1 this year means he doesn't have to go to Detroit, and how is that not a good thing? Look: It's impossible to look at a USC offense that welcomes back nine other starters and not wonder what that crew would look like with Sanchez running the show. It's conceivable that the Trojans' 2009 offense would approximate the Trojans' 2008 defense. And that could have buoyed his draft status ahead of every other quarterback. But another year at USC also would mean another year of not getting paid and another year in which
something terrible could happen that damages, shortens or ends a career. Sanchez's potential regrets probably hang more on where he ends up than over his decision not to return to USC for his senior year.
July, 24, 2008
7/24/08
10:29
AM ET
Posted by ESPN.com's Graham Watson
| | |
| --- | --- |
| | |
| | Frank DiBrango/WireImage |
| | Caleb Campbell was a seventh-round draft pick of the Detroit Lions. |
SALT LAKE CITY -- Today's Morning Coffee comes from Army and sadly, isn't good news. ESPN.com ran a story Wednesday evening stating that former Army linebacker Caleb Campbell will not be allowed to play in the NFL.

It was covered on the NFL side, but I wanted to make sure any Army fans, and fans of college football, saw the result of this ongoing story.

Campbell was a seventh-round draft pick of the Detroit Lions in April and was told that if he was drafted he could serve the Army as a recruiter. But Army policy has changed, and Campbell has been called to active duty.

"When I got drafted, I told people that I was going to have the best of both worlds," Campbell said. "I was going to be in the United States Army and I was going to have a chance to play professional football. Now, I have the best of one world and I'm very positive about that. It's all going to work out.

"I'm in great shape and I'm going to stay in great shape. I'm going to fulfill my duty to the United States Army and do what I've got to do. One day, hopefully I'll get another opportunity to play in the NFL."

Campbell could be released from his active duty obligations in May 2010. The Times-Herald Record's Justin Rodriguez had a nice detail of how Campbell learned of the Army's decision.

Also, I know this isn't football, but the Times-Herald Record ran a story on a baseball player dealing with similar circumstances.