April, 26, 2011
4/26/11
11:46
AM ET
TEMPE, Ariz. -- Arizona State quarterback
Brock Osweiler
views himself as a "gamer," a guy who flips a switch on game day but may not always be at his best in practice. Sun Devils offensive coordinator Noel Mazzone views himself as a guy who thinks that's a load of, er, crud.
Mazzone wants to talk about practice. Not a game, not a game, not a game but practice.
"I said, 'Brock, I'm going to be honest with you. Don't give me this [crud] that you're a game player. That don't fly with me,'" Mazzone said. "To me, a guy who's not a great practice guy is a guy who can't focus."
[+] Enlarge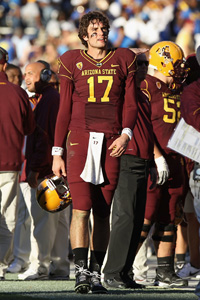 Christian Petersen/Getty ImagesBrock Osweiler threw five touchdown passes in the spring game.
Osweiler didn't get off to a great start this spring, but he and the offense played better as the practices rolled on. And, of course, Osweiler peaked in the spring game, throwing five touchdown passes, which inspired confidence that he can lead Arizona State to the top of the Pac-12 South Division next fall.
That's critical because Osweiler became the starter by default this offseason. After a tight battle last spring and preseason, Osweiler lost out to Michigan transfer
Steven Threet
. While Threet threw too many interceptions, he also led the second-best passing offense in the conference. He went down against UCLA in game 11 with his third concussion, and Osweiler was brilliant in relief and then beat arch-rival Arizona.
While many figured Osweiler would beat out Threet in the spring, Mazzone said that was far from certain. What is certain is Threet is standing on the Sun Devils' sidelines now, helping coach instead of competing for the starting job because of recurrent concussions.
That means Osweiler is the man, for better or worse. If he isn't up to the job the alternatives are two players with no experience: redshirt freshman
Taylor Kelly
and true freshman Mike Bercovici. For his part, Osweiler thinks he's a better quarterback today because of the disappointment of last year.
"Not winning the quarterback competition, it bettered me as a person and as a football player," he said. "It's easy to be the guy who goes in from day one and plays and gets what he wants. I think I grew as an athlete to be put in that competition situation and lose it because I learned so much from it."
Part of that was learning to practice well consistently.
"That's what [coach Dennis Erickson] and Coach Mazzone told me after last year: I need to show it in practice more: 'If you want to be the guy, you've got to be the guy in practice too,'" Osweiler said.
Part of this is symbolic: The quarterback needs to set an example for the team in practice. But Osweiler's lack of distinction in practice had another side-effect: His teammates didn't know what to make of him. More than a few thought the offense might be in trouble when Threet went down.
"It amazed me last year when they put him in," cornerback Deveron Carr said. "He was scrambling, throwing. I was amazed. I didn't know that Brock. I hadn't played against that Brock. I didn't remember that Brock coming to Arizona State. Something clicked in his heart or his mind that he could be great."
And now? Said Carr, "He's matured a lot. He makes better decisions. He looks stronger. He's just an all-around better quarterback."
Osweiler was mostly forgotten before he came on in relief for Threet against UCLA and led the Sun Devils back from a 17-0 deficit with a tour de force performance. He passed for 380 yards and four touchdowns and ran for another score as the Sun Devils rolled 55-17. The win over Arizona, however, was a bit deceiving. Osweiler was terrible in the first half and was fortunate to have a number of easy interceptions dropped. Further, if the Wildcats had not flubbed a pair of extra points the Sun Devils' smiles likely wouldn't have been so wide heading into the offseason.
Osweiler believes he's significantly better today than when he came off the bench last November.
"My skill set is almost night and day if you want to compare it to the Arizona game last year to right now," he said. "I put in a lot of hard work in the offseason to better than skill set."
Erickson and Mazzone said that Osweiler understands the offense better and has improved his mechanics, changing his throwing motion to speed up his release. While the 6-foot-8 Osweiler looks like a prototypical pocket passer, he runs a 4.7 40-yard dash. His 56 yards rushing in the win over Arizona were critical.
By the end of spring practices -- practices, not a game -- Erickson saw Osweiler putting it all together. "He just flowed better," Erickson said.
Of course, this fall, our measure of Osweiler and the Sun Devils will be what they do in the games, not practice.
April, 26, 2011
4/26/11
10:22
AM ET
TEMPE, Ariz. -- One hundred and twenty FBS football teams will head into the summer claiming they're going to be good next year. Most will be wrong, despite their insistence on unparalleled locker room chemistry.
Arizona State is no exception to the universal spring optimism, but there's some momentum behind the good feeling after a strong finish in 2010. Expectations are high in Tempe. How high? Buckle up.
[+] Enlarge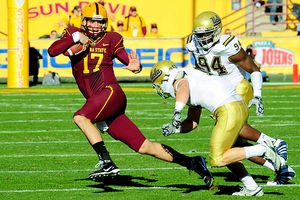 Matt Kartozian/US PresswireArizona State quarterback Brock Osweiler has his sights set on the BCS title game.
"A lot of people are talking about the Rose Bowl," quarterback
Brock Osweiler
said. "But we're talking about the Sugar Bowl. That's how much confidence we have as a team."
Osweiler isn't talking about the Allstate Sugar Bowl, though. He's talking about the BCS title game. Really.
Arizona State hasn't posted a winning season since 2007, when it went 10-3 in Dennis Erickson's debut and inspired false hope that things would be easy under a pedigreed coach. Not so. Over the past few seasons, the Sun Devils have found ways to lose, and they were typically creative in doing so. Missed field goals and extra points, turnovers on the goal line, turnovers in extraordinary bunches, missed tackles, missed throws, missed opportunities. It was sometimes great theater, though redundant tragedy from the Sun Devils perspective.
In 2009, they lost four games by five or fewer points. In 2010, they lost four games by four or fewer points, including squandered opportunities versus Wisconsin and Stanford. They somehow managed to stay within 11 points of Oregon -- one of three teams to do so -- despite seven (seven!) turnovers.
But from that manure pile sprouts the flower of hope. The Sun Devils welcome back 17 starters that includes depth on the offensive line and loads of speed and skill on both sides of the ball. They look like a slight favorite in the first year of the Pac-12 South Division, even though two returning starters, cornerback Omar Bolden and receiver
T.J. Simpson
, went down with knee injuries this spring.
"Everybody has to be optimistic before the season starts, but this year it's like everybody just knows," receiver
Gerell Robinson
said. "It's not like a hope or a feeling. Everybody just knows that if we do what we're supposed to do, we'll get to where we want to be."
That high expectations are the top story is good news for Erickson, who would be the subject of hotseat talk otherwise. His fast start hid some roster shortcomings -- most notably a dearth of offensive linemen -- and fans had started to turn away as the mediocrity piled up. In 2007, the average attendance in Sun Devil Stadium was 62,875. Last fall, it was 47,943.
The players are aware there's pressure to win in 2011.
"It's like some negative energy that we're turning into a positive on the field because nobody wants to see a coaching staff change," cornerback Deveron Carr said.
Beyond returning a majority of starters from 2010, the Sun Devils are a veteran team: They will feature a 30-man "senior" class (players in their final year of eligibility). The offensive line welcomes back all five starters and many of the backups even have starting experience. The top-six rushers from last fall are back, as are four of the top-six receivers. On defense, the top-three tacklers are back as are the three leaders in sacks and tackles for a loss.
And these aren't just hacks. The Sun Devils averaged 32.2 points per game in 2010, which ranked third in the Pac-10, and ranked fifth in total and scoring defense.
"We have some experience coming back and we have a lot of confidence in what we are doing," Erickson said. "Our players have been through a lot the last three years, lost some close games. Now it's their chance to step up and make some plays."
The biggest question: Is Osweiler up to the job? After starter
Steven Threet
went down with his third concussion against UCLA, Osweiler was brilliant coming off the bench and then overcame a bad first half to beat arch-rival Arizona. It was expected to be a tight quarterback competition this spring, but Osweiler won the job by default when the recurrent concussions forced Threet to retire.
The offense struggled early in spring practices, but Osweiler inspired confidence with five touchdown passes in the spring game as the offense dominated.
"He made some great throws that make you go, 'Wow, that was amazing,'" left tackle Evan Finkenberg said.
While losing Bolden and Simpson was a big blow -- both could return by mid-season -- the pieces still appear to be in place for a run at the first Pac-12 title game. And one of those pieces is confidence.
"I think this team knows it's our time now," Finkenberg said. "We have the pieces in place to have a big season and do the things we want to do."
April, 6, 2011
4/06/11
9:00
AM ET
Arizona State, the preseason favorite in the Pac-12 South Division, suffered a major blow Tuesday when it was announced two returning senior starters -- cornerback Omar Bolden and receiver
T.J. Simpson
-- had suffered ACL injuries that will
sideline them for five to eight months
.
Bolden, a unanimous pick for first-team All-Pac-10 in 2010, is a particularly big loss. He opted to return for his senior season instead of entering the NFL draft and was an All-America candidate. The Sun Devils are deeper at receiver than at corner. Further, Bolden, whose career has taken a number of twists and turns, including a season-ending knee injury in 2009, was one of the team's best leaders.
Both will undergo surgery next week.
Deveron Carr, who's sitting out spring after shoulder surgery, and Osahon Irabo will likely be the Sun Devils' starting cornerbacks. Coach Dennis Erickson also said that Alden Darby, presently playing free safety, could switch to corner. Redshirt freshman Devan Spann was Bolden's backup on the spring depth chart.
Redshirt freshman
Kevin Anderson
was Simpson's backup at the "X" receiver spot.
Arizona Republic columnist Paola Boivin writes that the Sun Devils
will need a leader to step up
, and she suggests that linebacker Vontaze Burfict is a good candidate.