NCF Nation:

Devin Aguilar
January, 12, 2012
1/12/12
9:00
AM ET
Taking a look back at some of the best and worst moments from the Pac-12's bowl season.
Best overall performance (team):
We're a field goal away from flipping a coin between Stanford and Oregon. But the Ducks won, and to the victor go the spoils. Say what you want about Wisconsin being overrated; Oregon beat a very good team with one of the most productive college running backs in history, and the Ducks did it on a major stage.
Best offensive performance (individual):
Keith Price
outdueled Heisman Trophy winner
Robert Griffin III
, passing for 438 yards and four touchdowns and rushing for three more scores. And the Huskies lost! Someone on the Washington defense better be carrying his books around campus until the start of next season.
[+] Enlarge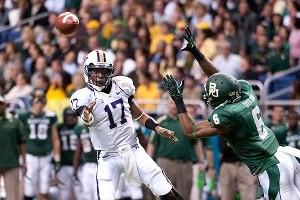 Brendan Maloney/US PresswireWashington's Keith Price passed for 438 yards and four touchdowns and also ran for another three touchdowns in a losing effort against Baylor.
Best offensive performance (team):
As good as Washington's offensive show was against Baylor, Oregon did it against a tougher opponent and under a brighter spotlight.
LaMichael James
and
De'Anthony Thomas
both went for more than 100 yards,
Lavasier Tuinei
turned in season highs in catches (eight) and yards (158) to go with two touchdowns and the offensive line had its way with Wisconsin.
Best defensive performance (individual):
In the conference's five losses, teams gave up an average of 41 points. Still, Cal first-team all-conference linebacker Mychal Kendricks did all he could to limit Texas to 21, notching nine solo tackles (10 total) and 1.5 tackles for a loss.
Best defensive performance (team)
: Pass.
Best offensive performance in a losing effort
:
Andrew Luck
's one interception was the lone stain on an otherwise fantastic performance, in which he completed 27 of 31 passes for 347 yards and two touchdowns. He was 15-of-15 on all of Stanford's scoring drives and 4-for-4 on the final drive that set up the almost-game-winning field goal.
Worst offensive performance
: Both Cal and UCLA faced fairly tough defenses in Texas and Illinois, respectively, and their 24 points combined reflected that. (For the record, Washington had 35 by halftime and Oregon had 28 at the half.) But the nod goes to Cal for 7 rushing yards on 36 attempts. That's 0.2 yards per carry. ASU was actually worse with minus-11 rushing yards, but at least it put up 24 points (well, 17 if you take away Rashad Ross' 98-yard kick return).
Worst defensive performance
: As a conference, Pac-12 teams gave up an average of 455 yards in their bowl games. Washington was the worst offender with 777 yards yielded.
Best bang for buck
: Oregon's De'Anthony Thomas. Two carries, two touchdowns, 155 yards and a 77.5 yards-per-carry average.
Best supporting cast
: While Price was fantastic, lest we forget that
Chris Polk
ran for 147 yards,
Jermaine Kearse
caught five balls for 198 yards and a score and
Devin Aguilar
added two receiving touchdowns.
Best holiday spirit
: Cal certainly got into the season, giving the ball away five times to Texas.
Best "Oh jeez" moment
: Stanford running back
Jeremy Stewart
taking out teammate
Ty Montgomery
after he tried to run a kickoff out of the end zone. Stewart, a fifth-year senior, stopped the true freshman right at the line and dropped him, much to the chagrin of 69,927 at University of Phoenix Stadium.
Worst "Oh jeez" moment
: Watching Dennis Erickson try to call a timeout when ASU had fourth-and-goal at the Boise 1-yard line. Then watching his face as Jamar Taylor picked off
Brock Osweiler
and returned it 100 yards for a touchdown.
September, 16, 2010
9/16/10
1:38
PM ET
Washington receiver
Jermaine Kearse
's final stats looked pretty good after the BYU game. He caught five passes for 108 yards, among them a 43-yard reception and a 19-yard TD. That shouldn't be surprising. Kearse is one of the best receivers in the Pac-10 and quarterback
Jake Locker
's favorite target.
[+] Enlarge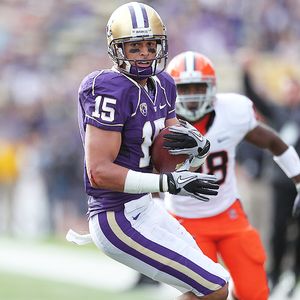 Otto Greule Jr/Getty ImagesWashington receiver Jermaine Kearse is quarterback Jake Locker's favorite target.
But the stat box doesn't include drops. Or "what ifs." As in: What if the normally sure-handed Kearse didn't drop three passes? Might that have changed the ultimate number -- the scoreboard reading a disappointing 23-17 in favor of BYU?
"I put too my pressure on myself," said Kearse, a 6-foot-2, 205-pound junior when asked to diagnose what went wrong on the drops. "It's the first game and you have so much adrenaline going on in the first game."
The dreaded dropsies can be the ruin of a receiver. So it wasn't unfair to wonder how Kearse might respond when the Huskies played host to Syracuse last weekend. It was enough of a concern, in fact, that coach Steve Sarkisian gave his second-team All-Pac-10 receiver a brief pep talk.
"I said, 'Don't try too hard.' Sometimes when a guy doesn't have the best game of his career -- you know, he struggles a little bit -- he can come out and try too hard," Sarkisian said. "I just said, 'Just let the game come to you. You're going to get your opportunities.' And I thought he did that.''
Oh yes he did. Kearse earned Pac-10 Offensive Player of the Week honors after hauling in a career-high nine passes for 179 yards with three touchdowns. And no drops. As for the three TDs, each involved him making a play with the ball to get into the endzone. The best one came on the first play of the third quarter, when he transformed a short pass into a 57-yard TD, which sparked the Huskies rout.
Said Locker, whose numbers were far shinier due to Kearse's efforts: "I think Jermaine took it upon himself to really come out and be dominant [against Syracuse] and he was. It was really fun to watch. He expects a lot out himself, and I think you were able to see that [last] Saturday."
Ah, but Locker, Kearse and the Huskies face a far tougher test on Saturday: No. 8 Nebraska. And it's not just that the Cornhuskers are a top-10 team. For Locker and Kearse, it's a matter of facing an elite defense whose strength is the secondary, which might be the best unit in the nation, led by cornerback Prince Amukamara.
While Nebraska lost five starters from last season's dominating defense, including extraordinary tackle Ndamukong Suh, coach Bo Pelini hasn't been shy about saying this year's crew should be better. The Cornhuskers, who often employ seven defensive backs at a time, already have six interceptions.
"You'd like to think you have better odds of running the football, but they hold up pretty well," Sarkisian said. "The minus [for an offense] is, they've got defensive backs not only covering your receivers but covering your tight ends and covering your running backs out of the backfield. So they're able to stay close to guys. There's not a lot of room for error, not a lot of room to throw balls. So there's a real onus on the quarterback to know what coverage it is and anticipate throws and be accurate.''
In other words, Nebraska will pose a major test for Locker to prove he's improved his accuracy. If Locker can complete 60 percent of his passes vs. Nebraska, he can do it against any college defense. And NFL scouts will take note.
And Kearse is Locker's go-to guy, even though the Huskies are deep at receiver. Kearse is third in the nation with 143.5 yards receiving. No. 2 receiver, junior
Devin Aguilar
, averages 69 yards per game.
"I think we have enough playmakers to make them defend the whole field," Kearse said.
That includes trying to get the running game going with
Chris Polk
. That might be a significant challenge vs. the Cornhuskers, particularly with a shuffling on the offensive line this week that might make true freshman Erik Kohler a starting guard.
In other words, the Huskies must be consistent in the passing game to win. If Locker makes his national breakthrough, that likely also will mean Kearse posts a "hello world" performance.
"Obviously, I have personal goals," Kearse said. "But those will come with helping the team win."
That means walking off the field with an impressive box score as well as no "what ifs."
July, 27, 2010
7/27/10
1:30
PM ET
Receiver is a difficult position to evaluate this year. Just about every team has a solid (or better) lead receiver back and some intriguing, but inexperienced, talent around him. But, other than Washington, no team should feel completely secure.
There is, however, a lot of potential at the position. Many of the names below who appear as secondary options could end up competing for All-Pac-10 spots.
Note: Tight ends and running backs don't count here.
Great shape
Washington: The Huskies entire two-deep is back, topped by second-team All-Pac-10 pick Jermaine Kearse and Devin Aguilar, who ranked seventh in the conference in receiving yards per game in 2009. James Johnson was probably the best freshman receiver in the conference last year.
Good shape
[+] Enlarge

AP Photo/Ben MargotOregon State's James Rodgers caught 91 passes for 1,034 yards and nine TDs last year.
We'll see
California: The Bears only lose No. 2 WR Verran Tucker and the underwhelming Nyan Boateng, but, other than Marvin Jones, they didn't get much production here in 2009.

Arizona State: The Sun Devils lost their top-two WRs, but the cupboard isn't empty, with Oregon transfer Aaron Pflugrad, who would have started for the Ducks in 2009, and JC transfer George Bell, Gerell Robinson, Jamal Miles and Kerry Taylor. Still, it's not a proven group.

Washington State: The Cougars went through spring with just four scholarship receivers, a crew topped by Jared Karstetter and Gino Simone. The incoming recruiting class features five receivers, and at least a couple will get on the field. The Cougars are OK here but they did rank last in the conference in passing in 2009.
April, 30, 2010
4/30/10
5:09
PM ET
Washington receiver
Jermaine Kearse
said he hasn't much noticed the "
Jake Locker
-Jake Locker-Jake Locker Syndrome" that has infected the national media.
Much of that is due to Locker himself.
[+] Enlarge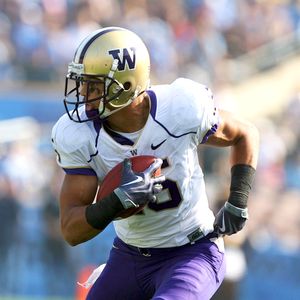 Charles Baus/Icon SMIJermaine Kearse caught 50 passes for 866 yards and eight touchdowns last season.
"You don't really notice it that much because Jake is real down-to-earth person," Kearse said. "He's not cocky. He doesn't flaunt it in any way."
Locker may be a Heisman Trophy candidate and he may be the top pick in the 2011 NFL draft, but here's a guess that his secret weapon also will gain significant exposure next fall: Perhaps the Pac-10's best receiving corps.
All of Locker's targets are back in 2010. That includes five players who caught at least 25 passes and two who ranked among the Pac-10 leaders -- Kearse and
Devin Aguilar
. A third,
James Johnson
, was the best freshman receiver in the conference.
Kearse, however, was the top Dawg. He earned second-team All-Pac-10 honors and ranked fourth in the conference with 866 receiving yards -- the seventh-best total in school history -- and his eight touchdowns tied for second. His 17.3 yards per reception ranked first.
While Kearse had two clutch receptions during the winning drive of the USC upset, the fact is, after a mediocre fall camp, he started slowly in 2009. He didn't really become productive until the fifth game at Notre Dame -- eight receptions, 94 yards and a TD -- but in the final four games he caught six touchdown passes. In the season finale, a dominant win over California, he hauled in seven passes for 147 yards and a touchdown.
That run suggests bigger things may be ahead for the 6-foot-2, 198-pound junior. It should help that secondaries won't be able to gang up on him because of the deep supporting cast around him.
While Kearse sprained his foot and won't play in the Huskies spring game tonight -- yes, it's Friday Night Lights -- he feels good about how things went this spring.
"I focused on yards-after-catch -- that's been my emphasis the whole spring," he said. "I think I got better at that."
Oh, and as for that Locker guy, he's doing OK, too.
"He's a lot more accurate," Kearse said. "His confidence is building up. He's become more of a leader. He's just getting better. Everyone knows how good he is."
Like many of his teammates, Kearse seems bored by questions about the contrast between the spring following the 2008 season -- a new coach coming aboard after a humiliating 0-12 finish -- and this spring, after they went 5-7 and lost four games by eight or fewer points and became comfortable coach Steve Sarkisian, his staff and their schemes.
"It's not that much different," he said.
Really?
What is clear, however, is that, with 20 starters back, expectations are exponentially higher. And so is the confidence.
"We expect to go to a bowl game," he said.
April, 12, 2010
4/12/10
11:37
AM ET
SEATTLE -- Washington defensive tackle Cameron Elisara has just introduced Jesse Callier to Pac-10 football, running through the freshman running back's pass-block attempt like a knife through soft butter, and now he's breathing into quarterback
Jake Locker
's ear hole.
[+] Enlarge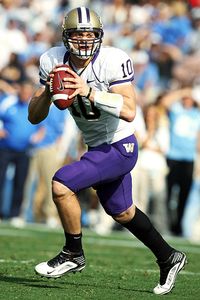 Charles Baus/Icon SMIJake Locker returned for his senior season in hopes of leading the Huskies to a bowl game.
But wait. Locker, at the last moment, scoots to his left with a move that's equal parts casual and lickity split. Then he flicks his right hand. If you performed a similar motion, your penny might fall short of the wishing well. But when Locker flicks a football, oftentimes it flies 40 yards down field, as this one does.
And there it finds receiver
Devin Aguilar
.
Even a jaded onlooker who's watched plenty football practices finds himself glancing side-to-side to confirm the appropriate reaction: "Golly."
Most quarterbacks would have been sacked. The Locker of 2007 or 2008 probably would have used his 4.4 speed to run for a short -- or perhaps not so short -- gain. But this is Locker 4.0, who bypassed an opportunity to be a top-10 NFL draft pick on April 22 and returned to the Huskies for his senior season. Once seen as just an athlete playing quarterback, now he can play well within a pro-style system while reserving the right to riff a bit of improvisation when the feeling strikes.
"A lot of times when plays break down is when you get your biggest plays," he said. "It's about a good balance of both; of understanding when it's going to be productive to get outside the pocket and try to make a play and when you need to stand in there and make a throw."
This Locker, who accounted for 28 touchdowns in 2009, is expecting to refine his considerable skills in Year 2 under coach Steve Sarkisian and lead the Huskies to their first bowl game since 2002.
"In my opinion, the real strides, the real improvement, occur from Year 1 to Year 2," Sarkisian said. "That's historically what we've seen."
That expectation is shared by more than a few folks. It's why many draft experts are projecting Locker to go No. 1 overall in 2011 -- ESPN's Mel Kiper told reporters it was "
etched in stone
."
But first things first: Locker has yet to experience a winning season or go to a bowl game in his career. He can't do it alone. What's ignited the buzz in Seattle, however, is that he won't need to. His supporting cast on offense is the match of any in the Pac-10, particularly at the skill positions.
December, 14, 2009
12/14/09
6:54
PM ET
Feel free to get excited Washington fans because it's hard to imagine the Huskies won't be a bowl team in 2010 with quarterback
Jake Locker
returning for his
senior season
.
Locker isn't the only reason to get excited either. The Huskies young crew of receivers, including
Devin Aguilar
,
James Johnson
and
Jermaine Kearse
will be as good as any unit in the Pac-10. Oh, and then there's 1,000-yard rusher
Chris Polk
and four starting offensive linemen, not to mention eight starters back on defense as well as both specialists.
Oh my. Is the purple beast again rising in Seattle after a lengthy slumber?
Yet this is bigger than Locker and the Huskies. There's a lot of experience coming back next year in the Pac-10 surrounding what will be an extraordinary class of conference quarterbacks.
Consider this list of eight:
Arizona: Sophomore
Nick Foles
California: Senior
Kevin Riley
Oregon: Senior
Jeremiah Masoli
Stanford: Sophomore
Andrew Luck
UCLA: Sophomore
Kevin Prince
USC: Sophomore
Matt Barkley
Washington: Senior Jake Locker
Washington State: Sophomore
Jeff Tuel
Experience at quarterback is typically critical for winning the Pac-10. While USC's seven-year run atop the conference, from 1996 through 2002, changed a lot of previous patterns, the all-conference quarterback was a senior each season and his team won or shared the league title.
Moreover, last preseason, Pac-10 teams averaged 14 returning starters (including specialists). Next year, that number will be around 16 (sorry USC and UCLA, we don't think
Damian Williams
or Brian Price will follow Locker back for their senior years).
This season, the conference was as deep as it's been in years. It appears it's going to be even deeper next fall, and the battle for first-team All-Pac-10 quarterback may end up being a battle between All-American candidates.
May, 22, 2009
5/22/09
11:32
AM ET
Posted by ESPN.com's Ted Miller
Every team enters spring practices with at least a couple of personnel questions, even those with their starting lineup returning nearly intact.
Sometimes those questions don't get answered. Other times they do.
Such as ...
Arizona: The Wildcats lost two of their three starting linebackers, but coach Mike Stoops said he believes they will be better at the position in 2009, with junior Vuna Tuihalamaka making a special impression in the middle this spring.
Arizona State: The Sun Devils lost middle linebacker Morris Wooten, but the LB position looks like it could run six-deep in 2009, particularly with the expected arrival of super-recruit Vontaze Burfict in the fall. The return of former starter Gerald Munns, who left the team for personal reasons, helps as does the emergence of young players whose speed upgrades are intriguing.
California: Not to get stuck on a linebacker theme, but most previews of the Bears will raise questions about them losing three longtime starters at linebacker. Hanging around this spring, however, you get the feeling this position will be fine. In fact, a couple of touted incoming JC transfers will make the fall competition intense. Look for Mike Mohamed and Mychal Kendricks to make a play for All-Conference honors.
Oregon: The Ducks lost three of four starting defensive linemen, including end Nick Reed, so this seemed like as big a question mark as the offensive line entering spring. Apparently not, at least according to coach Chip Kelly. Will Tukuafu should emerge from Reed's shadow as one of the conference's best ends, and tackle Brandon Bair and end Kenny Rowe stepped up. There's still competition at one tackle, but the Ducks' recruiting class included six defensive linemen, at least a couple of whom figure to see action.
Oregon State: The Beavers lost receivers Sammie Stroughter and Shane Morales, but by the end of spring that didn't seem like a problem, even with James Rodgers sitting out with a shoulder injury. Junior Darrell Catchings broke through and redshirt freshman Jordan Bishop lived up to high expectations and others flashed potential.
Stanford: The passing game -- on offense and defense -- has been a problem for Stanford. For the offense, redshirt freshman quarterback Andrew Luck was just short of spectacular this spring. For the defense, the insertion of Delano Howell at strong safety and Michael Thomas at cornerback upgrades the secondary's athleticism.
UCLA: The secondary began spring needing two new starters, but a handful of guys stepped up to complement cornerback Alterraun Verner and free safety Rahim Moore. While Aaron Hester and Glenn Love are the favorites to start at corner and strong safety, respectively, sophomores Courtney Viney and Tony Dye and redshirt freshman E.J. Woods will get extended looks in the fall.
USC: Lose three elite linebackers? Find three more. Malcolm Smith, Chris Galippo and Michael Morgan might not have the experience or pedigree of their predecessors, but they are faster and may end up being nearly as good.
Washington: A lot was made of how well quarterback Jake Locker adjusted to a pro-style offense this spring -- and rightfully so -- but that pro-style passing attack needs targets, so perhaps that part of the pass-catch equation is being undersold. D'Andre Goodwin, Jermaine Kearse and Devin Aguilar give the Huskies three respectable receivers, and tight ends Kavario Middleton and Chris Izbicki are solid.
Washington State: One area where the Cougars have quality starters and quality depth is running back, with Dwight Tardy stepping up to the challenge of California transfer James Montgomery this spring, and Logwone Mitz and 220-pound Marcus Richmond adding depth.
May, 19, 2009
5/19/09
11:05
AM ET
Posted by ESPN.com's Ted Miller
Much of the talk during spring practices is about guys who are raising eyebrows, pushing for starting jobs or are on the cusp of breaking through.
Here are some of those guys.
Conan Amituanai, Arizona, OG: This 335-pound junior played well this spring and is expected to give the Wildcats flexibility up front as they fill some gaps. Most particularly, his emergence allows Mike Diaz to move out to left tackle, where he'd replace Eben Britton.
Clint Floyd, Arizona State, FS: This sophomore saw action in 2008 -- when he wasn't hurt -- and he's the guy who will replace the invaluable Troy Nolan.
Alex Lagemann, California, WR: Fellow receiver Marvin Jones got a lot of attention for his strong spring, but Lagemann also opened eyes. The sophomore could emerge if returning veterans don't rise to the challenge.
Eddie Pleasant, Oregon, LB: New coach Chip Kelly raved about his linebackers this spring, and Pleasant earned kudos for stepping in for the departed Jerome Boyd.
Suaesi Tuimaunei, Oregon State, S: The Beavers are rebuilding their secondary, with all four 2008 starters gone. While there are concerns at cornerback, Tuimaunei and sophomore Lance Mitchell are an upgrade athletically at the two safety spots, and some believe this position will be stronger next fall.
David DeCastro, Stanford, OG: This redshirt freshman earned good reviews and is almost certainly going to start on one of the guard spots.
Aaron Hester, UCLA, CB: Hester will need to show mental toughness because teams are going to target this redshirt freshman opposite Alterraun Verner.
Tyron Smith, USC, OT: The Trojans welcomed back all five 2008 starters on their offensive line. Smith wasn't one of them. The true sophomore is just too talented to sit.
Jermaine Kearse, WR, Washington: The Huskies need a receiver to emerge to complement D'Andre Goodwin. Kearse, a sophomore, could be the guy. Or maybe it will be fellow sophomore Devin Aguilar. Or both.
Skyler Stormo, TE, Washington State: The redshirt freshman had the best spring of any Cougar at the position and caught a couple of passes in the spring game. Showed promise blocking, too.