November, 30, 2014
Nov 30
12:48
AM ET
Here's what we learned Saturday in Week 14 of the Big 12:
1. Good week to be a Frog.
Can't draw it up any better than that if you're
TCU
. First, the No. 5 Horned Frogs notch a
38-point road win
against
Texas
in front of a national TV audience. Then, down goes No. 4
Mississippi State
in the Egg Bowl. Then,
Baylor
needs a two-point conversion stop late in the fourth to win 48-46 against
Texas Tech
, the same team TCU beat 82-27. An
Auburn
upset of No. 1
Alabama
would've helped, but TCU still has a real shot at re-entering the top four, and Baylor likely didn't gain ground on it. Gary Patterson has to be pleased.
[+] Enlarge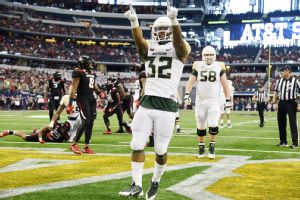 AP Photo/Tim SharpShock Linwood and the Bears survived Texas Tech, but they must now deal with injuries heading into the Kansas State game next weekend.
2. Baylor takes some hits:
Will Baylor have
Bryce Petty
and
Shawn Oakman
next week for its Big 12 title fight with
Kansas State
? The Bears
survived a scare
against Texas Tech but lost Petty (concussion) and power back
Devin Chafin
(dislocated right elbow) in the process. Oakman got away with a play that will draw the ire of the Big 12 office when he kneed Texas Tech quarterback
Patrick Mahomes
in the head after a second-quarter sack and wasn't penalized. He said after the game there's no way he'll sit against KSU, but the status of Petty -- and, if he's disciplined, Oakman -- will be the talk of the week in Waco, Texas.
3. K-State still lurking:
The nonstop TCU versus Baylor playoff discussion has obscured the program that loves being underestimated. Kansas State had no trouble against
Kansas
on Saturday,
winning 51-13
and getting
Tyler Lockett
his school record for career receptions. KSU still has as equal a share of first place in the Big 12 as its 10-1 peers and, with one week left, even has a shot-in-the-dark chance at an outright conference title. You won't hear Bill Snyder or his Wildcats complaining about the lack of attention. They'd rather make their statement next Saturday in Waco.
4. Mahomes is the man:
This kid is a gamer. Mahomes set a Big 12 freshman record with his 598 passing yards against a Baylor pass defense that ranked No. 2 in the Big 12 entering the day. Down 45-27, he never gave up. The rookie threw for touchdowns on each of Tech's final four drives of the game and showed no fear with all the deep shots he hit. That was just the fourth start of Mahomes' young career, and he reportedly played through an injured left wrist throughout. His play is making the spring debate between Mahomes,
Davis Webb
(who will have
shoulder surgery
) and incoming freshman
Jarrett Stidham
all the more fascinating.
5. WVU might've found its QB, too:
Skyler Howard
, thrown into the fire a week ago against Kansas State, looks more than capable of being
West Virginia
's quarterback for the foreseeable future. The mobile junior college transfer overcame a 14-point deficit by guiding WVU on a 20-point run in the second quarter and finishing with 354 yards of total offense in a
37-24 win
in Ames, Iowa, to wrap up the regular season. Imagine what that showing will do for his confidence in the practices leading up to the Mountaineers' bowl game.
November, 24, 2014
Nov 24
9:00
AM ET
WACO, Texas -- Art Briles walked back to the benches and saw five beat-up, rain-soaked, worn-out
Baylor
offensive linemen.
"They were just gasping," Briles said. "I thought, 'What's the deal?'"
[+] Enlarge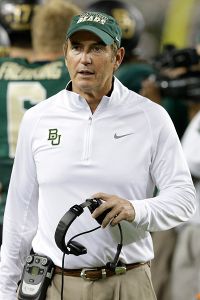 AP Photo/LM OteroA hard-earned win over Oklahoma State might be just what Art Briles and Baylor needed.
So the head coach asked his assistants on the headset: How many plays had they just run?
Nineteen. Now Briles was gasping.
"Wow."
Baylor's longest offensive drive in two years will not go down as being overly memorable. The possession that reset the tone in the Bears' 49-28 win over Oklahoma State won't make any season highlight reels. It's a line scribbled on a College Football Playoff committee member's notepad and probably nothing more.
By the Bears' high-speed standards, a drive like this is calling winning "ugly." They shouldn't have to apologize. Possessions like these tell you something about a team's toughness.
In 19 plays, Baylor's offense burned through half of the first-quarter clock. They stayed on the field for 10 uninterrupted minutes, working through problem after problem with patience.
Fifteen rushes. Four pass attempts. Four penalties. Four second-and-longs. Four third downs. A fourth-down conversion.
"That was, uh ... um, tiring," Baylor left tackle
Spencer Drango
said.
Just ask his running back.
Devin Chafin
logged seven of his 21 carries on that drive and finished it with a 2-yard score. By the end of the night, his arms were covered top to bottom with red scars, scuffs and cuts.
"Just playing football," Chafin said.
His Bears have scored in three plays or fewer 18 times this season, including twice in that same first quarter. This time, to go ahead 21-3 on the Cowboys, they had to earn one.
Thanks to the penalties, the Bears had to travel 94 yards on their 79-yard drive. They did so by asking
Bryce Petty
, Chafin and two more backs to trust that the run game could grind out those gains. Ten of their 15 rushes gained less than 4 yards. Still, they kept the sticks and the clock moving.
They kept going after that drive, too. Briles was content to run on 33 of Baylor's 40 second-half snaps and maintain a double-digit lead the rest of the way.
Shock Linwood
loved every minute of it. When the running back played football video games as a kid, he said he'd always turn on the rain before kickoff. Chafin was all for a little nasty weather, too.
"As running backs," he said, "we favor the rainy, muddy, grimy games rather than the sunny days."
After drying off, the last thing on those backs' minds late Saturday night was whether they'd done enough to impress the playoff committee. A 21-point win in rough weather over the team that spoiled Baylor's national title hopes a year ago? Yeah, they'll take that.
But they should know by now that, as Baylor embarks on its final stretch against Texas Tech and Kansas State with everything on the line, this offense and this team will continue to be held to almost unreasonable standards.
For Baylor to reach the playoff, it will have to outperform TCU, Ohio State, Mississippi State and, in a way, itself. "Be the standard" is the program's mantra. The bar was set incredibly high in 2013. This team hasn't had such an easy time reaching it.
The public expects America's Top Offense (as Baylor's own PR people call it) to keep cranking out long-bomb scores and instant blowouts. That's not getting easier. When an opponent tries Tampa 2 coverages and offers up beneficial rushing opportunities in return, as Oklahoma State did, Baylor sticks to taking what's easiest.
"That Tampa 2 just messed everything up," receiver
Jay Lee
said. "We had to go the ground game and pound 'em like that. If they're going to back [the safety] out, we're going to run it at them."
And what's wrong with that? The Bears, as well-equipped to chase style points as any team in this playoff hunt, didn't pile on against OSU. Briles didn't do much politicking Saturday. Maybe he shouldn't have to.
The easy wins on sunny days are more fun, no question. But these hard-earned ones might be better for Baylor.
"I just think our team's record speaks for itself," Briles said, "and I think good teams find ways to win."
November, 22, 2014
Nov 22
11:20
PM ET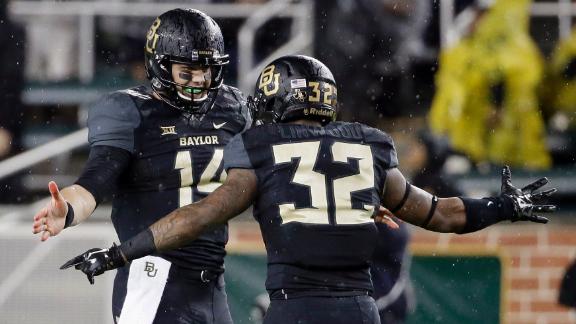 WACO, Texas -- Baylor got revenge for its late-season upset loss in Stillwater last year, knocking off Oklahoma State
49-28
in a rain-drenched game at McLane Stadium to keep its College Football Playoff hopes intact. Here's how it went down:
How the game was won:
The 9-1 Bears jumped ahead 14-0 in the first three minutes on two
Bryce Petty
bombs, but a heavy second-half commitment to the run game got the job done.
Orion Stewart
's interception of freshman
Mason Rudolph
with 5 minutes left and Petty's 21-yard TD run with 3 minutes left sealed the win after the rallying Pokes threatened to make it a one-score game.
Game ball goes to:
Shock Linwood
and
Devin Chafin
. The Bears' running backs both surpassed 100 yards on Saturday and combined for 219 of the team's 317 rushing yards along with four TDs. Baylor wasn't operating at its usual rapid pace in the near-constant rain, but didn't have to thanks to these backs putting the offense on their ... backs.
What it means:
Baylor defeated Oklahoma State for just the third time in the past decade and still shares the lead atop the Big 12 standings with TCU and Kansas State. The Cowboys, now 5-6, have lost five in a row but have at least discovered a promising QB for the future in Rudolph, who threw for 281 yards in his first career game after OSU coaches burned his redshirt.
Playoff implication:
Will this win significantly help the No. 7 Bears in the College Football Playoff rankings this week? Hard to say, though No. 6 Ohio State did have a tough time knocking off a 3-8 Indiana team on Saturday. Until that fourth-quarter Oklahoma State rally that almost made this game very interesting, the Bears were in control for most of the ballgame.
What's next:
Baylor heads up Arlington next Saturday to take on Texas Tech at AT&T Stadium. Then comes the big championship-week showdown with Kansas State. Oklahoma State has one final chance -- a trip to Norman to face Oklahoma on Dec. 6 -- to achieve bowl eligibility.
November, 21, 2013
11/21/13
1:00
PM ET
WACO, Texas -- Art Briles has been saying it for nearly a year. After what his No. 4 Baylor team has endured this season, he definitely believes it too.
"We finally have Big 12-quality depth," said Briles once more after the Bears' 41-12 win over Oklahoma on Nov. 7.
In the two weeks since that game, he's needed all that depth to come through in a big way. Briles is proud of the fact his 9-0 Bears don't lean on any one person to succeed, and they've needed plenty of reserves to step up recently.
The Bears lost top deep threat
Tevin Reese
for the season to a dislocated wrist. Running backs
Lache Seastrunk
(groin) and
Glasco Martin
(knee) also went down against the Sooners and haven't played since.
[+] Enlarge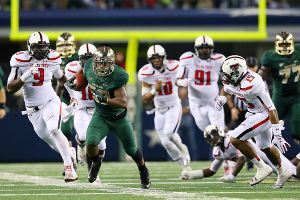 Ronald Martinez/Getty ImagesThird-string running back Shock Linwood starred against Texas Tech, rushing for 187 yards and a touchdown.
Like the rushing duo, linebacker
Bryce Hager
is questionable for this week's huge test at No. 10 Oklahoma State with a groin injury. Left tackle
Spencer Drango
had back surgery on Tuesday and is out indefinitely.
It's November. The guys that are practicing and playing are banged up, too. And Briles' confidence in just how deep these Bears are is being put to the test.
"I wish we weren't having to prove it," Briles said. "You hate to see anybody give so much time and effort and soul to a situation and then not be able to carry on."
And yet, Baylor keeps plugging in new parts and thriving.
Levi Norwood
replaced Reese and scored three touchdowns against Texas Tech. Redshirt freshmen
Shock Linwood
and
Devin Chafin
filled in at running back and each went for 100-plus yards. Another freshman,
Aiavion Edwards
, took over for Hager.
"The only thing that's changed is the name and the number," senior safety
Ahmad Dixon
said. "Guys are still running the ball as if Lache was there. Guys are still catching the ball as if Tevin was there."
And those are just the obvious spots, where injury created opportunity. How's this for depth: Defensive end
Shawn Oakman
leads the team with 12 tackles for loss and isn't even a starter. Fellow backup
Jamal Palmer
is second on the team in sacks.
True freshmen
Byron Bonds
and
Andrew Billings
are getting major minutes at defensive tackle and succeeding. The Bears' No. 3 cornerback,
Joe Williams
, has 22 career starts.
Baylor has been stockpiling talent like this for years in preparation for a season like this.
"It is critical. It's something our staff and everybody has done a great job recruiting to fill needs," Briles said. "That's the first thing you look at, what needs do we need to fill? We've been fortunate up to this point. I don't think you ever get to where you want to get, but we do have guys that can play on our roster."
The development of that Big 12-caliber depth begins with recruiting, but getting them to Waco was just the first step. Bears players say they wouldn't be ready to play whenever needed if not for strength coach Kaz Kazadi.
"We rely on Coach Kaz a lot," Chafin said. "Coach Kaz is our base and foundation. He has us ready physically."
Kazadi has been part of the Briles regime from day one and is renowned for his intensity and passion. Players say his offseason regimen is especially challenging. And borderline crazy.
Dixon offers this example: Kazadi tinkers with the atmosphere of his workouts every day. He'll crank the temperatures to hot one day and cold the next. Blast rap music one day, old-school reggae the next and the Baylor fight song the next, never at the same volume. He's trying to create chaos by any means necessary.
"He puts us in difficult situations, weird situations," Dixon said. "I mean, you sit there and you hear the fight song over and over, doing drills in the indoor during offseason. He's doing everything possible to try to throw our focus off."
There's another key reason why so many Bears are ready to ball: All those blowouts.
Only three foes have faced Baylor's starting offense in the fourth quarter.
Bryce Petty
has 11 pass attempts in the fourth. Seastrunk has two carries. The rest of the snaps have gone to backups and underclassmen, and those extra reps are proving valuable now.
Going into the Oklahoma game, Linwood and Chafin had a combined 86 carries. The third- and fourth-quarter snaps they shared early in the year brought needed experience.
"Us young people still have a lot to learn, but for us to step in at a big level like that just shows us how to prepare ourselves and all the depth we have," Linwood said.
Dixon can spot that depth and development every day on the practice field. The amount of talent on the Bears' roster has come a long way since he was a freshman. It's going to take a lot more than the best 22 to sustain this Big 12 championship run.
"That depth, that offseason, all of that work with Coach Kaz has helped us," Dixon said. "We're starting to turn elite."
October, 6, 2013
10/06/13
9:00
AM ET
Recognizing the best and brightest from around the Big 12 in Week 6:
Baylor running backs:
Bryce Petty
was sharp as usual, but what a night for the Baylor rushing attack.

In the 73-42 beatdown of West Virginia, it rushed for 468 yards and a whopping eight touchdowns on 7.5 yards per carry.
Lache Seastrunk
, the Big 12's leading rusher, put up an 80-yard score and 172 yards on 15 carries, backup
Glasco Martin
ran for 63 yards, No. 3 back
Shock Linwood
had 126 and
Devin Chafin
chipped in 56 yards. Big kudos to the Bear offense line for the mauling on Saturday.
RB Brennan Clay, Oklahoma:
Clay locked up the Sooners' 20-17 win over TCU when he went 76 yards untouched to give OU a 10-point lead with less than five minutes left after the Frogs had cut the deficit to three points by the end of the third quarter. He finished with 111 yards on nine carries and is now the Big 12's third-leading rusher this season with 450 yards.
LB Shaun Lewis, Oklahoma State:
Turnovers were the key to the game in Oklahoma State's 33-29 win over Kansas State, and Lewis forced perhaps the most important one. On KSU's first play on offense after OSU had taken a 30-29 lead late, Lewis picked off an underthrown pass from
Daniel Sams
and picked up 21 yards. That set up
Ben Grogan
's field goal to go ahead by four. Lewis also led OSU in tackles with eight, had one tackle for loss and forced and recovered a fumble.
WR Eric Ward, Texas Tech:
Fellow receivers
Jace Amaro
and
Jakeem Grant
are both worthy recipients this week, but we'll go with Ward because he broke out of a slump with seven catches for 122 yards and a touchdown in a win over Kansas. Six of his receptions went for first downs, and his touchdown was a 25-yarder in the fourth quarter. Amaro finished with 96 yards, and Grant added 92.
QB Bryce Petty, Baylor:
Petty threw the first interception of his career, which he said will haunt him for the next week, but the junior made up for that rare moment of weakness with 347 passing yards and two touchdowns and also rushed for another score. His night was over after one third-quarter drive, and Petty has still yet to play a four-quarter game thanks to Baylor's blowout wins.