January, 24, 2014
Jan 24
9:00
AM ET
The Pac-12 has 26 of the 98 early entrants in the NFL draft. That's impressive. Some players are locks to get drafted. Others might have jumped the gun a bit and find themselves on practice squads or brushing up on their Canadian. We'll see.
What we're more concerned about here is who is going to replace them. Some answers are clearer than others. Some teams might have to alter their schemes just to account for a departed player.
Here's a look at the possible replacement players in the Pac-12 South. We'll look at the North later this morning.
Leaving:
Ka'Deem Carey
, RB, Arizona.
The replacement:
Jared Baker
should be in the mix, though an injury will keep him out of spring ball. He's expected to return in time for fall camp.
Pierre Cormier
and
Zach Green
will also get looks. Speaking with folks at Arizona, the word right now is that it's wide open. One player could emerge, or it could end up being a by-committee approach. Nothing is off the table at this point.
Leaving:
Carl Bradford
, LB, Arizona State
The replacement:
There really isn't anyone who has Bradford's skill set in the program yet, so the position is wide open.
Viliami Latu
has potential. So does
Chans Cox
, who was hurt a lot last season. They are also excited about incoming freshman
Ismael Murphy-Richardson
. He might not be ready to jump in immediately, but he could be the Devil backer by 2015.
[+] Enlarge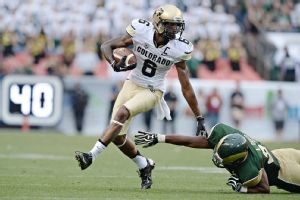 Ron Chenoy/USA TODAY SportsColorado will have a hard time replacing the explosive plays that Paul Richardson provided.
Leaving:
Paul Richardson
, WR, Colorado
The replacement:
It was probably going to be
Jeff Thomas
before he transferred. Now it's probably going to be a rotation of
D.D. Goodson
,
Devin Ross
, or redshirt freshmen
Bryce Bobo
or
Elijah Dunston
.
Nelson Spruce
has been solid, but he's not the breakaway threat Richardson was. This will be a key spring battle to watch.
Leaving:
Xavier Su'a-Filo
, OL, UCLA
The replacement:
Simon Goines
should be back after starting six games at left tackle before an injury forced him out.
Scott Quessenberry
stepped in and played five games at left guard, which is where he'll likely be next season with Goines back at tackle.
Leaving:
Dion Bailey
, LB, USC
The replacement:
Leon McQuay III
saw some playing time and is very highly regarded by the coaching staff. His contributions last season were mostly on special teams, but he'll take on a larger role with Bailey's departure.
Leaving:
Marqise Lee
, WR, USC
The replacement:
Remember
George Farmer
? He's still around and could be in for a big season if healthy.
Darreus Rogers
and
Steven Mitchell
both are promising, but both have missed time with injury. You never truly replace a Biletnikoff winner, but playing opposite a surging
Nelson Agholor
could help boost the production of whoever gets in the regular rotation.
Leaving:
George Uko
, DT, USC
The replacement:
Transfer
Delvon Simmons
is coming off a redshirt season, as is freshman
Kenny Bigelow
. Both should get some serious looks, as this will be one of the hot position battles this spring. Someone will ultimately win the job, but expect a rotation with both next season.
Leaving:
Marcus Martin
, C, USC
The replacement:
Lots of ifs here. It could be
Max Tuerk
moving over from guard, but he'll also be in the mix for right tackle to replace
Kevin Graf
.
Khaliel Rodgers
redshirted and is an option at guard or center.
Giovanni Di Poalo
could also get a look.
Leaving:
Xavier Grimble
, TE, USC
The replacement:
Grimble and
Randall Telfer
were basically co-starters, so all this probably means is Telfer's workload increases as he becomes the clear No. 1.
Jalen Cope-Fitzpatrick
is the only other scholarship tight end on the roster.
Leaving:
Jake Murphy
, TE, Utah
The replacement:
Westlee Tonga
seems like the logical fit. He has been around for a few years and has some experience, but was injured most of last year. He'll get another opportunity to be the lead tight end in the newest installment of Utah's offense.
December, 30, 2009
12/30/09
11:45
PM ET
Wow. That was a complete butt-kicking.
Nebraska simply outclassed Arizona in a
33-0 victory
in the Pacific Life Holiday Bowl, a game in which the Wildcats never even produced a whimper of life.
The Pac-10 falls to 2-3 in the bowl season, and one has to start wondering if all that "best conference" talk was just a bit loopy.


How the game was won
: Nebraska showed up and punched Arizona in the mouth on both sides of the ball. Over and over and over and over. And over again. It's not an exaggeration to say that Arizona didn't have a single positive moment in the entire football game.
Turning point
: This is a stretch because the real turning point was the opening kickoff. But Nebraska, leading 17-0 in the second quarter, had a third-and-8 on the Arizona 33-yard line. Cornhuskers backup quarterback
Cody Green
threw to his left sideline -- and directly to Arizona cornerback Devin Ross. If Ross had caught the ball, it's likely he would have scored a touchdown. He didn't. Nebraska subsequently kicked a 50-yard field goal and took a 20-0 lead. Like we said, it's a bit of a stretch.
Stat of the game
: Six and 109. The first number is how many first downs Arizona collected on the night. The second is the Wildcats' total yardage. Just terrible.
Player of the game
: Nebraska quarterback
Zac Lee
. Lee is the reason the Pac-10 blog -- darrrrhhhhh -- picked Arizona to win this game. (Yes, feel free to comment on that below). The feeling was that Arizona had a huge advantage at the position. But Wildcats quarterback
Nick Foles
chose the bowl game to post his worst performance of the year, while Lee completed 13 of 23 passes for 173 yards with a TD and no interceptions.
What it means
: This was a massive humiliation for Arizona and coach Mike Stoops, suffered at the hands of hometown buddy Bo Pelini. Was the bowl result bad enough to erase all the positives from the 2009 season? Maybe not, but it may not feel that way for a few days around the program. Something went wrong for the Wildcats in their preparation. Perhaps Nebraska was just that much better, but it didn't look that way going in. You have to wonder if something was amiss within the team. Defensive coordinator Mark Stoops' impending departure for Florida State? Offensive coordinator Sonny Dykes' potential candidacy at Texas Tech? Or maybe it was something with the players. Stoops' next task is figuring out a way to make sure this defeat doesn't linger within his program.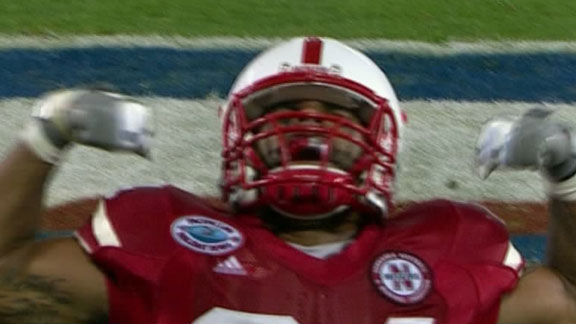 July, 22, 2009
7/22/09
6:03
PM ET
Posted by ESPN.com's Ted Miller
Results of the annual Pac-10 media poll will be announced on July 30, but here's a guess at how most ballots will look:
1. USC; 2. California; 3. Oregon; 4. Oregon State... 9. Washington; 10. Washington State
And from five to eight all heck breaks loose.
Now, some -- such as Phil Steele -- think Oregon will tumble. Some have issues with Oregon State. And some think Washington will be a surprise team.
But a plurality figures to vote these six teams as they appear above and then throw the other four into the air and leave it to the college football spirits to decide.
So where do you rank Arizona, Arizona State, Stanford and UCLA?
I wouldn't be completely shocked if any of those four actually broke into the top four. I also wouldn't be astonished if any finished ninth.
I think I've written at various times that all four should end up bowl-eligible, even though eight conference teams with a .500 record or better is difficult to pencil out. (It did, however, happen in 2006 -- and Washington even finished 5-7).
I changed my own 5-8 a number of times. I won't tell you how I voted yet. My boss threatened to tear off my arm and beat me with it if I did. He's done it before so I believed him.
Why the difficulty?
For one, each of the Unfixed Four will break in a new quarterback, though Stanford and UCLA both have their starters back from 2008.
Posted by ESPN.com's Ted Miller
Optimism is a powerful thing. And spring is a time for renewal. So this is a "Best of" list, without any of the "Negative Nellie" stuff.
Best spring game performance by a quarterback: Stanford redshirt freshman Andrew Luck all but won the starting quarterback job over incumbent Tavita Pritchard after completing 18 of 25 passes for 352 yards and five touchdowns to lead the White team to a 42-17 victory over the Cardinal.
Best spring game performance by a quarterback II: Washington quarterback Jake Locker seemed fine working in a pro-style offense after completing 16 of 18 passes for 200 yards and two touchdowns. The two incompletions, by the way, were drops.
Best spring game performance by two quarterbacks: Oregon's Jeremiah Masoli and Justin Roper combined to complete 37 of 56 passes for 516 yards and five touchdowns and neither threw an interception in the Ducks' spring game. Perhaps it was the rainy weather only fit for a Duck?
Best spring, overall, by a quarterback: Under intense, national scrutiny ,USC's Aaron Corp threw only one interception throughout spring practices and was consistently solid throughout the session, which earned him the nod as the Trojans No. 1 quarterback over spectacular freshman Matt Barkley entering the offseason. Under coach Pete Carroll, every previous Trojan quarterback who had been tapped No. 1 out of spring started the season opener.
Best performance by a true freshman: Barkley made the recruiting gurus who ranked him No. 1 look smart.
Best spring game on defense: Talk about a penetrating performance. USC's backup defensive end Nick Perry had six tackles for loss, including four sacks, among his seven tackles. Yeah, USC's defense is going to be hurting in 2009.
Best spring on defense: Six guys stood out: Oregon cornerback Walter Thurmond III, UCLA's tackle Brian Price, Oregon State tackle Stephen Paea, Arizona State defensive tackle Lawrence Guy, Arizona linebacker Vuna Tuihalamaka and USC linebacker Malcolm Smith.
Best surprise: USC transfer and notorious underachiever Jamere Holland suddenly decided to become Oregon's best deep threat and turned in an outstanding spring. Golly, sometimes listening to your coaches helps.
Best breakout: While California has questions at receiver, the general feeling is sophomore Marvin Jones is almost certainly one of the answers.
Best 'it's about time' breakout: USC's Everson Griffen might be the nation's most talented pass-rusher, but his high-performance engine has also been a high-maintenance engine. Yet his effort and intensity were consistentthis spring, which meant no one could block him.
Best comeback: California offensive tackle Mike Tepper has been through a lot, but he's hoping his sixth year will just be about anchoring a line with a lot of upside. Read Tepper's story here.
Best comeback II: Got a funny -- mean, but funny -- note during the 2008 season that instructed the Pac-10 blog to refer to Oregon State receiver Darrell Catchings as Darrell Droppings. Can't do that now because Catchings lived up to his name -- the real one -- this spring.
Best position change: Arizona sophomore Robert Golden, a marquee 2008 recruit, switched from cornerback to strong safety this spring, and early word is he could become an All-Conference player at his new position. The move further allowed the Wildcats to switch Cam Nelson to free safety from strong and get Trevin Wade on the field to complement Devin Ross at corner.
Best coaching decision: Stanford coach Jim Harbaugh wants his best 11 on the field at any given time, and he's willing to get creative to do it. That's why he's got a handful of guys playing both ways, including Owen Marecic (fullback and middle linebacker), Michael Thomas (cornerback and receiver), Richard Sherman (cornerback and receiver) and Alex Debniak (linebacker and running back). Will it work? We'll see. But it's undoubtedly interesting.
Best candidate for a karmic change: No team had worse injury issues this spring than Washington State, which is clearly in the midst of a major rebuilding project. Then promising defensive end Cory Mackay, who'd impressed this spring, suffered a serious back injury after he fell asleep at the wheel of his car. The Cougars are overdue for some luck. Perhaps it arrives this fall?
Best catch of the spring: You may have already watched this grab. Watch Arizona State receiver Kerry Taylor one more time. It's worth it.
Best position in conference: The Pac-10 might have the nation's best collection of talent in the secondary, with USC and California boasting units that should rank among the nation's best. Consider: FS Taylor Mays (USC), SS T.J. Ward (Oregon), SS Josh Pinkard (USC), CB Walter Thurmond III (Oregon), CB Alterraun Verner (UCLA), CB Syd'Quan Thompson (California), CB Devin Ross (Arizona), CB Omar Bolden (Arizona State), FS Rahim Moore (UCLA), CB Shareece Wright (USC), among others.
Best position in conference II: Five running backs who eclipsed 1,000 yards in 2008 are back, led by California's Jahvid Best and Oregon State's Jacquizz Rodgers.
Best potentially surprising position: If you talked about good Pac-10 defensive linemen in recent years, you were basically talking about USC. Not in 2009. Nine of the Pac-10's top 30 players, at least by, er, one person's accounting, are defensive linemen, and that list included only one player from USC (Griffen, at No. 30) and didn't include Cal's Cameron Jordan.
Best quote: "How do we go from nine to one?" said Chip Kelly on what he believes are his marching orders as Oregon's new coach. "Nine" is where the Ducks finished last y
ear in the final coaches' poll.