October, 6, 2014
Oct 6
12:30
PM ET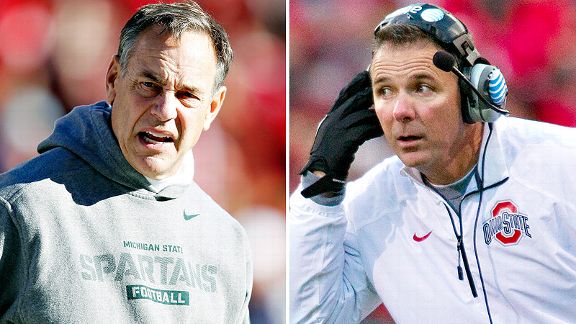 USA TODAY SportsMark Dantonio, left, and Urban Meyer have their teams on course for another huge B1G showdown.
In case a reminder was needed after another chaotic weekend on the field, rankings, projections, underdogs and favorites don't usually mean a whole lot to college football. The best laid plans typically don't last long.
But there is one from the preseason that suddenly appears to be back on track. Though there is still more than a month to go until what was presumed to be the biggest battle in the Big Ten actually kicks off on Nov. 8 in East Lansing, Michigan, what is the fun in just sitting around and waiting until then to start talking about it. Now that No. 8 Michigan State and No. 15 Ohio State seem to be on a collision course again, who is in better shape for that matchup and to potentially win a Big Ten crown?
We are breaking it down Take Two-style.
Austin Ward:
Ohio State
Go back through the checklist of reasons the Buckeyes were picked as the top contender in the conference and a potential factor in the College Football Playoff before the season started. Dynamic quarterback, dangerous defensive line, explosive weapons at the skill positions, and a decorated coaching staff that has proven it can get the most out of the talent on hand.
What exactly has changed since then?
Certainly
Braxton Miller
's injury was a meaningful loss given his experience and the two Big Ten Offensive Player of the Year trophies. But don't look now, after an early hiccup
J.T. Barrett
is actually on pace to post better passing numbers across the board and looks every bit as suited to run Urban Meyer's spread offense as his predecessor. And all those same talented players at wide receiver, running back and tight end that were supposed to make Miller's life easier are doing precisely that for Barrett, with the only challenge finding a way to get all of them touches.
The defensive line might not be the best in the nation thanks to the indefinite suspension of
Noah Spence
. But as long as
Joey Bosa
is around to wreak havoc on the edge and
Michael Bennett
and
Adolphus Washington
are still handling their business on the inside, the Buckeyes are still as fearsome up front as anybody in the Big Ten.
And don't forget that Meyer, a two-time national champ, is still on the sideline overseeing the entire operation.
Ohio State has some weaknesses, and anybody who favored the Spartans initially still likely has the same reasons to point to at this stage of the season. The head-to-head meeting is on Michigan State's turf, it won the last matchup on a neutral field and the Buckeyes still look suspect at times in the secondary.
But after putting that early loss to Virginia Tech behind them and moving on from Miller's injury, the Buckeyes are starting to look exactly like a conference contender should. Based on the preseason predictions, nothing has changed.
Josh Moyer:
Michigan State
Let's not overthink this, Austin. The Buckeyes are definitely improving every week, but they have played just two teams with winning records so far -- and they have only won one of those games (Virginia Tech, Maryland). So I think it's a little premature to start saying Ohio State boasts a better team than the defending Big Ten champion.
I'm not saying the Spartans' schedule is all that much harder, but they have at least impressed with a good win against Nebraska. Plus, they have played two ranked opponents. No Ohio State opponent is even receiving votes in either poll. And you mentioned Barrett's gaudy numbers, but he has played just one defense -- Virginia Tech -- that is ranked within the top 85. Have the Buckeyes really been tested yet?
Michigan State is the safe pick, the easy choice here. Meyer called his secondary an "Achilles' Heel"; Michigan State has no glaring weakness. Cincinnati actually posted more passing yards and passing touchdowns against Ohio State than Oregon did against Michigan State.
True, the Spartans' 2014 defense isn't as good as 2013. Even head coach Mark Dantonio admitted that. But it's still forcing turnovers (No. 4 in the country), still limiting yards (No. 11 in the country), still racking up sacks (No. 3 in the country) and still limiting rushing yards (No. 4 in the country.) Ohio State just can't compare right now.
On top of it all, Michigan State's offense is clearly better than last season.
Connor Cook
and
Jeremy Langford
aren't putting up video game numbers, but they have been solid. And give me
Tony Lippett
over
Devin Smith
any day. The Buckeyes are a good team, but the Spartans are the better team right now.
We'll find out for sure on Nov. 8 but, until then, Michigan State will still remain No. 1 in our
Big Ten power rankings
, Vegas will still favor MSU over OSU, and voters from Ohio to California will still agree in the polls that the Spartans are the better team. Because they are.