May, 4, 2012
5/04/12
3:00
PM ET
OXFORD, Miss. -- Ole Miss coach Hugh Freeze knew things weren't going to be easy in Oxford. He returned to the town and program he loved, but he did so knowing he'd be inheriting a slew of issues, both on and off the field.
However, he didn't know that the biggest would be in the academic world.
With final exams only days away, Freeze is still concerned about the academic standing of a few players, including key starters
Jeff Scott
(running back) and
Nickolas Brassell
(cornerback/receiver).
[+] Enlarge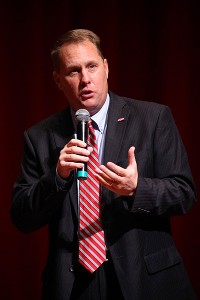 Shelby Daniel/Icon SMIOle Miss coach Hugh Freeze is hoping to invigorate his team's fan base in his debut season at the school.
"I knew that there were some issues, but probably found out it was a little tougher than what I thought it was when I got here," Freeze said about Ole Miss' academic issues.
"We've made some headway, but we inherited such a mountain to climb that I think it would be presumptuous for me to believe we're going to climb every single mountain. I don't think that's going to be reality."
The reality of losing those players makes Freeze nervous heading into summer workouts. While he's seen improvement from them throughout the spring, he's not ready to say they'll be academically eligible once the spring semester finishes.
"I feel better because I see improvement, but if you're asking me do I feel confident at this point to say that they're going to make it, no, I don't feel confident to say that," Freeze said.
"When you start out at nearly zero, it's a tall task to climb in one semester."
Although the next few days will be nerve-racking for Freeze and his coaching staff, he is very proud of the way some players improved their classroom habits, especially Scott. The struggles Scott was going through when Freeze first arrived seemed to dissipate as spring progressed.
"I'm extremely proud of Jeff Scott. He has bought in," Freeze said. "Couldn't be more pleased with what we're getting from him right now, as far as effort in the classroom. I'm [hopeful] that he has a good chance of making it. He didn't have as far to come as some others."
Having Scott in Ole Miss' starting lineup this fall will be huge for the Rebels. Last season, Scott was eighth in the SEC in all-purpose yardage, averaging 101.4 yards per game. He also led the Rebels with 529 rushing yards and six touchdowns in his nine starts.
Scott, who will be a junior this fall, entered spring as Ole Miss' top playmaker, but there isn't much depth at all behind him at running back. He's one of three scholarship running backs that include senior
Devin Thomas
(20 career carries) and
Nicholas Parker
, who has spent two years on the scout team. Freeze said those two will have to compete with the four incoming freshmen due in this summer if Scott can't go.
"We're so thin there," Freeze said. "I've never inherited any team that's as thin at running back as we are here."
Ole Miss would benefit from Brassell's athleticism, no matter where he lines up, but the Rebels do have pretty good depth in the secondary and Freeze said cornerback was the most productive unit for the team this spring.
Wesley Pendleton
and Dehendret Collins, who grabbed two interceptions in Ole Miss' spring game, made the most progress this spring and the former junior college teammates should be pretty solid players this fall.
Standout
Senquez Golson
will be back after baseball and the Rebels will welcome talented incoming freshmen Trae Elston and Anthony Standifer.
Freeze will sweat out the next few days as he awaits the fate of some of his players, but he's pleased with how his team responded to the new coaching staff this spring. It was tough to get players on board at first, and he still thinks less than 80 percent of the team has bought in, but it's certainly higher than when he first arrived.
This would be a tough job for any coach and Freeze knows that patience will be key to getting this program back on track.
"It won't be an overnight fix," he said. "It probably won't be a one-year fix. It's a process. I call it the 'Journey.'"
January, 1, 2009
1/01/09
4:45
PM ET
Posted by ESPN.com's Adam Rittenberg
Michigan State had the lead at halftime, but the Spartans didn't have the momentum they needed in the Capital One Bowl against No. 15 Georgia.
| | |
| --- | --- |
| | |
| | Matthew Emmons/US Presswire |
| | The Georgia defense never allowed Javon Ringer to get on track. |
A more talented but seemingly disinterested Georgia team gave No. 18 Michigan State numerous opportunities to take control of the game. The Spartans ran 26 plays in Bulldogs territory in the opening half but produced only six points. That's nowhere near good enough. Michigan State easily could have been ahead by double digits.
The missed opportunities wound up costing the Spartans in a 24-12 loss.
Credit Georgia's much-maligned defense for shutting down Spartans star Javon Ringer (47 yards) and putting quarterback Brian Hoyer under constant duress. The game was won at the line of scrimmage, and Georgia's speed in the defensive front proved to be the difference. Michigan State (9-4) needed a strong performance from its offensive line to spring Ringer, and it didn't get one.
In many ways, the Capital One Bowl mirrored another near miss by a Big Ten team. Like Michigan State, Northwestern dominated the first half against Missouri in the Alamo Bowl but found itself tied at the break because of a few miscues. The Wildcats went on to lose.
Put bluntly, this year's bowl matchups were terrible for the Big Ten, but both Michigan State and Northwestern had opportunities for upsets and neither team could convert.
Credit Michigan State coordinator Pat Narduzzi and a defense that came to play today. Georgia quarterback Matthew Stafford looked bewildered during the first half, and the Spartans frustrated Bulldogs star Knowshon Moreno.
Georgia Vs. Big Ten in Bowls
Bowl
Opponent
Result
2009 Capital One
Michigan St.
W, 24-12
2004 Outback
Wisconsin
W, 24-21
2003 Capital One
Purdue
W, 34-27
1999 Outback
Purdue
W, 28-25
1997 Outback
Wisconsin
W, 33-6
1992 Citrus
Ohio St.
W, 21-14
1988 Gator
Michigan St.
W, 34-27
Note: Georgia is 1-2 vs. Big Ten teams in regular-season games.
With a bigger lead entering the third quarter, Michigan State's defense might have continued to surge. But Stafford got things together and made several brilliant throws to rally his team. By the time Michigan State got in the end zone, Georgia's talent-stocked offense was rolling along.
Despite the loss, Michigan State made major strides this season and head coach Mark Dantonio got everything out of his players. The program is on the upswing.
The Spartans must make upgrades throughout their offense -- quarterback, wide receiver, line -- and find a way to replace Ringer's production. They really could have used a game-changer like Devin Thomas today. The defense loses only three starters and should be much stronger in 2009 behind Greg Jones and Trevor Anderson.
The Big Ten falls to 1-4 in bowl games and remains on pace for the worst postseason in its history. Iowa looked dominant and both Michigan State and Northwestern had bright spots in defeat, but the Big Ten desperately needs a BCS win from Penn State or Ohio State.
November, 21, 2008
11/21/08
5:23
PM ET
Posted by ESPN.com's Adam Rittenberg
I'm reporting from Columbus, where I'll be covering Ohio State-Michigan on Saturday (ABC, noon ET). Not to worry, as we'll also have coverage from State College, where No. 15 Michigan State takes on No. 8 Penn State (ABC, 3:30 p.m. ET).
Time for your last-minute questions on Big Ten rivalry week.
Stephen from Baltimore writes: Adam, how high do you see D-Will getting drafted after the season? Justin King went in the third round last year on pure speed and athleticism alone, so since Williams has actually produced nicely this season, I would think he would have a spot in the league (plus he can make an impact on punt and kick returns).
Adam Rittenberg: Derrick Williams, who Stephen is referring to, has really come on strong down the stretch. He's showing why he was the No. 1 recruit in the country back in 2005. Still, I think Williams will need a strong showing at the scouting combine to solidify his draft status. Williams' versatility as a ball-carrier and on special teams could put him in the first or second round.
---
Nathan from Cedar Rapids, Iowa, writes: I'm starting a petition and would appreciate your signature as well as those of your readers. My cause is the effort to change the name of the UGA running back's name to No Shonn.
Adam Rittenberg: Good one. Nathan will be here all night, folks. The 11 o'clock show is totally different from the 8 o'clock show.
---
Nick from Boulder, Colo., writes: Adam, A buddy sent me an email that if OSU wins Saturday, they will be the winningest team in Big Ten History-based on win %. Is that true? This would be the best yardstick of comparison, because it would take out a lot of the subpar competition that the teams played when football was more like rugby.
Adam Rittenberg: That is correct. Ohio State currently is .2 percentage points behind Michigan and would edge ahead by a miniscule margin with a win Saturday. This story in The Cleveland Plain Dealer details how close the two teams are on the all-time chart.
---
Brad from Chicago writes: Adam, In regards to Shonn Greene coming out of nowhere, I would say Larry Johnson in his senior year at Penn State would have been a similar situation. Without looking at his stats, if my memory is correct he split time with other running backs his first three years so nobody knew exactly what he was capable of.
Adam Rittenberg: Thanks for the submission, Brad. Several of you have brought up Larry Johnson at Penn State. Todd from Detroit mentioned Devin Thomas at Michigan State. But what I truly find unique about Greene is that he wasn't even a little-used guy in the program last year, getting a few carries here and there. He wasn't a junior-college transfer. A year ago, he had nothing to do with playing football for a FBS program. He was hauling furniture and working out on his own, having very little to do with the Iowa program. To come back from that at a servicable level is one thing. To come back as an All-American and a potential Heisman Trophy finalist is something else. Can any of you remember a guy who was completely out of football, and then came back to have a season like Greene's?
October, 8, 2008
10/08/08
4:25
PM ET
Posted by ESPN.com's Adam Rittenberg
| | |
| --- | --- |
| | |
| | Bruce Kluckhohn/US Presswire |
| | Eric Decker is a weapon for the Gophers with and without the ball. |
Eric Decker's mom probably doesn't love the line, but among football guys, it's one of the highest compliments a player can receive.
Minnesota head coach Tim Brewster could easily gush about Decker's receiving statistics. The junior leads the nation in receiving yards (696) and ranks second in receptions (50) on a much-improved Golden Gophers team. But Brewster would much rather talk about Decker's blocking ability and willingness to take on contact, two qualities many wide receivers lack, even the best ones.
"The biggest thing is he is one tough hombre, man," Brewster said. "He is a tough sucker."
When informed of Brewster's quote after Tuesday's practice, Decker laughed.
"Especially coming from him, with his mentality and his attitude, definitely a compliment," he said.
Decker might be the nation's best receiver no one's heard about. He ranked fourth in the Big Ten in receiving average last year, behind NFL draft picks Mario Manningham, Devin Thomas and James Hardy, despite playing for a team that finished 1-11.
After missing spring practice to play for Minnesota's baseball team, the 6-foot-2, 215-pound junior has continued to produce at a high rate. He's on pace for 100 receptions this season, making nine or more catches in three of the Gophers' six games this year.
August, 29, 2008
8/29/08
11:10
AM ET
Posted by ESPN.com's Adam Rittenberg
The eve of the Big Ten season is upon us, so check your pulse. It should be racing. Every Friday, I'll take a look at 10 things I'm excited to see in the upcoming games. Here's installment No. 1.
1. Michigan's quarterbacks: After so much speculation about who fits RichRod's system, who doesn't, who's fast and who's not, we finally get a look at Steven Threet and Nick Sheridan in a game. Expect some growing pains early on, but both quarterbacks are heady players who could grasp the spread offense better than any of us expect them to. Just the sight of Michigan in a no-huddle spread could induce some double-takes.
2. That Pryor guy: Forget about gimmick plays and custom-designed packages near the goal line or anywhere else on the field. I want to see Ohio State freshman Terrelle Pryor lead a real drive, make real decisions and showcase all of his abilities, including his supposedly improved passing skills. Pryor should get a chance in the first half against Youngstown State.
3. Juice vs. Chase: The Edward Jones Dome is the site for arguably the nation's best quarterback matchup of the day. Illinois coaches are convinced Juice Williams has made the necessary strides as a passer and a leader during the offseason. The Illini junior will try to show it as he goes up against a proven commodity, Missouri senior quarterback Chase Daniel.
4. The Spread HD: It might take a more superior opponent than Coastal Carolina to get a good read on Penn State's new offense, but Saturday should shed some light on the mysterious system and Daryll Clark's ability to run it. Clark's passing skills will be in the spotlight, and Penn State fans finally get a look at speedster Stephfon Green.
5. Javon Ringer return a kick -- Ringer could push Ohio State's Beanie Wells for Big Ten Offensive Player of the Year honors this fall, and he won't waste time producing highlights. The Michigan State running back should be a factor on kickoff returns against Cal, and he could break a big one and make Spartans fans momentarily forget about Devin Thomas.
6. Jake Christensen -- Christensen retained his starting job but hardly got a ringing endorsement from Iowa coach Kirk Ferentz, who also plans to play sophomore Ricky Stanzi against Maine. Not all of what went wrong last season can be placed on Christensen, but it's time for the junior to make better decisions, show more consistency and utilize his weapons in the passing game.
7. Tramaine Brock rocks: The safety has been labeled a difference-maker for Minnesota as soon as he set foot on campus this winter. A ferocious hitter who can play either defensive back position, Brock gets his first chance to show that this will be a different year for the Gophers secondary as he goes up against Northern Illinois.
8. Martez Wilson on a blitz: Wilson makes his first career start for Illinois after plenty of preseason hype and faces one of the nation's best quarterbacks in Missouri's Daniel. The 6-foot-4, 246-pound sophomore passes the eye test and should be a dominant defender for the Illini. Now he's got to go out and prove it.
9. The wait ends for Evridge and Lewis: Allan Evridge makes his first start since 2005 as the senior left-hander leads Wisconsin against Akron. Evridge has been patient since transferring from Kansas State but can't get too hyped for the game and make mistakes. The wait hasn't been nearly as long for Indiana quarterback Kellen Lewis, but it certainly felt that way after the junior lost his way this winter and had to earn his way back on the team. He makes his 22nd consecutive start against Western Kentucky.
10. Northwestern's new-look line in action: An offensive line featuring three new starters, including two redshirt freshman, is considered the only potential obstacle for a talent-stocked Wildcats offense. The front five needs a strong start against a Syracuse defense that tied for last nationally in sacks (.75 spg) in 2007.
August, 15, 2008
8/15/08
12:53
PM ET
Posted by ESPN.com's Adam Rittenberg
The Big Ten preseason has seemed downright boring compared to the rest of the country.
There's no Mark Sanchez or Ben Olson crisis in this league, and though Ohio State has endured a few recent off-the-field incidents, the Buckeyes have nothing on Georgia. None of the four major quarterback competitions -- Michigan, Wisconsin, Penn State and Indiana -- are settled, and the one in Ann Arbor could drag on for some time. Wisconsin dismissed running back Lance Smith, but the Badgers remain well-stocked at the position.
If the first two weeks of preseason practice have revealed anything, it's that a position that seemed weak in the league could be much better than forecasted.
The Big Ten lost seven of its top 10 receivers from last season, a group that included three-time league receptions leader Dorien Bryant, big-play dynamo Devin Thomas, Indiana career receiving leader James Hardy and Michigan stars Mario Manningham and Adrian Arrington. Aside from Ohio State, Penn State and Northwestern, every Big Ten team entered camp with some degree of uneasiness about the wide receivers.
Michigan State and Indiana lost superstars. Michigan lost almost everybody. So did Purdue. Illinois and Minnesota needed second options. Iowa welcomed back several prominent pass-catchers from injuries. Wisconsin was very young at the position.
The anxiety level has dropped quite a bit.
Illinois, which will stress the pass more this fall, has produced several good candidates to complement Arrelious Benn, including juniors Jeff Cumberland and Chris Duvalt, sophomores Chris James and Alex Reavy and freshmen Jack Ramsey, A.J. Jenkins and Cordale Scott. Highly touted Fred Smith will make an impact this fall at Michigan State, but he's been overshadowed a bit by classmate Keshawn Martin. Michigan's young wideouts impressed first-year coach Rich Rodriguez from the get-go, and the Wolverines will lean on players like Darryl Stonum, Martavious Odoms, Terrance Robinson, Toney Clemons and Junior Hemingway come Aug. 30.
I was extremely impressed after watching Wisconsin sophomore David Gilreath, a big-play threat with tremendous speed. Though I didn't see Purdue practice after media day, junior-college transfer Arsenio Curry certainly looks like he can contribute alongside Greg Orton. Playmaker Andy Brodell is back in the fold at Iowa, and sophomore Colin Sandeman looks to be pushing incumbent Derrell Johnson-Koulianos for the starting job. Ray Fisher and Andrew Means headline a group of Indiana wideouts that also include some promising freshmen.
There has been so much buzz about the spread offense sweeping through the Big Ten. It looks like the league will have the moving parts to make those schemes work this fall.
August, 5, 2008
8/05/08
9:29
AM ET
| | |
| --- | --- |
| | |
| | Scott Boehm/Getty Images |
| | Brian Hoyer returns to lead the Michigan State offense. |
Posted by ESPN.com's Adam Rittenberg
EAST LANSING, Mich. -- Michigan State media day is under way, so check back for updates later in the morning and this afternoon. For now, here's a look at three major questions facing the Spartans entering what should be a defining 2008 season.
1. Can Brian Hoyer take the next step in his evolution and silence his critics?
Hoyer did a lot of good things last season, but quarterbacks are ultimately judged in the fourth quarter and Michigan State went 2-6 in games decided by seven points or fewer. His play in crunch time will go a long way in determining if the Spartans back up their preseason label as the Big Ten's surprise team. Hoyer can be extremely efficient, as he proved with just seven regular-season interceptions last fall, but the nightmare of his four-interception meltdown in the Champs Sports Bowl lingers with Spartans fans. As a senior, Hoyer should limit his mistakes, and if several capable wide receivers emerge, he'll have a big season.
2. How will Michigan State replace Devin Thomas' playmaking ability?
Thomas' rapid rise as a wide receiver/return man probably can't be duplicated by one player, but the Spartans feel confident in their mostly unproven receiving corps. Both Deon Curry and Mark Dell appeared in all 13 games last season, combining for 44 catches, and redshirt freshman B.J. Cunningham could be the team's top big-play threat. The two Chris Ruckers -- Chris D. and Chris L. -- provide depth and heralded freshman Fred Smith could contribute immediately.
3. Who will anchor the pass rush after the losses of Jonal Saint-Dic and Ervin Baldwin, both of whom ranked among the Big Ten's top seven in sacks?
Expectations are high for end Trevor Anderson, a transfer from Cincinnati and a proven commodity. Anderson recorded 10 sacks and 21.5 tackles for loss in two seasons playing for Michigan State coach Mark Dantonio at Cincinnati. He might be a bit rusty after a year off but should provide a big boost on the edge. The Spartans also need increased production from seniors Justin Kershaw and Brandon Long, who combined for 3.5 sacks last season.
July, 21, 2008
7/21/08
12:15
PM ET
Posted by ESPN.com's Adam Rittenberg
Despite losing seven of the league's top 10 receivers from last season, this group should once again be solid in 2008. Teams like Ohio State, Penn State, Illinois and Northwestern return groups of receivers that have played together for a season or longer. Minnesota has a budding star in Eric Decker, while Wisconsin lacks a proven wide receiver but boasts arguably the nation's best tight end in Travis Beckum. Purdue is restocking at wide receiver but has history on its side, and Iowa welcomes back several key contributors from injuries.
As with the running backs, these rankings are broken down into two sections:
INDIVIDUALS
| | |
| --- | --- |
| | |
| | AP Photo/Phelan Ebenhack |
| | Wisconsin's Travis Beckum had 75 receptions for 982 yards last season. |
1. Travis Beckum, Sr., TE, Wisconsin -- It's rare that a tight end tops this list, but Beckum transcends his often overlooked position. The All-America candidate had 75 receptions for 982 yards and six touchdowns last season. If Beckum returns at top form following offseason shoulder surgery, he'll continue to flummox defenses with his size and speed.
2. Brian Robiskie, Sr., WR, Ohio State -- He averaged 17 yards a catch and had the third most touchdown catches (11) in the league last season. Now imagine what Robiskie will do without a torn meniscus in his knee that required offseason surgery. A deep threat on a squad with several of them, Robiskie is on the brink of a big season.
3. Arrelious Benn, So., WR, Illinois -- Fully healthy after shoulder surgery, Benn could easily become this season's Devin Thomas and rise to the top of the list. Illinois will get the ball in his hands as much as possible, whether it's in a ramped up passing attack, out of the backfield or on returns. A good route-runner with breakaway speed, Benn might be the league's most dynamic player.
4. Eric Decker, Jr., WR, Minnesota -- After putting up big numbers for a bad team last season, Decker should get more praise from fans and more attention from defenses this fall. A tremendous athlete who also plays baseball for the Golden Gophers, Decker gives quarterback Adam Weber a proven target who can get to the end zone (nine touchdowns in 2007).
5. Deon Butler, Sr., WR, Penn State -- Butler quietly has become one of the league's most reliable receivers. He needs just 36 receptions to become Penn State's all-time career receptions leader and likely will claim several other school records. As the Nittany Lions transition to more of a spread offense this fall, Butler should excel.
6. Eric Peterman, Sr., WR, Northwestern -- Just when defenses label Peterman as a standard possession wide receiver, he'll gash them for a big gain. He tied for seventh in the league in receptions last season and will once again be C.J. Bacher's top target in the passing game, particularly on third down.
7. Greg Orton, Sr., WR, Purdue -- After playing behind three-time Big Ten receptions leader Dorien Bryant, Orton takes center stage as a senior. He must stabilize a new-look Boilermakers receiving corps and provide senior quarterback Curtis Painter a reliable first option. Orton has 125 receptions the last two seasons.
8. Andy Brodell, Sr., WR, Iowa --Remember the 2006 Alamo Bowl? Brodell torched Texas for a bowl-record 159 receiving yards, including a 63-yard touchdown. A broken leg cut short his 2007 season, but he's back and ready to restore his place among the Big Ten's top receivers.
9. Brian Hartline, Jr., WR, Ohio State -- Don't forget about Ohio State's other Brian, who collected 52 receptions for 694 yards and six touchdowns last fall. As Robiskie stretches the field, Hartline provides an excellent complement who goes over the middle and absorbs contact. He turned in an excellent spring as Robiskie recovered from injury.
10. Derrick Williams, Sr., WR, Penn State -- Most thought Williams would be higher on this list when he arrived in Happy Valley, but he hasn't matched the hype -- yet. His speed and athleticism remain top notch, and he should do well in a spread offense. A big-play threat who can do damage in the return game, Williams could finish his career with a flourish.
TEAM
1. Ohio State -- Finding a third option remains on Ohio State's to-do list, but few teams boast a better passing tandem than the Brians. After a season to jell with quarterback Todd Boeckman, Robiskie and Hartline will punish defenses worrying about Heisman Trophy candidate Beanie Wells.
2. Penn State -- In terms of continuity at wide receiver, Penn State ranks at the top of the list. But the long-tenured group of Butler, Williams and Jordan Norwood hasn't always met expectations. As seniors, they should shine despite having to work with a new starting quarterback.
3. Illinois -- The league knows all about Benn, who will do even more damage at 100 percent this fall. His supporting cast includes Jeff Cumberland, a 6-5, 247-pound former tight end who can outjump defenders, as well as Chris James, who missed all of last season with a torn ACL. The Illini will accentuate the passing game more this fall, and this group should step up.
4. Northwestern -- This could be the Wildcats' best group of wideouts sinc
e they installed in the spread offense in 2000. Peterman is good for 6-10 receptions per game. Ross Lane provides Bacher with a red-zone threat, and Andrew Brewer, considered the team's top wideout before suffering a fractured humerus in training camp, rejoins the group.
5. Iowa -- Embattled quarterback Jake Christensen is thrilled to see what's coming back this fall. Brodell returns from a broken leg and gives Iowa a viable deep threat. Promising tight end Tony Moeaki is also back in the fold following an injury. Sophomore Derrell Johnson-Koulianos, the team's top receiver last season, provides depth along with Trey Stross.
6. Wisconsin -- Beckum and understudy Garrett Graham are the only reasons why the Badgers are this high. For them to stay there, several wide receivers must emerge from an unproven group. Kyle Jefferson displayed promise as a freshman and David Gilreath showcased his speed as a returner, but there are more questions than answers here.
7. Purdue -- It's impossible to replace Bryant's production or the mismatch problems Dustin Keller created, but Orton gives Purdue a strong first option with good size. More important, the Boilermakers have a track record of success at wide receiver and a senior quarterback (Curtis Painter) who can help unproven players. Junior-college transfer Aaron Valentin bolsters a group that also includes Desmond Tardy.
8. Minnesota -- I'm tempted to put the Gophers higher because of Decker, but there's not much behind him. Ernie Wheelwright's departure leaves a hole, which could be filled by dynamic freshman Brandon Green, sophomore Ralph Spry or several others. If Minnesota finds a solid second option for Weber, it will climb several spots.
9. Michigan -- Before you flood my inbox, allow an explanation. The Wolverines have no proven quarterbacks, only one semi-proven wide receiver (Greg Mathews) and a dramatically different offense to learn. A drop-off is likely, but not certain. Freshman Darryl Stonum bolsters the new-look corps, and players like Junior Hemingway and Toney Clemons could shine after waiting their turn for playing time.
10. Indiana -- There's no James Hardy on the roster, but juniors Ray Fisher and Andrew Means should stabilize a passing game led by quarterback Kellen Lewis. Tight end Max Dedmond provides another option in the new no-huddle offense, though another target or two needs to emerge.
11. Michigan State -- Javon Ringer told me to expect big things from this group, but I'm not convinced. Thomas and underrated tight end Kellen Davis will be missed, and Ringer had more receptions last season than any of the returnees. Deon Curry, Mark Dell, B.J. Cunningham and Blair White have the chance to step up -- and move up the list.