NCF Nation:

DeVon Edwards
July, 10, 2014
Jul 10
10:30
AM ET
David Cutcliffe placed the call while he was on the treadmill.
DeVon Edwards
tried to play it cool when Cutcliffe offered him a scholarship, asking whether he could talk with his mom first.
But the truth is, Edwards knew all along what he would say. Five minutes later, Edwards accepted the only scholarship offer that came his way.
[+] Enlarge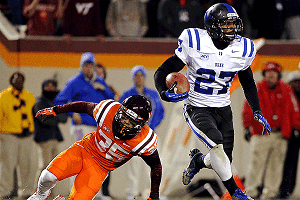 Peter Casey/USA TODAY SportsDuke return man DeVon Edwards joined the track team to help improve his speed for the 2014 season.
Incredible now to believe only one school believed in him. Edwards is going into his sophomore season at Duke as one of the top kick returners in the country.
So how did he get virtually no interest in high school?
Edwards played at a relatively new school in Covington, Georgia, that opened in 2006. Nobody from that school had ever received a football scholarship to an FBS program. So the school itself was off the map. And so was Edwards, after a broken collarbone sidelined him for his junior season.
His high school coaches sent out game tape from his sophomore season, but nobody seemed interested. With no interest and no offers, Edwards began to face reality. He turned his focus to basketball, where he played on AAU teams and was an all-region selection for his school.
If nobody wanted him as a football player, maybe they would as a basketball player.
"It was a tough feeling, not knowing if you were going to get to play at the next level and then your friends were getting scholarships," Edwards recalled recently. "I figured I was not doing something right, maybe I was too small or too short or something. I had a high GPA, so I knew I could get into college but playing football was something I like doing and I was just starting to cope with the fact that I might not get a scholarship."
Enter Cutcliffe. He saw something in Edwards in those old game tapes. He asked for senior year game tape. At this point, the football season was over. But Edwards was playing basketball. Cutcliffe took a trip to see him during practice.
He was sold, and offered Edwards in December -- just two months before signing day.
"I guess God just told me I need to play football," Edwards said.
Edwards came into Duke with little fanfare. He was the only player in the class of 2012 without any stars or ranking from ESPN Recruiting. Edwards redshirted his first season, then went into fall camp last year hoping for playing time at cornerback. But he was moved to safety and admitted frustration over his undetermined role.
With the help of former star Duke CB
Ross Cockrell
, Edwards tried to look ahead, waiting for his shot. It came on defense and special teams around the same time.
Cutcliffe had always promised Edwards a chance to return kicks. It happened after
Johnell Barnes
broke his hand in late September. Edwards started at kick returner in the sixth game of the season, against Navy, and held on to the role the rest of the season. He also started the final seven games of the season at safety.
Edwards started to make a name for himself soon enough. He ended up returning two kickoffs for touchdowns and two interceptions for touchdowns. Three of those scores came against NC State (two INT returns and a 100-yard kickoff return).
"It didn't hit me how well we played until the next morning when I was watching 'SportsCenter' and people kept talking about it and I was like, 'Wow, that was a big deal,'" Edwards said.
He ended the season ranked No. 3 in the nation in kickoff return average (30.2 yards per return) and was one of seven players to return multiple kickoffs for touchdowns. Edwards has worked on his speed this offseason in order to get better, and joined the track team for the outdoor season with several other football players. Edwards says he is a much better runner now than he was when spring football ended.
That will only help him build off his impressive first season. After all, he's no longer an unknown.
"I'm going to keep playing how I was playing and keep on working hard. I knew who I was when nobody else knew who I was," Edwards said.
June, 18, 2014
Jun 18
2:00
PM ET
Tommy Tuberville has never been one to hold back. Whether you want to hear it or not, brutal honesty is all you are going to get.
So when Derek Jones asked his former coach for a bit of advice about whether to join the Dallas Cowboys for a minicamp tryout, Tuberville laid it down: Forget about playing in the NFL, he told him. You need to be a coach.
[+] Enlarge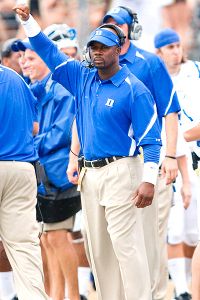 Courtesy of Duke University PhotographyDerek Jones is beginning his seventh season as a Duke assistant, and is on a path to being a head coach someday.
Jones had never given coaching a thought. He figured after his playing career was over, he would become a lawyer. But Tuberville made a convincing argument: Jones was a team leader, a hard worker and knew how to sell the Ole Miss program to incoming recruits while he was still playing.
Tuberville presented him with an opportunity, offering him a graduate assistant job on his Ole Miss staff in 1998. Try it, Tuberville told him. If you hate it, at least you will be on your way toward law school.
Jones considered the possibilities. He realized what Tuberville said was right. He was a 5-foot-8 cornerback with some CFL experience, but would he really have a future in the NFL? Jones gave up on his NFL dream and accepted the job. Now, 16 years later, he is going into his seventh season as a Duke assistant.
But more than that, Jones is headed down a path that could lead him toward a head coaching job. Jones recently participated in the NCAA Champion Forum in Orlando, Florida, where minority assistants identified as potential head coaches participate in sessions designed to prepare them to take the next step in their careers.
"I get it now, and I really appreciate Coach Tuberville seeing something in me that I didn't see in myself," Jones said. "If he hadn't given me that hard love and that advice, I may not have had a chance with Coach [David] Cutcliffe when he came to get in the door. Who knows where I would be now."
Indeed, one decision often becomes life-changing. Jones had a chance to work with Tuberville for one year before Cutcliffe took over at Ole Miss in 1999. Cutcliffe retained Jones, and they each left impressions on the other. Jones went on to become a full-time assistant at Murray State and spent time at Middle Tennessee, Tulsa and Memphis.
Jones' phone rang shortly after Cutcliffe became head coach at Duke in December 2007. Cutcliffe wanted Jones to join him with the Blue Devils.
"When he offered me the job, I had three other job offers on the table at some pretty big football-playing schools," Jones said. "He said something that stuck with me. He said, 'I know you've got some other things going on, and you can go to those places and you'll probably be successful, but I think we have a chance to do something significant at Duke.'
"Going to place a like that, where the odds were against you, I knew I'd have a chance to make a difference not only in the lives of young men and on the football field, but also proving to myself that I'm actually good at this. It was more of a personal thing and believing in him. I saw what he was able to do at my alma mater. I knew if he could go into Ole Miss and do the things he'd done there, I knew there was a chance we could get it done at Duke."
Cutcliffe sold his vision to incoming players, too, and has turned Duke into a division champion because everybody inside the program bought in. Jones has had opportunities to leave Duke, but he has stayed, largely because of Cutcliffe.
[+] Enlarge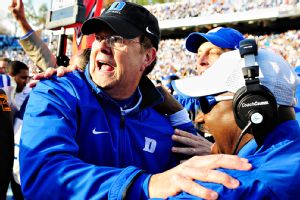 Grant Halverson/Getty ImagesDerek Jones believed in David Cutcliffe's vision for Duke football.
"The ability to work under Coach Cutcliffe is good for my growth," Jones said. "He's as good as any coach I've been around at so many things. The more knowledge I can obtain from him, the better I'm going to be long term. I can't think of many other situations outside of the situation we've been in that compares to anything."
Jones has aspirations to become a head coach, which is why attending the Champion Forum was so important to him. Assistants go through mock interviews with current athletic directors, have opportunities to network and learn everything that goes into becoming a head coach -- because it goes way beyond coaching. Jones has never interviewed for a head coach job, but when that opportunity comes, he will be much better prepared.
"Now I have a background on what it takes for me," he said. "I can start to work on the things I don't have in my arsenal right now."
Jones does have the coaching. As defensive backs coach, he helped cornerback
Ross Cockrell
earn first-team All-ACC honors in 2012 and 2013. Cockrell was picked by Buffalo in the fourth round of the NFL draft in May. Duke returns a young but very talented secondary in 2014, led by All-ACC second-team safety
Jeremy Cash
,
DeVon Edwards
,
Bryon Fields
and
Breon Borders
.
They remain his focus, thanks in large part to the brutal honesty of a coach who believed.
June, 3, 2014
Jun 3
2:00
PM ET
David Cutcliffe earned plenty of praise for the job he did revitalizing Duke in 2012, but even the most optimistic Blue Devils fans had to be surprised by the leap their team took in 2013 — winning 10 games and playing for a conference title. So, how did they do it?
Obviously Cutcliffe's efforts installing an offseason program, improving recruiting and installing his system have worked wonders in Durham, but dig into the numbers and there were a few key areas that proved crucial to Duke's run in 2013 and could make the difference once again as the Blue Devils try to defend their Coastal Division title this fall.
Strong offensive line play
[+] Enlarge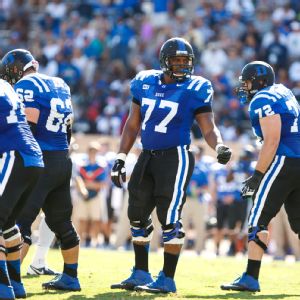 Jeremy McKnight/Icon SMIDespite some personnel losses, Duke's offensive line, led by the experience of Laken Tomlinson, can be successful again in 2014.
Last season:
It's no secret that strong play in the trenches can cover a lot of other blemishes, and Duke's offensive line was exceptional in 2013. The Blue Devils mustered 29 dropbacks per sack, the 10th-best mark in the country and by far the best in the ACC (Miami was next at 23.5). Duke also averaged 4.6 yards per carry (up nearly a yard from 2012) and had 28 rushing TDs (10 more than the previous season).
2014 outlook:
Last season's success shouldn't have been a shocker. Duke returned the third-most experienced line in the country for 2013 (113 career starts), which translated to a unit that gelled quickly. Now, Duke
must replace its two most veteran starters
in
Dave Harding
and
Perry Simmons
, but the Blue Devils still have plenty of experience on the line. Still, Duke's line isn't exactly green.
Laken Tomlinson
(39 career starts),
Matt Skura
and
Takoby Cofield
are all seniors, while
Lucas Patrick
and
Sam Marshall
are juniors with ample game experience. With another year in Cutcliffe's strength and conditioning program, the 2014 line could be every bit as good as 2013's.
A workhorse on offense
Last season:
No receiver in the country
was more relied upon more
than Duke's
Jamison Crowder
. Blue Devils QBs threw the ball 472 times in 2013, with Crowder the target on a whopping 174 of them (37 percent). Crowder hauled in 62 percent of the balls thrown his way and was exceptional on both short passes and as a deep threat. Most importantly, however, he was consistently good. The only game in which Crowder finished with fewer than five catches was the win over Virginia Tech.
2014 outlook:
The case can be made that Crowder won't be a secret in his senior campaign, but ACC defenses had to have known what was in store last fall, too. In the past two seasons, with three different starting QBs throwing to him, Crowder has racked up 184 catches, 2,434 yards and 16 touchdowns. He'll be among the best in the country -- and an ideal security blanket on offense -- once again in 2014.
Dynamic QB play
Last season:
Anthony Boone
and
Brandon Connette
combined for nearly 4,000 yards of offense (551 rushing, 3,472 passing) with 45 total touchdowns. As a point of comparison, Heisman winner
Jameis Winston
had 4,276 yards of offense and 44 total touchdowns. And thanks to the threat Connette posed with his legs, Duke was among the most successful teams in the country in the red zone, scoring TDs on 40 of 58 trips and 27 percent of its red-zone rushing attempts.
2014 outlook:
Boone has another year of experience under his belt and is the ACC's second-most veteran QB, but Connette's transfer to Fresno State is a big blow. Only Navy's
Keenan Reynolds
and Northern Illinois'
Jordan Lynch
had more rushing TDs among quarterbacks last year than Connette, and they did so with nearly three times as many attempts. No player in the country with at least 30 red-zone rushing attempts scored at a higher rate than Connette in 2013 (42 percent), and while the Blue Devils are high on
Thomas Sirk
as Boone's new backup, those are some enormous shoes to fill.
A playmaking defense
Last season:
The easy knock on Duke last season was its defense. After all, twice Duke topped 48 points and still lost (Pitt, Texas A&M). Overall, the Blue Devils' D ranked 82nd nationally, and it allowed nearly 8 yards per play in four losses. But the great equalizer were the big plays. Duke's D recorded 26 takeaways (tied for 26th nationally) and 18 interceptions (tied for 13th nationally). The capacity for big plays helped offset too many bad ones defensively.
2014 outlook:
The Blue Devils could be in for some rough patches on D again this fall. The secondary features four sophomores likely to see extensive playing time, while the defensive front gets a significant makeover from last season. Still, 14 of the 18 INTs from last season return, and
DeVon Edwards
,
Breon Borders
and
Bryon Fields
have the talent to blossom quickly.
Scoring on D, special teams
Last season:
Thanks to Edwards and Crowder, Duke scored six non-offensive touchdowns last season, tied for the eighth-most nationally. The 16 teams that had at least six non-offensive touchdowns were a combined 130-66 (.653) in 2013, with eight of them winning at least 10 games (including both teams that played for the national title).
2014 outlook:
Big plays on D and special teams can be maddeningly inconsistent. When they happen, they can be game-changers, but they're notoriously tough to predict. Still, Duke returns athleticism in the return game and in the secondary, which should open up options, and if the Blue Devils' offense can force opponents into shootouts, the D will have its chances to take a few more INTs to the house.
December, 7, 2013
12/07/13
7:00
AM ET
It's certainly not the matchup most fans expected way back in August, but Florida State and Duke will face off Saturday night in the ACC championship game. At stake for Duke is history, its first trip to a BCS bowl game and its first conference title since 1961. For Florida State, however, there's even more on the line. With a win, the Seminoles are all but guaranteed a shot to play for a national championship. The pundits heavily favor Florida State, but there's still plenty to watch for when the Seminoles and Blue Devils kick off in Charlotte.


1. Big game or business as usual?
For Florida State, ACC championship game weekend is old hat. The Seminoles were here just last year, after all, and this marks their third trip in Jimbo Fisher's four years as coach. Fisher even began tweaking the team's travel schedule earlier this season to prep for the distractions this weekend would bring. For Duke, however, its division title comes as a mammoth surprise, and none of these players had played in a game of this magnitude. Experience is clearly on Florida State's side, but Duke has managed to live up to big moments all season, and while players might be new to a conference championship game, David Cutcliffe is not. He'll have the Blue Devils prepared.
2. History as a guide:
The numbers are ugly for the Blue Devils: In 18 previous meetings with Florida State, they've gone 0-18, lost by an average of 34 points, and never finished a game within two scores of a win. Yes, Duke already has had a history-making season, so perhaps a little more history is in the works. But if that's the case, Florida State will need to buy into the conventional wisdom and come out slow, while Duke will need to forget everything that has come before.
3. Winston vs. Duke's DBs:
Jameis Winston
looks poised to win a Heisman Trophy, and he has been spectacular all season. He'll be a focus for Duke, but the Blue Devils' secondary has shown a propensity for big plays. After allowing 10 pass touchdowns in its first two ACC games of the year, Duke's secondary has allowed only six more in its next six games, while racking up 12 interceptions.
Ross Cockrell
and
DeVon Edwards
have led the charge, but they've not faced a challenge as immense as Winston. Florida State has four receivers ranked in the ACC's top 11 in yards per catch, and Winston loves going for the big play.
4. Crowder vs. FSU pass defense:
Asked earlier this week about the danger presented by Duke's
Jamison Crowder
, the ACC's leading receiver, FSU safety
Terrence Brooks
smiled. The Seminoles' secondary isn't afraid of anyone, he said, and it will take more than one weapon to beat them. It might sound a bit overconfident, but Brooks has the numbers to back up his boasts. Florida State ranks No. 1 in the nation in pass defense, and its 23 interceptions are tops in the country.
5. Ground gains:
Florida State's backfield rotation is running wild, averaging 9 yards per rush with nine touchdowns in its last three games.
Devonta Freeman
is now just 148 yards shy of rushing for 1,000 yards, and he has been stellar in two previous games against Duke. Meanwhile, the Blue Devils will want to establish the run, too, but might face a tough obstacle in doing so. Florida State's first-team defense hasn't allowed a rushing touchdown all season, and on first down, the Seminoles are allowing just 3.2 yards per carry -- the sixth-best rate in the country.
December, 5, 2013
12/05/13
10:15
AM ET
So it comes down to this. No. 1 Florida State and No. 20 Duke square off in Charlotte, N.C., with the ACC title on the line, and with much more at stake for the Seminoles, who are a win away from a berth in the national title game. Here are a few things to keep an eye on Saturday night (8 ET, ABC) when both teams take the field:
[+] Enlarge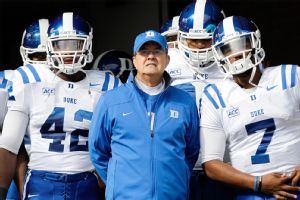 Ellen Ozier/USA TODAY SportsDavid Cutcliffe and Duke are out to shock the college football world and upset No. 1 Florida State.
1. The noise factor.
No, we're not talking about the volume of the crowd here. We're talking about the external factors going into this game for both teams. Duke has been written off as a four-touchdown underdog, has been criticized for its allegedly easy path to the Coastal Division title and has been told over and over again that it has no business being in this game. Florida State, meanwhile, will know the outcome of the
Jameis Winston
saga by kickoff. How each responds emotionally once the game is underway is worth watching.
2. Red zone efficiency.
Florida State ranks at or near the top of the ACC in most statistical categories, including red zone efficiency (No. 1 in offense, No. 2 in defense). Duke, on the other hand, is ranked near the middle of the pack in most categories, but the Blue Devils are No. 4 in red zone defense, which does not exactly underscore just how good they have been in recent weeks when pressed inside their own 20 (six touchdowns allowed in their last five games, after surrendering 15 in their first seven). If the Blue Devils can hold the Seminoles to some field goals on what are likely to be several trips into their territory, or even force a turnover or two, they will give themselves a chance to pull off a monumental upset.
3. Special teams.
What will help Duke even more? Big special-teams plays. And the Blue Devils have excelled in that department. They are No. 2 in the ACC in punt return average (13.6), yards and touchdowns (two), and they lead the conference in kickoff return average (26.2) and touchdowns (two). Can
DeVon Edwards
and/or
Jamison Crowder
come through again for Duke? It certainly would not hurt to steal a few points in the third phase of the game if the Blue Devils want to crash the BCS and help re-shape the national title picture.
December, 5, 2013
12/05/13
9:00
AM ET
AA put some distance between herself and HD with the picks last week. HD admits she choked with the vaunted predictions trophy on the line, going 4-5 in Week 14. AA kept chugging, going 7-2 to open up a four-game lead on HD in the overall standings. AA stands at 85-23 as we head into the postseason. Seems like a pretty insurmountable lead at this point.
No headway to be made this week, either -- not when the easy choice to win the ACC championship game is Florida State. Here is how we both see the game playing out.


AA picks:
Exactly zero media prognosticators had Florida State playing Duke in the ACC championship game when the season began. Of the 120 ballots tabulated, only 15 declared the Seminoles their preseason choice to win the ACC. That handful of voters will turn out to be right after Saturday comes to a close. Florida State is too talented and too deep to have much of a problem with the Blue Devils. Duke has been such a terrific story to watch unfold throughout the course of the season, and the Blue Devils do have some rising stars in
Jamison Crowder
,
Kelby Brown
,
DeVon Edwards
and
Jeremy Cash
. They deserve an inordinate amount of credit for turning around a moribund program. But they still have a ways to go to match the upper echelon not just in the ACC, but in the nation. Florida State lost 11 NFL draft picks off last season's team; Duke has had eight players drafted in the last 20 years. So you see the talent disparity. Duke has never beaten Florida State and has lost by an average margin of 34.5 points per game. The Blue Devils are a much better team than they were the last time these teams played last season. But the problem for Duke? Florida State is a much better team, too.
Florida State 48, Duke 10.
HD picks:
The magic ends here, where good meets great. Duke will play better than many expect, as it has an opportunistic defense and the ACC's coach of the year, but it won't be enough to overcome the matchup problems the Noles' elite talent will create. This won't be as ugly as it was last year during the regular season, but it won't be pretty, either. Duke has recruited talent and speed, but not enough to match the likes of wide receiver
Kelvin Benjamin
or quarterback
Jameis Winston
. Florida State will win the turnover battle, and Duke's defense will give up too may big plays and struggle to get FSU off the field on third down. FSU has given up more than 17 points just once this season (to Boston College). Duke's preparation, discipline and determination will get it to 20, but it will only be good enough for a moral victory.
Florida State 45, Duke 20.
December, 2, 2013
12/02/13
11:00
AM ET
That does it for the ACC regular season, which has left us with Duke and Florida State to play for the league's crown Saturday in Charlotte, N.C. Before we get there, however, we will take one look back at the week that was in our weekend rewind.
[+] Enlarge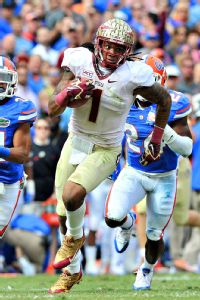 Steve Mitchell/USA TODAY SportsOnly Duke stands in the way of Kelvin Benjamin and FSU playing for the national title.
The good.
There is a new No. 1 in town, as Florida State tops the latest BCS standings after taking care of business in Gainesville, Fla., before watching previously top-ranked Alabama fall at Auburn. While the politicking between the now-No. 3 Tigers and No. 2 Ohio State will wage over the next week (and likely beyond), the Seminoles are now left with a simple formula: Beat Duke on Saturday, and they will close their season in Pasadena, Calif., playing for all the marbles. (Oh, and
Kelvin Benjamin
had himself a pretty nice day for the Noles, too.)
The bad.
It was a weekend of blown opportunities for the ACC against the SEC, which got the upper hand in three of four matchups. After FSU beat Florida -- as it should have -- Georgia Tech blew a 20-0 first-half lead and fell at home in double overtime to an
Aaron Murray
-less Georgia 41-34. Wake Forest let a four-point lead late get away at Vanderbilt, which kicked a pair of fourth-quarter field goals to escape with the victory. And then, for the cherry on top, Clemson turned the ball over six times to drop its fifth straight to rival South Carolina.
The ugly.
Virginia fell to Virginia Tech 16-6, a fitting margin of defeat for a team that has now dropped 10 straight to the rival Hokies in the Commonwealth Cup, and one that has now ended the season on a 10-game slide. NC State did not fare much better, as Maryland beat the Wolfpack 41-21, in the Terrapins' final ACC game, meaning NC State also finishes winless in conference play under first-year coach Dave Doeren, losing its last eight and nine of its final 10. Kudos to Florida State for carrying the ACC flag to the top overall ranking this year, but the bottom of the league was as ugly as ever in 2013.
Now what?
These last few years are tough to put in perspective for Clemson. Dabo Swinney and
Tajh Boyd
have, in some ways, taken the Tigers to new heights, amassing great recruiting classes and breaking records. At 10-2, Clemson has its third straight season with double-digit wins; it had not posted consecutive 10-win seasons since 1989-90. At No. 13 in the BCS standings, a second Orange Bowl berth in three years remains a real possibility. Yet Swinney and Boyd are 0-5 against rival South Carolina, and just 2-3 against top ACC competitor Florida State -- including an 0-4 mark against those teams in the last two years while going 21-0 against everyone else. The Tigers deserve credit for taking a sledgehammer to the word "Clemsoning" and erasing it from everyone's vernacular in recent years, but knowing that it still came up short against its toughest foes during a historic run has to be a tough pill to swallow, especially with no sign of the Seminoles slowing down.
Happy Thanksgiving.
Pitt might have had a Black Friday to forget, as it lost at home to Miami,41-31. But the Panthers can be forgiven if they were in an extra-festive mood Thanksgiving night. That's because Mississippi State topped Ole Miss in the Egg Bowl, assuring the SEC of 10 bowl-eligible teams and, more importantly, eliminating the potential vacant spot in the BBVA Compass Bowl, where Pitt has closed its last three seasons in Birmingham, Ala. Happy Thanksgiving, indeed.
[+] Enlarge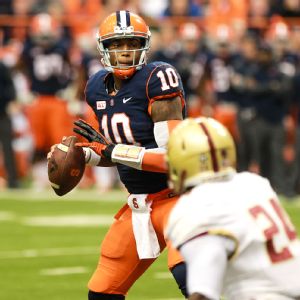 Kellen Micah/Icon SMITerrel Hunt came up big to get Syracuse bowl eligible with a win over Boston College.
Bowl-bound.
Syracuse extended its season by the slimmest of margins, as
Terrel Hunt
hit
Josh Parris
for an 8-yard touchdown pass with six seconds remaining to deliver a 34-31 win over Boston College for victory No. 6. Hunt played his best ACC game yet, completing 29 of 43 passes for 270 yards with two touchdowns and one pick. He also ran for 90 yards and another score. And now both newcomers, Syracuse and Pitt, are bowl-eligible in their first seasons in the ACC. Not too shabby.
Heisman hopes hurting.
While it was a day of celebration for the Orange, it might have also been a blow to Boston College's hopes of getting its first Heisman Trophy winner since Doug Flutie.
Andre Williams
left the game with an injury in the third quarter, meaning his final impression on the voters was a line of nine carries for 29 yards and a touchdown. Syracuse and Ohio State now remain the only teams in the nation not to allow a 100-yard rusher this season. Williams still has a solid chance of making it to New York for the Heisman ceremony, but you have to think his chances of winning the trophy now are slim.
DeVon, again.
DeVon Edwards
can change a game in an instant, as evidenced by his consecutive pick-sixes -- and kickoff returns for a touchdown -- in Duke's win over NC State earlier this month. But the versatile 5-foot-9 redshirt freshman was not done for the month, as he made it a November to remember by returning a kickoff 99 yards for a score and then coming up with the game-sealing interception in the Blue Devils' 27-25 win at North Carolina to clinch a spot in the ACC title game. Coach David Cutcliffe was carried off the field after the win, Duke's record 10th of the season. It will now take aim at the Seminoles as it goes for its first ACC title since 1989.
December, 1, 2013
12/01/13
9:00
AM ET
The 2013 regular season is officially in the books, and if you had Florida State and Duke playing for an ACC championship way back in August -- well, you're probably lying. But both the Seminoles and the Blue Devils finished strong in Week 14, and they weren't alone in wrapping up the regular season on a high note.

Florida State WR Kelvin Benjamin:
In the last five seasons, 44 teams haven't mustered as many yards through the air against Florida's defense as Benjamin racked up by himself Saturday. The FSU sophomore caught nine passes for 212 yards and three touchdowns, becoming the first Seminoles receiver to crack the 200-yard mark in 11 years. What's more astounding is that Benjamin might've had an even bigger day. He dropped two passes that could've gone for big gains and QB
Jameis Winston
narrowly overthrew him on a third that appeared a sure touchdown.
Duke CB DeVon Edwards:
The redshirt freshman has been astounding in 2013, leading Duke's defense all year, but Saturday's performance was a perfect finishing touch on a historic regular season. Edwards returned a kickoff 99 yards for a touchdown (his fourth TD of the year) and picked off a pass from UNC quarterback
Marquise Williams
to secure the win -- the 10th of the season for the Blue Devils, who will now advance to the ACC championship game against Florida State. Edwards finished with eight tackles in the game.
Maryland QB C.J. Brown:
In the final game Maryland will play as a member of the ACC, Brown provided a spectacular send-off. In sending NC State to a winless season in conference play, Brown was dominant, completing 13 of 25 passes for 259 yards and two touchdowns through the air, while adding another 138 yards on 15 carries with three more touchdowns on the ground. Saturday marked Brown's fourth 100-yard rushing day this season and the third time he's tallied at least four TDs in a game.
Miami WR Stacy Coley:
The Hurricanes played on Friday, with lingering Coastal title hopes still on the line, and Coley put on a show. The freshman receiver hauled in a pair of touchdown receptions and added a 73-yard end-around for another score. For the game, Coley racked up 171 all-purpose yards as Miami edged Pitt for its ninth win of the season. Coley finished the regular season with 1,428 all-purpose yards, the third-most by any true freshman in the country.
Syracuse QB Terrel Hunt:
With bowl eligibility on the line and Syracuse trailing by 4 points with six seconds to play, Hunt hit tight end
Josh Parris
for an 8-yard touchdown pass -- just his third TD pass in conference play this year. Hunt wasn't perfect Saturday, but he turned in his best ACC game to date, completing 29 of 43 passes for 270 yards -- hooking up with nine different receivers -- with two TDs and an interception. He added another 90 rushing yards and a touchdown on the ground.
November, 11, 2013
11/11/13
11:00
AM ET
Florida State is now in full control of its championship destiny. Miami needs to get its act together. Duke is delaying interest in basketball season in Durham (OK, probably not) and several surprise teams are making their pushes toward the postseason. All that and more in our ACC weekend rewind:
The good:
Let's face it: The ACC's surest path toward national respect is by winning it all, something it has not come close to doing in recent years. And, fair or unfair, the only way an ACC team was going to become a serious player in that title conversation this year was if Alabama or Oregon lost. So Stanford's Thursday night shellacking of the Ducks was surely celebrated by the folks of Tallahassee, Fla., who then watched their beloved
Florida State Seminoles
punctuate the weekend with a 59-3 stomping of Wake Forest. The formula is simple now for FSU: Just win, something the program has been doing with relative ease so far this season.
[+] Enlarge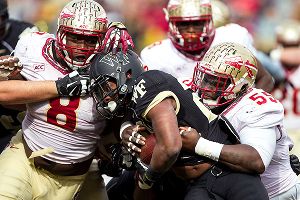 Brian Westerholt/Four Seam Images/AP ImagesFlorida State's defense throttled Wake Forest as the Seminoles continued their BCS title run.
The good, pt. II:
Play the way the Seminoles' defense did Saturday in Winston-Salem, N.C., and you get a second category in your honor. They held the Demon Deacons' quarterbacks to a total QBR of zero for the game, the first time that has happened for a team in a game this season. They forced seven turnovers, picking off six passes while returning turnovers for touchdowns on consecutive plays. Wake Forest's three quarterbacks combined to complete seven passes to their own players, which was just one more than they completed to FSU defenders.
As our David Hale noted
, from the 7:15 mark of the first quarter to the 10:31 mark of the second, FSU ran four offensive plays and scored 28 points.
The bad:
Miami entered Tallahassee last weekend as a top-10 team looking to make some noise if it could manage a respectable showing against the rival Seminoles. Two games later, and the Hurricanes have seen their Coastal Division frontrunner status fly away after consecutive losses to FSU and Virginia Tech, which turned three key Miami special teams gaffes into 21 points, resurrecting their own chances at making the ACC title game. Kudos to
Logan Thomas
for putting consecutive forgettable outings behind him by completing 25 of 31 passes for 366 yards with two touchdowns and no picks.
The ugly:
Virginia's 45-14 loss at North Carolina was its seventh straight loss, its most in a single-season since 1981. The Cavaliers had little margin for error to begin with, but did themselves no favors by surrendering a pick-six and a punt return for a score to the resurgent Tar Heels, who have now won three straight games and are knocking on the door of bowl eligibility at 4-5 after a 1-5 start. Craig Littlepage has voiced his support for Mike London so far this season, but you have to wonder how much that will change with each passing loss.
The clutch:
Sure, ruining Notre Dame's national title hopes in South Bend, Ind., last year would have been sweeter. But Pittsburgh's 28-21 home upset of the No. 23 Fighting Irish was nonetheless a high mark for the program, which recorded a signature win for second-year coach Paul Chryst and delivered the Irish's BCS bowl hopes an early knockout blow.
Ray Vinopal
keyed a strong defensive performance for the Panthers, coming up with a pair of fourth-quarter interceptions and forcing a fumble early. Now Pitt is just one win away from bowl eligibility with three games remaining.
The hat trick:
Andre Williams
outdid himself in Boston College's 48-34 win at New Mexico State, as he broke the 200-yard mark for the third time this season. Williams set an Eagles single-game record with 295 yards rushing on 30 carries, including a go-ahead 80-yard score and a game-sealing 47-yard touchdown on the next possession. What more can you say about the senior? He now leads the
nation
in rushing yards with 1,471. His 163.4 rushing yards per game are also a national best, nearly 11 full yards per game clear of the No. 2 man, Arizona's
Ka'Deem Carey
. BC is now 5-4, three wins past last season's total and, more importantly, a victory away from bowl eligibility.
The hat trick, pt. II:
Duke redshirt freshman
DeVon Edwards
had a day for the ages, recording two pick-sixes -- one of 25 yards, the other of 45 -- on back-to-back NC State plays within 16 seconds of each other and returning a kickoff 100 yards for a touchdown in the Blue Devils' 38-20 win, their fifth straight victory. Edwards became the first Duke player with two pick-sixes in a game since Leon Wright against Army in 2009 and became the first Blue Devil to return a kickoff for a score since
Jabari Marshall
against UConn in 2007. Edwards was named the national defensive player of the week by the Walter Camp Football Foundation for his efforts. He added 10 tackles, too.
The brick wall:
So, it's unlikely that anyone will confuse this year's Syracuse defense with 2011 Alabama, 2008 USC or any other greats of recent memory. But after losing to Georgia Tech 56-0 the Orange have been on a roll, pitching 113 straight minutes of shutout ball over the past two-plus games before
Brad Craddock
's 23-yard field goal got Maryland on the board with 1:10 left in the third quarter Saturday. That would be all the Terrapins could manage in a 20-3 loss to an Orange team now 3-2 in its first season of ACC play and 5-4 overall, just one win shy of bowl eligibility. Syracuse forced four turnovers and held Maryland to 292 yards of total offense, though the challenge gets amplified
just
a bit this weekend when it travels to Florida State.
The class act:
Hats off to
Marquise Williams
, who became North Carolina's starting quarterback for the rest of the season after
Bryn Renner
underwent season-ending shoulder surgery this week. Williams, normally No. 12, wore Renner's No. 2 in honor of the injured senior, and he completed 15 of 28 passes for 185 yards with two touchdowns and one pick while adding 46 rushing yards and another touchdown in the Tar Heels' win over Virginia. Oh, and he caught a 29-yard touchdown pass for good measure, with
Quinshad Davis
it to make Williams the first North Carolina quarterback to catch a touchdown pass since 1984, when Kevin Anthony did the same against Virginia.
The headaches:
Good luck trying to sort out the potential scenarios for a Coastal Division winner after Virginia Tech's upset of Miami and Duke's win Saturday, which helped leave the division with four teams with two losses apiece. And good luck trying to sort out all of the possible bowl destinations for a number of ACC teams after a week in which conference newcomers Pitt and Syracuse inched their way closer to postseason play with upset wins to get to five victories apiece. Boston College got to five wins, too, while Maryland remains at five after the loss to the Orange. North Carolina is making a push at 4-5 and on a three-game winning streak, and there are already six bowl-eligible teams. So yes, there could be 11 teams bowling in the ACC this winter. Not bad.
November, 10, 2013
11/10/13
10:00
AM ET
What did we learn in the ACC in Week 11? Glad you asked.
1. Florida State controls its national championship destiny.
The nation watched No. 3 Oregon lose to No. 5 Stanford on Thursday, then saw No. 2 Florida State completely dominate Wake Forest 59-3 Saturday to clinch a spot in the ACC title game. There is little doubt the Seminoles will remain at No. 2 when the BCS standings are released later Sunday. Nor is there any real doubt Florida State is one of the best teams in the country, not after a third win this season by 50 or more points. Florida State has won all nine of its games by double figures and got big-time contributions from its defense and special teams against the Deacs. The Noles ended up with six interceptions -- nearly the same number of Wake Forest pass completions (seven). There are other unbeaten teams lurking, namely Ohio State and Baylor, but Florida State is in control of its championship destiny.
[+] Enlarge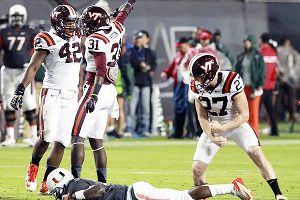 Charles Trainor Jr./Miami Herald/Getty ImagesVirginia Tech left Miami lying helpless and reinserted itself into the Coastal Division race.
2. The Coastal, however ... up for grabs!
If you thought this weekend would provide a much clearer picture in the Coastal, then you do not truly know ACC football. Four teams have two conference losses each -- Miami, Virginia Tech, Duke and Georgia Tech. So start getting yourselves reacquainted with the
tiebreaker scenarios
that seem to come into play just about every season. The Hokies put themselves back into the thick of the race with a 42-24 win over Miami on a rainy Saturday night, thanks to a mistake-free performance from
Logan Thomas
and some pretty shoddy special teams play from the Canes. Duke sat on the brink of disaster against NC State, trailing 20-17 with 6:37 to go. The Blue Devils benched starter
Anthony Boone
after an uneven performance.
Brandon Connette
delivered the game-winning drive, then
DeVon Edwards
sealed the win with back-to-back pick-6s. Georgia Tech was off and needs a win over Clemson on Thursday night to keep its hopes alive. The lucky winner to emerge from this muddled mess gets to play Florida State in the ACC championship game.
3. Miami falling back to earth.
We all saw the warning signs that Miami was not as good as its ranking when it struggled to beat North Carolina and Wake Forest in back-to-back weeks. Now the Canes are back to reality after consecutive losses to Florida State and Virginia Tech. Miami was able to get away with turnovers early in the season, but the Hokies made them pay for their mistakes. Two early fumbles on special teams led directly to 14 Virginia Tech points, and Miami could never seem to recover. Perhaps most disheartening for Miami -- the loss was the worst defensive performance of the season, against an offense that ranks among the worst in the nation. The Hokies scored more points and gained more yards on the Canes than the Noles did last week. Miami has given up 400 yards or more in four of its last five games. And the run game without
Duke Johnson
? Miami ended up with 28 yards rushing, its lowest total since gaining 29 against Florida State last year.
4. Breakthrough win for Pitt.
It was easy to doubt the Panthers heading into their game against Notre Dame. They entered the contest off back-to-back losses, and their run game was nearly nonexistent. But something about the Irish brings out the best in Pitt, which came oh-so-close to pulling the upset in each of the previous two seasons. Well, the Panthers finally broke through Saturday night, forcing three turnovers and getting inspired play from their offensive line and
Tom Savage
in a 28-21 win. It certainly helped Pitt's cause that Notre Dame's
Stephon Tuitt
was ejected on a questionable targeting call early in the game, further depleting an injury-riddled group. But Pitt earned this win. The Panthers moved one victory away from bowl eligibility and gave coach Paul Chryst victories over ranked teams in consecutive seasons.
5. Bowl mania.
Six teams are already bowl eligible, but the ACC could have as many as 11 by the time the season ends. Four teams have five wins: Maryland, Syracuse, Pitt and Boston College. North Carolina has four wins but has won three straight after a 1-5 start and is now in contention to get to six. How did the ACC get here? Syracuse once again used its power run game in a 20-3 win over Maryland, winning its second straight contest. Boston College also used its power run game to win a tricky contest over New Mexico State. We know what Pitt did Saturday. Interestingly enough, Maryland might have the worst chance of becoming bowl eligible out of this group. While North Carolina is on an upswing, the Terps have lost three straight following a 5-1 start with games remaining against Virginia Tech, Boston College and NC State. There are winnable games in that bunch, but not if Maryland commits four turnovers the way it did against Syracuse. Key injuries on both offense and defense have severely hampered this squad.
November, 10, 2013
11/10/13
9:00
AM ET
How about a few helmet stickers for a job well done:

Boston College running back Andre Williams.
The best rusher in the ACC topped himself in a 48-34 win over New Mexico State. Williams ran for a career-high 295 yards, setting the school single-game rushing record. Montel Harris set the old mark of 264 yards in 2011. Williams now owns two of the top three single-game marks in school history. His performance late in the game was outstanding. With the game tied at 34, Williams scored the game-winning touchdown on an 80-yard run. He added a 47-yarder on the next possession to officially put the game out of reach. Williams has three 200-yard games this season.
Duke safety DeVon Edwards.
The redshirt freshman became the only FBS player in the last 10 years with three non-offensive touchdowns in a game in a 38-20 win over NC State. Edwards scored on a 100-yard kickoff return and then returned two interceptions for scores on back-to-back offensive plays. The 100-yard kickoff return tied for the second longest in Duke history. His 218 total yards ranks second all-time among Duke freshmen in a single game (Desmond Scott, 259 yards against Wake Forest in 2009).
Florida State defense.
The Seminoles had perhaps the most dominating defensive performance in the ACC this season, forcing seven turnovers and scoring twice in a 59-3 win over Wake Forest. The Noles tied a school record with six interceptions -- one returned for a touchdown.
Jalen Ramsey
also returned a fumble for a touchdown, giving the Noles five defensive scores this season, tied for the most since 2007. Freshman safety
Nate Andrews
, making his first career start, had two interceptions (including the score) and forced the fumble Ramsey returned for the TD. Wake Forest had a Total QBR of 0, the only team this season with a team Total QBR of 0 in a game. Florida State has now forced a turnover in 14 straight games.
North Carolina QB Marquise Williams.
North Carolina players dedicated their game against Virginia to quarterback
Bryn Renner
, lost for the season with a shoulder injury. Williams paid the ultimate tribute, wearing Renner's No. 2. He then went out and had a monster game, with passing, rushing and receiving touchdowns in the 45-14 win. Williams completed 15 of 28 passes for 185 yards; rushed 16 times for 46 yards; and caught a 29-yard touchdown pass from
Quinshad Davis
. He is the first Carolina quarterback to catch a touchdown pass since Kevin Anthony in 1984 -- against Virginia.
Pitt safety Ray Vinopal.
The Panthers may not have beaten No. 23 Notre Dame 28-21 without Vinopal, who had two critical interceptions in the fourth quarter to key the impressive win. On the first, Vinopal intercepted
Tommy Rees
in the end zone to end one drive. On the second, he returned his interception down to the 5, setting up the game-winning Panthers score. Vinopal also had a forced fumble early in the game, making him solely responsible for all three Irish turnovers.
Virginia Tech quarterback Logan Thomas.
For the second straight week, Thomas had over 400 yards total offense. But in a 42-24 win over Miami, the number that stood out was zero. Thomas combined his terrific passing game -- 25-of-31 for 366 yards and two scores -- with no turnovers. That has been the familiar bugaboo the last two weeks, both losses. Thomas had eight turnovers next to his name. But against Miami, he had his best game of the season with his team's Coastal Division hopes on the line. Thomas came through big time.