October, 20, 2012
10/20/12
6:07
PM ET
KNOXVILLE, Tenn. -- Greetings from Neyland Stadium!
The sun isn't really out, but the weather is just about perfect here. Tailgates were going hard for the Third Saturday in October.
Not a lot of people are giving Tennessee a chance in today's matchup with No. 1 Alabama, but don't sleep on the Vols' passing attack. The Tide's secondary came into the season younger and less experienced than last year's unit, and it really hasn't been tested this season. Now, the play up front has been a big reason, but this is easily the best passing game Alabama has faced to this point.
Tennessee quarterback
Tyler Bray
is passing for almost 300 yards a game and leads the SEC with 16 touchdown passes. He also has
Justin Hunter
and
Cordarrelle Patterson
to work with out there. Don't be surprised if he makes a few plays early on this secondary.
The key for Tennessee's offense is balance. If the Vols can't run the ball, Bray won't be able to be as affective throwing the ball against this swarming Alabama defense. That'll be tough for the Vols with running back dealing with an ankle injury. He's been listed as doubtful this whole week and hasn't done much during warmups. That leads
Devrin Young
and
Marlin Lane
to carry the load. Young and Lane have combined for 301 rushing yards compared to Lane's 500 on the season.
Alabama hasn't had to be flashy this year, and expect that again tonight. This team feeds off its running game and just pounds teams in the second half. Now,
AJ McCarron
might have the opportunity to throw it around a bit with Tennessee's defense reeling right now. McCarron has the ability to stretch the field, and he might get to more tonight.
Tennessee coach Derek Dooley will also be coaching down on the field today after hip surgery. He won't be moving around a lot, but he'll be down there.
October, 14, 2012
10/14/12
3:54
AM ET
STARKVILLE, Miss. -- Fittingly, senior offensive guard
Tobias Smith
was the last player out of the Mississippi State locker room late Saturday night.
With cowbells still clanging in the distance, he limped out wearing a smile as wide as his massive barrel chest.
Talk to coaches or players, and they'll tell you the same thing: Smith is the heart and soul of this football team. He's fought through injuries his entire career, including a nasty knee injury a year ago.
But he just keeps chugging along, a lot like the Bulldogs, who have been fighting for respect this entire season despite rising to No. 19 in the polls.
Their
41-31 victory
over Tennessee should quiet some of the doubters, at least for now.
"That's all we've been hearing, who we hadn't played and how our schedule was soft," said Smith, who left the game in the second quarter after re-injuring his knee, but returned for both of Mississippi State's fourth-quarter touchdown drives.
"We have a lot of faith in each other and a lot of faith in our coaches, and we know what kind of team we are. We showed it tonight."
Something else the Bulldogs showed (and have been showing all season) is that they're learning how to win.
When they need a play, somebody's there to make it.
"What's happened for us is that in years past during big times in the game, everybody kind of looked around," Mississippi State coach Dan Mullen said. "This year, everybody's like, 'Give me the ball. I'm going to be the one to make the play.'
"It's not just one guy, either."
[+] Enlarge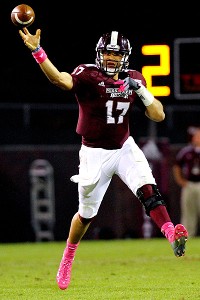 Spruce Derden/US PRESSWIRE]Mississippi State's Tyler Russell completed 23 of 37 passes for 291 yards and two touchdowns against Tennessee.
Take your pick from Saturday.
There was
Johnthan Banks
' strip of Tennessee running back
Devrin Young
on the sideline in the fourth quarter when it looked like the Vols might be putting together a drive to go ahead. The Bulldogs led 27-24 at the time and turned Banks' big play into a touchdown three plays later.
"Hopefully, we'll get the respect we deserve now, because our team's for real," Banks said.
On offense, the Bulldogs started fast, then hit a lull, but closed with a flurry.
Junior quarterback
Tyler Russell
passed for a career-high 291 yards and two touchdowns. He now has 12 touchdown passes this season and only one interception.
He was at his best in the game-clinching drive when he hit
Chad Bumphis
for 10 yards on a third-and-7 play. Russell had the presence to change the play at the line and went to his third option. Later in that same drive, he scrambled away from pressure and connected with Bumphis for 23 yards.
And on his final touchdown toss, he lofted one to the back of the end zone for a leaping
Malcolm Johnson
in the final seconds.
"Tyler missed some reads earlier and could have very easily gotten flustered, but he just stays calm and makes the plays he needs to," Mullen said.
That's been the trademark of this entire team, which is why Mullen didn't fret during the first five games, when the Bulldogs tended to play down to their competition.
Coming into Saturday's game, Mississippi State's toughest test had probably come against Troy on the road. The Bulldogs' other victims were Jackson State, South Alabama, Kentucky and Auburn, so it's not exactly been a murderer's row for Mississippi State.
That's what made the Tennessee game so important.
"Our locker room was ridiculous," Banks said. "Ya'll can't imagine what our locker room was like. This is the biggest win probably since I've been here."
Now, we find out what Mississippi State does with it. This is the first time the Bulldogs have been 6-0 since 1999.
Up next is Middle Tennessee at home, and then comes a wicked stretch that begins with Alabama on the road. But a victory over Middle Tennessee would ensure a third consecutive winning season for the Bulldogs, and the last time that happened was 1997-2000, when they had four straight under Jackie Sherrill.
"We're halfway," Mullen said. "It's been a great first half with a lot of football to play."
That may be, but the Bulldogs have some doors open to them that haven't been open for a long time.
"Four years ago, we went out and sold these kids on being able to build something special here in your home state of Mississippi," Mullen said. "We've had 20 straight sellouts now. The atmosphere was unbelievable, and these kids believe in what we're doing, believe in themselves and believe in each other.
"It all shows out there on the field."
October, 14, 2012
10/14/12
12:57
AM ET
STARKVILLE, Miss. -- With cowbells clanging away, Mississippi State remained unbeaten Saturday night with a
41-31 victory
over Tennessee at Scott Field.


Here's an instant analysis from the game:
It was over when:
After Tennessee had pulled within 34-31 with a little more than five minutes to play, Mississippi State put together the game-clinching touchdown drive, which was capped by
Malcolm Johnson
's one-handed touchdown catch in the back of the end zone. The big play in the drive was
Tyler Russell
's 10-yard pass to
Chad Bumphis
on a third-and-7 play over the middle. Russell came back later in the drive, and was able to scramble and hit Bumphis for 23 yards down to the Tennessee 23.
Turning point:
With Mississippi State leading 27-24, Tennessee running back
Devrin Young
was stripped of the ball on the sideline by
Johnthan Banks
, who pounced on it at the Vols' 30-yard line with 9:12 remaining. Mississippi State scored three plays later to take a 10-point lead with just less than eight minutes to play.
Game ball goes to:
Russell finished with a career-high 291 passing yards. He was 23-of-37 with a pair of touchdown passes and no interceptions. In three SEC games this season, he's thrown seven touchdown passes and no interceptions.
Key stat:
Mississippi State is off to its best start since 1999, when the Bulldogs played in the Cotton Bowl.
Key stat 2:
Tennessee quarterback
Tyler Bray
was held to 148 passing yards, his lowest output as a starter.
What it means:
Mississippi State (6-0, 3-0) gained the legitimacy it was looking for with its biggest win of the season. The No. 19 Bulldogs likely will now go into the Alabama game Oct. 27 unbeaten; they get Middle Tennessee at home next week. The Vols (3-3, 0-3) are now looking at a long October. They get Alabama at home next week and then South Carolina on the road after that.
May, 23, 2012
5/23/12
10:56
AM ET
Our look at the SEC's most productive returning players in 2012 continues with a look at the league's top returning kickoff returners.
Past producers:
The SEC returns seven of the top 10 kick returners from 2011. The top three returners are back, so kickers beware. However, the ball will now be moved forward five yards to the 35-yard line for kickoffs, meaning returns should occur less often. But that also means they'll now be more important. We're going by average per return.
Note: To qualify, a player must have at least one return per team's games played
. This is one of the most exciting plays in football and here's a look at the SEC's top returner:

Tre Mason, RB, Auburn:
He returned 24 kicks for an average of 26.4 yards per return, had a long of 97 yards and recorded a touchdown. Mason dealt with being in a crowded backfield by making a name for himself in the return game during the first half of the season. He did most of his damage in the first two weeks, grabbing 10 returns for 348 yards and had a touchdown in the season opener against Utah State. He saw his production dip as the season went on because of injuries and his fumbling issues. He eventually lost his job, but could he make a comeback for his crown in 2012?
The SEC returns six more of the top kickoff returners in 2012:
Andre Debose, WR, Florida:
He returned 19 kicks for an average of 26.1 yards per return, had a long of 99 yards and registered one touchdown.
Dennis Johnson, RB, Arkansas:
He returned 18 kicks for an average of 25.6 yards per return, had a long of 98 yards and registered one touchdown.
Tobias Singleton, RB, Ole Miss:
He returned 21 kicks for an average of 24.6 yards per return and had a long of 47 yards.
Andre Hal, CB, Vanderbilt:
He returned 31 kicks for an average of 23.8 yards per return, had a long of 96 yards and registered one touchdown.
Devrin Young, RB, Tennessee:
He returned 27 kicks for an average of 23.3 yards per return and had a long of 67 yards.
Bruce Ellington, WR, South Carolina:
He returned 20 kicks for an average of 23.2 yards and had a long of 45 yards.
With kickoffs being moved up, we might see even less in the kick return game this fall. We could also see a new winner for this category if Mason doesn't get his job back. And with the amount of production he'll have on offense, his returns might get cut short anyway. Keep an eye on Mason's teammates,
Onterio McCalebb
and
Quan Bray
. McCalebb averaged 30.1 yards per return and had a touchdown on just 11 returns, while Bray averaged 24.2 on 10 returns.
Johnson has always been very dangerous in the return game. He entered the 2011 season as the SEC's active leader for career kickoff return yards and total return yards with 2,014 and he added 461 last fall. Johnson will likely have more steam to work with this fall with
Knile Davis
eating into his carries at running back. That will make him even tougher to stop in the return game and counting him out of the race for the return crown is just silly.
Debose was named the nation's top kick returner by the College Football Performance Awards in 2010, but has always had some issues with his decision-making in the return game. Still, there's no doubting his speed when he finds a hole. When he's focused, he's exciting to watch, but he's yet to keep his focus for an entire season as a returner.
LaDarius Perkins
will have more responsibility in Mississippi State's offense, but he was sometimes fun to watch in the return game.
Missouri receiver
T.J. Moe
averaged 23.3 yards on 26 kicks, but didn't return a kick longer than 49 yards. Still, he's shifty enough and has the vision to make a run at this thing.
February, 24, 2012
2/24/12
10:00
AM ET
Now that you've seen what to watch in the
SEC Western Division
, let's check out the East:

FLORIDA
Spring practice start date:
March 14
Spring game:
April 7
What to watch:
Finding offensive playmakers:
Year 2 of the Will Muschamp era begins with the team trying to find someone who can make a few plays for this fall. New offensive coordinator Brent Pease has a host of unproven offensive talent to work with. Wide receiver
Andre Debose
was Florida's best deep threat last year, and the coaches raved about receiver
Quinton Dunbar
's potential, but neither was consistent enough in 2011. Maybe Florida can finally turn to bigger backs
Mike Gillislee
and
Mack Brown
in the playmaking department.
Toughening up the offensive line:
The Gators' line struggled throughout the 2011 season. It wasn't always at 100 percent, but Florida's line also just wasn't tough enough -- mentally or physically. The Gators couldn't get the tough yards on the ground and didn't exactly protect quarterback
John Brantley
enough. The line should get a boost with early enrollees D.J. Humphries, who was the top offensive line prospect in the 2012 class, and Jessamen Dunker, but Florida will have to get improvement from players who return to a line that lost just one starter from last season.
Quarterback battle:
Brantley is gone, leaving rising sophomores
Jacoby Brissett
,
Jeff Driskel
and
Tyler Murphy
. Brissett replaced Driskel as Florida's No. 2 quarterback last year, while Murphy has yet to take a college snap. Brissett and Driskel had plenty of down moments last fall but should get a chance to reinvent themselves this spring with new leadership and more practice reps. This spring will be extremely important for all three quarterbacks as they try to improve a position that struggled mightily the past two years.

GEORGIA
Spring practice start date:
March 20
Spring game:
April 14
What to watch:
Isaiah Crowell's toughness:
Crowell has the talent to be a star in this league. He has the size and athletic ability to cause a lot of headaches for opposing defenses. However, his inability to stay healthy -- and in games -- became more of a headache for Georgia's coaches and fans in 2011. Crowell needs to get tougher and be more reliable. He said as much after last season, but it's time to make good on his word. Crowell could get a push from early enrollee Keith Marshall this spring, and we know coach Mark Richt isn't afraid to play multiple backs.
Position changes:
Richt made headlines recently when he said he'd be open to considering moving star freshman receiver
Malcolm Mitchell
to cornerback now that the Bulldogs are thin there. Maybe he'll play both ways. Also, rising sophomore
Ray Drew
could switch from outside linebacker to defensive end. He played both in high school. Georgia's offensive linemen also could play multiple positions up front.
The target on the Bulldogs' backs:
There will be a lot more attention paid to the Bulldogs this spring, as they will probably enter the 2012 season as the favorites in the SEC East. Georgia returns just about everyone from a team that reeled off 10 straight wins on its way to the SEC championship game. The Bulldogs aren't just considered the East front-runners -- they also are being viewed as national championship contenders. But the Bulldogs can't let the hype get to them. We've seen this team underachieve when the expectations were high before.

KENTUCKY
Spring practice start date:
March 21
Spring game:
April 21
What to watch:
Offensive line auditions:
The Wildcats must replace three offensive linemen this year. That process will begin this spring, and the good news is that veterans
Larry Warford
and
Matt Smith
return. Left guard
Kevin Mitchell
, who will be a junior this fall, started one game last year, while soon-to-be sophomore right tackle
Darrian Miller
started two games last fall, so there is some experience coming into the open spots.
Trevino Woods
, who didn't start a game last year, should be the favorite to play left tackle this spring, but he also can play guard. There's also a lot of depth to work with.
Defensive makeover:
Danny Trevathan
is gone, so Kentucky must find someone else to run the defense this season. There's no question that Trevathan was the heart of this defense, so replacing him won't be easy, but the Wildcats must find someone who can step up and be a player others can look up to. The Wildcats also lost six starters from their linebacking corps and secondary, meaning Kentucky will have to fill holes with youngsters.
Mikie Benton
and
Ridge Wilson
are the only returning starters not on the defensive line.
Maxwell Smith:
With fellow quarterback
Morgan Newton
sidelined this spring as he recovers from shoulder surgery, all eyes will be on Smith. He struggled at times last year, but Kentucky's offense was better when he was under center. Now, he'll have to make even bigger strides this spring if he wants to create a sizable lead in the race before Newton returns. Smith needs to work on his consistency, clean up his mistakes and develop better chemistry with his receivers.

MISSOURI
Spring practice start date:
March 6
Spring game:
April 14
What to watch:
Offensive adjustments:
Missouri might return some key pieces at skill positions, but the Tigers must replace three offensive linemen and will have to tweak some things to make their spread offense efficient enough to face SEC defenses. It helps that quarterback
James Franklin
is a runner and Missouri has speed and depth at receiver and running back, but the team must make subtle changes to combat the improved speed Missouri will see on defense, especially off the edge.
Rebuilding up front:
The Tigers will be without three starters on the offensive and defensive lines. That isn't exactly what any SEC team would like, considering games are won in the trenches in this league. Fortunately for Missouri, both sides saw multiple guys get playing time last season. Keep an eye on defensive end
Brad Madison
. He was viewed as a defensive player of the year candidate in the Big 12 last year but was limited by a shoulder injury.
Wide receivers:
Franklin had a heck of a 2011 season, but as he gets ready for 2012, he's still looking for a big-play threat in his receiving corps.
T.J. Moe
returns as the Tigers' leading receiver, while
Marcus Lucas
was fourth in receiving last year. Both have the potential to be elite in this league, but can one leave spring with the title of playmaker? Lucas showed flashes last year, but flashes only go so far. Missouri needs to find a definitive receiving threat.

SOUTH CAROLINA
Spring practice start date:
March 12
Spring game:
April 14
What to watch:
Marcus Lattimore's health:
His knee injury took place at the halfway point of the season, so he won't be 100 percent for a while. Still, the word is that he's ahead of schedule when it comes to rehabbing his knee. ACL injuries can be tough to manage, but with Lattimore's determination, he'll do everything possible to come back sooner than expected. He likely won't take contact this spring, but it'll be interesting to see whether the Gamecocks get much use out of him before summer.
Finding receiving options:
Now that
Alshon Jeffery
is gone, there's more pressure on South Carolina's receiving corps. Outside of Jeffery, the Gamecocks didn't have consistently reliable options in 2011. That has to change this year, and it starts with a productive spring.
Ace Sanders
should get more reps, and the coaches are excited about the big-play ability that speedster
Damiere Byrd
possesses. Also, keep an eye out for
Shamier Jeffery
, Alshon's little brother.
Connor Shaw's development:
Things couldn't have ended any better for South Carolina's quarterback last season. After an up-and-down start, he rebounded in the final three games with 896 combined yards passing and rushing and 11 touchdowns. Now, it's time for him to sharpen his passing skills and develop more confidence in his passing ability. Accomplishing that will help his receivers as well.

TENNESSEE
Spring practice start date:
March 26
Spring game:
April 21
What to watch:
New coaching feel:
The Vols enter spring practice with some new faces on the coaching staff. Six new assistant coaches will make their spring debuts this year. The most important might be defensive coordinator Sal Sunseri and running backs coach Jay Graham. Sunseri is working to make Tennessee more multiple in its approach, adding more 3-4 looks, while Graham will have to fix a struggling running game. Tennessee players will need to adjust to new coaching styles and buy in quickly this spring.
Running backs:
No group at Tennessee struggled quite like Tennessee's running backs last fall. The Vols were ranked 116th nationally in rushing offense and recorded just 11 rushing touchdowns (nine from running backs).
Tauren Poole
is gone, which means Graham will first turn to
Marlin Lane
and
Rajion Neal
, who combined for just 414 yards and four touchdowns last year.
Devrin Young
and
Tom Smith
will have to step up, while Tennessee will get some use out of early enrollee Alden Hill.
Justin Hunter's health:
Losing Hunter was the first of a few blows Tennessee's offense took last year. He's arguably Tennessee's best receiver and one of the best deep threats in this league. He suffered his ACL injury at the beginning of the season, and he's reportedly ahead of schedule but won't take any contact this spring. The goal is to have him running and cutting well at the end of the spring.

VANDERBILT
Spring practice start date:
March 16
Spring game:
April 14
What to watch:
Jordan Rodgers' confidence:
He enters spring as
the
quarterback for the Commodores, but he has to improve the mental part of his game. He let it get the best of him at times last year, especially in last season's bowl game. He can lose his rhythm quickly at times. He needs to work on improving his confidence and take more command of Vandy's huddle this spring. He has the skill to be a top quarterback in this league, but his head has to follow.
Warren Norman's health:
A knee injury forced the running back to redshirt last year, but the good news is that he spent the fall strengthening his leg by participating in each practice. The hope is that he'll be ready to go this spring, but you'd imagine that since this is his second knee injury, the coaches won't push him too much. Getting him to sprint and cut with ease will be important to his rehab this spring.
Keeping the edge:
James Franklin's first year as a head coach was a success, but it's important that the attitude and personality that made Vanderbilt so confident last year roll over to the spring. The loss in the bowl game might have stunted that personality growth a bit, but it's important that the Commodores get it back. It will go a long way toward keeping the progress going.