November, 20, 2014
11/20/14
10:00
AM ET
STARKVILLE, Miss. -- Their confidence never wavered.
Dak Prescott
,
Josh Robinson
and the rest of the
Mississippi State Bulldogs
weren't defeated, even in defeat.
They walked off the field in Bryant-Denny Stadium last Saturday in pain. The dream of an undefeated season was over. Their No. 1 ranking would soon vanish. That terrible feeling in the pit of their stomachs? Their coach, Dan Mullen, said to embrace it. Feel it. Let it serve as motivation.
An hour after that 25-20 defeat to Alabama, they met with the media. They were somber, but more determined than ever.
"I still think we're one of the best four teams in the country," Prescott said. "We just played one of the other best four teams in the country. It's an early playoff game, in my mind."
"We're never going to roll over," Robinson explained. "That's not us, it's not in our character.
"I'm pretty sure we're going to see [Alabama] in the playoffs. I don't know when, but we're going to see them."
It sounded unlikely at the time, another "We want Bama" sign in a pile of hundreds. From Ball State to Baton Rouge, everyone wants a piece of the Crimson Tide. Sometimes you'll hear fans chant it in the fourth quarter of blowouts.
But Mississippi State wanted Alabama -- again.
Something about the Bulldogs' 20-6 run and finishing only 5 points shy gave them confidence. In spite of losing the red zone battle, the field position battle
and
the turnover battle, they were right there at the end. As Mullen said, it wouldn't have taken a "Herculean effort" for them to win the game.
"Everybody felt like if we had five more minutes it would have been a different game," said linebacker
Richie Brown
. "So I know everybody wants a piece of them again."
If the season ended today, they would.
On Tuesday, the College Football Playoff selection committee ranked Alabama No. 1 and Mississippi State No. 4. If everything holds, they'll meet in New Orleans for a playoff semifinal game.
"I didn't see the rankings," Robinson said on Wednesday.
Informed of the situation, his eyes lit up.
"That's fine with me," he said. "Karma, it'll come back to you now."
----------
Mullen didn't watch the release of the committee's newest rankings, either.
"I didn't pay much attention to it because I knew we'd be in the mix anyway," he said. "We're 9-1 with wins over three top-10 teams and our only loss is a 5-point loss on the road to the No. 1 team in the country.
"Your vision is, 'Hey, wherever they put you, you're still in the discussion.'"
Earlier this week, he told his players just that.
In a meeting with the team's leadership -- a group that consists of Prescott,
Jay Hughes
, Bernardrick McKinney, Richie Brown,
Ryan Brown
,
Taveze Calhoun
,
Dillon Day
,
Malcolm Johnson
and
Kaleb Eulls
-- Mullen set the tone.
He'd step up his leadership this week, he said, but he wanted the message to come from within, too.
"Hey, everything we want is still ahead of us," he told them. "The season didn't end on Saturday. We're 9-1 with two regular season games left with a lot of football left to be played by a lot of other schools.
"The minute you start worrying, you're going to end up 9-3 in a hurry."
In a nice bit of imagery, Mullen put it like this: "You hold that rope and you don't let go. Even if you got pulled across that line in tug-of-war, we're not going to let it go. Get your feet back in the ground and start pulling again."
As Mullen told them, "You get a chance to finish 11-1 and that's a whole different picture."
That starts Saturday against Vanderbilt. It will either culminate the following week against Ole Miss, or it will end with no shot of playing for an SEC title or reaching the playoff.
How the Bulldogs respond to their first loss of the season is up to them.
"I don't think you get over it as much as you move on," Mullen said.
If anything, it has made players more hungry.
"It's kind of a positive," said center Dillon Day. "A lot of people see it as motivation. ... That game opened our eyes that we can get beat if we don't play our A-game."
Which is why they want Bama again. They want to show what their best really looks like.
If only they had a few more minutes the first time around.
"Oh, the outcome would be different," Robinson said. "We just ran out of time."
It looks like maybe they'll get another chance to prove it.
But before there's any rematch, there's work to be done.
October, 1, 2014
10/01/14
10:30
AM ET
October has arrived and most teams have played a third of their regular-season schedule. One team has fallen off our playoff tracker (South Carolina) but the rest remain from last week. Let's dive in and see where the College Football Playoff contenders from the SEC stand as of today:
Alabama Crimson Tide
Record:
4-0
AP rank:
No. 3
Next big obstacle:
Oct. 4 at Ole Miss
Reason for optimism:
The bye week came at the right time for Alabama. It needed
Blake Sims
,
Jarrick Williams
and
DeAndrew White
healthy for Ole Miss on Saturday. And if it needed any extra motivation, Rebs safety
Cody Prewitt
delivered, telling reporters that, "We don't think Bama has really been as good as they have been."
Cause for concern:
Survive Ole Miss and things don't get any easier. You thought that Oct. 11 trip to Arkansas would be a cake walk? Ha! You thought Texas A&M would be an easier out without
Johnny Manziel
? That's a good one. That schedule you thought was littered with SEC cupcakes like Tennessee now looks more like a minefield.
Who they'll be rooting for this week:
Mississippi State over Texas A&M. If the Bulldogs can upset Texas A&M and Auburn the next two weeks, the West might loosen up some.
--Alex Scarborough
Auburn Tigers
Record:
4-0
AP rank:
No. 5
Next big obstacle:
Oct. 4 vs. LSU
Reason for optimism:
Nick Marshall
continues to look more and more like his old self. On Saturday, he passed for 166 yards and three touchdowns, and he also rushed for 105 yards. His new favorite target? OK, it's still
D'haquille Williams
, but fellow wide receiver
Quan Bray
has emerged as a playmaker on both offense and special teams for the Tigers.
Cause for concern:
There are a lot of question marks as to who's going to play this Saturday against LSU. Linebackers
Cassanova McKinzy
and
Kris Frost
are day-to-day with injuries, and starting right tackle
Patrick Miller
is questionable with an ankle injury. It also looks like Auburn will be without safety
Jermaine Whitehead
for the third straight game.
Who they'll be rooting for this week:
Ole Miss over Alabama
--Greg Ostendorf
Texas A&M Aggies
Record:
5-0
AP rank:
No. 6
Next big obstacle:
Oct. 4 at Mississippi State
Reason for optimism:
The Aggies passed a big test by showing that their run defense -- while still having a lot of room for improvement -- can do just enough to help them win after being tested thoroughly against Arkansas, the best rushing team in the SEC. The offense also showed it can win when it's not at its best and
Kenny Hill
responded to adversity emphatically, showing poise in fourth quarter and overtime. Health-wise, the Aggies are in relatively good shape, which is critical considering what lies ahead.
Cause for concern:
The schedule gets only tougher in the next few weeks. This weekend it's a trip to Starkville to meet undefeated Mississippi State. They return home the following week to host Ole Miss. Then on Oct. 18 they go to Tuscaloosa for a showdown with Alabama. These are all teams and places the Aggies have won before, but now they're doing it with a team that has a lot of young players in key positions, like quarterback, free safety, defensive end and receiver. This three-week stretch is a monumental test for Texas A&M.
Who they'll be rooting for this week:
LSU over Auburn. (This would help the Aggies jump Auburn in the national rankings and gain an advantage in the standings)
--Sam Khan Jr.
Ole Miss Rebels
Record:
4-0
AP rank:
No. 11
Next big obstacle:
Oct. 4 vs. Alabama
Reason for optimism:
The defense ranks first in the SEC and fourth nationally, allowing 248 yards per game and has 11 takeaways on the season. QB
Bo Wallace
is also spreading his passes around very nicely. Even with depth an issue at receiver, the Rebels already have five players with double-digit receptions.
Cause for concern:
The West is easily the toughest division in college football. There really isn't a major weak link when it comes to teams on this side of the division, and Ole Miss still has to go through everyone. We'll find out if Ole Miss has the depth needed to make a real SEC run.
Who they're rooting for this week:
LSU over Auburn
--Edward Aschoff
Mississippi State Bulldogs
Record:
4-0
AP rank:
12
Next big obstacle:
Oct. 4 vs. Texas A&M
Reason for optimism:
With an open date between their dismantling of LSU and this Saturday's showdown with Texas A&M, the Bulldogs have had time to rest and scheme to face perhaps the best opponent they've played to date. It had to help their confidence to see A&M struggle against Arkansas the way it did, too.
Cause for concern:
Mississippi State's secondary has been one of the team's few weaknesses, and that's a bad weakness to have against a high-flying offense like Texas A&M's. It also doesn't help that veteran center
Dillon Day
will miss the A&M game while serving a one-game suspension for unsportsmanlike play against LSU.
Who they'll be rooting for this week:
Alabama over Ole Miss (because why not?) --
David Ching
Georgia Bulldogs
Record:
3-1
AP rank:
No. 13
Next big obstacle:
Oct. 11 vs. Missouri
Reason for optimism:
The SEC East is still a mess, and South Carolina's loss to Missouri means the Bulldogs once again control their own destiny in the division. Just win, baby, and the Dawgs are headed back to Atlanta. Also,
Todd Gurley
seems like he's getting better and better with each week.
Cause for concern:
Passing, whether it's by the Bulldogs or against them.
Hutson Mason
admitted Saturday that the chemistry between himself and his receivers isn't where it should be, especially when it comes to throwing the deep ball. Right now, Georgia's defense can't stop any sort of passing over the middle of the field.
Who they're rooting for this week:
Tennessee over Florida
--Edward Aschoff
LSU Tigers
Record:
4-1
AP rank:
15
Next big obstacle:
Oct. 4 at Auburn
Reason for optimism:
It seems unlikely that anyone in the SEC West will finish undefeated, so the Tigers can stick around in this race if they start winning. A win in Saturday's game at Auburn could potentially jump-start LSU's chances, especially if
Brandon Harris
goes off as the new starting quarterback.
Cause for concern:
Auburn's running game has to scare LSU defensive coordinator John Chavis a bit after Mississippi State had so much success against the Tigers two Saturdays ago. LSU might be able to stick around in the SEC West race with two division losses, but a playoff bid would almost be out of the question if the Tigers fall again.
Who they'll be rooting for this week:
Texas A&M over Mississippi State --
David Ching
September, 5, 2014
9/05/14
11:00
AM ET
STARKVILLE, Miss. -- Dan Mullen leans back in his oversized black leather office chair. He turns his attention from an interview with a reporter to the large projection screen on the right wall of his office.
Mississippi State
's head coach carefully studies the movements -- or lack thereof -- of sophomore defensive lineman
Chris Jones
. The crown jewel of Mullen's 2013 recruiting class is supposed to be this prodigy player sent to Starkville to make mincemeat of opponents.
Not on this play. No, Mullen flashes a half-disappointed smile as he rewinds over and over a play where his young phenom is getting abused by a double team. Yes, it's a double team, but even Mullen knows Jones is better than this. Jones shouldn't be stopped this easily, even if it is two behemoths in his way.
[+] Enlarge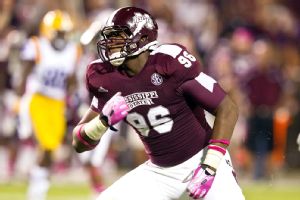 John Korduner/Icon SMIMississippi State's Chris Jones finished last season with 32 tackles, including seven for loss and three sacks.
"He's getting blocked right here," Mullen said.
Mullen is still looking to get the most out of Jones, who was rated the nation's No. 6 defensive end and an ESPN300 member by ESPN's RecruitingNation in 2013. Mullen sees the potential for greatness, but he also sees inconsistent technique and raw talent that hinders his game.
It's still very early in Jones' Mississippi State career, and the good news is he understands that he is still a work in progress, which is a scary thought because many pegged him as a preseason All-American performer.
"Still a lot to work on technically to become a great, every-down player," Mullen said. "He makes big plays, but still has a lot of work to do to become a great, technical, every-down player."
Last season, Jones was a little lost inside defensive coordinator Geoff Collins' defense. Attempting to get his technique down, Jones moved from defensive end to defensive tackle, and he struggled to adjust to his new position.
The funny thing is Jones said he was tricked into playing extensively at defensive tackle by Mullen. As Jones recalls, Mullen told him they would try him inside for the first four games and then move him back outside. Jones agreed, but after four weeks, he was still at tackle and felt he was underperforming.
"I was thinking 'I can't do this, man. This is not for me,'" Jones said. "I came in at D-end, I need to stay at D-end."
But Mullen had different plans. He felt Jones could do more inside, so he posed an important question to his freshman.
"You wanna be great, don't you?"
Well, how could Jones say no?
"I was like, 'Yes sir, anything to be great,'" Jones recalled with a boyish grin.
With Jones transitioning inside, he finished his freshman season with 32 total tackles, including seven for loss and three sacks. But to Jones, his season left a lot to be desired. He still thinks about what he could have done differently on certain plays, which fuels his work ethic now.
His technique is coming along, but he's moving fast, working within the framework of the defense and is thinking less. He took his training more seriously in the offseason, slimming down from the 315 pounds he played at last season. To improve his fundamentals, Jones took time to watch his own film over and over during the offseason ... by himself.
It paid off in fall camp, and his sophomore year has already started well -- he had three tackles and a sack in the Bulldogs' 49-0 opening win against Southern Miss.
"When you're learning what to do, you can't get your full potential," Jones said. "When you know what to do, you can just ball out."
The Bulldogs are hoping he continues to do just that in Year 2. The talent is there, and as senior center
Dillon Day
puts it, Jones has that special ability you don't see from a lot of players. Sometimes it's hidden, but when it erupts, watch out because he can hurt you.
"I guess you can say you're getting better [by playing against him], but he really is a freak," Day said. "You can only do so much. ... Once he gets everything down, I don't know what you can do [to stop him]."
August, 13, 2014
8/13/14
10:30
AM ET
»
More team previews:
ACC
|
Big 12
|
Big Ten
|
Pac-12
|
SEC
Previewing the 2014 season for the
Mississippi State Bulldogs
:
2013 record: 7-6 (3-5 SEC). Beat Rice 44-7 in the AutoZone Liberty Bowl.
Final grade for 2013 season:
The Bulldogs had a very subpar start to the season and looked out of bowl contention after beginning November 0-3, getting outscored 105-64 in the process. But after finishing the regular season 2-0, including an overtime win over archrival Ole Miss, the Bulldogs trounced Rice in their bowl game, giving them a C for the season.
Key losses:
QB Tyler Russell, RB
LaDarius Perkins
, OL
Gabe Jackson
, OL Charles Siddoway, DT
Denico Autry
, LB
Deontae Skinner
, S Nickoe Whitley, P Baker Swedenburg
[+] Enlarge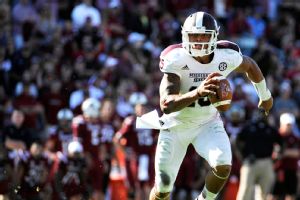 AP Photo/Rainier EhrhardtDak Prescott ended 2013 with a bang and could emerge as one of the top signal-callers in the SEC.
Key returnees:
QB
Dak Prescott
, RB
Josh Robinson
, WR
Jameon Lewis
, WR
Robert Johnson
, TE
Malcolm Johnson
, OL
Blaine Clausell
, C
Dillon Day
, DT
Chris Jones
, DT
Kaleb Eulls
, DE
Preston Smith
, LB
Benardrick McKinney
, CB
Jamerson Love
, CB
Taveze Calhoun
Instant impact newcomers:
LB
Gerri Green
, DT
Cory Thomas
Breakout player:
Receiver
De'Runnya Wilson
has a chance to really make a name for himself this fall, but I'm going to go with Robinson. The compact, 5-foot-9, 215-pound wrecking ball of a player could be very, very fun to watch this fall. He's spent two years learning from
Vick Ballard
and Perkins and is primed to have a big year for the Bulldogs. He can grind out yards between the tackles and has excellent speed to get to the outside and make plays in space.
Key position battle:
The Bulldogs will have quite the fight on their hands at right tackle. Senior
Damien Robinson
arrived as a highly-billed recruit, but has yet to live up to that label. It's now or never for him, but he'll have to compete with sophomore
Justin Senior
, who the coaches are pretty excited about. However, if neither works out veteran
Justin Malone
, who is coming back from a season-ending foot injury, could move from right guard to right tackle. That wouldn't be ideal for the Bulldogs.
Most important game:
If Mississippi State is really going to turn the corner and actually compete for the SEC Western Division title, the Bulldogs have to get a win in Baton Rouge against LSU on Sept. 20. The Bulldogs return 18 starters, have better depth than coach Dan Mullen knows what to do with, and won't be afraid of a trip to Tiger Stadium. With that said, this is a must-win if this team is going to have a chance at making it to Atlanta for the SEC championship game. The Tigers are an enigma this season, but could be dangerous down the stretch. Getting them early is huge, and the Bulldogs have to take full advantage of that.
Biggest question mark:
While right tackle is a concern for the Bulldogs, finding some consistency in field-goal kicking would be nice.
Devon Bell
and
Evan Sobiesk
combined to go an unflattering 9-for-20 on field-goal attempts last season. They were a combined 1-for-6 from 40-plus yards out and each had a kicked blocked in 2013. Transfer J.J. McGrath will compete for the starting job, but he's a ways behind Sobiesk at this point. Still, Sobiesk still has a long way to go in the consistency department.
Upset special:
Again, in order for Mississippi State to take the next step as a program, the Bulldogs need to beat one of the league's best. After Texas A&M comes to town on Oct. 4, the Bulldogs host reigning SEC champion Auburn. And the Tigers could be pretty fatigued after a game against LSU. Talk about the perfect time to take one from Auburn. The Bulldogs lost a heartbreaker to Auburn last season after
Nick Marshall
orchestrated a late, game-winning touchdown drive. You better believe revenge will be on the Bulldogs' minds.
Key stat:
What Mullen has done in five seasons at Mississippi State has been impressive, but he has struggled against ranked opponents. In the last three seasons, the Bulldogs have gone 0-15 against teams that finished the season ranked in one of the final polls.
They said it:
"I've had a good year here and there at Mississippi State, but never consistency. I'm proud that that's what we've been able to do. Yeah, at some point we'll win a championship here. Maybe this year." -- Mullen
Preseason predictions
ESPN Stats & Information:
8.45 wins
Bovada over-under:
7.5 wins
Our take:
This is the deepest team Mullen has had at Mississippi State. The offense can run and pass for days with the weapons and experience coming back, while the defense is loaded with underrated talent. The schedule isn't too daunting with an incredibly easy nonconference slate and Auburn and Texas A&M at home. Having to go to Alabama, LSU and Ole Miss isn't ideal, but if the Bulldogs can take two from that road trio, they'll be in contention for the West title. The Bulldogs will challenge for the division and finish the regular season 9-3.
August, 6, 2014
8/06/14
1:00
PM ET
There are always debates this time of year as we anticipate the start of another college football season.
Who's the favorite to win the national championship?
Which is the strongest conference?
Who's the Heisman Trophy front-runner?
[+] Enlarge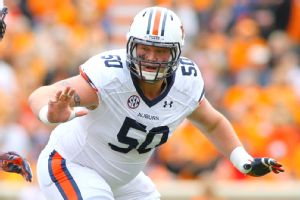 Greg McWilliams/Icon SMIReese Dismukes was a finalist for the Rimington Award last season and is joined by 10 other SEC centers in this year's Rimington watch list.
What's not up for debate, at least with regard to the SEC, is that the league has never been this talented or this deep at the center position entering a season.
Eleven of the 14 starting centers in the SEC were among the 66 players on the preseason watch list for the Rimington Trophy, which is presented annually to the top center in the country.
Talk about being the center of attention.
And while it's true that we all get caught up in the skill players -- the quarterbacks, running backs and receivers -- it all starts right there in the middle of the offensive line.
If you're good at center, everything else usually has a way of falling into place up front offensively.
"The thing I like best about it is that you're in control of five guys, and really, the success of those five guys is sort of on your shoulders," said Auburn senior center
Reese Dismukes
, who was a finalist for the Rimington Trophy a year ago.
"You hear a lot of people say the center is the quarterback of the offensive line. That appeals to me. I like being in control, making the calls and making sure everybody's on the same page. If you're not making the right calls, somebody's going to be on the wrong page, and it only takes one person being on the wrong page for it all to go bad. I like having that pressure on me."
Dismukes' SEC cohorts on the Rimington Trophy watch list include Georgia's
David Andrews
, Missouri's
Evan Boehm
, Mississippi State's
Dillon Day
, Florida's
Max Garcia
, Alabama's
Ryan Kelly
, Texas A&M's
Mike Matthews
, LSU's
Elliott Porter
, Kentucky's
Jon Toth
, Vanderbilt's
Joe Townsend
and South Carolina's
Cody Waldrop
.
They're all a little different, some more experienced than others, and some bigger than others. But they've all perfected the rarest of crafts, which is being able to successfully snap a football (usually a shotgun snap in this day and age) with a 300-pound plus defensive tackle itching to step on their throat as soon as the ball is snapped.
"You're doing a lot of different things at once and processing a lot of information very quickly," said Boehm, who started all 14 games last season at center after starting all 12 at left guard as a true freshman. "It's a big responsibility as an offensive lineman to touch the ball every play. Everything starts with you, and you have to be vocal up there."
Dismukes, a preseason All-American, is part of an Auburn offensive line that should again be one of the best in the SEC. The 6-3, 295-pound senior has been a fixture up front for the Tigers from the day he walked onto campus and has started in 37 of his 39 games.
Ask him how much he's grown up during that time, and he offers a hearty chuckle.
"Light years," he said. "This game makes you grow up fast, or it will shove you right out of it."
Whereas Dismukes has been a center ever since he can remember, Boehm didn't start playing the position until last season. He actually went to Missouri coach Gary Pinkel and requested the move after playing left guard as a freshman.
"I felt like it was the best thing for the team and best thing for me, and I appreciate Coach Pinkel for having enough trust in me to make the move," said Boehm, who was actually a fullback when he first started playing football in the seventh grade.
Boehm isn't the only SEC center who's relatively new to the position. Garcia is making the transition as a fifth-year senior at Florida after splitting his time last season between guard and tackle. He began his career at Maryland and started all 12 games at left tackle in 2011 before transferring to Florida.
But regardless of the path a player takes to the center position, there's a fraternity of sorts, a pride thing that transcends size, speed, and even looks.
Boehm and Dismukes know each other from the recruiting process, as Dismukes was Boehm's host when Boehm visited Auburn.
Dismukes and Georgia's Andrews also stay in touch and will occasionally share tips on upcoming opponents. Between them, they have 64 career starts. Mississippi State's Day has 34 career starts. So if you throw Day into the mix, that's a combined 98 starts among the SEC's three most grizzled center veterans.
"We're not the strongest or most athletic or any of that stuff," Dismukes said of his center brethren. "Maybe we're a little weird, but we just love the game."
They love their hair, too.
Boehm and Day are running a tight race for the "locks" award. Both are known for their trademark hair as much as they are for locking down opposing defensive linemen. Boehm has the bushy look going -- beard and all -- while Day is sporting the long, blond-rocker look.
Of course, it's not like either is overly concerned with style. Technique, maybe, but certainly not style, not with some of the monsters they have to block in the SEC.
"With the defensive line culture in the SEC, you better also create that same culture in the offensive line, and that starts in the middle," Boehm said. "The great thing about this league is you've got guys like Reese and David and all the other guys, and you can study their moves and why they've been so successful and try to incorporate it into your game.
"It's an honor to be among them."
And even better to be front and center.
April, 2, 2014
4/02/14
9:00
AM ET
STARKVILLE, Miss. -- When Dan Mullen first took over as Mississippi State's head coach before the 2009 season, the goal was very simple: Make it to bowl games.
For a program that lacked the historical success of the SEC's big boys, a bowl game here and there was something Mississippi State was more than happy with.
But those were simpler times in Starkville.
Now, as Mullen enters his sixth season with the Bulldogs, just becoming bowl eligible isn't good enough. When you make it to four straight, it's time to take the next step, and the overwhelming feeling around the program is that the time is now for Mississippi State.
"When we got here, we talked about winning a championship," Mullen told ESPN.com last week. "And guys thought that was good talk and was something they wanted to do, but they weren't sure that it could [happen]. There's still that hesitation of 'Well, it sounds great, but how real is it?'
"You look at this team, and our guys expect to compete for the SEC West championship this year."
And this isn't just an up-and-coming team puffing smoke about the place. This is a team that returns 20 of 22 defenders who were on last season's bowl roster. It has a potential All-SEC quarterback and lost five total starters from a 2013 team that finished on a three-game winning streak that included an overtime victory over archrival Ole Miss and a bowl blowout of Rice.
When Mullen approached his team shortly after the Bulldogs' 44-7 drubbing of Rice in the AutoZone Liberty Bowl, he found an anxious group. Players wanted back on the field. The months before spring practice were too long, and they couldn't even comprehend the thought of not smashing into someone not dressed in maroon for another nine months.
The momentum this team got from the tail end of the 2013 season has fueled players like no other season has, veteran linebacker
Benardrick McKinney
said. Center
Dillon Day
said there's a lot more trust throughout the roster with the improved depth at just about every position.
[+] Enlarge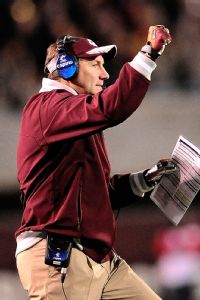 Stacy Revere/Getty ImagesDan Mullen says Mississippi State has big goals this season: "Our guys expect to compete for the SEC West championship this year."
There's a familiarity within this team that has players salivating over improving on a 7-6 season that brought Mullen one win away from tying for second all-time at Mississippi State. The theme of this spring is gaining even more ground on the perceived SEC front-runners.
"We aren't really given a shot with those types of teams, but this year I definitely feel like we're going to be a factor to deal with," Day said. "We definitely can beat those teams.
"This year, we have all the factors; we have every position filled up."
Mullen understands that confidence alone won't take the Bulldogs to their second SEC title game. Games have to be played and wins have to appear. Mullen might own the program's highest winning percentage for a coach (36-28, .563) since the late Darrell Royal in 1954-55 (.600), but he has yet to even sniff the SEC West crown.
During his impressive 9-4 season in his second year, he finished just 4-4 in SEC play. He hasn't eclipsed that many conference wins in a season since and has had losing conference records three times.
Mullen has had four straight winning seasons but hasn't hit the double-digit mark for wins. On paper, the Bulldogs are a blip on the SEC's radar, but to Mullen, he's seen growth, development and an incredibly inspired team.
For a program littered with former two- and three-star high school prospects, the Bulldogs could prove to be a formidable opponent this season with so much experience coming back. Mullen sees it, players see it and fans are expecting more wins in the treacherous SEC West.
"I want those expectations," Mullen said. "I want our fans to have those expectations; I want our people to have those expectations. I like it on the national level, having those expectations."
It's hard not to blame the Bulldogs' for being confident. Quarterback
Dak Prescott
, who has already earned the dark-horse Heisman moniker from national pundits, ended last year with two very gutty performances against Ole Miss and Rice and returns his top-five receiving targets, including senior
Jameon Lewis
, who registered 923 receiving yards last year.
Running back
LaDarius Perkins
is gone, but Mullen said he's pleased with the talent and depth he has at running back, which starts with potential breakout candidate
Josh Robinson
.
Then there's that defense that finished 2013 fourth in the SEC and 18
th
nationally in total defense. The Bulldogs, which lost just two defensive starters from last year, held their final four opponents to 20 or fewer points and allowed an average of 296.3 yards during that span.
Mississippi State won't get much real national championship talk, but the SEC title isn't out of the question. With the unknowns surging throughout the league, the Bulldogs are set up to rub shoulders with and maybe push around the SEC's elite.
"I've had a good year here and there at Mississippi State, but never consistency," Mullen said. "I'm proud that that's what we've been able to do. Yeah, at some point we'll win a championship here. Maybe this year."
September, 30, 2011
9/30/11
1:00
PM ET
Vick Ballard
isn't sugarcoating anything.
He looks at the first two weeks of the season, compares them to what he's seen lately from the
Mississippi State Bulldogs
offense, and sees a significant difference.
"We just aren't executing like we normally have," the senior running back said.
"It's real frustrating because we're the type of offense that can put up at least 40 points (a game). It's real frustrating."
The Bulldogs had one of the nation's best offenses through the first two weeks of the season, averaging 588 yards in the first two games, but that was against lowly Memphis and an Auburn team that sports the SEC's worst defense.
Against LSU and Louisiana Tech, the Bulldogs averaged just 267 yards and combined for 32 points after racking up 93 in the first two games.
[+] Enlarge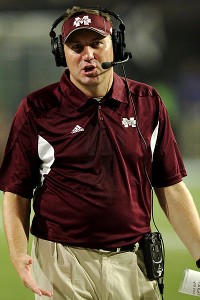 Nelson Chenault/US PRESSWIRECoach Dan Mullen says the Bulldogs must execute on offense.
There has been a missed block here and a blown assignment there. A botched route blows up a play and a poor read sets the drive back.
Mississippi State enters its game against Georgia with a 2-2 record. More importantly, the Bulldogs are 0-2 in conference play. Expectations were much higher for this team coming into the season, but the offensive stall has some second-guessing the Bulldogs.
Two conference losses likely put a West championship out of reach, but Ballard said this team is still upbeat. The offense is confident. This team was in the exact same situation last year heading into the Georgia game. Mississippi State won that game and went on a six-game winning streak, eventually making a January bowl.
"Everyone wants to go undefeated," Ballard said. "We lost those two games, but the fact that we were in the same situation last year gives us confidence for the next couple of games."
If this team wants to repeat last year's success, the offense has to get back on track. Ballard and head coach Dan Mullen said it starts with the little things.
It's about getting back to the basics for the Bulldogs. Mullen runs a physical spread offense because of the bruising running style of Ballard and quarterback
Chris Relf
. Mullen not only wants to spread you out and make you attack all 11 players, but he wants you to grind or the Bulldogs will pop you in the mouth.
That pop hasn't been there the last couple of weeks, with Ballard getting 38 and 68 yards in games and Relf getting 30 rushing yards on 25 carries. The physicality we saw earlier from the Bulldogs isn't there and it hurts this potent attack.
Another reason for the Bulldogs' shortcomings on offense has been the offensive line shuffle. First, starting left tackle James Carmon went down with a knee injury against Auburn, shoving freshman Blaine Clausell into the starting role.
With junior right guard Tobias Smith out for the year after suffering a knee injury against LSU, Carmon, who returned this week and worked all over the offensive line, or senior Quentin Saulsberry could get the nod at his spot. Redshirt freshman Dillon Day is expected to continue to start at center.
That means there are two freshmen on this offensive line and youth here is always a concern in the SEC. Mullen said that makes it even more important communication issues get fixed and plays know exactly when and where to be on the field, as minute mistakes can create enormous problems and that's what the offense has dealt with in the past two weeks.
"One guy off gets you out of rhythm in the offense and it kind of really slows you down," Mullen said. "Every time we've been taking shots early in the season we've been hitting them down the field. We've been just off the fingertips the last two weeks. Those issues can really start to compound, one after the other, where you don't get into a good rhythm on offense.
"When you're going forward and backward, forward and backward, with guys making some mistakes and not executing cleanly you get out of that rhythm and you don't put up those huge numbers that you are when you're in great rhythm."
No one would blame Mullen for getting awfully close to pressing the panic button after an 0-2 start, but isn't. In fact, he's not ready to change much of anything offensively. He just wants to little things corrected.
"We're not changing a whole lot of what we do because we're not far off from where we want to be," he said. "We have to be cleaner and execute better."