July, 21, 2014
Jul 21
9:00
AM ET
HOOVER, Ala. -- Nick Saban could have stepped to the microphone last week at SEC media days and delivered a stern message to his team at Alabama. After an offseason colored by two DUI arrests, one player getting caught with marijuana and another getting arrested for disobeying a police officer, it seemed like a prime opportunity to fire a shot across the bow. Or, at the very least, to make a statement about the direction the program is headed.
But Saban wasn't interested in doing that. As he has done with each off-field incident since last season ended, he insisted that issues will be handled internally. He argued, essentially, that to do otherwise would be akin to kicking your own child out of the family for disappointing you.
"We have to try to support them, teach them, get them to do the right things because we love them, we care about them," he said.
[+] Enlarge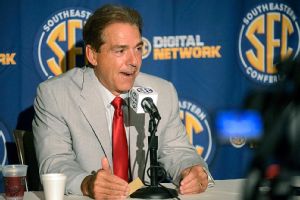 AP Photo/AL.com/Vasha HuntNick Saban on discipline: "I want you to know that there's not one player, not one player, since I've been a head coach that I kicked off the team that ever went anywhere and amounted to anything ..."
Saban spoke about a "disparity in the behavioral culture of our young people" and how they must "control their impulsive behaviors." He closed his mini-sermon by saying that the process -- his process -- "really does work."
"I want you to know that there's not one player, not one player, since I've been a head coach that I kicked off the team that ever went anywhere and amounted to anything and accomplished anything, playing or academically, all right?" he said.
All right.
Saban did levy a little bit of discipline. Harkening back to "guys learning how to control their impulsive behavior," he said, "those players are suspended, but they're not kicked off the team." But which players? It could be
Jarran Reed
,
Kenyan Drake
,
Altee Tenpenny
or
Dillon Lee
. It could be all four that are "suspended from activity" until "they prove ... they're ready to come back."
In Saban's eyes, discipline isn't punishment.
"That's what you all think: What are you going to do to the guy? How many games is he getting suspended? Are you going to kick him off the team? This guy kicked this guy off the team because he did this, and that was a good thing," he said. "Well, but what about the kid? What happens to him? Well, I'm telling you what happens to him: I've never seen one go anyplace else and do anything."
While Saban did drop some occasionally strong remarks -- "There's an end of the rope for everybody." "Sometimes you have to get the wrong people off the bus." -- he never really dropped the hammer, which isn't necessarily a bad thing. There are some coaches whose track records as disciplinarians is lacking, but Saban isn't one of those men.
"Are there consequences?" he said. "Yeah, we don't have to depend on the guy. They might get suspended for some games, because that's the one thing that will change their behavior because they all want to play. I get that part, and we do that. But I don't usually announce that. I don't usually say we're going to do that. I tell you before the game, 'These three guys aren't going to play.'"
It was interesting, however, to note the tonal change at media days between what Saban said and what Mark Richt said a few hours earlier.
Richt has long been a lightning rod on the subject of discipline. Type "Mark Richt lost control" into Google and you will get roughly 29,000 results. But this offseason Richt developed an image of being tough on crime. Rather than offering starters Tray Matthews and Josh Harvey-Clemons a route back to school, he dismissed them from Georgia. Rather than worrying about the program's strong drug policy creating a competitive disadvantage, he said, "It doesn't bother me."
"We don't want our guys to do drugs, OK? I don't want my son to do drugs," he said. "We've got policies that are stronger maybe than some when it comes to the punitive part of it. That's kind of what everybody talks about. Georgia ends up suspending their guys a little bit sooner in the policy, which I've got no problems with."
"It's a lot more than just the punitive part," he said later. "There's a punitive part, there's an educational part, then we love 'em. You made a mistake. You have these consequences. Now let's turn in the right direction and become a better man for it."
Georgia linebacker
Ramik Wilson
said it's simple: "Do the right thing is all they ask."
"You're either going to do it Coach Richt's way or you're going to go home," he added.
Strong words, wouldn't you say?
Saban and Richt want the same thing when it comes to keeping players on the right track and on the right side of the law. But for at least one day and one offseason, the coach we expected to play the role of disciplinarian was not the one who showed up to take the stage.
July, 13, 2014
Jul 13
2:48
PM ET
The time for leniency has ended. The use of "internal discipline" is no longer enough. Nick Saban needs to tighten the reins on his program, make an example of someone publicly, and send the message to every one of his players that the offseason has ended, the time for work is here and any instances of poor behavior will not be tolerated.
[+] Enlarge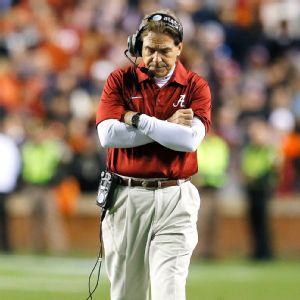 Kevin C. Cox/Getty ImagesFollowing yet another brush with the law for an Alabama player, it's time for Nick Saban to take a disciplinary stand.
Alabama has had its name dragged through the mud enough since the end of last season. Saban has dealt with enough negative headlines to know it's time for more proactive measures.
You could live with
Kenyan Drake
making a bone-headed decision by disobeying an officer earlier this month. He was trying to get to his car. He wasn't thinking and he was arrested. You could handle the repercussions coming behind closed doors without condoning the action that led to his arrest. And, frankly, the same could be said for
Altee Tenpenny
, who wasn't arrested but was given a citation by police in April for possession of a controlled substance.
Both cases were enough to raise your eyebrows at. Neither was enough to spike your blood pressure.
But
Jarran Reed
's subsequent
arrest this weekend
for suspicion of driving under the influence has finally moved the needle. We've hit the proverbial "three strikes and you're out" phase of this annual offseason game we play in major college football where one arrest leads to another and suddenly we start to see a trend. Next we question the health of the program as a whole and wonder aloud whether the coach truly has a handle on things.
Now, it must be said that Saban deserves the benefit of the doubt in such matters. We've never had to wonder whether discipline is a part of his process. But even he isn't immune to the arrest bug. Even he can't avoid the increasing sound of police sirens at his program's doorstep.
Now is the time for Saban to step up and deliver a message.
Now is the time to right the course and get his team's full attention.
Fall camp begins in only a few weeks. The start of the season is less than two months away. Alabama has enough questions on the field; the Tide don't need negative attention off it. There's a new quarterback to break in, two new offensive linemen and a defense that would be described as "rebuilding" if it were any place other than Alabama. If the Crimson Tide want to return to the national championship picture, they can't afford another issue to tackle.
Drake, Tenpenny and Reed are all in Saban's doghouse now. So is linebacker
Dillon Lee
, who was also arrested on suspicion of driving under the influence in April. If this keeps up, there won't be enough room to hold all the team's disciplinary problems.
Eventually you have to say enough is enough and put a bar on that doghouse door. Eventually you have to show that once you go in, you might not be allowed out so easily.
That time is now for Saban and Alabama. Leniency can no longer be afforded. Decisive, heavy-handed action is needed. The season is almost here, and every player and every coach must get the message loud and clear that mistakes will no longer be tolerated.
January, 9, 2014
Jan 9
6:50
PM ET
TUSCALOOSA, Ala. -- It happens every year now, so don't act surprised. If you're an Alabama fan, deal with it. If you're not, don't weep for the Crimson Tide, either. Coach Nick Saban has lost multiple underclassmen to the NFL before, so
Thursday's news
that safety
Ha Ha Clinton-Dix
, offensive tackle
Cyrus Kouandjio
, linebacker
Adrian Hubbard
and defensive end
Jeoffrey Pagan
will all leave school early is no insurmountable thing. This is just the reason why Saban and his staff recruit so hard.
[+] Enlarge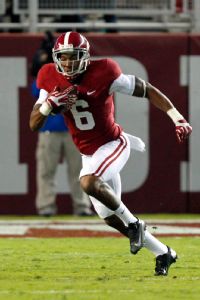 AP Photo/Butch DillSafety Ha Ha Clinton-Dix is one of four Alabama players who are leaving school early to enter the 2014 NFL draft.
Their leadership and experience will be missed -- along with seniors
AJ McCarron
,
C.J. Mosley
and
Anthony Steen
-- but their talent can be replaced. When you're the only school in the country to finish in the top three of ESPN's class rankings every year since 2008, you have that luxury of plug-and-play. Blue-chip prospects overflow from Alabama's football offices, rattling out its pockets every once in a while like loose change.
"Our twos and threes could do what I did out there," Clinton-Dix said of the team moving forward. "I'm not worried about any of those guys stepping up."
Alabama will be fine without Pagan, Hubbard, Kouandjio and Clinton-Dix. Many of their replacements are already on board:
Landon Collins
at safety,
Leon Brown
at tackle,
Dillon Lee
at strongside linebacker,
Jonathan Allen
at defensive end. Those who will challenge them for playing time are either just now arriving or just now finishing their first seasons in Tuscaloosa: defensive backs
ArDarius Stewart
and
Laurence 'Hootie' Jones
, tackles
Grant Hill
and Cam Robinson, linebackers
Tim Williams
and
Da'Shawn Hand
, and defensive ends
Dee Liner
and
D.J. Pettway
-- all excellent prospects.
It's easy to look at the loss of stars and say, "Oh no!" but that's not how it works at Alabama. It wasn't that long ago that safety
Mark Barron
left school and Clinton-Dix entered the fold.
D.J. Fluker
went to the NFL a year early and
Austin Shepherd
had little trouble at right tackle in his absence.
Eddie Lacy
torched Notre Dame in last year's BCS title game, announced he was turning pro and Alabama never missed a beat. Not only is
T.J. Yeldon
back for his junior season, a fella by the name of
Derrick Henry
appears ready to be his new sidekick.
This is the program that Saban has built. This is what his "Process" has borne. And it's embraced around campus. Just look at
this
,
this
and
this
from Alabama's director of player personnel Tyler Siskey. As Saban told reporters, "We've had 13 guys go out early for the NFL draft, 11 of those guys have been first-round draft picks."
Often when other schools lose key players to the NFL, there's a mad scramble to find their replacements. At Alabama, coaches turn to a stocked cupboard. Take the safety position, for instance: Cinton-Dix goes out with off-field drama and Collins enters the fold at free safety, followed by
Vinnie Sunseri
blowing out his knee and Collins then shifting over to strong safety. Collins, a former five-star prospect in his own right, immediately found success. A year after playing primarily on special teams, he finished second on the team in tackles, tied for first in interceptions and tops in passes defended.
Sure, Saban would love to see Pagan, Hubbard, Kouandjio and Clinton-Dix back for another year. Just don't expect him to openly weep about it. He's probably more than thrilled that
Trey DePriest
and
DeAndrew White
should be sticking around for their senior seasons.
You know, two out of six isn't bad. Three championships in five years seems to be going over quite well in Tuscaloosa.
Alabama will survive and new stars will emerge next season. Sometimes you hate to see athletes like Clinton-Dix leave early, but their departure only clears the way for who's next.