December, 3, 2013
12/03/13
7:15
PM ET
Arizona State had a great run under Frank Kush in the 1970s. The Sun Devils went 10-2 under Darryl Rodgers in 1982. They won the Rose Bowl over Michigan after the 1986 season under John Cooper. Bruce Snyder's only loss in the 1996 season was a nail-biting Rose Bowl against Ohio State. Dirk Koetter was 9-3 in 2004. Dennis Erickson opened his ASU tenure with a 10-3 mark in 2007.
But each Arizona State surge was followed by mediocrity and losing seasons. Since Kush was controversially forced out in 1979, the only thing that has been consistent about Sun Devils football has been inconsistency.
[+] Enlarge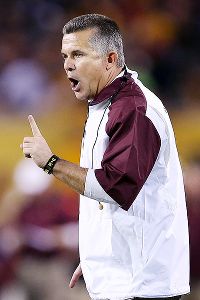 Christian Petersen/Getty ImagesTodd Graham says players should take charge of leadership on a team.
That has baffled many folks, particularly sportswriters, who have repeatedly called Arizona State a "sleeping giant." In fact, the Pac-12 blog has done this a couple of times over the past five years --
here
and
here
. It's been
a national story
a number of times. It's
been debated
. It's been
a topic this season
.
That's why the Sun Devils' rise under Todd Graham should be approached cautiously. While there's plenty of evidence suggesting a cultural transformation, unfettered optimism has been a dangerous state of mind for Sun Devil fans.
How about just the facts? Graham took over a team that went 6-7 in 2011 and went 8-5 his first season. In his second, he has the Sun Devils at 10-2, ranked 11th and facing No. 7 Stanford on Saturday for the Pac-12 championship and Rose Bowl berth .
Arizona State had been a notoriously undisciplined program. In 2011, the Sun Devils ranked last in the nation in penalty yards per game. Last year, they ranked eighth in the nation, and this year they rank third.
The discipline has extended off the field. The Sun Devils have been mostly avoiding the police blotter and doing well in the classroom, see nine players earning Pac-12 All-Academic honors, the program's most since 2006.
"We've always lacked consistency," said running back
D.J. Foster
, a Scottsdale native. "Even before I came here, just watching stuff. I feel like this program finally has constancy with Coach Graham. His work ethic is rubbing off on the players."
Graham said that even before he took the Arizona State job he had talked to other coaches about the football program's potential, most notably Cooper, who bolted Tempe for Ohio State after going 7-4-1 in 1987. Cooper is the last Sun Devils coach whose tenure didn't end with a pink slip. Graham, who has notoriously called multiple places his "dream job," wasn't worried about the dreaded "sleeping giant" label, which typically became a subject for off-the-record derision among former Sun Devils coaches.
"I think it just points to the potential," Graham said. "This is a great place."
There was an outside perception that the team Graham took over didn't lack athletic ability but that it might be thin on character. Fair or unfair, the Sun Devils have long been dogged by a reputation as a self-centered team that lacked mental toughness. But what Graham says he found was a locker room eager to embrace change.
"I think they were somewhat tired of some of the discipline things," Graham said. "I believe young people will meet whatever standard you set."
Want buy-in? Two-time Pac-12 Defensive Player of the Year
Will Sutton
on Monday was finishing up a 15-page paper on leadership. Guess who it was about: Graham.
"It's about leadership and change in the community, and what better person to do than Coach Graham?" Sutton explained.
For Graham, however, the message that he advanced this season compared to last is players taking charge of leadership instead of the coaches. That's part of a team and a program maturing.
"Our players are leading the team," he said.
The improvement this fall has been impressive. The Sun Devils are 10-2 against one of the nation's toughest schedules and they are riding a Pac-12-best seven-game winning streak. While Stanford is the defending conference champion, it's the Sun Devils who are favored.
"This has been the best situation I've ever been in in coaching," Graham said. "We've really gelled really quickly. We had a great plan and we really fit the place. I think the players were really hungry for what we've brought."
If the Sun Devils keep winning, it certainly
will bolster efforts to renovate Sun Devil Stadium
, a project that is critical to the program remaining competitive. And retaining Graham.
While the previously nomadic Graham seems to -- finally -- be content, leading Arizona State to a Rose Bowl will refocus the nation on his program building skills, not his controversial departures from previous schools. Keeping him and his coaching staff happy will be an important test for the athletic department, which already is replacing athletic director Steve Patterson, who left for Texas this fall.
Further, everyone knows nothing big has been accomplished yet. This is about establishing a consistent winner, not just breaking through every five or 10 years for a magical run. It's no good if the sleeping giant just got up to grab a glass of warm milk before again retiring.
"I feel the sleeping giant is awoken but we've still got a lot more work to do and a lot more big games to win to be established as a dominant program," Foster said.
November, 8, 2012
11/08/12
1:00
PM ET
It sounds like former Arkansas coach Bobby Petrino is interested in coaching in the SEC again and according to his father, he's
interested in making his home at Kentucky
.
"I just know this, that he's interested in Kentucky," Bobby Petrino Sr. told the Louisville Courier-Journal on Wednesday. "He wants to stay in the SEC. That was his life's goal was to go to the SEC."
Kentucky announced on Sunday that coach Joker Phillips would not be back next season and that the coaching search would begin immediately. While Petrino might want to throw his name into the mix, he might be a long shot for the job.
Yahoo! Sports
already reported that Kentucky wouldn't be interested in pursuing Petrino, who was fired from Arkansas after he lied to athletic director Jeff Long about an affair he was having with a woman he hired.
Yes, Petrino knows the state of Kentucky well. He went 41-9 at Louisville from 2003-06, and even won the Orange Bowl. His Cardinals teams showcased some of the most exciting passing games in college football at the time. Then, he had a ton of success at Arkansas, getting back-to-back double-digit-win seasons and taking the Razorbacks to their first BCS bowl game.
He even thought his 2012 team was his best one and labeled it a legitimate national title contender. He would put a bunch of people in the seats at Commonwealth Stadium and bring some much-needed excitement back to Kentucky's football program.
But is he worth all the baggage for athletic director Mitch Barnhart? Is he
really
worth the public relations nightmare for Kentucky and the mounds and mounds of criticism that will be hurled Barnhart's way? And will he even stick around Lexington long enough to make the Wildcats any sort of contender in the SEC East? He really doesn't have a very good track record with staying at places very long (just ask the
Atlanta Falcons
).
There are plenty of good potential candidates for Barnhart to seek. There are qualified SEC assistants and up-and-coming coaches around the country that would surely be interested in this job.
Expect to hear Louisiana Tech coach Sonny Dykes' name more and more. Louisiana Tech is currently 8-1 and owns the nation's No. 2 scoring offense (52.4 points per game) and the nation's third-best offense (570.9). Florida offensive coordinator Brent Pease, who is a former Kentucky assistant, has shown interest in the job as well.
Duke's David Cutcliffe could also be a candidate. He has the Blue Devils bowl eligible for the first time since 1994 and has plenty of SEC experience as both a longtime assistant at Tennessee and as Ole Miss' head coach. He went 44-29 during his six years with the Rebels.
Western Kentucky coach Willie Taggart, whose Hilltoppers beat Kentucky earlier this year, and current Falcons offensive coordinator Dirk Koetter's name has also been lumped in with potential candidates.
So there are plenty of options for Barnhart not named Bobby Petrino, and I think it will stay that way.
January, 12, 2012
1/12/12
10:52
AM ET

With his second national championship in three years in hand, Alabama coach Nick Saban is now turning his attention to finding his next offensive coordinator.
It appears that Saban is centering on three guys, and two are from the NFL ranks.
Saban has already talked with Jacksonville Jaguars offensive offensive coordinator Dirk Koetter and also plans to meet with former New York Jets offensive coordinator Brian Schottenheimer this week.
The third guy to watch is Washington offensive coordinator Doug Nussmeier, who's also scheduled to talk with Saban this week.
Saban is searching for a replacement for Jim McElwain, who left to take the Colorado State head coaching job.
January, 10, 2012
1/10/12
8:25
PM ET
Alabama and Florida both wanted Brent Pease, but the Gators ended up getting him.
The former Boise State offensive coordinator will be named in that same position at Florida on Wednesday, according to a
report by ESPN.com's Edward Aschoff
.
Pease replaces Charlie Weis, who left to take the Kansas head coaching job. Alabama coach Nick Saban was also interested in talking to Pease about the Crimson Tide's offensive coordinator job. Jim McElwain is leaving to take the head coaching job at Colorado State.
It's a good get for Florida coach Will Muschamp, who needs some stability in that Florida offense in the worst way. The Gators should be very good on defense in 2012, but they've been a disaster on offense each of the past two seasons.
Under Pease's direction, Boise State tied for ninth nationally in total offense this season, averaging 481.3 yards per game.
Now that Pease is out of the picture, names to watch at Alabama include former Jacksonville Jaguars offensive coordinator Dirk Koetter and New York Jets offensive coordinator Brian Schottenheimer.
January, 10, 2010
1/10/10
12:32
PM ET
If you were ranking the wish list pecking order for who USC might want to hire to replace coach Pete Carroll -- and, yes, we
continue to wait
for an official announcement from the Seattle Seahawks -- it likely would go: 1. Oregon State's Mike Riley; 2. Tennessee Titans coach Jeff Fisher; 3. Jacksonville Jaguars coach Jack Del Rio.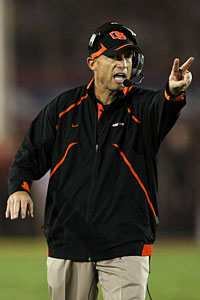 Stephen Dunn/Getty ImagesMike Riley and the Beavers finished 8-5 this season.
From the moment Bruce Feldman first reported it -- and other insiders have since backed it up -- Riley has been
choice No. 1
.
Riley would be an interesting hire. Combine his acumen as a talent evaluator and X's and O's skills with USC's recruiting base and national reach, and the end-result could be outstanding. His sterling reputation of a man of integrity also would go over well with the NCAA, which is investigating the Trojans' football program.
The question is whether Riley wants the job. There's a big difference between Oregon State and USC, Corvallis and LA, from expectations to lifestyle. Heck, start with traffic.
Riley has repeatedly said since he returned for his second tenure at Oregon State that he wants to retire a Beaver and he's never seemed driven by money, which he certainly could make more of with the Trojans. He's repeatedly said that his "grass is always greener" life lesson was when he left Oregon State for an ill-fated stint with the San Diego Chargers.
That doesn't mean he's not going to talk to the Trojans, but for the sake of this blog entry, let's say he doesn't want the job.
Then comes Fisher, who like Riley, USC athletic director Mike Garrett
tried to hire
before. But Fisher, who played at USC, has two years left on a contract that pays him $5.5 million a year, not to mention that he is a career NFL coach.
Let's say he also doesn't want the job.
What about Del Rio?

Del Rio
That could be an interesting choice, starting with the fact that he
might want the job
.
He's a former USC linebacker and has an impressive
coaching resume
, particularly on defense.
On the downside, like Fisher, Del Rio is a career NFL coach. And he has three years left on a contract that will play him more than more than $15 million.
Ah, but there's also an intriguing upside.
Check this out
. That's Del Rio's coaching staff in Jacksonville. See the offensive coordinator and running backs coach?
If Del Rio could bring Dirk Koetter and Kennedy Pola with him to USC, that would be a major coup.
Say what you want about how things went for Koetter at Arizona State -- and things didn't go well toward the end -- but the man knows offense. Just ask current Nebraska coach Bo Pelini. When Pelini was LSU's defensive coordinator -- and a highly respected one at that-- Arizona State rolled up 560 yards in a 35-31 loss.
Koetter and quarterback
Matt Barkley
could make beautiful music together.
Moreover, Koetter knows the Pac-10 and the recruiting landscape of the West Coast. If Del Rio needed help finding his way around a college coaching job, Koetter obviously could offer guidance.
And USC folks surely remember Pola, also a former Trojans player and coach. He was a USC assistant from 2000-2003 and earned a reputation as an outstanding recruiter.
Del Rio also may soon be available, or at least the Jaguars might embrace a way to save themselves some money on his contract. According to Gene Frenette of the Florida Times Union, "Del Rio is expected to meet with Jaguars owner Wayne Weaver on Monday or Tuesday to discuss this past season which ended with a four-game losing streak, a 7-9 record, and many fans calling for Weaver to bring in a new coach."
Hmm.
You know, the last time Garrett was unable to hire his first -- or second -- choice, things seemed to work out OK for the program.
March, 12, 2009
3/12/09
6:42
PM ET
Posted by ESPN.com's Ted Miller
Popeye has his spinach. Oregon State linebacker Keaton Kristick has his coffee.
And it's fair to say his aggressive, attacking style -- see 14 tackles for a loss in 2008 -- comes off as fully caffeinated.
"I'm a coffee fiend. I love coffee. I can't go a day without coffee," said Kristick, sounding a bit like he's already had a cup or three.
| | |
| --- | --- |
| | |
| | Jesse Beals/Icon SMI |
| | Linebacker Keaton Kristick believes the Beavers' front seven will turn some heads this fall. |
It's not unreasonable to guess a young man leaving the warm, sunny climate of Fountain Hills, Ariz., for the, er, less warm and sunny clime of the Northwest would adopt coffee as a crutch to get through the dark days of a Corvallis winter.
But Kristick came to coffee before that. He had to get up early in the morning to drive a long distance to attend his private high school, St. Mary's in Phoenix.
It was there that Kristick, obviously fully awake on the football field, was first noticed by Oregon State assistant Mike Cavanaugh.
The Beavers were first and they were tenacious recruiting him. He was their type of guy -- a good athlete operating mostly under the radar who clearly loved playing the game.
While most other interest in Kristick came from the Mountain West Conference, Arizona State and Northwestern also made pushes.
Kristick never seriously considered the Sun Devils, though, which apparently annoyed then-coach Dirk Koetter.
"I wanted to get out and experience something new -- I wanted something green in my life," Kristick said. "Dirk Koetter didn't like me too much after that. I'd see him after games and I ran into him like three or four times [in Scottsdale]. He worked out where I worked out. There was small talk. It was kind of funny. Kind of uncomfortable."
Speaking of comfort -- and lack thereof -- the Beavers 2008 season can be largely summed up by two disparate experiences in Reser Stadium.
December, 5, 2008
12/05/08
11:35
AM ET
Posted by ESPN.com's Ted Miller
Talk about a coaching tree suddenly taking root.
First, Tennessee hires Lane Kiffin. Then, Washington, according to reports, taps Steve Sarkisian.
That's two Pete Carroll disciples landing BCS conference jobs within weeks of each other.
There are many famous coaching trees -- Bill Parcells, Bill Walsh and Dean Smith come to mind. In college football, Hayden Fry's tree ( Bill Snyder, Barry Alvarez, Bob Stoops, Kirk Ferentz, Jim Leavitt, Bret Bielema, among others) is often celebrated.
In the Pac-10, there's Dennis Erickson's tree: Joe Tiller, Tommy Tuberville, Sonny Lubick and John L. Smith. And Mike Bellotti's: Jeff Tedford, Dirk Koetter, Chris Petersen and (in-waiting) Chip Kelly.
Carroll's coaching tree from USC has previously misfired. Nick Holt bolted to become the head coach at Idaho before returning to the Trojan fold after just two losing seasons. Ed Orgeron proved an outstanding recruiter but couldn't build a winner in three seasons at Ole Miss.
Norm Chow and DeWayne Walker, now the offensive and defensive coordinators at UCLA, have been perennial bridesmaids -- respected assistants who have yet to land a head-coaching job.
Kiffin, 33, and Sarkisian, 34, both have been handed broken former powers. Their connection to Carroll surely played a huge role in the pair of young coaches -- both will be the youngest coaches in their respective conferences by a wide margin -- getting a chance to enthuse their way through reportedly dynamic interviews.
What both Tennessee and Washington see is this: Jeff Tedford, Bob Stoops, Mark Richt, Chris Petersen, Kyle Whittingham, etc.
Each of them was a touted coordinator who made a successful jump to head coach (should we really count Kiffin's one-plus season leading the Oakland Raiders as true head-coaching experience?).
Most fanbases want a splashy hire -- think Nick Saban at Alabama or Urban Meyer at Florida.
And it's reasonable to worry about an inexperienced youngster taking over a BCS conference team and going nose-to-nose with more accomplished and savvy veteran head coaches.
Ah, but the upside. That's what both programs are crossing their fingers over.
As for Carroll, if his two protégés succeed, it will only add to his already extraordinary college legacy.
Of course, neither situation is a slam dunk. Far from it.
Kiffin has been fed to the wolves -- the SEC boasts an extraordinary collection of coaches. And patience isn't really part of the plan.
Sarkisian takes over a program in complete disarray, a winless season -- pending a loss at California on Saturday -- capping a five-year span of losing the Huskies have never experienced before.
Sark will get far more patience, though his hiring doesn't appear to be inspiring a widespread celebration within a Husky fanbase that was hoping for Jim Mora or Mike Leach or Chris Petersen.
It will take at least a couple of seasons for him -- or anyone -- to lead the Huskies back to a bowl game.
What Husky fans will start dreaming about, though, is Sarkisian, a few years hence, shaking hands with Carroll after a game, and Carroll frowning into the glow of a wide grin from his protégé.