NCF Nation:

Dominique Battle
January, 23, 2012
1/23/12
9:00
AM ET
National signing day is inching ever closer, so it is time to take a look at the biggest recruiting needs for every team in the Big East.
Cincinnati

Defensive line.
Cincinnati loses a host of seniors from this position, including Co-Defensive Player of the Year
Derek Wolfe
,
John Hughes
,
Monte Taylor
, and
Rob Trigg
. Factor in the key contributors for 2012 will be seniors in
Dan Giordano
,
Brandon Mills
and
Walter Stewart
and it is time to reload at this position.
Receiver.
There is some promising young talent on the roster, but several guys are going to be leaving in the next few years. The Bearcats really need a guy who can stretch the field and make some big plays to join
Anthony McClung
and
Alex Chisum
.
Secondary.
The Bearcats are going to take a hit at this position after 2012, losing a ton of seniors-to-be, including Cam Cheatham,
Drew Frey
,
Dominique Battle
and
Reuben Johnson
. Senior safety
Wesley Richardson
is already gone. The lone four-star commitment the Bearcats have is from a safety, Marcus Foster.
UConn

Quarterback.
This need has been addressed in this recruiting cycle, with junior college transfer Chandler Whitmer and Casey Cochran already enrolled in school.
Tight end.
With the impending departure of
Ryan Griffin
and
John Delahunt
, the Huskies could use another young player to be groomed to take over. Tight end is a critical part of the UConn offense.
Offensive line.
UConn is losing its two best linemen in
Moe Petrus
and
Mike Ryan
. Of the 16 linemen currently listed on the roster, seven are juniors or seniors. Linemen generally take a redshirt season, so it never hurts to sign more to be able to restock.
Louisville

Linebacker.
The Cardinals are losing
Dexter Heyman
and have a lot of juniors and seniors on their roster at this position. It is no surprise, then, that three of the top players coming in are linebackers -- Keith Brown and James Burgess are already enrolled; four-star recruit Nick Dawson has given a commitment.
Offensive line.
Louisville has young players here, but not much depth, as evidenced this season when several true freshmen were forced to play much earlier than anticipated. It never hurts to build depth here, and the Cardinals have gotten a huge commit from four-star guard Abraham Garcia out of Miami.
Running back.
This was an area the Cardinals struggled in this season, having to move quarterback
Dominique Brown
to the position.
Victor Anderson
is gone, and this team could really used another back to carry the load.
Pitt

Quarterback.
This one is pretty self explanatory if you watched
Tino Sunseri
play.
Mark Myers
and
Trey Anderson
are also on the roster, but the Panthers are in definite need here -- which is why so many fans are looking forward to commit Chad Voytik coming to town.
Linebacker.
This has been an area of inconsistency for the Panthers, who lose their best player in
Max Gruder
. There are some young players with talent in
Todd Thomas
and
Ejuan Price
, but this position could definitely use an upgrade.
Receiver.
The play of the offense was disappointing this season, and that includes the receivers. Pitt could use some players to stretch the field.
Ronald Jones
was a start this season. But when you consider that
Cameron Saddler
,
Mike Shanahan
and
Devin Street
will all be upperclassmen in 2012, this is a definite area of need.
Rutgers

Receiver.
Mohamed Sanu
is gone, and
Mark Harrison
is a senior to be. There is plenty of young talent, but there is a reason Rutgers has commitments from four athletes. This gives the Scarlet Knights the flexibility to try them at receiver or running back, another area of need.
Running back.
Once
Savon Huggins
got hurt this year, Rutgers had
Jawan Jamison
and
Jeremy Deering
at running back and that was about it. Depth has to be developed here.
Offensive line.
Strides have absolutely been made at this position, but coach Greg Schiano likes to reiterate that the Scarlet Knights aren't going to pull themselves out of the hole they were in overnight. They need another solid draft class at this position to keep building.
USF

Secondary.
Injuries and inconsistent play this season showed the Bulls really lacked some depth and need some immediate help in this area, which is why they signed junior college cornerbacks Fidel Montgomery and
Josh Brown
. One of their top four-star commitments is cornerback Chris Bivins.
Quarterback.
Beyond
B.J. Daniels
, a senior in 2012, the Bulls have
Bobby Eveld
and
Matt Floyd
as the two heirs to take over. Eveld has been less than impressive, and we don't know much about Floyd. The Bulls would be served to get another quarterback in as they prepare for the future.
Running back.
Darrell Scott
is gone, and the Bulls are really in need of a game breaker at this position.
Demetris Murray
is going to be a senior, and nobody else really has stepped up at the position. Depth has to be built here, because USF goes into spring practice with four running backs on the roster.
Syracuse

Defensive line.
The Orange are losing
Chandler Jones
and
Mikhail Marinovich
and could really used some difference-makers up front who can help get after the quarterback. Depth is an issue here. One of their big commitments so far has been defensive end Josh Manley out of Georgia.
Secondary.
This was one of the weakest parts of the team and now the Orange lose
Phillip Thomas
and Kevyn Scott, and there was a lack of depth when injuries hit this position in 2011. Brooklyn prep safety Wayne Morgan would be a huge get to add to this unit.
Receiver.
Alec Lemon
is a senior,
Van Chew
is gone and who knows what happens with
Marcus Sales
. The bottom line is the Orange are in major need of a game-changer to turn 15-yard passes into 40-yard receptions.
West Virginia

Quarterback.
Geno Smith
is a rising senior and after him it is crickets in the form of one player behind him in
Paul Millard
. So consider this need majorly filled with Ford Childress, ranked No. 139 on the ESPNU 150.
Offensive line.
The most inconsistent part of the team in 2011, West Virginia has a major need here. The Mountaineers struggled so badly here they started converted defensive lineman
Curtis Feigt
late in the season.
Don Barclay
is gone, and
Joe Madsen
,
Jeff Braun
and
Josh Jenkins
are all upperclassmen.
Defensive line.
Julian Miller
,
Josh Taylor
and
Bruce Irvin
are gone, and there are depth concerns here. West Virginia has four commitments from defensive linemen already.
August, 29, 2011
8/29/11
1:14
PM ET
The Big East football coaches' call wrapped up a little bit ago. UConn coach Paul Pasqualoni was the only coach unable to make it because of disruptions from Hurricane Irene. Here are some news and notes from each coach:
Cincinnati
Coach Butch Jones confirmed that he has hired former West Virginia offensive line coach Dave Johnson as an assistant.
He also said Deven Drane is going to start at cornerback, with Dominique Battle right behind him. Jones also anticipates playing eight true freshmen.
On the makeup of the team this season: "I like the mentality of our football team. We've improved our toughness and mental state of mind."
Louisville
Coach Charlie Strong confirmed former Florida cornerback Adrian Bushell has enrolled in school. Bushell played at Coffeyville (Kan.) Community College last season and has only been on campus for two days, so it will take time for him to get up to speed before he can contribute.
Strong also said center Mario Benavides, defensive end B.J. Butler and freshman running back Corvin Lamb are out with injuries.
The Cardinals also plan on playing all three quarterbacks against Murray State on Thursday. Will Stein will start, but Teddy Bridgewater and Dominique Brown will get in as well.
Pitt
The only player out for the game is linebacker Dan Mason.
What is Todd Graham most eager to see about this team? "How we handle adversity. I'm anxious to see them get on the field and execute what we're doing. I feel good about where we're at. We've got an awful lot taught. I'm anxious to see how they respond and get them on the field in game day. I've told them I expect them to be better on game day than they were in the spring and summer."
At his news conference in Pittsburgh, Graham said walk-on freshman Trey Anderson would be the backup at quarterback and Shane Gordon would start at strongside linebacker.
Rutgers
Greg Schiano on playing N.C. Central: "I'm not worried about our team overlooking anybody. If you know about the type of season we had last year, we underachieved. We didn't meet expectations and our entire program can't wait to play a football game."
Schiano says running back Jeremy Deering should be able to play after missing practice time with a head injury. As for his running back rotation between Savon Huggins, DeAntwan Williams and Jawan Jamison, Schiano said, "Savon is definitely going to play. Depending on what we run the first play of the game, will it be Savon, DeAntwan Williams or Jawan Jamison? I don't know how it's going to go. Savon has done a good job in training camp. He's shown why he is the player that he is. He's a talented guy, very mature and worked hard to get ready."
Syracuse
Coach Doug Marrone said Phillip Thomas and Shamarko Thomas, and cornerback Keon Lyn are back at practice and would be able to play against Wake Forest on Thursday night.
Marrone threw out some stats in his opening remarks. Syracuse is 1-12 against ACC teams since 1996, including 0-8 at home.
He also addressed some of the problems with winning home games. Syracuse has not had a winning home record since 2004. The main thing is eliminating the distractions that come with playing at home.
USF
Skip Holtz talked a lot about the excitement of playing Notre Dame for his players, and the campus as well. Holtz spoke at a pep rally on campus and felt a buzz around the students, too. "There is a lot of excitement," he said. "It's fed by not only the way we finished the season last year, but the excitement to play Notre Dame on national television. These are big games for us."
Holtz also said he didn't expect any players to sit out with injuries.
West Virginia
Dana Holgorsen still has not decided on a running back rotation, but said all three freshmen -- Vernard Roberts, Andrew Buie and Dustin Garrison will play Sunday against Marshall.
On why he doesn't use a playbook: "The thought process is we don't want people staring at a piece of paper. We want them to understand it based on film, seeing how it's done right, how it's done wrong and doing it trial and error on your own. We put together a few mini-playbook stuff that's video related. It makes more sense to us."
Holgorsen also said Pat Eger is leading the race to start at right tackle. Quinton Spain is the backup to both tackles. He also expects Julian Miller to be cleared for Marshall.
On Bruce Irvin being an every-down player: "Whether he can be every down as good as he is on specific pass-rush things, I don't know. Time will tell. He set the bar pretty high being a third-down pass-rusher."
December, 15, 2010
12/15/10
11:00
AM ET
After two straight Big East titles and BCS game appearances, Cincinnati came crashing down to earth with a 4-8 record in 2010.
Several factors conspired against the Bearcats in this disappointing season. There was the coaching transition, of course, as Butch Jones took over for Brian Kelly. There was a difficult early schedule that included games at Fresno State and NC State and versus Oklahoma, all of which Cincinnati lost. Injuries played a part, as starting receiver
Vidal Hazelton
went down in the opener with a torn ACL, and the team's most experienced cornerback (Dominique Battle) missed most of the year with a knee injury.
The Bearcats led the league in points scored and total offense but finished last in points allowed thanks to an undersized, inexperienced defense that gave up nearly 34 points per conference game. Unlike last season, when they could win shootouts late in the year because of their prolific offense, they continually ended their own drives with mistakes. Their abysmal minus-15 turnover margin was second-worst in the FBS.
[+] Enlarge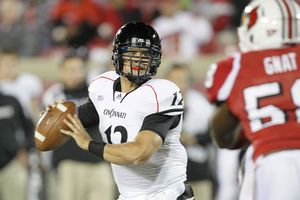 AP Photo/Ed ReinkeQuarterback Zach Collaros is part of a strong returning nucleus on offense for Cincinnati.
Intangibles were at play as well. Jones had to fight a sense of entitlement that stemmed from those two straight championships. Senior center Jason Kelce told the Cincinnati Enquirer earlier this month that the team lacked the hunger it had in previous years.
So what can Cincinnati do to get back to the postseason in 2011?
Jones has a strong nucleus returning. The team loses only six starting seniors, none of them on defense. Quarterback
Zach Collaros
, running back
Isaiah Pead
and receiver
D.J. Woods
are all among the best at their position in the Big East, so the offense should thrive again, especially with a year of Jones' system under their belts. The Bearcats will miss start wideout
Armon Binns
, but freshman
Anthony McClung
showed promise late in the year, and former star recruit Dyjuan Woods and junior college transfer
Kenbrell Thompkins
will become eligible.
The defense remains an issue, and this offseason will be crucial in the weight room for the Bearcats to add some bulk. Jones has to fill in some gaps through recruiting and may look to a junior college player or two to provide immediate help.
Next year's schedule will be slightly easier, with difficult games against Tennessee and NC State but highly winnable contests against Austin Peay, Akron and Miami of Ohio. For the first time in a few years, the Bearcats won't be picked among the favorites for the Big East. But they should improve enough to get back to a bowl in 2011.
June, 1, 2010
6/01/10
4:15
PM ET
It's time to get back to our post-spring rankings of each Big East position group. A lot of teams have question marks in their secondaries heading into this summer; let's look at how they stand in comparison to one another:
[+] Enlarge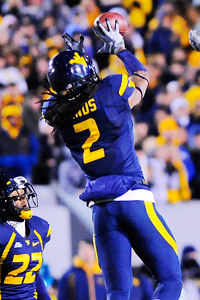 AP Photo/Jeff GentnerRobert Sands snagged five interceptions last season.
1. West Virginia:
The Mountaineers play five defensive backs in their 3-3-5 alignment and should be well stocked for 2010. Safety Robert Sands should compete for league defensive player of the year honors if he continues his rapid development, while senior Sidney Glover is an experienced playmaker at one of the other safety spots. West Virginia needs Brandon Hogan to rediscover his form and for Keith Tandy to keep improving, and this could be one of the team's strongest units.
2. Rutgers:
The Scarlet Knights lost the best cornerback in the Big East when Devin McCourty took his skills to the NFL, but I still like the group that's returning. Joe Lefeged should step up and assume McCourty's leadership role as a senior safety, while Khaseem Greene looks ready to become a front-line safety. David Rowe is a solid corner, and either Brandon Bing or Logan Ryan should fill the other spot. The Scarlet Knights have a lot of talented young players here to provide quality depth, as well.
3. Syracuse:
The Orange officially have five returning starters in the secondary because of injuries last year, and several players gained valuable experience during 2009. There's a good mixture of veteran leadership with guys like seniors Mike Holmes, Da'Mon Merkerson and Max Suter as well as rising stars like Shamarko Thomas and Phillip Thomas.
4. Pittsburgh:
Antwuan Reed helped answer a big question with a strong spring at cornerback. The other corner spot will likely be filled by either junior college transfer Saheed Imoru or Buddy Jackson, with Ricky Gary around to add depth. The safety position should be in good shape when Dom DeCicco and Andrew Taglianetti return from their injuries, while Jarred Holley established himself as a dependable safety last year.
5. South Florida:
The Bulls lost a pair of draft picks in Nate Allen and Jerome Murphy and have some young players moving into key roles this season. The good news is those youngsters have talent. The key will be whether Quenton Washington and Kayvon Webster can hold down the cornerback spots.
6. Cincinnati:
There's healthy competition in the secondary for the Bearcats, who increasingly gave up big plays in the passing game as the 2009 season wore on. Dominique Battle, Camerron Cheatham, Chris Williams and Reuben Johnson all vied for playing time at corner this spring. Drew Frey is a steady safety. The group needs to make more plays than it did a year ago but should embrace a more aggressive scheme this year.
7. Connecticut:
The Huskies ranked last in pass defense last season and lost two senior stalwarts from the secondary. The defensive backfield was in disarray at times this spring. The return of Blidi Wreh-Wilson from his shoulder injury this summer should help out the cornerback spot with Dwayne Gratz. Jerome Junior should be solid at one safety spot, while Kijuan Dabney is trying to win the other job after moving from linebacker. The Huskies are counting on a lot of young players to improve quickly before the season begins.
8. Louisville:
The Cardinals had so much trouble finding playmakers in the secondary this spring that running back
Darius Ashley
moved to corner to help out. Johnny Patrick is one of the league's better cornerbacks but needs help in the defensive backfield. The healthy return of safety Terence Simien would provide a boost, but this remains a trouble spot heading into the fall.
September, 29, 2009
9/29/09
4:07
PM ET

Posted by ESPN.com's Brian Bennett
Being in the top 10 for the first time in school history is a nice accomplishment. But Cincinnati coach Brian Kelly says he hasn't really mentioned anything about it to his team.
"They know I'm not very impressed," Kelly said. "We're pleased that we've made that progress and that we can be a top 10 team. But our guys are not patting themselves on the back saying, 'Hey, we've arrived.' They understand they've got to play each and every week or they'll get beat, because we're not that good."
Kelly on Big East programs
Brian Kelly thinks the Big East has some young programs that are building toward something.

He also comments on his program's facilities and commitment to winning.
Despite how well the Bearcats (4-0) have looked to start the season, Kelly insists that his team still has a lot of flaws. The offense, he said, needs to do a better job dictating the flow of the game and work in more balance with the run. The defense missed too many assignments against Fresno State. The kickoff return team needs improvement.
Still, how many teams would love to trade their problems for Kelly's? Surely Mike Haywood would. The first-year Miami of Ohio coach has to find a way for his 0-4 team to compete with the Bearcats this week. The RedHawks have given up an average of 41.8 points per game, while Cincinnati is averaging more than 43 per contest.
How efficient are the Bearcats on offense? Last week against Fresno State, they scored 28 points despite taking only 39 actual offensive snaps. That's a touchdown every 5.6 snaps. Even for a fast-paced no-huddle attack, that's hard to believe.
"In 19 years of coaching, you don't ever think you're going to go into a game and run 39 offensive plays and still be around to talk about wins," Kelly said. "We're built to move quickly, with bigger-chunk plays. We're not a ball-control offense. But we've got to make sure we give
Tony Pike
enough snaps."
Miami has a new quarterback in freshman
Zac Dysert
, who made his starting debut against Kent State and threw for 337 yards and rushed for 107. Kelly said the RedHawks will play with nothing to lose and will be motivated by this rivalry game.
Yet this matchup figures to be severely lopsided and could give Cincinnati a chance to work in some new guys and some players coming off injuries before going to South Florida on Oct. 15. Kelly said cornerbacks Dominique Battle (ankle) and Chris Williams (leg) are getting closer, but they may not play until the Bulls game. Marcus Barnett started at corner last week, and freshman Reuben Johnson could see more time this week.
Kelly said linebacker Curtis Young is making good progress from his knee injury but is probably a couple of weeks away. Linebacker Robby Armstrong is having knee surgery this week and is probably out for the season. Kelly mentioned sophomore Alex Delisi as one who could pick up the slack at linebacker.
Running back
John Goebel
, who missed the first four games with a hamstring injury, should see some time on special teams this week so he can be ready for the South Florida game, Kelly said.
May, 21, 2009
5/21/09
11:00
AM ET
Posted by ESPN.com's Brian Bennett
We've talked about guys who've had big springs, guys who might emerge and guys who came out of nowhere.
But there were also players who missed all or part of the spring because of injuries, suspension, academics or whatever. And several of them are key parts to their team. Here's a look at some players who need to come through this fall after being absent for at least part of spring ball.
Cincinnati: Linebacker Andre Revels was held out of most of the spring after minor offseason knee surgery. The senior is one of the few experienced players on the Bearcats' defense and will be counted on this fall. Young defensive back Dominique Battle was expected to compete for a starting cornerback job this spring but was sidelined at times with an ankle injury.
Connecticut: The Huskies were remarkably injury- and issue-free this spring. They'll hope that continues this fall.
Louisville: The Cardinals are a different team offensively when receiver Scott Long is healthy. Unfortunately, he missed most of last season with injuries and sat out the spring following ACL surgery. He should be good to go in the summer.
Pittsburgh: Starting cornerback Aaron Berry was suspended for the final part of spring drills for violating team rules. Pitt needs him to have his act together and be on the field.
Rutgers: The Scarlet Knights had a lot of important players miss time this spring with various injuries, including safety Joe Lefeged, leading returning rusher Kordell Young, running back Jourdan Brooks and several of their young receivers.
South Florida: Seemingly every offensive linemen the Bulls missed time with an injury or another problem this spring. Obviously, Jake Sims (finger), Zach Herman (concussion), Sampson Genus (knee) and Jeremiah Warren (academics) all will be needed in the fall for South Florida to contend.
Syracuse: First-team all-Big East defensive tackle Arthur Jones tore his pectoral muscle before the spring and was unavailable. The timetable for his return isn't clear, but Syracuse would have a hard time without him.
West Virginia: The Mountaineers could use Jock Sanders back in the lineup. The speedy receiver/running back was suspended for the spring after a DUI arrest. He will try to return to the team once he completes his court case.
February, 27, 2009
2/27/09
10:45
AM ET
Posted by ESPN.com's Brian Bennett
At this time last year, few people were talking about Donald Brown, Connor Barwin, Will Beatty or Tony Pike. Each emerged out of the shadows to become a star in the Big East.
Who will be the next batch of players to post have breakthrough seasons? Unlike the top newcomers, which we explored on Thursday, this list is about players who have already seen some time on the field but may be about to make you sit up and take notice. This is a tough exercise to do before seeing players in the spring, but here are five early possibilities:
• Cory Grissom, DT, South Florida: He appeared in only one game in 2008 before being shelved by an ankle injury, for which he gained a medical redshirt. Bulls coaches love him and think he has the most talent of any of their young interior linemen. Look for him to fight for a starting spot on what could be the league's best defensive line in '09.
• Dominique Battle, CB, Cincinnati: Battle was named the Bearcats' newcomer of the year after playing in every game as a freshman, but he was overshadowed by Mike Mickens and DeAngelo Smith. With both those guys off to the NFL Draft, Battle should step right in as a starting corner. Cincinnati has shown it knows how to develop ball-hawking defensive backs, and the athletic Battle fits that mode to a tee.
• Julian Miller, DL, West Virginia: Miller was the Mountaineers' scout team defensive player of the year during his redshirt season, then played all 13 games last year as a backup, recording 3.5 sacks. He should challenge Larry Ford for the starting job at defensive end. On a defense that returns most of its starters from a year ago, Miller could be the biggest depth-chart mover.
• Andre Dixon/Jordan Todman, RB, UConn: Donald Brown cast a long shadow by leading the nation in rushing in 2008, so one or both of these guys might emerge in his absence. Dixon led the team in rushing two years ago and was second team All-Big East, but he vanished as a junior. Todman made a strong freshman debut and has the burst to excel in many roles in the Huskies' new no-huddle offense.
• T.J. Porter, WR, Pittsburgh: Porter backed up Derek Kinder at flanker last season but still finished third on the team in catches, yards and yards per catch. The graduation of Kinder and Oderick Turner opens up plenty of playing time for the Florida-bred speedster. And with defenses no doubt gearing up to double team Jonathan Baldwin, Porter could be in line for a big senior season.