NCF Nation:

Dominique Reese
June, 30, 2011
6/30/11
2:00
PM ET
As advertised ...
1. Florida State:
The Noles have one of the best cornerback duos in the country in Greg Reid and Xavier Rhodes. They combined for 33 passes defended last season, the most of any pair of cornerbacks in the nation. Mike Harris had 41 tackles and four picks as a reserve.
[+] Enlarge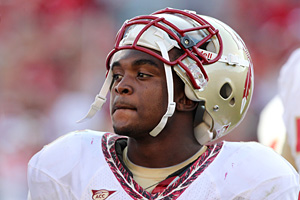 Matthew Emmons/US PresswireFlorida State cornerback Greg Reid is also one of the ACC's top return men.
2. Virginia Tech:
Jayron Hosley is one of the top boundary corners in the country, and the Hokies also have Kyle Fuller, who had six deflections last season, and Cris Hill (two deflections) at field corner.
3. Maryland:
The Terps return both starters in Cameron Chism and Trenton Hughes, who combined for 36 career starts. Chism is a strong cover corner who had 70 tackles and eight deflections last season. Hughes had nine pass deflections.
4. NC State:
Both starters return in C.J. Wilson and David Amerson. Wilson had 46 tackles, two interceptions and six pass breakups, and Amerson had 57 tackles. Justin Byers and Gary Grant also have experience.
5. North Carolina:
The Tar Heels lost some remarkable talent in their secondary, including cornerback Kendric Burney, but there is a lot of depth at the position. Jabari Price started four games last season, Charles Brown has 22 career starts but sat out last season, and Mywan Jackson and Tre Boston both have at least four starts each.
6. Boston College:
The Eagles will miss DeLeon Gause, but Donnie Fletcher has 17 career starts, 56 tackles last season, and led the team with five picks. C.J. Jones played in 12 games as a backup last season with 16 tackles. Dominique Williams also saw some time and had four tackles, and true freshman Al Louis-Jean, who was the No. 9 cornerback in the nation as ranked by ESPN Recruiting, enrolled early.
7. Clemson:
It's a young group, as the Tigers had to replace Marcus Gilchrist and Byron Maxwell. Xavier Brewer had 10 starts with 50 tackles and two interceptions last season, Coty Sensabaugh had 31 tackles in three starts, and senior Mansa Joseph will also be competing for playing time with sophomore Martin Jenkins.
8. Virginia:
The Cavaliers return both starters in Chase Minnifield and Devin Wallace, but Wallace was suspended and missed spring ball and is still suspended. Wallace had 38 tackles and six breakups last season. Chris Broadnax, Rijo Walker, Drequan Hoskey and Pablo Alvarez will all compete for playing time.
9. Miami:
The Hurricanes have to replace both starters in Brandon Harris and Ryan Hill. Jo-Jo Nicholas moved to corner and Brandon McGee, who was the nickel back last season, will compete along with
Lee Chambers
, Keion Payne, Nathan Gholston and true freshman Thomas Finnie, who had a great spring.
10. Georgia Tech:
The Jackets had to replace their entire secondary, including cornerbacks Mario Butler and Dominique Reese. They've still got several cornerbacks with experience in Rashaad Reid, who started 14 games in 2008 and 2009, Rod Sweeting (38 tackles, seven pass breakups, one interception), Louis Young (10 tackles), and Michael Peterson (six tackles, one pass breakup).
11. Wake Forest
: The Deacs have a deep enough secondary that they can live without the experience of cornerback Kevin Johnson, who started five games last season but will sit out this season while academically ineligible. Josh Bush had 33 tackles and four pass breakups last season, Kenny Okoro is a rising star, A.J. Marshall has three starts and Dominique Tate returns after missing last season while on academic suspension.
12. Duke:
Ross Cockrell is a returning starter and finished last season with 60 tackles and 10 passes defended. He was only a freshman but he tied for eighth in the ACC with passes defended with 10 in 12 games. Johnny Williams had four pass breakups last season.
October, 13, 2009
10/13/09
9:28
AM ET

Posted by ESPN.com's Heather Dinich
Georgia Tech defensive coordinator Dave Wommack has tried just about everything. He's moved players around. He's switched from a 4-3 to a 3-4 scheme because he was running out of healthy defensive ends. Now, with the injury situation having limited his options, he's given his players one more task -- have fun.
| | |
| --- | --- |
| | |
| | AP Photo/Gregory Smith |
| | Safety Morgan Burnett knows the defense needs to pick things up. |
Georgia Tech safety Morgan Burnett said the message this week was not to become preoccupied with making mistakes or worrying about past errors made against Florida State. Instead, it was to let loose and have some fun on Saturday against the Hokies.
There's no question, though, that the Yellow Jackets' pride has taken a hit in the past two weeks. Despite winning both games, Georgia Tech allowed Florida State 539 yards of total offense and Mississippi State racked up 487. Both teams averaged 37.5 points against Georgia Tech, and with the way Virginia Tech's offense has been clicking lately, the better defense should win on Saturday in what could be a season-defining Coastal Division game.
"You take that real personal because football is a competitive sport, so no matter what you do, you want to be the best," Burnett said. "You want to be the best unit and you want to try to stop the offense. When a team puts up that many points, it's very frustrating, and it gets you really upset. But you can't get frustrated. We have to move on to Virginia Tech. We can't sit back and worry about what happened at Florida State. The only thing we can do is fix it and get better."
Georgia Tech's defense was the Jackets' lone question mark entering this year, as it lost three of four starting defensive linemen who are now in the NFL. With the exception of Burnett and defensive end Derrick Morgan, this defense lacks the superstar lineup it had a year ago, and injuries have compounded the problem.
Linebacker Kyle Jackson suffered a season-ending foot injury, and two defensive ends -- Anthony Egbuniwe and Robert Hall -- have both missed time. Hall could return from a knee injury in November, and Egbuniwe missed one game with an illness. Two star safeties -- Cooper Taylor and Dominique Reese -- have missed a combined four games. Taylor has missed the past three games with a heart problem, but began to practice lightly on Monday. Reese has a shoulder injury and missed one full game and played only a snap at MSU. Combined, those players have missed 13 games.
"You hate to sit there and say that because it sounds like you're making excuses," Wommack said, "but I think that's it as much as anything, I really do."
It's caused a lack of continuity, and the Jackets have gotten away from the experienced reps they had during spring and two-a-days. Wommack said he doesn't expect to get anyone healthy this week. Instead, he's had to move a corner who's never played safety to free safety in Rashaad Reid, and that's part of the reason he's been tweaking his defensive philosophy midseason, which is usually unheard of.
"It's the worst thing you can do, to keep changing this and that," Wommack said. "We've got new players playing different positions and so forth, but it's somewhat been out of necessity, too."
Georgia Tech is ranked 108th in the nation in pass efficiency defense. Its rushing defense is allowing 135.5 yards per game. The number that counts, though, is how many points they're allowing, and that's 26.5 points per game. None of those statistics match up well against the No. 4 ranked Hokies, who are scoring 34 points per game, and rushing for 208.5 yards per game. Virginia Tech is ranked among the top 20 in the country in both categories.
"You just fight through it, that's what you've gotta do," Wommack said. "You try to point out the mistakes to the kids when you review the film and why, where the breakdowns were, and all of a sudden you start getting better. It doesn't happen overnight. It really doesn't happen overnight."
It's got to happen by Saturday, though, or the Jackets will be behind the Hokies in the Coastal Division standings -- again.
Posted by ESPN.com's Heather Dinich
There are some teams in the ACC that are stacked at a particular position or positions -- meaning there's not just depth there, but depth and legitimate all-conference talent. Here's a quick look at who in the conference is simply loaded:
UNC front seven: All four starters return on the defensive line, and there is outstanding depth both there and in the secondary. On the line, tackle Cam Thompson is coming off his best season at UNC, tackle Marvin Austin and end E.J. Wilson both started the majority of games last season, and Robert Quinn had 6.5 tackles for loss, two sacks and two forced fumbles.
Linebackers Bruce Carter and Quan Sturdivant both started every game last season, and the position is the deepest it's been in recent years. Carter led the team with 11 tackles for loss and Sturdivant led the nation with 87 solo tackles.
Georgia Tech running backs: Jonathan Dwyer, Roddy Jones, Anthony Allen, Marcus Wright -- so many players, only one football.
Georgia Tech secondary: Morgan Burnett, Rashaad Reid, Mario Butler, Dominique Reese, and Cooper Taylor all have experience, and the group also welcomes back Jerrard Tarrant from a suspension.
Virginia Tech running backs: Darren Evans and Ryan Williams are all the Hokies will need, but they've also got Josh Oglesby and Kenny Lewis Jr. as players they can count on.
Boston College secondary: The Eagles return DeLeon Gause, Wes Davis and Roderick Rollins, who have combined for 32 career starts. This should be the best group BC has had in a while.
Clemson defensive line: The Tigers return three starters across the front, and coach Dabo Swinney has said this unit could be the strength of the entire team. Ricky Sapp is the leader, senior Kevin Alexander is a returning starter, and there are really three starters returning for the two defensive end positions, including DaQuan Bowers, who started six games last year and finished with 47 tackles, the most among the linemen.
Miami wide receivers: Travis Benjamin, Aldarius Johnson, Thearon Collier, LaRon Byrd, Kendal Thompkins, Tommy Streeter ... the Hurricanes could field a team that consists entirely of receivers.
Florida State offensive line: The Noles are oozing with talent here. Tackle Andrew Datko, guard Rodney Hudson and center Ryan McMahon combined to start all but one game last season. What was the youngest offensive line in the FBS last season could be one of the best this year. For the first time since 2004, all five starters return.
Wake Forest offensive line: The Demon Deacons return eight offensive linemen with a total of 118 career starts among them. Jeff Griffin and Joe Birdsong are Wake's returning starters at tackle while Barrett McMillin and Joe Looney each started at guard in 2008. Russell Nenon, who started the season at guard, moved to center at midseason following an injury to Trey Bailey. Bailey returns after fully healing from a broken ankle. The Deacons also welcome back Chris DeGeare who missed the 2008 season while getting his academics in order.
December, 16, 2008
12/16/08
12:45
PM ET
Posted by ESPN.com's Heather Dinich
Virginia Tech coach Frank Beamer said he has no plans on changing his staff this offseason, and that means offensive coordinator Bryan Stinespring will be back, despite one of the nation's least productive offenses.
Offensive woes aside, here's an idea if you want to win the Orange Bowl: How about getting the players in their rooms BEFORE 2 a.m.?
Florida State AD Randy Spetman said he predicts coach Bobby Bowden will sign a new one-year contract and return for another season, but they won't discuss his contract until after the bowl game.
Florida State defensive end Everette Brown is focused on his next game, not the NFL draft.
Georgia Tech coach Paul Johnson is tweaking his offense before the Chick-fil-A Bowl, and safety Dominique Reese, who sprained his left MCL against Miami, is almost ready to go.
November, 20, 2008
11/20/08
10:19
PM ET
Posted by ESPN.com's Heather Dinich
ATLANTA -- Miami defensive coordinator Bill Young passed me in the press box on his way to the bathroom at halftime. He might as well have stayed in there. Miami's defense is getting embarrassed.
And there's an entire quarter left to play.
The Canes aren't defending the option with any discipline or consistency, and they're not accounting for the fullback, quarterback and slot back. That's what's allowing Georgia Tech its big plays. Over and over again. So much for quarterback Josh Nesbitt playing timid on that ankle.
Georgia Tech's defense, on the other hand, looks like the running of the bulls on every play. And they're doing it without two starters -- safety Dominique Reese and linebacker Sedric Griffin -- who were both knocked out of the game with left knee injuries in the first half.
Miami hasn't quit -- Robert Marve hit Dedrick Epps who was wide open in the end zone for the Canes' only touchdown so far -- but it's like it didn't even matter here.
All Paul Johnson has to do now is keep the ball on the ground and run the clock. You know, what he's been doing all game.
November, 1, 2008
11/01/08
2:23
PM ET
Posted by ESPN.com's Heather Dinich
Hello from Bobby Dodd Stadium, where it is a perfect, sunny day and the Florida State fans are out in full force. A crowd nearing the capacity 55,000 is expected today. Florida State is planning on starting Preston Parker at wide receiver, unless he doesn't warm up well. He's got a deep thigh bruise and hasn't practiced the past two days.
A few changes in Georgia Tech's lineup ... Cooper Taylor will make his first career start at free safety (Dominique Reese is injured and won't play), and Nick Claytor will start in place of injured right tackle David Brown.
Here are a few keys to today's game:
Florida State's young offensive line against Tech's veteran defensive linemen: This will be the biggest matchup of the afternoon. The Seminoles will probably need tight end Caz Piurowski to help with the blocking. Georgia Tech's defense, though, is coming off a performance in which it missed 30 tackles.
Georgia Tech's rushing offense against Florida State's rushing defense: The Yellow Jackets are ninth nationally in rushing offense, averaging 236.6 yards, while the Seminoles rank seventh nationally in rushing defense, limiting opponents to 79.9 yards per game.
Turnovers: Georgia Tech needs to hold onto the ball while at the same time continue its knack of grabbing interceptions. Tech has only thrown three interceptions all season, but it's had a case of fumbleitis. On the flip side, Florida State quarterback Christian Ponder hasn't thrown an interception in the past two games.
October, 19, 2008
10/19/08
1:42
PM ET
Posted by ESPN.com's Heather Dinich
FSU coach Bobby Bowden might want to give the officials a helmet sticker for their performance in the second half of his win over NC State on Thursday night after he gave 'em a talkin' to at the break, but I'll go ahead and stick with the guys who made the plays.
Here's a look at the best of the ACC in Week 8:

Florida State quarterback Christian Ponder -- He threw the go-ahead 17-yard touchdown pass and completed 23 of 35 pass attempts for 254 yards and a touchdown. No interceptions. He had a career-high in almost every category, and was 6 of 8 for 71 yards on the game-winning, 70-yard touchdown drive, including a 23-yard pass on third-and-17.
Maryland -- The offense totaled 470 yards, the defense handed Wake Forest its first shutout in 123 games, and kicker Obi Egekeze made four field goals. I'd say that makes for a complete game. It was Maryland's fifth straight win over a top 25 team. Much of the credit goes to the combo of quarterback Chris Turner and receiver Darrius Heyward-Bey.
Georgia Tech's secondary -- Safety Dominique Reese had one forced fumble and returned an interception 34 yards for a touchdown, safety Morgan Burnett had two interceptions, and cornerback Rashaad Reid added another in the Yellow Jackets' 21-17 win over Clemson.
Virginia linebacker Jon Copper -- He had a career-high 16 tackles, including 10 solo in the Cavaliers' 16-13 overtime win. The Cavaliers held the Tar Heels, who were averaging 31.8 points without a touchdown after the first quarter.
Boston College defense -- The Eagles beat Virginia Tech despite turning the ball over five times and not scoring after halftime. Virginia Tech was held to a season-low 240 yards of total offense.
October, 18, 2008
10/18/08
12:53
PM ET
Posted by ESPN.com's Heather Dinich
CLEMSON, S.C. -- New coach, new quarterback, new offense, same result on the scoreboard here in Memorial Stadium.
Interim head coach Dabo Swinney and assistant Billy Napier are calling the plays, and it's definitely a new look. More players are involved, James Davis took a direct snap, and for the first time since 2005, somebody other than the quarterback made a passing attempt.
And it didn't turn out too well.
Receiver Tyler Grisham's lone passing attempt was intercepted by safety Dominique Reese and returned 34 yards for the Yellow Jackets' 7-0 lead. And Tech is winning the battle up front.
Derrick Morgan, who has arguably the most potential of the defensive linemen for a successful NFL career, easily pushed past right tackle Landon Walker and got a hand on quarterback Willy Korn as he was passing. The play resulted in the second interception of the first quarter.
Cullen Harper entered the game on Clemson's final possession because Korn has a shoulder injury and is being evaluated.
Posted by ESPN.com's Heather Dinich

WAKE FOREST -- The Demon Deacons have been working on trying to beat man coverage, which Florida State will play a lot of. Offensive coordinator Steve Lobotzke is less concerned about how that will affect their passing game than it will their ability to run the ball. FSU's formation allows for an extra blocker to stop the run, and Lobotzke has been scheming to figure out, by formation, how to beat the extra guy in the box.

FLORIDA STATE -- Yes, playmaker Preston Parker is back from his two-game suspension, but the staff is still figuring how to use him most effectively. With freshman running back Ty Jones out with a right ankle injury, don't be surprised to see Parker back in the running game. Jermaine Thomas and Antone Smith have both run well, but the staff is looking for a different dimension, a back who is faster and shiftier. That would be Parker.

NORTH CAROLINA -- Defensive coordinator Everett Withers is scheming to make Virginia Tech quarterback Tyrod Taylor throw the ball, something he did just 14 times last weekend against Georgia Tech. It's no wonder that's the game plan: Withers' secondary intercepted four passes in UNC's win over Rutgers and the Tar Heels are fourth in the conference in pass defense efficiency (106.8). Said Withers: "Our whole objective in this thing is to try to make him beat us with his arm."

GEORGIA TECH -- Safety Dominique Reese has started the first three games, but as the season has progressed, true freshman Cooper Taylor's playing time has increased. Taylor is now getting between 50-75 percent of the snaps. The Yellow Jackets might get injured starting linebacker Anthony Barnes and starting wide receiver Demaryius Thomas back in time for the Mississippi State game. While coach Paul Johnson downplayed the absence of Thomas in the loss to Virginia Tech, Thomas could help with blocking.

MIAMI -- In addition to scheming for two quarterbacks, Randy Shannon will be watching to see if Texas A&M uses a four-man front or a three-man front and will have to adjust quickly to the Aggies' defense on Saturday in the first half. The Hurricanes have spent the bye week working on forcing turnovers because the defense hasn't had one in the first two games. The coverage teams for punt and kickoff returns also got extra work.
TOP 25 SCOREBOARD
Thursday, 12/5
Friday, 12/6
Saturday, 12/7