January, 31, 2012
1/31/12
9:00
AM ET
With one day to go before signing day, it is worth taking a look back at how the players on the Big East first-team fared when they were coming out of high school.
You will see, once again, that recruiting rankings generally have nothing to do with the way a player will do in college. So anybody freaking out about what your school does or does not have in the way of commitments for 2012, just take a deep breath. And look at how some of the most unheralded players out of high school become some of the best in the Big East.
I used ESPN recruiting rankings. Note only one player honored on the first team was ranked as an ESPNU150 player. Many on defense came in as either athletes, receivers or quarterbacks.
Offense
[+] Enlarge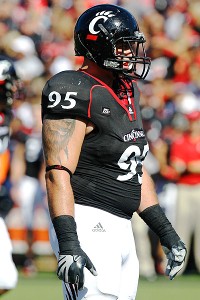 AP Photo/Al BehrmanCincinnati defensive tackle Derek Wolfe -- the 2011 co-Big East Defensive Player of the Year -- was unranked coming out of high school.
WR Mohamed Sanu, Rutgers.
Sanu was ranked the No. 18 safety in the nation coming out of high school in 2009, with a scout grade of 80.
WR/RS Tavon Austin, West Virginia.
Austin was rated the No. 41 running back in the nation coming out of high school in 2009 -- three spots behind De'Antwan Williams (Rutgers) and one spot behind Jason Douglas (Pitt). Know who else was ranked ahead --
Victor Marc
and
Bradley Battles
of USF.
OT Justin Pugh, Syracuse.
Unranked at his position for the class of 2009, Pugh got a scout grade of 40. Talk about making the most of somebody who was "undervalued."
OT Don Barclay, West Virginia.
Ranked No. 65 at his position in the class of 2007. One other West Virginia player was ranked athead of him, at No. 55 --
Gino Gradkowski
, who transferred to Delaware.
OG Randy Martinez, Cincinnati.
Rated the No. 161 defensive end in the class of 2007.
OG Art Forst, Rutgers.
Forst was ranked the No. 25 offensive tackle in the class of 2008 -- the second-highest Big East player on the list behind
Lucas Nix
of Pitt.
OG Andrew Tiller, Syracuse.
Tiller was unranked and did not even get a scouts grade when he was being evaluated in 2009 out of Nassau Community College.
C Moe Petrus, Connecticut.
The best center in the Big East was unranked and had no scouts grade when he signed with UConn in 2007.
TE Nick Provo, Syracuse.
Provo was ranked No. 86 at his position in the class of 2007
QB Geno Smith, West Virginia.
Smith has lived up to his billing -- ranking No. 97 on the ESPNU150 in the class of 2009. He was the No. 8 player at his position and No. 15 in the state of Florida.
RB Isaiah Pead, Cincinnati.
The No. 152 ranked running back in the class of 2008, Pead got a scout grade of 71. He just won MVP Honors on the Senior Bowl.
RB Ray Graham, Pittsburgh.
Rated the No. 66 running back in the class of 2009, Graham was rated behind West Virginia's Daquan Hargrett (left program) and USF's
Adaris Bellamy
(academics).
RB Antwon Bailey, Syracuse.
Ranked the No. 128 running back in the class of 2008 -- well behind fellow signee Averin Collier (No. 42). Collier was considered the gem of the class, but academics derailed his career.
K Dave Teggart, Connecticut.
Teggart was ranked the No. 25 kicker in the class of 2007.
Defense
DL Derek Wolfe, Cincinnati.
Wolfe was unranked at his position in the class of 2008 and got a scout grade of 40. Four years later, he was the co-Big East Defensive Player of the Year.
DL Kendall Reyes, Connecticut.
Reyes also was unranked in his position in the class of 2007 with a scout grade of 40. Believe it or not, he came into UConn at 220 pounds (he's now around 300) and now has a shot to be a mid-round draft pick.
DL Chandler Jones, Syracuse.
Jones came to Syracuse as a 230-pound tight end, unranked and giving a scout grade of 40. Now he is headed to the NFL draft as a projected second-to-third round pick.
DL Bruce Irvin, West Virginia.
Irvin took an
incredible journey to West Virginia
through Mt. SAC junior college after dropping out of high school.
LB JK Schaffer, Cincinnati.
Schaffer was ranked the No. 93 outside linebacker in the class of 2008, behind such players as
Tyler Urban
,
Marvin Booker
(Rutgers), Quavon Taylor (USF) and Marcus Witherspoon (Rutgers).
LB Khaseem Greene, Rutgers.
No ranking or scout grade for Greene, who went to prep school before arriving at Rutgers.
LB Najee Goode, West Virginia.
Goode was a quarterback and linebacker in high school who was not ranked.
CB Adrian Bushell, Louisville.
Bushell was ranked the No. 21 cornerback in the class of 2008 and originally signed with Florida. After playing at junior college, he made an immediate impact with the Cardinals.
CB Keith Tandy, West Virginia.
Tandy was ranked the No. 207 quarterback in the nation in the class of 2007. The same group that featured Jimmy Clausen and Ryan Mallett.
S Drew Frey, Cincinnati.
Frey was a receiver coming out of high school and unranked, with a scout grade of 40.
S Hakeem Smith, Louisville.
Smith was ranked the No. 93 receiver in the class of 2009, but his athleticism allowed him to switch to defense and emerge as one of the best safeties in the league.
S Jarred Holley, Pittsburgh.
Also a receiver in the class of 2008, Holley was ranked No. 230 at that position with a scout grade of 65.
S Duron Harmon, Rutgers.
The No. 49 athlete in the class of 2009, he was ranked below teammate
Jamal Merrell
,
Todd Thomas
of Pitt and
Kayvon Webster
of USF.
P Pat O'Donnell, Cincinnati.
O'Donnell was unranked with a scout grade of 40, but he has emerged as one of the most impressive iron men in the league.
January, 13, 2012
1/13/12
9:00
AM ET
Without further adieu, here is your 2011 Big East All-Bowl team:
OFFENSE
QB:
Geno Smith
, West Virginia. Smith was named the Discover Orange Bowl MVP after the Mountaineers routed Clemson 70-33. Smith ended up with Orange Bowl records for passing yards (401), touchdowns responsible for (six) and total offense (433). He threw just 11 incompletions and had zero interceptions.
RB:
Isaiah Pead
, Cincinnati. The Big East Offensive Player of the Year turned in a terrific final performance as a member of the Bearcats in the AutoZone Liberty Bowl against Vanderbilt. Pead set a school bowl record with 149 yards rushing in a 31-24 win, his sixth 100-yard game of the season. His 12-yard touchdown run with 1:52 remaining sealed the team's first bowl victory since 2007.
RB:
Jawan Jamison
, Rutgers. The Scarlet Knights run game was inconsistent all season, but the redshirt freshman stepped up against Iowa State in the New Era Pinstripe Bowl. Jamison was named MVP of the game after gaining 131 yards and two touchdowns on 27 carries. It was his third 100-yard game of his career. All of them happened this season.
[+] Enlarge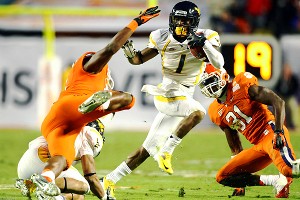 Douglas Jones-US PRESSWIREWest Virginia WR Tavon Austin had 280 all-purpose yards in the Orange Bowl.
WR:
Tavon Austin
, West Virginia. The best playmaker on the Orange Bowl field was pretty much unstoppable. Austin racked up an Orange Bowl record with 280 all-purpose yards, including 117 yards receiving, 46 yards rushing and 117 yards on kickoff returns. He also set Orange Bowl records for receptions (12) and receiving touchdowns (four).
WR:
Josh Bellamy
, Louisville. Bellamy set a season-high with 98 receiving yards in a loss to NC State in the Belk Bowl. Still, he had the most receiving yards by a Cardinal in a bowl game since Harry Douglas had 165 against Wake Forest in the 2007 Orange Bowl. His 53-yard reception in the first quarter was a career long and the second-longest pass play for Louisville this season.
OG:
Randy Martinez
, Cincinnati. Martinez has been one of the most consistent offensive linemen for the Bearcats over the past two seasons, and he graded out near the top once again in the Liberty Bowl. Martinez helped pave the way for 221 rushing yards -- second most against FBS competition this season.
OG:
Betim Bujari
, Rutgers,
OT:
Desmond Wynn
, Rutgers. Bujari made just his third start of the season, on the left side no less. Wynn slid over from guard to tackle. But the combination worked for the Scarlet Knights, who put together perhaps their best effort on the offensive line all season. Rutgers ran for 173 yards -- their second-highest total of the season. And they did not allow a sack.
OT:
Don Barclay
, West Virginia,
C:
Joe Madsen
, West Virginia. One of the biggest knocks against the Mountaineers this season was their inconsistency on the offensive line. In the days leading up to the Orange Bowl, Madsen said he felt the unit had played to the level of its competition. The hope was that facing several NFL draft prospects on the Clemson line would help West Virginia play better. Whatever works, right? West Virginia ran for 188 yards and did not allow a sack in its domination of the Tigers.
DEFENSE
DL:
Myles Caragein
, Pitt. The Panthers may not have had the greatest game in the BBVA Compass Bowl against SMU, but Caragein was solid for most of the afternoon, with six tackles, 2.5 for loss, 1.5 sacks and a pass breakup.
DL:
Derek Wolfe
, Cincinnati. Wolfe ended his Co-Defensive Player of the Year season with six tackles, including two for loss, against Vanderbilt.
DL:
Aaron Donald
, Pitt. Donald did his part for the Panthers, with one sack, a forced fumble, a tackle for loss and five tackles in all. Pitt racked up four sacks on the day and held SMU to 61 yards rushing in the loss.
LB:
Najee Goode
, West Virginia. Goode was a part of an outstanding defensive effort, with 1.5 tackles for loss, one sacks, one pass breakup and one fumble recovery against Clemson.
LB:
Khaseem Greene
, Rutgers. After posting one of the best regular seasons in school history, Greene finished everything off with a team-high 13 tackles in the Pinstripe Bowl to finish the year with 140, tied for fifth in the school single-season record books. Unfortunately, he could not complete the game after breaking his ankle. He is expected to be fine for 2012.
LB:
JK Schaffer
, Cincinnati. Schaffer had nine tackles, a sack and a tackle for a loss in a win over Vanderbilt. He closes out his career with 337 stops, a mark that ranks him ninth on the Big East career list.
LB:
Nick Temple
, Cincinnati. The true freshman saved his best performance of the season for the final game of the season. Temple had a career-high eight tackles, a forced fumble and his first career interception in a win over Vanderbilt. Simply put, he was everywhere for the Bearcats.
S:
Darwin Cook
, West Virginia. Cook had perhaps the play of the game in the Orange Bowl, when he scooped up a fumble by
Andre Ellington
and returned it 99 yards for a touchdown to seize momentum in the second quarter against Clemson. West Virginia ended up scoring 35 points in the frame to put the game way, way, way out of reach.
S:
Eain Smith
, West Virginia. With starting
Terence Garvin
out because of a knee injury, many wondered whether Cook and Smith would take more on their shoulders. They both delivered in a big way. Smith finished with a game-high 13 tackles, including 12 solo stops, and assisted on a tackle for loss.
CB:
Keith Tandy
, West Virginia. Tandy had six tackles and an interception on the night, and was part of a secondary that completely shut down
Sammy Watkins
, holding him to 66 yards on five catches. After a shaky start, West Virginia hunkered down and gave up just 78 yards passing in the second half.
Tajh Boyd
completed only 52 percent of his passes.
CB:
Logan Ryan
, Rutgers. Ryan really seemed to grow up throughout the season and ended the year with another big performance. Logan had seven tackles -- 2.5 for loss -- one interception and half a sack in the win over Iowa State.
SPECIAL TEAMS
PK:
Tyler Bitancurt
, West Virginia. Bitancurt was 10-for-10 on extra-point attempts in the Orange Bowl, setting a new record for extra points attempted and made in any bowl game.
P:
Justin Doerner
, Rutgers. Doerner had a terrific performance against Iowa State with a season-best 49.7-yard average on six punts. Two of them went inside the 20. One of them went 57 yards. His average was tops among the five Big East punters in bowl games.
KR:
Ralph David Abernathy IV, Cincinnati. After Vanderbilt went up 21-17 early in the fourth quarter, Abernathy took the ensuing kickoff and returned it 90 yards for a score to put the Bearcats up for good. It was the first return for a score in his career.
AP
: Austin. See above.
December, 9, 2011
12/09/11
10:30
AM ET
Editor's Note: Tune into the "AT&T ESPN All America Team Show" on Saturday (ABC, 1:30 p.m. ET) to see who ESPN's writers and experts selected.
You saw what the coaches had to say when they picked the All-Big East team. Now it is my turn. I only have a few different opinions than the coaches. To start, West Virginia receiver
Stedman Bailey
is on my first team over
Tavon Austin
. Bailey finished with more yards; Austin with more receptions. But I thought Bailey was a little more consistent over the course of the entire season.
I also have West Virginia defensive lineman Julian Miller on the first team ahead of Bruce Irvin. Miller got off to a slow start, mostly because he was hobbled with an injury. But late in the season with games on the line, he was almost unstoppable. Pitt running back
Ray Graham
also gets a nod even though he missed the final five games of the season with a knee injury.
Without further adieu:
OFFENSE
QB:
Geno Smith
, West Virginia
RB:
Isaiah Pead
, Cincinnati
RB: Ray Graham, Pitt
OT: Don Barclay, West Virginia
OT: Justin Pugh, Syracuse
C: Joe Madsen, West Virginia
OG: Randy Martinez, Cincinnati
OG: Andrew Tiller, Syracuse
WR:
Mohamed Sanu
, Rutgers
WR: Stedman Bailey, West Virginia
DEFENSE
DL: Julian Miller, West Virginia
DL: Kendall Reyes, UConn
DL: Derek Wolfe, Cincinnati
DL: Chandler Jones, Syracuse
LB: JK Schaffer, Cincinnati
LB: Najee Goode, West Virginia
LB: Khaseem Greene, Rutgers
S: Hakeem Smith, Louisville
S: Duron Harmon, Rutgers
CB: Adrian Bushell, Louisville
CB: Keith Tandy, West Virginia
SPECIALISTS
PK: Dave Teggart, UConn
P: Pat O'Donnell, Cincinnati
RS: Tavon Austin, West Virginia
September, 22, 2011
9/22/11
1:00
PM ET
All week, the headlines about the Big East have surrounded the future implosion of the league. How would it survive? Where would it turn? Will more teams leave?
So let's just say the game between No. 2 LSU and No. 16 West Virginia on Saturday night comes at the right time for a league in desperate need to flip the script. Not only is the game hugely important for the revamped Mountaineers, it is more so for the Big East.
This is a league in need of something positive to happen. Putting the focus back on the field is a good first step. An upset over one of the best teams in the nation -- well, that would be a welcome change.
[+] Enlarge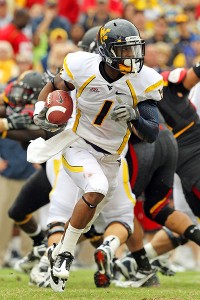 Mitch Stringer/US Presswire"We get to show the world just because we're in the Big East doesn't mean we can't play with an SEC team," said Tavon Austin.
"It's a great opportunity for us," West Virginia receiver
Tavon Austin
said. "We get to show the world just because we're in the Big East doesn't mean we can't play with an SEC team. Hopefully we can come together and get a win."
That the Big East had a season to forget in 2010 only adds to the need for an upset here. Last season, the Big East went 0-6 against Top 25 teams in nonconference play. If you go back to the start of 2005, the Big East is 7-24 against Top 25 nonconference opponents.
If you narrow that down to teams in the top 10, the Big East is 2-10. Both those wins belong to the Mountaineers: 48-28 over No. 3 Oklahoma in the 2007 Fiesta Bowl and 38-35 over No. 8 Georgia in the 2005 Sugar Bowl.
This actually is the Big East's biggest home nonconference game since No. 1 Ohio State visited Cincinnati on Sept. 16, 2006. The Buckeyes won that game 37-7. The last time West Virginia hosted a team ranked in the top two was in 2002, when No. 1 Miami came to town. That was a league game.
So you can see the stakes are high. But coach Dana Holgorsen has tried to undersell how big a win would be in this game.
"It's every bit as big as the last game was and it's every bit as big as the next game will be," he said. "That's one thing we've tried to preach to our guys. It's more about us than who we play. Our job is to prepare to win a game and learn how to prepare to play in a game regardless."
Still, anytime "College GameDay" arrives on campus, you know your game is a big deal. West Virginia fans have been waiting for this moment for years, and student ticket demand far exceeds tickets available. Fans already are putting up tents at the site and camping out. The city has even ordered couches off porches in anticipation of this game.
What may give West Virginia some confidence going into this one is the way it played last year against the Tigers in Baton Rouge. After LSU jumped out to a 17-0 lead, West Virginia cut it to 17-14 in the third quarter but could not get any closer. It was a day of missed opportunities on special teams. The Mountaineers allowed Patrick Peterson to return a punt 60 yards for a touchdown, had one field goal blocked and missed a 48-yard attempt.
"Last year when we went down there, we almost came out with a win. We just had a couple bad mistakes," Austin said. "They beat us, but they're just like any other team."
West Virginia needs to view LSU that way, but the national view is much different. The SEC is the league all others are compared to because of its recent run of success. Let's face it: The Big East does not get many opportunities against SEC opponents.
This year, the Big East is 1-1 against the SEC. Since 2005, the Big East is 2-3 against Top 25 SEC teams -- two of those losses were to Florida.
"This is a big game," offensive lineman Don Barclay said. "The fact that it's a night game makes it extra exciting and puts more hype into the game. Night games here are special. We know we have a great opportunity coming. We're going to give them our best shot and they're going to give us their best shot."
September, 22, 2011
9/22/11
10:15
AM ET
We have been watching off-the-field developments for nearly a week. How about what to watch on the field in Week 4?
1. Big week for an impression.
The Big East has three national games this weekend, its biggest chance yet to get people talking about good performances as opposed to the survival of the league. Cincinnati plays NC State tonight, but Saturday provides the biggest opportunity when Notre Dame travels to Pitt and No. 2 LSU plays at No. 16 West Virginia. The Panthers have had recent success against Notre Dame, but are going to have to find a way to make adjustments in their pass defense against another quick-strike offense. West Virginia played LSU close last year before losing. The Mountaineers were the last Big East team to beat a top 3 opponent, taking down No. 3 Oklahoma in the 2007 Fiesta Bowl.
2. LSU D-line vs. WVU O-line.
This is my biggest key in the game, and you can see more about it in my Game of the Week video later this afternoon. The Tigers have speed, size and depth along their front and that has allowed them to be one of the top run defenses in the nation. Last week, they forced Mississippi State into 15 negative rushing plays. West Virginia does not have nearly as much depth on its offensive line and has struggled with run blocking. "They have great intensity, good passion for the game all around their defense and they fly to the ball," left tackle Don Barclay said. "We have to match their intensity."
[+] Enlarge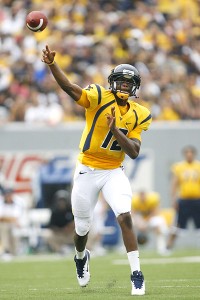 Charles LeClaire/US PresswireGeno Smith will face his stiffest challenge yet against LSU's stingy defense.
3. Geno Smith vs. LSU D.
The Tigers are stingy in giving up big plays, while West Virginia wants to hit as many as possible. LSU has only allowed two completions on throws of 15 yards or longer this season, while West Virginia has 14 such completions, including five touchdowns, according to ESPN Stats & Information. What's more, West Virginia already has 17 completions of 20-plus yards in 2011, fifth most in FBS. Last season, West Virginia only had 35 completions of the same distance in 13 games.
4. Pitt defense.
The Panthers have been gashed in the fourth quarter in all three games this season, so they have to learn how to finish. They also need better play out of their linebackers in the short, underneath passing game and forcing more turnovers is a must. The Panthers have yet to recover a fumble this season and only have two interceptions.
5. Cincinnati secondary.
The last time the Bearcats played a top-level opponent, they gave up over 400 yards passing against Tennessee. NC State quarterback
Mike Glennon
has the capability of hitting Cincinnati for some big plays. Has the Cincinnati defense made improvements in this area or will it be a problem all season?
6. USF rolling along.
The Bulls have played overmatched opponents since their season-opening win over Notre Dame and face yet another one in UTEP. The Miners are 4-47 all-time against teams ranked in the AP poll and 0-20 since 1998 against schools from automatic-qualifying conferences.
7. MAC attack.
Two of the top teams in the MAC travel to play Big East teams Saturday, and neither should be taken lightly. Toledo plays at Syracuse and Ohio visits Rutgers. The Rockets nearly upset Ohio State a few weeks ago, but penalties and missed opportunities on special teams cost them. Ohio is off to a 3-0 start for the first time since the 1970s behind its version of the Pistol offense. There is one more MAC game in the Big East, between UConn and Buffalo.
8. Syracuse secondary vs. Eric Page.
The Rockets have one of the best all-purpose players in the nation in Page, who has the potential to hurt Syracuse the way
T.Y. Hilton
hurt Louisville. Considering the Orange are banged up in the secondary and had problems against the pass last week, this is going to be a key area to watch in the game.
9. Rutgers run game.
The Scarlet Knights tinkered with their offensive line and running back rotation during the bye week. Look for true freshman
Savon Huggins
to get more carries. Will that translate into better play on the ground against Ohio?
10. UConn offense.
This has been a storyline every week and will remain a storyline until the Huskies get this fixed. The quarterback situation is shaky, but perhaps most alarming has been the offense's inability to consistently get the ground game going. This is a function of a few factors -- defenses stacking the box and coach Paul Pasqualoni making some changes along the offensive line. The Huskies averaged 2.6 yards a carry last week against Iowa state.
August, 12, 2011
8/12/11
11:25
AM ET
Here is your Big East preseason all-conference team:
Offense
QB
Geno Smith
, West Virginia
RB
Isaiah Pead
, Cincinnati
RB
Ray Graham
, Pitt
OG Jeremiah Warren, USF
OG Zack Chibane, Syracuse
C Moe Petrus, UConn
OT Mike Ryan, UConn
OT Don Barclay, West Virginia
TE
Ryan Griffin
, UConn
WR
Tavon Austin
, West Virginia
WR
Mark Harrison
, Rutgers
Defense
DE Brandon Lindsey, Pitt
DE Bruce Irvin, West Virginia
DT Kendall Reyes, UConn
DT Derek Wolfe, Cincinnati
LB JK Schaffer, Cincinnati
LB Sio Moore, UConn
LB Max Gruder, Pitt
CB Keith Tandy, West Virginia
CB Blidi Wreh-Wilson, UConn
S Hakeem Smith, Louisville
S Jarred Holley, Pitt
Special teams
K Dave Teggart, UConn
P Pat O'Donnell, Cincinnati
RS
Lindsey Lamar
, USF
July, 15, 2011
7/15/11
9:00
AM ET
The
team position rankings
have wrapped up, so now it is time to tackle another bear of an assignment: player rankings. I am going to start with offensive line. I thought about breaking this off into centers, guards and tackles, but wanted to have 10 at each position. That would leave center lacking. So I am going with all offensive linemen.
[+] Enlarge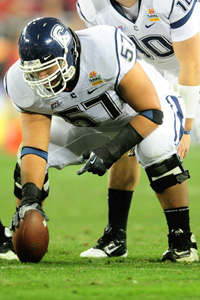 Mark J. Rebilas/US PresswireMoe Petrus has garnered plenty of attention, making the preseason Lombardi, Outland and Rimington award watch lists.
1. Moe Petrus, center, Connecticut.
The premier offensive lineman in the league has started every game he has played in headed into his senior season. That makes 39 for those scoring at home. Petrus is on three watch lists this preseason (Lombardi, Outland and Rimington) and he is the heart of a very solid Huskies offensive line.
2. Mike Ryan, tackle, Connecticut.
The Huskies have a formidable duo with Petrus and Ryan returning. Ryan is the only player coming back this season who was a first-team All-Big East selection, and is on the watch list for the Lombardi Award. Ryan helped an offensive line that allowed just 15 sacks last season and averaged 175 yards on the ground.
3. Don Barclay, tackle, West Virginia.
Another veteran player with plenty of starting experience, Barclay has started 27 games and was a second-team Big East selection last season. Barclay also is on two watch lists (Lomardi and Outland). Here is how valuable he is to the WVU starting line: He was on the field for more than 860 plays last season.
4. Joe Madsen, center, West Virginia.
Madsen, Petrus and Mario Benavides make quite a trio of terrific centers in the Big East. Madsen has also started every game he has played in (25), and he only allowed one sack last season. He is so good, he won the team's offensive player of the game honors three times last season.
5. Justin Pugh, tackle, Syracuse.
Pugh had quite the impressive debut season, starting all 13 games at left tackle as a redshirt freshman en route to second-team All Big East honors. He might not be huge (6-foot-5, 287 pounds), but he is athletic and should be among the best in the league.
6. Mario Benavides, center, Louisville.
Listing three centers among the top six should show you how good the top players at the position are this season. Benavides has started 24 games in his career but could be even better this season after offseason knee surgery.
7. Lucas Nix, tackle, Pitt.
Nix should be considered the rock of the Pitt offensive line as he returns for his third season as a starter. With Chris Jacobson moving to center, Nix provides some stability and should be key in helping the Panthers continue their strong ground attack.
8. Alex Hoffman, tackle, Cincinnati.
Hoffman has started 25 games and was a second-team All-Big East pick in 2009. Last season, the Bearcats had their share of early struggles, but he did help them get their first 1,000-yard rusher since 2004. He also is on the Lombardi Award watch list.
9. Jeremiah Warren, guard, USF.
Warren and Chaz Hine make up the best guard tandem in the Big East. In fact, guard is a position with plenty of question marks throughout the league. But that is not the case for the Bulls. Warren has started 26 games, and he and Hine will help anchor a line with three new starters.
10. Chaz Hine, guard, USF.
Hine has a remarkable story, going from walk-on to starter to one of the best guards in the league. Now that he will be in the second year of Skip Holtz's system, he should be even better.
June, 27, 2011
6/27/11
9:00
AM ET
Now by popular demand, we begin ranking the positions across the Big East. I know I am a little late to the party on this one, but better late than never, right? I asked on Twitter for suggestions on which position to start with today. There was no consensus. But I did like one suggestion: to work our way up from the line.
So first up is the offensive line. To make these rankings, I considered returning starters, accolades for returning starters, position switches and depth. The truth is, this is not an area of strength for the league as a whole. Most teams have depth concerns and questions at one or more positions.
[+] Enlarge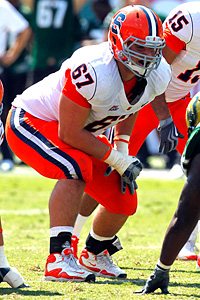 Cliff Welch/Icon SMI Justin Pugh earned all-conference honors last season as a freshman.
1. Syracuse.
The Orange have four returning starters, including two seniors. You have Justin Pugh, who made second-team All-Big East last year as a freshman. You have a more mature and experienced unit than the one last year, which had to replace four starters. There also is depth to have a nice eight-man rotation. The concern is at center, where Macky MacPherson is undersized. Actually, when you look at the entire group, it is undersized. Andrew Tiller is the only one who tips the scales at more than 300 pounds.
2. West Virginia.
The offensive line was an area of strength under Rich Rodriguez, but has struggled the past few years. It was hard to get a gauge on this unit in the spring, with both starting tackles Jeff Braun and Don Barclay out because of injuries. Starting guard Josh Jenkins also got hurt and is still not 100 percent. But the potential is there for this group to be significantly improved.
3. UConn.
The strength of this unit is at tackle and center, where the Huskies return first-team All-Big East selection Mike Ryan (20 career starts) and Adam Masters (18 career starts). Moe Petrus, a second-team all-conference pick, has 39 career starts. Their experience should help along the guards -- nobody on the roster has started a game at the position. The good news is that Gary Bardzak does have starting experience, but it came at center.
4. Pittsburgh.
The Panthers made so many position shifts during the spring that it is hard tell how this unit is going to shape up come fall. Chris Jacobson moving to center was one of the biggest moves, and Pittsburgh hopes it pays off with more stability there. Jacobson and starting tackles Jordan Gibbs and Lucas Nix have a combined 49 career starts, but Pitt has to make up for losing first-team Big East selection Jason Pinkston.
5. USF.
The Bulls are going to be young on the offensive line this season after losing first-team All-Big East center Sampson Genus, along with tackles Jamar Bass and Jake Sims (second team All-Big East). Chaz Hine and Jeremiah Warren are a solid tandem at guard, and Mark Popek at left tackle and Kevin McCaskill at center do have playing experience. But at right tackle, USF plans to go with redshirt freshman Quinterrius Eatmon. He does have loads of potential, but there will be a learning curve. Depth also is an issue, and the Bulls could have true freshmen in the rotation.
6. Cincinnati.
The Bearcats had their share of problems last season, ranking second-to-last in the Big East in sacks allowed (31). This year, they have to replace three starters on the offensive line with unproven players. Senior right tackle Alex Hoffman has taken on some leadership responsibility with the loss of Jason Kelce, but players like Austen Bujnoch, Andre Cureton, Sean Hooey and Evan Davis are going to have to step up. Depth could also be an issue here.
7. Louisville.
The Cardinals return just one starter in center Mario Benavides, who has been hampered with a knee injury. Ryan Kessling and Alex Kupper have playing experience, but most everybody else is pretty unproven, and that makes for one of the biggest question areas on the team headed into the fall.
8. Rutgers.
The Scarlet Knights own the bottom spot until the season starts and we can see how much this unit has improved. It is a well-known fact that they finished last in sacks allowed and were one of the worst rushing teams in the country last season for that reason. They suffered a blow when junior college transfer Dallas Hendrikson went down with a season-ending injury in the spring, but coach Greg Schiano said he saw plenty of improvement from this group. They certainly will have more experience, but how much better will they be?
April, 15, 2010
4/15/10
7:30
AM ET
MORGANTOWN, W. Va. -- Wednesday was a fun and enlightening day at West Virginia. I spent a lot of time with the always gregarious Bill Stewart and even got to see
Geno Smith
go through a quarterback meeting with offensive coordinator Jeff Mullen. And of course I watched practice. Here are some quick thoughts and observations:
The team that came out for practice No. 6 won't be the same team you see this fall. At least Stewart hopes not. Several walking wounded wore non-contact jerseys, including receiver Bradley Starks (ankle) and running back Noel Devine (quad). Smith only participates in individual and skeleton drills, no team competitions. Cornerback Brandon Hogan didn't practice as he is concentrating on his academics. And Jock Sanders missed practice because of class. So it was far from a full deck, and Stewart said he was frustrated by a number of busted assignments and broken plays. You could tell the coaching staff's frustration, because after practice several defensive players were made to do up-downs, while the offensive guys ran sprints. Some defensive players argued with each other coming off the field."You have a couple of guys in [non-contact] jerseys, and all of a sudden your leadership starts spiraling down," Stewart said in disgust. "We may be a .500 football team, that's it."
Coley White is a busy man with Smith limited. White takes every snap during the 11-on-11 and other team drills. He's had a good spring and showed off a stronger arm than I -- and even other frequent Mountaineers observers -- expected a couple of times on Wednesday, on a touchdown pass to Stedman Bailey and a long one to Starks. Smith is almost certain to be the starter, but White can win games if needed at quarterback. The only bad news is his time is so important at quarterback that he can't work on his desired transition to receiver.
Only saw a little bit of Smith, but he made some nice throws. He's much bigger than last year, too. In fact, he later told me he's put on 25 pounds since the Gator Bowl, which is amazing.
Bailey, by the way, looked pretty good and made a nice adjustment on one ball. He could be important with very little depth at receiver now that Deon Long and Logan Heastie are gone (and barring a miracle, they aren't coming back).
Former cornerback Eddie Davis continues to work at receiver, but while he looked fast on the practice field, Stewart called him out as one of many players who did not know their assignments and plays Wednesday.
I'm very high on Ryan Clarke. The big, bruising runner steamrolled defensive back Darwin Cook at one point. No surprise, since Cook was yielding about 45 pounds in that matchup.
Stewart said he's happy with the left side of his line (Don Barclay and Josh Jenkins) and center Joe Madsen. But he wants to see much more improvement from the right side, where Eric Jobe is at guard and Matt Timmerman is at tackle.
The oddest sight during practice occurred in the end zone, where a couple of players apparently being punished had to slam a giant tire with a sledgehammer repeatedly. Reminded me of something out of "The World's Strongest Man" competitions. But it provided a good drum beat for practice.
Most discombobulating sight: Starks wearing No. 5 (Pat White's old jersey number) and Devine sporting No. 10 (Steve Slaton's former digits) in their green non-contact shirts.
Knee-jerk reaction of questionable merit: Hard to make a solid judgment on this team with so many important players out. But you'd think the Mountaineers would be a little sharper just because of all the returning starters who are back. It's still early in the spring for them, and there's plenty of time to turn things up. This team is too talented and experienced not to be a major factor in the Big East race.
February, 24, 2010
2/24/10
11:00
AM ET
Spring football in the Big East kicks off March 16. Here's a breakdown of three issues facing each program heading into the spring:

CINCINNATI
Spring practice starts:
March 17
Spring game:
April 24
What to watch:
Building depth: New coach Butch Jones said this is the biggest key for the spring. The Bearcats have a lot of top-flight players with starting experience back, like Zach Collaros, Armon Binns, Isaiah Pead and JK Schaffer. But there's a lot of youth and inexperience in potential backup roles, especially at positions like offensive line, linebacker and receiver. All slates are clean with the new coaching staff, and the spring will be a time when new names can emerge in key roles.
Defensive line retooling: Jones will switch back to the 4-3 after a year in the 3-4 scheme. Both starting defensive ends from last year are gone, but the smallish line was overpowered at times near the end of the season anyway. Derek Wolfe should be a fixture inside, Dan Giordano, Brandon Mills and John Hughes step into more prominent roles. Jones will have to decide whether to make Walter Stewart a defensive end or keep him at outside linebacker. The Bearcats could use a little more strength and bulk up front against the bigger Big East offensive lines.
Vidal's arrival: USC transfer Vidal Hazelton is eligible after sitting out last year. He reputedly dominated practices last season, and now he'll get to go full time with the first string. A lot of people will be watching closely to see how he and Collaros connect during the spring. A big year by Hazelton will lessen the loss of star wideout Mardy Gilyard and could keep Cincinnati as the Big East's best offense.

CONNECTICUT
Spring practice starts:
March 16
Spring game:
April 17
What to watch:
Secondary matters: UConn returns a truckload of starters and looks rock solid in most areas. But the defensive backfield will be an area of emphasis starting in the spring. Gone are stalwarts Robert McClain and Robert Vaughn from a secondary that got picked apart much of the season by opposing passing games. Dwayne Gratz and Blidi Wreh-Wilson showed progress by the end of their redshirt freshmen seasons and should be the starting corners. The Huskies need someone to replace Vaughn at safety and overall better performance from the unit.
Frazer vs. Endres: Zach Frazer and Cody Endres have been splitting starts since the second half of the 2008 season at quarterback. Endres took over early last year and played well until he suffered a season-ending shoulder injury. Frazer picked things up late after a slow start. The competition should be back on this spring, with Frazer probably holding the edge given his late-season improvement.
Catch as catch can: Receiver was a major question for UConn going into last spring, when walk-on senior Marcus Easley surprised everybody with his giant leap forward. He became the go-to guy in 2009, but now he's gone, along with starter Brad Kanuch. So the Huskies are basically back in the same position as this time a year ago, needing to find some reliable pass catchers. Kashif Moore may be the next to break out after some good, late-year performances. And perhaps former highly-touted recruit Dwayne Difton will emerge. UConn hopes to catch lightning in a bottle again like it did with Easley.

LOUISVILLE
Spring practice starts:
March 24
Spring game:
April 16
What to watch:
Switching to Strong: The Cardinals will have their first practices under new coach Charlie Strong, who promises to bring a much different style than former coach Steve Kragthorpe. Strong is known as being an intense guy on the field, and as a former top-flight defensive coordinator, he will likely be particularly demanding of players on that side of the ball. There will be new terminology to learn, new assistants and new standards to which the Cardinals must adjust in a hurry.
The quarterback shuffle: Louisville had three quarterbacks -- Adam Froman, Justin Burke and Will Stein -- start games last year. All three will be given the chance to win the job in the spring, and mid-year enrollee Luke Woodley might see some snaps as well. Don't be surprised if this competition goes into the fall and if other newcomers like Dominique Brown get a look. Offensive coordinator Mike Sanford wants to run a Florida-style spread offense, which might favor the more mobile Froman if he chooses to go with a veteran under center.
Line play: The trenches have not been a particularly strong suit for Louisville the past couple of seasons, one of the reasons why the program has fallen out of annual postseason play. The Cardinals have gotten very little pass rush from the defensive line and not enough of a consistent push from the offensive line. Strong asked the offensive linemen to rework their bodies to prepare for the spread, and he'll need replacements for two senior defensive tackles. Junior-college imports Randy Salmon and Tyler Harrell will have a chance to impress on the defensive line. If the holdovers don't step up, we could see more newcomers in key spots by the summer.