September, 8, 2014
Sep 8
10:30
AM ET
Each college football season is a whodunit. Or, more accurately, it's a "who-will-do-it." It contains plot twists and turns, false leads and subtle clues about how things will play out. It's basically a 14-chapter potboiler, so if we seemed to have a couple of big reveals in Chapter 2, we should greet them with equanimity. Even skepticism.
No. 3 Oregon made the biggest national statement so far this season with a 46-27 victory against No. 7 Michigan State. The Ducks answered questions about their ability to match up with an elite physical defense and established their legitimacy. That quarterback
Marcus Mariota
turned in a tour de force for the Ducks further validates the preseason feeling that he was the Heisman Trophy front-runner. Also getting a hole punched in their validation cards were Ducks coach Mark Helfrich and new defensive coordinator Don Pellum.
[+] Enlarge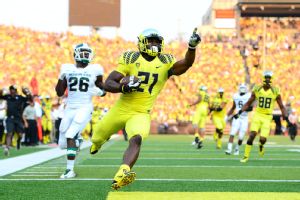 Phil Ellsworth/ESPN ImagesWe shouldn't punch Oregon's ticket to the College Football Playoff just yet.
Meanwhile, USC and new coach Steve Sarkisian also answered questions, though the Trojans' 13-10 triumph at Stanford was pretty much a quasi-comic thriller unto itself. For one, there's USC athletic director Pat Haden, who has never previously merited a rating on the wacko scale, apparently deciding there was some wisdom in his engaging the officials for all to see. Yes, a former USC quarterback, Rhodes Scholar and 61-year-old member of the College Football Playoff selection committee apparently didn't think making a spectacle of himself would turn out badly.
As for football, the Trojans won a second consecutive nail-biter over the Cardinal, propelling themselves into the top 10, They won in large part because Stanford couldn't get out of its own way. The Cardinal had nine drives inside the Trojans' 35-yard line but scored just 10 points, which almost seems mathematically impossible. That red zone ineptitude would be notable for any team, but it's even more stunning when you consider Stanford's well-established reputation for disciplined, bruising, efficient play.
Nonetheless, the victory made the Trojans the second-highest rated team in the Pac-12 in both major polls. Two weeks into the season, one might call them the South Division favorite and most likely team to challenge the Ducks.
But what of USC's friends from Westwood, UCLA, the previous holder of both those designations? The Bruins improved to 2-0, but only after an unimpressive performance in an anxious 42-35 victory against lightly regarded Memphis. They continued a tumble in national estimation, falling from a preseason ranking of No. 7 to No. 12 in the latest AP poll. In Week 1 at Virginia, the Bruins' offense, particularly the line, appeared hapless. In Week 2, the defense took the day off.
UCLA is a cipher. The Bruins look good on paper -- the depth chart suggests no obvious deficiencies -- but have not looked good on turf, at least thus far. They remain unbeaten but are presently the most deserving owner of the dreaded "overrated" label. They could turn out to be the Chapter 1 good guys who end up as heels. Or the opposite. They could be lying in wait, bland and unimpressive, before leaping out of the shadows to make their heroic flourish. Feel free, by the way, to put your own spin on coach Jim Mora's brief postgame interview in which he said he liked his defense "a lot," before frumping off, leaving reporter and audience hanging.
In the preseason, there was some hope that UCLA's game with Texas on Saturday in Cowboys Stadium would be revealing. While expectations weren't terribly high for the Longhorns under first-year coach Charlie Strong, there were reasonable projections this game at least would be a matchup of ranked teams. But Texas is battling growing pains, as well as injuries and suspensions, under Strong. It just got whipped for a second consecutive season by BYU, so the Longhorns look like more of a banana peel than a national stepping-stone for the Bruins.
If UCLA loses, it probably will fall out of the Top 25, going from vogue pick for CFP semifinalist to unranked within three weeks. If it wins, most will shrug and point to the Sept. 25 date at Arizona State, a Thursday night showdown between South Division contenders, as a true measuring stick for whether the Bruins merit our preseason gushing.
This skepticism, however, carries little more authority than everyone's present approbation of Oregon. It's just fickle words, really. Fodder for the daily grind of sports fandom, this week's topic. In December, Oregon's 2-0 might not end up being any more meaningful than UCLA's 2-0. Further, UCLA at 4-0, no matter how it got there, would probably rework its popular descriptive term from "overrated" to "opportunistic."
In other words, our present takes are no more than hunches. These are educated hunches based on tangible evidence, but we all know tangible evidence often has a brief shelf life in college football. Oregon, USC and UCLA have made statements about themselves through Week 2, and it's inevitable that we react to what has been said.
That doesn't mean we won't be breaking down a rematch between Arizona State and Stanford in the Pac-12 championship game when the regular season ends.
February, 12, 2014
Feb 12
5:30
PM ET
Get this. Stanford's Lance Anderson actually
wanted
to be a defensive coordinator in the Pac-12. Crazy, right? Biletnikoff winners to lose sleep over; Doak Walker finalists dashing and gashing for 20 yards a pop; and All-American offensive linemen that must be displaced. Oh, the humanity.
"There are some pretty good quarterbacks, too," says Anderson.
Oh yeah, the quarterbacks.
[+] Enlarge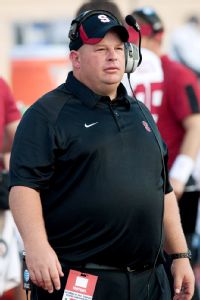 Peyton Williams/Getty ImagesLance Anderson, who has been on Stanford's staff since 2007, will have to replace some big names on the Cardinal's 2014 defense.
Anderson has his wish. With the departure of Derek Mason,
who was named the head coach of Vanderbilt last month
, Anderson takes over one of the most respected defensive outfits in all of college football. The Cardinal have led the conference in scoring defense and been ranked in the top 15 nationally in three of the last four years. They live by the mantra #partyinthebackfield and have put the brakes on some of the nation's top offenses.
Now it's Anderson's turn to add his own flavor to the scheme -- however minor it might be.
"Every year we tweak a little bit no matter what," said Anderson, who first came to Stanford in 2007 with Jim Harbaugh. "We go back and watch film and do all of our self-scouting and analysis. We try to find places where we can get better and improve and that's naturally going to lead to tweaking. I think every coordinator has a different feel and some stuff you might like a little better than the other guy.
"We've been in a system for a few years now and I think the kids are really comfortable with that. They like it. And I think the systems we're in on both sides of the ball suit our personnel really well. Vic Fangio came in in 2010, installed the system at that point and we've kept it pretty similar ever since."
That includes transitions from Fangio to the co-defensive coordinator team of Jason Tarver and Mason to just Mason and now to Anderson, who will continue to work with the outside linebackers after coaching the defensive tackles his first two seasons on The Farm.
Equally known as a top-flight recruiter, Anderson must now help the Cardinal transition to life without some of their marquee players. Gone next year are linebackers
Shayne Skov
and
Trent Murphy
, defensive end
Ben Gardner
and safety
Ed Reynolds
. All were major contributors in one form or another to Stanford's appearances in four straight BCS bowl games.
Despite those losses, Anderson is confident the Cardinal have the depth -- both in and out of the locker room -- to stay atop the defensive standings.
"I look at guys like
A.J. Tarpley
and
Jordan Richards
who have played a lot of football and they really stand out," Anderson said. "Both guys display some natural leadership and they are well-respected by their teammates.
Henry Anderson
and
David Parry
are a couple of other guys who are really looked up to among the defensive players. I think we'll be OK."
Interestingly enough, the Pac-12 has seen the defensive coordinators from the top five scoring defenses
move on after the 2013 season
. Mason went to Vanderbilt, Nick Aliotti retired at Oregon, Justin Wilcox moved to USC with Steve Sarkisian, Lou Spanos returned to the NFL and Clancy Pendergast was not retained with the Trojans after Sarkisian came in. Three of those were replaced internally, with Anderson, Don Pellum (Oregon) and Jeff Ulbrich (UCLA) all being promoted. Pete Kwiatkowski joins Chris Petersen in Washington by way of Boise State and Wilcox followed Sark. So despite the transitions, the continuity among coaching staffs remains relatively unscathed.
However, that combination of coordinator shuffling, along with some A-list offensive players returning in 2014, makes for an interesting setup. The Pac-12 is known for its offensive diversity, and when you factor in the possibility of nine teams returning their starting quarterback, the dice seem loaded to the offensive side of the ball.
"There is a lot of offensive talent in this league and it doesn't look like that's going to slow down," Anderson said. "The quarterbacks all have experience. It's not going to be easy.
"We know that every week we are going to be tested. All we can do is try to go out and learn the techniques and the fundamentals and get the physical and mental mastery of the position. Once we get that in spring ball and the preseason, it's just matter of going out and applying what we've learned during the season. Every week is going to be different. All we can do is prepare the best we can, master the position and try to apply it on Saturdays in the fall."
January, 29, 2012
1/29/12
7:43
PM ET
Oregon won the Arik Armstead lottery on Sunday.
Armstead, one of the nation's top-rated linemen,
picked the Ducks

over California, Washington, Auburn and Notre Dame. The one-time USC commitment will play defense for the Ducks -- he's rated higher as an offensive lineman -- and also will play basketball and will enroll at Oregon in time to participate in spring practices.
From ESPN Recruiting's Greg Biggins:
Before Cal defensive line coach Tosh Lupoi left for Washington, Armstead seemed like a very solid bet to end up with the Bears. Even late last week, there was talk among a few other 2012 recruits that it looked good for Cal to land Armstead.

Oregon, led by head coach Chip Kelly and linebacker coach Don Pellum, came in for a home visit last week and wowed the family.

Kelly was able to sell the opportunity to play for a national championship right away and Pellum sold Armstead on how he would fit in with the defense.
Interesting twist here. While Cal fans will be sour that Armstead didn't pick the Bears -- allegedly because of Lupoi's departure -- they also can take heart from the fact that he didn't make the flip for the Huskies.
Further, this seems to validate the contention of many -- including yours truly-- that Oregon coach Chip Kelly may actually have helped recruiting by flirting with Tampa Bay.
The real test of Lupoi's jump to Washington: Shaq Thompson. He's choosing between Cal, where he has committed, Washington and Oregon. Thompson and Armstead are close, but not necessarily a package deal.
If the Huskies get Thompson, Lupoi immediately yields fruit. If Cal does, Lupoi's loss gets muted, at least in the short term.
And if Oregon gets him, then the Ducks start to show signs of taking a step toward elite recruiting.
Some
good stuff on Armstead here
.
National signing day, if you haven't heard, is Wednesday.
January, 20, 2011
1/20/11
4:50
PM ET
ESPN.com's Ryan McGee ranked the nation's
top five recruiting coordinators
, and two from the Pac-10 made the cut, including a surprise No. 1.
McGee ranks USC's Ed Orgeron No. 5, but he doesn't only praise the recruiting legend. Writes McGee:
There was a time -- a very long time -- when Orgeron would have been the undisputed number one on this list.
But a trail of issues has followed him from one school to another. Some say that's simply the result of his aggressive personality (example: his current selling point to recruits is that USC will beat their current NCAA bowl ban and scholarship restrictions when they win their pending appeal). Others say he lives life with a "ready, shoot, aim" mentality that is a blatant disrespect of authority.
I'd say the reason Orgeron is a great recruiter is players love him and he is relentless. Those two facts often create the above impression, which is supplied by grumpy rivals who typically just saw their guy commit to Orgeron's team.
Ah, but McGee has high praise for his No. 1 guy: Oregon's Don Pellum. Writes McGee:
The first four coordinators on our list all have one very important advantage in common: they live and work right smack in the middle of football talent pipelines. Not Pellum. An Oregon grad and a former recruiting coordinator for the California Golden Bears, he long ago established footholds up and down the West Coast, helping to build up the Ducks from a longtime also-ran into a national power. Now he routinely stakes claims in far-flung locales to the east. Of the Ducks' 20 early commits, there are two apiece from Florida and Texas and three of those four are listed among the ESPN 150. "It's a long way from Florida to Eugene," says former Ducks coach Mike Bellotti, "But if anyone can sell that move it is Don Pellum. Of course, winning doesn't hurt either."
When I arrived in the Northwest in 1999, Oregon most recruited regionally and in Southern California -- just like very other Pac-10 team. To me, the transformation of the Ducks from just a "good" program to an "elite" program has coincided with their new aggressiveness recruiting nationally.
Ten years ago, going "east" for a recruit meant the Ducks hit Colorado. Just one player on the roster in 2000 -- a team that finished ranked seventh in the country -- was from the East Coast (who wasn't a JC punter): hard-hitting linebacker Wes Mallard, who hailed from Columbus, Ga., and was initially a walk-on.
And, of course, a guy named "Mallard," well, where else could he possibly play football?
This year's roster featured players from 17 states and Canada. And Oregon is extremely active in Texas now, see running back
LaMichael James
, quarterback
Darron Thomas
, receiver
Josh Huff
, running back
Lache Seastrunk
and running back
Dontae Williams
, to name a few.
Of course, recruiting nationally has its downside. It can lead to coming in second in a lot of recruiting battles, which is often worse than not making the effort. Wasting time and resources in recruiting can be a killer come signing day. A lot of young men from other regions also enjoy taking trips to "exotic" places but have no intention of playing far from home. More than a few East Coast prospects use USC and UCLA to get their first taste of LA, then sign with SEC schools.
Still, if you want to run with the big dogs, you've got to, er, run with the big dogs.