NCF Nation:

Donna Shalala
October, 22, 2013
Oct 22
12:20
PM ET
Here are several statements that just came in on the NCAA ruling in the Miami investigation:

Miami President Donna E. Shalala:
"The Committee on Infractions report closes a challenging chapter in the history of the University of Miami. I am grateful to our coaches, staff and student-athletes for their dedication to the University and to intercollegiate athletics. I also want to thank Atlantic Coast Conference Commissioner John Swofford for his steadfast support. Finally, I want to apologize to the Hurricane family, as we have asked for your patience, faith and support during a difficult time. Thank you for standing with us."
Athletic director Blake James:
"Our honest and committed efforts to address these allegations have made us stronger. We have already taken many proactive steps to ameliorate any concerns, and we will continue to improve in all areas. Now it is time we look ahead and work diligently to support our student-athletes."
ACC commissioner John Swofford:
"I'm pleased that this case has finally been brought to conclusion and that the University of Miami can now move forward. As I've said all along, Miami's cooperation throughout this process, under the tremendous leadership of President Donna Shalala, should be commended, and I'm glad the NCAA recognized and appreciated the self-imposed efforts that were at such a significant level."
Miami coach Al Golden:
"I want to sincerely thank our student-athletes and their families who, not only stood with the University of Miami during this unprecedented challenge, but subsequently volunteered for the mission. They shouldered the burden, exhibited class and exemplified perseverance for Hurricanes everywhere.
"Further, I would like to express heartfelt appreciation to our staff and families who did not subscribe to this challenge three years ago, yet courageously adopted it as their own. They have brought the utmost professionalism, resiliency and integrity to our program. More importantly, they continue to recruit and represent our world-class institution with class and dignity in unprecedented circumstance.
"Lastly, it is with gratitude and humility that I say thank you to our administration, U Family everywhere and the entire South Florida Community for their unyielding support of our young men and program over the last 28 months."
June, 27, 2013
Jun 27
9:00
AM ET
Now that
Oregon has received its punishment
from the NCAA, the Miami case is the next major one on the docket to be decided.
Some may wonder whether the rulings in the Oregon case foreshadow what could happen when the Hurricanes hear from the NCAA. First, the NCAA is completely and utterly unpredictable. No one case is treated the same, nor do the penalties issued seem to follow a uniform procedure.
Just ask USC and Ohio State, who were hit much harder than the Ducks.
Second, Oregon was not accused of the multiple major infractions Miami has been accused of committing. The cases are not even remotely the same. Former coach Chip Kelly seemed to take the brunt of the punishment. He got an 18-month show-cause penalty; Oregon was put on three years' probation and lost two total scholarships. Universally, most wonder whether this is truly a
punishment or a wrist slap for Oregon
.
But this is where perhaps Miami should have a glimmer of hope. In discussing the Oregon case, NCAA officials opted against harsher punishments -- in part -- because of the school's cooperation throughout the investigation. Miami, too has cooperated with the NCAA throughout the investigation into the Nevin Shapiro allegations and been proactive -- already self-imposing a two-year postseason ban.
Though Oregon got no such postseason ban, it should be encouraging that the NCAA heavily weighed the school's cooperation in issuing its punishments. In its ruling, the NCAA noted Oregon was "fully cooperat[ive] throughout the entirety of the investigative stage. At the investigation's conclusion, the enforcement staff, the institution and the involved parties were in substantial agreement on the facts of the case and on the violations that had occurred."
School president Donna Shalala has come out with some pretty harsh statements in the wake of the NCAA's admission that it botched several parts of its Miami investigation. But that does not take away from the underlying fact that
Miami has cooperated
since bringing the Shapiro allegations to the NCAA in September 2010, nearly three years ago. Maybe, just maybe, the NCAA will accept Miami's self-imposed punishments and won't go much further.
Miami had its two-day meeting before the Committee on Infractions two weeks ago, but isn't expected to receive its penalty for at least another month at the earliest. While there are not many parallels between its case and Oregon's, full cooperation should help Miami's cause.
February, 20, 2013
Feb 20
2:00
PM ET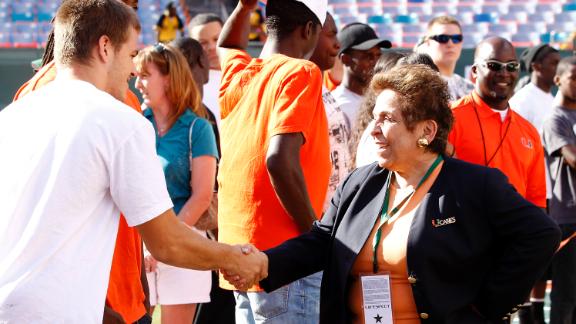 On Tuesday night, while at the Miami men's basketball game against Virginia, Miami president Donna Shalala was protected by a school media relations official and a police officer, according to the South Florida Sun-Sentinel.
Shalala, though, isn't the one who needs to be on guard anymore.
It's the NCAA that might want to hide from big-guns Shalala.
This is a woman who served in Iran as one of the country's first Peace Corps volunteers. She was appointed by former President Bill Clinton as U.S. Secretary of Health and Human Services, a position she held for eight years, becoming the longest serving HHS Secretary in U.S. history.
And
she seems mad
. Very mad.
You think Shalala's gonna back down from NCAA president Mark Emmert and his Notice of Allegations?
Puh-lease. Let the arm-wrestling begin.
For two years, Shalala and everyone else at Miami -- including coach Al Golden and three different athletic directors -- have remained quiet about this NCAA investigation. In fact, Shalala hasn't granted any media interview requests in about two years, according to a school spokesman, and she declined another one by ESPN.com on Wednesday through a spokesperson. Her past two statements, though, have echoed throughout the entire collegiate landscape loud and clear: Miami is ready to wash its hands of this NCAA investigation. Done. Finished. Kaput.
"We deeply regret any violations," she said, "but we have suffered enough."
Shalala fired back at the NCAA on Tuesday night, saying that "many of the allegations included in the Notice of Allegations remain unsubstantiated." She wondered how, after two and a half years of investigations and interviews, the NCAA could not find time to interview former athletic director Paul Dee, who has since passed away.
"How could a supposedly thorough and fair investigation not even include the director of athletics?" she stated.
Miami fans should be cheering for her as loud as they're cheering for Jim Larranaga right now, because regardless of what's in that Notice of Allegations, and regardless of whether or not Shalala is right or wrong in her public disdain for the NCAA's handling of the situation, the university at least now has a clear leader who is willing to fight on its behalf. The only thing fans have been hearing to this point were Nevin Shapiro's claims, and the NCAA's tap dance around its major mess. The NCAA's side of this story is unfortunately tucked away in the Notice of Allegations, which has not been made public, and the NCAA did not immediately respond to an email seeking comment on Shalala's recent statements.
This time, it's Miami doing the talking, and it sounds like an unprecedented comeback by a university president against the NCAA.
The NCAA has long been a bully, taking its time with investigations that literally last years and punish coaches and players who weren't even part of the original transgressions. If the NCAA needs to make an example out of Miami, do it with the coaches who were involved, not innocent players like quarterback Stephen Morris, who just wants to graduate and win an ACC title.
But this isn't about whether or not Miami is guilty or innocent, or whether the Canes have paid their price or not. This is about the university finally pushing back.
According to the Associated Press, Miami has been charged with a "lack of institutional control." On the contrary, look no further than the president's office to see at least one person in this mess who has finally asserted complete control.
February, 18, 2013
Feb 18
6:35
PM ET
Miami president Donna Shalala issued a statement responding to the
NCAA's enforcement review report
, released Monday.
"The University takes full responsibility for the conduct of its employees and student-athletes. Where the evidence of NCAA violations has been substantiated, we have self-imposed appropriate sanctions, including unilaterally eliminating once-in-a-lifetime opportunities for our students and coaches over the past two years, and disciplining and withholding players from competition.

We believe strongly in the principles and values of fairness and due process. However, we have been wronged in this investigation, and we believe that this process must come to a swift resolution, which includes no additional punitive measures beyond those already self-imposed.

In September 2010—two and a half years ago—the University of Miami advised the NCAA of allegations made by a convicted felon against former players and, at that time, we pledged our full cooperation with any investigation into the matter. One year later, in August 2011, when the NCAA's investigation into alleged rules violations was made public, I pledged we would 'vigorously pursue the truth, wherever that path may lead' and insisted upon 'complete, honest, and transparent cooperation with the NCAA from our staff and students.'

The University of Miami has lived up to those promises, but sadly the NCAA has not lived up to their own core principles. The lengthy and already flawed investigation has demonstrated a disappointing pattern of unprofessional and unethical behavior. By the NCAA leadership's own admission, the University of Miami has suffered from inappropriate practices by NCAA staff. There have also been damaging leaks to the media of unproven charges. Regardless of where blame lies internally with the NCAA, even one individual, one act, one instance of malfeasance both taints the entire process and breaches the public's trust.

There must be a strong sense of urgency to bring this to closure. Our dedicated staff and coaches, our outstanding student-athletes, and our supporters deserve nothing less."
January, 23, 2013
Jan 23
2:35
PM ET
School president Donna Shalala just released a statement on the NCAA's announcement that it has
found improper conduct
in its investigation into Miami.
"Since the University first alerted the NCAA to the possibility of violations more than two years ago, we have been cooperative and compliant with the NCAA and, I believe, a model for how institutions should partner with NCAA staff during investigations. In addition to encouraging current and former staff members and student-athletes to cooperate with investigators, we have provided thousands of documents to the enforcement staff.

"I am frustrated, disappointed and concerned by President (Mark) Emmert's announcement today that the integrity of the investigation may have been compromised by the NCAA staff.

"As we have done since the beginning, we will continue to work with the NCAA and now with their outside investigator hoping for a swift resolution of the investigation and our case."
November, 19, 2012
11/19/12
8:42
AM ET
Miami announced Monday morning it will
self-impose a postseason bowl ban
for the second straight season, and as a result, Georgia Tech will represent the Coastal Division in the ACC championship game.
The school made the decision in response to an ongoing NCAA investigation, which began last year. Interim athletic director Blake James told the team of the decision Monday morning, two days after the Hurricanes became bowl eligible with their 40-9 win over USF.
Included in the decision-making: school president Donna Shalala, the office of the general counsel and athletic department leaders. Coach Al Golden has maintained repeatedly that he would have no say in the matter.
Miami said in a statement:
Considerable deliberation and discussion based on the status of the NCAA inquiry went into the decision-making process and, while acknowledging the impact that the decision will have on current student-athletes, coaches, alumni and fans, a determination was made that voluntarily withholding the football team from a second postseason was not only a prudent step for the University to take but will also allow for the football program and University to move forward in the most expedited manner possible.
No other self-imposed penalties have been issued at this time and to continue to protect the integrity of the inquiry. Miami plays at Duke on Saturday. With a win, the Hurricanes would have gotten the nod into their first ever ACC championship game. But because of the bowl ban, current Coastal leader Georgia Tech will get to go instead. The Jackets clinched at least a share of the Coastal last week with a win over Duke.
Georgia Tech will play Atlantic Division winner Florida State in Charlotte, N.C., on Dec. 1 for the conference title and automatic BCS spot.
We will have much more on this story later today.
October, 11, 2012
10/11/12
11:00
AM ET
For 25 years, Miami had an inordinate amount of stability at the top of its athletic department.
But that all ended when Paul Dee announced he would retire in 2008. Now Miami is conducting a national search for another athletic director, following the
surprise resignation
of Shawn Eichorst last week. So the grand tally is three athletic directors in the past four years -- compared to three athletic directors in the previous 25.
Is this cause for alarm at a program that has prided itself on being a national leader?
"No, it's not concerning at all," football coach Al Golden said. "Shawn is a good friend and a great AD. He did what he thought was best for his family, and clearly that's different from how I feel or how [women's basketball coach] Katie Meier feels or how [men's basketball coach] Jim Larranaga feels. We want to be here at Miami, and we want to build this program."
Golden brings up an excellent point. Miami must find somebody truly committed to the athletic department, somebody who has a firm grasp on the cultural dynamics in Miami, who realizes that he must roll up his sleeves and work hard to gain the attention of the community. Miami is no college town. Donation dollars do not pour in the way they do at places like Ohio State, Nebraska and Wisconsin.
Unfortunately, the need for somebody truly committed to both the university and the community flies in the face of the actual perception about the position. Miami is currently viewed as a steppingstone job, an image that has been fostered with the recent defections and its inability to pay on a grand scale. Eichorst, who left for Nebraska, will earn close to $1 million in his first year with the Cornhuskers -- believed to be a significant upgrade over what he made at Miami.
[+] Enlarge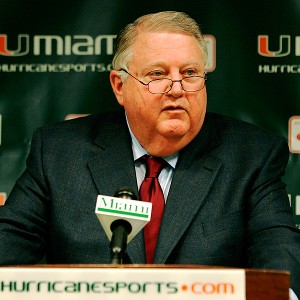 AP Photo/J. Pat CarterAn athletic director in the mold of the late Paul Dee could bring needed stability at Miami.
Factor in the cloud of potential NCAA sanctions, and Miami president Donna Shalala is in a tough spot. But former athletic director Sam Jankovich believes Miami can find the right person despite the questions.
Jankovich was at Miami from 1983 to '90, and oversaw the rise of the football program to national prominence. He also brought the basketball program back, and did it by working countless hours raising enough money to make his dream a reality.
"Miami is a great institution, South Florida is a great place to live and I don't think the University of Miami has to be a steppingstone for anybody," Jankovich said in a telephone interview with ESPN.com. "I think what has happened with the transition not only of ADs but coaches, they just have not had any consistency from the time Butch (Davis) left to when they hired Larry Coker, then they hired Randy (Shannon), then they hired now hopefully Al Golden will stay and do a good job. They've had a roller coaster."
Jankovich has lived through scandals, and with the difficulty of making yourself stand out in a major metropolitan area. His successor, Dave Maggard, only lasted two years. After Maggard left, Jankovich urged school leaders to look at somebody with a deep understanding of Miami -- the program and the city. They found the late Dee, a Florida graduate-turned-passionate Miami supporter with ties to the program.
Dee oversaw the athletic department from 1993 to 2008. Never once did you get the sense he would rather be somewhere else. When he retired, it was only because he felt it was time. He stayed on as a professor at the university until his death in May.
The past two Miami athletic directors did not fit the profile Dee fit all those years ago. Kirby Hocutt came to Miami after stints at Oklahoma and Ohio University and spent 2½ years with the Hurricanes before leaving for Texas Tech. Eichorst came from Wisconsin and lasted 18 months.
"Miami is a different place and you need somebody to understand the community and the university," Jankovich said. "They've hired people from other places, but I surely would encourage them if there is somebody good, has roots as far as Miami is concerned and would appreciate the opportunity to be there, hire somebody like that."
For now, Miami has appointed Blake James as interim athletic director. He has not made it expressly clear that he is interested in the permanent job, saying in an interview that Miami "is a great institution, it's a great program. So when you look out there in college athletics, it's a very attractive job. As long as I'm in this position, I'm going to continue to do the best that I can and carry the baton forward and help us achieve our goals as a program."
Goal No. 1 must be stability.
"Yeah, we need that," Golden said. "I don't think there is any question. "One of the characteristics we should be looking for is someone that wants to be a part of the South Florida community and be part of the Miami community and be here for a long time. It's important to all of the coaches, not just me. It's critical that we find someone that wants to be here."
Someone, in a nutshell, who truly gets Miami.
October, 4, 2012
10/04/12
1:49
PM ET
Well, this is getting awfully familiar for Miami.
The Hurricanes are searching for their third athletic director since 2008, now that
Shawn Eichorst has resigned
to take the same position at Nebraska. The ACC also now has its third program without an athletic director as Miami, Clemson and Boston College have hires to make.
The truth is, we hardly knew Eichorst. Terry Don Phillips and Gene DeFilippo made their marks at their respective schools. Eichorst? He was only around Miami for 18 months, and leaves no real stamp on a program that is in desperate need of some sort of stability.
Having an opportunity to return to the Big Ten must have been appealing, with an NCAA investigation hanging over the program he inherited.
It was his predecessor, Kirby Hocutt, who has been implicated in the Nevin Shapiro scandal that has sent NCAA investigators to Miami asking questions. Hocutt
reportedly gave Shapiro carte blanche
to Miami and its players, an
allegation Hocutt denies
.
It is not as if Hocutt hung around Miami for long, either. He resigned in February 2011 for the same job at Texas Tech, after spending only 2 1/2 years with the Hurricanes. It was enough time for him to fire Randy Shannon and hire Al Golden, who remains the head coach. The
allegations against Miami
surfaced in an explosive Yahoo! Sports report six months after Hocutt resigned.
So where does Miami go from here? Its last two athletic directors have left for jobs in bigger conferences, so you have to wonder whether the Miami position is now viewed as a stepping stone job.
That was not the case previously with Sam Jankovich and Paul Dee working long, hard years to build Miami into a major powerhouse program. There are issues to deal with to be sure, with a small booster base and an inability to shell out salaries in the highest area of the stratosphere.
Finding somebody who wants to stay for the long-term has got to be the No. 1 priority, particularly with NCAA sanctions down the road. The last thing Miami needs is somebody to cut and run for the third successive time. Who wants to roll up his or her sleeves and work hard to build on the integrity of the program? Who understands that Miami will always have the potential to be a national power despite some of the down times that may come?
Miami remains a special program, given its history, tradition and location. Now president Donna Shalala needs to find a special person to shepherd this athletic department into the unknown, with the promise that sunnier times remain ahead.
September, 19, 2011
9/19/11
11:00
AM ET
It was an historic weekend for the ACC, which announced it would accept Pittsburgh and Syracuse as its newest members. One of the more interesting reactions in the ACC was Maryland athletic director Kevin Anderson, who, buried at the bottom of his statement, endorsed further expansion.
Here's a look at what others in the ACC are saying about the move, thanks to quotes released from their respective schools:
Clemson AD Terry Don Phillips
"This is a good decision for our conference. We are adding two programs that have won the national championship in football and been consistently outstanding in basketball. That includes Syracuse winning the national championship in 2003 and Pittsburgh's five Sweet 16 appearances in the last decade.

"The addition of Syracuse and Pittsburgh extends our footprint on the Eastern seaboard, which further enhances the national exposure of all of our universities and athletic programs.

"We can accomplish all of goals in all sports in the Atlantic Coast Conference. That most assuredly includes football. Our challenge individually as a university, as well as collectively as a league is to continue to improve in all facets of our program. That includes facility improvements and other infrastructure, and the attraction of outstanding coaches and student-athletes to our campus."
Miami President Donna E. Shalala
"As a proud Syracuse graduate, I am delighted the Orange and our colleagues at Pittsburgh are joining the ACC. Both of these universities are good fits for the ACC academically and athletically and are led by first-rate presidents."
Virginia AD Craig Littlepage
"During so much uncertainty in the college athletics' landscape over the past year and a half, the ACC routinely examined this very fluid situation in an effort to build upon its position among the nation's elite conferences. The ACC has considered the opportunities and decided to accept the applications for membership from two outstanding institutions that are excellent fits academically, athletically, and geographically. I am pleased that schools of the quality of the University of Pittsburgh and Syracuse University had an interest in joining the ACC."
Maryland AD Kevin Anderson
"It's rewarding to think that there are a number of prestigious institutions like the University of Pittsburgh and Syracuse University that want to become a part of what the ACC has become both on and off the field. These two institutions are a great fit for the league based on the quality of the athletics programs and based on the quality of their academic reputations.

"We already compete against Pitt and Syracuse in a number of our sports and have appreciated the quality and sportsmanship of those teams. The competition against quality programs in a number of sports will certainly enhance the experience for our student-athletes.

"From a regional standpoint, adding these two high-quality schools will enhance the marketing footprint of the league. Both Pittsburgh and New York City will offer the conference new opportunities to attract fans in all our sports. We look forward to discussions about the future of the league and would encourage a future expansion."
Duke coach David Cutcliffe
"One thing that never wavered during this process was the confidence we had in the leadership at both the conference level with commissioner [John] Swofford and the institutional level with Dr. [Richard] Brodhead and Kevin White. Strengthening the foundation of our league has been a priority, and we've accomplished that goal. The University of Pittsburgh and Syracuse University have tremendous traditions in both academics and athletics, and we are proud to have both schools join the ACC."
August, 17, 2011
8/17/11
4:12
PM ET
CORAL GABLES, Fla. -- There were police on guard Wednesday morning to help control the flow of media access to Miami's football practice. Players, assistant coaches and university officials have declined to comment or have been instructed not to. Athletic director Shawn Eichorst declined an interview request from ESPN.com. So did university president Donna Shalala. Even one member of Miami's marching band and a member of the cheer squad both declined to talk about the NCAA investigation hanging over Miami's football program right now.
While silence is prevalent here on campus Wednesday, former booster Nevin Shapiro can't seem to say enough about the U. His allegations, some of which have been supported by the research and investigation of Yahoo! Sports, could be devastating to the future of Miami football.
And yet the only person answering questions right now is first-year coach Al Golden.
While his candor is refreshing, he's not the one who needs to answer for this mess.
Former athletic director Paul Dee, who once sat as chairman on the NCAA's Committee on Infractions and lambasted USC for its violations, has some explaining to do. Former athletic director Kirby Hocutt, who abruptly resigned to become athletic director at Texas Tech after he hired Golden, has some questions to answer. (Hocutt did not immediately return a call to his office.) Shalala, who can be seen in a Yahoo! Sports photo accepting a donation that was allegedly comprised of illegal money, needs to address the issue beyond the statement released earlier today. And former coaches Randy Shannon and Larry Coker, under whose watch these alleged violations took place, also need to state their cases. (Shannon did not return a text message to his cellphone.)
Funny how the majority of Miami officials who are accountable for this mess are gone.
And Golden is left to clean it up -- not that you could tell from his demeanor or practice this morning.
The only difference on the practice field was a little bit of extra intensity.
"The coaches are more fired up today," said Rob Dunning, Miami's assistant communications director, who routinely watches the Canes practice.
Defensive line coach Jethro Franklin was not pleased with his group's pressure on quarterback
Jacory Harris
.
"Keep the quarterback in the pocket!" he barked. "DON'T. BREAK. CONTAIN! Pass-rush lanes!"
The staff is doing its best to maintain a sense of normalcy, but there is nothing normal about the allegations that have been levied against the program.
How much of it is true? Who knew about any of it? How
didn't
they know?
All questions that need to be answered -- and not by Golden.
November, 28, 2010
11/28/10
12:24
AM ET
Miami's loss to South Florida on Saturday didn't get
Randy Shannon fired
-- four years of mediocrity did.
The embarrassing 23-20 loss to the Bulls of the Big East was just one more glaring blemish the UM administration couldn't ignore -- especially on a day when rival Florida State was basking in the glory of beating up on Florida and celebrating a trip to the ACC championship game in Jimbo Fisher's first season.
[+] Enlarge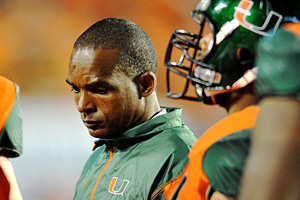 Steve Mitchell/US PresswireRandy Shannon finished with a mediocre 28-22 record in four seasons as Miami's head coach.
Miami's speed gets a lot of attention, the problem is how they've used it -- the Canes have gone nowhere fast.
In four seasons under Shannon, Miami failed to win the Coastal Division, has yet to win a bowl game, and is 3-4 against BCS opponents from the state of Florida. Meanwhile, it took one season under Fisher for the Seminoles to earn the title of state champs. It was only a matter of time before Shannon was held accountable at a program whose standard is five national titles.
None of Shannon's 28 wins were all that memorable. Some of his 22 losses, though, were hard to forget.
Once again, Virginia handed the Canes one of their most embarrassing losses of the season. In 2007, it was the 48-0 loss in the final game at the Orange Bowl. This year, it was a 24-19 loss in Charlottesville to a team that had yet to win a conference game. There was also the 31-7 collapse last year at Virginia Tech.
The highlight of Shannon's coaching career at Miami just might have been this year's win over Butch Davis -- the first time he was able to beat Miami's former coach since both took over their respective programs. Maybe it was the win over then-ranked No. 8 Oklahoma last year, but it wasn't the same Oklahoma team without Sam Bradford.
The bottom line is that none of those 28 wins amounted to anything in the postseason. And Miami fans have grown tired of it. Week after week this season, somebody takes a snapshot of an empty Sun Life Stadium and it makes its way around Twitter. It's been embarrassing to the program and the ACC, but it's not like Shannon has given the fan base much to cheer about.
This failure, though, doesn't fall squarely on Shannon's shoulders. It also falls on the administration who hired him, and it's up to athletic director Kirby Hocutt and university president Donna Shalala to get it right this time.
It wasn't a complete disaster.
Shannon changed the perception of the program. He instilled discipline, and leads all active BCS coaches with a 977 lifetime APR average. Those things count, but fans want to see Miami leading the BCS standings more. Shannon was given a contract extension prior to this season with the expectation that a championship of some form would be won either this year or next. The expectation was that he had the talent to do it and had finally found some stability at the coordinator position.
Instead, nothing changed. The loss to South Florida only magnified that.
Everything from Shannon's ability to lead to his ability to coach has been questioned during his tenure. Miami's administration just decided to answer sooner than later.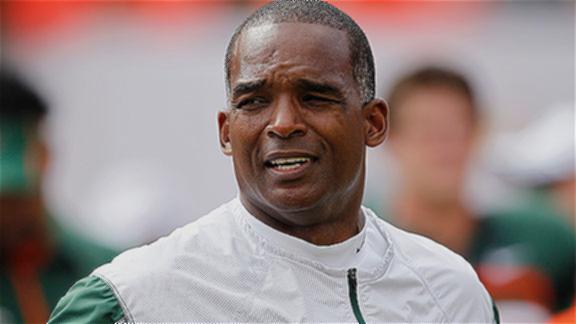 TOP 25 SCOREBOARD
Thursday, 12/5
Friday, 12/6
Saturday, 12/7