NCF Nation:

Donovan Bonner
December, 6, 2013
12/06/13
10:30
AM ET
Auburn fullback
Jay Prosch
respects Missouri's defensive line and its rush defense, but he also loves what his own team's offense can do.
"We're really good at what we do offensively," Prosch said. "I think no matter what, whoever we play, we're going to find a way to move the ball no matter what, where their strengths are. … Missouri has a very good defensive line and a very good defense, but overall I think that we're going to find a way to move the ball no matter how we have to do it."
You can't knock his confidence. The Tigers finished the regular season with the SEC's No. 1 rushing attack, averaging 318.25 yards per game. They average 6.3 yards per carry and have 39 rushing touchdowns on the season.
What's more is that Auburn averaged 286.3 rushing yards in eight conference games. In those games, the Tigers failed to rush for 200 yards just once (120 against Mississippi State). They rushed for 323 yards against Georgia, 379 against Texas A&M and 444 against Tennessee. In last week's epic win over Alabama, Auburn rushed for 296 yards on a defense allowing just 91 rushing yards per game before the Iron Bowl.
While Auburn runs a variation of the spread offense, its running game is very multiple with some power, read-option and triple-option.
[+] Enlarge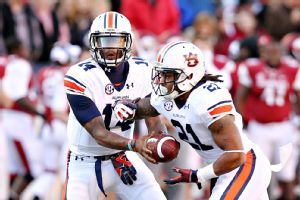 Nelson Chenault/USA TODAY SportsNick Marshall and Tre Mason put stress on a defense on every play.
"We're going to have to draw from some experience of other running teams, some of the running philosophies that they have that maybe some other teams had that didn't run the ball as much, be able to apply those lessons to this," Missouri coach Gary Pinkel said of defending Auburn's running game.
But Missouri shouldn't feel overwhelmed by what those other Tigers can do on the ground. They have their own stout rush defense.
Mizzou is allowing just 119.1 rushing yards per game, 3.6 yards per carry and has given up 11 rushing touchdowns. Mizzou allowed a league-low 120.8 rushing yards per game in SEC games.
Mizzou linebacker
Donovan Bonner
has been proud of his defense's production, but he understands the major challenge Auburn's running game presents. After all, this is the same running game that dominated Alabama a week ago. The SEC's best rush defense was pounded and pounded again, allowing a season-high 5.7 yards per carry.
Bonner said stopping Auburn's run game takes discipline and filling gaps. It also means everyone has to be spot-on with their assignments for every player who could run the ball while on the field.
"If you mess up one gap, you go for a big run," Bonner said.
"It's not an easy offense to stop. They do a lot of motion.
"They can pull it out and run with the quarterback. Sometimes they can raise up and pass it. It's really a triplethreat offense, man. You just have to be conscious of what's going on around you and not get caught up in all the other stuff and just focus on what's in front of you. You have to trust your keys as a linebacker and also the safeties, too. So if they scream downhill, and it's play-action, that could be a pass also. So we're just going to focus on trusting our eyes."
Auburn has four players with more than 500 rushing yards, but the stars of the show are
Tre Mason
and quarterback
Nick Marshall
, who have combined to rush for 2,239 yards and 28 touchdowns.
Mason is a home run threat and a bruiser. Marshall is slippery, fast and deceptive with the read-option. Twice this season, both rushed for at least 100 yards in the same game, and in the last three games they have combined to run for 798 yards and 10 touchdowns.
You know you're going to take one on the chin when Mason has the ball, but watching Marshall's movements is a little tougher to read.
"You have to stay with the quarterback," Bonner said.
"Marshall is obviously a great runner, probably the best runner other than [
Johnny] Manziel
that we faced this year. "
But has Auburn faced a defensive line like this? This team hasn't seen a
Michael Sam
(10.5 sacks, 18 tackles for loss), and fellow Mizzou ends
Kony Ealy
and
Markus Golden
have combined for 13 sacks and 22.5 tackles for loss.
Auburn's running game likes to test players on the edge, but Bonner thinks Mizzou's ends have the ability to contain runs to the outside.
"It can kind of neutralize that, but our defensive ends are pretty athletic, physical guys," Bonner said. "They can get to the ball also I mean, really, if they keep doing what they've been doing all year, we should be fine."
It should be a fun matchup between Auburn's running game and Mizzou's defense. Neither unit has faced the kind of consistency and talent they'll see Saturday, but that hasn't hindered one side's confident nature.
"Offensively, from what we do, I think it will work in our favor," Auburn running back
Corey Grant
said.
"With us running the ball, we'll find a way to move the ball and get out on the edge and run our zone reads and things like that. So either way, our offense, we've gotten better each week throughout the season. I believe we'll find a way."
December, 4, 2013
12/04/13
9:30
AM ET
There's no doubt that Saturday's SEC championship game will feature two of the nation's best teams. To say otherwise about No. 3 Auburn (11-1, 7-1 SEC) and fifth-ranked Missouri (11-1, 7-1) would be silly. But their roads to Atlanta were improbable at best.
A year ago, both programs were drowning without bowl games or much life. Injuries ravaged a Missouri team making its SEC debut, while two years removed from a national championship, the Gene Chizik-led Auburn Tigers had one of the nation's most inept offenses and slinked through a disappointing 3-9 season that got Chizik fired.
[+] Enlarge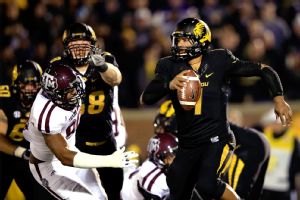 Jamie Squire/Getty ImagesAfter winning just five games in 2012, James Franklin's Missouri Tigers have climbed to the top of the SEC.
Missouri won only five games in 2012, and coach Gary Pinkel entered the 2013 season -- his 13th at Missouri -- on the hot seat.
Fast-forward to right now, and both of these teams are standing tall and looking down at the rest of their conference mates who had higher hopes and expectations for 2013. They both have high-powered offenses and went 4-1 against ranked opponents. Missouri took down Texas A&M to clinch its spot in Atlanta after defeating traditional SEC Eastern Division power Florida and Georgia, while Auburn has had a bit more flare for the dramatic with its nail-biting wins over Georgia and Alabama.
Both rank in the top four of the SEC in total offense and are scoring a little more than 38 points a game. And both teams have a lot of momentum rolling into the Georgia Dome.
This sport can be cruel to its participants, but for Auburn and Missouri, they beat the odds to play in the sport's toughest championship game and are right on the cusp of a trip to the Vizio BCS National Championship in Pasadena, Calif.
"Last year was our first losing season in the last nine years," Pinkel said. "It was all of a sudden, we're not going to be very good.
"Obviously, coming off of spring football, I thought we were going to be good. I thought it was important to stay healthy.
"It was one of our goals, getting to Atlanta."
Mizzou's offense couldn't leave the infirmary last season. Even before the year began, the Tigers started to see their offensive line crumble to the injury bug. Eventually, only freshman
Evan Boehm
made it through the entire season healthy on the offensive line.
The most crippling casualty was quarterback
James Franklin
. He dealt with a shoulder injury, a concussion and a knee injury that kept him on the field for just nine games. With him in and out of the lineup, Mizzou finished the season with the SEC's No. 11 offense.
This year, a healthy Mizzou team ate up SEC defenses. Even with Franklin suffering another shoulder injury that sidelined him for a month, the Tigers still finished the regular season averaging 489.5 yards per game, which is 133 more than last season.
"We knew that last year we didn't handle injuries very well on both sides of the ball," Franklin said. "Lot of frustration. We weren't working together very well, and that helped us for this year when we did have a couple of injuries on the offensive and defensive side of the ball. We worked together as a team, and learned to pull through and not go against each other and be frustrated with each other, but help lift each other up.
"Coming into this season, we knew that if we could do that and stay healthy, even if we did have injuries, still remain positive and have each other's back, then we could have some success this year."
For Auburn, it was left beaten mentally from the storm that was 2012. While Gus Malzahn was a very familiar face on the Plains, the embarrassment and pain that came with last season stuck with this team during the early part of Malzahn's tenure.
There were sluggish spring practices, anger, frustration and sloppy effort, but Malzahn kept pushing guys. His goal from the start was to complete college football's biggest turnaround. Slowly -- and quietly -- the wins started to pile up after a tough loss at LSU. There were thrillers against Ole Miss and Texas A&M before blowouts over Arkansas and Tennessee.
Then, Auburn pulled some magic with unthinkable finishes in wins over Georgia and Alabama to win eight straight.
"For us in January we got together and Coach Malzahn got with us and he said it's going to be a new day," Auburn defensive end
Nosa Eguae
said.
"We just want to make sure that the young guys are playing for us and we're playing for them. We've just got a bunch of guys that are playing for each other. We're hungry. Just from what happened last year, guys learned a lot from it, and they're willing to go out there and fight for one another."
Both of these programs were overlooked as legitimate SEC contenders this season, and both proved everyone wrong. The talent that seemed buried behind injuries and poor execution shined this season. They clawed their way out when trapped against the wall and stunned the country with their special runs.
"Our situations are pretty much identical," Missouri linebacker
Donovan Bonner
said. "It's really exciting. It's what SEC ball is all about. If you knew the two teams that had the toughest seasons last year would be in the SEC title game, people wouldn't believe that. So it's really just what is so beautiful about SEC football and this conference."
June, 29, 2011
6/29/11
1:15
PM ET
We've taken a look at the Big 12 offensive skill positions in our position rankings, and we'll circle back along to the lines eventually. For now, though, we'll flip to the defensive side of the ball, starting with linebackers.
There's a lot of turnover in this space, and the bottom half was pretty hard to sort out. We haven't seen a lot of these new faces on the field for extended periods of time, so it's somewhat of a crapshoot. I don't feel like there's a wide gap between teams 7-10, and each of those squads have at least one linebacker who could be due for a huge year and shoot them up this list.
I see Nos. 1-3 possibly being great, with dropoffs before the No. 4 and No. 7 teams.
Also, if you missed them, here are the other position rankings we've done so far.
So, without further ado, here's how I ranked the linebackers. (Nickel backs are included in this list, hybrid DE/LBs will be with defensive lines)
[+] Enlarge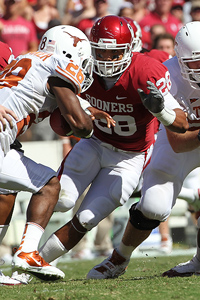 Matthew Emmons/US PresswireOklahoma's Travis Lewis is the Big 12's top returning defender.
1. Oklahoma
-- The Sooners boast the Big 12's top returning defender in Travis Lewis, who has notched at least 100 tackles in each of the past three seasons, and he'll be joined by the Big 12's co-Defensive Freshman of the Year, Tony Jefferson. Tom Wort and Corey Nelson are both loaded with potential, and will fill out the rotation, after the starter at middle linebacker, Austin Box, died on May 19.
2. Iowa State
-- The Cyclones boast two of the Big 12's best in Jake Knott and A.J. Klein, who combined for more tackles than any two teammates in the Big 12 last season. They had 241 stops, and, after healing from a broken leg suffered midseason last year, Matt Tau'fo'ou should join them at middle linebacker.
3. Texas
-- Texas' offense may be lacking, but the defense will be strong once again, led by two others likely to earn spots as some of the Big 12's best. Keenan Robinson and Emmanuel Acho were Texas' top two tacklers last year with 187 stops, and return as likely captains come fall camp. Texas' depth chart is wide open, but look for former blue-chip recruit Jordan Hicks to emerge as another star this year, despite being forced to sit out spring camp with a broken foot. Dravannti Johnson played some defensive end last year at the Buck position for the Longhorns, but may find his way back to linebacker. Tevin Jackson was ineligible last year, but he's ready for 2011, and could make an impact.
4. Oklahoma State
-- The Cowboys "Star" linebacker is occupied by co-Defensive Freshman of the Year Shaun Lewis, and sophomore Caleb Lavey is charged with replacing Orie Lemon, the leader of last year's defense. Oklahoma State has questions on the weak side, but LeRon Furr and Chris Dinkins will compete next fall.
Kris Catlin
could be a factor, too.
5. Texas A&M
-- The Aggies must replace their leading tackler, Michael Hodges, and don't have a clear replacement heading into fall camp. The good news: They've got two others with lots of experience in the linebacking corps that look like budding stars. Garrick Williams should be one of the defense's leaders and Sean Porter returns after making 74 tackles last year to rank third on the team.
6. Missouri
-- The Tigers have lots of experience at middle linebacker, where a pair of seniors (albeit frequently injured seniors) Will Ebner and Luke Lambert will be on the field a lot. One of the Big 12's most exciting players, junior Zaviar Gooden, will hold down the weakside and perhaps become a household name by season's end. Sophomores Andrew Wilson and Donovan Bonner, who missed all of last season with a knee injury, will likely compete for strongside duties in fall camp. Andrew Gachkar, the team's leading tackler, is gone, but here's guessing Gooden emerges as the defense's top playmaker.
7. Kansas
-- The Jayhawks linebackers were solid last year, and could be pretty good again, despite losing Drew Dudley and Justin Springer, two of the team's top four tacklers. Steven Johnson, the team's leading tackler in 2010, is back and he'll be joined by possible star Huldon Tharp, who missed all of last season with a leg injury. Fellow sophomore Darius Willis earned a starting role after spring.
8. Kansas State
-- K-State's front seven struggled last year, but will get a big boost from Arthur Brown. One man won't be enough to totally fix the Wildcats rush defense problems, though. K-State gave up 26 more yards on the ground per game than any other team in the Big 12 (more than 231 per game) but Brown may be playing in a 4-3 next fall rather than the 4-2-5 the Wildcats have employed since Snyder's return. Alex Hrebec, Emmanuel Lamur, Tre Walker and Blake Slaughter will likely fill the rotation along with Brown.
9. Baylor
-- Baylor's defensive depth chart, like Texas', is a bit amorphous after bringing in a new coordinator, but Elliot Coffey figures to be the Bears biggest playmaker at linebacker. Chris McAllister should be solid and Ahmad Dixon is promising at nickelback, too. Brody Trahan is a great story, but him
going from third-string quarterback to starting linebacker
isn't a ringing endorsement for Baylor's depth at the position.
10. Texas Tech
-- Tech will be moving to a 4-2-5 this year under new coordinator Chad Glasgow, and could rise up this list, but the Red Raiders lose a lot of talent from last season's team, which ran the 3-4. Bront Bird and Brian Duncan are both gone, and youth will be a big factor with this group. Cqulin Hubert's outstanding potential is matched by his more outstanding first name, and freshman
Blake Dees
showed promise after arriving early this spring. They'll likely be the rotation at middle linebacker spot alongside Daniel Cobb and Zach Winbush. Terrance Bullitt could be a playmaker at his new safety spot, listed as a strong safety but with plans to spend lots of time near the line of scrimmage, a la nickelback.
February, 17, 2010
2/17/10
2:00
PM ET
Here's a breakdown of three issues facing each program heading into the spring:

Baylor Bears
Spring practice starts
: March 16
Spring game
: April 10
1. Quarterback Robert Griffin III's surgically repaired right knee
. Griffin hasn't played since tearing the ACL in his right knee in the third game of the '09 season. He recently said he's ahead of schedule in rehabilitation, but probably won't do much during spring practice. He'll wear a heavy knee brace and won't participate in contact drills.
2. New linebackers
. The Bears lost strongside linebacker Antonio Jones and middle linebacker Joe Pawelek, who combined to make 190 tackles last season. Senior Earl Patin, who also has played some defensive end during his career, is poised to replace Pawelek in the middle. But Patin will have to hold off highly regarded youngsters Chris McAllister and LeQuince McCall, who redshirted in '09. Senior Chris Francis is probably the top candidate to replace Jones on the strong side.
3. Safety
. The Bears must replace both of their starting safeties, including All-Big 12 performer Jordan Lake, who started 36 games in a row. Junior college transfer Byron Landor and sophomore Mike Hicks will get the first looks in the spring. But they'll have to hold off incoming freshman
Ahmad Dixon
, one of the top prospects to ever sign with Baylor, after he arrives for fall camp.

Colorado Buffaloes
Spring practice starts
: March 6
Spring game
: April 10
1. Michigan transfer Toney Clemons
. Buffaloes coach Dan Hawkins called Clemons his team's most exciting receiver while he sat out the '09 season under NCAA transfer rules. The cousin of Arizona Cardinals receiver Steve Breaston, Clemons could bring an interesting dynamic to the CU offense. His arrival couldn't come at a better time, either, after
Markques Simas
was suspended indefinitely for violating team rules.
2. Linebacker
. The Buffaloes must replace their two most productive linebackers after losing Marcus Burton and Jeff Smart. The departed seniors combined to make 105 solo tackles and 6.5 sacks last season. Senior Michael Sipili is the top candidate to replace Burton in the middle, and sophomore Jon Major might get the first crack at replacing Smart on the weak side.
3. Offensive line
. The unit's inconsistency has dogged Hawkins' offense in each of his first four seasons. Eight offensive linemen had significant playing time in '09, so the Buffs are looking for more stability up front. The return of sophomore guard Maxwell Tuioti-Mariner from a pair of knee injuries, and early arrival of junior college transfer Eric Richter might shore up the interior line.

Iowa State Cyclones
Spring practice starts
: March 23
Spring game
: April 17
1. Linebackers
. The Cyclones lost each of their starting three linebackers: Josh Raven, Jesse Smith and Fred Garrin. Junior Jacob Lattimer is in line to replace Raven on the strong side, and two highly regarded sophomores are in line to fill the other spots. A.J. Klein, who had 17 tackles in 13 games as a freshman, might get the unenviable task of replacing Smith, who led the Big 12 in tackles in '09. Jake Knott, who had 23 tackles as a freshman, is the top candidate to start on the weak side.
2. Wide receiver
. Iowa State lost leading receiver
Marquis Hamilton
, who had 50 catches for 606 yards with four touchdowns in '09. Tight end
Derrick Catlett
, another top receiving threat, also is gone. The good news: Junior
Darius Reynolds
returns from a broken leg that caused him to miss all but four games last season. Reynolds, who earned the moniker "Money" for his big-play potential, had 13 catches for 72 yards before he was hurt in practice in late September. Junior college tight end Ricky Howard enrolled in classes in January and will participate in spring practice.
3. Defensive line
. Two starters will have to be replaced after ISU lost right end Christopher Lyle and tackle Nate Frere. Lyle led the team with five sacks in '09; Frere was a pretty good run-stopper. Sophomores Cleyon Laing and Roosevelt Maggitt will get strong looks at end, and senior Austin Alburtis and sophomore Jake McDonough will move into the tackle rotation.

Kansas Jayhawks
Spring practice starts
: March 27
Spring game
: April 24
1. Quarterback
. New Kansas coach Turner Gill might have one heck of a competition on his hands. Sophomore
Kale Pick
is a mobile option, after averaging 11.9 yards per rushing attempt in 2009. Junior college transfer Quinn Mecham, who enrolled in classes at Kansas in January, threw for 3,091 yards with 40 touchdowns and 11 interceptions at Snow College in Utah last season.
2. Wide receiver
. The Jayhawks have to replace departed stars
Kerry Meier
and
Dezmon Briscoe
, which will be no easy task. The duo combined to catch 186 passes for 2,322 yards with 17 touchdowns last season.
Bradley McDougald
and
Johnathan Wilson
were proven targets last season, but younger players such as
Chris Omigie
and incoming freshman
Keeston Terry
will have to help this fall.
3. Secondary
. The Kansas defense gave up too many big passing plays and didn't create enough turnovers last season. The Jayhawks will have to replace strong safety Darrell Stuckey, who led them with 93 tackles in '09. Senior Phillip Strozier will get the first crack at replacing the heart and soul of the Kansas defense.

Kansas State Wildcats
Spring practice starts
: March 21
Spring game
: April 24
1. Oregon transfer Chris Harper
. In 2008, Harper played wide receiver and quarterback for the Ducks as a freshman. He became the first Oregon player in eight years to run, pass and catch a touchdown in the same season. Harper, a native of Wichita, Kan., might figure into Kansas State's quarterback or wide receiver plans after sitting out the '09 season under NCAA transfer rules.
2. Quarterback battle
. Harper and two other players will probably battle to replace departed senior
Grant Gregory
. Senior
Carson Coffman
, who started the '09 season at quarterback, figures to be back in the mix, along with junior college transfer
Sammuel Lamur
.
3. Defensive line
. The Wildcats have a couple of gaping holes to fill up front defensively. End Jeff Fitzgerald, who had 40 tackles and 10 tackles for loss in '09, has to be replaced, along with tackles Daniel Calvin and Chidubamu Abana. Junior college transfer Javonta Boyd, who has already enrolled in classes, could help in the interior line.

Missouri Tigers
Spring practice starts
: March 9
Spring game
: April 17
1. Wide receiver
. The Tigers have to replace
Danario Alexander
, who led the country with 1,781 receiving yards in 2009. Juniors
Jerrell Jackson
and
Wes Kemp
both caught more than 20 passes last season, but younger players like
T.J. Moe
and
Rolandis Woodland
are going to have to contribute more. Incoming freshman
Marcus Lucas
could help in the fall.
2. Linebacker
. The Tigers bring back two of their starting three linebackers, but three-time All-Big 12 selection Sean Weatherspoon is the one who left. Sophomore Donovan Bonner heads into spring camp as the top candidate to replace Weatherspoon on the weak side, and Will Ebner and Andrew Gachkar are back at the other linebacker spots.
3. Defensive line
. Two starters are gone on the defensive front: end Brian Coulter and nose tackle Jaron Baston. At least the Tigers know they're set at one side, with end Aldon Smith coming back after totaling 19 tackles for loss and 11.5 sacks in '09. Marcus Malbrough and Jacquies Smith will battle for starting end, and Terrell Resonno could move into the vacant tackle spot.

Nebraska Cornhuskers
Spring practice starts
: March 24
Spring game
: April 17
What to watch:
1. Will quarterback Zac Lee keep his starting job?
After Lee was plagued by inconsistency throughout the '09 season, offensive coordinator Shawn Watson is expected to open the competition during spring practice. Sophomore
Cody Green
, senior
Latravis Washington
and freshman
Taylor Martinez
will all be given a fair chance to win the job.
2. Defensive tackle
. Nebraska fans won't see All-American Ndamukong Suh commanding double-team blocks along the line of scrimmage. Even after losing one of the most decorated players in school history, the Cornhuskers figure to be pretty good up front. Jared Crick and Baker Steinkuhler will man the middle, with Pierre Allen and Cameron Meredith entering spring camp as the favorites at ends.
3. Rex Burkhead
. The sophomore burst onto the scene after Roy Helu Jr. was hurt early in the Huskers' 33-0 rout of Arizona in the Pacific Life Holiday Bowl, rushing for 89 yards with one touchdown. Burkhead was very explosive running out of the Wildcat package, so look for Watson to try and utilize him even more to make the Nebraska attack less predictable.

Oklahoma Sooners
Spring practice starts
: March 8
Spring game
: April 17
1. Offensive line
. The Sooners have a lot of questions up front on offense, after left tackle Trent Williams and right guard Brian Simmons departed. Will junior Donald Stephenson finally be ready to contribute at left tackle after being suspended for all of the '09 season? Will center Ben Habern be ready after breaking his leg late in the '09 season? When will Jarvis Jones return from a broken heel?
2. Linebacker Ronnell Lewis
. The sophomore had a break-out game in the Sooners' 31-27 victory over Stanford in the Sun Bowl, finishing with six tackles and a forced fumble. With starting linebackers Keenan Clayton and Ryan Reynolds departing, Lewis will assume a starting role on the strong side. Redshirt freshman Tom Wort is projected to start in the middle, with junior Travis Lewis starting on the weak side.
3. Secondary
. The Sooners have shuffled their defensive backs after losing cornerbacks Dominique Franks and Brian Jackson. Sophomore Demontre Hurst is in line to replace Franks at field cornerback, and senior Jonathan Nelson has moved from strong safety to boundary cornerback. Junior Sam Proctor is expected to replace Nelson at strong safety, and senior Quinton Carter is back at free safety.

Oklahoma State Cowboys
Spring practice starts
: March 8
Spring game
: April 17
1. Quarterback Brandon Weeden
. The 26-year-old junior is the top candidate to replace
Zac Robinson
, who broke nearly every OSU passing record. Weeden was a second-round choice of the New York Yankees in the 2002 amateur baseball draft. If he can grasp new offensive coordinator Dana Holgorson's spread offense quickly, the Pokes' passing game should again be potent in 2010.
2. Defense
. Defensive coordinator Bill Young will have his hands full this spring trying to replace nine starters. The only returning starters are defensive end Ugo Chinasa and strong safety Markelle Martin. The Pokes have to replace three starters on the defensive line, three linebackers and three defensive backs. Three newcomers -- linebacker
Caleb Lavey
and defensive backs
Devin Hedgepeth
and Malcolm Murray -- will get early looks in spring camp.
3. Offensive line
. The Cowboys will have to replace star left tackle Russell Okung, left guard Noah Franklin, center Andrew Lewis and right tackle Brady Bond. Juniors Nick Martinez, Casey LaBrue and Grant Garner will be the top candidates to fill open starting spots.

Texas Longhorns
Spring practice starts
: Feb. 26
Spring game
: April 4
1. Quarterback Garrett Gilbert
. The sophomore was thrust into action after
Colt McCoy
injured his shoulder against Alabama in the Citi BCS National Championship Game and played admirably well in tough circumstances. The Longhorns might change their identity on offense with a young quarterback under center, so developing a running game to take pressure off Gilbert might be a top priority.
2. Defense
. The unit is in good hands with coordinator Will Muschamp, but he'll have to replace many of the star players from 2009. End Sergio Kindle, tackle Lamarr Houston, linebacker Roddrick Muckelroy and safety Earl Thomas are all gone. Younger players such as end Alex Okafor and tackle Tyrell Higgins will have to turn it up a notch during spring practice.
3. Wide receiver
.
Jordan Shipley
, who was McCoy's favorite target, also departed. Seniors
James Kirkendoll
and
John Chiles
, junior
Malcolm Williams
and sophomore
Marquise Goodwin
will have to be more consistent in their route running and pass catching. Other receivers such as
D.J. Monroe
and
DeSean Hales
will be trying to crack the receiver rotation during the spring, before talented freshmen like
Darius White
,
Mike Davis
and
Demarco Cobbs
arrive on campus.

Texas A&M Aggies
Spring practice starts
: March 23
Spring game
: April 17
1. New defensive coordinator Tim DeRuyter
, who built one of the country's best units at Air Force last season. He inherits an A&M defense that was woefully porous last season and will switch to a 3-4 scheme. Nine starters are coming back on defense, including pass-rushing specialist Von Miller. DeRuyter will spend the spring trying to install his system and getting his players comfortable with it.
2. Offensive line
. The Aggies must replace three starting offensive linemen: left tackle Michael Shumard, center Kevin Matthews and right tackle Lee Grimes. Juniors Joe Villavisencio and Danny Baker and sophomore Stephen Barrera have to be ready to step up this spring.
3. Special teams
. The Aggies' special teams weren't so special last season, as they ranked 104th in net punting, 91st in kickoff return defense and 49th in kickoff returns among FBS teams. Aggies coach Mike Sherman is putting a new emphasis on special teams, which cost his team dearly in its 44-20 loss to Georgia in the Independence Bowl.

Texas Tech Red Raiders
Spring practice starts
: March 7
Spring game
: April 17
1. Quarterbacks
. With former Auburn coach Tommy Tuberville replacing Mike Leach at Texas Tech, senior quarterbacks
Taylor Potts
and
Steven Sheffield
figure to start spring camp on a level playing field. Potts started 10 games last season, throwing for 3,440 yards with 22 touchdowns and 13 interceptions. Sheffield started two games and threw for 1,219 yards with 14 touchdowns and four picks. New offensive coordinator Neal Brown, who was hired from Troy, runs a version of the spread offense, but Tuberville will probably incorporate more of a traditional running game into the offense.
2. Defensive line
. New defensive coordinator James Willis has to replace three starters on his defensive front: ends Brandon Sharpe and Daniel Howard and tackle Richard Jones. Making matters worse, the top two reserve ends in 2009 were seniors, along with the backup nose tackle.
3. Offensive line
. O-line coach Matt Moore, who was retained from Leach's staff, has to replace three starters: center Shawn Byrnes, right guard Brandon Carter and right tackle Marlon Winn. Juniors Justin Keown and Mickey Okafor and sophomore LaAdrian Waddle will probably be given first crack at replacing them. Incoming junior college transfer Scott Smith could play stand-up end in Tech's 3-4 scheme, and junior college defensive tackle Donald Langley might also have an impact in spring practice.