NCF Nation:

Donovan McNabb
May, 22, 2013
5/22/13
9:00
AM ET
This fall will mark the final college football season that concludes with a BCS title game. The era has had its ups and downs for all, so here we will take a look at the best and worst of the past 15 years in the Big East:
BEST
1. BCS bowl performances:
For all of the heat that this conference gets, it will likely exit the BCS era with no worse than a .500 record in BCS bowls. The Big East is 8-7 in BCS bowls during the past 15 years, winning its past two (Louisville over Florida in the 2013 Sugar, West Virginia over Clemson in the 2012 Orange.) The ACC, by comparison, has a 3-13 record in BCS bowls.
2. National title game appearances:
Miami and Virginia Tech might both be ACC members right now, but the schools had combined for three national title game appearances as members of the Big East. Virginia Tech lost to Florida State in the Sugar Bowl following the 1999 season and Miami fell to Ohio State in the Fiesta Bowl following the 2002 season, while the Hurricanes defeated Nebraska in the Rose Bowl following the 2001 season. The Big Ten has three title game appearances, the ACC has three and the Pac-12 has three only if you count USC's appearances following the 2004 and 2005 seasons, both of which were vacated by the NCAA.
3. Realignment replacements (the first time around):
After losing Boston College, Miami and Virginia Tech to the ACC, the Big East was able to scoop up Cincinnati, Louisville and USF from Conference USA as football members (and Marquette and DePaul as non-football members). Cincinnati has won a share of four of the past five league titles and Louisville has won a share of the past two, in addition to appearing in a pair of BCS bowl games.
[+] Enlarge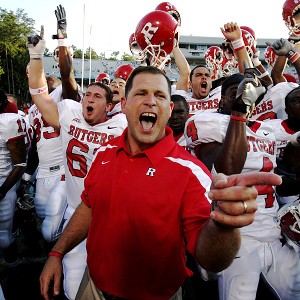 Bob Donnan/USA TODAY SportsGreg Schiano scooped up the accolades by leading Rutgers to an 11-2 mark in 2006.
4. Coaches:
Virginia Tech's Frank Beamer won five different coach-of-the-year awards (Bear Bryant, Eddie Robinson, AP, Walter Camp and Maxwell) in 1999. Miami's Larry Coker won the Bryant award in 2001. Rutgers' Greg Schiano won five different coach-of-the-year awards (Liberty Mutual, Robinson, Home Depot, Walter Camp and Maxwell) in 2006. Cincinnati's Brian Kelly won the Home Depot award in 2009, giving the conference 12 coach of the year awards from four different coaches during the BCS era.
5. Bowl record:
Matchups can often get more and more uneven as we look at the landscape of bowl games, but the Big East has certainly taken care of business when it comes to the postseason, going 46-29 in bowl games since the 1998 season.
WORST
1. Realignment losses (the next time around):
This almost goes without saying, as no conference has suffered from realignment more than the Big East. Gone or soon-to-be gone are Boston College, Miami, Virginia Tech, Pitt, Syracuse, West Virginia, Rutgers and Louisville in football. (TCU, Boise State and San Diego State all left before playing a down as football-only members.) Notre Dame and the Catholic 7 (DePaul, Georgetown, Marquette, Providence, Seton Hall, St. John's and Villanova) all left in other sports.
2. Status/money:
As a result of realignment, the Big East no longer has a guaranteed tie-in to an elite bowl game. And it is not sharing in the same revenue split from the future playoff as the ACC, Big 12, Big Ten, Pac-12 and SEC. Simply put, there will be one less major conference starting in the 2014 season, as the Big East simply is not in the same place that it was as recently as two years ago.
3. BCS bowl appearances:
The Big East's 15 BCS-bowl appearances are the lowest among any AQ school, as the conference has never received more than one bid in a year. The ACC received two following the 2011 season, with conference champion Clemson going to the Orange Bowl (and getting crushed by Big East champion West Virginia) and Virginia Tech going to the Sugar Bowl (and losing in overtime to Michigan).
4. QBs in draft:
Louisville's
Teddy Bridgewater
may change things with another strong performance in 2013, and there have been other notable performances in recent years (WVU's Pat White, for one), but outside of Virginia Tech's Michael Vick (No. 1 overall, 2001) and Syracuse's Donovan McNabb (No. 2, 1999), the Big East has not had a quarterback drafted in the first round in the BCS era.
5. Conflicting interests:
The divide between basketball and football schools played a large part in the split-up of the Big East. So, too, did the trust and double-speak. Look no further than departing member Pitt and its chancellor, Mark Nordenberg, who led a five-school contingent that sued Boston College in 2003 following the Eagles' departure for the ACC, saying at the time: "This is a case that involves broken commitments, secret dealings, breaches of fiduciary responsibility, the misappropriations of conference opportunities and predatory attempts to eliminate competition."
June, 18, 2012
6/18/12
12:00
PM ET
Daniel Jeremiah of NFL.com presented an interesting opinion last week regarding ex-Stanford quarterback
Andrew Luck
.
Jeremiah's take was that former Baylor quarterback
Robert Griffin III
, who bested Luck in the Heisman vote but was No. 2 in the draft to Luck's No. 1,
has more pressure on him than Luck does in 2012
.
He bases his opinion on the following reasons:
Griffin will be expected to lead his team to more victories.

The NFC East is far tougher than the AFC South.

RG3 is in a bigger media market.
[+] Enlarge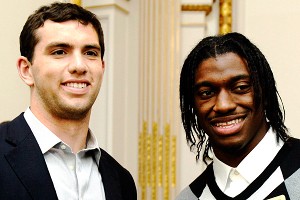 AP Photo/Richard DrewBoth top draft pick Andrew Luck, left, and No. 2 pick Robert Griffin III are under tremendous pressure.
Jeremiah adds a few final thoughts to his argument -- including the fact that RG3's presence actually takes the pressure off of Luck.
In my opinion, Robert Griffin III is the best thing that ever happened to Andrew Luck. Just nine months ago, it was widely thought that Luck would enter the NFL with more hype than any player in the last decade. Now, it's likely that he won't even receive the same attention in his rookie season as another quarterback in his own draft class. Sharing the spotlight with another player will help ease the pressure on Luck and allow him to focus on simply improving day by day.
To each his own, but the expectations for Luck are so ridiculously astronomical (not unlike last season) that it's going to be almost impossible for him to live up to them -- at least in the immediate future.
No one has labeled Griffin "the best quarterback to enter the draft since
Peyton Manning
" or "the best prospect since
John Elway
." Griffin is drawing comparisons to
Michael Vick
,
Luck to Elway
. All due respect to Vick -- but he doesn't belong in the same breath as Elway.
Luck has been handling the pressure for the past two years -- from Heisman expectations to his decision to return for another season. And maybe it's the aw-shucks way Luck handles the media that you never realize exactly how much pressure is truly on him.
And the fact that he has to follow Manning -- who will go down as one of the greatest to ever play the game -- adds an entirely different element of pressure that Griffin won't have to experience. Heavy lies the head of he who replaces
Rex Grossman
. Puh-lease.
Sometimes, guys are able to overcome that. See: Young, Steve. Others, not so much. See: Griese, Brian.
Jeremiah's points are all well-taken, specifically the NFC East being a tougher conference. No disputes there. But while Griffin might be expected to lead his team to more victories in 2012, Luck is expected to lead his team to more Super Bowl victories over the span of his career. And that pressure starts in Year 1.
Since 1993, four quarterbacks have been taken with the No. 2 overall pick: Griffin,
Donovan McNabb
(1999), Ryan Leaf (1998) and Rick Mirer (1993). In that same span, 13 quarterbacks have gone No. 1 overall. By default, being the No. 1 pick carries more pressure and loftier assumptions.
Both will face a heavy dose of scrutiny, and their careers will forever be linked because they were Nos. 1 and 2 in the draft. But Luck's top-pick status, the guy he's following in Indianapolis and the weighty expectations for a Hall of Fame career place a heavier burden on Luck's shoulders in 2012 and beyond.
September, 7, 2011
9/07/11
4:00
PM ET
SOUTH BEND, Ind. -- In defending
Denard Robinson
this Saturday, Notre Dame is tasked with trying to contain a quarterback who doesn't make you pay for a mistake by gaining a few extra yards.
No, Robinson disheartens defenses by gaining
every
extra yard. That is, if you miss him once, the left side of the Michigan Stadium scoreboard will serve a reminder seconds later of the six points "Shoelace" just rang up for the Maize and Blue.
"Unfortunately it just is what it is," defensive coordinator Bob Diaco said. "We need to be perfect, because any little crease and it's over, he's gone. It's not like, somebody hits a crease and he rattles for eight, 10 yards and you get him on the ground. This guy hits the crease and he can punch a hole in the top of the defense like that."
[+] Enlarge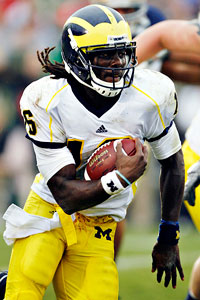 Brian Spurlock/US PresswireDenard Robinson accounted for 502 yards of total offense last season against Notre Dame.
As a linebacker at Iowa in the mid-90s, Diaco had experience against great runners -- Heisman Trophy winner Eddie George comes to mind -- and against great passers, like Indianapolis Colts opening-game starter Kerry Collins.
But Diaco has never faced the combination of threats that Robinson presents. At least not in one player.
"It's just a monumental task defending a runner at quarterback in particular, that it almost gives you the feeling like they're playing with 12," Diaco said. "It's a problem."
In last year's home loss, the Fighting Irish held Michigan scoreless during a seven-drive stretch in the second half. And Robinson still netted 502 yards of total offense for the game, including an 87-yard touchdown run in the second quarter.
Robinson accounted for all 72 yards on the Wolverines' final drive, which ended with a decisive two-yard touchdown run with :27 left to account for the 28-24 Michigan win.
"I think keeping the explosive plays down is something that we had stretches of where we did that very well," Irish safety Harrison Smith said. "And then we gave up a couple of plays, which is how they get those yards and how they move the ball so well with this offense. So it's easy to say, well, if we had just taken out that -- I think there was a 90-yard run or something at the end of the half — if we had taken that out, it wouldn't have been so bad.
"But that's part of the game. You can't have that if you want to win. That's our focus, to keep those plays to a minimum."
Defensive line coach Mike Elston remembers how difficult it was to scheme against Syracuse's Donovan McNabb when he was a graduate assistant at Michigan. But even Elston admits preparing for the eventual six-time Pro Bowler paled in comparison to what has awaited him in Week 2 these past two seasons.
"Denard Robinson is fantastic, because he is so much faster than everybody else," Elston said. "He's got a great arm and when he breaks it he can go all the way. Not a lot of quarterbacks can do that. They can pick up the first down, they can get a big chunk play but he can change the game with his legs at any time."
Which makes safeties coach Chuck Martin's approach all the more practical.
"We go to the grotto every day," Martin quipped. "Say some prayers."
August, 27, 2008
8/27/08
10:30
AM ET
Posted by ESPN.com's Adam Rittenberg
| | |
| --- | --- |
| | |
| | Tom Dahlin/Getty Images |
| | Juice Williams is prepared for the added leadership role he must assume this season. |
Shared misfortune brought Illinois teammates and roommates Juice Williams and Chris James together on the Edward Jones Dome sideline Sept. 1. Their conversation wasn't pleasant, but memorable.
James, a potential starter at wide receiver, already knew he wouldn't be playing that day against Missouri after tearing his ACL in training camp. Williams started the game at quarterback, determined to muzzle his doubters after an erratic freshman season, but left in the second quarter after taking a blow to the head from Missouri's Hardy Ricks on a 4-yard run.
Together, they watched as backup quarterback Eddie McGee rallied Illinois to within six points before throwing an interception at the goal line in the final minute.
"He talked to me about not finishing the game," James said of Williams. "He was real sad and upset."
"He took that loss to heart," added Illini linebacker Brit Miller.
Fast-forward to Monday as Williams and James sat in the film room at Memorial Stadium studying Missouri. This time they spoke with a tone of optimism, sensing the opportunity that soon awaited them.
It arrives Saturday as Illinois heads back to St. Louis to face Missouri (8:30 p.m. ET, ESPN). The game has added meaning for Williams, who matches up against Heisman Trophy candidate Chase Daniel.
"Even without the injury, it would still be special," Williams said. "The first game of the season, you prepared all offseason to get better as a player, as a leader, as a role model of this team. You're just so thrilled to go out there and show the world what you can do."
A greater burden will be placed on Williams this fall after Illinois lost running back Rashard Mendenhall, the Big Ten Offensive Player of the Year. Offensive coordinator Mike Locksley wants to pass more to exploit a deeper-than-expected receiving corps and a junior quarterback no longer prone to poor decisions and an unsightly completion percentage.
Williams likely will look to air it out immediately against a Missouri defense that ranked 96th nationally against the pass last season (256.9 ypg).
"I'm pretty sure he can't wait to show the world what he can do as far as the passing," star wide receiver Rejus Benn said. "He's labeled as an option quarterback, a runner, but he's a passer and he's going to show that."
Williams spent a week this summer working with Eagles quarterback and fellow Chicagoan Donovan McNabb, who encouraged him to rely on more than just his arm strength to lead the offense. After completing just 39.5 percent of his passes as a freshman and struggling early last season, Williams began to get comfortable and played his best down the stretch, most notably in an upset of then-No. 1 Ohio State in Columbus.
He completed 6 of 9 passes against Missouri and added 11 rushing yards before the injury, which occurred when he started to slide on a scramble.
"I kind of learned my lesson," Williams said. "After that game, the coaches have pretty much been on me to run physical. As the season went on, I started running harder, breaking a bunch of tackles here and there, so it really paid off."
Illini coach Ron Zook doesn't expect Williams to think about the injury Saturday, which speaks to the quarterback's growing maturity.
"He has improved in every area, whether it be the way he talks with the media, the way he practices, all the things," Zook said. "Now it's going to be important that he goes out there and shows what we all think is going to happen, that he is a much-improved player."
Williams should get help from his receivers. In addition to Benn, the reigning Big Ten Freshman of the Year, the Illini will start James and junior Chris Duvalt, who had a very strong preseason. Not having the 6-foot-5 Jeff Cumberland (foot) will hurt, but freshmen Fred Sykes, A.J. Jenkins and Cordale Scott all are expected to contribute.
"I can't even imagine the feeling I'll have running onto the field knowing that I'm going to be able to play this year," said James, who started the final four games in 2006. "It's exciting knowing you can get out there and know where you are from the start, going against a top team like Missouri."
Despite the Ohio State win and a run to the Rose Bowl, Illinois enters this fall needing to shed the one-year-wonder tag. What better way to start than against a team that many around the country would have rather seen in a BCS bowl than the Illini.
"Being able to go out there and win a game against a top-notch program would mean a lot for this program," Williams said. "It would hopefully make other guys start to believe in the Illini program, that the Illini guys are back and last year was not a fluke."