NCF Nation:

Dontavia Bogan
January, 20, 2011
1/20/11
5:16
PM ET
The Big East won't have a heavy presence at next week's Under Armour Senior Bowl, but some of the top seniors from the league in 2010 will be participating.
The game announced the invitees from the league Thursday afternoon, adding six alongside the previously announced inclusion of
Noel Devine
. Here is the list of invitees:
Connecticut:
Lawrence Wilson, LB
Louisville:
Johnny Patrick, DB;
Bilal Powell
, RB
Pittsburgh:
Jason Pinkston, OL
Rutgers:
Joe Lefeged, DB
West Virginia:
Noel Devine, RB; Chris Neild, DL
Also, Rutgers announced on Thursday that defensive end Jonathan Freeny and linebacker Antonio Lowery will play in the inaugural Eastham Energy College All-Star Game this Sunday. West Virginia safety Sidney Glover, South Florida receiver
Dontavia Bogan
and center Sampson Genus, and Louisville defensive end Rodney Gnat are also listed on the rosters for that game. It will be held at Sun Devil Stadium in Tempe, Ariz.
December, 20, 2010
12/20/10
3:39
PM ET
Good news for South Florida receiver
A.J. Love
. Head coach Skip Holtz announced Monday that Love has been granted a sixth year of eligibility by the NCAA and can play next year for the Bulls.
Love was expected to be one of South Florida's main offensive contributors this season, but he tore his right ACL in the spring game. The Bulls had hoped that Love would return late this season, but the senior wasn't able to get healthy and back on the field.
Love finished second on the 2009 team with 26 catches for 489 yards and four touchdowns. With
Dontavia Bogan
finishing his career in the Meineke Car Care Bowl, Love could be the top receiving target for USF in 2011.
December, 4, 2010
12/04/10
10:51
PM ET
TAMPA, Fla. -- It seemed like Connecticut was well on its way to just bleeding out the clock and stuffing a mistake-prone South Florida offense.
But
Jordan Todman
committed a rare huge error himself. The UConn star fumbled at his own 30, setting the Bulls up with their best field position of the night.
Bobby Eveld
, who has struggled while throwing three interceptions, hit
Dontavia Bogan
moments later to cut the lead to 16-13.
West Virginia fans perked up a little bit on that one. There's 8:38 left, and now the pressure shifts to UConn, which would need a long time to get over blowing a 10-point fourth quarter lead with the BCS in the balance. We'll find out what the Huskies are made of now, as South Florida finally has some momentum on its side.
December, 1, 2010
12/01/10
10:56
AM ET
If not for some unforeseen circumstances, maybe Skip Holtz would be leading Connecticut to its first BCS game.
Holtz coached the Huskies from 1994 to 1998, going 34-23, including a 10-win season in his final year. But he didn't get to see the program through to its transition to the FBS level. His mother got cancer, and he left Storrs to become an assistant coach for his father at South Carolina and to be closer to his family.
Ironically enough, Holtz's first regular season as head coach at South Florida ends against Connecticut. And his Bulls are the team standing in the way of UConn reaching its first-ever BCS game. Holtz, a Connecticut native who says he is a "fan of the program" and a friend of Randy Edsall, tries not to look at things that way.
[+] Enlarge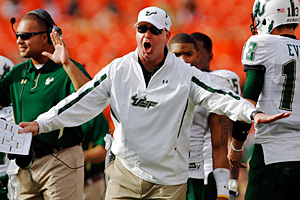 AP Photo/J Pat CarterSkip Holtz and the Bulls aren't worried about playing the role of spoiler.
"I'm excited about the growth that program has made, and to see where it has come is rewarding," he said. "But, still, I want this one for this team, for these seniors."
West Virginia fans will never root harder for South Florida than they will on Saturday night. A Mountaineers win and a UConn loss puts West Virginia in a BCS game. The Bulls are in the classic spoiler's role, but Holtz doesn't want his team to use that language or mindset.
"We're not playing to spoil somebody else's year," he said. "We're playing to make ours.
"It's more about finishing this out for the seniors and playing a good football game. We're not trying to take something from Connecticut. We're trying to make something for South Florida."
Had a play or two gone differently, the Bulls (7-4, 3-3 Big East) could be standing where the Huskies are now.
Like UConn, they started out league play 0-2. And like UConn, they turned things around and got on a roll. USF won three straight conference games, breaking losing streaks against Rutgers and at Cincinnati and Louisville. It had Pittsburgh on its home turf with a chance to tie for first place but lost 17-10.
The team, though, bounced back to beat Miami in overtime last week.
"We had to get that 'W,'" senior wideout
Dontavia Bogan
said. "I told the other receivers that we've had a signature win every year I've been here. Last year it was Florida State, and this year it's Miami."
By beating the Huskies, the Bulls could close out the regular season with five wins in their last six games. They'd reach eight victories for the fourth straight season. They might have an outside shot at the Champs Sports Bowl, though the Meineke Car Care Bowl would be a more likely destination.
Mostly, though, it would reward a senior class that led the team through some tough times after the Jim Leavitt abuse controversy last winter. The only spoiling USF is worried about it not spoiling Senior Night.
"If they come in here and beat us, they go to the BCS, and of course we'll try not to allow that," Bogan said. "But this would mean a lot for the seniors, because we've put in a lot of hard work."
November, 13, 2010
11/13/10
2:40
PM ET
Through three quarters of play,
B.J. Daniels
and South Florida had 30 yards of passing.
Then on one play in the fourth quarter, Daniels hit
Dontavia Bogan
for a 48-yard touchdown strike. The Bulls have their first lead of the game at
21-14
with a little under 12 minutes left.
Louisville has thrown two interceptions deep in USF territory. The second one came when
Dominique Brown
tried to throw out of the Wildcat formation, something he hadn't really done all year.
The Cardinals will look back on those turnovers if they can't come back and win this game. If USF holds on, it will be bowl eligible and will only need to win its last three conference games to win the Big East.
October, 22, 2010
10/22/10
11:45
PM ET
Who in the world were those guys wearing South Florida uniforms this week? And who was playing quarterback for the Bulls?
They sure didn't look like the same team that managed just 15 total points, and no offensive touchdowns in its first two Big East games. South Florida broke out in a big way with a shocking
38-30 win
at Cincinnati.
Skip Holtz promised a thorough re-evaluation of his offense after last week's sputtering effort at West Virginia, and whatever he and his staff came up with sure worked Friday.


B.J. Daniels
, who has been criticized a lot and in this space for his disheartening play and 10 interceptions, finally looked like the guy with so much potential against the Bearcats. Daniels completed 13 of 16 passes for 286 yards and two touchdowns. He also ran for two scores.
Daniels played with confidence and completed some long throws, including a 64-yarder to
Dontavia Bogan
and a 71-yard touchdown pass to
Faron Hornes
right after USF's defense stopped Cincinnati on a 4th-and-1 from the Bulls' 29. Hornes, who had three catches for 29 yards coming into the night, also had an 18-yard run.
The Bearcats, as they have done often this year, hurt themselves several times.
Zach Collaros
threw a costly interception in the red zone.
Armon Binns
dropped a sure touchdown pass, forcing the offense had to settle for a field goal.
They got the ball back with a little more than three minutes left but had to try and mount a game-tying drive without Collaros, who was taken out with an apparent left leg injury.
Chazz Anderson
came off the bench cold and led the team down to the USF 16. But his pass went through the hands of a streaking
D.J. Woods
on third down, and he was pressured into an incompletion on fourth down to seal it.
Credit the Bulls' defense, even with all the points they gave up. Cincinnati couldn't find much running room all night, and red-hot running back
Isaiah Pead
was held to just 48 yards on 15 carries.
The Bearcats saw their 13-game Big East winning streak and 14-game Nippert Stadium winning streak both come to an end. At 3-4 and 1-1 in the Big East, they now have less margin for error to reach bowl eligibility, and the home loss really hurts them in the league title chase. They were feeling good about their schedule with only two road games left, but now they will be in basically must-win mode to stay in the hunt.
Holtz got his first big victory at South Florida, leading the Bulls to a win in a place they had only known misery. This was, obviously, the best overall performance by the team all season and showed what USF is capable of if things are clicking, especially at quarterback. The Bulls (4-3, 1-2) still need a lot of things to go right to contend for the league title, but now this win gets them one needed step closer to bowl eligibility.
Just another night in what looks like a wild and unpredictable Big East season.
October, 9, 2010
10/09/10
12:59
PM ET
South Florida is dominating in time of possession, field position and total yards after a little more than a quarter against Syracuse. But
the Bulls lead just 3-0
as the Orange defense has stiffened at the right times.
B.J. Daniels
threw a bad interception early, opting to toss the ball to a well-covered
Dontavia Bogan
in the end zone rather than to
Evan Landi
, who was sprinting down the middle with no defender near him. Daniels' decision-making still needs work.
USF has spent much of the game in Syracuse territory. The Bulls have shown a more dynamic offensive game plan than they've had at times this year, using a variation of the pistol for the running game and opening up the passing attack.
The Orange, meanwhile, had just one first down and 21 total yards in the first quarter.
After a bye week that followed two straight wins over FCS teams, you had to figure the Orange would come out with some new offensive wrinkles. Instead, they have been saddled with bad field position and haven't been able to get much going, especially in the running game. Credit a great start by the Bulls' defense, which is really controlling the line of scrimmage.
October, 2, 2010
10/02/10
8:41
PM ET
Both Louisville and South Florida are leading at halftime of their games. Of the two, the Cardinals are in more control.


Despite some issues at receiver, Louisville is dominating Arkansas State
31-7
on the road.
Adam Froman
has already tossed three touchdown passes, and
Bilal Powell
has run for 97 yards and caught a 57-yard touchdown pass. Remember this is the same Arkansas State team that gave Louisville trouble at Papa John's Cardinal Stadium last year. But Louisville is obviously much better coached right now with Charlie Strong and really taking care of business.


South Florida leads only
14-3
at half over Florida Atlantic. The Bulls have scored on a punt block and a Mo Plancher touchdown.
Demetris Murray
, who hurt his ankle early last week but still rushed for 115 yards, has not played. Donatavia Bogan is back and has three catches for 24 yards.
This is what USF is right now: a team that does enough on offense to beat bad opponents. We'll see what the Bulls really are next week against Syracuse. Meanwhile, Louisville is looking like a team that could cause some noise.
September, 30, 2010
9/30/10
10:21
AM ET
1. TCB Weekend:
It's a rare week when every Big East team is favored and expected to win, with only UConn's game against Vanderbilt featuring a major-conference opponent. The league has been battered and bruised for its September performance, so this is a time to pick up some wins and confidence -- provided that everybody takes care of business.
[+] Enlarge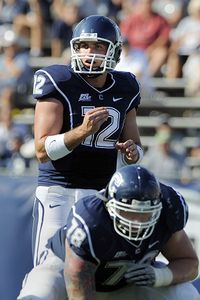 AP Photo/Fred BeckhamCody Endres completed 7 of 11 passes for 139 yards, two touchdowns and no interceptions in relief of Zach Frazer last week.
2. Endres enters:
Cody Endres
looked good in relief of
Zach Frazer
at quarterback for Connecticut last week, and now he gets his first starting assignment since October of last season. Can he keep it up against an SEC defense? And can the Huskies passing game continue to show improvement?
3. UConn's rush to victory:
Notice I called Vanderbilt an SEC defense in the last item, and technically that's true. But the Commodores rank 105th in the FBS in rushing defense, allowing 206 yards per game. We don't know yet if
Jordan Todman
will play after missing last week's game with an arm injury. But clearly there should be some running room for a team that loves to move the ball on the ground.
4. Macho Man Savage?:
Rutgers quarterback
Tom Savage
is dealing with bruised ribs, and if you ever experienced an injury there, you know how painful that can be. It remains to be seen whether Savage, who has gotten off to a rough start while healthy, will play or be able to be effective against Tulane. If he can't go, then true freshman
Chas Dodd
may be forced into action, or
Mohamed Sanu
will see a whole lot of Wildcat time. That could make an already scuffling Rutgers offense even more sketchy.
5. Pitt's new-look line:
Pittsburgh shook things up this week with its offensive line, moving tackle Lucas Nix inside and installing Jordan Gibbs at right tackle. The Panthers are desperately trying to get the line right and open up room for their running game, which is key to everything they want to do. The reshaped line gets its first challenge against Florida International, which gave Rutgers all it could handle in Week 2. FIU likes to blitz from different angles and has Florida athletes, so this will be a good litmus test for Pitt's makeover.
6. Sunseri in the spotlight:
Pitt quarterback
Tino Sunseri
did not look good against Miami, and when reserve
Pat Bostick
came in during the fourth quarter some fans were ready to make the change permanent. Dave Wannstedt isn't ready to make a switch and still believes in Sunseri. But clearly, the first-year starter needs to get on track, because the Panthers don't have much room for error. And they have a veteran in Bostick waiting in the wings.
7. Bulls on the run or in the air?:
South Florida escaped Western Kentucky last week by running the ball almost exclusively. Now the Bulls play a Florida Atlantic team that ranks last in the country in rushing defense. So expect some more of the power I-formation look, and potentially a big day for
Demetris Murray
and
Mo Plancher
. At the same time, however, receivers
Dontavia Bogan
and
Sterling Griffin
could be back from injury, and both could use some work before next week's Big East opener against Syracuse. So USF needs to air it out a bit, too.
8. New Cardinals catchers:
Louisville has suffered all kinds of injuries at the receiver position, the latest knocking out leading pass catcher
Doug Beaumont
. The Cardinals need to find people to make plays in the passing game this week at Arkansas State, and they could look to junior college transfer
Josh Bellamy
, sophomore
Andrell Smith
or freshmen
Kai Dominguez
and
Jarrett Davis
. None have much experience, and Louisville will likely need to get plays out of them against a Red Wolves team that's averaging 28 points per game.
September, 11, 2010
9/11/10
6:44
PM ET
GAINESVILLE, Fla. -- For South Florida, Saturday's game at The Swamp was about measuring up against one college football's gold standards.
For Florida, it was about trying to recapture that standard after a shaky opening week.
[+] Enlarge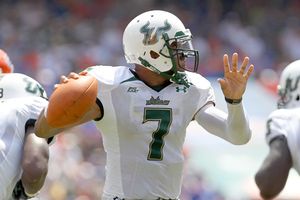 Kim Klement/US PresswireB.J. Daniels ran for 107 yards against Florida, but he made just five completions and had four INTs.
Both teams got answers, but not necessarily the ones they were seeking.
Florida won 38-14
with a lot of help from the mistake-prone Bulls. South Florida left thinking it might be able to play at Florida's usual level by cleaning some things up. The Gators learned the same.
"Outside of the turnovers, it would have been a great football game that went down to the wire," first-year South Florida coach Skip Holtz said.
The Bulls had five turnovers to none by the Gators. Meanwhile, Florida had one Jeff Demps, which proved just as valuable.
South Florida quarterback
B.J. Daniels
showed what's both tantalizing and maddening about his still-evolving game. The sophomore ran for 107 yards but completed almost as many passes to the defense (four) as he did to his teammates (five). Holtz called him a "tremendous competitor" who's still a "true freshman in this offense."
But Daniels also made mistakes even a rookie should know to avoid. His included a momentum-killing interception with one minute left in the first half with his team up 7-0. He tried to force a screen pass to Mo Plancher even though Florida's defense had busted the play into pieces. Over and over in training camp, Holtz had instructed him to throw the ball in the dirt in that situation. Instead, he let the Gators' still-struggling offense get a tying score before halftime.
Daniels also gave up a second-half pick-six to defensive lineman Justin Trattou on a floater as he escaped from heavy pressure.
"Under duress, the best thing to do is tuck it and take the loss," said Daniels, who finished 5-for-20 for 84 yards and those four interceptions. "It's definitely something I can learn from. I just need to do things to help the team versus just trying to make every play."
But it's understandable why Daniels would feel like he needed to make every play, because he had precious little help. His shiftiness in the zone-read option kept the Bulls in the game, and Holtz said his quarterback put the team on his shoulders early on.
The passing game, though, was virtually nonexistent. South Florida entered the season with one experienced receiver in
Dontavia Bogan
, and he turned an ankle early in the game. Daniels completed just two passes to receivers all day as Florida's defensive backs simply manhandled them.
"Their corners are better than I thought they were," Holtz said. "We were challenged outside, and those young guys did not respond very well."
The Gators' defense had the passing game locked down, but the Bulls still averaged 6.3 yards per carry. South Florida executed a 17-play, 96-yard scoring drive on its opening series as its offensive line controlled matters. If an also-ran Big East team can do that, shudder to think what Alabama will do.
"We have to get that corrected," Florida coach Urban Meyer said. "You don't win SEC games like that."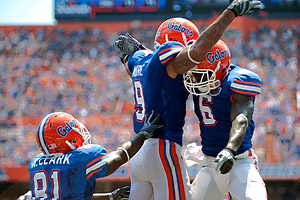 AP Photo/Phil SandlinAfter Florida's offense struggled to get in sync in the first half, the Gators scored 31 second-half points.
As for the Florida offense, Tim Tebow was clearly on a plane en route to Jacksonville rather than under center in Gainesville. The bad-snap issue that plagued the Gators in Week 1 against Miami of Ohio disappeared after a botch on the first series. But quarterback
John Brantley
and his receivers struggled to get in sync for most of the first half.
"It took us a while to get into the game offensively," receiver
Deonte Thompson
said. "Once we got a feel for the game, we got the offense running."
More specifically, Demps got the offense running. His 62-yard touchdown sprint put Florida ahead for good in the third quarter. He finished with 139 rushing yards and another 95 yards on two kick returns. Even if Florida's offense is scuffling, it can always just keep giving it to Demps and wait for a big play.
"We had a game plan just for Demps," South Florida linebacker DeDe Lattimore said. "But he's a great player. I like how he plays."
The offensive line opened bigger holes in the second half as the South Florida defense seemed to tire on a sweltering day (the heat index on the field soared well past 100). The Gators piled up 251 rushing yards, and their backs are averaging eight yards per carry through two games.
"That's the hardest our running backs have run here in quite a while," Meyer said. "Our receivers aren't where we need to be, but they're better."
The measure of Florida's improvement demanded a measured response from Meyer. Meanwhile, Holtz saw the possibility of his team's potential.
"I think they showed they deserved to be on this field," Holtz said. "As long as we learn from this experience, it may be one of the best things that happens to us this year. Because we can put on the film and say we deserved to be here."
Both the Gators and the Bulls had questions coming into Saturday. Both got the answers they deserved.
August, 12, 2010
8/12/10
11:02
AM ET
When receiver
A.J. Love
tore his ACL in South Florida's spring game,
Dontavia Bogan
knew that things had just changed for him.
"I was like, my sidekick just went down," Bogan recalled. "I've got to step my game up to another level. I've got to do whatever it takes and have the other receivers gather around me."
[+] Enlarge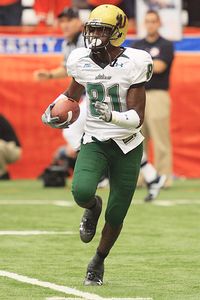 Jerome Davis/Icon SMIDontavia Bogan knows he needs to step up his game this season.
The Bulls' receiving corps was already going to be inexperienced, but the loss of Love -- and later,
Sterling Griffin
to a summer ankle injury -- really thinned the group. Bogan is the only healthy returnee who had more than 10 catches last season.
And even Bogan hasn't put up dazzling numbers. He had 22 catches for 305 yards and four touchdowns last year and now finds himself as the team's No. 1 target. The senior showed his ability in that same spring game, though, catching nine passes for 228 yards and four touchdowns. Granted, it was just a spring game with limited defenses. But it was something.
"I was showing people what I'm capable of doing with the ball," he said. "I've been playing since I was a true freshman, but I spent my first three years in the slot. Now I'm on the edge and should get more touches."
Bogan, who also returns kicks for the Bulls, knew he had a lot of responsibilities to cover this year. So this summer he put on eight pounds, growing to 193 on his 6-foot-1 frame. With a mostly young cast around him -- including sophomores
Evan Landi
,
Lindsey Lamar
and
Derrick Hopkins
and junior college transfer T.J. Knowles -- Bogan has to do more than just produce.
"I'm a senior and the only one with a lot of game experience," he said. "So I have to show them what it's like to play on Saturdays. Tell them how it's going to be tough and how you can't get down on yourself."
"Dontavia has always been a leader," Lamar says, "but he's stepped it up a notch since A.J. got hurt. He's pushing us to be the best we can be."
Bogan has to prove he can make big catches in big games -- he didn't top 50 receiving yards in any Big East contest last year -- and that he is a go-to guy. USF hopes that Love and Griffin can return sometime by midseason. Right now, there remain a lot of questions about the Bulls' receivers, but Bogan thinks the team has answers.
"Tune in September 4th," he said.
April, 20, 2010
4/20/10
8:07
AM ET
One of South Florida's concerns going into this spring was depth at wide receiver and the lack of a bona fide No. 1 target.
That's why the news that
A.J. Love
suffered a torn ACL
in his right knee in Saturday's spring game is particularly painful. Love was one of the team's few experienced receivers and someone who talked about
becoming the go-to guy
this year.
On a personal level, you have to feel bad for Love, who tore his ACL in the other knee during the 2008 St. Petersburg Bowl and worked hard to come back for that. Now his senior year is in jeopardy. We've seen players come back from ACL injuries in five or six months, but it's harder for a receiver who needs his explosiveness and the ability to cut and drive off his legs.
Love said it was about the middle of the season last year before he felt comfortable on his repaired knee. So even if he were ready to go by, say, mid-October, it might not be worth rushing him back to the field. But he has already used a redshirt year, so he'd have to apply for a sixth year from the NCAA to play in 2011.
The Bulls still have
Dontavia Bogan
, who had a huge spring game and now really needs to turn things up as the only experienced receiver.
Lindsey Lamar
and
Sterling Griffin
are speedsters who can get behind a defense.
Evan Landi
is developing as a receiver after switching over from quarterback.
Donald Bowens
is trying to graduate and transfer from NC State, but he didn't set the world on fire with the Wolfpack.
Incoming freshmen will get a longer look now in fall camp. The Bulls were already searching for dependable receivers, and now that search gets a little more difficult.
April, 3, 2009
4/03/09
10:00
AM ET
Posted by ESPN.com's Brian Bennett
South Florida's coaching staff was divided over whether to offer a scholarship to Dontavia Bogan out of high school. Bogan's only other offer from a major program came from UAB.
He was an athlete with no apparent position, having played quarterback, receiver and safety in high school. Bogan said when he got to South Florida, coach Jim Leavitt asked if he wanted to play offense or defense.
Bogan chose wisely. He had a solid year among the Bulls' deep receiving corps as a sophomore and proved to be a force on special teams, setting school records for kickoff returns and return yards, averaging 26.6 yards per attempt.
"I was 17th in the nation in kickoff returns last year, but that wasn't good enough," he says. "I want to be number one this year."
Bogan said he played receiver sparingly during his high school career in Thomasville, Ga., and he had a lot to learn about the position in college. He saw the field in a limited role in the first half of his true freshman year until he was thrust into contributing against Rutgers, when the Bulls were trying to protect a No. 2 national ranking on the road.
"I remember going in there, and one of the outside linebackers jabbed me," he said. "I was like, 'I've got to get used to this or it's going to be a long year for me.'"
Bogan made adjustments and finished the year with 12 catches, including several spectacular diving grabs. Last season he had 26 receptions for 354 yards and a touchdown and again hauled in several difficult catches.
"I honestly think he might have the best hands on the team," offensive coordinator Mike Canales said. "He makes a lot of people miss, he's a good athlete and he can play a lot of different roles. I'm just impressed with the kid and what he's doing."
Canales compared the 6-foot-1 Bogan to a shorter version of New York Jets receiver Jericho Cotchery, whom Canales coached at NC State.
Bogan asked to be placed on kickoff return duty last season and quickly made an impact. Against UConn, he set a Big East record for average return yards in a game at 67.5, including a 71-yarder. He still gets teased by the coaches, though, for failing to beat the kicker on a couple of returns.
The South Florida receiving unit remains crowded, but Bogan can play either on the outside or in the slot positions. He's working this spring on improving his route-running, his blocking and his stamina.
One thing's for sure: a lot of programs whiffed on a valuable player.
"I'm just making progress year by year," he said.
TOP 25 SCOREBOARD
Thursday, 12/5
Friday, 12/6
Saturday, 12/7
TOP PERFORMERS