October, 23, 2014
Oct 23
3:00
PM ET
COLUMBUS, Ohio -- The first Ohio State game plan of the season was light on offensive variety.
It didn't include many changes in personnel. There weren't a lot of adjustments that could be made as the Buckeyes focused largely on doing just a few things well instead of risking the possibility of spreading themselves too thin.
[+] Enlarge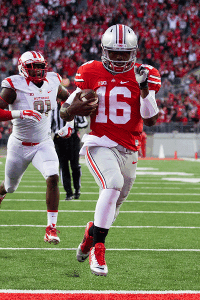 Greg Bartram-USA TODAY SportsLed by quarterback J.T. Barrett, Ohio State has scored 50 or more points in four straight games.
They were inexperienced at quarterback, starting what amounted to be an entirely rebuilt offensive line and counting on a handful of skill players who had barely been used in meaningful action.
Fast forward half a season and nearly every part of that formula has changed dramatically, most notably starting with the playbook the Buckeyes now have at their disposal that is making it seemingly more difficult to prepare for them every week.
"Just look at the play sheet against Navy compared to now," coach Urban Meyer said. "There's 70 percent more there than what it was.
"I think the quarterback, offensive line, the receivers have all opened up the playbook because they're much more mature. They've grown up fast."
That has challenged the coaches to keep pace with the rapid development. And they've responded by continually adding new wrinkles, expanding the personnel rotation and then watching as the young Buckeyes soak it all up and wring out an offensive deluge on helpless opponents, scoring 50 points or more in four straight games.
A first-time starter in that disjointed win over Navy and a subsequent loss to Virginia Tech, redshirt freshman
J.T. Barrett
is now brushing elbows statistically with the top quarterbacks in the nation. Perhaps most impressively, he's rewriting the record books that have
Braxton Miller
's name all over them and arguably playing at an even higher level than the injured two-time Big Ten Offensive Player of the Year thanks to an accurate arm, good decision-making and underrated athleticism as a rusher.
The offensive line that moved its only returning starter to a new position while breaking in four first-time contributors has now established chemistry and is once again blowing open holes for the spread attack. And behind those blockers, Ohio State is cutting loose a host of speedy threats at running back and wide receiver, trusting them with both the football and new assignments just about every game -- like the sparkling new Wildcat package that
Dontre Wilson
unveiled in another blowout last weekend against Rutgers.
That may just be the tip of the iceberg on the expanded play sheet, which offensive coordinator Tom Herman isn't afraid to keep building on as long as the Buckeyes prove they can keep handling it.
"It's the same offense," Herman said. "It's just different adjustments, different usage of personnel and better developed players. We're better up front, we're better at quarterback, we're better at the skill positions. The sign of a good team is continual improvement, and I think we're on that track right now. To say it's a different offense, it's not, but the players are certainly coming into their own.
"We'll keep growing, obviously. But I think right now we're in a good place."
The Buckeyes have certainly come a long way in a hurry since that early loss, and the journey has been so dizzyingly quick, it can be easy to forget that the roster is still young.
That may mean mistakes may inevitably pop back up as the level of competition goes up against better defenses like Penn State's on Saturday or in the huge showdown at Michigan State on Nov. 8. Of course, it might also suggest that the Buckeyes are only just scratching the surface of what they might be capable of doing offensively.
"As long as you have good checkers, you can keep going and going," Meyer said. "That's where you just have to keep going.
"The better your checkers, [the options] are endless."
And that is making the checkerboard increasingly difficult to defend.