March, 1, 2011
3/01/11
5:40
PM ET
Stanford has a secret: 2010 wasn't only about
Andrew Luck
. And, if things go according to plan, 2011 won't be either.
[+] Enlarge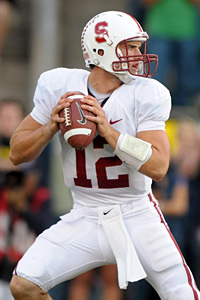 Kirby Lee/Image of Sport/US PresswireAndrew Luck is just part of the reason Stanford has high expectations this season.
It's not that Stanford doesn't recognize the benefit of having the best quarterback in the nation. It does. But the program's transformation from also-ran to BCS bowl winner was more about attitude than Luck.
That attitude -- play with "
character and cruelty
" --started up front under former coach Jim Harbaugh, and that attitude will remain in place under new coach David Shaw, at least according to offensive coordinator Pep Hamilton, whom Shaw promoted from receivers coach.
"We are a power running team," Hamilton said. "We are going to get off the bus running power. We're going to establish and control the line of scrimmage. We want to out-physical our opponent."
Of course, when you're beating a defense up at the line of scrimmage, it makes it a lot easier for any quarterback. And when your quarterback likely would have been the top pick in this spring's NFL draft, well, you're in pretty good shape when the goal is to keep a defense guessing and off-balance.
Just consider the numbers from the
40-12 beatdown
of Virginia Tech in the Orange Bowl. Sure, Luck got lots of attention for throwing four pretty touchdown passes. But the Cardinal rushed for 247 yards and two scores, and averaged eight yards a carry.
There, however, is work to be done this spring. The Cardinal needs to replace three starters from its 2010 line, including All-American center Chase Beeler. So it's not unreasonable to wonder if the offensive line will continue to be -- to use Hamilton's phrase -- "big, tough guys who enjoy imposing their will on their opponent."
Hamilton thinks so, in large part because of the two coming back: left tackle Jonathan Martin and right guard David DeCastro, who both earned first-team All-Pac-10 honors.
"Their personalities, their physical mentalities will permeate amongst the rest of the offensive line group," he said.
Khalil Wilkes and Sam Schwartzstein are battling to replace Beeler. Kevin Danser has been running with the first unit at left guard, while Tyler Mabry is the right tackle. Cameron Flemming and David Yankey also could play their way into the mix.
Still, the Cardinal might take a step back at the line of scrimmage, at least early in the season. Last year's unit welcomed back four starters, and it was widely hailed in the preseason as perhaps the best unit in the Pac-10 after it had paved the way for Toby Gerhart's runner-up finish in the 2009 Heisman Trophy race. As good as Martin and DeCastro are, and as intriguing as the new talent is, it often takes lines time to mesh.
That's where Luck comes in. As a third-year starter, he should be able to carry the load at times in the passing game. An outstanding athlete, he's fully capable of making plays outside of the pocket or with his feet if protection breaks down. But he's also adapting to change with the departure of his two leading receivers,
Doug Baldwin
and
Ryan Whalen
.
"He has some new wide receivers, so he has to work to develop some continuity with those guys," Hamilton said.
With
Chris Owusu
sitting out, those "new" receivers include
Griff Whalen
,
Jamal-Rashad Patterson
and
Drew Terrell
(each is at least a third-year player).
Hamilton doesn't envision Luck's role changing this year, even with his national celebrity as the leading Heisman Trophy candidate. He certainly doesn't want Luck to feel like he needs to transform into an alpha dog in the locker room. That would mean Luck isn't being himself.
"His personality is something that teammates gravitate towards. They all want to reach his level of success. He has field credibility in our locker room," Hamilton said. "He says the right thing at the right times. I don't see that changing."
The offense will try to retain the identity from the "Harbaugh Transformation," but there will be some tweaks to schemes, without question. Said Hamilton, "It's premature to say we've established our offensive identity."
As for life post-Harbaugh, Hamilton said he doesn't expect things to be any less emotional or edgy in the locker room. Sure, Shaw is smoother and less eccentric than Harbaugh. But that doesn't mean he lacks intensity.
"Coach Shaw brings a lot of emotion as well," said Hamilton, who also coached with Shaw when both were with the Baltimore Ravens. "When he's in front of the cameras, he gives a perception that he's laid back. But he's a fiery guy. He's as competitive as any other coach in college football, or in the NFL for that matter."
And if he is successful in 2011, it won't all be about Luck.
January, 13, 2011
1/13/11
6:18
PM ET
If David Shaw is as good a head football coach as he is handling a news conference, then Stanford is in excellent hands.
Let's start with this: "Two years of good football is not enough," said Shaw, a former Stanford player.
[+] Enlarge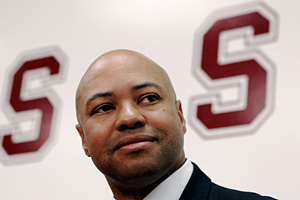 AP Photo/Jeff ChiuDavid Shaw says Stanford will now set its sights on a conference championship.
Shaw, 38, isn't planning on just maintaining what Jim Harbaugh built before he bolted for the San Francisco 49ers. He wants to take the program another step forward.
A dominant victory in the Discover Orange Bowl over Virginia Tech? Old news.
"We're going to put it in a box, we're going to put a ribbon around it, and we're going to put it up on a shelf for everybody to admire," he said. "But we're going to get back to work. We're going to let everyone else admire and talk about how great it was. Our goals are not done. ... We did not win our conference. Oregon did that."
Why did athletic director Bob Bowlsby hire Shaw, Stanford's offensive coordinator since 2007, over the other three members of the Cardinal staff he interviewed (associate head coach Greg Roman, defensive coordinator Vic Fangio and special teams coordinator Brian Polian)?
Bowlsby said Shaw's hiring was "logical" and a "perfect fit." Among Shaw's strengths, Bowlsby listed recruiting, experience at the NFL and college levels, an understanding of Stanford's academics, organizational skills, continuity from Harbaugh's tenure, high character, the support of the locker room, and good motivational skills.
There's also this: Shaw was adamant that this is his dream job. Stanford won't be a coaching stepping stone for him, he said.
"Since the day I started coaching, this is the job I always knew I wanted," he said, then added later. "I wanted this to be my last head coaching interview ever."
But Shaw wouldn't talk about his staff or assistants. Fangio and Roman are going to leave. It is unclear which members of the current staff stick around, though a handful almost certainly will.
As for as what he wants to continue from the Harbaugh Era, Shaw mentioned being aggressive and physical on both sides of the ball. Shaw also might have said the words "compete" and "competitive" 20 times. That's very Harbaughian.
He said the schemes won't change. And then again they will. "We're going to push the envelope with scheme," he said. Also a Harbaugh trademark.
Shaw's hiring will be popular with the current players. Just after Harbaugh's departure was announced, receiver
Doug Baldwin
told the San Jose Mercury News that, "All the players want David Shaw as the head coach."
Shaw said he doesn't "plan on disappointing them" when he was asked about this, but he also added something that very much sounded like a grumpy, veteran head coach.
"I was not happy it was in the paper," he said.
Shaw has a lot on his plate, starting with a big recruiting weekend, when he must keep an outstanding recruiting class on board. Next, he must fill out his staff. Then, once the boxes are unpacked and he turns his attention to X's and O's, he will be freighted with the high expectations that come with a likely preseason top-10 ranking.
It won't be easy to replace a larger-than-life -- and slightly eccentric -- personality such as Harbaugh, particularly after the Cardinal's success this year. But Shaw's first day on the job was impressive.
January, 4, 2011
1/04/11
11:00
AM ET
MIAMI -- What to make of the future at Stanford?
As everyone
anxiously awaits the twin decisions
of coach Jim Harbaugh and quarterback
Andrew Luck
, an appropriate question to ask is this one:
If both leave, is this program in position to continue on its upward path?
[+] Enlarge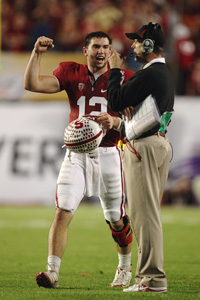 Streeter Lecka/Getty ImagesQuarterback Andrew Luck and coach Jim Harbaugh may be working on Sundays next season.
"There's a core group of young guys in this program that know how to work and know how to get the job done," said fullback/linebacker
Owen Marecic
. "Coach Harbaugh -- that's not taking anything away from him, he's the reason we've had so much success -- but these guys are so grounded that they'll be successful in whatever they pursue."
Stanford players believe their 40-12 win over Virginia Tech in the Discover Orange Bowl is a momentum-shifting event for a program that has seen its fair share of down times.
Linebacker Shayne Skov said there was no question it was a "statement win."
"People that doubted this program four years ago, doubted the recruiting classes coming in, the motive for coming here -- this is what we've always dreamed of," Skov said. "This is what we always wanted, and we weren't going to let it slip away from us."
The Cardinal had never won 12 games in a season before, and are going to finish ranked in the top 5 for the first time since 1940. They went from 1-11 in 2006 to 12-1 in 2010, an astonishing feat in such a short period of time.
As Marecic said, Harbaugh is the biggest reason. Therefore, he is also the biggest reason he's the hottest coach in America right now.
Of course, Luck has meant much to the team's success as well. The Heisman runner-up had an incredible performance against Virginia Tech that left observers believing he is the most NFL-ready quarterback they had seen in years.
His second half was astounding: 9-of-10 for 201 yards with three touchdowns. His pinpoint passes were so accurate, only his receivers could catch them. The pass he threw on a rope to
Coby Fleener
on the sideline was perhaps his highlight of the night.
Of course, Stanford overcame the loss of Heisman finalist Toby Gerhart this season to make it to a BCS bowl game. But quarterbacks are the heart of a team, and replacing Luck would be no easy task, should he decide to head to the NFL draft.
Predictably, both Harbaugh and Luck deflected any talk about their future. So did the players, who insisted they had not thought about a future without Harbaugh or Luck.
So what does the future look like? Well, Stanford returns terrific young talent in leading rusher
Stepfan Taylor
and Skov, who led the team in tackles.
Chris Owusu
and Fleener return as well, along with Chase Thomas and Delano Howell.
But there are some big losses, including center Chase Beeler, leading receiver
Doug Baldwin
, Marecic, Taylor Skaufel, Richard Sherman and Sione Fua.
Then there is Luck, of course. But no matter what decisions are made, players truly believe the only place for Stanford to go is up.
"It's been a heck of a turnaround and a championship season is special no matter how you do it," Marecic said. "There's still that national championship out there that this team is definitely capable of getting to. That's going to motivate offseason workouts. These guys really have it in them. They realize that now."
January, 2, 2011
1/02/11
2:00
PM ET
FT. LAUDERDALE, Fla. -- Stanford coach Jim Harbaugh had a chance on Sunday to reflect on his
first recruiting class
and the integral role it has played in the program's turnaround. There were 19 players in that class, and many of them have contributed to Stanford's ascension from 1-11 to 11-1.
"There really wasn't much time to work on it," Harbaugh said. "I was hired December 19th, and then all of a sudden right out there on the road recruiting guys. And then some of our best players are in that class:
Owen Marecic
, T.K. Amajoyi,
Jeremy Stewart
. I know I'm missing guys, but it was really, really kind of a core class that --
Ryan Whalen
,
Doug Baldwin
, guys that -- kind of the core of the football team right now that have been through this all four years. We've been together the whole time, so they're kind of a special class there."
November, 14, 2010
11/14/10
2:58
AM ET
Who deserves a sticker on his helmet for a job well done?
Washington State
: Cougars, you not only ended a 16-game Pac-10 losing streak, you did it with style in a
31-14 win
at Oregon State. You didn't just sneak away with a win; you dominated.

Cliff Harris
: The Oregon cornerback returned a punt 64 yards for a touchdown in the
15-13 win
over California. It was his fourth punt return for a TD this year.
Marc Tyler
: The USC running back rushed 31 times for 160 yards and scored a TD in the Trojans
24-21 win
at Arizona.
Derrick Hill
: The talented but oft-injured California nose tackle only had three tackles against Oregon, but he made the most of them. Two came for a loss, one was a sack. And he also forced a fumble that he recovered for a TD.
Doug Baldwin
: The Stanford receiver caught 10 passes for 122 yards in the Cardinal's
17-13 win
over Arizona State.
Nick Foles
: The Arizona QB threw for 353 yards with three TDs and no interceptions in the loss to USC. Suffice it to say, the loss wasn't his fault.
September, 5, 2010
9/05/10
1:36
AM ET
Who deserves a sticker on his helmet for a job well-done?
Matt Barkley, USC
: Barkley completed 18 of 23 passes for 257 yards with five TDs in the Trojans
49-36 win over Hawaii
.

Arizona
: There was little not to like about the
Wildcats 41-2 win at Toledo
. A rebuilt defense gave up just 183 yards. Quarterback
Nick Foles
completed 32 of 37 passes for 360 yards with two TDs. Receiver
Juron Criner
caught 11 passes for 187 yards and a TD. Co-coordinators on both sides of the ball seemed to make beautiful music together.
Kenjon Barner, Oregon
: With starting running back
LaMichael James
suspended, Barner accounted four five touchdowns in the
Ducks 72-0 stomping of New Mexico
. He rushed for 147 yards on 17 carries -- 8.6 yards per rush -- and turned a short pass into a 60-yard TD.
Keenan Allen, California
: The true freshman made the most of his four receptions in a
52-3 win over UC Davis
, gaining 120 yards on them, including a 48-yard TD pass from
Kevin Riley
.
Doug Baldwin, Stanford
: Baldwin only caught four passes last year and fell off the radar. But in the
Cardinal's 52-17 win over Sacramento State
, the senior caught two of
Andrew Luck
's four TD passes among his four receptions for 111 yards.
TOP 25 SCOREBOARD
Saturday, 12/21
Monday, 12/23
Tuesday, 12/24
Thursday, 12/26
Friday, 12/27
Saturday, 12/28
Monday, 12/30
Tuesday, 12/31
Wednesday, 1/1
Thursday, 1/2
Friday, 1/3
Saturday, 1/4
Sunday, 1/5
Monday, 1/6