June, 7, 2011
6/07/11
10:30
AM ET
Being one of the top-rated recruits in the country is a double-edged sword. You get all the attention and hype you'd ever want coming out of high school. But there is also more pressure on you to succeed once you step foot on campus. And there's more pressure on coaches and programs to get the most out of their big-time prospects. As the old saying goes, potential will get you fired.
With that in mind, today we're taking a look back at the top Big Ten recruits from the 2010 class and seeing where they stand. It's not fair to judge these guys until the end of their college careers, and in several cases these players haven't even gotten on the field yet. But it's never too early to take stock.
We're going to use the
ESPNU150 list from 2010
as our guide. The Big Ten had 14 players make that elite list. We'll divide the players into three categories: those who've made the biggest impact so far, those who have played but for whom the jury is still out and those who haven't played yet. (One interesting thing to note: None of the 14 made Adam's
2010 Big Ten All-Freshman team
):
Away we go ...
Biggest impact
Rob Bolden, QB, Penn State (No. 112 overall, No. 4 position rank)
[+] Enlarge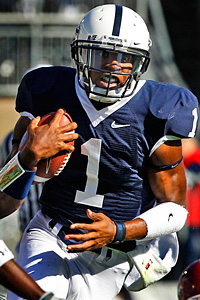 AP Photo/Gene J. Puskar, FileRob Bolden made a big impact as a freshman, but his future remains up in the air.
You all know the Bolden story. He started the first seven games as a true freshmen and eight games overall, throwing for 1,360 yards, five touchdowns and seven interceptions. Then he lost his job to walk-on
Matt McGloin
after suffering a concussion against Minnesota, and there was a heated quarterback battle this spring. The
last we heard
, Bolden hadn't decided whether he'll stay at Penn State or transfer before the 2011 season.
Corey Brown, WR, Ohio State (No. 137 overall, No. 20 position rank)
"Philly," as he's called, played in all 13 games last season and saw time on the kick and punt return teams as well as at receiver. He caught eight balls for 105 yards and a touchdown, which came in the win over Purdue. He won the outstanding first-year player award from the coaching staff. But he also had trouble with drops this spring. With the Buckeyes' lone returning starter at receiver,
DeVier Posey
, out for the first five games, Brown will need to become a consistent force.
Khairi Fortt, LB, Penn State (No. 66 overall, No. 2 position rank):
Will Fortt be one of the next great players at Linebacker U.? He saw action in nine games last year, including a start against Illinois in which he recorded 11 tackles. Penn State is loaded at linebacker, but Fortt saw a lot of time with the first-team defense this spring and will be hard to keep out of the lineup this fall.
William Gholston, DE, Michigan State (No. 42 overall, No. 3 position rank)
The Big Ten's highest-rated recruit in 2010 served as the Spartans' backup left end and played in 10 games before suffering a season-ending shoulder injury against Minnesota. He collected 13 tackles and a half-sack as a true freshman and had five stops and an assisted tackle for loss against Iowa. The 6-foot-7, 265-pounder should slide into a starting role in 2011.
Jury's still out
C.J. Fiedorowicz, TE, Iowa (No. 82 overall, No. 6 position rank)
Fiedorowicz saw action in all 13 games but did not record a catch as a true freshman as he saw most of his time on special teams. The 6-foot-7 sophomore is expected to back up starter
Brad Herman
this season but could see time when the Hawkeyes use two tight ends.
Devin Gardner, QB, Michigan (No. 128 overall, No. 5 position rank)
Gardner got to play in three games as a true freshman. He threw for 85 yards and a touchdown against Bowling Green and also ran for a score in that game. Then he hurt his back and missed the rest of the season, and Michigan is hoping to get a medical redshirt year for him. Of course, his opportunities were limited anyway and figure to be the same for the foreseeable future because he's stuck behind another pretty good quarterback. Fella named Denard. You might have heard of him.
Andrew Rodriguez, OG, Nebraska (No. 147 overall, No. 7 position rank)
The 6-foot-6 Rodriguez got his feet wet with five appearances in 2010, becoming the first true freshman to play on the offensive line for Nebraska since 2006. With starting guards Ricky Henry and Keith Williams now departed, there's a good chance Rodriguez fills one of those spots in 2011.
Look out for
Darryl Baldwin, DE, Ohio State (No. 131 overall, No. 13 position rank)
Baldwin took a redshirt year in 2010 and should see some snaps this year, albeit most likely in a backup role.
Miles Dieffenbach, C, Penn State (No. 118 overall, No. 1 position rank)
Dieffenbach redshirted in 2010 as senior Doug Klopacz held down the center spot. Dieffenbach is expected to back up junior Matt Stankiewitch in 2011.
Evan Hailes, DT, Penn State (No. 88 overall, No. 9 position rank)
It may be a while before we know anything about Hailes. He redshirted in 2010, and Joe Paterno said after the spring game that Hailes could miss the entire 2011 season with an undisclosed illness.
James Louis, WR, Ohio State (No. 80 overall, No. 12 position rank)
Louis redshirted in 2010 and was inconsistent this spring, like most of the Buckeyes' young receivers. At least the opportunity for playing time is there.
C.J. Olaniyan, DE, Penn State (No. 148 overall, No. 16 position rank)
Olaniyan redshirted last season and got some first-team reps this spring with starters Jack Crawford and Eric Latimore slowed by injuries. Those two will start when they get healthy, but Olaniyan should see time in the rotation along the defensive front.
Dakota Royer, LB, Penn State (No. 70 overall, No. 7 position rank)
A defensive end in high school, Royer is battling for playing time at the crowded linebacker position with the Nittany Lions. He redshirted in 2010 and will have to fight to get on the field behind an experienced crew this season.
Rod Smith, RB, Ohio State (No. 56 overall, No. 7 position rank)
Smith reported late to preseason camp last year while he worked on some academics and ended up redshirting. Now he's part of a group of tailbacks battling for carries while starter
Dan Herron
is out for the first five games. The 6-3, 230-pound bruiser impressed during bowl practice last year, had seven carries for 36 yards in the spring game and could become the featured back in Herron's absence. But the running back competition figures to continue into fall camp.
September, 25, 2010
9/25/10
10:53
PM ET
Penn State found a way to win against Temple, but in the process it lost a key member of the offensive line.
Senior right tackle Lou Eliades suffered a serious knee injury against the Owls. Coach
Joe Paterno said after the game
that Eliades likely tore his ACL, adding that the veteran is "probably out for the year."
Eliades started at right guard last season before moving to tackle.
"It definitely hurts," Penn State center Doug Klopacz said when asked about Eliades' injury. "We're losing a great player, we're going to miss him because he was a big part of our line. We were coming together as a unit, feeling good about ourselves."
Penn State's offensive line has been far from dominant this season, and Eliades' injury raises more concern. Eliades and Stefen Wisniewski provided veteran leadership up front, and Wisniewski and Klopacz now need to carry the burden.
Up next: a date with Iowa and arguably the nation's best defensive line.
March, 31, 2010
3/31/10
6:50
PM ET
Joe Paterno opened his news conference Wednesday afternoon by apologizing for delaying his pre-spring meeting with reporters.
Then, in classic Paterno fashion, he muttered, "I'm here. Unfortunately, so are you."
Yes, we missed you, JoePa.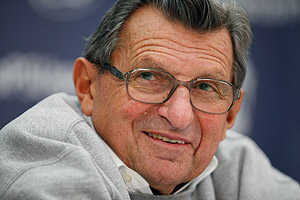 AP Photo/Carolyn KasterPenn State coach Joe Paterno sports his new glasses while meeting with the media on Wednesday.
We haven't heard much from the Penn State head coach since the Capital One Bowl, though his vision surgery and the auctioning of his famous glasses kept Paterno in the spotlight. Paterno addressed a number of topics in Wednesday's media session, and here are a few takeaways:
There's no timetable on a decision to name a starting quarterback. Paterno is open to modifying the offense so it fits the players' strengths. "We want to get them comfortable, see what they can do, and not do more than what they can handle," he said.

Paterno reiterated that former walk-on Matt McGloin is very much in the mix at quarterback, while wide receiver Brett Brackett hasn't been working with the signal callers this spring. Paterno is making the rounds in spring ball and hasn't seen much of early enrollee Paul Jones. JoePa is happy with the way Kevin Newsome handles himself in the huddle, saying Newsome "has made a lot of progress."

Wide receiver Chaz Powell is getting a look at cornerback this spring. Powell ranked fourth on the team in receptions with 28 last fall. He also served as the team's primary kickoff return man and finished second in all-purpose yards (67.8 ypg). Powell played both defensive back and wide receiver in high school and was a standout on special teams. "I'm not sure Powell's going to be a corner," Paterno said. "Obviously, Powell's a good athlete. He could play offense or defense."

Asked about the situation at offensive tackle, Paterno jokingly asked reporters if they had a big sheet of paper with them. Penn State is auditioning several players at the tackle spot, including DeOn'tae Pannell and redshirt freshman Eric Shrive. "We argue every morning, can so-and-so handle the pass protection?" Paterno said. "For me to make any kind of statement on where guys will play is ridiculous right now."

Starting safety Drew Astorino (shoulder) and linebacker Michael Mauti (knee), who many project as a starter in 2010, are out for the spring with injuries. Reserve running back Brandon Beachum (knee) will only do some light running this spring. Paterno didn't sound too concerned about the linebacker position and likes what he has with Bani Gbadyu, Nate Stupar and Chris Colasanti.

Paterno doesn't expect starting running back Evan Royster to do too much this spring, as he has little to prove to the coaches. Backup Stephfon Green and Shaine Thompson, a former walk-on who recently received a scholarship, will be in the spotlight there.

The jury is still very much out on defensive tackle Brandon Ware, who has struggled with academic issues and weight problems. "I think he's still a little too heavy," Paterno said. "But he's got a long road to go academically before I'm going to think about him playing."

Doug Klopacz is back for a fifth year and will back up Stefen Wisniewksi at center. Running back Brent Carter and defensive tackle Tom McEowen are no longer with the team.
April, 15, 2009
4/15/09
4:41
PM ET
Posted by ESPN.com's Adam Rittenberg
STATE COLLEGE, Pa. -- Listening to Joe Paterno, you'd think Penn State would be lucky to go .500 this season.
The defending Big Ten co-champs lose a sizable senior class, including the entire starting secondary and entire starting wide receiving corps. Penn State brings back national award candidates such as linebacker Navorro Bowman, defensive tackle Jared Odrick and running back Evan Royster, but all the turnover has taken a toll this spring.

"I don't think we've had a very great spring," Paterno said Wednesday. "We had a great winter program. The kids started out well. We've had a problem with the weather. ... And we've got some areas that we're not even adequate. That's the offensive line right now, the secondary has got a long way to go, and we've got to improve.
"Some of the good things are we've got kids that are working hard."
Paterno is feeling 100 percent physically following hip-replacement surgery in November, but his team's health hasn't been as promising. The Lions have had "more injuries this spring than I can remember in a long time," Paterno said, and they've been spread across the board.
The injured include linebacker/defensive end Jerome Hayes (knee), cornerback A.J. Wallace (hamstring), center Doug Klopacz (knee) and tackle Nerraw McCormack (knee).
There have been several bright spots, namely the play of Royster, quarterback Daryll Clark, a new-look wide receiving corps and the defensive line, led by Odrick. But for a team that still lists national titles and Big Ten championships as its goals, there's a ton to do in the final six spring workouts and the summer.
"Our running back situation's good, our tight end situation's good, our quarterback situation's good, we've got a chance to have a couple pretty good wideouts," Paterno said. "We're very, very shallow at the offensive line, not even close to being good enough. Same way with our secondary. The linebacker's are good, I think our kicking game will be good.
"That should cover everything."
Almost.
I didn't sit down with Paterno in person today -- some obligations kept him at home until practice, which was closed -- but we discussed several other topics over the phone.
Here are a few notes:
Clark has thrown the ball extremely well this spring, and a new-look group of receivers are making plays. Paterno likes the fact that Penn State has some bigger wideouts -- Brett Brackett (6-foot-6), Derek Moye (6-5), A.J. Price (6-4) and Graham Zug (6-2) are bigger targets -- who allow for some different things in the offensive scheme.

The only concern for Paterno is that the wideouts aren't facing the best competition this spring.

"People are going to bang 'em around, and they're going to need some experienced game time," Paterno said. "We're trying to give them as tough situations as we can, but the secondary is not as aggressive as I would like. So I'm not so sure just how good the receivers are. They've worked hard, they catch the ball well and they have ability, but they haven't really been challenged yet."
Night games at Beaver Stadium are a Penn State trademark, but the Lions will kick off only one contest under the lights this fall -- the Big Ten opener against Iowa. Last year, Penn State played three prime-time games. In 2007, Penn State had night games at home against Notre Dame and Ohio State.

"It doesn't make a difference, we've got to show up," Paterno said. "But the fans have a lot of fun at night. I don't know why we don't have one more. I guess it's all television."
Paterno is a bit worried about the depth on the defensive line, but for the most part, he shares the same opinion as most of his fans -- that assistant Larry Johnson will find a way to succeed with the front four. Odrick anchors the middle of the line, and Jack Crawford, Eric Latimore and Kevion Latham are emerging at defensive end.

"We've got some talent there," Paterno said. "They're all right."
Paterno also sees talent along the offensive line, though that group typically takes longer to develop. Stefen Wisniewski has shifted from right guard to center, and right tackle Dennis Landolt is the only other returning starter up front.

"We've just got to get a couple more kids to come forward," Paterno said. "There's some talent there. They're not comfortable, they're not confident, they're not aggressive, they're not sure of themselves. And obviously, that's why you practice. But I think they'll come along."
The 82-year-old coach joked that maybe Penn State was better off when his assistants ran most of the practice, but he's clearly feeling a lot better than he did last fall, when he coached the final eight games from the press box and could barely walk. When the Lions take the field Sept. 5 against Akron, Paterno expects to be running out of the tunnel.
"Right now, I'm concerned about this football team," he said. "We're not very good right now, we've got a lot of work ahead of us and we're running out of time. But I'm sure when it's a day or two before [the game], and I start thinking about going back out on the field, I'll be excited."