November, 30, 2013
11/30/13
7:10
PM ET
ANN ARBOR, Mich. -- The Ohio State Buckeyes were losing it: the game, their composure and possibly their perfect season.
They admittedly became too wrapped up in the emotion of The Game. They started by yapping at Michigan players before and after the whistle. Things quickly got much uglier. A
brawl following a Buckeyes kickoff return
early in the second quarter resulted in two Ohio State players (starting right guard
Marcus Hall
and H-back/returner
Dontre Wilson
) and one Michigan player (linebacker
Royce Jenkins-Stone
) being ejected for throwing punches.
"Disappointed with that; I don't know where that came from," Ohio State coach Urban Meyer said. "That's unacceptable."
[+] Enlarge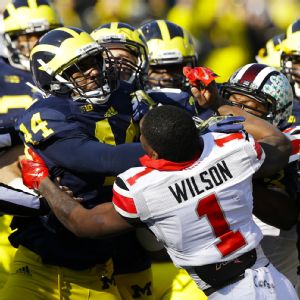 AP Photo/Carlos OsorioDontre Wilson was one of two Ohio State players ejected after this second-quarter brawl at Michigan.
Hall exited the field with both middle fingers raised to the crowd. No, he wasn't making the "H" in O-H-I-O. The image quickly made its way around Twitter.
It could have been the lasting image from Ohio State's first loss under Meyer, one that would have ended the Buckeyes' quest for the crystal football.
Instead, No. 3 Ohio State provided some other snapshots not soon to be forgotten in one of the most memorable editions of The Game in its storied history, one Meyer called an instant classic. The Buckeyes will remember running back
Carlos Hyde
, responding from his fourth-quarter fumble, triggering an overpowering six-play, 65-yard drive that he capped with a 1-yard touchdown run with 2 minutes, 20 seconds to play. Hyde finished with more rushing yards (226) than any Buckeyes player has ever had against Michigan.
They'll also remember redshirt freshman nickelback
Tyvis Powell
stepping in front of a slant pass to
Drew Dileo
on the game's decisive two-point play to record the clinching interception. Linebacker
Ryan Shazier
said the Buckeyes had prepared for two conversion plays from Michigan and the Wolverines ran one of them.
Most of all, they'll remember a
42-41 victory
against a Michigan team that gave its best effort in months.
"That was our season on the line," Powell said. "We had 12-0, Gold Pants, chances for the national championship. It just hit me, like, 'Wow, I kind of just saved the season.'"
Quarterback
Braxton Miller
, who had 153 rushing yards and three touchdowns to go along with two passing touchdowns, noted that every game doesn't go perfectly and teams must handle adversity. But Ohio State hadn't faced any real adversity in weeks, not since an Oct. 19 home game against Iowa, which led at halftime and tied the game entering the fourth quarter. That day, the Buckeyes turned to Miller, Hyde and the Big Ten's best offensive line to mount long, sustained drives.
[+] Enlarge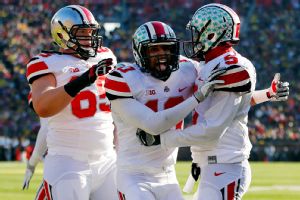 Gregory Shamus/Getty ImagesBraxton Miller rushed for three touchdowns and threw for two at Michigan.
It was a similar formula Saturday as Ohio State's defense had no answers for quarterback
Devin Gardner
and a suddenly dynamic Michigan offense, which stirred from its month-long slumber with a brilliant game plan that produced 603 yards and 31 first downs. The Wolverines gained just 158 yards the previous week at Iowa; they had 208 in the first quarter Saturday.
"They kind of looked like a different team," said Shazier, who added 14 more tackles to his swelling season total. "But we knew that would happen. ... It's called a rivalry."
It's a rivalry Ohio State continues to dominate, winning nine of the teams' past 10 meetings. There was little talk afterward of Michigan State and the upcoming Big Ten title game, or the lack of style points in beating an unranked opponent, or where the Buckeyes would wind up in Sunday night's BCS standings.
The road ahead, at least for now, didn't matter much to Meyer or his players.
"We're living in the moment right now," tight end
Jeff Heuerman
said. "It was such a crazy ending. Everyone's head is still spinning. A win's a win, and we'll take it however we can get it. What's 12 times two? Twenty-four straight wins.
"I'm an econ major. I shouldn't have said that out loud."
Ohio State's overall stock likely fell Saturday, particularly a defense that "didn't execute very well," Meyer said. But it's easy to invest in an offense that has looked unstoppable during Big Ten play, averaging 46 points and 531.3 yards in eight league contests.
The Buckeyes answered three Michigan touchdowns Saturday with touchdowns of their own.
"They matched score for score, and that's tough to do on the road," Meyer said.
Hyde has 1,249 rushing yards and 14 touchdowns in league play, telling ESPN.com that he runs "angry" because of his three-game suspension to begin the season. While Meyer knew his defense needed a breather before the two-point play, the Buckeyes offense was ready for overtime, if needed.
"[Michigan] went for two because they didn't want to go to overtime," Hyde said. "They knew what was going to happen. We would have scored; I have no doubt. We were having success all day."
The days ahead will bring bigger challenges for the Buckeyes, starting with the potential fallout from the fight. The Big Ten is reviewing the officials' report from Saturday's game, as well as video from the fight, to determine if additional discipline is warranted.
Meyer noted after the game that since the fight occurred in the first half, any suspension might not carry over. But the Big Ten typically has added a full game to any player ejected for throwing punches.
"Am I concerned? We're going to enjoy this win, get on the bus and go home," Meyer said, before adding, "I'm concerned about everything."
The fight still could end up costing the Buckeyes, but it didn't on Saturday. They regained their composure just in time, made just enough plays to beat a rival and preserved perfection for another week.
Next stop: Indianapolis.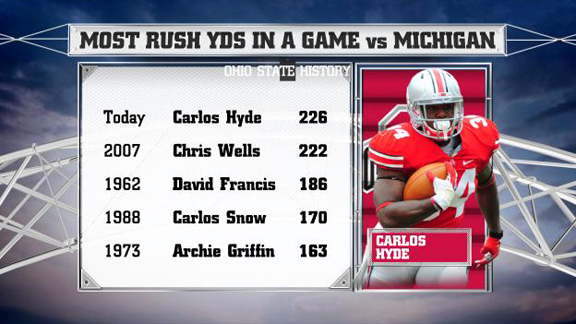 ESPN Stats & Information No Ohio State player has ever rushed for more yards against Michigan than Carlos Hyde did Saturday.
November, 18, 2013
11/18/13
11:00
AM ET
Twelve seconds.
That's how much time remained in regulation at Northwestern after Michigan quarterback
Devin Gardner
hit
Jeremy Gallon
on a 16-yard pass. The clock was running. What happened next was what Wolverines coach Brady Hoke said "might be the best single play I've ever seen."
The Michigan field goal unit sprinted onto the field. Holder
Drew Dileo
, who had run a pattern as a wide receiver, ran in from the other side of the field and slid into position. The snap came with one second to go, and kicker
Brendan Gibbons
made a 44-yarder to send the game into overtime, where the Wolverines eventually won.
Northwestern coach Pat Fitzgerald was upset that his team didn't get a chance to substitute its block team in. The Wildcats were in disarray as the field goal try went up. Referee Bill LeMonnier
explained to a pool reporter afterward
that on the final play of the half, teams aren't automatically given the right to substitute on field goal defense.
That play goes down as the second-craziest finish to regulation of a Big Ten game this year. In the Wisconsin-Arizona State game, there were 18 seconds left when
Joel Stave
downed the ball. The Badgers never got to run another play.
Take that and rewind it back ...
[+] Enlarge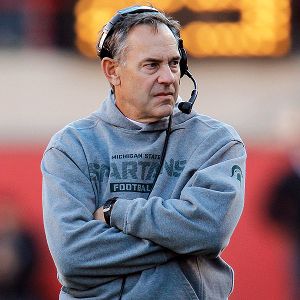 Bruce Thorson/USA TODAY SportsMark Dantonio and the Spartans control their own destiny to reach the Big Ten title game.
Team of the week:
Michigan State. It was not a vintage defensive performance for the Spartans, who allowed 28 points to a Nebraska offense that turned the ball over five times and played with a stitched-together line. But Mark Dantonio's team still won by double digits on the road in Lincoln for its first win over the Huskers while clinching at least a share of the Legends Division title. Then there's this: Through 10 games, the Spartans are averaging 30.9 points per contest.
Worst hangover:
Northwestern finds more ways to lose than anybody. The Wildcats had a dominant defensive effort against Michigan in allowing no touchdowns in regulation. But they had a 7-yard shank punt that set up a Michigan first-and-goal,
Ibraheim Campbell
dropped an easy interception on the Wolverines' final drive, and they couldn't pounce on a fumble in overtime. Northwestern has lost twice in overtime, once on a Hail Mary and in games that went down to the final drives against Minnesota and Ohio State. Sheesh.
Best call:
Nebraska had to be ready for some Michigan State tomfoolery, right? We've seen it so many times from Dantonio in a big game.
And it worked again on Saturday. The Spartans lined up for a field goal on fourth-and-1 from the Nebraska 27, leading 27-21 in the fourth quarter. Punter
Mike Sadler
, who serves as the holder on field goals, took the snap and pushed his way forward for 3 yards. The play was called "Charlie Brown," evoking memories of Lucy snatching the ball away in "Peanuts." But Sadler was actually supposed to check out of the play because of the way Nebraska was set up, and the play was never designed to go up the middle where he ran.
"That was the last thing going through my mind," said Sadler, who went up the middle on a successful punt fake at Iowa last month. "I was just trying to think of my touchdown dance."
He didn't score, but
Connor Cook
delivered a touchdown pass three plays later to all but seal the victory.
Big Man on Campus (Offense):
Ohio State running back
Carlos Hyde
piled up five total touchdowns while rushing for 246 yards on just 24 carries versus Illinois. He had touchdown runs of 51 and 55 yards in the final four minutes to put the game on ice.
Big Man on Campus (Defense):
In a game that didn't feature a whole lot of defense, Ohio State's
Ryan Shazier
still managed an impressive stat line at Illinois: 16 tackles, 3.5 tackles for loss, 1.5 sacks and a forced fumble. He had the safety on
Reilly O'Toole
that gave the Buckeyes some breathing room. And while he had a chance to turn that into a touchdown had he not celebrated a bit too soon, Shazier still had an outstanding performance considering Ohio State's other two starting linebackers were out with injuries.
[+] Enlarge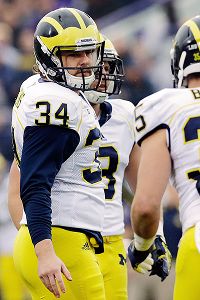 AP Photo/Nam Y. HuhBrendan Gibbons hit a 44-yard field goal as time expired to put Michigan into overtime at Northwestern.
Big Men on Campus (Special teams):
This goes to the entire Michigan field goal unit, including Gibbons, Dileo, snapper
Jareth Glanda
, special-teams coordinator Dan Ferrigno and everyone else involved in that unbelievable play at the end of regulation at Northwestern. That was a team effort, and if one guy was a half-second late, the Wolverines lose. (Tips of the cap also go out to Purdue's
Raheem Mostert
and Illinois'
V'Angelo Bentley
, who both scored on returns).
Sideline interference:
Illinois coach Tim Beckman
had to be separated
from offensive coordinator Bill Cubit on the sidelines after quarterback Reilly O'Toole was sacked in the end zone. Both coaches later said it was just a heat-of-the-moment thing, and Cubit added, "You'd be shocked at how many times" that happens during games. But it's still not a good look for Beckman, whose sideline mishaps the past two years include getting called for interference penalties and getting caught using chewing tobacco.
Who needs tickets?:
Want to see a Big Ten game, but you don't have more than 50 cents in your pocket? Then this week's Illinois-Purdue Basement Bowl is for you. On
StubHub this morning
, several tickets to Saturday's game at Ross-Ade Stadium could be had for as little as 39 cents. Get 'em while they're hot!
Fun with numbers (via ESPN Stats & Info):
Wisconsin ran for 554 yards Saturday versus Indiana. It was the second most in school history, behind the 564 the Badgers compiled against the Hoosiers last year. So in the past two games against IU, Wisconsin has rushed for 1,118 yards and 13 touchdowns; on Saturday the Badgers had three 100-yard rushers (James White, Melvin Gordon and Corey Clement) and an 86-yard rusher (Jared Abbrederis, on reverses). The Badgers' running game added 35.8 expected points to their net scoring margin; two of the top 10 rushing EPA games in the FBS the past 10 years were posted by Wisconsin against Indiana. The Badgers still fell far short of the Big Ten rushing record of 832 yards, set by Minnesota in 1905. But they do get Indiana again next year, so you never know.
ESPN's strength of schedule rankings (out of 126 FBS teams):
Alabama: 48th
Florida State: 60th
Ohio State: 88th
Baylor: 95th
November, 17, 2013
11/17/13
9:00
AM ET
Recognizing the best and the brightest around the Big Ten in week 12 …

Ohio State RB Carlos Hyde.
Ohio State coach Urban Meyer said that Hyde made the difference for the Buckeyes in a 60-35 win. The senior rushed for four touchdowns and 246 yards on 24 carries and tallied another receiving touchdown (he had two catches totaling 26 yards). It was Hyde's first 200-yard game of the season and more than double his previous season average of 117 yards per game.
Michigan kicker Brendan Gibbons and holder Drew Dileo.
Down three points with under 10 seconds remaining in regulation, the Michigan offense was sprinting off the field, the kicking team sprinting on the field and Dileo was sliding in to this holding position for Gibbons (yes, literally, sliding). Gibbons nailed a 44-yard field goal to send the game in to overtime, which the Wolverines eventually won after triple OT.
Wisconsin running backs.
The Badgers accounted for 554 rushing yards against Indiana.
James White
(205 yards, 1 touchdown),
Melvin Gordon
(146 yards, 1 touchdown) and
Corey Clement
(108 yards, 2 touchdowns) became Wisconsin's third 100-yard rushing trio this season. Wisconsin tallied seven runs of 30 yards or more and White recorded a 93-yard touchdown run which set a program record for the longest run. The Badgers' 554 rush yards are the most by an FBS team this season.
Nebraska RB Ameer Abdullah.
The Big Ten's leading rusher had his seventh 100-yard game of the season (bringing his rushing total this season to 1,213) and he became the first running back to rush for more than 100 yards against the Spartans defense. He accounted for 123 yards on 22 carries and his one TD of the day was a 12-yard receiving touchdown (his only catch of the day). MSU came into the match up giving up just 43 rushing yards per game -- which Abdullah tripled.
Illinois DB V'Angelo Bentley.
Coming into this weekend the Buckeyes had allowed just 1.5 yards per punt return and haven't allowed any kind of a return on 92 percent of their punts. But with the Illini down 28-0 on Saturday Bentley managed to get past more than half of Ohio State's punt coverage team and go 67 yards to the end zone. Not only did he become the first player to have success against this group, he also gave Illinois its first sign of life against the Buckeyes.
Honorable mention: Michigan State kicker Mike Sadler.
With a six-point lead in the fourth quarter and the Spartans faced with a fourth-and-1 on the Cornhuskers 27 yard line, Mark Dantonio called for a fake field goal play. Sadler was supposed to go right, but the formation wasn't quite what MSU expected, so instead of checking out of it and going for a field goal he rushed for three yards up the middle and a first down, setting up an MSU score.
September, 7, 2013
9/07/13
11:54
PM ET
ANN ARBOR, Mich. -- If there's anything this game has taught us recently it's that it's not over until the clock reads zeros. No. 17 Michigan held a 14-point advantage over No. 14 Notre Dame heading in to the fourth quarter but fate wouldn't let that stand. How could it when the Wolverines would need to one-up the fourth quarter from two years ago under the lights?


But even with some really poor decisions and a few clutch plays made on offense and defense,
Michigan was able to pull off the win over Notre Dame, 41-30
. The victory keeps Michigan coach Brady Hoke undefeated in Michigan Stadium in his third year at the helm of the Wolverines.
It was over when:
In most instances, an 11-point lead with less than five minutes remaining would feel pretty safe. But nothing really felt safe for the Wolverines -- especially against this Notre Dame team -- until
Blake Countess
intercepted a tipped pass in the end zone with 1:29 remaining in the game.
Game ball goes to:
Jeremy Gallon
. The wide receiver made catch after catch that he was seemingly too short or too covered to make. His three touchdowns on eight receptions, however, led the Wolverines, and his 184 yards were a career high. With quarterback
Devin Gardner
at the helm of this Michigan offense, it is allowing playmakers like Gallon to really come in to their own, and the senior's performance against the Irish showed just that.
Stat of the game:
Louis Nix III
recorded just four tackles and two of them (including the one for a loss) came when the game was already out of hand. Not once did Notre Dame's stud defensive lineman -- who was going up against three interior offensive linemen from Michigan who all saw their first starts just a week ago -- get to Gardner.
Unsung hero:
Fitzgerald Toussaint
. Because of the nature of Gallon's big performance, Toussaint's 71 yards on 22 carries will largely go unnoticed. However, it is because of his ability to get short yardage and hit holes that the passing lanes were open for guys like Gallon,
Drew Dileo
and
Devin Funchess
. Offensive coordinator Al Borges has always said he wants a featured back in his offense and 22 carries is within their desired range.
Second-guessing:
A safety isn't the worst possible thing. And no, it's not ideal either. But the only thing worse would be exactly what Gardner did -- incidentally throwing it to the other team as three Irish defenders closed in on him. It was a huge dent on a game that was relatively empty of errors on the quarterback's part. But that play completely shifted the momentum of the game and what could've been a small dent in the game turned this game into the dogfight that it became.
Dig of the game:
Michigan Stadium played "The Chicken Dance" following the win, which is a reference back to last May when Hoke said that Notre Dame was chickening out of the rivalry.
March, 13, 2013
3/13/13
9:00
AM ET
Michigan begins spring practice on Saturday with both some question marks and some major returning talent. Brady Hoke says of his team: "We're very young. But these guys have a lot of fight to them." There will also be a lot of fighting for starting jobs, beginning in a few days. I recently caught up with the third-year Wolverines coach for his thoughts on the approach of spring ball:
What are the main things you're looking for this spring?
Brady Hoke:
Well, you know, we've got a lot of open spaces. Some guys graduated, some guys aren't with the program anymore and we've got a lot of young guys. I think we only have 11 starters back on both sides of the ball, so there's going to be a lot of great competition, which is exciting. I think the leadership of our seniors, they've done a nice job of holding everybody accountable. But when you get out there with the pads on, it's a little different than just running around in shorts.
[+] Enlarge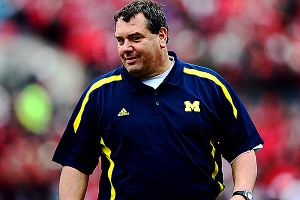 Andrew Weber/USA TODAY SportsWith only 11 returning starters, Michigan coach Brady Hoke said he's excited about the competition this spring.
Some of that competition will be on the offensive line, where you've got three open jobs on the interior. How do you see those battles right now?
BH:
Well, I think the interior of both lines, there's going to be a lot of competition. We've got to find a center, and that's between [
Jack] Miller
and [
Graham] Glasgow
, and
Joey Burzynski
will try to figure that out a little bit, too. At the guard positions,
Ben Braden
is going to move down inside and start out at the left guard, but he'll have a lot of competition because Burzynski is back and so is
Blake Bars
.
Kyle Kalis
will move into the right side, and it will be interesting again with [
Kyle] Bosch
and some of the guys who have been here a little bit. I think it will be a really good competition at all three of those inside positions.
Having
Taylor [Lewan
] back is huge. I think it's great for him and great for Michigan.
Mike Schofield
has had a really good winter. He had some real bright spots during the course of last season, and I think his development is going to be something special.
You mentioned the defensive line, where you also lost a couple of veterans. How does that shape up?
BH
: I think inside, we get
Jibreel Black
for another year and
Quinton Washington
. But once you get through that, there are a lot of young guys ...
Willie Henry
,
Ondre Pipkins
,
Ryan Glasgow
,
Richard Ash
and
Chris Wormley
are all guys who can either play the inside tackle or the strongside end. We'll find out the guys who are competitive.
Tommy Strobel
is another guy we think had a real good winter, and
Keith Heitzman
. So it's going to be fun to see them compete.
Does having so many young guys in key spots on the line make you nervous? Or do you have a lot of confidence in them because you recruited most of them?
BH:
I think it makes you nervous if you think you may have recruited the wrong guys. But we like the work ethic. We like how they've come in to learn and with a lot of enthusiasm. I think there's some competitiveness that we need to keep pushing as a program. You know, we lost five games on the road. We've played pretty well at home but we've got to do better on the road and that's a mindset, a mentality that you have to compete through everything, on every down.
Devin Gardner goes into spring practice as your starting quarterback. How has he developed as a leader?
BH:
I have been really excited about the progress he's made. I'm seeing that maturity that it takes and the leadership it takes and the competitiveness it takes to be the quarterback at Michigan. I think that's a real big part of how he's grown, and I think he's done a nice job with it. I'm liking the direction he's going, and hopefully he can just keep going and keep growing.
What about your running back position this spring, with Fitz Toussaint hurt and Derrick Green not there yet?
BH:
You know, Fitz has come along pretty well. I don't think he'll do a lot of contact or anything like that, but I think he'll be cleared for a lot more drill work. That's gone real well. We've moved [
Dennis] Norfleet
back to running back and we're going to give him an opportunity. Dennis, he's a smaller guy, but he's a very competitive, very tough young man.
Drake Johnson
is a guy we redshirted a year ago, and we really liked the way he competed in scout situations. In the bowl practices, we did some scrimmages and gave him a lot of carries, and we're very excited about what he has to offer.
Thomas Rawls
is coming back, and I think he learned a lot last year about the vision he needs to play with, and I like how he's competed through the [winter]. And
Justice Hayes
is a guy who gives you a little bit different look because of how he can get on the perimeter. He did some things in a couple of games last year, but now I think he'll have a big stage to prove himself more this spring. And he's a bigger guy now, he's 190-something pounds, so he's a little bigger.
[+] Enlarge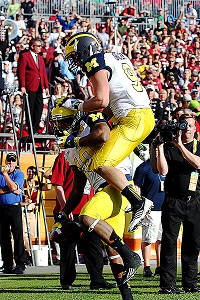 Kim Klement/USA TODAY SportsMichigan coach Brady Hoke said that he's pleased by more than just the on-field success of WRs Drew Dileo and Jeremy Gallon.
You have Jeremy Gallon back at receiver, but you lost Roy Roundtree. You sounded excited about some of the younger guys there during bowl prep. Is spring their time to step up now?
BH:
Yeah, I think so. First of all, I think the leadership with Gallon and
Drew Dileo
, they've done a really nice job being leaders at that position. They're not big guys, but they have a real spirit for the game and really do a nice job of working and leading. We have
Amara Darboh
, who played a little last year, and
Jehu Chesson
, who we redshirted a year ago. And I think
Jeremy Jackson
has had a very good winter; we're very excited about some of the progress he's made.
Joe Reynolds
is a guy who walked on here, and he's done a very nice job. And
Bo Dever
, his dad played here and he walked on. I think that during the course of the spring, we'll be in pretty good shape there. I think as we keep going, we'll keep improving at that position.
Linebacker was a strength for you last year and looks to be so again. Do you see some good competition there this spring, particularly at the weakside spot?
BH:
Yeah, I think with
Desmond Morgan
and
James Ross
, there's going to be great competition.
Joe Bolden
and
Royce Jenkins-Stone
and
Mike Jones
are all guys who are very competitive, and I think the three young guys coming in are going to be guys who will give us a lot of good competition and a lot of good depth.
Kaleb Ringer
is coming back from injury, so we'll see what he can give us. At the sam linebacker,
Jake [Ryan
] is coming back, and we really like what
Cam Gordon
has done during the winter. So I think we feel a little stronger at that position.
How do you replace what Jordan Kovacs gave you in the secondary?
BH:
I don't know if you ever replace that kind of leadership, but I really think
Thomas Gordon
, he's played a lot of football here, and it's time for him to demonstrate the leadership. And he's doing that. Because of the number of snaps and everything he's done, he's really fallen into his own a little bit.
Courtney Avery
has played a lot of football, and whether he's a corner a nickel or wherever, he's got to give us great leadership and great reps.
Blake Countess
is getting healthier; he'll do some things during the spring.
Josh Furman
, I think, has come on.
We've got to see where
Terry Richardson
is and where
Marvin Robinson
is. Both those guys have played a number of snaps. We've got
Raymon Taylor
back, who I think started every game for us last year, we're excited about his development.
Dymonte Thomas
is a guy who's going to compete, and he'll pressure some guys.
Jarrod Wilson
is another guy who played some last year for us. Ross Douglas is here early.
Jeremy Clark
is a 6-foot-4, 210-pound safety we redshirted a year ago, and it's going to be a big spring for him to make some moves.
So I think we may have more personnel back there. And even more in the fall when
Channing Stribling
gets in, and
Reon Dawson
gets in and
Jourdan Lewis
. I think it's going to add something to our secondary.
Finally, what has your message been to the team this offseason after last year's 8-5 season?
BH:
Well, our message has been, we haven't met the expectations at Michigan. That's something that as a football community… that we really feel that we have to do a much better job in all areas, from the coaching aspect of it, from learning and playing with the competitiveness we want to have, from every player at every position playing with the intensity we want to play with. It's about having a mindset and a mentality of how we want to play the game. We make no excuses, but at the same time, we know we have a lot we can do to play better football.
March, 11, 2013
3/11/13
4:52
PM ET
Michigan State's chances of signing recruit
Drake Harris
decreased a bit in mid-January when the coveted 2014 wide receiver reopened his recruitment after originally pledging to the Spartans.
Things looked shaky as Big Ten powers Ohio State and Michigan ramped up their recruiting efforts for Harris. But there still was some hope for MSU, as
Harris attended a Spartans basketball game
and sat next to his possible future quarterback,
Damion Terry
, who signed with Michigan State in February. Terry told the Detroit Free Press, "I'm glad he's a Spartan. I'm pretty sure he'll stay with us, but we'll have to see what happens."
Now comes the report from WolverineNation's Tom VanHaaren that Harris has
officially decommitted from Michigan State
. Harris texted VanHaaren with the news. This comes after Harris spent the past three weekends visiting Michigan.
The Wolverines certainly would benefit from adding Harris, as they'll need help at receiver after the 2013 season.
Devin Gardner
has moved from receiver to quarterback, and receivers
Jeremy Gallon
and
Drew Dileo
are entering their senior years. The Wolverines signed ESPN 300 receiver
Jaron Dukes
in February.
It'll be interesting to see if Harris ends up with the Wolverines, or whether Ohio State makes another push for him. Although Michigan State has to be disappointed, this isn't a major surprise.
November, 5, 2012
11/05/12
10:00
AM ET
Remember November (third).
Team of the week:
They
drive their fans crazy
, but no one can doubt the heart and the will of the
Nebraska Cornhuskers
. Again on the ropes in the fourth quarter this week, they rallied from a 10-point deficit at Michigan State and drove in for the winning score with six seconds to go when
Taylor Martinez
hit
Jamal Turner
for a 5-yard touchdown pass. Nebraska will be going to the Big Ten championship game if it can stay on the plus side of crazy for the next three weeks.
Game of the week:
It has to be that 28-24 road victory for Nebraska. Some huge individual performances (among others: Martinez,
Ameer Abdullah
for Nebraska,
Le'Veon Bell
,
Kurtis Drummond
,
Darqueze Dennard
for Michigan State) were paired with wild momentum swings, key turnovers and loads upon loads of dumb and sometimes questionable penalties. More on the latter in a moment.
[+] Enlarge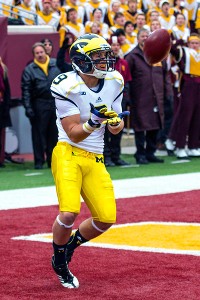 Jesse Johnson/US PresswireDrew Dileo caught a 45-yard touchdown strike from Devin Gardner, who filled in ably for the injued Denard Robinson.
Best play:
Michigan looked to be in trouble early at Minnesota with
Denard Robinson
out and the offense not doing much of anything in the second quarter. But then fill-in quarterback
Devin Gardner
made something out of nothing, scrambling several seconds before finding a wide-open
Drew Dileo
in the end zone for a 45-yard touchdown. On a third-and-17, no less. "It was kind of my fault because I don't think I got in the right protection," Gardner told reporters. "Afterward, I just tried to do the best I could." His best was pretty good and seemed to infuse him and the entire offense with confidence the rest of the way, as the Wolverines went on to a 35-13 victory.
Biggest call:
They will be debating the pass interference call against Michigan State's Dennard in the final minute for a long time in Lincoln, East Lansing and possibly even Ann Arbor and/or Evanston. It was third-and-10 from the Spartans' 20 when Dennard was called for interfering with Nebraska receiver
Kenny Bell
, setting the Huskers up on the 5-yard line with first-and-goal. Replays showed that Dennard had solid coverage, and it appeared that Bell hooked his arm. Michigan State players were furious with the call, and several
tweeted diatribes against the officials
before later deleting them.
The Spartans were also upset about a personal foul against
Johnny Adams
that wiped out what would have been an interception return for a touchdown earlier in the game. But complaining about the officials is little more than whining. Michigan State benefited from a questionable call earlier in the game when Nebraska's
Daimion Stafford
was called for a late hit out of bounds on
Andrew Maxwell
, which extended a drive and led to a touchdown. Bad calls even out, and the Spartans should blame themselves for letting the Huskers convert a fourth-and-10 earlier on the winning drive or not picking up a loose fumble earlier in the quarter. Mark Dantonio summed it up well with his postgame quote.
"Everybody's trying to do the very best they can do out there," he said. "I don't think anybody's out for Michigan State, I don't think anyone's out for Nebraska. It's an instinctive game and it's instinctive for officials too."
Big Man on Campus (Offense):
Indiana receiver
Cody Latimer
had a monster game against Iowa, hauling in seven catches for 113 yards and three touchdowns in the 24-21 win. His 30-yard score proved to be the game winner. Afterward, he said this: "We need to get some big wins to help us get to the bowl game we want, the Rose Bowl." And no one laughed.
Big Man on Campus (Defense):
Penn State's
Gerald Hodges
was a force of nature in his team's 34-9 win at Purdue. The linebacker had eight tackles, including three for loss, and a pass breakup to help hold the Boilermakers to just 87 rushing yards.
Big Man on Campus (Special teams):
There weren't many standout special-teams plays on Saturday, but how about some love for much-maligned Penn State kicker
Sam Ficken
? He made both of his field goal attempts (from 27 and 24 yards) and all four of his extra points. Maybe Bill O'Brien won't have to go for it on every fourth down now.
Worst hangover:
Michigan State will have to stew over another close loss at home for two weeks. But how about Iowa? The Hawkeyes still technically controlled their own destiny in the Legends race before Saturday. They not only lost to Indiana but also got
pushed around by the Hoosiers
. That's three straight losses for Iowa, its longest losing streak since 2008. The 4-5 Hawkeyes will have to work hard just to get to a bowl game now. You get the feeling that Iowa fans are just ready for this season to end.
Strangest moment:
Ohio Stadium went dark for about 20 minutes before the Buckeyes played Illinois. The video screens, ribbon boards and sound system all were without power. Luckily, the game clock came back on right before kickoff, and the video boards resumed early in the first quarter. I hope Ohio State got a warranty with that
$7 million upgrade
.
November, 5, 2012
11/05/12
9:00
AM ET
Week 10 brought few surprises around the Big Ten. As a result, the power rankings see little shuffling before the second Saturday of November.
Ohio State cruised to a perfect 10-0, while Michigan and Penn State both recorded road wins in impressive fashion. In the two true toss-up games, Indiana outlasted Iowa and Nebraska rallied for a dramatic win against hard-luck Michigan State. Our top five teams from Week 9 remain the same. The toughest call comes at No. 3, as there's very little separating Penn State and Michigan, who unfortunately don't play this season. But both teams recorded decisive road wins, so we're keeping the Lions ahead for now. Both teams face bigger challenges in Week 11 with Nebraska and Northwestern, respectively.
Indiana makes a small move after its win, while the bottom of the league stays intact.
To the rundown:
1. Ohio State (10-0, 5-0, last week: 1):
Ten straight weeks of games, 10 straight wins for Urban Meyer's Buckeyes, who get a well-deserved break after thumping Illinois at Ohio Stadium. Ohio State is 10-0 for the first time since 2007 as it chases its first perfect season since 2002, when it captured a national title.
Braxton Miller
and
Carlos Hyde
form the Big Ten's most dangerous backfield and the defense continues to make big plays, getting another interception from CB
Travis Howard
. Ohio State has scored 52 points or more in three Big Ten games. It resumes play Nov. 17 at Wisconsin.
2. Nebraska (7-2, 4-1, last week: 2):
For the second time in three weeks, Nebraska faced a double-digit deficit in the fourth quarter of a Legends Division road game. And once again, the Huskers found a way to win behind QB
Taylor Martinez
, who overcame three turnovers (nearly four) to fire the game-winning touchdown strike and eclipse 200 rush yards. Nebraska wouldn't announce itself in the Big Ten until it recorded signature road wins, and the Huskers finally have gotten over the hump after the Ohio State debacle Oct. 6. Bo Pelini's team is in control of the Legends Division and might lock it up with a win this week against Penn State.
3. Penn State (6-3, 4-1, last week: 3):
Resiliency has been Penn State's calling card under Bill O'Brien, so it wasn't surprising to see the Nittany Lions bounce back well from their first Big Ten loss. The Lions re-established the line of scrimmage on both sides of the ball, shutting down Purdue's offense and generating a nice power run game behind RB
Zach Zwinak
. Penn State racked up a season-high 506 yards of offense as QB Matt McGloin had another 300-yard passing performance.
Gerald Hodges
led the way on defense with three tackles for loss. Penn State has been dominant on the road in Big Ten play but faces its biggest test this week in Lincoln.
4. Michigan (6-3, 4-1, last week: 4):
No
Denard Robinson
? No problem for Michigan despite a potentially tricky game at Minnesota.
Devin Gardner
moved from wide receiver to quarterback and stepped up in a big way in place of Robinson, while Gardner's fellow wideouts
Drew Dileo
and
Jeremy Gallon
picked him up with key catches as Michigan revived its passing attack against one of the nation's top pass defenses. The Wolverines' defense stepped up repeatedly in the red zone as Michigan retained the Little Brown Jug. Michigan must keep pace with Nebraska to stay alive in the division race and needs to beat Northwestern this week.
5. Northwestern (7-2, 3-2, last week: 5):
Pat Fitzgerald gave his team a "C" for October, as the Wildcats went 2-2 in a month in which they've historically struggled. Northwestern now enters a month in which it typically thrives under Fitzgerald, and the Wildcats remain alive in the Legends Division chase, although they need Nebraska to start losing. They'll look for some of their road magic the next two weeks against the Michigan schools, and they also hope to regain the services of injured defensive backs
Nick VanHoose
and
Quinn Evans
. It'll be interesting to see if QB
Kain Colter
truly has control of the offense this week at the Big House.
6. Wisconsin (6-3, 3-2, last week: 7):
The open week came at a perfect time for the Badgers, who must regroup after losing starting quarterback
Joel Stave
to a season-ending broken clavicle.
Danny O'Brien
and
Curt Phillips
competed for the top job throughout the practice week, as the staff decides who will lead the offense in a now crucial game at Indiana before a tough closing stretch (Ohio State, at Penn State). The Badgers will need a big game from their defense in Bloomington and arguably a bigger game from
Montee Ball
and the rushing attack against an Indiana team that struggles against the run.
7. Michigan State (5-5, 2-4, last week: 6):
Close losses have defined Michigan State's season, and the Spartans suffered another devastating setback Saturday after having Nebraska on the hopes. Controversial calls once again played into the outcome, but the Spartans' defense couldn't get the stops it needed and surrendered 313 rush yards to the Huskers. RB
Le'Veon Bell
came to play, but QB
Andrew Maxwell
had another rough day. Michigan State must regroup during an off week before fighting for bowl eligibility the final two weeks. It needs one more win and faces Northwestern (home) and Minnesota (road).
8. Indiana (4-5, 2-3, last week: 9):
This isn't a great Indiana team, but it also isn't a typical Indiana team. Typical Hoosiers teams would have folded after falling behind 14-0 on their home field against Iowa. But the 2012 Hoosiers didn't back down, steadied themselves and outlasted Iowa to record back-to-back Big Ten wins for the first time since 2007 and their first Big Ten home win since 2009.
Cameron Coffman
re-emerged at QB, while WR
Cody Latimer
had a huge day (7 catches, 113 yards, 3 TDs). The defense allowed only 14 points as IU set up a huge Leaders Division showdown this week against Wisconsin.
9. Minnesota (5-4, 1-4, last week: 8):
Missed opportunity was the catchphrase for Minnesota on Saturday after failing to capitalize against a Robinson-less Michigan team. The Gophers couldn't build on a 7-0 lead and repeatedly stubbed their toe in the red zone, despite some decent play from QB
Philip Nelson
. Jerry Kill has cleansed the program of a lot of problems from the Tim Brewster era, but terrible penalties have remained. The Gophers have scored 13 points in all four of their Big Ten losses. Minnesota's typically stout pass defense also struggled against a backup quarterback. The Gophers try to get bowl-eligible this week when they travel to slumping Illinois.
10. Iowa (4-5, 2-3, last week: 10):
The Hawkeyes slipped below .500 for the first time since 2007, and barring a surprising turnaround, they won't get back on the right side of the mark this season. Despite a very strong start at Indiana, the same problems surfaced on both sides of the ball as Iowa couldn't translate yards into points and surrendered way too many yards to their opponent. Senior QB
James Vandenberg
will get more criticism, and his end zone interception didn't help, but the problems go beyond him on a team that just isn't very good in any area. Iowa could get well against Purdue this week but will be an underdog in its final two games (Michigan, Nebraska).
11. Purdue (3-6, 0-5, last week: 11):
We wish we could drop Purdue lower after its fourth Big Ten blowout loss in five games. Alas, there's Illinois. One of those teams amazingly will get a Big Ten win when they meet Nov. 17 in Champaign. Purdue still can get bowl-eligible, but it will need a rapid turnaround in its final three games and show a lot more fight on the defensive side of the ball. The offense once again looked good on the opening drive and then disappeared, as QB
Robert Marve
couldn't stretch the field. Another poor performance at home before a mostly empty Ross-Ade Stadium turns up the heat even more on embattled coach Danny Hope.
12. Illinois (2-7, 0-5, last week: 12):
We knew there would be no bowl for the Illini this year, but Ohio State made it official Saturday, handing Tim Beckman's team its seventh loss. After a decent first quarter, Illinois reverted to form and imploded before halftime. The offense once again couldn't stretch the field, and slumping junior QB
Nathan Scheelhaase
threw an interception and completed 19 passes for only 96 yards. Illinois is right there with Colorado and Kentucky in the group of the worst major-conference teams in the country. The Illini need to generate something positive down the stretch before the 2013 campaign.
November, 4, 2012
11/04/12
11:00
AM ET
Five lessons from the week that was in Big Ten football:
1. Nebraska remains in the Legends driver's seat:
Nebraska survived its toughest remaining road test -- barely. The Huskers drove 80 yards in the final 80 seconds to score the winning touchdown and escape with a
28-24 victory
at Michigan State. We've written in the past that Nebraska needed to win a crucial league game on the road to become a legitimate Big Ten power. Well, coming back from double-digit fourth-quarter deficits against both Northwestern and Michigan State was pretty good. Quarterback
Taylor Martinez
can be a frustrating player at times, but he also has been clutch several times this season. Bo Pelini's team still must deal with a very tough Penn State squad in Week 11. But the game is in Lincoln, where the Huskers play extremely well. If they can get through that one, all that's left between them and the Big Ten championship game are games against Minnesota at home and struggling Iowa on the road. Even in a wacky, unpredictable year for the conference, that's about as clear a path as any contender could hope for in the homestretch.
2. Indiana is a serious threat in the Leaders Division:
Wisconsin comes to Bloomington next week, and it figures to be the biggest Big Ten game at Indiana since ... well, we can't really remember when. Even though the Hoosiers are just 4-5 overall and 2-3 in the Big Ten, they control their own destiny in the bizarro Leaders race after beating Iowa 24-21 at home Saturday. If they can defeat Wisconsin (6-3, 3-2) next week, they'd pull even with the Badgers for the right to represent the eligible teams in Indianapolis. Sounds crazy, since before two weeks ago Indiana hadn't won a conference game since 2010, and before Saturday, hadn't won a league game at home since 2009. But the Hoosiers have one of the top offenses in the Big Ten, with a deep corps of skill players, and their defense has played better the past two weeks in consecutive league wins. Kevin Wilson's team finally has some momentum, and it's coming at just the right time.
[+] Enlarge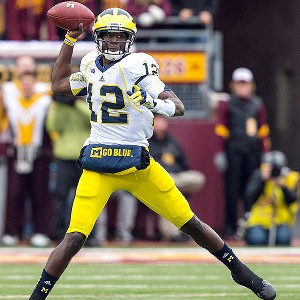 Jesse Johnson/US PresswireDevin Gardner threw for 234 yards and two touchdowns in a rejuvenated Michigan offense.
3. Michigan's offense can survive -- and even thrive -- without Denard Robinson:
The Wolverines had nothing offensively last week at Nebraska after Robinson, their senior quarterback, aggravated a nerve problem in his throwing elbow. Things looked bleak when Michigan ruled Robinson out minutes before Saturday's game at Minnesota, and the first quarter didn't do much to change anyone's view. But then quarterback-turned-receiver-turned-quarterback
Devin Gardner
kept a play alive with his legs and heaved a 45-yard touchdown strike to
Drew Dileo
midway through the second quarter. Suddenly a Michigan offense that went more than two games without a touchdown -- mostly with Robinson on the field -- caught fire behind Gardner and a rejuvenated passing attack. Gardner stepped up and received a lot of help from receivers such as Dileo,
Jeremy Gallon
and
Roy Roundtree
in the
35-13 win
. Gardner threw for 234 yards, or 100 yards more than Michigan had averaged in its previous five games when the offense looked to limit Robinson's exposure in the passing game. The Wolverines' attack was far more balanced and unpredictable on Saturday. And while the knee-jerk reaction from some fans will be that Gardner should start over even a healthy Robinson going forward, the truth is that Michigan needs both aspects of its offense to click for it to stay alive in the Legends Division race and reach its full potential.
4. The Big Ten's most disappointing teams have defined themselves:
Three weeks remain in the regular season, but the epitaphs have been written for several of the Big Ten's most disappointing teams after Week 10. Michigan State's season continued to be defined by close losses, as the Spartans couldn't hold a 10-point fourth-quarter lead against Nebraska. Mark Dantonio's team, which had been so good in close games the past few years, now has four conference losses by a total of 10 points. After sweeping its home schedule in each of the past two seasons, Michigan State now has four home losses, three in Big Ten play. Purdue's season will be defined by blowout losses. The Boilers have been torched in four of their five league games, three at Ross-Ade Stadium, where fans are showing their displeasure by not showing up. Fourth-year coach Danny Hope is in big, big trouble. Iowa's season has been defined by an ineffective offense. The Hawkeyes once again didn't have enough against Indiana, scoring only 14 offensive points. Illinois' season has been defined by utter misery. It continued in Columbus, as the Illini suffered their fifth loss by 28 points or more.
5. The Big Ten could have its smallest bowl contingent in recent memory:
The Big Ten has had at least six bowl teams every season since 1998, when it had just five. After Week 10, the league could have a hard time sending half of its teams to the postseason. Ohio State and Penn State obviously would be going if eligible, but the Big Ten has only four eligible teams with six or more wins -- Northwestern, Nebraska, Michigan and Wisconsin -- with three weeks to play. Minnesota and Michigan State still need one more win -- the Spartans have only two games left -- and Iowa's and Purdue's bowl hopes took significant blows Saturday. The Hawkeyes need two more wins and still must visit Michigan and host Nebraska. Purdue must win out. Indiana has put itself in the bowl mix after winning consecutive Big Ten games for the first time since 2007, but the Hoosiers still need two more wins (Wisconsin, at Penn State, at Purdue). The Big Ten is guaranteed a fifth bowl-eligible team as Michigan State visits Minnesota on Nov. 24, but beyond that, it's up in the air. Neither Purdue nor Iowa has the look of a bowl team, while Indiana has some tough work ahead.
November, 4, 2012
11/04/12
10:00
AM ET
Recognizing the best and the brightest from around the Big Ten in Week 10:
November, 3, 2012
11/03/12
3:28
PM ET
MINNEAPOLIS -- Michigan quarterback
Denard Robinson
was
held out because of injury
, but the Michigan football team was able to return to Ann Arbor on Saturday with the Little Brown Jug in tow, putting Minnesota away
35-13
. Junior
Devin Gardner
started at quarterback for Michigan and led the Wolverines to their second road victory of the season.


It was over when
: Michigan produced big stops in the red zone early in the fourth quarter, holding Minnesota to a field goal. At 21-10, the Michigan defense's stop kept the game as a two-possession Wolverine lead and pushed the game out of reach for a Minnesota offense that appeared spotty at best.
Game ball goes to
: Gardner. The quarterback-turned-wide receiver managed to turn back into a quarterback fast enough on Saturday to lead Michigan to victory. Despite the fact that he hadn't taken a single snap at quarterback this season, Gardner threw for two touchdowns and completed 12 of 18 passes. He also ran for one touchdown and had a few good rushes, though the stats won't reflect that because the offensive line allowed three sacks.
Stat of the game
: 74.9 percent. Through eight games this season (including missed times in both the Nebraska and Illinois game), Robinson has accounted for 74.9 percent of the Wolverines' offense and 15 of the team's 25 touchdowns. By sitting Robinson for the game, Michigan had to turn elsewhere for that kind of production. And behind Gardner, as well as hard-nosed runs from
Thomas Rawls
and a few big catches from
Jeremy Gallon
and
Drew Dileo
, Michigan was able to do that.
What it means
: Not all is lost when Robinson isn't on the field. After last weekend's performance against Nebraska -- in which the Wolverines failed to score after Robinson exited the game and backup quarterback
Russell Bellomy
threw as many completions as interceptions -- Michigan's quarterback situation behind No. 16 looked pretty bleak (and that might be putting it kindly). But with the exception of the first few drives, Gardner looked solid. Michigan has options behind Robinson, and dare anyone say it, competition for the starting spot.
Also, it means that Michigan (6-3, 4-1 Big Ten) stays in the hunt for the Legends Division title, though the Wolverines will need some help from Michigan State later today when the Spartans take on Nebraska (6-2, 3-1). The Cornhuskers lead the Legends Division.
March, 20, 2012
3/20/12
3:40
PM ET
If Al Borges had his preference, Michigan would be running more of a pro-style offense. That's clearly the future for the Wolverines and the type of players they have been recruiting.
But Borges is no dummy. He knows he has
Denard Robinson
at quarterback for one more year. Michigan wisely did not try to cram Robinson into an ill-fitting system last year, as Borges adjusted his offense to his star player's unique talents. That worked out pretty well, as the Wolverines went 11-2 and won the Sugar Bowl.
So the full-fledged movement to a pro style can wait another year.
[+] Enlarge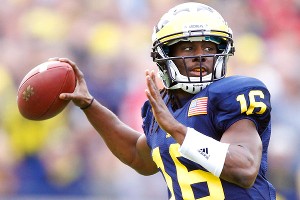 Gregory Shamus/Getty ImagesDenard Robinson will need to improve his accuracy and cut down on his interceptions in 2012.
"We have pieces of our offense that are still very pro style, like our passing game," Borges told ESPN.com. "But we're still very much a spread because of Denard, and we'll continue to be because that is the best thing that suits his skill set. We'll have some plays under center at times, and we were very productive at those last year. But because of Denard's running ability, that will never be a prominent part of our offense."
The most frequent and often tiresome question around the Michigan offense is how much Robinson will run the ball. Borges found a nice balance last year, using it as a weapon but also keeping his quarterback mostly healthy. He sees no reason to alter that formula.
"I don't see his role changing any," Borges said. "We may up the ante a little bit with him throwing a couple more times a game. But any change will be subtle and hardly noticeable."
Robinson completed only 55 percent of his passes last season and threw 15 interceptions, the most in the Big Ten. That obviously has to improve. Borges said he's been working on Robinson's footwork and hip placement. Another year in the system should also help.
"He's probably at the top of the list of guy who just understand better," Borges said. "Last year at this time, he couldn't call the play. Now he can call the play with no problems at all. We're still working hard on his fundamentals to get him better that way, but his understanding is so much better than it was a year ago."
Borges also knows he has another strong option in the backfield in running back
Fitz Toussaint
, who emerged as a star midway through last season and finished with more than 1,000 yards rushing.
"He didn't really come on until the fourth or fifth game of the season," Borges said. "Now he'll be in there from the beginning and show his worth from Day 1. If he stays healthy, he can have a hell of a year."
Michigan has good depth at running back with
Vincent Smith
,
Stephen Hopkins
and
Thomas Rawls
returning. Borges said the coaching staff is taking "a hard look" at redshirt freshman
Justice Hayes
this spring.
Wide receiver isn't quite as deep with
Junior Hemingway
gone and
Darryl Stonum
dismissed from the team.
Roy Roundtree
,
Jeremy Gallon
and
Drew Dileo
are the returning veterans, and Borges said redshirt sophomore
Jerald Robinson
has looked very good early on in spring practice. Some incoming freshmen will likely have a chance to contribute as well.
Roundtree might hold the key to the group. He had 72 catches for 935 receiving yards and seven touchdowns as a sophomore but caught just 19 balls for 355 yards last season. Borges has moved Roundtree to flanker, which was Hemingway's spot a year ago.
"Playing flanker, I think you'll see Roy's numbers go back up," Borges said. "He's in great shape, running well and catching the ball right now in our first couple of practices. He's playing as well as he's played since I've been here. He's learned how to run the routes and read the coverages, and he has a big-play dimension to him. If he stays in one piece, I look for him to have a big year."
Just don't look for Michigan to change too much else this year on offense.
January, 12, 2012
1/12/12
9:00
AM ET
It's time to look back and recognize some of the highlights and lowlights from the Big Ten bowl season:
Best performance:
Michigan State. After falling behind 16-0 to Georgia, the Spartans rallied back to take the lead in the second half. When they needed to drive the field for a tying touchdown with only 1:55 left, they did just that. When
Kirk Cousins
threw an interception on the first overtime possession, they responded by holding tough on defense. Michigan State had 17 tackles for loss against the Bulldogs, including five by defensive end William Gholston. Darqueze Dennard grabbed two interceptions, and the special teams came up with a blocked kick to win the game. The 33-30 triple-overtime victory was yet another milestone for the program under Mark Dantonio.
[+] Enlarge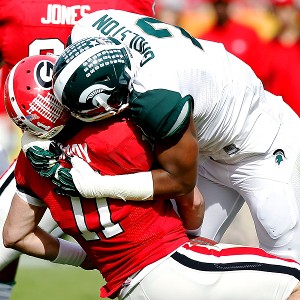 J. Meric/Getty ImagesMichigan State's William Gholston is looking to build off his two-sack performance in the Outback Bowl.
Worst performance:
Penn State clearly didn't want to go to the TicketCity Bowl, and it showed right away. Houston quarterback
Case Keenum
made a mockery of the Nittany Lions' defense, throwing for 227 yards in the first quarter alone. Penn State had allowed that many yards passing in an entire game only once all season. He'd finish with 532 yards passing as the Cougars breezed to a 30-14 victory.
Best new mascot:
Northwestern brought a stuffed monkey with a No. 63 jersey to its Meineke Car Care Bowl game against Texas A&M, symbolizing its quest to end a 63-year bowl victory drought. Alas, the Wildcats will have to order a No. 64 uniform after losing 33-22. Better make it a big jersey, because this postseason curse is more like an 800-pound gorilla at this point.
Worst near-death experience:
Near the end of Iowa's Insight Bowl loss to Oklahoma, star Hawkeyes receiver
Marvin McNutt
was nearly taken out by ESPN's skycam, which fell to the field from its cables. The heavy camera almost hit McNutt off the bounce, and he got caught up in its wiring as he left the Iowa huddle. The skycam was unceremoniously escorted off the field, kind of like how Iowa's season ended in a 31-14 loss.
Worst ball security:
Purdue and Western Michigan combined for 11 turnovers in a wild Little Caesars Bowl. On two separate occasions, the Boilermakers forced a turnover only to give the ball right back to the Broncos as defenders coughed it up trying to go the other way. Ultimately, Purdue got the upper hand by creating seven takeaways and holding on for a 37-32 victory.
Best clock management:
Michigan State trailed Georgia 27-20 late in the fourth quarter of the Outback Bowl when the Spartans were called for pass interference on third-and-3 from the Bulldogs' 37. The officials ruled that Georgia had completed the pass on the play even though receiver
Malcolm Mitchell
clearly dropped the ball. Dantonio challenged the ruling, despite the fact that Georgia was going to get a first down either way. Dantonio's successful challenge meant that instead of the clock running down toward three minutes, the clock was stopped and reset to 3:43. That extra time proved enormous, as the Spartans tied the game with 14 seconds left in regulation.
Worst clock management:
Wisconsin coach Bret Bielema was unsure if he could challenge the ruling when Oregon's
De'Anthony Thomas
hesitated and nearly left the end zone before kneeling down for kick-return touchback. As Bielema asked the sideline official for a clarification, he was charged with a timeout. That was the second timeout burned by the Badgers early in the second half. They dearly could have used the stoppages when the offense ended the game at the Oregon 25-yard line.
Russell Wilson
hurried to the line and was instructed to spike the ball with two seconds left, but officials ruled there was no time left.
Best impersonation of a wide receiver:
Michigan's fake field goal attempt late in the first half of the Allstate Sugar Bowl went awry when holder
Drew Dileo
's intended receiving target, tight end
Kevin Koger
, didn't know the fake was on. So Dileo threw the ball into a crowd, and Virginia Tech deflected it. But long snapper
Jareth Glanda
saved the day by hauling it in for an 11-yard gain. The Wolverines ended up with a field goal on the play, and they needed every point in an overtime victory.
Best use of the kicking game:
Purdue coach Danny Hope turned into a riverboat gambler in the Little Caesars Bowl, calling for two consecutive onside kicks in the first half. Both worked and led to points.
Raheem Mostert
also returned a kickoff 99 yards for a score.
Worst use of the kicking game:
Ohio State had a punt blocked for a touchdown and allowed a 99-yard kickoff return by Florida. The Buckeyes lost by seven points in the TaxSlayer.com Gator Bowl.
Worst loss of composure:
Nebraska star cornerback Alfonzo Dennard and South Carolina receiver
Alshon Jeffery
let their emotions get the best of them in the third quarter of the Capital One Bowl. Dennard took a coupLe of swings at Jeffery, who pushed Dennard's helmet back. Both players were rightly ejected. Amazingly, Jeffery was still named MVP of South Carolina's 30-13 win.
Best crisis management:
We saw what happened to Penn State and Ohio State as they played for lame-duck head coaches. Illinois not only had to deal with that but also a six-game losing streak and a group of assistants threatening to boycott the Kraft Fight Hunger Bowl hours before the game. Somehow, interim head coach Vic Koenning managed to hold things together to help the Illini win 20-14 over UCLA.
Best inspiration:
As Michigan's Brendan Gibbons lined up for the 37-yard kick to win the game in overtime, he had one thing on his mind. "Brunette girls," Gibbons said. "Every time we were like struggling in kicking, coach tells me to think about girls on a beach or brunette girls," Gibbons told reporters. "So that's what we did. Made the kick." And they say blondes have more fun.