May, 22, 2013
5/22/13
1:00
PM ET
You may have noticed
this story
Monday from Mackenzie Kraemer of ESPN Stats & Info. It's a nice breakdown of how the 2013 class of quarterbacks across college football might be one of the best ever. Kraemer offers five reasons why:
The best teams of 2012 return their quarterbacks

The best passers are returning

A diverse array of NFL talent

Little QB turnover in SEC

Award winners back on campus
We're going to take this and, point-by-point, give it a Pac-12 rinse.
[+] Enlarge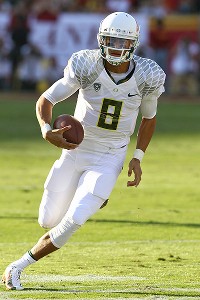 AP Photo/Bruce SchwartzmanOregon QB Marcus Mariota showed that he was more than just a strong runner last season.
The best teams of 2012 (in the Pac-12) return their quarterbacks
: Yep. Stanford (12-2), yes. Oregon (12-1), yes. Oregon State (9-4), yes (and yes). UCLA (9-5), yes. Arizona State (8-5), yes. It should come as no surprise that the top six teams in
our post-spring power rankings
all have their quarterback coming back. In fact, there were only four teams last year that started the same quarterback in every game (Arizona State, Oregon, UCLA, Washington) and those are four of our top five teams in the rankings.
Thus, it's not by chance that the five of the bottom six in the power rankings have an ongoing quarterback competition. That's not to say that a school like USC, which has too much talent to be sitting in the bottom half of the rankings, can't quickly make a jump to the top once their quarterback situation is resolved.
And the same goes for No. 6 Oregon State -- which is fortunate to have two capable starters competing. I don't know who first opined that if you have two quarterbacks, you don't have one. I don't buy it. Ask any coach in the bottom half of the power rankings if they'd prefer zero quarterbacks who have won games or two. I think we all know the answer.
The best passers are returning
: Yep.
Marcus Mariota
led the Pac-12 in efficiency and
Taylor Kelly
wasn't far behind. Matt Barkley was third,
Brett Hundley
was fourth and
Sean Mannion
was fifth. However, it's worth noting that
Kevin Hogan
's efficiency would have ranked him slightly above Hundley had he appeared in more games in 2012 (the cutoff was appearing in 75 percent of the games, Hogan was at 71). That means five of the top six quarterbacks in efficiency are back.
A diverse array of NFL talent:
Yep. Anyone who thinks Mariota is just a running quarterback failed to witness his 32 touchdown passes and league-best 68.5 completion percentage. He will fit nicely into any NFL offense.
Same for Kelly (29 touchdowns, 67.1 completion percentage) and Hundley (29, 66.5). Hogan should be well-versed in the pro-style attack (and NFL scouts love quarterbacks who know the pro-style/West Coast coming out of college) and if Mannion (if he wins the job) bounces back, he's got the prototypical NFL pro-style frame.
And let's not forget
Keith Price
, who we're expecting to have a nice bounce-back year. He was extremely efficient in 2011 (33, 66.9) so the potential and athleticism is obviously there.
Little QB turnover in the league:
Well, the Pac-12 can't make that claim with six starting jobs still in doubt and potentially five schools starting a fresh-faced QB.
Award winners back on campus:
Yep. Pac-12 Freshman Offensive Player of the Year (Mariota). First-team quarterback (Mariota). Kelly, Hogan and Hundley were honorable mention.
While it's true that this might shape up as one of the greatest years in college football history for quarterbacks, it's equally true that the Pac-12 might have its best crop of quarterbacks in league history.
The Pac-12 has sent at least one quarterback to the NFL since 1995 and at least one has gone in the first round in nine of the past 16 drafts. There was 2003 when Carson Palmer (USC) and Kyle Boller (Cal) both went in the first round. 1999 was a strong year with Akili Smith (Oregon) and Cade McNown (UCLA) going in the first round and Brock Huard (Washington) going in the third. Three times the Pac-12 has had four quarterbacks go in the draft (2005, 1991 and 1989).
2004 comes to mind as a pretty darn good collection with Aaron Rodgers (Cal), Matt Leinart (USC), Derek Anderson (Oregon State), Andrew Walter (ASU), Kellen Clemens (Oregon), Trent Edwards (Stanford), Drew Olson (UCLA) and Alex Brink (Washington State).
It's a little too early to start speculating about who is going to go and who is going to stay. But based on what we've seen from this crop in the past nine months, it's possible the 2013 class will be right up there in the conversation as one of the best collection of quarterbacks ever in the league.
April, 22, 2011
4/22/11
3:20
PM ET
LOS ANGELES -- The savior is going to prom next week.
That would be UCLA's true freshman quarterback Brett Hundley, a charismatic, strapping young man who left high school early in order to compete for the starting job and immediately discovered that many believe he will lead the football program out of the wilderness of mediocrity into the promised land of Pac-12 championships. And, of course, while on that glorious path, he will plant a footprint on USC's collective forehead.
Hundley admits it's been a bit surreal having folks he doesn't know know who he is, even when it's "volleyball girls" saying "
Hey, you're the savior
!" He's enjoying taking it all in. But any euphoria over his newfound celebrity has been put in perspective by the realities of the practice field this spring
"Going from high school to college, it's really a big difference," he said.
Yes, it is. Just ask
Kevin Prince
and
Richard Brehaut
, who have struggled as UCLA's starting quarterback over the previous two seasons.
What's clear is the quarterback quandary in Westwood won't be resolved until the fall. Prince, who has flashed ability when healthy (which hasn't been often), is sitting out while still recovering from a knee injury. Brehaut has turned in a solid spring but hasn't yet won over his coaches. Hundley, the best athlete of the three, is still trying to digest the playbook and get a feel for the speed of the game.
"It's to be continued," offensive coordinator Mike Johnson said. "I don't think anyone has clearly put themselves in position to say they are going to be the starter."
UCLA has a strong history at the position: Bob Waterfield, Heisman Trophy winner Gary Beban, Tom Ramsey, Troy Aikman and Cade McNown come to mind. But the position has been pretty lousy since Drew Olson left in 2005.
More than a few observers believe Prince will be the starter if he is 100 percent in fall camp. But that's a big if. As a redshirt freshman in 2009, Prince threw the ball fairly well at times. And he did a solid job with the options portion of the pistol last year, particularly in the upset win over Texas. Of course, that's also when he also first hurt his knee.
"He's a proven player... not a proven consistent player," coach Rick Neuheisel said. "The question for him is whether he can stay healthy."
Brehaut replaced Prince but struggled. In seven starts, his efficiency rating ranked 96th in the country and ninth in the Pac-10. Brehaut said he's focused on his footwork this spring, while Neuheisel wants Brehaut to become more proficient checking down to his second and third options.
"I think Richard has played well," Neuheisel said. "I still thing there is a lot more improvement to be had, whether it's by him or someone else, before we're going to be playing the position as well as it needs to be played. He still has too much predetermination in him. That's got to get weened out."
That leaves the savior.
"He's taking strides, but a lot has been thrown at him that he's never done before," Johnson said. "So there are times he is a deer in headlights."
And when those headlights are on him, Hundley typically chooses to run. That's not the right thing to do based on the play call, but Hundley can make the wrong thing seem right when he busts a big gain with his feet, and that's not lost on his coaches.
"He's going to be a guy who is wrong sometimes," Johnson said. "But we encourage him that if he is going to be wrong, do it fast, do it hard. Because he has the athletic ability to overcome some of those mistakes."
Prince and Brehaut are aware that fans are clamoring for Hundley.
"Of course, everyone roots for that incoming guy who no one has seen yet," Brehaut said. "That's something Kevin and I, as veteran guys, can't worry about. There's nothing we can do that's going to affect Brett. It's all about making sure we know what we are doing and are executing like we know how. As long as we're doing that, we're doing our part."
While Hundley admits to struggling this spring, he still has his eyes affixed to the prize: the starting job. He left high school early because he had a clear goal to get on the field as soon as possible.
That savior stuff? It's amusing for now. But the business ahead is serious and far more taxing.
"It's pretty funny. When I first got here, that's how some people knew me," Hundley said. "Everyone jokes around about it. But I make sure everyone knows I'm only one person. You can't really save a team. And that's not really what I'm here for."
April, 22, 2011
4/22/11
2:00
PM ET
LOS ANGELES -- Football coaches get paid big money for high-profile jobs, and fans and administrators expect consistently good results. The threat of getting fired for perceived failure is part of the deal, so hot seat lists for head coaches are part of the annual flow of offseason reports from the media.
UCLA coach Rick Neuheisel, after a second 4-8 finish in three years atop his alma mater, will be high on many of those hot seat lists heading into the 2011 campaign. Although deciding what would define a successful season that would cool his toasty stool is a purely speculative task -- a bowl game? eight wins? beating USC? -- it's not unfair to declare that the program needs an uptick. And Neuheisel knows this.
But the hot seat is a bit like "Fight Club." You don't talk about it. Not much, anyway. What good would it do?
"I don't feel it. I'm sure it's there," Neuheisel said. "I don't go up there and sit in [the athletic director's] office and ask every day, but I don't feel it."
What Neuheisel did feel this offseason was a need for change. So he dramatically reshaped his staff: five new coaches, including two new coordinators. He also gave himself the toughest job: quarterbacks coach. The success of the 2011 season may hinge on how consistent and productive the Bruins quarterback is, and considering the Bruins haven't been consistent or productive at the position since Drew Olson graduated in 2005, well, that's even more pressure.
"I'm putting it on me," Neuheisel said. "And I don't want it on anybody else's shoulders. It's been hard for me to watch that position coached by somebody else, and that's no knock on [former offensive coordinator Norm Chow]. Norm's got three Heisman Trophy quarterbacks. But it's what I do. It's what I enjoy doing. I'm excited about the challenge."
Ah, Chow.
[+] Enlarge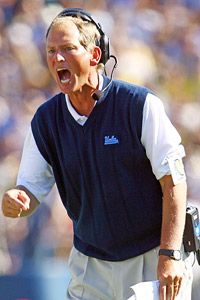 Jeff Gross/Getty ImagesUCLA coach Rick Neuheisel doesn't feel any "hot seat" pressure.
When Neuheisel was hired before the 2008 season, part of the deal was retaining Bruins defensive coordinator DeWayne Walker -- who was a candidate for the job Neuheisel got -- and hiring Chow to run the offense. It was sold as a coaching superteam. One suspects, though Neuheisel doesn't explicitly say so, that it was part of the conversation before he was hired as head coach.
The celebrated arrangement, however, proved a failure. Walker bolted after one year to become head coach at New Mexico State, which is like saying he ran off to Hades to relieve Sisyphus. Chow and Neuheisel divorced this offseason.
"It was a different way of putting a staff together than I'd done at either Washington or Colorado -- this was the first time I ever worked with people that I didn't know," Neuheisel said of the ill-fated troika. "No bad guys. Just philosophy. You can sit in one room and agree that we are all together, but when you splinter off, are you really?"
Enter Mike Johnson to run the Bruins' offense and Joe Tresey to run the defense. Johnson and Neuheisel go way back. They met when Johnson was a backup quarterback at Arizona State in the mid-1980s and Neuheisel was playing in the USFL. They also coached together with the Baltimore Ravens. Tresey and Neuheisel are new to each other, but at least he was Neuheisel's hire.
"I feel much better about the chemistry we have now, having put it together the way I used to put it together," Neuheisel said.
The big story last year was the Bruins' adopting the pistol offense, which was developed at Nevada. The idea was to bolster the sagging running game. Even then, many wondered if Chow would buy in after running a West Coast, pro-style offense his entire career. The pistol helped the running game, but the passing game swirled into the toilet.
If you are looking for potential issues now -- even with the new arrangement -- it could be the "too many cooks in the kitchen" theory.
Johnson is the coordinator and receivers coach and a longtime NFL assistant with no pistol, spread-option background. Neuheisel is coaching the quarterbacks. And Jim Mastro, hired away from Nevada, is the running game coordinator. How will they all mesh into their defined tasks on Saturdays, particularly when the screws tighten in critical conference games?
"It's defined," Johnson said. "My job as offensive coordinator is not to come up with all the ideas. It's to be the leader of the group."
The first order of business is finding a leader on the field at quarterback, but that remains unresolved this spring.
Kevin Prince
, the injury-prone starter for much of the past two seasons, hasn't been available thanks to a knee injury.
Richard Brehaut
would start if the Bruins were playing a real game and not their spring game on Saturday. Touted true freshman Brett Hundley has flashed potential at times but is still getting used to the speed of the college game.
The second issue is the offensive line, which has suffered injury woes this spring.
"We got to get lucky there," Neuheisel said.
As a program, the Bruins haven't experienced much luck since going 10-2 in 2005. While rival USC surged, there was only inconsistency and instability in Westwood. When Neuheisel was hired and USC fell afoul of the NCAA shortly thereafter, it seemed as though the Bruins' moment had arrived. Yet, so far, that hasn't proven the case, and a poor 2011 recruiting class while the Trojans ended up ranked in the top five didn't help the hot seat perception.
As Neuheisel said, he's putting it on himself to push the program forward. And if it doesn't work out?
"If it were to happen, that they were to replace me, I'm confident I would find another job," he said. "It wouldn't be the end of the world. I don't think my kids would starve. But I'm adamantly wanting to be here because this is my school and I believe we're closing in on where we want to go."
March, 2, 2009
3/02/09
2:25
PM ET
Posted by ESPN.com's Ted Miller
Links for your Monday.
November, 11, 2008
11/11/08
11:34
AM ET
Posted by ESPN.com's Ted Miller
A lesser known Simon & Garfunkel ditty:
Where have you gone, Pac-10 quarterbacks,
The West Coast turns its lonely eyes to you.
What's that you say, College GameDay.
The QBs have left and gone away,
Hey hey hey.
Every season since 2002, at least four Pac-10 quarterbacks averaged more than 240 yards passing per game.
This year? Zero.
Every season since 2002, at least two Pac-10 quarterbacks passed for more than 3,000 yards
Heck, in 2002, nine Pac-10 quarterbacks passed for more than 2,750 yards.
This year? Only USC's Mark Sanchez is on pace to eclipse that total.
In only one other season since 2002 has the Pac-10 not produced a quarterback ranked in the top-10 in the nation in passing yards -- 2006 -- and that season four Pac-10 quarterbacks ranked among the top 30.
This year? Just two in the top 30, with Sanchez at No. 23 and Arizona State's Rudy Carpenter at 29.
What in the name of Carson Palmer, Aaron Rodgers and Derek Anderson is going on with the Conference of Quarterbacks?
The best QBs apparently migrated to fly-over states of the Big 12.
Quick: Name the starting quarterback for every Pac-10 team.
Of course, you can't do that because, even if you are tuned in enough to know who Ronnie Fouch and Kevin Lopina are, there's uncertainty who will start for a couple of teams Saturday.
Here's the starting list in 2004: Matt Leinart, Aaron Rodgers, Kellen Clemens, Derek Anderson, Trent Edwards, Andrew Walter, Drew Olson and Alex Brink.
All of them are presently on NFL rosters, other than Olson, who was waived by the San Francisco 49ers in July.
Only four conference teams this year have started in every game the guy who led the first-team offense during spring practices, and one of them, Stanford's Tavita Pritchard, has been clawing to hold onto his perch every day since.
The mediocrity (and worse) is so prevalent at the position that USC coach Pete Carroll admitted last week that his outstanding defense might look other-worldly at times because of the lack of talent and experience running the offenses opposing the Trojans.
"There's no question that it's helped us play better defense," Carroll said. "Our numbers and the things we put up here at this point is a benefit of teams that have been banged up. And, of course, good play. I don't want to take anything away from it. It's still seizing the opportunity. But sometimes when players aren't there for you, the big-time guys, it makes an enormous difference."
Yes it has, see the national perception of a down Pac-10.
Here's grounds for measured optimism.
Only two (full-time) starting quarterbacks are seniors: Arizona's Willie Tuitama and Arizona State's Rudy Carpenter. California's Nate Longshore is also a senior, but he's closer to sophomore Kevin Riley's backup than the reverse.
Conventional wisdom is that experience is critical for quarterbacks and even more so in the Pac-10 where offenses are far more complicated than in the cavemen conferences.
So that means eight teams should be stronger at the position in 2009.
Otherwise, Pac-10 fans will sing another obscure Simon & Garfunkel song:
Hello darkness, my old friend,
I've come to talk with you again,
Because a QB terribly passing,
Threw more picks and left me weeping,
And the losing that was planted in my brain
Still remains
Within the sound of booing.