January, 8, 2014
1/08/14
11:42
PM ET
Michigan's offense has hopscotched under Brady Hoke, never establishing an identity despite repeated claims about a clear philosophy. We always hear about who the Wolverines want to be, but because of personnel, youth or fickle schematic decisions, we rarely see who they are.
Perhaps the best thing about Michigan's offensive coordinator transition was the lack of indecision. Hours after Michigan announced Al Borges had been fired, reports surfaced that Alabama offensive coordinator
Doug Nussmeier would be his replacement
. Hoke knew who he wanted, targeted him and got the deal done (the team has yet to officially confirm Nussmeier's hiring).
It's up to Nussmeier to refine Michigan's offense for the 2014 season. Otherwise, both he and Hoke could be looking for jobs in December. It's that simple.
[+] Enlarge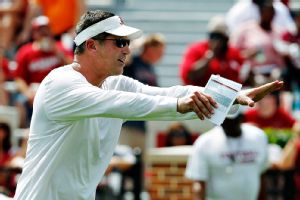 AP Photo/Butch DillHiring former Alabama offensive coordinator Doug Nussmeier is a step in the right direction for a Michigan offense that has sputtered lately and struggled to find an identity.
Nussmeier is a proven coach with an impressive track record, most recently at Alabama, which defended its national title in his first year as coordinator and put up solid offensive numbers this past season as well (38.2 points per game, 454.1 yards per game). Regardless of whether Alabama coach Nick Saban let Nussmeier walk to pave the way for Lane Kiffin, Michigan seems to be getting a high-quality coach. CBSsports.com's Bruce Feldman reports that Nussmeier, who earned $680,000 in 2013, will become
one of the five highest-paid coordinators in college football
. That's fine, too, as Michigan makes more than any Big Ten team and has yet to translate all that dough to championships on the field.
Hoke's rhetoric about Big Ten-title-or-bust and Team OneThirtySomething rings hollow until his teams start showing they can live up to Michigan's storied past. Rivals Ohio State and Michigan State have bypassed Michigan, and 2014 is pivotal for Hoke and the Wolverines, who enter the same division as the Buckeyes. They need to go for it now, and the Nussmeier hire is a good sign that they are.
Nussmeier must take a group of players, some recruited by Rich Rodriguez's staff and some by Hoke's staff, and mold them into a unit that's easy to identify. Quarterbacks such as Alabama's
AJ McCarron
, Washington's
Keith Price
and Michigan State's Drew Stanton and Jeff Smoker have improved under his tutelage. He must facilitate similar upgrades with Michigan's
Devin Gardner
and/or
Shane Morris
.
A record-setting signal-caller at Idaho who played in both the NFL and CFL, Nussmeier knows quarterbacks, but his first priority at Michigan will be resurrecting a run game that went dormant the past two seasons. Michigan's young offensive line needs to grow up in a hurry, especially after losing left tackle
Taylor Lewan
, a first-round draft pick in April, as well as right tackle
Michael Schofield
, a three-year starter. Nussmeier isn't exactly inheriting the Alabama offensive line in Ann Arbor. Or Alabama's running backs, for that matter. There's some young talent at Michigan, but it needs to be coached up.
As much criticism as Borges received, some of it deserved, coordinators can't do much when their offenses are incapable of generating moderate rushing gains between the tackles. Michigan set historic lows on offense this year, becoming the first FBS team in the past 10 seasons to record net rush totals of minus-20 or worse in consecutive games (losses to Michigan State and Nebraska).
Nussmeier has worked in different conferences as well as in the NFL (St. Louis Rams), but his stint in the Big Ten at Michigan State should help him in his new gig. His basic philosophy as a pro-style coach doesn't differ dramatically from Borges -- or what Hoke wants -- and shouldn't turn off Michigan's 2014 recruits.
But his ability to evaluate the strengths of Michigan's players and tailor his scheme around them will determine his success or failure. When Borges built a game plan around what Gardner does best, as we saw against both Notre Dame and Ohio State, the results proved positive. But we saw too much tweaking, too many versions of the Michigan offense, too many attempts to show who is the smartest coach in the building.
Nussmeier is a future head coach and entered the mix for recent vacancies at both Washington and Southern Miss. It might be hard for Michigan to keep him, but the future beyond the 2014 season isn't really important.
Michigan acted quickly and decisively Wednesday night. Nussmeier must do the same in refining the identity of an offense that will determine a lot about where Michigan is headed under Hoke.
July, 23, 2009
7/23/09
10:51
AM ET
Posted by ESPN.com's Adam Rittenberg
The rise of the spread offense in college football has put many of the nation's tight ends on notice.
As more coaches look for quickness before brute strength, tight ends are being forced to reinvent themselves.
"You see a lot of colleges phasing out the tight ends, but we've got to phase out of that, too," Michigan State junior Charlie Gantt said. "We've got to be faster, stronger. We've still got to be big, but we each have to adapt to it."
| | |
| --- | --- |
| | |
| | Dave Stephenson/Icon SMI |
| | Charlie Gantt is hoping for more opportunities to catch the ball this season. |
The Spartans' tight ends are making the adjustments. It's why Gantt can make statements like this and get taken seriously: "I envision a lot more pass-catching opportunities, a lot more different kinds of routes and plays that we can do. Two-, maybe three-tight end sets, that's what I'm hoping for, to get as many tight ends in the game [as possible]."
Michigan State boasts the depth and talent at tight end to make Gantt's wish come true this fall. Gantt returns for his second year as a starter after hauling in 19 receptions and four touchdowns in 2008.
He'll once again be spelled by Garrett Celek, a sophomore who appeared in 12 games last fall, recording six receptions and a touchdown. Talented Clemson transfer Brian Linthicum joins the mix, and heralded recruit Dion Sims also could see the field this fall.
"Especially with Dion coming in, we'll have four solid tight ends, at least two or three used every game, goal-line packages, different formations just to get more out of the offense," Linthicum said.
March, 5, 2009
3/05/09
1:12
PM ET
Posted by ESPN.com's Adam Rittenberg
Several years ago, the prospect of Keith Nichol and Kirk Cousins competing for a starting job on the same team seemed slim at best.
You could make a case the two quarterbacks were intentionally trying to avoid each other.
Matthew Emmons/US PRESSWIRE


Kirk Cousins could have the advantage in the QB duel after serving as Brian Hoyer's backup last fall.


Nichol committed to Michigan State in the summer of 2005, pegged as the successor to Drew Stanton. At the time, Cousins was a relatively unknown player entering his junior year at a high school that had only started competing in football two years earlier.
But shortly after Michigan State fired head coach John L. Smith in 2006, Nichol decommitted and switched his pledge to Oklahoma. Cousins, meanwhile, had followed several strong performances at junior camps with an excellent senior season.
Scholarship offers started to trickle in. After Nichol bolted, Michigan State assistant Dan Enos came calling and Cousins committed in January 2007.
"If I had to pick from any of the other schools that had offered, I'm not sure where I would have gone," said Cousins, who also received an offer from Colorado. "I'm glad that Michigan State came through."
Their paths seemed set. Two quarterbacks who grew up 50 miles apart in western Michigan would be separated by a time zone in college.
But after Nichol found himself behind future Heisman Trophy winner Sam Bradford and Joey Halzle on Oklahoma's depth chart, he decided to transfer and ended up where he nearly started, Michigan State.
As the Spartans' quarterback competition kicks off this spring, Cousins and Nichol find themselves together on center stage.
"It's funny how things work out," Nichol said. "I don't think he really knew where he was going to go, and then I go to Oklahoma, he decides to come here and now I'm back.
"Competing with him has made me a better football player, it's made me grow physically and mentally. It's been a blessing, actually."
March, 4, 2009
3/04/09
11:01
AM ET
Posted by ESPN.com's Adam Rittenberg
Most of the major transfer news in the Big Ten has centered on players leaving the league, particularly at the quarterback position. Three prominent signal-callers transferred from Big Ten schools -- Michigan's Steven Threet, Penn State's Pat Devlin and Iowa's Jake Christensen -- and Wisconsin announced Monday that reserve quarterback James Stallons was granted his release.
But there are several key additions to Big Ten teams who will become eligible this fall. Here's a look at five transfers from other FBS programs who could make a major impact in 2009.
| | |
| --- | --- |
| | |
| | Icon SMI |
| | Michigan transfer Justin Boren could step in and be the Buckeyes' top offensive lineman. |
Michigan State quarterback Keith Nichol (Oklahoma) -- It's hard to blame Nichol for transferring from Oklahoma, particularly with that Bradford guy ahead of him on the depth chart. He returns to his home state and will compete for the starting job alongside sophomore Kirk Cousins. A dual-threat quarterback who has drawn comparisons to former Spartans star Drew Stanton, Nichol brings a unique skill set to an offense that needs a spark without Javon Ringer.
Ohio State offensive lineman Justin Boren (Michigan) -- There's already talk that Boren will be Ohio State's top offensive lineman when he steps on the practice field this spring. He started all 13 games for Michigan as a sophomore in 2007 and looks like a lock for a starting guard spot with the Buckeyes. Boren will be a lightning rod for the rest of his career because he transferred from Michigan to Ohio State, but his ability merits attention as well.
Illinois wide receiver Jarred Fayson (Florida) -- Quarterback Juice Williams mentioned Fayson as an emerging team leader during the offseason, and the Florida transfer will enter the receiver rotation this fall. Illinois boasts a lot of talent at wide receiver, so Fayson will need to distinguish himself in spring ball. But the heralded high school recruit contributed as a receiver, runner and return man for Florida in 2006 and should find his way on the field.
Minnesota offensive lineman Matt Carufel (Notre Dame) -- Minnesota's offense is getting a makeover under coordinator Jedd Fisch and line coach Tim Davis, and Carufel should play a role this fall as the Gophers emphasize the power run again. Carufel started the first three games of 2007 at Notre Dame before deciding to transfer. The Gophers' struggles on the line should create plenty of competition during the spring and summer, and Carufel will be in the mix for a starting job.
Northwestern linebacker Aaron Nagel (Notre Dame) -- A traffic jam at linebacker last spring caused Nagel to leave Notre Dame for Northwestern, where he joins his brother Brett, a redshirt freshman fullback/tight end. The Wildcats lose two starting linebackers (Malcolm Arrington and Prince Kwateng), so Nagel will have the opportunity to earn significant playing time, which he wasn't getting with the Irish.
February, 26, 2009
2/26/09
10:53
AM ET
Posted by ESPN.com's Adam Rittenberg
The spring practice primer continues today with five newcomers to watch as Big Ten teams return to the field next month.
All five of these men could play critical roles come September.

Michigan quarterback Tate Forcier -- The true freshman from San Diego, who enrolled early, is considered the frontrunner for the starting job after incumbent Steven Threet transferred earlier this month. Forcier boasts the skill set to run Rich Rodriguez's spread offense. If he catches on quickly this spring, he'll likely be the man to beat when fellow freshman Denard Robinson arrives in the summer.

Michigan State quarterback Keith Nichol -- Nichol sat out last season after transferring from Oklahoma and will begin competing this spring for the starting job alongside Kirk Cousins. The 6-foot-2, 205-pound Nichol ran Michigan State's scout team last year and fits the Drew Stanton-like mold as an adept runner as well as a passer. Cousins enters the spring with a slight edge after backing up Brian Hoyer last year, but Nichol isn't too far behind.

Ohio State guard Justin Boren -- He's hardly a newcomer to the Big Ten, but the news-making transfer from Michigan hits the practice field this spring seeking a starting job. The 6-3, 320-pound Boren, who started all 13 games for Michigan in 2007, may very well emerge as Ohio State's best offensive lineman this spring. He could cement himself as a starter on a line that underperformed last fall.

Wisconsin quarterback Curt Phillips -- A heralded recruit from Tennessee, Phillips joins a wide-open competition under center after redshirting last season. Named Wisconsin's offensive scout team player of the year in 2008, the strong-armed Phillips could be the long-term answer at quarterback that the Badgers sorely need. He'll compete alongside incumbent Dustin Sherer, Scott Tolzien, James Stallons and true freshman Jon Budmayr, another key newcomer.

Minnesota tackle Jeff Wills -- As the Gophers resurrect the power run game this spring, Wills should play a key role on a line that struggled for much of last season. Coming from the same junior college that produced Bryant McKinnie, Wills has excellent size (6-7, 350) and will compete for a starting position right away. "He may be one of the biggest humans I've ever been around," head coach Tim Brewster said of Wills.
July, 22, 2008
7/22/08
1:58
PM ET
Posted by ESPN.com's Adam Rittenberg
The e-mails are flowing in, and it's obvious that Big Ten fans are geared up for the 2008 season.
Let's see what's on your mind:
Shadd, from Toledo, Ohio, writes: Adam, Do you see Ohio State using Terrelle Pryor in a "read option" type of offense when he comes into the game, or do you see the OSU coaches having him execute the same dropback style gameplan that Boeckman plays? Seems like Jim Bollman can be thick headed sometimes when it comes to play packages with different personnel.
Adam Rittenberg: Pryor's skills definitely translate for a read option system, much like the one Illinois uses at times with Juice Williams. It's the reason Michigan wanted Pryor so badly for its new offense. Though he will be used in those situations, I think Ohio State also will have Pryor operate in a more traditional system as he progresses. The first two games, Youngstown State and Ohio, provide excellent opportunities for Pryor to get playing time and run the team's standard offense. If he shows he can pass effectively against college defenses, the Buckeyes should gradually increase his workload. His transition as a runner and a playmaker will be easier than as a drop-back passer, but he's got to learn sometime.
---
Andrew from Pittsburgh writes: First off, the 2005 field goal kicking meltdown occurred at MSU, not at Michigan. I was at that game, and at the Ohio State game a week later, and I can personally say that the OSU match-up was infinitely more heartbreaking. However, those two losses pale in comparison to the agony of Notre Dame, 2006. I vaguely remember the feeling of happiness while building a lead, but otherwise the entire evening is nothing but a cold, dark, and lonely sinkhole of a memory that haunts me to this day.
Adam Rittenberg: Thanks to Andrew and several other e-mailers for pointing out that the 2005 Michigan-Michigan State game did take place in East Lansing, not Ann Arbor. Like Minnesota, Michigan State has had too many traumatic losses in recent years. I covered the Notre Dame game in 2006, and it was a total collapse for the Spartans. The game began under clear skies, but the rain came at halftime and gradually increased. Michigan State led 37-21 with 10 minutes to play, but then went ultra-conservative on offense down the stretch as Notre Dame rallied. Drew Stanton didn't throw a pass in the fourth quarter until three minutes remained, and ND cornerback Terrail Lambert intercepted it and scored the game-winning touchdown. The loss spelled the end for coach John L. Smith and sparked one of the greatest radio rants I've ever heard.
---
David from Champaign, Ill., writes: Do you believe the matchup this year between Illinois-Indiana at 8pm in Champaign will be one of the more exciting games in the Big ten this year? Everyone around here is really looking forward to it! Also, what are your thoughts on Greg Middleton and rising star LB Matt Mayberry? How can we slow down the two quick defenders this year?
Adam Rittenberg: David, as an Illinois fan, you might want to be a little more concerned about Missouri, Wisconsin, Penn State and Ohio State than the Hoosiers, but that game will definitely be worth watching. I've gotten several e-mails about Mayberry, a junior middle linebacker who made 42 tackles as a reserve last season. It seems like hopes are very high for him to solidify Indiana's defensive midsection. Middleton is a beast, but Xavier Fulton can hold his own at left tackle. Should be a great matchup. I'm also interested to see two of the league's most versatile quarterbacks, Juice Williams and Kellen Lewis.
---
Stan in Grand Haven, Mich., writes: OK, I'm a UM fan so I hope you won't write this off before reading it. WR/TE rankings: did you forget about Carson Butler? Injury and his attitude lessened his p.t. a bit last year, but the dude is one of the best in the conference at his position. Also, why factor in the QB when ranking the unit? That makes no sense--it's like discounting a RB because his line isn't that good. Think Barry Sanders. Finally, all you have to ask yourself when ranking units is which one you'd trade for the other. I guarantee if you were Michigan's coach and you traded your receiving unit for that at Northwestern, you'd be fired instantaneously. 'Nuff said.
Adam Rittenberg: Stan, I'll never write you off, but I've got a hard time bumping up the Wolverines because of Carson Butler. He had a nice grab in the Capital One Bowl, but 39 catches in two years? Even with the off-field stuff and the injury, I need to see more from him. These preseason rankings are largely based on what these players have showed in the past, and besides Greg Mathews and Butler, Michigan hasn't shown much. It doesn't mean with additions like Darryl Stonum, Michigan won't have one of the league's top receiving corps in November. But judging the Wolverines against experienced groups, including Northwestern's, it's hard to put them higher right now. Rich Rodriguez shouldn't want to trade any of his players, but I'm sure he'd love more experience at that position.
---
Brian from New York, N.Y., writes:I'd like to comment on Penn State's returning DL if I may as I truly believe this could prove to be the best Penn State Defensive Line any of us have ever seen. Of course, every CFB fan knows who Maurice Evans is due to the terrific job he did in earning All-Conference honors last year as a true sophomore. But are outsiders aware of the fact PSU actually returns 52 starts from last year across the line? This represents every player from a unit that finished 2nd in the nation in sacks (46) and 7th in rush D, so we're talking about much more than just Mo Evans here. Opposite Evans at DE is Josh Gaines who started all 13 games and racked up 5 sacks while splitting time with situational pass rusher redshirt freshman Aaron Maybin who had 4 1/2 sacks of his own. And the depth inside - fuggadaboutit! Larry Johnson basically has five proven starter quality DTs in his arsenal including: Jared Odrick, Ollie Ogbu, Abe Koroma, BIG Phil Taylor and Chris Baker. The thing to remember with this group is four of the five were merely 2nd year players last fall meaning, redshirt freshmen or true sophomores. Have I mentioned freshmen Devon Still and Chimaeze Okoli yet? Let's just say the word this spring is both freshmen are "impressive". Anyways, just want to mention PSU's returning DL before you and others "lock" Wisconsin or somebody else into the #2 conference finish spot behind OSU in the Big Ten this preseason because last year's youngsters in the Blue and White are certain to be even better in '08.
Adam Rittenberg: Brian, that's a quality breakdown of Penn State's defensive line. The Nittany Lions have the league's best defensive front in my view, just ahead of both Ohio State and Illinois. There's experience and talent throughout the line, and the front four will help Penn State survive the loss of linebacker Sean Lee. I ranked Wisconsin at No. 2, but the Badgers are by no means a lock, particularly with all the injuries they had in spring ball. Penn State could jump into that spot, but a reliable quarterback must be identified in preseason camp.
---
Steve from Anchorage, Alaska, writes: I think Steve Breaston should have been a special teams addition to the All-Lloyd list in the Free Press. When he was healthy, Breaston was a threat every time he touched the ball. That sick return against Illinois where he watched it bounce toward the sideline, grabbed it just before going out, then made 10 guys miss back and froth acros
s the field before scoring stands out.
Adam Rittenberg: Steve, glad to hear Big Ten football is alive and well in Alaska. Breaston would have been a solid addition to the All-Lloyd team. He was the league's most feared return man for several seasons. After seeing your note, I checked out Breaston's highlights on YouTube this afternoon. The Illinois return is third on the rundown. What a play. By the way, any highlight clip with Kool Moe Dee rapping in the background will find its way to this blog.